Costco vs. Sam's Club: Which Has the Freshest Produce?
America's two leading warehouse clubs both offer great deals, but which has the best-quality fruits and veggies?
When it comes to buying fresh produce, it pays to be picky. If you take home fruits and vegetables that are past their prime, moldy, or just visually unappealing, the likelihood of you or your family eating them is slim to none, and that's money wasted. 
When I buy produce, I often wonder if I'm getting the freshest items available and if I'm getting the best price. That's why I decided to pit two grocery warehouse giants against one another—Costco and Sam's Club—to see which store had the best fruits and veggies.
In order to compare the two, I went shopping for the same items in both stores on the very same day. I not only considered the presentation but also the quality of the produce I was inspecting. Did it look overripe or past its prime? Was it ready to eat or moldy? I scrutinized these fruits and veggies so that the next time you go shopping you'll know where to go for your healthy foods.
Read on to see these items face off against each other and find out where you should go for your dinner ingredients, snacks, or fruit and vegetable platter ingredients.
Bananas: Costco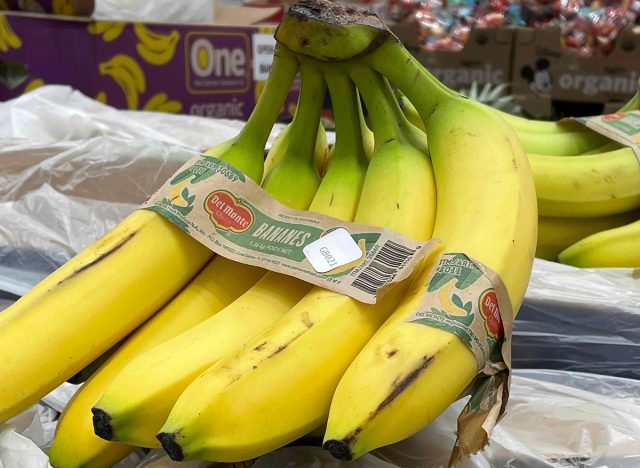 Priced at $1.49 for a three-pound bunch, these bananas from Del Monte were wrapped in a torn label that made them look slightly less appealing to me. They were medium to smallish in size and very green on the top and bruised on the bottom. I wouldn't pass these up if I really needed bananas, but I know I can find nicer, cheaper ones elsewhere (ahem, Trader Joe's).
Bananas: Sam's Club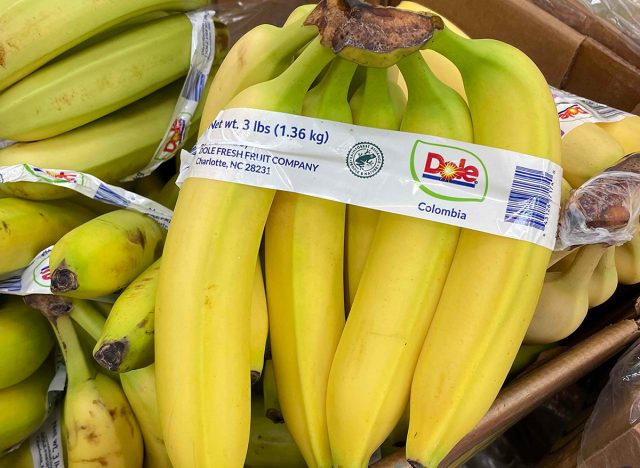 This three-pound bunch of Dole-brand bananas for $1.48 comes from Columbia, according to the label. Again, seeing bananas wrapped in a label makes them appear a little less fresh to me and more "packaged" but I'm sure they had the potential to ripen up nicely. These bananas were a decent size and would need a couple days on the counter to be edible. 6254a4d1642c605c54bf1cab17d50f1e
Winner: Sam's Club
Pineapple: Costco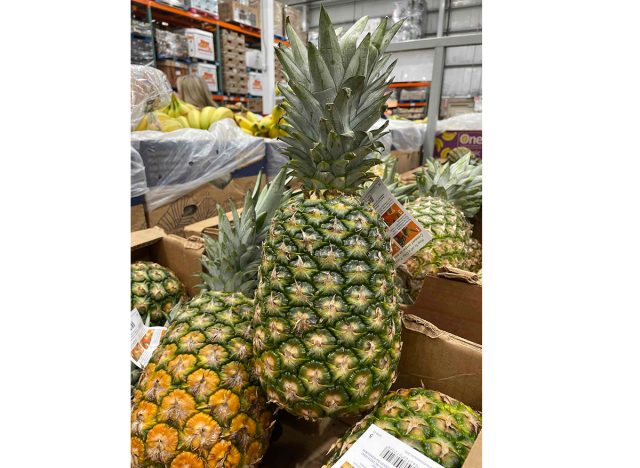 Buying pineapple can be risky but this one from Dole appears to have nice amount of gold on the bottom, its leaves are intact, and it looks substantial. For $2.79, I would take a gamble on this tropical fruit.
Pineapple: Sam's Club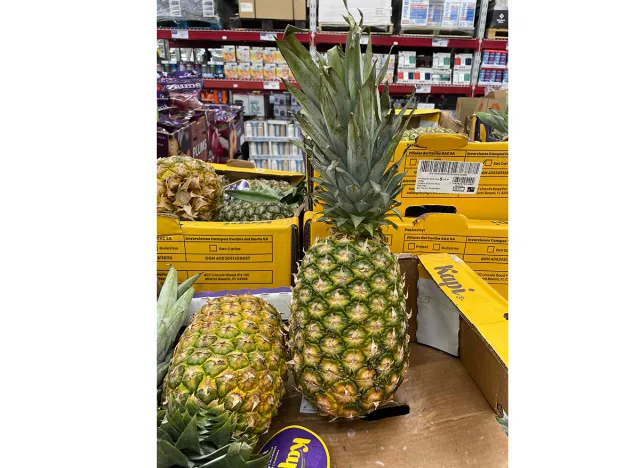 Priced at $2.98, this pineapple from Kapi has lots of gold undertones and its leaves look a little haggard. I'm worried that this fruit is already past its prime, and it looks a bit mangy. Pass.
Winner: Costco
Avocados: Costco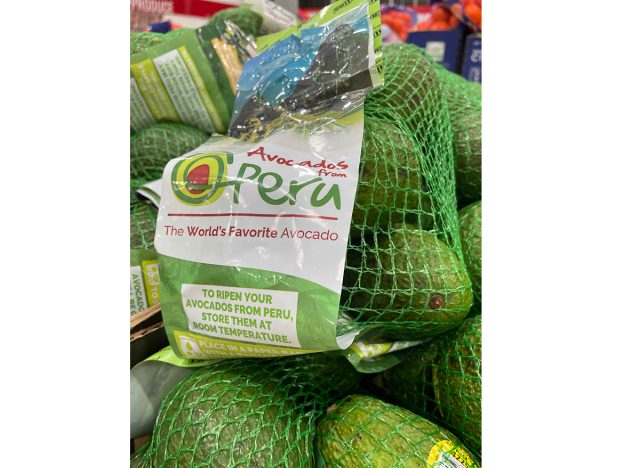 The way I learned it, you're supposed to buy an avocado that is unripe and let it sit on the counter until it's just right—and then make it into some delicious avocado toast with a poached egg. These avos from Peru had yellow undertones that concerned me. I would not lay down cash for these, even at such a good price. A six-count bag cost $5.99.
Avocados: Sam's Club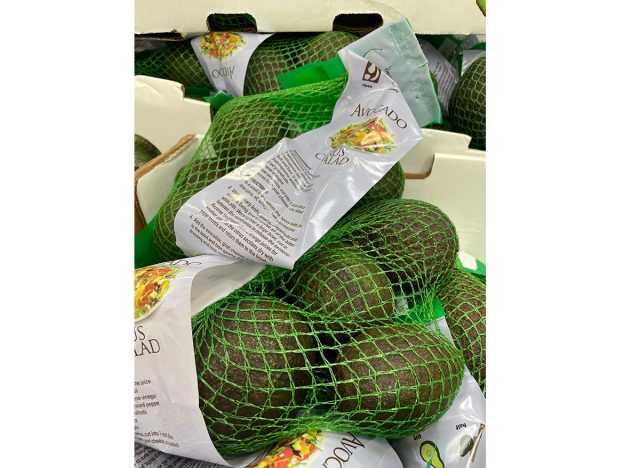 These large Hass avocados are even cheaper than the ones at Costco—$3.94 for a bag of five—but they are missing that beautiful bright green color that hopefully darkens into deliciousness, so I wouldn't purchase them, either. 
Winner: Draw
Cantaloupe: Costco
Kandy Cantaloupes may be advertised as "forever the favorite," but this duo for $5.89 at Costco looked way too green for me to want to pick them up. Sold in a netted bag, these fruits were double the amount of something that I did not want.
Cantaloupe: Sam's Club
I liked that these cantaloupes were sold individually for $2.98 each because, unless you're making fruit salad for a crowd, who needs two? While they weren't perfectly ripe, these fruits looked like they'd be fine after a day or two on the counter. I'm in!
Winner: Sam's Club
Lemons: Costco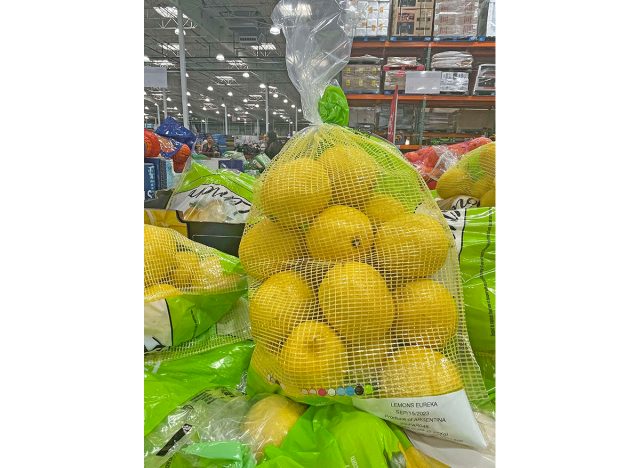 The lemons in this big bag had a pretty, bright yellow color and looked ripe. I probably would not buy this because, unless you're opening a lemonade stand, who needs so many lemons? Still, they looked good. The five-pound bag cost $6.99.
Lemons: Sam's Club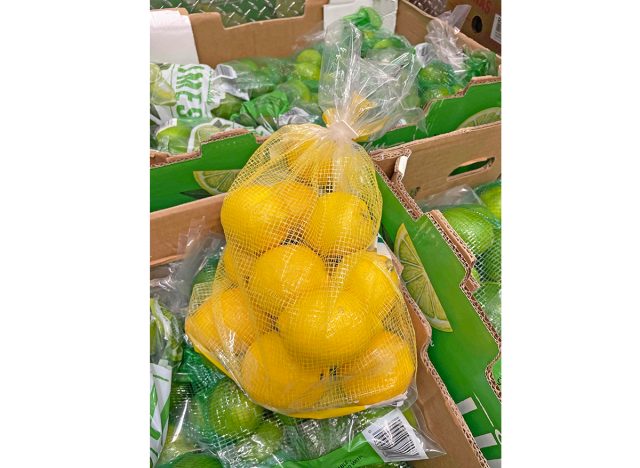 Priced at $4.25 for a three-pound bag, these lemons were bright yellow in color and even a bit fragrant. There were still too many for me to want to buy them, but the citrusy smell was tempting!
Winner: Sam's Club
Mandarins: Costco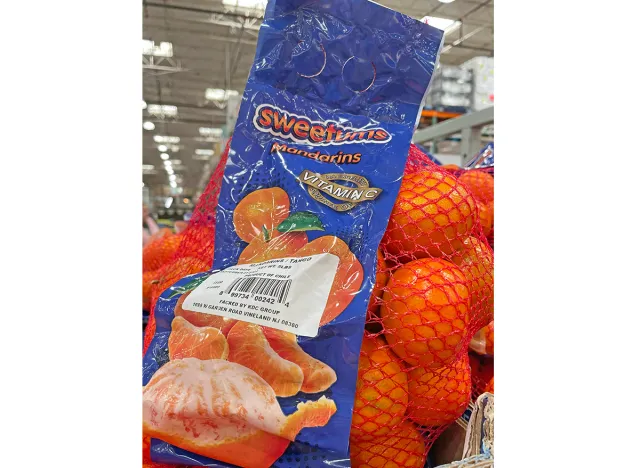 These Sweetums Mandarins are a product of Chile and are advertised as an excellent source of vitamin C. That may be so, but looking at this five-pound bag for $6.99, I had my reservations about whether these oranges would be ripe and juicy since their skins looked a bit tough. They were nice and small and had a good orange color, but I would still pass these by.
Mandarins: Sam's Club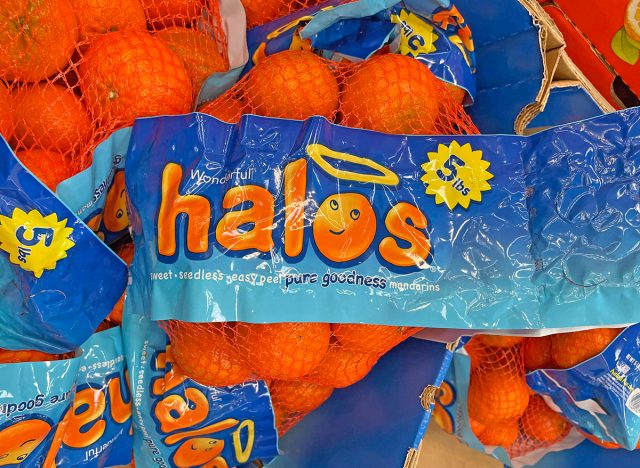 Halos are advertised as seedless, easy-to-peel Mandarins and my prior positive experiences with them would make it a no-brainer to throw a bag of these babies into my cart. All the Mandarins looked nice and orange, though a few had spots of unripe green. A five-pound bag cost $6.98. 
Winner: Sam's Club
Gala Apples: Costco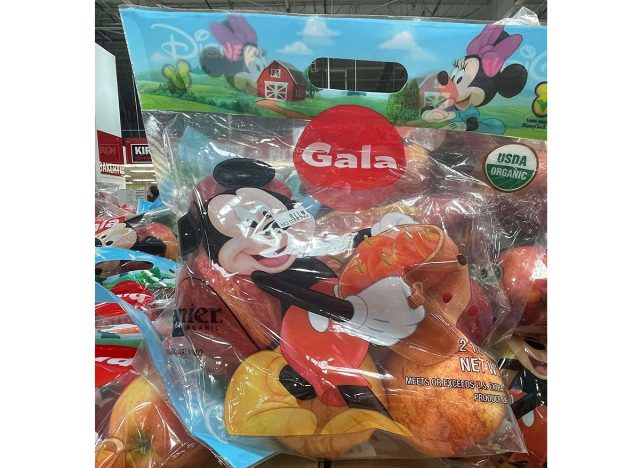 Apples in a Disney-themed Mickey and Minnie bag? Although it's silly, this made these apples catch my eye. Gala apples are a staple in our fruit drawer, and I know my kids would want me to pick these up! I don't usually buy organic, but the apples looked good and I liked that they were on the smaller "snacking" side, size-wise. A three-pound bag cost $4.49.
Gala Apples: Sam's Club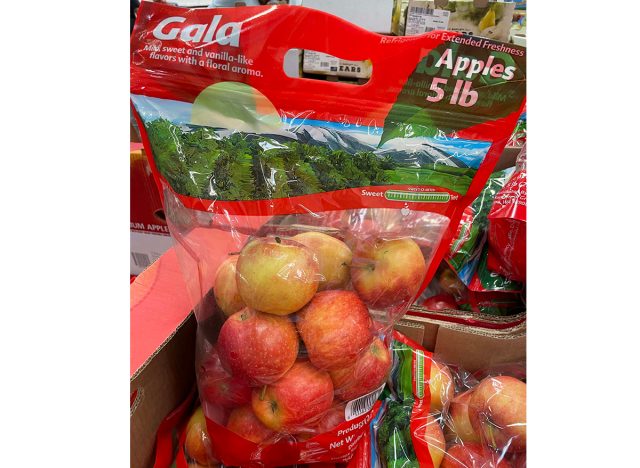 Even though we eat lots of apples in my household, a five-pound bag is a lot and they'd take up too much valuable real estate in my fridge's fruit bin. The apples themselves were nice and small and most had an appealing, bright red color. Priced at $6.54, these were cheaper and redder than the ones at Costco, so they'd be my first pick. 
Winner: Sam's Club
Bell Peppers: Costco
Bell peppers are great to have on hand for cooking and snacking, so this bag for $6.79 looked like a good buy. The peppers came six per bag with two orange, two red, and two yellow. The peppers were a nice medium size and the colors were very vibrant, so much so they almost looked like they were made of plastic—but in a good way!
Bell Peppers: Sam's Club
Priced at $6.78 for a bag of six, these bell peppers from Sunset brand were all tossed in a bag, not lined up and color coded like the ones from Costco, so they didn't look as nice. The peppers themselves were a bit narrower, too. 
Winner: Costco
The Verdict
Although Costco's produce section is bigger and more bountiful looking, Sam's Club came out on top in five of eight categories in this head-to-head comparison. Going forward, I'll shop at Sam's knowing I'm most likely getting the freshest fruits and veggies—and all at a great price. 
Ronnie Koenig
Ronnie Koenig has written about food, drink, travel and culture for The New York Times, TODAY, The Atlantic and many others.
Read more about Ronnie