Want to Lose Belly Fat? Morning Workouts May Be Key, New Study Says
Research shows morning exercise can help boost your weight loss efforts.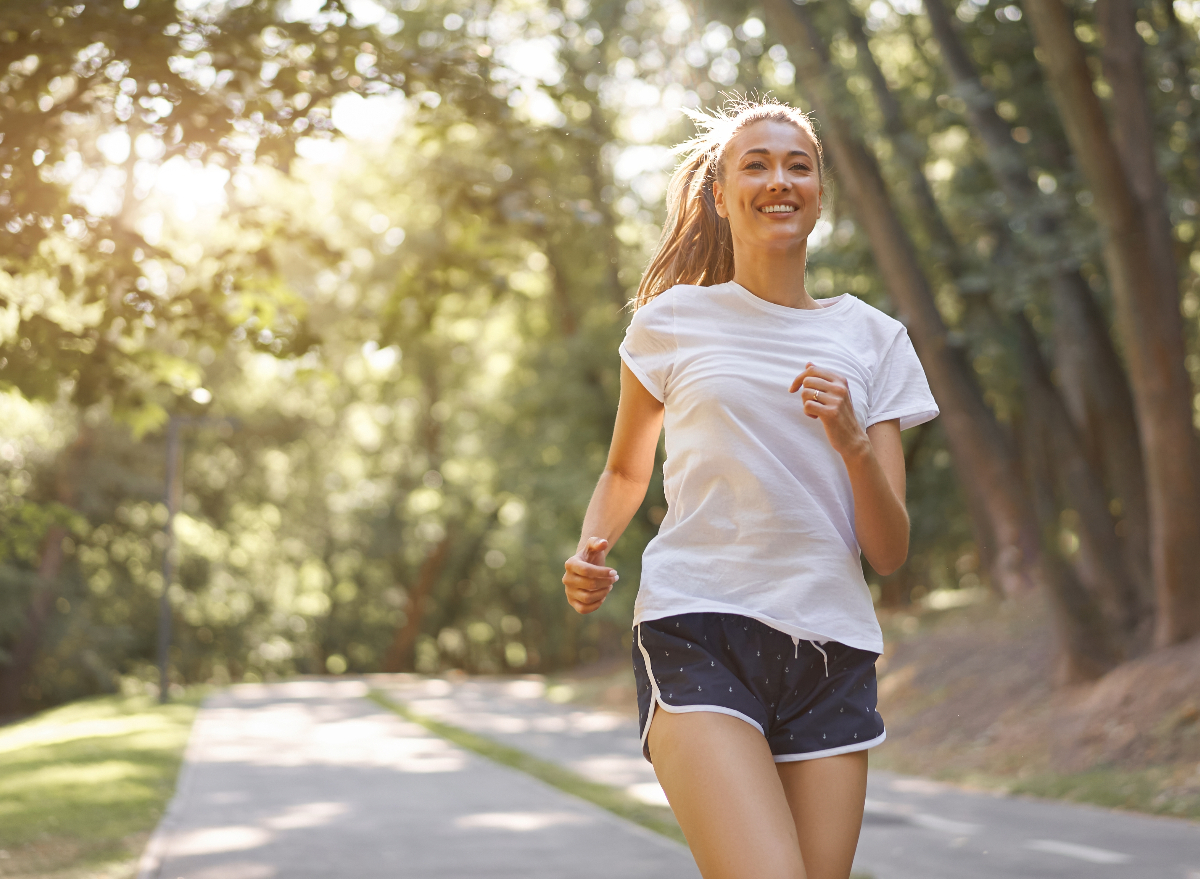 Kicking off your day with an invigorating morning workout may sound like an excellent idea or a total chore to you. If you relate to the latter, exercising is probably something you save for later on in the day—whether that's during a lunch break or after work. But if you want to lose belly fat and speed up your weight loss efforts, working out in the a.m. may just be the way to go, according to new research published in the journal Obesity. The September 2023 study found that participants who worked out earlier in the day lost significantly more weight and reported a smaller weight circumference, which is a measure of belly fat, than those who exercised midday or in the evening.
Keep reading to learn more about what the study has to say about the benefits of starting your day with a workout. And when you're finished, don't miss out on the 5 Best Low-Intensity Workouts for Women To Lose Weight.
This study examined the effect of the time of day you work out—morning, midday, vs. evening—on fat loss.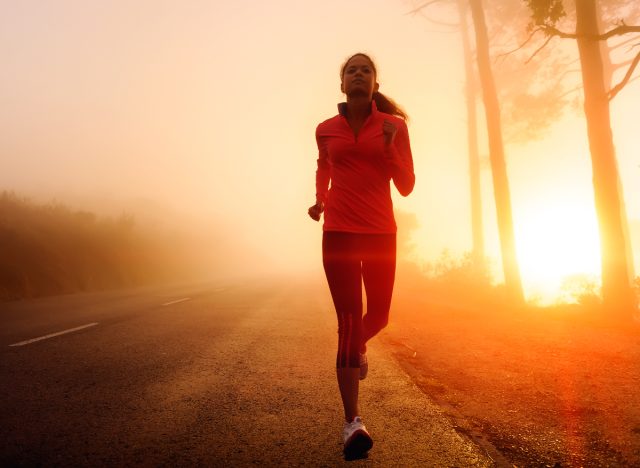 With obesity being associated with a variety of health risks, from chronic diseases to early death, the goal of this new study was to determine the best time of day to engage in moderate-to-vigorous physical activity (MVPA) in order to achieve healthy weight management.
Physical activity is well-known for being a successful method to lose weight, manage weight, and boost one's overall health, but the best time of day to work out to reap all of these amazing benefits has been widely debated—hence why the researchers conducted this study.
To determine the effect of workout time on weight loss and belly fat loss, the researchers performed a cross-sectional analysis of 5,285 participants in the 2003 to 2006 National Health and Nutrition Examination Survey.
The participants were broken out into three clusters based on the time of day they worked out: early morning (from 7:00 a.m. to 9:00 a.m.), midday (9:00 a.m. to 4:00 p.m.), and evening (5:00 p.m. to 8:00 p.m.). The link between the MVPA level and obesity was tested.
The link between morning workouts, waist circumference, and belly fat loss.
The results? Exercising in the early morning was linked to the lowest levels of belly fat, as measured by waist circumference, of the three groups. Participants who worked out in the morning had an average waist size of 91.5 centimeters (36 inches) compared to 95.8 and 95.0 for the midday and evening workouts, respectively.
"The main link to waist circumference and belly fat is visceral fat, the dangerous inflammatory fat that gets packed around your organs," says Dr. Stacie Stephenson, a recognized leader in functional medicine and bestselling author of Glow: 90 Days to Create Your Vibrant Life from Within. "Visceral fat is the most hazardous for health, but it's also the first to burn away when you begin improving your diet and exercising. That is why a reduction in weight circumference is a good indicator that your lifestyle changes are working and you are actually losing fat."
Morning exercisers also had the lowest average body mass index (BMI) at 25.9 compared to 27.6 and 27.2 in the midday and evening groups, respectively.
How is morning exercise beneficial, especially when it comes to weight loss?
Although the study did not examine why working out in the morning could be more effective when it comes to belly fat loss, there are numerous hypotheses.
Stephenson believes one of the main reasons is that you're more likely to actually follow through with exercising when you commit to it in the morning as opposed to waiting until later in the day. "When you get your workout done before all the other things you have to do, then you are much less likely to make excuses for running out of time, being too tired, having too much to do, etc.," she explains.6254a4d1642c605c54bf1cab17d50f1e
In addition, working out in the a.m. could put you in a positive mindset since you're starting your day with healthy choices. "It energizes you and you might eat less and make better lifestyle choices," Stephenson says. "All that adds up when you do it day after day. It can create significant changes in your life."
Keep in mind that if you're not a morning person, though, all hope is not lost when it comes to weight loss. Stephenson stresses, "The very best time to exercise is the time of day when you will actually do it. Afternoon or evening exercising is much, much better than not exercising at all."
So what are you waiting for? If you want to lose belly fat and boost your weight loss progress, adding exercise to your day—specifically in the morning—is clearly a smart move.
Alexa Mellardo
Alexa is the Mind + Body Deputy Editor of Eat This, Not That!, overseeing the M+B channel and delivering compelling fitness, wellness, and self-care topics to readers.
Read more about Alexa
Sources referenced in this article