The Best Sheet Pan Dinner Combinations for Faster Weight Loss, Says Nutritionist
Not only are sheet pan dinners incredibly easy, but they can also be very nutrient-rich.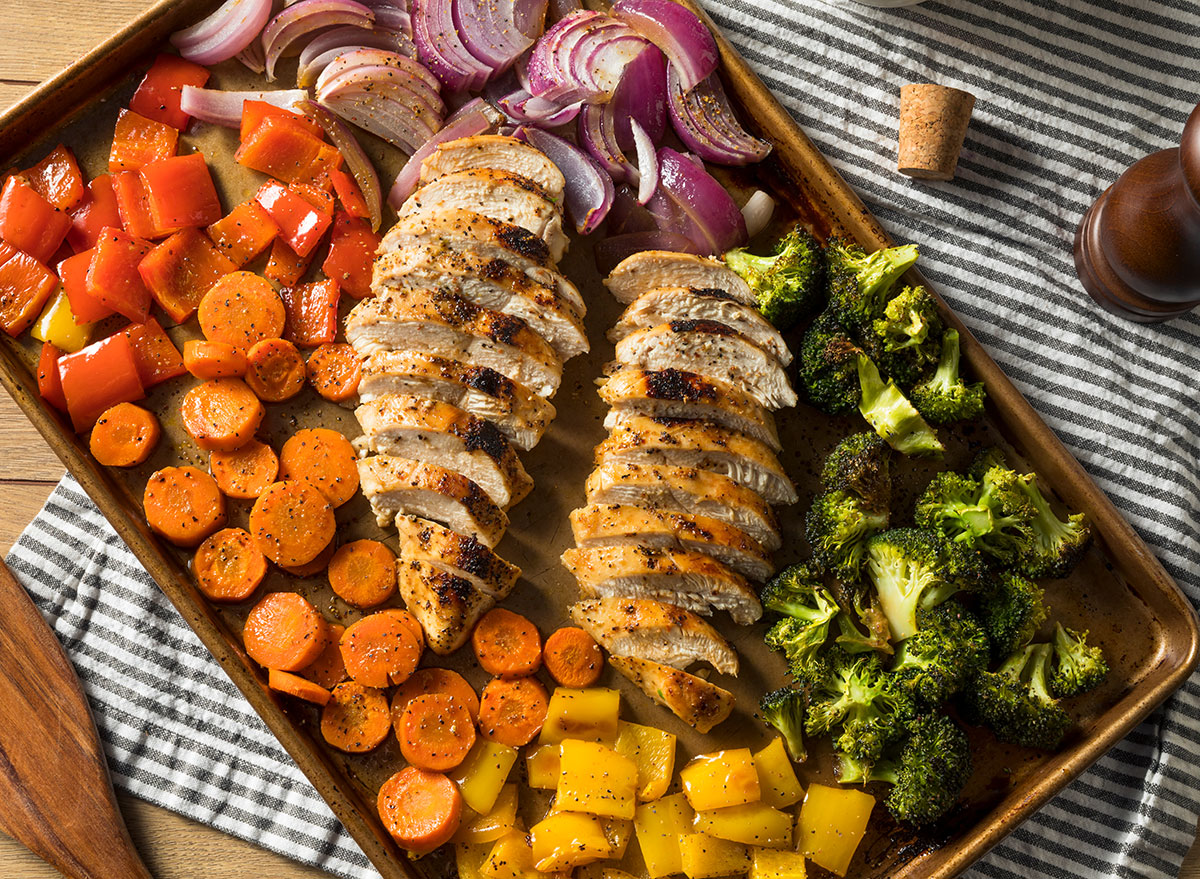 With minimal prep (and even less cleanup), sheet pan dinners are where it's at for simple, convenient meals. If you haven't jumped on this one-dish meal trend, now's the time, especially if you're working toward a weight loss goal. Baking lean proteins with high-fiber veggies on a single sheet pan is an easy-peasy way to load up on nutrients proven to accelerate weight loss.
Specifically, research has shown that people who eat more protein often have more success with shedding pounds. A 2021 meta-analysis of 37 studies found that increasing protein in the diet was more effective for weight loss than upping other nutrients. Including plenty of fiber also paves the way for weight loss by keeping you full long past dinnertime. And leaving ingredients high in simple carbs (like white bread, white pasta, and sweeteners) off your pan—and, therefore, off your plate—helps you steer clear of empty calories.
Looking for recipes you can arrange in gorgeous rainbow layers on a sheet pan? Here are five delicious, colorful combos to add to your weight loss-friendly repertoire. Then, for even more healthy recipe ideas, check out our list of 20+ Easy Dinner Recipes That Will Keep Your Health Goals on Track.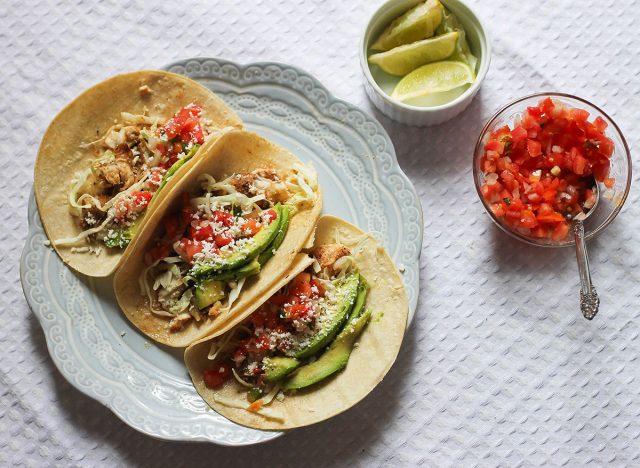 Committing to a weight loss plan doesn't mean you have to opt-out of Taco Tuesday—thank goodness! Let the Mexican-themed good times roll with sheet pan tilapia tacos. Tilapia is one of the lowest-calorie fish around, making it a solid choice for a low-cal dinner, while bell peppers, onions, and tomatoes amplify the fiesta without overloading you on calories or carbs.
How to make it: Start by mixing up a DIY taco seasoning of one tablespoon chili powder, 1/2 tablespoon cumin, 1/2 teaspoon garlic powder, 1/2 teaspoon salt, 1/4 teaspoon pepper, and 1/4 teaspoon paprika. Cut one red pepper and one orange pepper into strips and half a red onion into 1/2-inch slices. Place on a sheet pan. Drizzle with olive oil and sprinkle with half the spice mixture. Bake at 400 degrees for 15 minutes.
While the veggies bake, cut 1 pound tilapia fillets into one-inch strips and season with the other half of the spice mixture. Add to the sheet pan and bake an additional 10 to 12 minutes. Assemble tacos with corn tortillas and any fixings you like. Serves four.
Vegan Sausage and Vegetables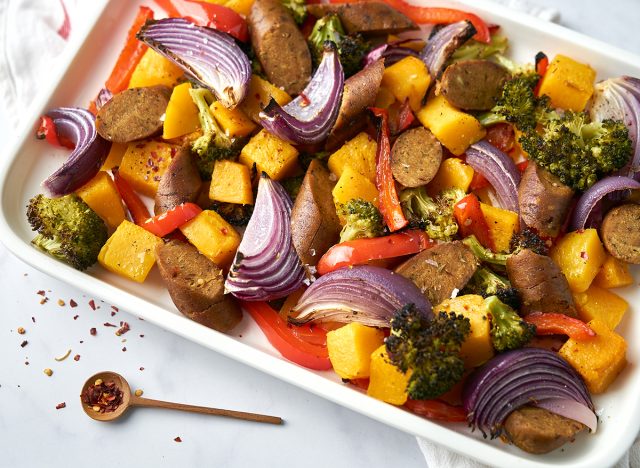 If you've decided to go plant-based for weight loss, you're onto something. Vegan, vegetarian, and plant-based diets can be an excellent path toward eating better for your waistline (not to mention the planet). A 2020 review, for example, looked at 19 studies on people who adhered to a low-fat vegan diet. In every study, people on this diet lost weight, and in seven of the studies, the weight loss was considered significant.6254a4d1642c605c54bf1cab17d50f1e
Reap the benefits of going veg with our vegan sausage and vegetable sheet pan meal. It combines the spicy bite of seitan-based Italian sausage with low-carb veggies like red bell pepper, broccoli, and red onion. A generous helping of cubed butternut squash adds extra heartiness. Save leftovers to enjoy at breakfast!
Get our recipe for Vegan Sausage and Vegetables.
Curried Sweet Potato, Chickpea, and Kale Sheet Pan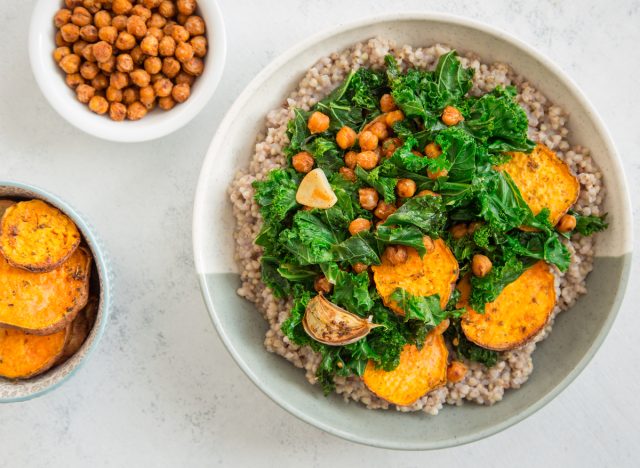 The plant-based goodness continues with this Indian-inspired weeknight sheet pan dinner. Crunchy roasted chickpeas are the protein centerpiece of this spicy dish (and their high fiber content is a definite weight loss-friendly bonus). Sweet potato chunks and crispy kale chips round things out with plenty of satiating complex carbs and micronutrients like vitamin A, vitamin K, and potassium.
How to make it: Place 1 1/2 cups cubed sweet potatoes, one sliced red onion, and 2 cups rinsed, drained chickpeas on a sheet pan. Drizzle with olive oil and sprinkle with one teaspoon garlic powder, 3/4 teaspoon ground ginger, 1/2 teaspoon salt, and 1 1/2 tablespoons curry powder. Stir to coat the chickpeas and veggies with oil and spices.
Bake in a 400-degree oven for 25 to 30 minutes. Stir, then add two cups chopped kale to the pan. Drizzle the kale with olive oil and bake the whole thing for another 10 minutes. Serves two.
Chicken and Spring Vegetables Sheet Pan
This sheet pan recipe really is a spring chicken. Here, you'll soak up the fresh flavors of spring alongside everyone's favorite weight loss-friendly meat: boneless, skinless chicken breast. It'll load you up with protein galore at a whopping 56 grams per piece. Meanwhile, fresh herbs and lemon juice add zippy flavor for just a smidge of calories.
How to make it: Whip up this springy meal by slicing two chicken breasts in half and chopping one bunch asparagus, one bunch radishes, and three large carrots into 1-inch pieces. Place all on a sheet pan. In a medium bowl, whisk together 6 tablespoons olive oil, 1 1/2 tablespoons lemon juice, 1/2 cup chopped fresh parsley, 1/2 cup chopped fresh basil, three diced scallions, 1/2 teaspoon salt, and 1/4 teaspoon pepper. Pour over the chicken and vegetables, then bake for 30 minutes in a 425-degree oven, stirring halfway through cooking.
Keto Butter-Baked Salmon and Asparagus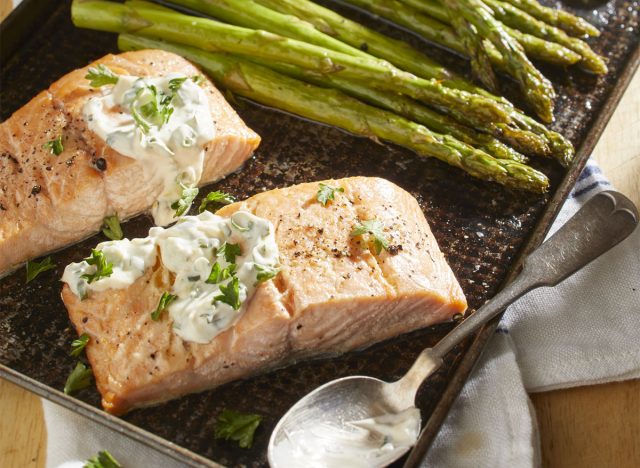 Trying out keto for weight loss? Our butter-baked salmon and asparagus will help you stick to your prescribed macros with high levels of healthy polyunsaturated fat (and, okay, a bit of butter for extra flavor and fat). Even if you're not on keto, adding fish to your diet could aid weight loss, since it's a complete protein that helps decrease inflammation. Check out six ways eating fish can help you lose weight here!
Get our recipe for Keto Butter-Baked Salmon and Asparagus.
Sarah Garone, NDTR
Sarah Garone, NDTR, is a registered nutrition and dietetic technician, and a health, nutrition, and food writer.
Read more about Sarah