The Best Ways to Sneak Veggies Into Every Meal, Says Expert
You won't even notice you're eating them all day long!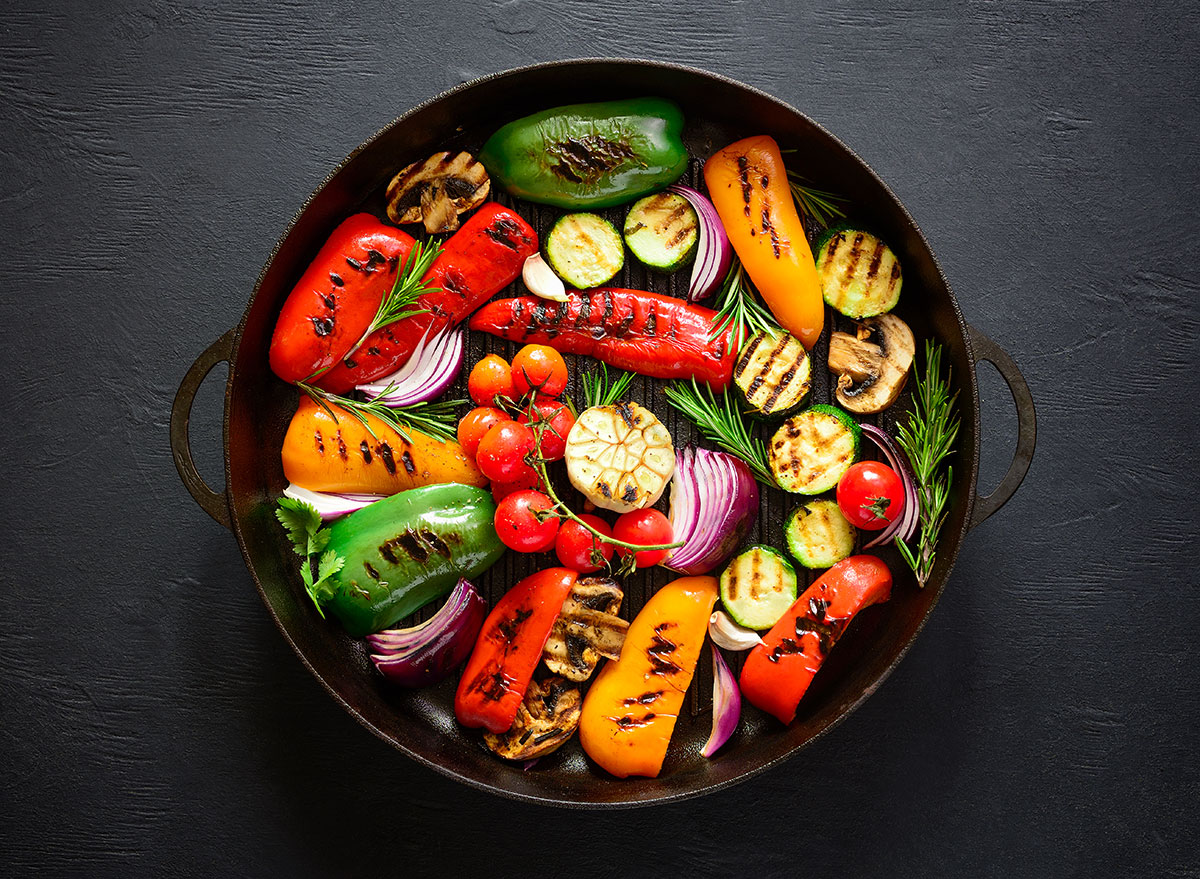 We're going to let you in on some very important information—less than 10% of Americans consume the recommended 2.5-3 cups of vegetables per day. That means there's likely a good chance you're not eating enough veggies in your diet.
We get it, though—veggies aren't necessarily the most exciting food option around. But they do pack a ton of health benefits, including key vitamins, minerals, and antioxidants that your body needs. They also keep you fuller longer and support good gut health (thank you, fiber!), and they even reduce the risk of heart disease and cancer, according to Freshly research and development chef Audrey Sweetwood.
You should actively adding veggies to your daily mix of meals—and doing so is much easier than you may think. It all depends on how you eat them.
"Everyone knows vegetables are good for you, yet so many people don't have the best attitude toward them," Sweetwood says. "When you choose the right vegetables, cook them correctly, and find the right recipe to highlight them in, it will make all the difference in your view on vegetables."
No matter what your favorite veggie may be, your goal should be to incorporate them each time you eat a meal.
"To increase your intake and eat better overall, try adding a veggie to every meal you eat," Sweetwood says. "There is no one veggie that is better than another. I would like to think that 'eat the rainbow' not only applies to Skittles but vegetables as well. A balanced diet consists of all colors of vegetables, as different colors provide different vitamins and minerals."
As Sweetwood says, "There are a host of 'sneaky' and creative ways to incorporate better-for-you ingredients into the dishes you already enjoy. When thoughtfully executed, the vegetables will blend right in and it will be hard to even notice they are even in there."
Need some help figuring out where to start? Well, Sweetwood dished up her best tips and tricks so you can easily add more veggies to your diet—in the tastiest ways, of course! While you're learning healthier habits, be sure to stock up your kitchen with The 7 Healthiest Foods to Eat Right Now.
But first things first—which veggies are the easiest to add to different meals?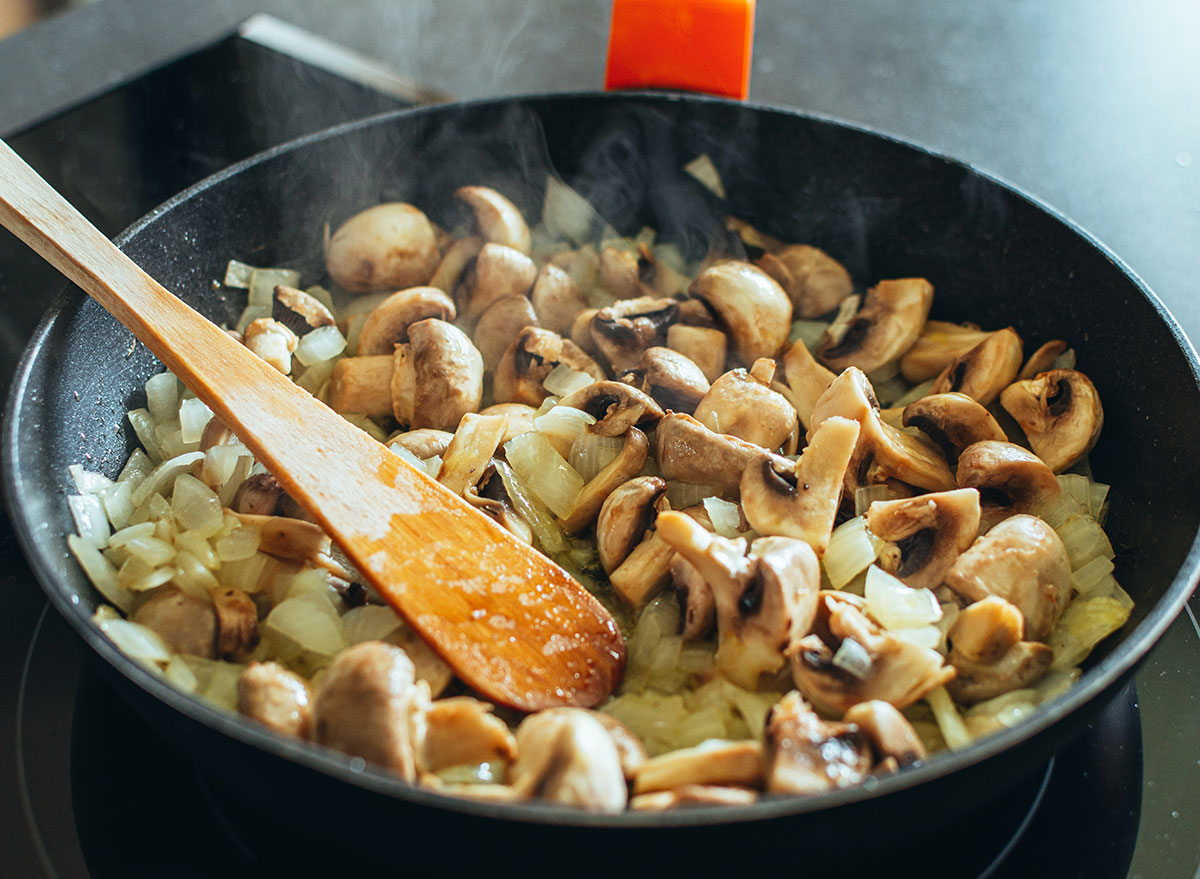 "Thanks to their 'meaty' taste and texture, mushrooms make a great addition to bulk-up burgers, meatballs, meatloaf, etc., adding in extra nutrients, fiber, and moisture without sacrificing flavor," Sweetwood says. "Using mushrooms helps reduce calories, fat, and sodium while adding nutrients like vitamin D. It also adds nice umami flavor notes to give you that heartiness in your meals."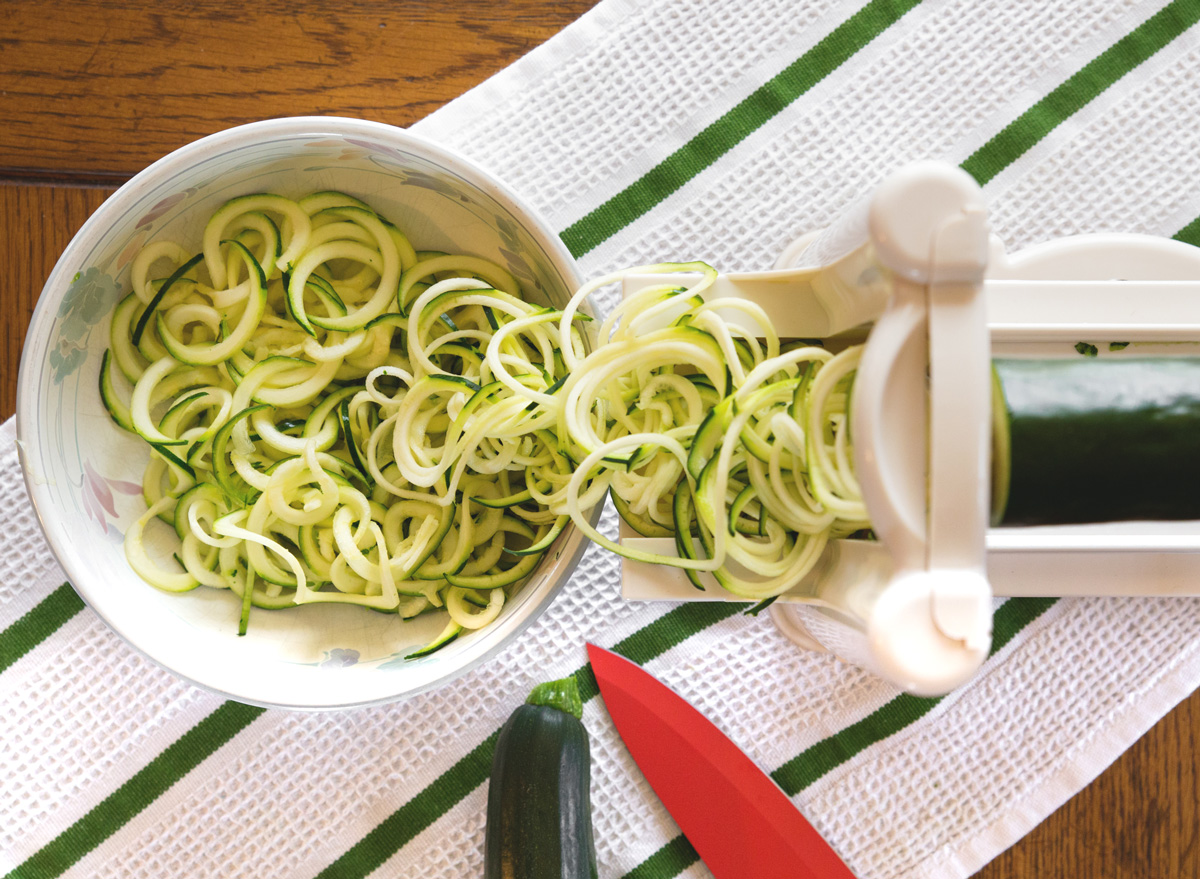 "Zucchini has a long list of health benefits. It's rich in vitamin C, potassium, and fiber while being low in calories and carbohydrates," Sweetwood says. "Zucchini noodles have become a hugely popular pasta alternative in recent years, but people have been sneaking zucchini into both savory and sweet dishes for ages (like zucchini bread and muffins, meatballs, and even cookies)."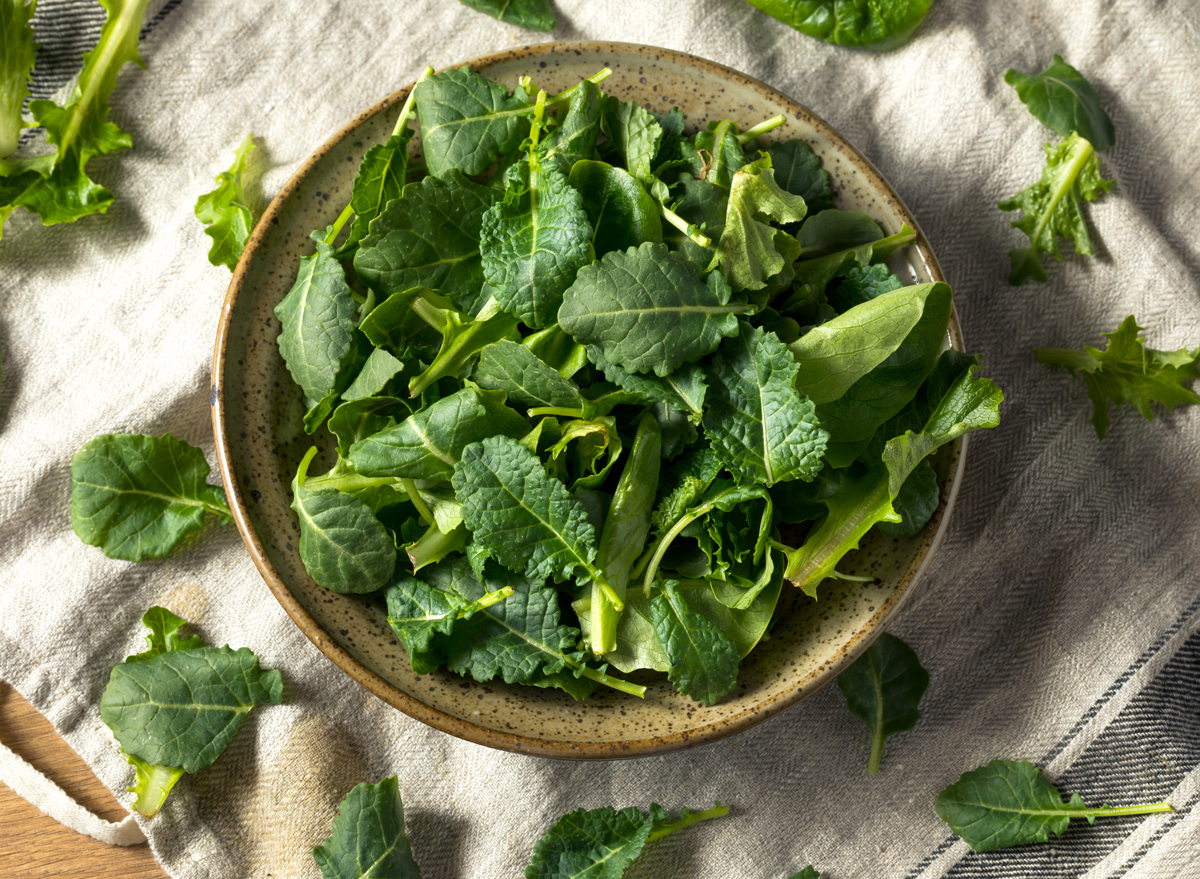 "Kale contains vitamin A, vitamin C, and calcium to name just a few of its benefits. It can be cooked and added to everything from meatballs to soups and sauces like pesto, blended into smoothies for green color and an extra boost of nutrients," Sweetwood says. "You can even roast them in the oven to make crunchy kale chips as a side instead of traditional potato chips or fries. When consuming kale in a raw format like salad, one tip would be to thinly slice it. This will help break it down and make it not so tough to eat."
Looking for more helpful tips? Sign up for our newsletter to get daily recipes and food news in your inbox!
"When roasted and puréed, butternut squash can add creaminess and bulk up sauces, soups, [and even] smoothies, without adding extra fat that cheese will give you," Sweetwood says. "With its bright orange-yellow color, it blends beautifully into cheese sauces. Butternut squash is high in beta-carotene (aka vitamin A), which supports the immune system and eye health."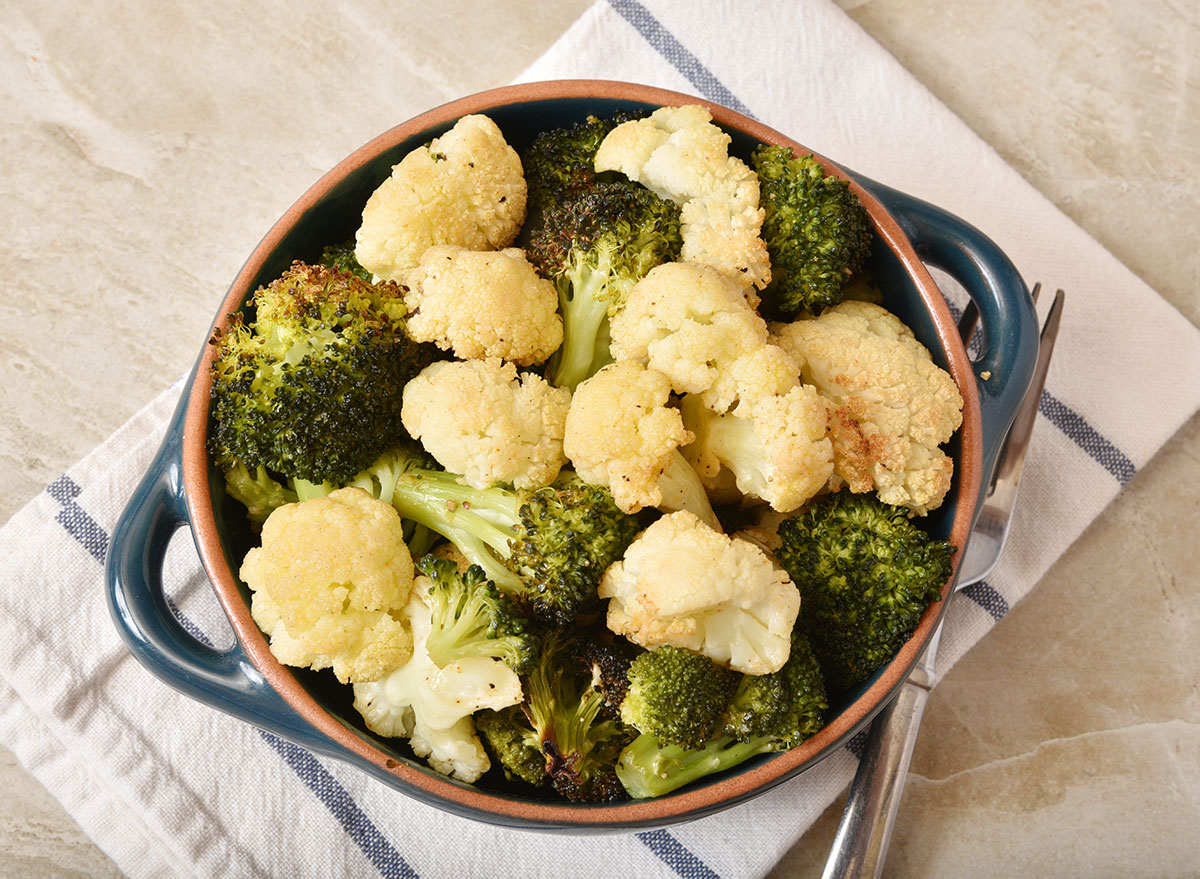 "Cauliflower is versatile and loaded with nutrients. It can be roasted, boiled and mashed, or even riced," Sweetwood says. "This makes it an easy addition that works seamlessly into everything from potatoes to sauce — plus cauliflower rice is an amazing substitute for rice in burritos, grain bowls, salads, [and] stir-fry. [It's] filled with fiber, vitamin C, and has a host of good-for-your-gut benefits."
But it's not the only cruciferous veggie you should have your eye on. Yes, we're talking about cauliflower's green cousin, broccoli.
"Broccoli is packed with fiber, iron, vitamin C and D, and even protein. You can eat it both cooked or raw making it a versatile veggie to add to a variety of different types of dishes," Sweetwood says, "You can roast it, steam it, blanch it, or even rice the stalk as a low-carb alternative (just like cauliflower rice)."
So now that you're prepared with a list of veggies that are easily adaptable to many meals, you might be looking for some more concrete meal ideas. Don't worry, Sweetwood has got you covered there, too.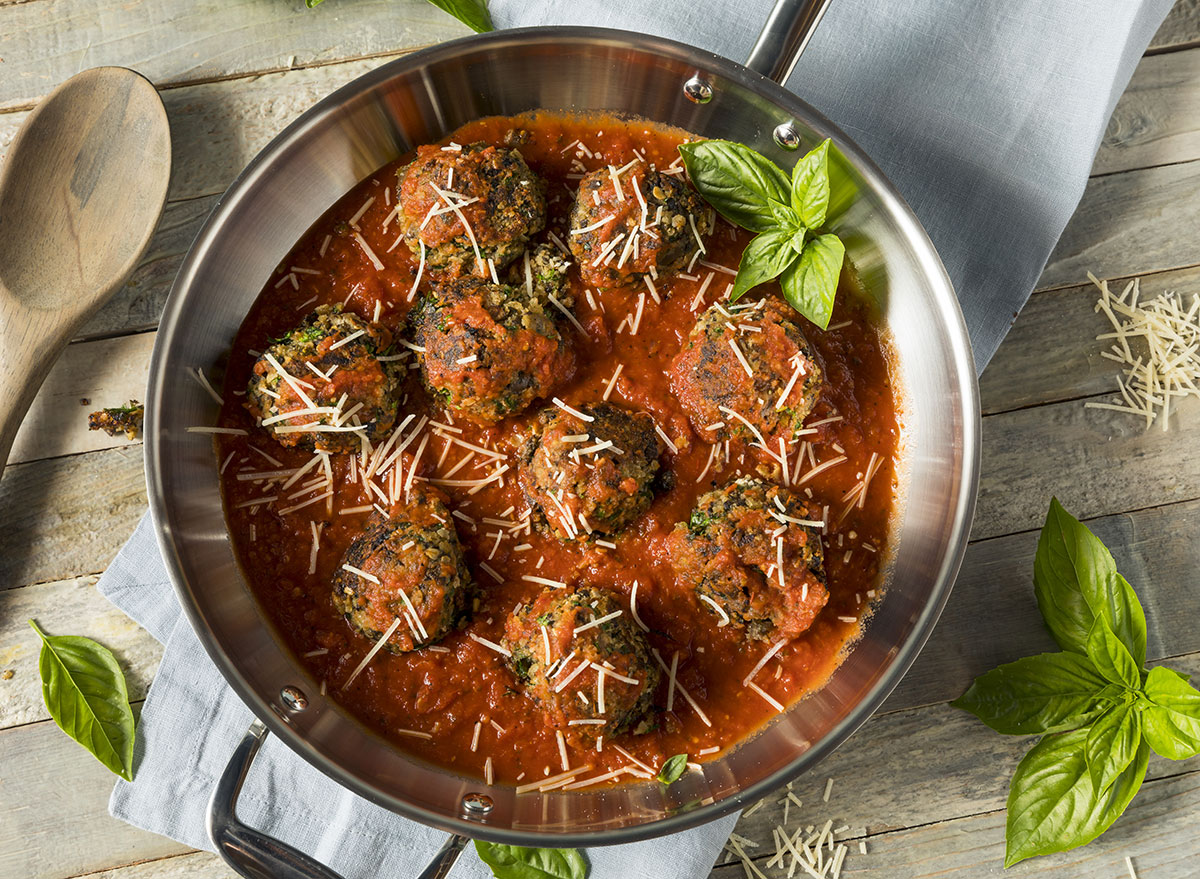 "You can easily 'sneak' veggies into your meatballs to add a boost of flavor and nutrients. You can finely chop or blend up mushrooms, spinach, carrots, or even bind them with a bit of cauliflower or butternut squash puree. My personal favorite is finely chopped spinach which also provides a nice color to the meatballs," Sweetwood says.
"A simple hack to pack plants into mac and cheese is to blend butternut squash puree into the cheese. It adds an extra creaminess and delicious flavor without adding extra fat and calories," Sweetwood says. "For double the veggies, you can also try a cauliflower mac and cheese, and swap pasta for cauliflower as a base. Butternut squash provides a boost of beta-carotene, vitamin C, magnesium, and fiber. You can also experiment with other squashes like acorn and delicata!"6254a4d1642c605c54bf1cab17d50f1e
"Instead of using potatoes alone, opt for a blend of potato and pureed cauliflower — you won't even taste the difference!" Sweetwood says. "This is a way to cut down on the carbs without sacrificing flavor or texture. You can also get creative, and try mixing different veggies together, such as cauliflower and butternut squash or sweet potatoes and butternut squash."
"Think beyond traditional tomatoes and opt for a hearty veggie-boosted version," Sweetwood says. "You can blend in everything from zucchini and butternut squash, to kale, beets, and cauliflower (really any puréed veggies will do!) to add more depth and nutrients to your sauce."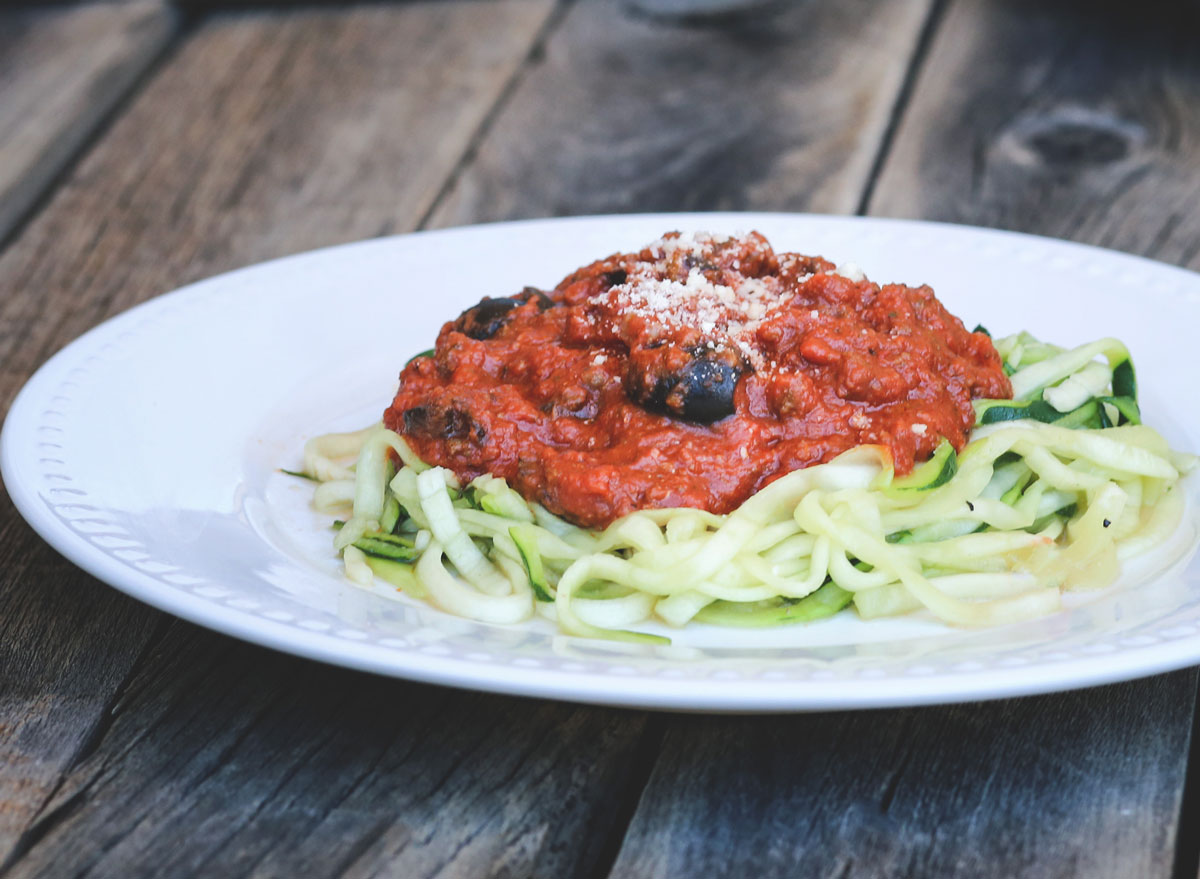 "Instead of eating an entire serving of regular pasta, do a mix of 1/2 pasta, 1/2 zucchini, butternut squash, or spaghetti squash noodles," Sweetwood says. "You can also try mixing regular rice with cauliflower rice for a 50/50 swap. If you're strapped for time, many grocery stores sell pre-spiralized or riced veggies in the fresh produce or frozen section."
Now, there really is no excuse why you can't get your daily veggie fix!
Jennifer Maldonado
Jennifer Maldonado is a senior editor at Eat This, Not That!, specializing in food and health content.
Read more about Jennifer