I Tasted 7 Ravioli Brands & This Is The Best
If there's a brand that makes the best pasta stuffed with cheese, we're determined to find it!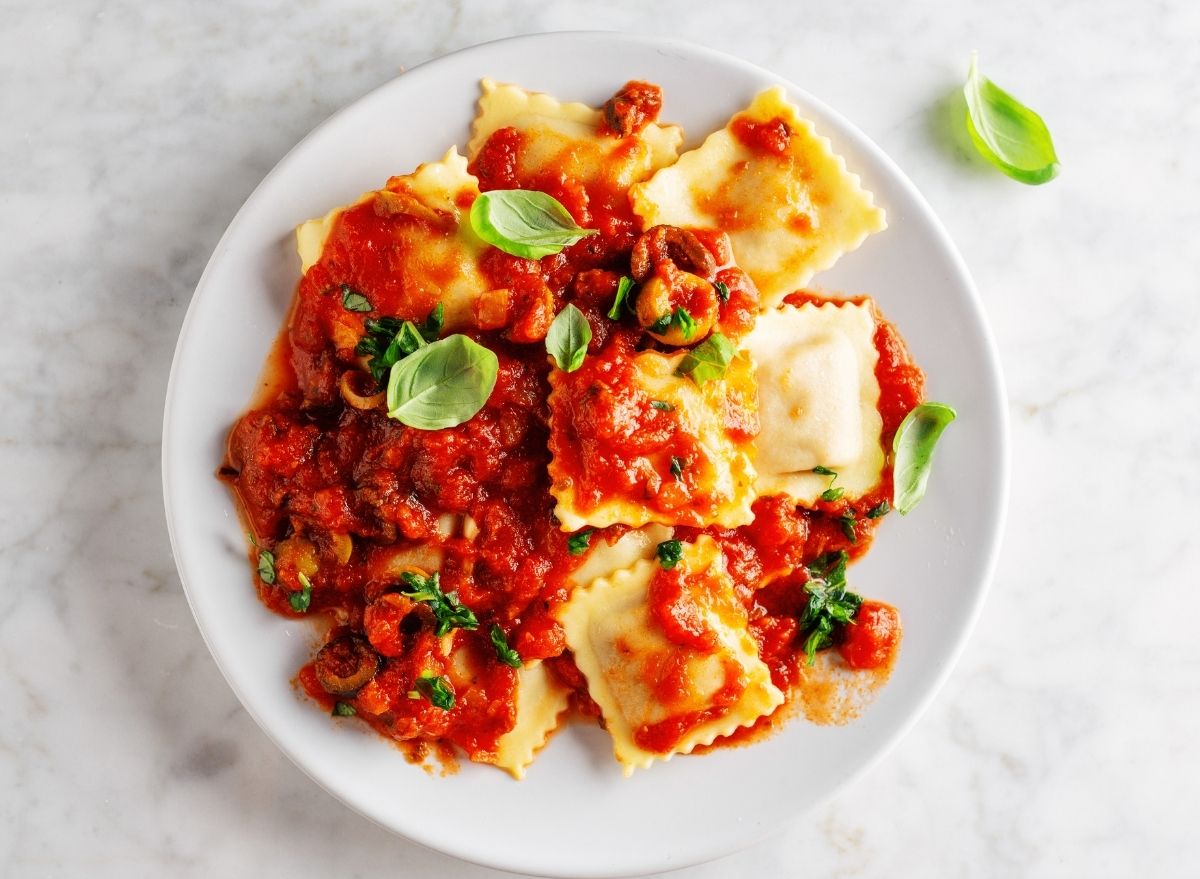 There's nothing better than classic cheese ravioli and some tomato sauce if you ask me. Well, maybe with some pesto, but I digress. When it comes to grocery shopping, the aisles of the supermarket can be infiltrated with so many brands, it can be so hard to choose. With that said, I took the guesswork out of it and I tried 7 common store-bought brands to find the very best-tasting ravioli.
During my taste test, I took a few factors into consideration: pasta, thickness, the amount and quality of the cheese filling, shape, and overall taste. Here's how the store-bought ravioli ranked, listed from worst to best. (Plus, if you're looking for some healthy dishes to make tonight try 22 Meals to Melt Belly Fat in 2022.)
Great Value Cheese Ravioli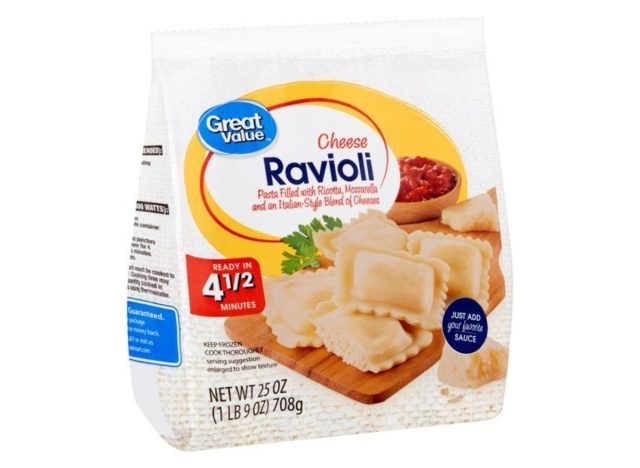 Per 136 g
: 250 calories, 4 g fat (2 g saturated fat), 15 mg cholesterol, 300 mg sodium, 43 g carbs (3 g fiber, 3 g sugar), 11 g protein
Aside from the price, there was nothing too great about this ravioli. This didn't satisfy my hankering for this cheesy and rich dish, but it was fine. I think the best way to describe it is bland. The packaging said it was filled with a blend of ricotta, mozzarella, and other Italian cheeses, but it was hard to taste all of them, instead, I tasted just a mound of cheese. It wasn't bad per se, but just not my favorite. If you know a child who is a picky eater, this is for them.
Wegmans Organic Cheese Ravioli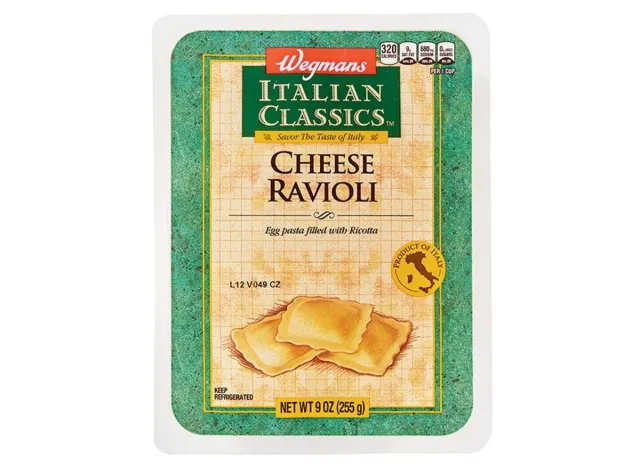 Per 110 g
: 170 calories, 4 g fat ( 2 g saturated fat), 10 mg cholesterol, 340 mg sodium, 26 g carbs ( 2 g fiber, 3 g sugar), 7 g protein
There was nothing wrong with the taste of this organic ravioli, but they were too tiny for me personally. Unlike the other brands, I felt like there was too much pasta and not enough cheese. With each bite, I was left wondering where the "rest of it" went which was disappointing. However, the ricotta and romano blend was rich and creamy. As a cheese-lover, the filling was up to par in terms of quality, but not quantity. This ravioli is good for children because they are tiny and nearly bite-sized.
365 By Whole Foods Market Organic Spinach Ricotta Ravioli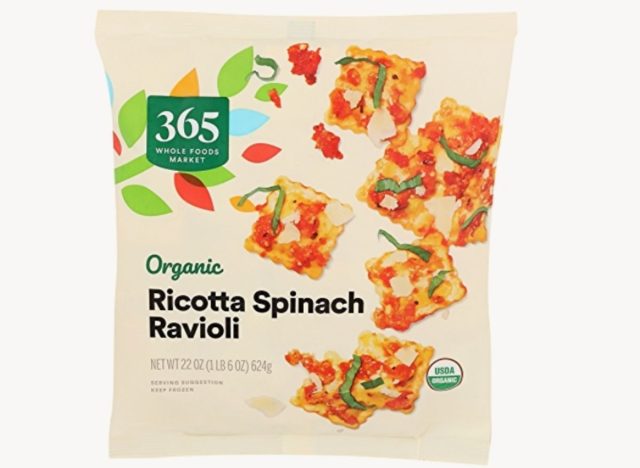 Per 114 g
: 200 calories, 6 g fat (4 g saturated fat), 50 mg cholesterol, 270 mg sodium, 24 g carbs ( 0 g fiber, 2 g sugar), 13 g protein
Do you know what you get when you combine spinach and cheese? Perfection. I might be a bit biased, but this duo is a match made in heaven. Out of all the ravioli I tried, these were the largest and filled to the brim. The ricotta was pretty standard in terms of taste, but in tandem with the spinach, it was creamy and savory. While the ravioli was large, the pasta was thin. There was almost too much cheese for the amount of pasta. I'm not one to complain about cheese, but I feel like it needed a little more pasta to balance it out.
Udi's Three Cheese Ravioli
Per 221 g
: 330 calories, 15 g fat ( 7 g saturated fat), 105 mg cholesterol, 830 mg sodium, 36 g carbs (1 g fiber, 7 g sugar), 13 g protein
There's something about circular ravioli that just tastes different and—shall I even dare to say, better? I think it's because they can hold more cheese, but it's really hard to tell. Either way, this gluten-free ravioli brand is at the top of my list in terms of thickness, taste, and shape. The cheese was absolutely scrumptious—so rich and creamy—but not overpowering to where it was too much. I could only eat a few of these before I was full, but I was satisfied and had a happy tummy afterward.6254a4d1642c605c54bf1cab17d50f1e
Cappello's Five Cheese Ravioli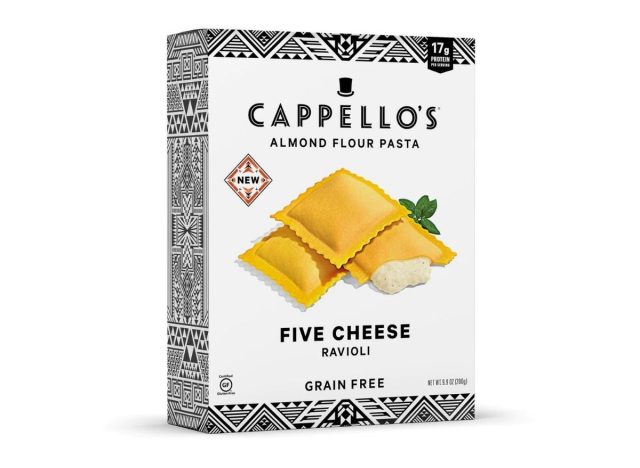 140 g
: 410 calories, 25 g fat (9 g saturated fat), 140 mg cholesterol, 700 mg sodium, 32 g carbs ( 2 g fiber, 3 g sugar), 17 g protein
Cappello's black-and-white packaging caught my eye from the shelf so I tossed it in my cart. Now, this isn't your typical ravioli, it's made from almond flour. Personally, I've never heard of that before, but I'm always open to trying new things. Compared to the other ravioli I tried, I could not tell that they were grain-free, gluten-free, legume-free, and soy-free. The density of the actual pasta was above average and was ideal for the amount of cheese—yes, there was a lot. This brand combines ricotta, mozzarella, parmesan, fontina, and asiago together for a rich and savory bite with every handmade ravioli. I didn't have any quandaries with this ravioli so that's why it's at the top of my list.
Kite Hill Spinach Ravioli
Per 100 g
: 220 calories, 7 g fat ( 0 g saturated fat), 230 mg sodium, 31 g carbs (0 g fiber, 0 g sugar), 9 g protein
When I spotted Kite Hill I was excited to try this dairy-free ravioli. Now, I know dairy alternatives aren't for everyone but don't knock it until you try it. The highlight of this pasta was the quality—it was easy to tell that the spinach and almond milk cheese were fresh. The pasta itself was a little too thin for my liking, but at least it didn't break with the tap of a fork. For those with dietary restrictions, this brand might be a great fit because it's vegan, soy-free, dairy-free, and free from artificial flavors and preservatives.
Good & Gather Four Cheese Ravioli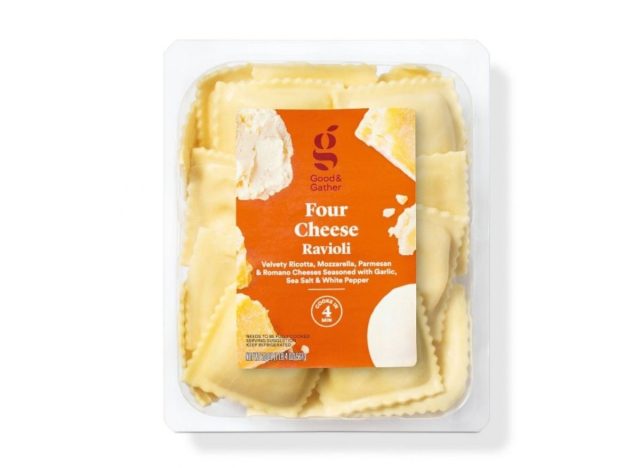 Per 100g
: 240 calories, 10 g fat ( 6 g saturated fat), 40 mg cholesterol, 400 mg sodium, 28 g carbs ( 0g fiber, 1 g sugar), 13 g protein
I'm a self-proclaimed cheese enthusiast so when I came across this ravioli at Target, I knew I had to try it. Upon first bite, my first words were "cheese please." I know, it might sound cheesy (no pun intended), but I could taste the ricotta, parmesan, mozzarella, and romano all at once. There was definitely a higher cheese to pasta ratio here, but I didn't mind at all. I only wish the pasta would have been a little thicker to keep its shape because it easily fell apart when I stuck my fork in it.
Read More:
We Tasted 8 Bacon Brands & This Is the Best
Casey Clark
Casey Clark is a current journalism student at Hofstra University with a passion for food, beauty, and entertainment.
Read more about Casey