9 Healthier Ice Creams That Actually Taste Good, Say Dietitians
These RD-recommended healthy ice creams are so delicious, you'll want to ditch all other desserts.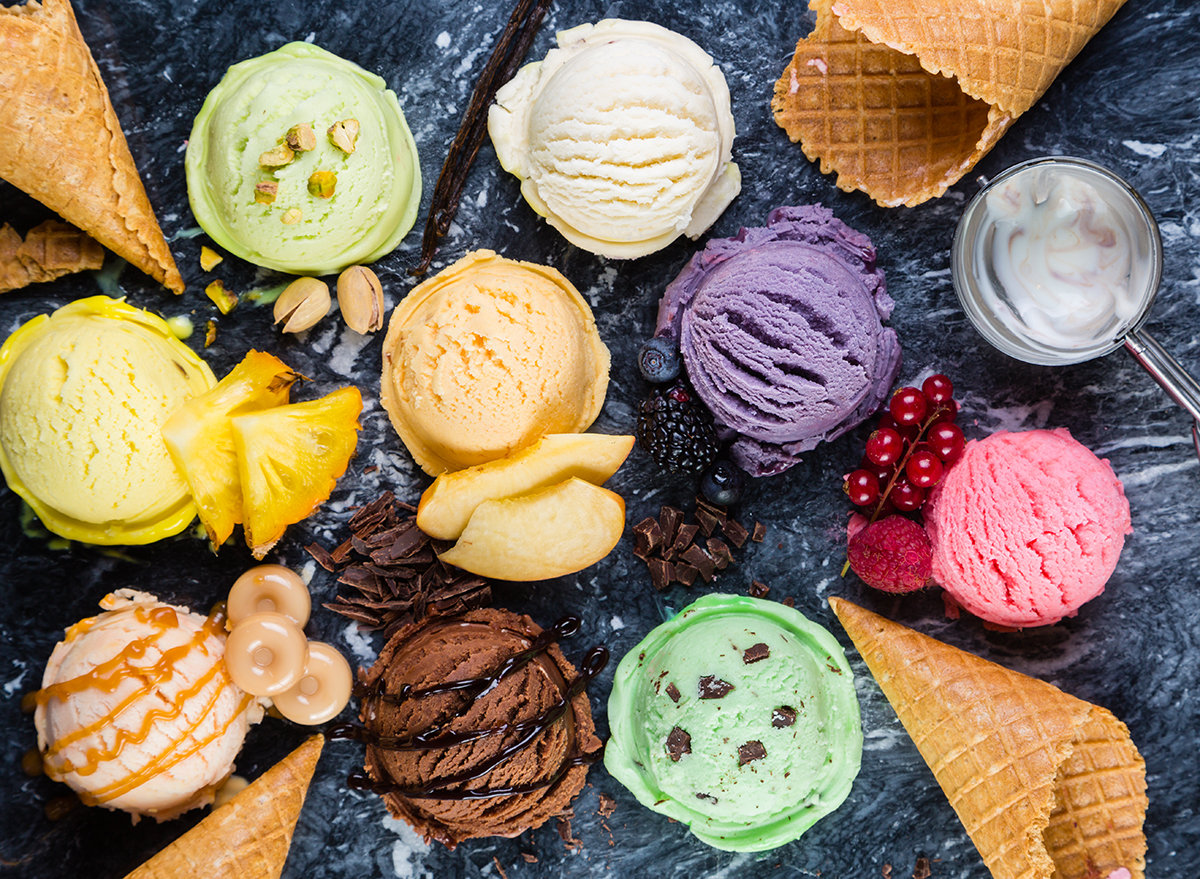 The product recommendations in this post are recommendations by the writer and/or expert(s) interviewed and do not contain affiliate links. Meaning: If you use these links to buy something, we will not earn a commission.
Summer is finally here, which means everyone is passing on warm, baked desserts for scoops of cool, refreshing ice cream. But for those who are also using the summer season to start fresh on some of their health goals, they may feel like they have to face the ultimate dilemma: either go for great-tasting ice cream and sacrifice your healthy intentions, or opt for "healthier" choices that taste like cardboard stuffed into a pint container. But thankfully, this choice no longer has to be made because plenty of brands are devoting their time to making healthy ice cream that actually tastes delicious.
The healthiest pint of ice cream for you depends on your personal health goals and needs. But across the board, experts recommend brands that use high-quality ingredients with reasonably low amounts of calories, fat, and sugar per serving. You'll also notice that some healthy ice creams are dairy-free or vegan, which can be enjoyable for those trying to watch their dairy intake.
Read on to see what dietitians say are the healthiest ice creams you can buy that you will actually enjoy eating. Then, for more healthy shopping tips, check out the 7 Best Low-Carb Breads on Grocery Store Shelves.
Halo Top Chocolate Ice Cream Cake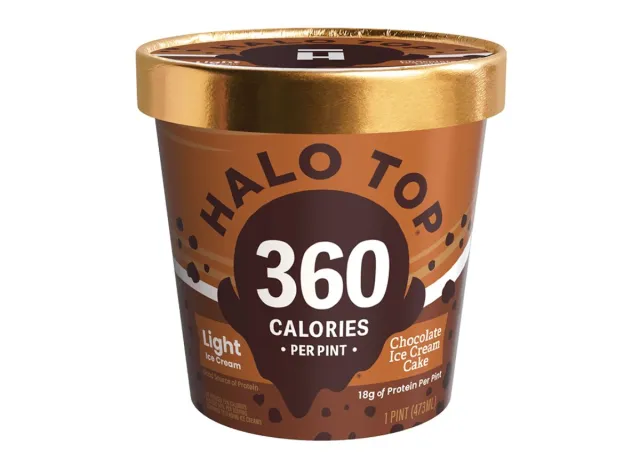 Per 2/3 cup
: 120 calories, 3.5 g fat (2 g saturated fat), 100 mg sodium, 23 g carbs (6 g fiber, 10 g sugar), 6 g protein
For most of us, it can be all too easy to eat the entire pint of ice cream sitting in front of us. And with brands like Halo Top, we can do this and still stay under 400 calories.
"We love Halo Top, and our clients are obsessed with it because it's rich and indulgent and full of flavor—but not the calories, so you feel like you're splurging while hitting your health and weight loss goals," say Tammy Lakatos Shames, RDN, CDN, CFT, and Lyssie Lakatos, RDN, CDN, CFT, also known as The Nutrition Twins. "Our recent favorite is their new Chocolate Ice Cream Cake flavor—the ultimate chocolate-lover's dream! This lower calorie, lower sugar ice cream has 120 calories and only 6 grams of added sugar per serving (360 calories per pint and 18 grams of protein), and has rich white icing, creamy chocolate ice cream, and that ice cream cake flavor.
Noosa Chocolate Fudge Gelato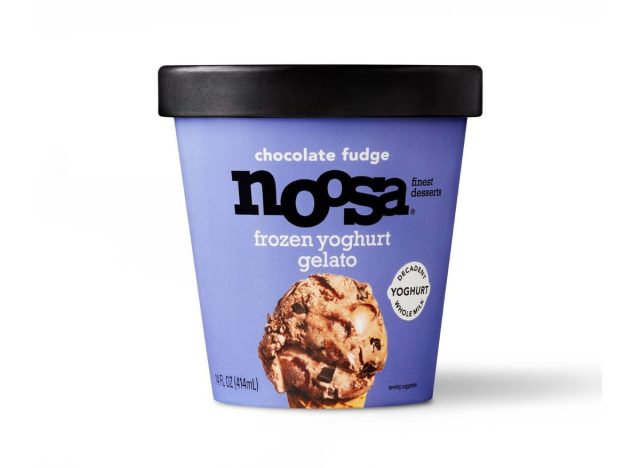 Per 2/3 cup
: 290 calories, 14 g fat (9 g saturated fat), 90 mg sodium, 36 g carbs (2 g fiber, 32 g sugar), 5 g protein
A brand known mostly for its yogurt and overnight oats, Noosa has you covered when you're in search of a healthy ice cream pint, too.
"Noosa Chocolate Fudge is a creamy option that offers a boost of live probiotics, thanks to the use of yogurt as an ingredient," says Lauren Manaker, MS, RDN, registered dietitian and author of The First Time Mom's Pregnancy Cookbook and Fueling Male Fertility. "It is made with natural ingredients and is free from any artificial colors or flavors."6254a4d1642c605c54bf1cab17d50f1e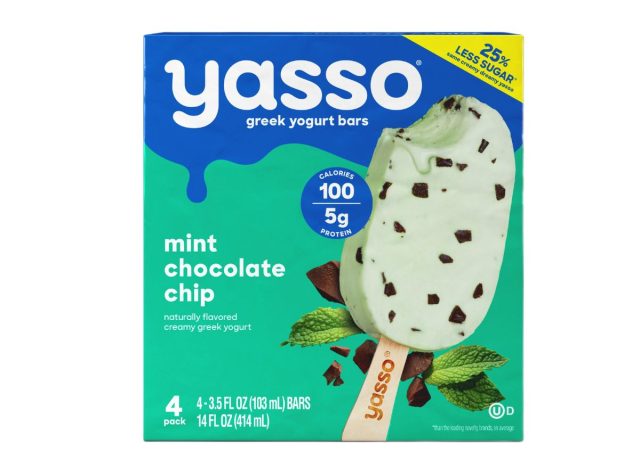 Per bar
: 100 calories, 2 g fat (1.5 g saturated fat), 55 mg sodium, 16 g carbs (2 g fiber, 13 g sugar), 5 g protein
One way to ensure that your ice cream is going to be on the "healthier" side is by opting for products made with Greek yogurt as their base—like Yasso Greek Yogurt Bars.
"These yogurt pops are a low-calorie dessert, which makes it the perfect healthy alternative to a high-calorie ice cream," says Lisa Young, PhD, RDN, registered dietitian nutritionist and author of Finally Full, Finally Slim. She adds that because they're made with Greek yogurt, "the protein content of the bar is high, keeping you satiated."
Arctic Zero Salted Caramel
Per 2/3 cup
: 50 calories, 0 g fat (0 g saturated fat), 140 mg sodium, 11 g carbs (3 g fiber, 8 g sugar), 2 g protein
Another option that's great for those "eat the whole pint" ice cream lovers is Arctic Zero Salted Caramel, which keeps the calories and sugar count low.
"At only 160 calories for the entire container, it won't make you feel overly guilty, especially because you'll also get 6 grams of protein and 8 grams of fiber," say the Nutrition Twins. "The trick to really enhance the flavor is to let it sit out on the counter to soften up before eating—it makes a dramatic difference!"
Per bar
: 100 calories, 2 g fat (1.5 g saturated fat), 30 mg sodium, 20 g carbs (0 g fiber, 12 g sugar), 1 g protein
You may recognize Good Humor from some of your old-fashioned favorites like the Vanilla King Cone or the Strawberry Shortcake Bar. However, their Creamsicle really shines in the healthy ice cream option category.
"Good Humor Creamsicle is another great healthy alternative to ice cream," says Young. "These bars are low in fat, contain about 100 calories, have vanilla flavoring, and are covered in orange-flavored sherbet. Furthermore, this bar contains some vitamins and minerals such as vitamin D, calcium, iron, potassium, and vitamin A."
So Delicious Dairy Free Salted Caramel Cluster
Per 2/3 cup
: 250 calories, 13 g fat (7 g saturated fat), 300 mg sodium, 32 g carbs (<1 g fiber, 23 g sugar), 3 g protein
So Delicious specializes in a variety of dairy-free products, including dairy-free milks, creamers, cheese, yogurt, and—you guessed it—ice cream.
"This dairy-free ice cream is the perfect option to buy when looking for a non-dairy, healthier dessert. They are made with cashew milk and are vegan, gluten-free, and soy-free," says Young. "The cashew milk base is also low in carbohydrates and calories. They come in a variety of different flavors, such as Snickerdoodle, Salted Caramel Cluster, and Chocolate Cookies 'N Cream.
Planet Oat Non-Dairy Frozen Dessert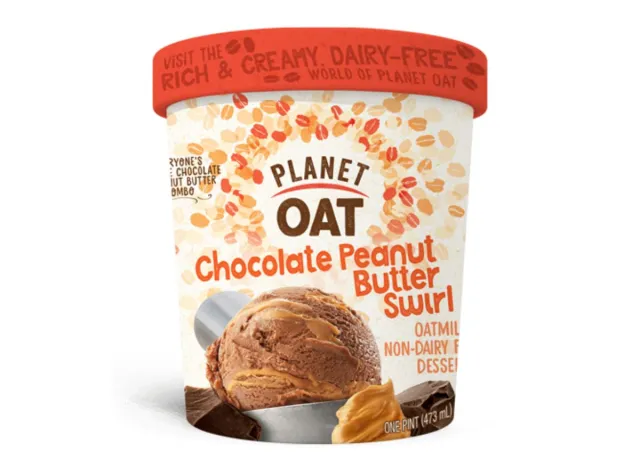 Per 2/3 cup
: 280 calories, 16 g fat (9 g saturated fat), 160 mg sodium, 30 g carbs (3 g fiber, 16 g sugar), 5 g protein
If you need a healthier ice cream choice that is also vegan and soy-free, Planet Oat is a delicious choice.
"These non-dairy ice cream alternatives are offered with oat milk and coconut oil making this a very creamy and rich dessert. While some of their flavors do contain gluten, they do offer some that are also gluten-free," says Young.
Skinny Cow Vanilla Gone Wild Sandwiches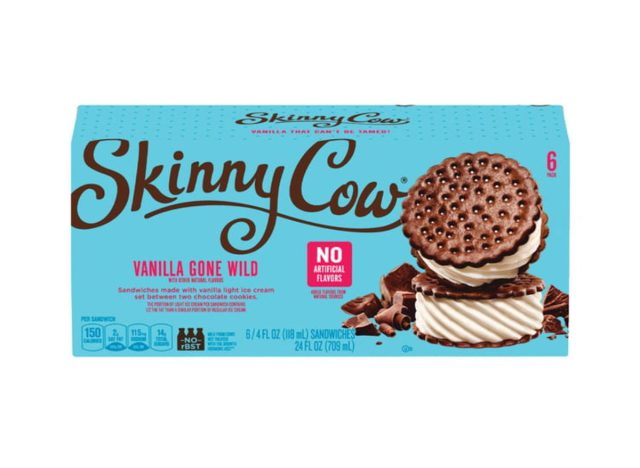 Per sandwich
: 150 calories, 3 g fat (2 g saturated fat), 115 mg sodium, 28 g carbs (0 g fiber, 14 g sugar), 3 g protein
A classic ice cream sandwich is a nostalgic choice for the summer, and with Skinny Cow, you can make this choice over and over again without worrying about derailing your health goals.
"These decadent ice cream sandwiches are so delicious that you'll have no idea that they're made with light ice cream," say the Nutrition Twins. "The ice cream is creamy and smothered in between two chocolatey wafer cookies, and for only 150 calories, it's the ideal waistline-friendly dessert."
"These ice cream sandwiches are rBST free, so they don't use cows that are injected with the genetically engineered hormone to increase milk production," The Twins add.
Halo Top Mango Fruit Sorbet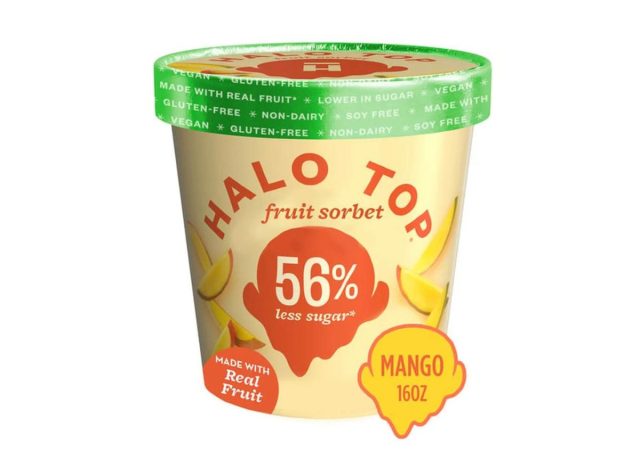 Per 2/3 cup
: 100 calories, 0 g fat (0 g saturated fat), 30 mg sodium, 33 g carbs (10 g fiber, 17 g sugar), 0 g protein
Lastly, if you're a fan of a cold sorbet on a hot summer day, Halo Top has you covered there, too.
"Unlike most sorbets, this one is made with far less sugar and flavored with real fruit (mango in this case)," says Manaker. "Each pint has 56% less sugar per serving than the leading fruit sorbets, and it is certified vegan and gluten-free."
Take this one to your next picnic, but be warned, everyone will want a bite.