12 Best High-Protein Vegetables
Add these high-protein veggies to your next meal to get more protein, vitamins, and antioxidants.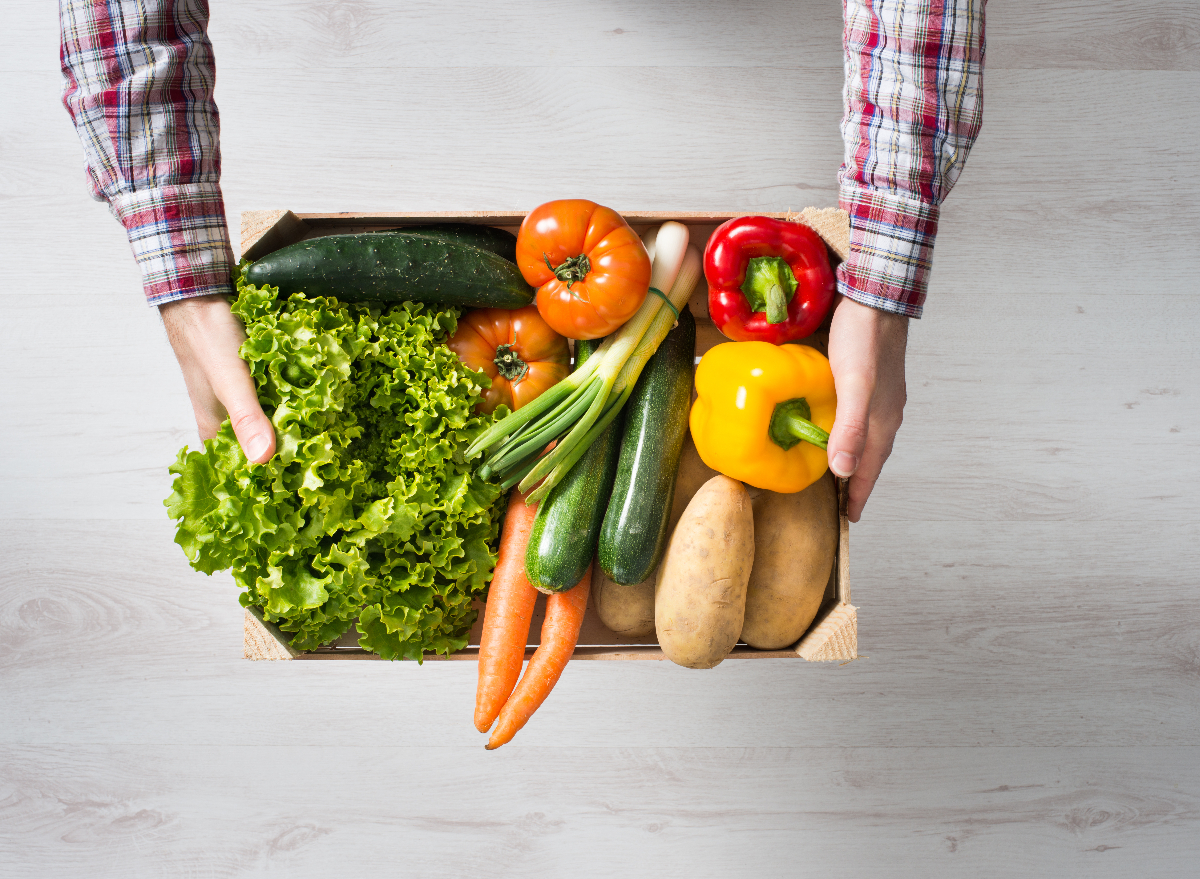 While it should come as no surprise that vegetables are good for you, did you know that high-protein vegetables, in particular, can be especially beneficial to your body?
There's a reason (or many reasons) why we were told to eat our vegetables when we were children. For those whose parents had to hide peas in their mashed potatoes as a kid, or who still struggle to eat veggies that aren't deep-fried even in adulthood, you're not alone. The CDC released a report in 2022 saying that Americans aren't getting nearly enough vegetables in their diet and urged that we figure out how to incorporate more of this food group into our daily diet. And when you learn all that vegetables can offer you and your health, you may feel more motivated to do so.
"Vegetables are packed with nutrients and antioxidants but do not carry a lot of calories. They also contain fiber to promote healthy digestion and absorption of nutrients while helping to reduce bad cholesterol levels," says Catherine Gervacio, RD, registered dietitian and nutrition writer for Living.Fit.
"The antioxidants in vegetables also help fight free radicals that harm the body," says Sarah Olszewski MS, RDN, CDN, registered dietitian nutritionist and owner of Sarah Lynn Nutrition."[The fiber in vegetables] helps regulate digestion, keeps you full, and has other benefits like lowering cholesterol," she adds.
Sure, most vegetables contain a helpful amount of fiber. However, some varieties of veggies contain protein, too.
What constitutes a high-protein vegetable?
"Vegetables are not a naturally high-protein food, but they can help boost the protein content of a meal, which may be especially important for people who don't consume animal products," explains Olszewski.
Because vegetables aren't super high in protein compared to some animal products, legumes, or grains, Olszewski adds that "any vegetable with about 3-5 grams or more in a serving is considered a high-protein vegetable."
Due to the fact that even the high-protein vegetables average between three and five grams (with a few going beyond this), it's still best to pair this food group with other proteins for a balanced meal.
"In order to achieve a high-protein meal with vegetables, the first step is to choose those that contain significant amounts of protein like spinach, green peas, asparagus, or sweet corn," says Gervacio. "Animal meats and plant-based proteins like legumes and beans can already fill a high-protein meal, but these vegetables are good add-ons to ensure a sufficient amount."
Read on to learn about 12 different high-protein vegetables to try, and for more healthy eating tips, check out The Best High-Protein Foods for Metabolism.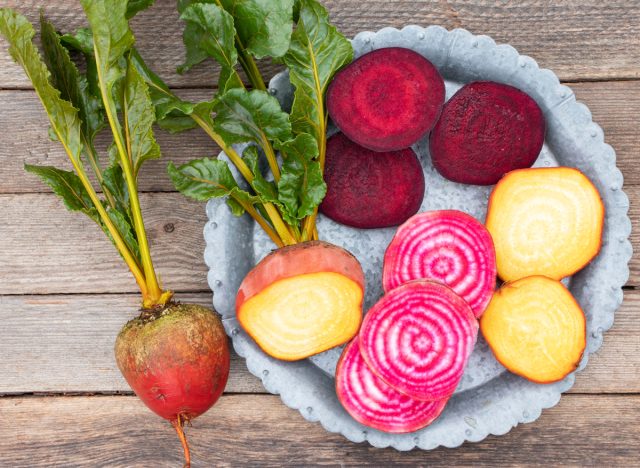 Protein per cup (cooked): 3.7 grams
Beets are known for their deep purple coloring and rich, earthy flavors, but were you aware that you can chow down on the greens of beets, as well? Providing potassium, iron, calcium, vitamin C, magnesium, fiber, and close to 4 grams of protein per cup, you can't go wrong with throwing these greens in a salad or sautéing them with your favorite seasoning.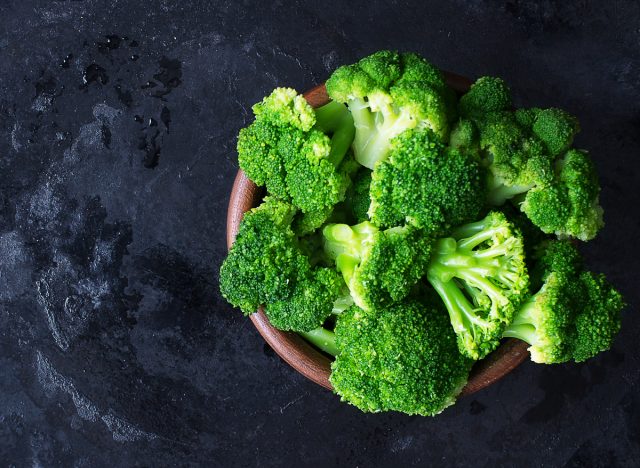 Protein per cup (cooked): 3.72 grams
Whether you're enjoying it baked, sautéed, or steamed, broccoli can give you a nice protein boost of about 3.7 grams per cup—and the benefits don't stop there. Along with being a high-protein vegetable, broccoli has also been found to help reduce the risk of certain cancers, aid in eye health as you age, and contribute important vitamins like folate, vitamin C, vitamin K, potassium, manganese, and iron.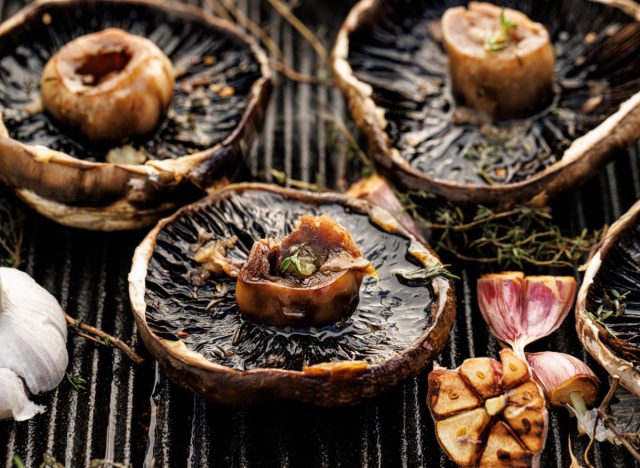 Protein per cup (grilled): 3.97 grams
There are thousands of different types of mushrooms that exist around the world, ranging from the poisonous ones, the kinds you cook with—and yes, even those that are considered "magic." But there are a few common varieties that are most commonly used in cooking because of their rich flavors and accessibility. And when it comes to the mushroom varieties with higher levels of protein, portobello is a great choice.
These can be chopped up and enjoyed in salads and noodle dishes, but they are also a popular replacement for meat when cooked on the grill.  However you choose to cook them, you'll surely appreciate the flavor and health benefits. In fact, some research even suggests that eating mushrooms was linked to lower all-cause morality. That sounds like quite the magic mushroom, after all.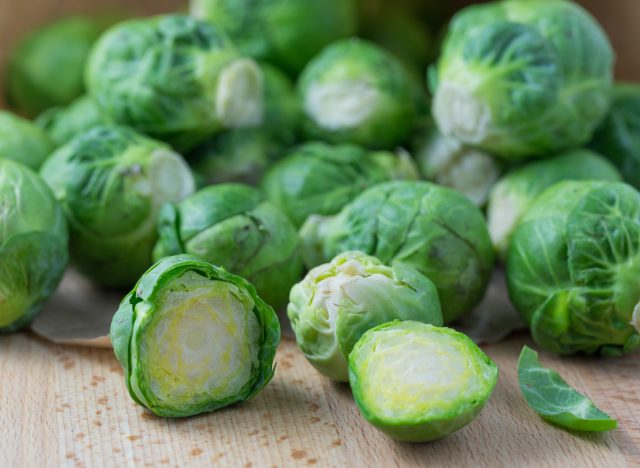 Protein per cup (cooked): 3.98 grams
Brussels sprouts: you either love them or absolutely despise them. But for those who enjoy this bitter, nutrient-dense, high-protein vegetable, they're giving their bodies even more health benefits than they may realize.
High in vitamin C, vitamin K, and folate, Brussels sprouts are rich in vitamins. They also provide about 4 grams of fiber per cup, which can help you meet your daily fiber goals. In fact, the Mayo Clinic states that a diet high in fiber is crucial for digestion, heart health, and reducing diabetes and cancer risk. (This green vegetable may not sound so bad after all!)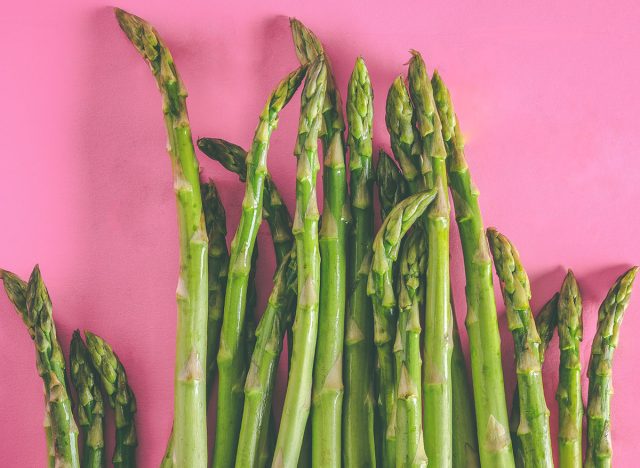 Protein per cup (cooked): 4.32 grams
Another vegetable with a bit of an inconsistent fanbase, asparagus is a healthy choice due to its high-protein content, but also because of a few other key characteristics. For example, asparagus contains potassium, which the American Heart Association says is crucial in maintaining healthy blood pressure levels. The Journal of Traditional and Complementary Medicine found that the bottom stems of asparagus—which contain helpful compounds and potassium—were linked to lower blood pressure.
One cup of asparagus also contains around 90% of your daily value of vitamin K. This vitamin is necessary for blood clotting and the production of healthy proteins in your bones.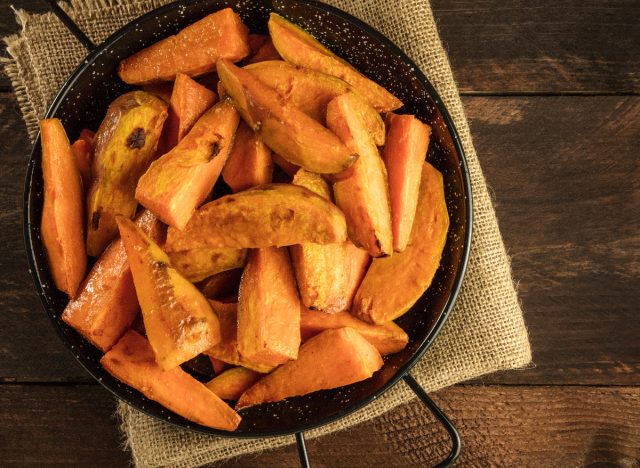 Protein per cup (cooked): 4.49 grams
Arguably one of the most versatile vegetables, sweet potatoes come packed with about 4.5 grams of protein per cup. Whether you're baking a whole potato, making sweet potato fries, using them in a breakfast hash, or making a casserole, you can enjoy a boost of protein, as well as about 8 grams of fiber per cup of cooked sweet potato.
Protein per cup of kernels: 4.96 grams
Summer is upon us, which means it's the perfect season to enjoy corn on the cob at your Memorial Day party or next family BBQ. All varieties of corn have some level of protein in them, but sweet corn specifically has almost 5 grams per cup. However, take note that sweet corn is also exactly as it sounds: sweet! This means there's a bit more sugar than other varieties of this vegetable.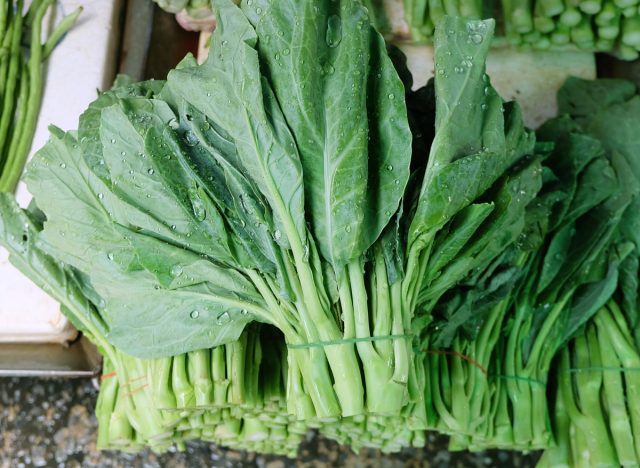 Protein per cup (frozen): 5.05 grams
If you're one of the lucky ones who has had a chance to try southern-style collard greens—the kind made with ham hock and bacon fat—then you know just how decadent and comforting these greens can be. And even though this particular dish may not be the healthiest way to eat collards, the greens themselves are packed to the brim with nutritional value.
First off, they are considered a high-protein vegetable with around 5 grams of protein per cup. Collard greens also contain calcium and vitamin K, both of which are vital nutrients for your bone health. On top of that, it's a cruciferous vegetable, which research suggests might help reduce the risk of certain cancers.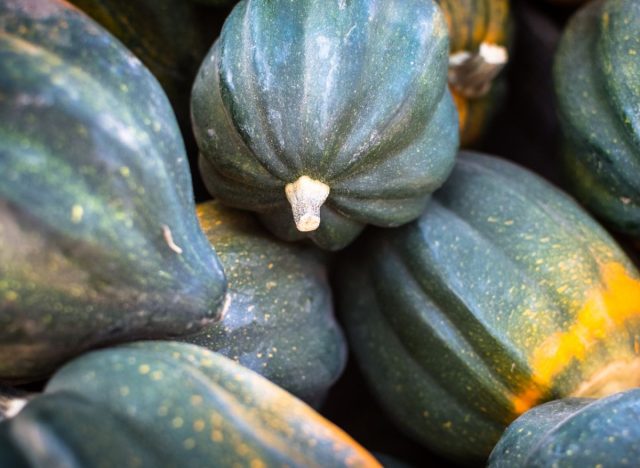 Protein per cup (cubed): 5.08 grams
Part of the winter squash family, this vegetable has flavorings similar to that of sweet potato and pumpkin, so you can especially enjoy it during the fall and winter months. It can be baked, pureed, made into soup, or thrown into a casserole, and whichever method you choose will help you get a nice dose of about 5 grams of protein per cup.
Hubbard squash also contains calcium, vitamin C, folate, vitamin A, and potassium, and it's very rich in fiber with about 10 grams per cup.6254a4d1642c605c54bf1cab17d50f1e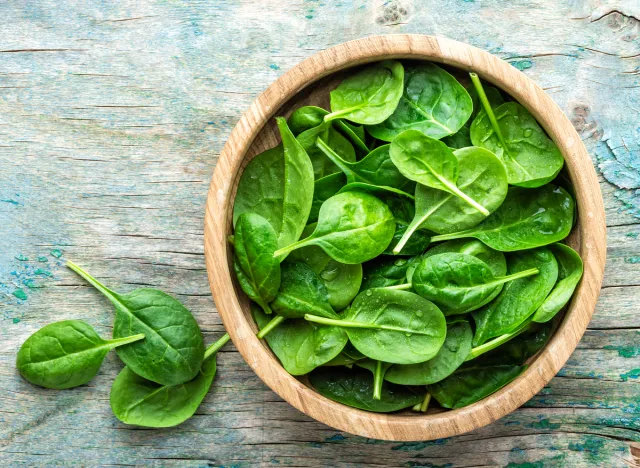 Protein per cup (cooked): 5.35 grams
Popeye was onto something with the impenetrable connection he had to his can of spinach. Not only does this leafy green provide over 5 grams of protein per cup, but it will bring your body a boost of fiber, iron, calcium, vitamin A, vitamin K, and vitamin C. And, one small study in the European Journal of Nutrition even found that spinach can potentially reduce oxidative stress damage, which impacts how quickly you age as well as your risk for disease.
RELATED: Could Nuts & Spinach Be Your Ticket to a Younger Brain?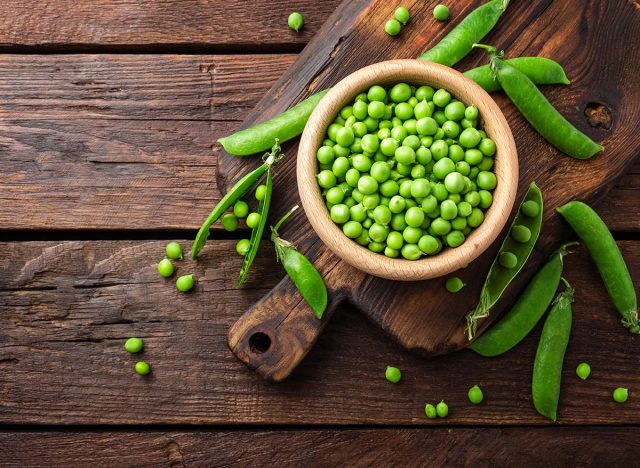 Protein per cup: 7.86 grams
Peas are often overlooked for their nutritional value, but this small vegetable is mighty in what it has to offer. With almost 8 grams of protein per cup, peas are some of the highest-protein veggies you can find. Along with protein, peas are also high in fiber, and one report from the British Journal of Nutrition states that the fiber in peas may help improve your digestive health.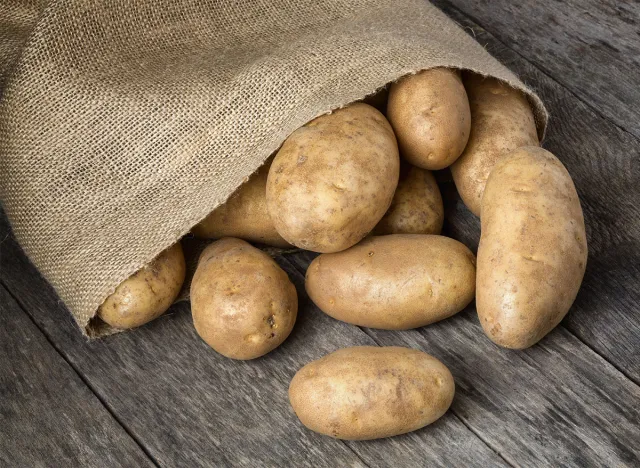 Protein per large potato (cooked): 7.86 grams
Some people may be scared off by the high-carbohydrate quality of potatoes, but steering clear of this starchy vegetable will cause you to miss out on nutrients like protein, fiber, calcium, potassium, and folate. Along with these nutrients, potatoes also contain the plant pigments lutein and zeaxanthin, which are antioxidants known to help improve cardiovascular health and reduce oxidative stress damage.
Of course, how you cook your potatoes—or any vegetable for that matter—will play a large role in the health benefits of these foods. So, skip the fried potatoes and don't be afraid to enjoy a nice baked potato for a comforting, high-protein vegetable.
Sources referenced in this article