20 Things to Make with Canned Pumpkin
From veggie burgers to dog treats, there are lots of healthy ways to put leftover pumpkin to good use!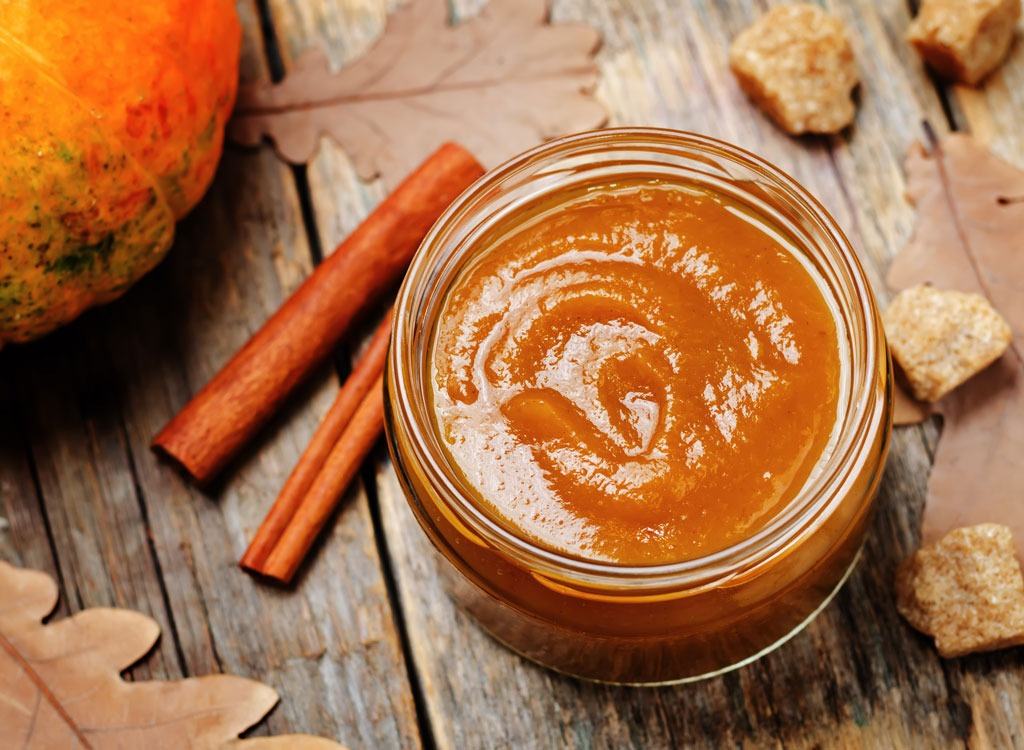 Get this: 85% of the canned pumpkin you see in the grocery store doesn't contain any pumpkin. Big brands like Libby's grow and can a fruit called Dickinson squash, which is pumpkin's tan-skinned cousin. The oddest part of all of this is that it's perfectly legal. Because pumpkins and "golden-fleshed sweet squash" are so closely related, the FDA told food companies that they could market their puree products as "pumpkin," regardless of how much of the actual fruit winds up in the cans. How annoying is that?
While we're not so happy that our "pumpkin" has been lying to us all of these years, that doesn't mean that we're going to stop buying the stuff. Not only is it a versatile ingredient that has the power to bring the flavor of fall to just about any dish, but the imposter squash is still a potent source of vitamin A. Also, many brands process their squash in such as way that retains a good deal of the fiber. The only downside of stocking up on pumpkin during foliage season? Trying to figure out what to do with all the half-used and leftover cans that will undoubtedly accumulate by the season's end.
And that's where we come in. To help ensure none of your delicious canned pumpkin goes to waste, we've rounded up some of the most delicious and creative ways to use up your leftovers. Whether you find yourself with a leftover tablespoon or an entire can of purée, here are some of the best ways to use it up. And if all else fails, you can always freeze your leftover pumpkin purée in a freezer-safe container or heavy-duty plastic bag. It will last several months and thaw in a bowl of cold water.
For more, don't miss these 15 Classic American Desserts That Deserve a Comeback.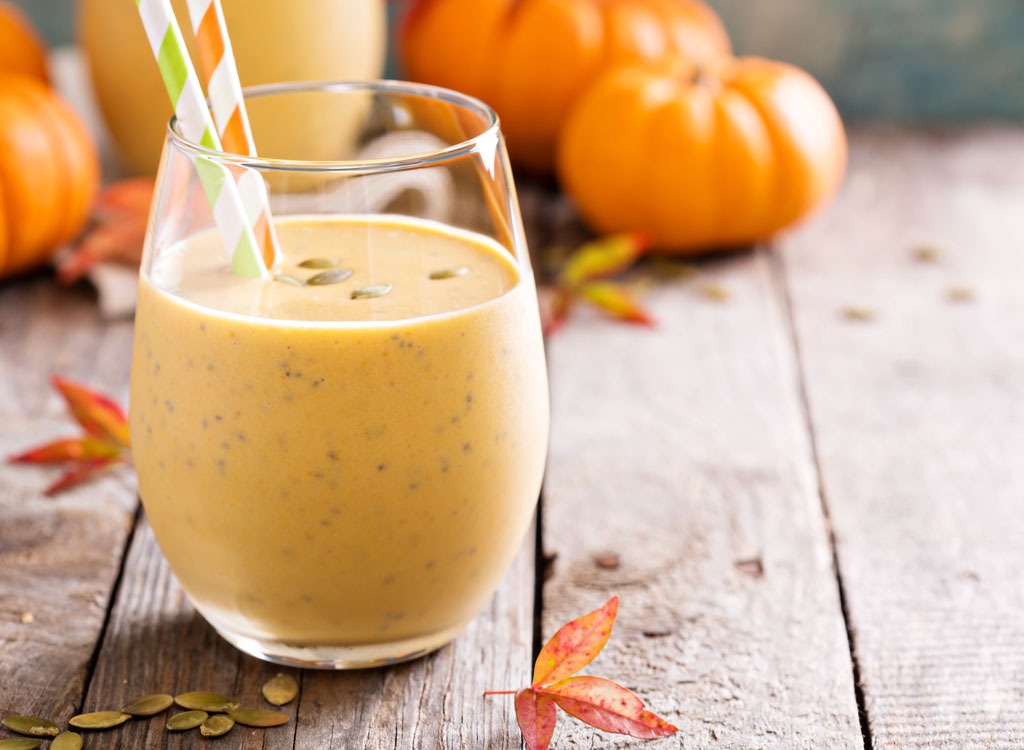 The easiest way to sneak some added nutrition into a busy lifestyle and use up some leftover pumpkin? Blend up a protein-filled weight-loss smoothie. You'll need about 1/4 cup of pumpkin purée to get a full flavor, but if you're a bit short, don't sweat it. Your drink is still bound to be a tasty one.
Ingredients
1 scoop plant-based vanilla protein powder
1/4 cup frozen banana
1/2 cup frozen pineapple
1/2 cup frozen peach slices
1/4 cup pumpkin purée
1/4 cup unsweetened almond milk
1/2 tsp ground cinnamon
1/4 tsp. pumpkin pie spice
5 ice cubes
How to make it
Place everything into a blender and let 'er rip.
And if you're vegan or paleo, don't miss our Paleo, Vegan Pumpkin Smoothie Recipe. Or try our Coconut-Pumpkin Smoothie Bowl for a spoonable breakfast.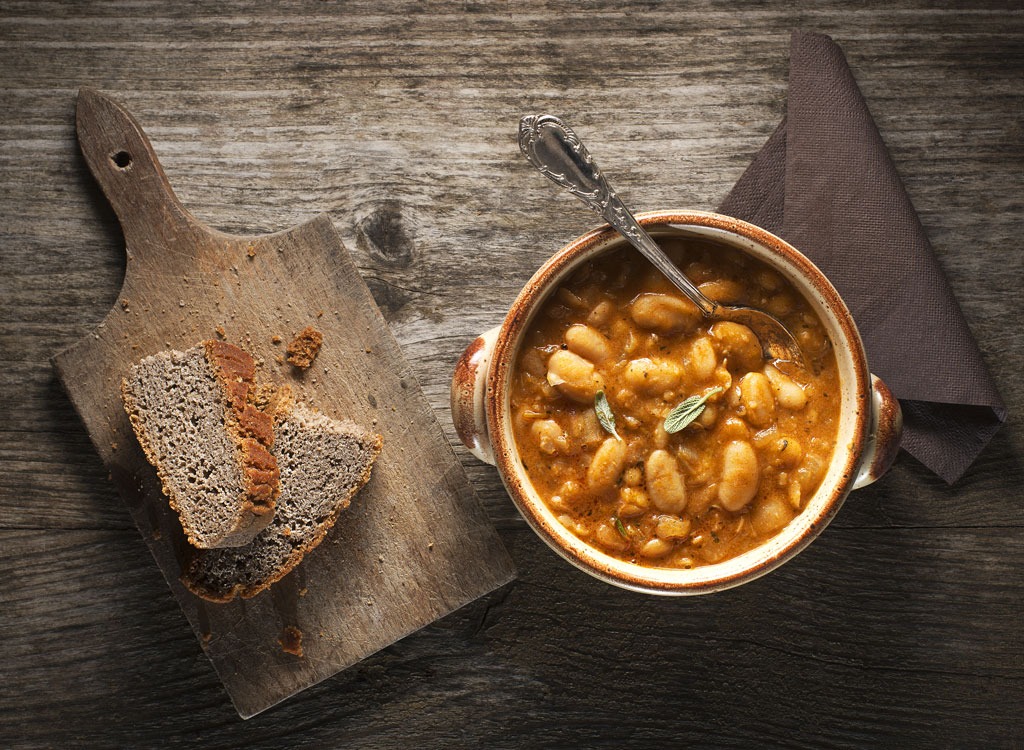 After making some delicious pumpkin energy bites, I had nearly an entire can of pumpkin purée leftover. To use it up, I decided to jump into the fall festivities with both feet by making my first chili of the season. Even though the delicious turkey pumpkin chili I made calls for a full 15-ounce can of purée, I just used whatever I had left in the can, and the flavor was still fantastic. If you have at least a half-cup left over, it's worth giving it a shot, too.
Try our Slow Cooker Pumpkin Chicken Chili Recipe or our Pumpkin Mole Chili Recipe.
If 80% of your kids' (or your picky spouse's) diet consists of mac and cheese, this vitamin A-infused version is the answer you've been searching for. The pumpkin recipe below is a great way to sneak nutrition into an otherwise indulgent dish—which should always be the goal when cooking up treats. Best of all, because there are no visible veggies, they'll never be the wiser.
Ingredients
15 oz. can pumpkin purée
2 tsp minced garlic
1/2 tsp salt
2 Tbsp olive oil
1 cup milk of choice
1 cup American or cheddar cheese, shredded
Noodles of choice
How to make it
Combine all ingredients in a medium pot and bring to a boil. Lower the heat, and stir until the ingredients are fully melted. While the sauce is cooking, boil your noodle of choice. After you've drained the water from the pasta, transfer it to a bowl, and cover it with the desired amount of sauce. If you prefer a thicker sauce, allow it to fully cool, and store it in the fridge overnight before reheating and using it as a pasta topper.
Create pumpkin coffee creamer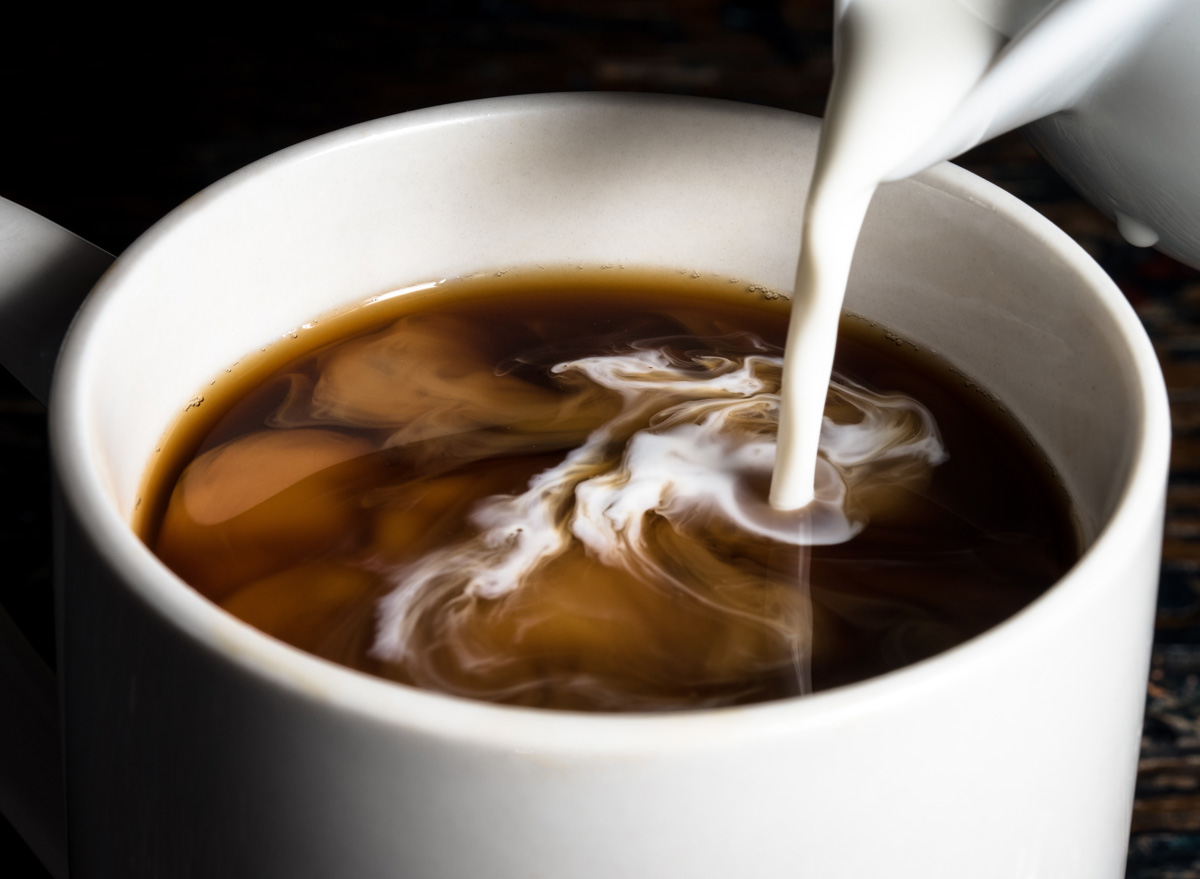 They may come in drool-worthy seasonal flavors like pumpkin spice and peppermint mocha, but most coffee creamers are filled with gross things like titanium dioxide (an ultraviolet radiation blocker that doubles as a whitening agent) and hydrogenated oil, which has been shown to increase cholesterol and diminish memory. And the seasonal drinks from coffee shops may not have quite as many chemicals, but they're overflowing with excess calories and sugar.
That said, the best way to transform your plain old coffee into something more autumnal is with a homemade creamer, which just so happens to be a great way to use some leftover canned pumpkin. Here's how to make a batch.
Ingredients
1 1/2 cups heavy cream, divided
1/4 tsp ground cinnamon
1/4 tsp allspice
4 Tbsp pure pumpkin
14 oz. sweetened condensed milk
How to make it
Combine a half cup of heavy cream with the spices and pumpkin in a saucepan and simmer over a low flame for 15 to 20 minutes. Next, remove the pan from the heat and allow it to cool completely. Then, whisk in a cup of heavy cream and condensed milk and store the mixture in a Mason jar. It will keep in the fridge for up to a week.
Eat This! Tip
Because this recipe contains added sugar, we suggest skipping your usual sugar packet. Your coffee will be sweet enough without it.
Craft a pumpkin chai tea latte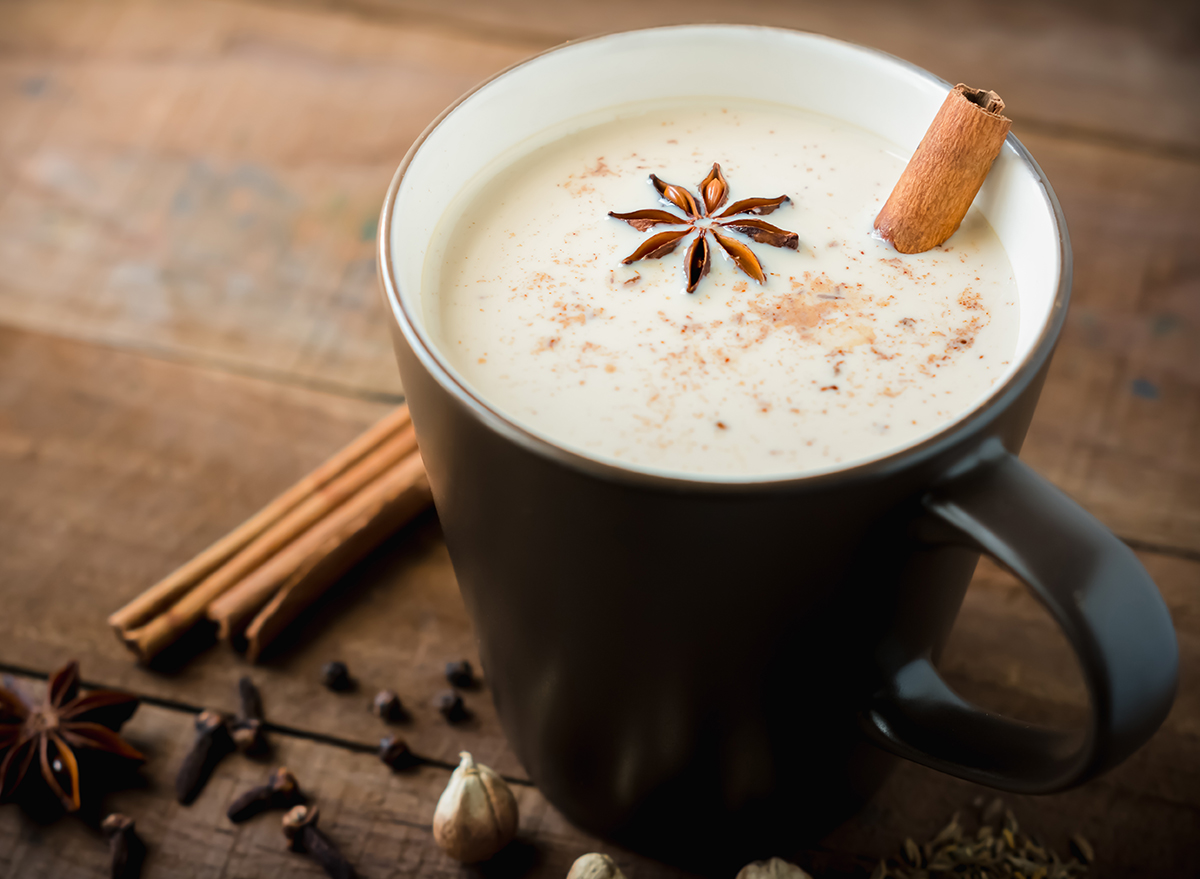 If you're feeling extra fancy—or if you just prefer tea to coffee—you can use your leftover pumpkin to add some fall flavor to a chai latte. The base of our go-to recipe is black tea, which has been shown to improve cardiovascular function by improving blood flow and blood vessel dilation. However, a study in the European Heart Journal found that adding dairy milk to the tea counteracts these effects, which is why our pumpkin chai tea latte recipe is dairy-free.
Ingredients
1/4 cup pumpkin purée
1 cup milk alternative
1 bag of black tea
3 Tbsp maple syrup
1 tsp cinnamon
1/4 tsp nutmeg
1/8 tsp ginger
How to make it
In a microwave-safe cup, warm all of the ingredients except for the teabag. Next, add the tea bag to hot water and allow it to steep for a few minutes until the desired flavor is achieved. Combine the warmed milk mixture with the tea, mix well, and top with a sprinkle of cinnamon.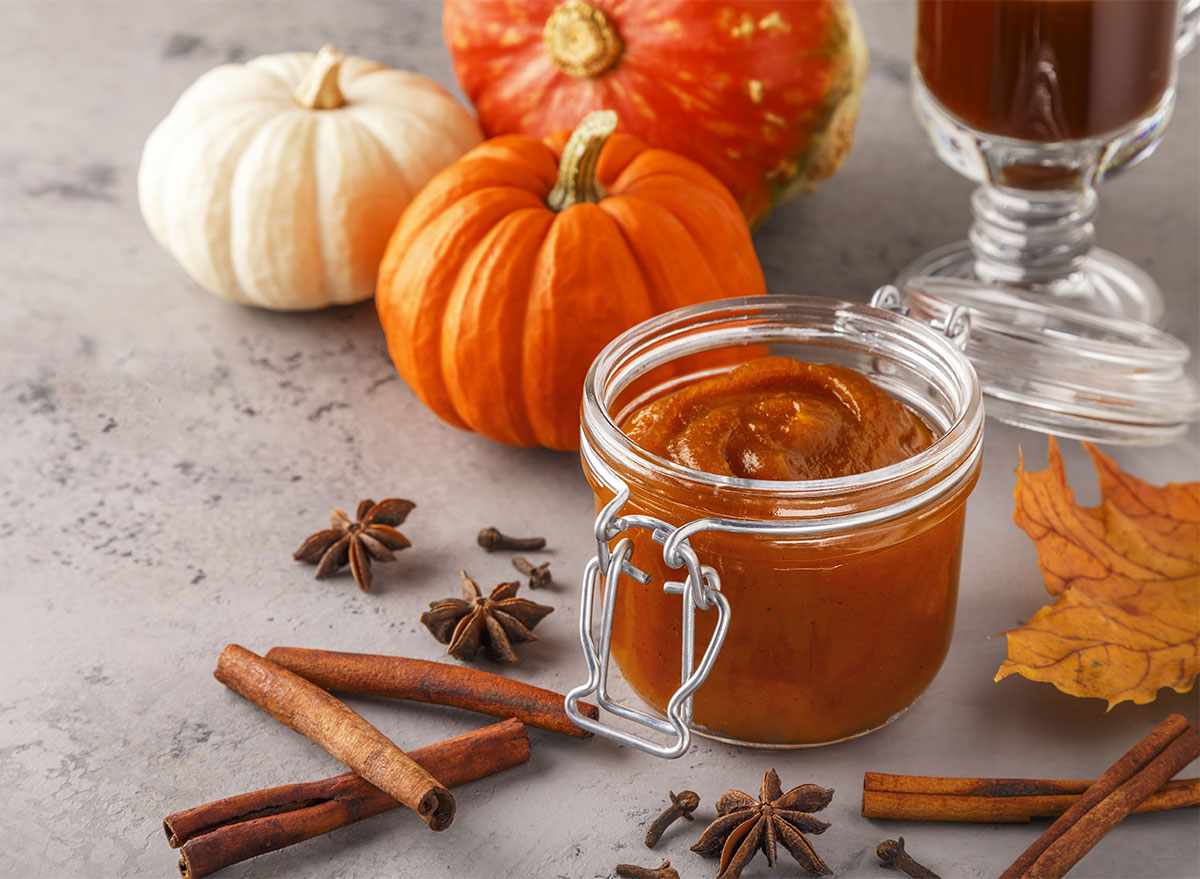 Pumpkin butter is a sweet, versatile condiment made from pumpkin purée that can be used to dress up everything from pancakes and pudding to oatmeal and grilled cheese. (Make it with goat cheese and Ezekiel cinnamon raisin bread. It's really good!) While making a batch does require a can or two of purée, depending on how much you want to make, it's still a great way to use up all those cans you stocked up on the second you spotted the first orange leaf of the season. We love this recipe because it calls for just eight easy-to-find ingredients and doesn't contain any added sugar.
Get the recipe from Minimalist Baker.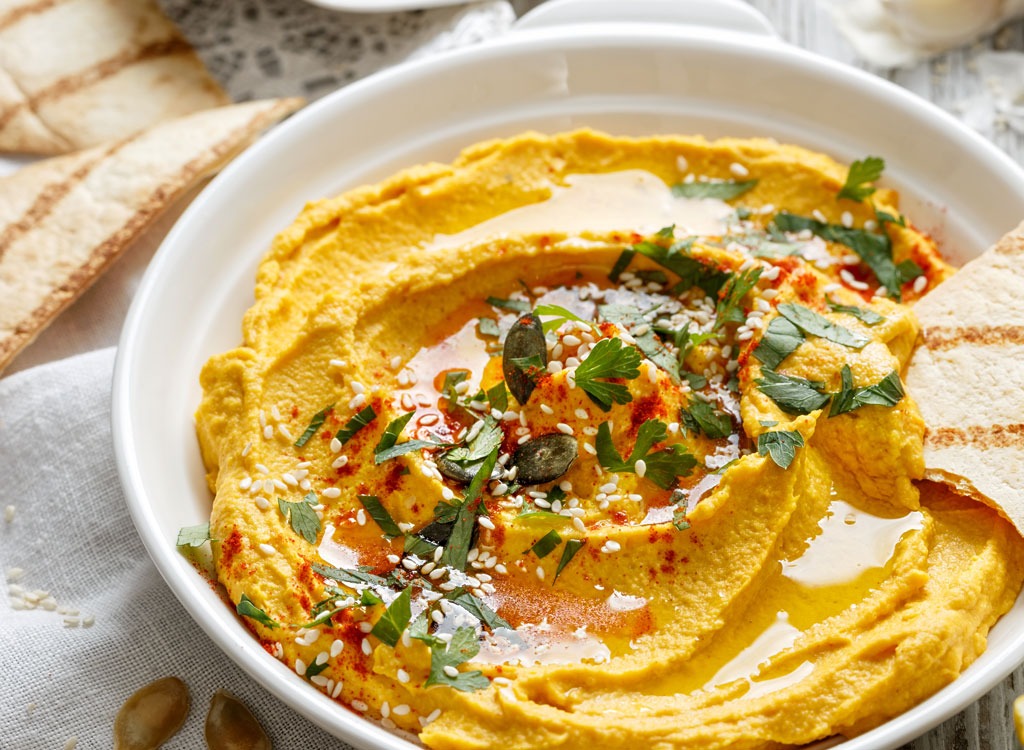 If you and your family plow through a batch of hummus each week, consider mixing things up a bit by making one that's infused with fall's favorite bright orange gourd. You can simply add whatever leftover pumpkin you have in your possession to your favorite recipe, or you can give our go-to blend below a try. No matter what you decide,  you can rest assured that your dip will be packed with satiating protein, fiber, and healthy fats—the ideal trifecta of nutrients for anyone working toward a weight-loss goal.
Ingredients
1 cup pumpkin purée
15 oz. cannellini or garbanzo beans, rinsed and drained
2 Tbsp tahini
Juice from half of a large lemon
1 Tbsp extra-virgin olive oil
2 garlic cloves, minced
1 tsp cumin
1/2 tsp smoked paprika
Salt, to taste
How to make it
Put all of the ingredients into a food processor and blend until smooth.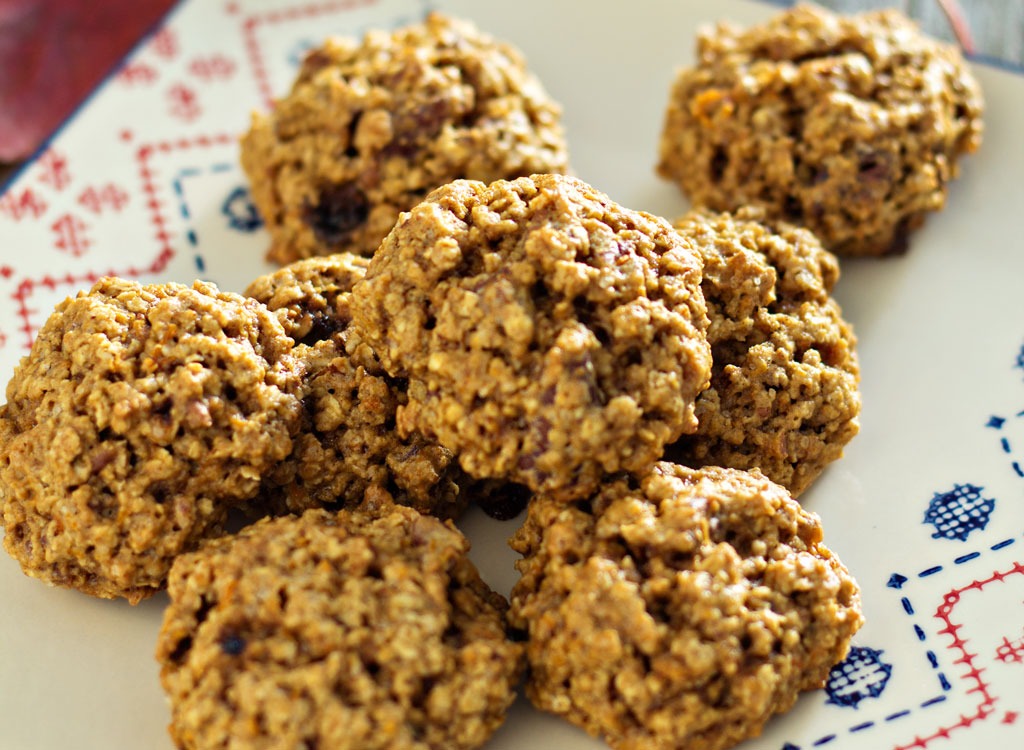 If you're a dieter with a sweet tooth, might we suggest using your leftover pumpkin to make a batch of better-for-you cookies? These bad boys are primarily made from superfoods that can help you lose weight. A series of studies published in the American Journal of Clinical Nutrition found that adding cinnamon to a starchy meal, snack, or sweet (like a cookie!) may help stabilize blood sugar and ward off insulin spikes, keeping you fuller, longer. Another reason we're fans of these treats? They're egg-free, so there's no reason to worry if mommy's little helpers sneak a few licks of the batter.
Ingredients
2 cups oats
1 cup pumpkin
4 Tbsp granulated sugar or sweetener of choice
3 Tbsp nut butter of choice
2 tsp cinnamon
How to make it
Lightly grease a cookie sheet and preheat the oven to 350 degrees Fahrenheit. While the oven is heating, mix all of the ingredients with a spoon. Form into cookies, plop them on the cookie tray, and bake for 12 to 15 minutes.
Not into oatmeal cookies? Try our keto-friendly Pumpkin Cookies with Cream Cheese Frosting or Pumpkin Pie Bars. Or, if you want to go all out with your dessert, try our Pumpkin Cheesecake, our Fudgy Pumpkin Brownie Bites, or our Pumpkin Bread Pudding.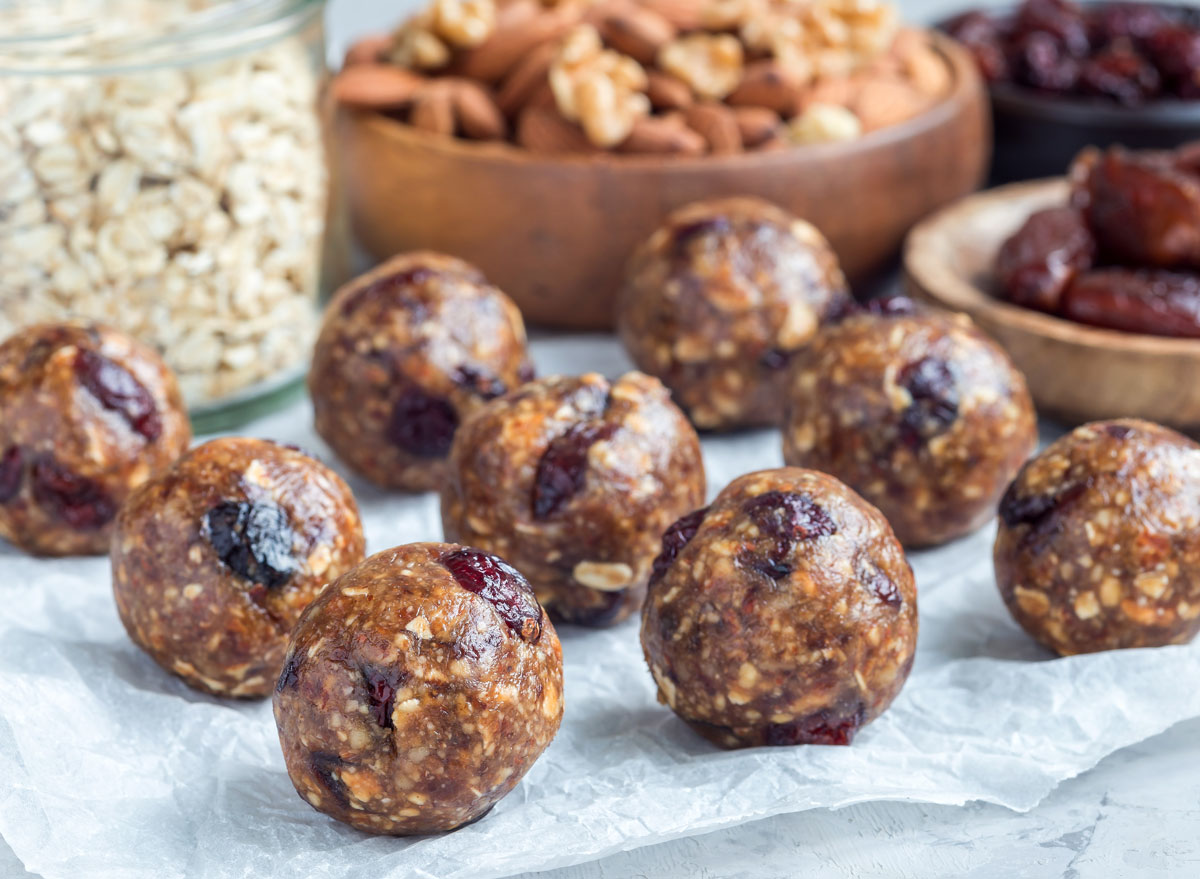 In my house, we nibbled on these flavorful fall treats for two weeks, and they were still as good as the first day I made them. All of their sweetness comes from natural sources like dates, honey, and pumpkin purée, making them a healthy option for those post-dinner dessert cravings. And thanks to the addition of chia seeds and pepitas, they offer up a bit of fiber and protein, too. Desserts with added health benefits are the very best kind—especially when you'd never guess they're any good for you because they're so darn delicious.
Ingredients
1 cup dates, pits removed
1/4 cup honey
1/4 cup pumpkin purée
1 Tbsp chia seeds
1 tsp ground cinnamon
1/2 tsp ground ginger
1/4 tsp pumpkin pie spice
Pinch of salt
1 cup dry old-fashioned oats
1 cup toasted coconut flakes (with no added sugar)
1 cup pepitas
How to make it
Combine the dates, honey, pumpkin purée, chia seeds, and spices in a food processor and pulse until the mixture becomes smooth and well combined. Transfer the mixture to a large bowl and stir in the remaining ingredients. To make the mixture easier to work with, cover, and refrigerate for 20 minutes. Then, using your hands, roll the mixture into energy balls. Store in a plastic container in the fridge.
Sizzle up pumpkin pancakes
The only thing better than fluffy, homemade pancakes on a crisp Saturday morning? A batch of sweet and fragrant pumpkin pancakes, that's what! If you have a half-cup of extra purée lying around, consider this a must-make recipe for your next family brunch. And for even more yummy a.m. meal ideas, don't miss these 17 breakfast ideas diet experts love.
Ingredients
2 Tbsp coconut flour
1/2 Tbsp ground cinnamon
1/2 tsp baking powder
1/8 tsp salt
1/2 cup pumpkin purée
2 large eggs
1/2 cup fresh egg whites
1 tsp vanilla extract
2 Tbsp sugar
How to make it
In a small bowl, mix the coconut flour, cinnamon, baking powder, and salt. In a separate, medium-sized bowl, whisk together the pumpkin, eggs, egg whites, vanilla extract, and sugar. Next, add the dry ingredients to the wet ingredients and thoroughly combine with a whisk. Heat a griddle or frying pan with cooking spray and cook the batter into pancakes. Each side should cook for about 1 to 2 minutes. Serve immediately and enjoy with pure maple syrup and chopped walnuts or pecans.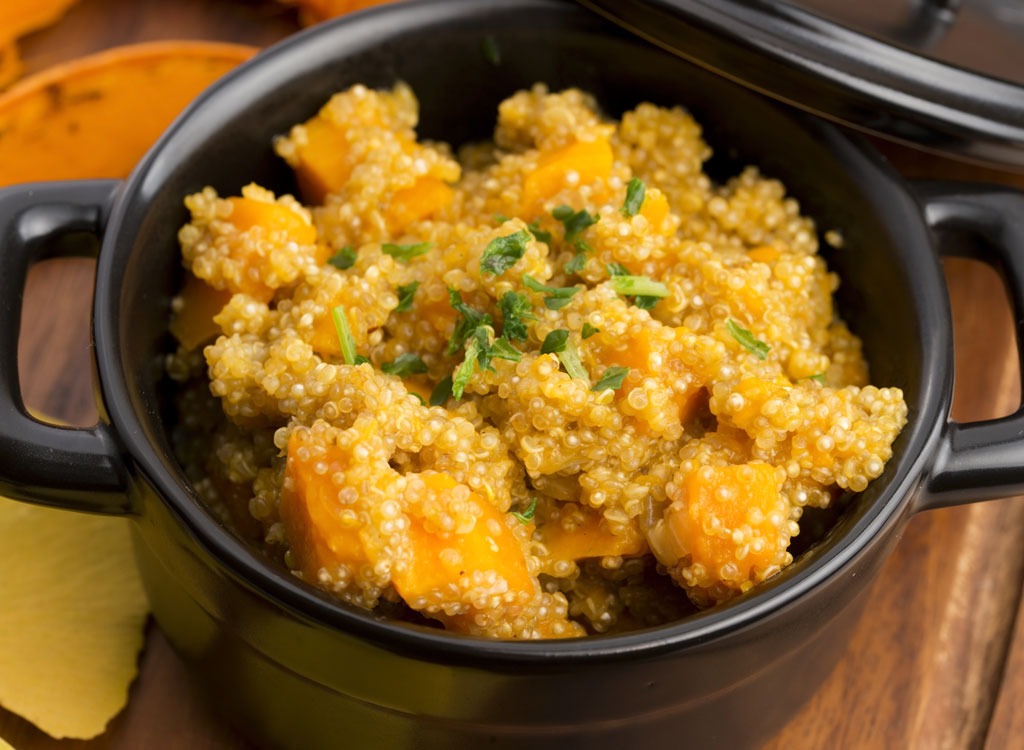 If you have just five minutes of prep time to spare, you can give new life to quinoa, a healthy ancient grain packed with fiber and protein that health nuts can't seem to get enough of. Evan, the blogger behind The Wannabe Chef, has a great recipe for savory pumpkin quinoa that combines veggies like onions and green pepper with savory herbs de Provence. If you don't have the spice blend on hand at home, simply mix equal parts thyme, rosemary, and sage.
Get the recipe from The Wannabe Chef.
Use it to make mashed potatoes healthier
One of the best ways to ward off the blood sugar spike—and the subsequent surge of hunger—that comes along with something starchy is to combine it with a good source of fiber. That's why we love the idea of mixing puréed pumpkin into a classic mashed potato dish. For every pound of potatoes, add a cup of canned pumpkin. Serve the dish out of a small, hollowed-out pumpkin for a festive addition to your fall dinner table.
Get our recipe for Pumpkin-Potato Mash.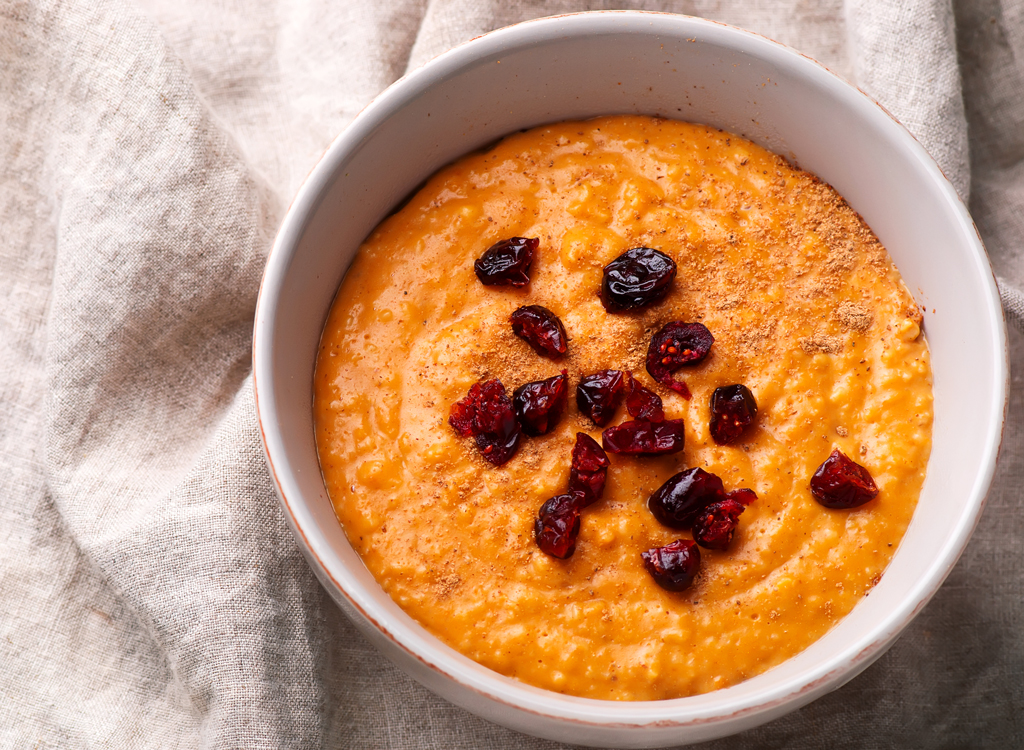 Transform the morning's most comforting breakfast dish into a fall fiesta with the addition of pumpkin purée, maple syrup, cinnamon, and chopped pecans or pepitas. For even more delicious ways to dress up your morning oats, don't miss these 50 best overnight oats recipes!
Craft a fall veggie burger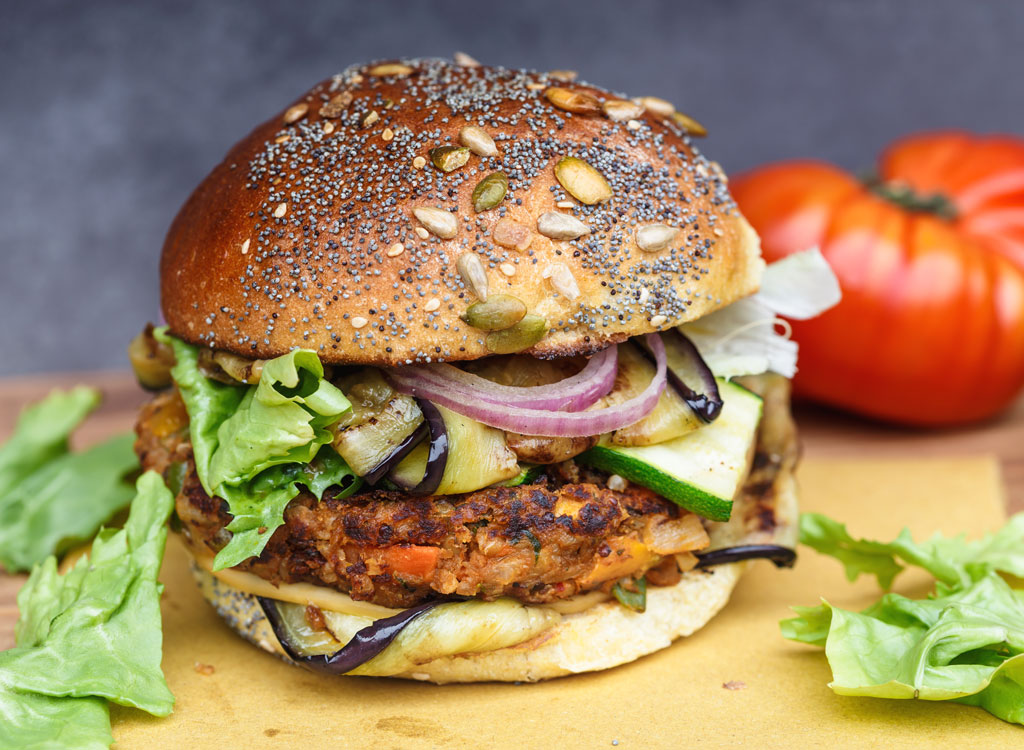 Skip those "meh" frozen patties and make a batch of homemade veggie burgers with the help of this pumpkin black bean veggie burger recipe. By combining low-cost yet nutrient-rich ingredients like rolled oats, black beans, and pumpkin purée, you can create a low-cost dinner entrée that you can easily work into your weekly dinner lineup—even long after pumpkin season has passed.6254a4d1642c605c54bf1cab17d50f1e
Get the recipe from Wholefully.
Make homemade "nice cream"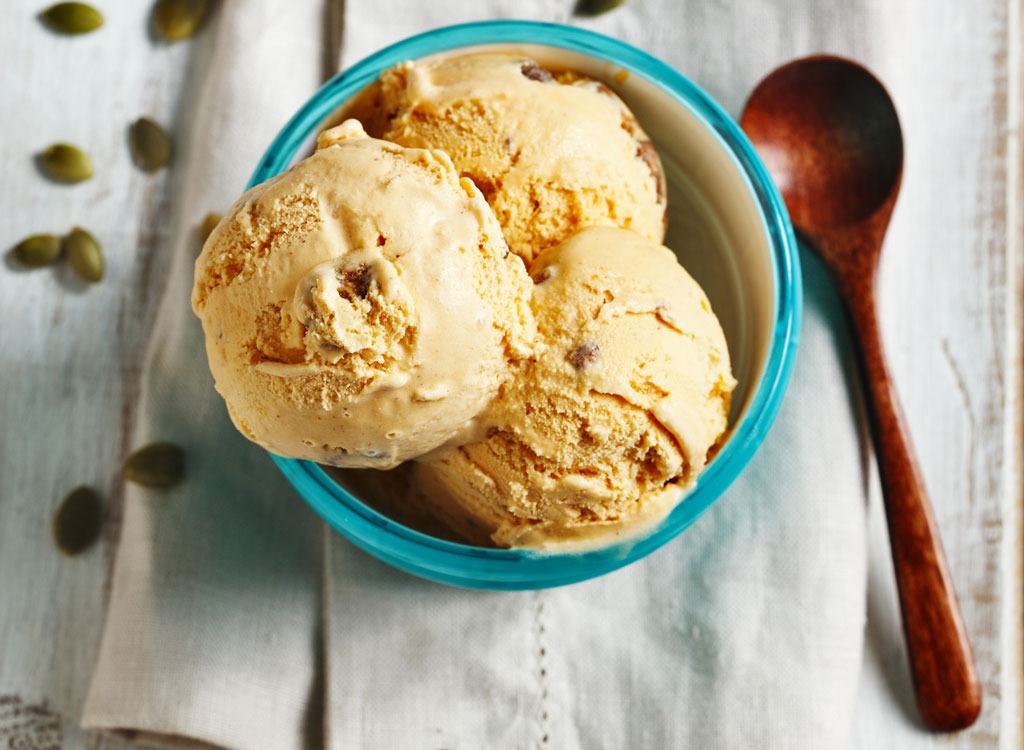 Just because fall is upon us doesn't mean you have to give up your ice cream habit. However, if you're trying to ward off winter weight gain, we suggest making the switch to "nice cream." Nice cream, sometimes called banana ice cream, is made by blending frozen fruit with flavorful mix-ins. Because nice cream has a mild-tasting base, it's the perfect backdrop for the canned pumpkin to showcase its sweet and savory flavor profile.
Ingredients
2 medium bananas, sliced and frozen overnight
1/2 cup pumpkin purée
2 1/2 Tbsp maple syrup
3/4 tsp pumpkin spice
How to make it
Blend all ingredients in a food processor until well combined. Transfer to a freezer-safe container and allow the mixture to harden for 24 hours before you dig in.
Enjoy some pumpkin chia pudding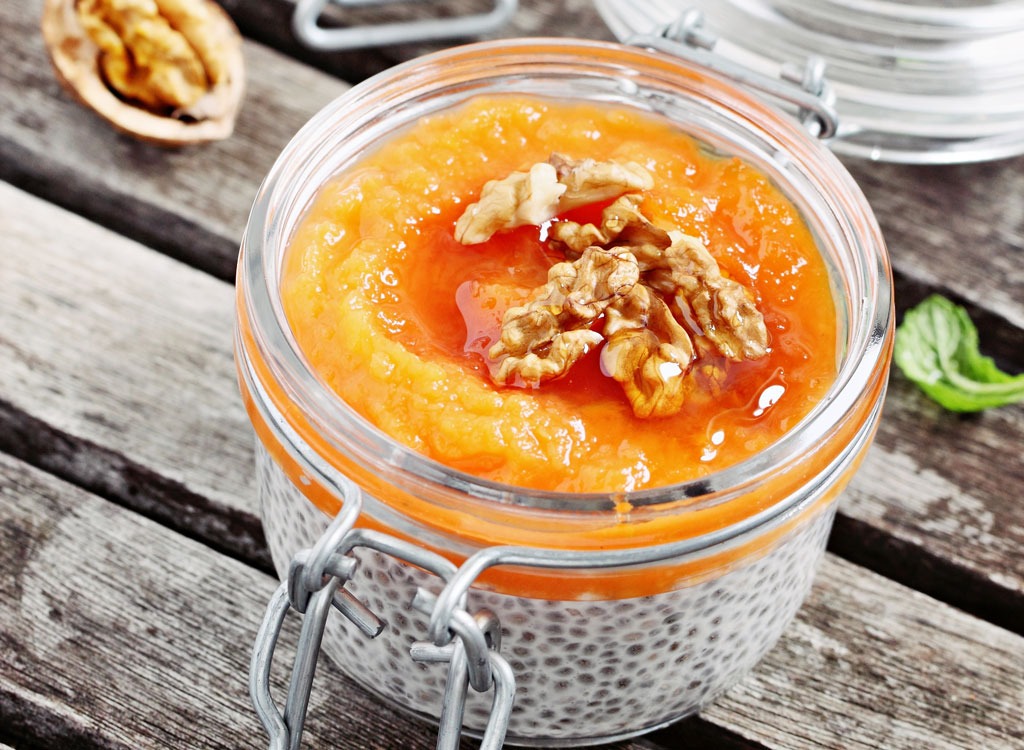 Never heard of chia seed pudding before? It's essentially one of the tastiest—and easiest—ways to work the fibrous superfood into your daily diet. And better yet, it can be easily adapted to fit nearly any flavor profile, including pumpkin. The basis of every recipe starts by combining 1/4 cup of chia seeds and 1 cup of almond or cow's milk in a bowl or Mason jar. From there, you can add whichever sweeteners and flavors you enjoy the most.
To make pumpkin chia pudding, add about 1/4 cup canned pumpkin, 1 tablespoon honey, 1/2 teaspoon cinnamon, and a pinch of nutmeg to the bowl, too. Then, simply mix everything, cover the bowl or screw on the Mason jar lid, and refrigerate the mixture overnight. While you're sleeping, the recipe liquids expand the seeds, forming a tapioca-like texture—no cooking required.
Not into chia seeds? Try our Pumpkin Parfait Recipe.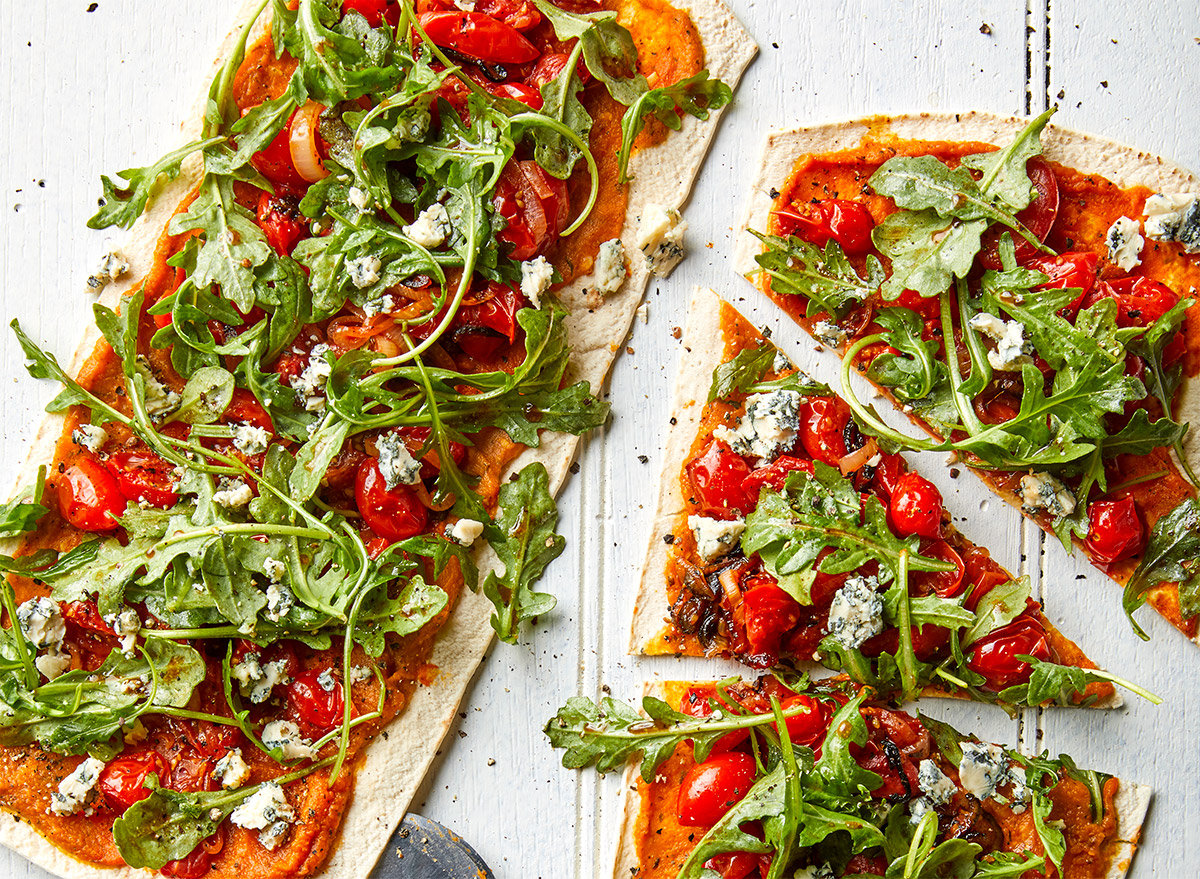 Upgrade your homemade pizza to a seasonal flatbread. Pumpkin marinara is delicious with fresh arugula and tomatoes, and it's way better than frozen pizza.
Get our recipe for Pumpkin Marinara.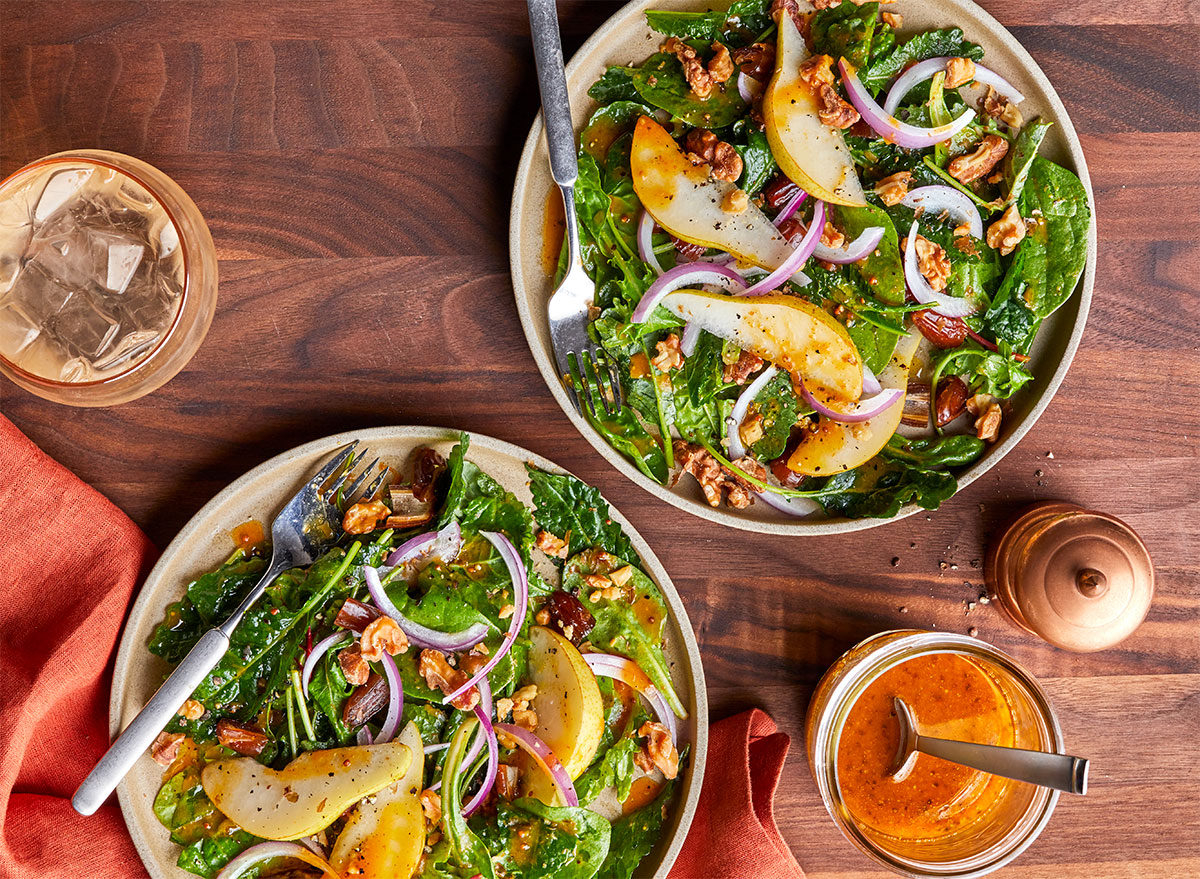 A salad dressing made with canned pumpkin? Now that's a fall recipe we can get behind! You'll never call your salad "sad" again.
Get our recipe for a Salad with Pumpkin Vinaigrette.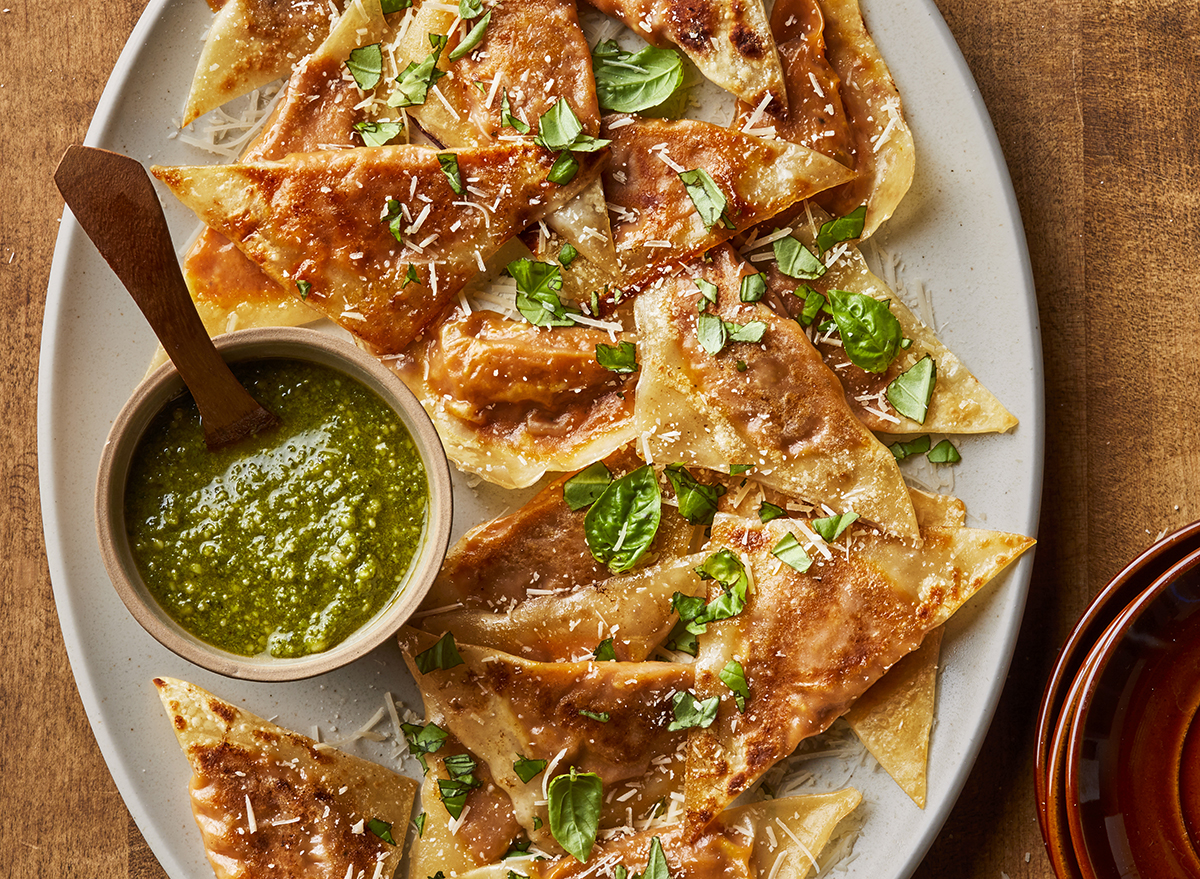 Cheese and meat are far from being the only tasty ravioli fillings. Try our easy recipe, complete with pesto sauce. Not into ravioli? Pumpkin is just as delicious in pad Thai, too.
Get our recipes for Pumpkin Ravioli and Pumpkin Pad Thai.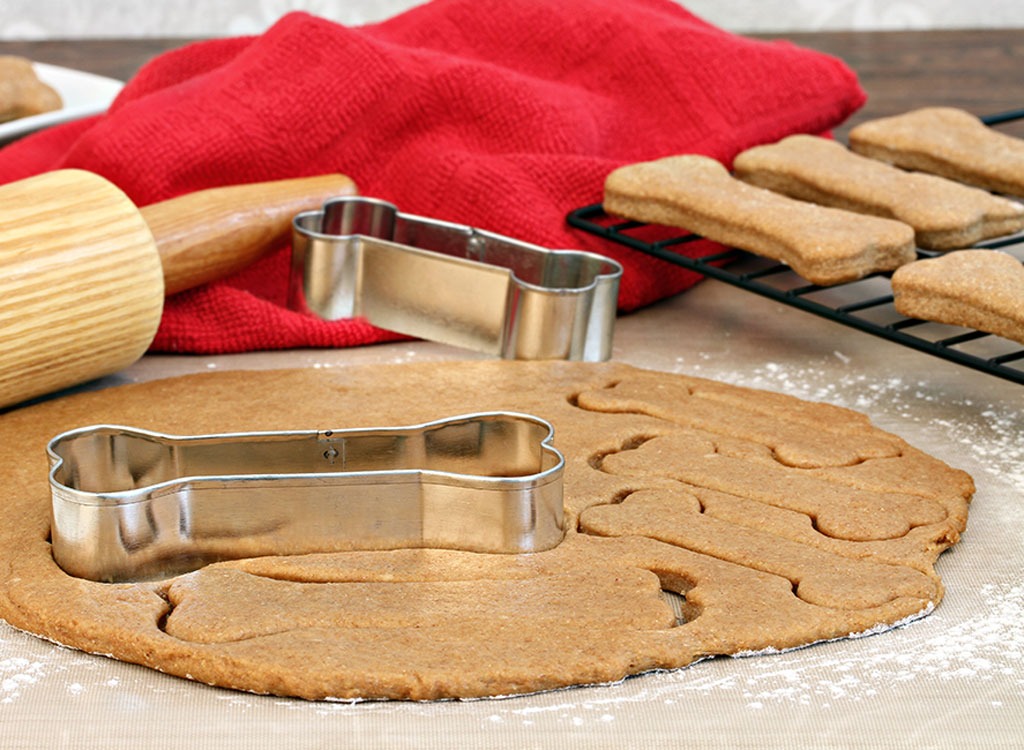 It's a little-known fact, but dogs love pumpkin! Give Fido a fall treat by using your leftover purée stash to make him or her a sweet treat.
For more, check out these 108 most popular sodas ranked by how toxic they are.