10 Best Restaurant Salads to Order, According to Dietitians
Don't let your restaurant salad destroy your healthful dining goals.
Many health-conscious diners opt for a salad for lunch or dinner. The thinking is that a fresh, healthy restaurant salad with plenty of veggies and lean protein will be a healthy, diet-friendly choice compared to other menu items. But this isn't always the case.
Many popular, and seemingly healthy restaurant salads often have more calories, fat, and saturated fat than most of us need in an entire day. What's more, many have more added sugar than a can of soda. A fast-food cheeseburger and fries may be a better bet than many fast-casual salads.
Case in point: The Oriental Chicken Salad from Applebee's packs in 1,560 calories, 103 grams of fat, and 17 grams of saturated fat. What's more, this salad has more than 10 teaspoons of added sugar! To help ensure that your lunch or dinner salad isn't destined to destroy your healthy eating goals, we revealed these 10 best restaurant salads, according to registered dietitians. Read on to find out what to order, and for more on how to best navigate restaurant menus with your health in mind, don't miss The #1 Unhealthiest Burger at 13 Major Restaurant Chains.
California Pizza Kitchen Bahn Mi Bowl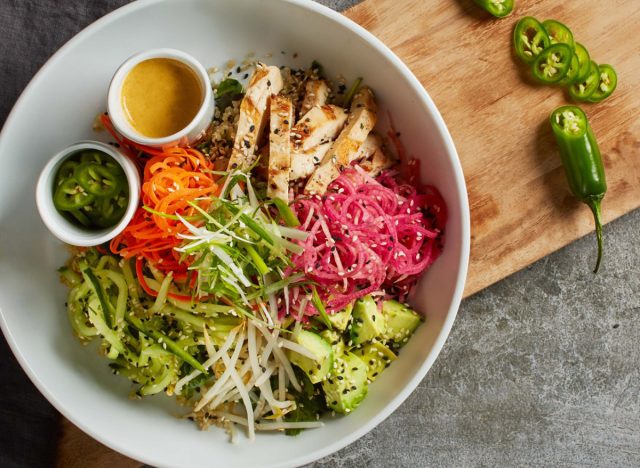 490 Calories, 31 g fat (4.5 g saturated fat), 660 mg sodium, 31 g carbs (8 g fiber, 9 g sugar), 26 g protein
CPK is a favorite among dietitians, as they have more salad options in the 400-600 calorie range than many other fast-casual eateries. The Banh Mi Bowl is a take on the classic Vietnamese bahn mi sandwich. It's made with a lot of colorful veggies and has grilled chicken and quinoa for satisfying protein. Its calorie count is less than 400, but it packs in 8 grams of filling fiber, making it an ideal choice for calorie-conscious diners.
Rhyan Geiger, RDN, Owner of Phoenix Vegan Dietitian likes this salad: "The Banh Mi Power Bowl at California Pizza Kitchen is a great option for plant-based eaters when the chicken is removed," says Geiger. "When choosing a salad at a restaurant, choose one that is bright with colors and has many fresh vegetables. Salads at restaurants that can be made vegan usually lack protein, but this one has quinoa which has 8 grams per cup," she adds.
California Pizza Kitchen Italian Chopped Salad with Mustard Herb Vinaigrette Half Serving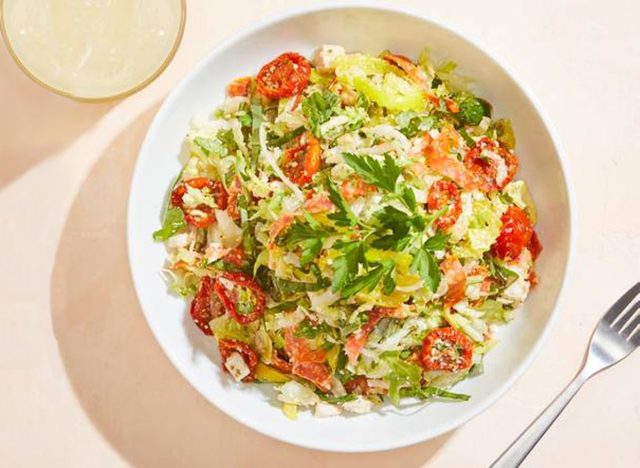 500 Calories, 40 g fat (6 g saturated fat), 1570 mg sodium, 18 g carbs (5 g fiber,5 g sugar), 22 g protein
This popular salad is best when ordered as a half serving to keep calories, fat, and sodium in check. It features a blend of salad greens, tomatoes, onions, herbs, and beans for a satisfying meal. Turkey breast and garbanzo beans add a punch of protein to keep you satisfied. The downside to this salad is that the sodium count is high, so stick to a half serving.
Chili's Caesar Salad Side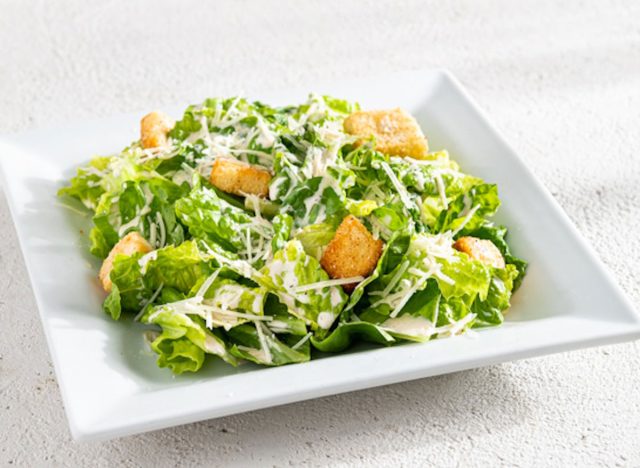 410 Calories, 34 g fat (9 g saturated fat), 690 mg sodium, 14bg carbs (3 g fiber, 2 g sugar), 14 g protein
Chili's is known for its Baby Back Ribs, chips and salsa, and margaritas, not health-conscious cuisine. But if you're at Chili's and want to enjoy a healthful salad, order the Caesar Salad, and add on your favorite lean protein. The side salad without added protein still provides 14 grams of pro but if you add shrimp, calories will add 11 grams of high-quality protein for just 60 additional calories.
Chili's Santa Fe Salad with Grilled Chicken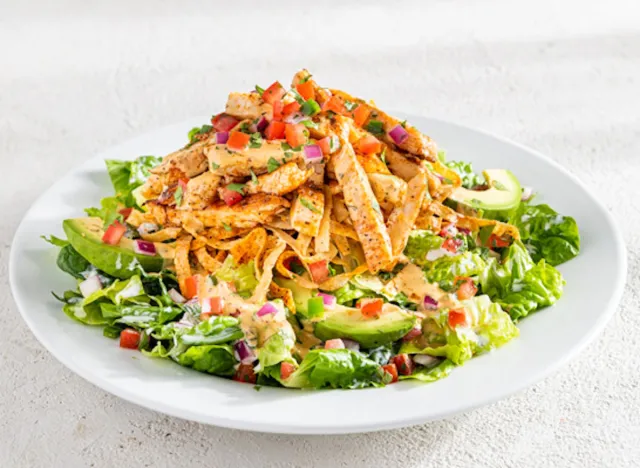 560 Calories, 39 g fat (7 g saturated fat), 660 mg sodium, 25 g carbs (8 g fiber, 7 g sugar), 30 g protein
Packed with protein, pico, avocado, cilantro, tortilla strips, and house-made ranch & a drizzle of spicy Santa Fe sauce, Chili's Santa Fe Salad is a top pick for taste and nutrition, according to registered dietitian Patricia Bannan, MS, RDN, author of From Burnout to Balance. "For 560 calories, this tasty entree salad is an excellent source of protein and fiber for staying power," says Bannan. The sodium content is reasonable, which is a plus for a restaurant salad and while the fat content is relatively high, most of is the healthier unsaturated fat.
The Cheesecake Factory, Factory Chopped Salad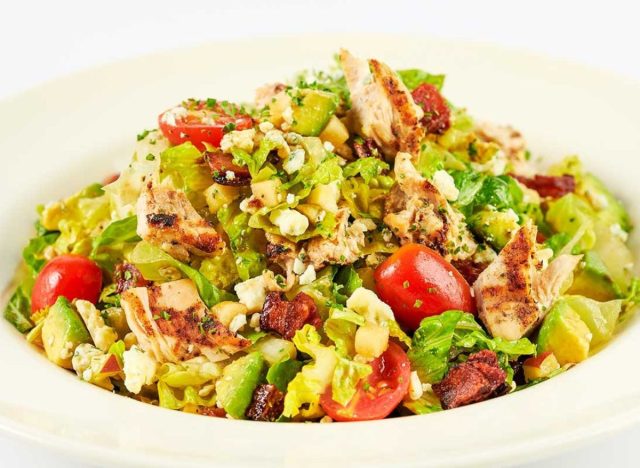 760 Calories, 58 g fat (11 g saturated fat), 1200 mg sodium, 34 g carbs (10 g fiber, 17 g sugar), 30 g protein
The Cheesecake Factory is frequently targeted for its ginormous portions of unhealthy menu options that provide more calories than you need in a couple of days. However, the chain now has more health-focused options to try, including its appetizer salads and the SkinnyLicious section of the menu offers lighter fare. The Factory Chopped Salad is a substantial healthy restaurant salad that has a blend of romaine lettuce, tomato, avocado, corn, bacon, blue cheese, and apple with a vinaigrette. To improve the nutritionals, skip the bacon and it will reduce the calories, sodium, and saturated fat counts.
The Cheesecake Factory SkinnyLicious Asian Chicken Salad
590 Calories, 24 g fat (3.5 g saturated fat), 2710 mg sodium, 53 g carbs (11 g fiber, 25 g sugar), 44 g protein
This salad made our list due to it being less than 600 calories for this chain popularized by its oversized portions. The sodium and added sugar counts are higher than we'd like but the salad is packed with protein and fiber, to keep you fuller for longer. An easy fix to reduce sodium and carbs is to ask for dressing on the side and use half of what's provided.
Ruby Tuesday's Chicken Caesar without Croutons
500 Calories, 32 g fat (7 g saturated fat), 1750 mg sodium, 14 g carbs (3 g fiber, 11 g sugar), 43 g protein
Ruby Tuesday is another fast-casual restaurant known for more decadent menu options like its steaks, burgers, and pulled pork sandwiches, but if you scour the menu, you can find a few fresh salad options, like the Chicken Caesar. When ordering, skip the croutons to shave off about 280 calories and 23 grams of low-quality carbs. Sans croutons, this salad can fit most healthy diners' goals for eating out without blowing their daily calories, fat, or carb budget.
Cracker Barrel Homestyle Grilled Chicken Salad without Dressing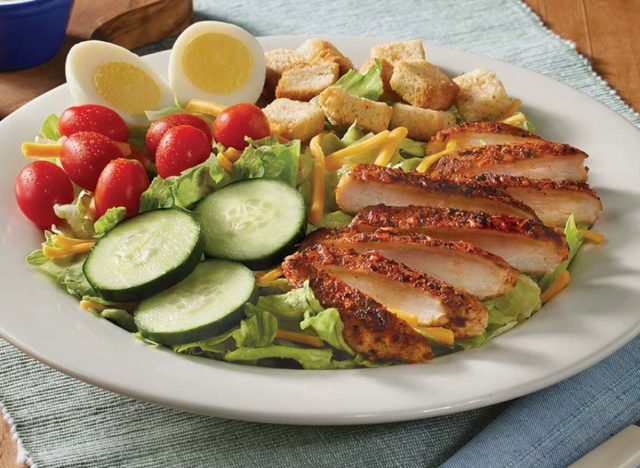 470 Calories, 21 g fat (9 g saturated fat), 920 mg sodium, 22 g carbs (4 g fiber, 8 g sugar), 46 g protein
This is one of the healthiest choices on the Cracker Barrel menu. The salad is made with fresh greens, hard-boiled eggs, tomatoes, cucumbers, grilled chicken breast, and crackers. It's a nutrient-rich salad that has high fiber and protein counts and is relatively low in saturated fat and added sugars. To keep calories in check, order without dressing or choose the Balsamic Herb Vinaigrette and use only half of the serving size.6254a4d1642c605c54bf1cab17d50f1e
TGI Fridays House Salad with Baked Bread Sticks without dressing
280 Calories, 11 g fat (3.5 g saturated fat), 550 mg sodium, 38 g carbs (3 g fiber, 6 g sugar), 9 g protein
This is a light salad that might be best to partner with a cup of soup or a side of cooked veggies to make a more substantial meal. It's made with mixed greens, carrots, tomato, cabbage, cucumber, and mixed cheese. The nutritional information is without dressing, but the healthiest dressing available at TGI Fridays is the 50-calorie low-fat balsamic vinaigrette. The worst dressing is Blue Cheese, which weighs in at 200 calories.
Texas Roadhouse House Salad with Oil and Vinegar Dressing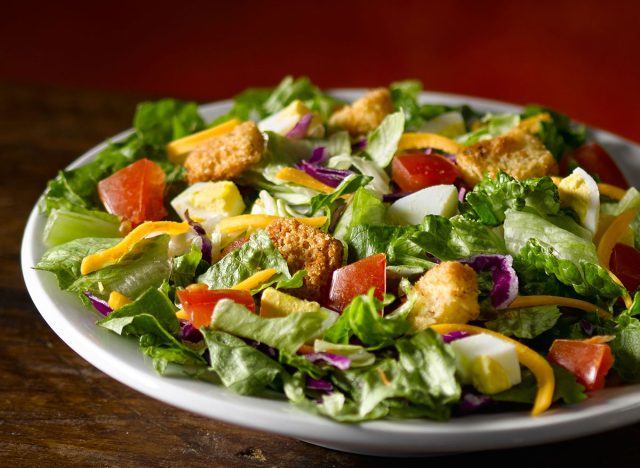 500 Calories, 44 g fat (12 g saturated fat), 290 mg sodium, 9 g carbs (2 g fiber, 4 g sugar), 13 g protein
Texas Roadhouse is known for Texas-sized entrees that would exceed even an IronMan triathlete's daily calorie budget. But the house salad is a satisfying meal and won't break your calorie or saturated fat budget. It has eggs and cheese to provide 13 grams of high-quality protein to keep you satisfied. Bonus: Sugars are just 1 teaspoon in this salad, which is low compared to most other restaurant salads.
Julie Upton, MS, RD, CSSD
Julie Upton is an award-winning registered dietitian and communications specialist who has written thousands of articles for national media outlets, including The New York Times, US News & World Report, and USA Today.
Read more about Julie