50 Cheapest Foods on Amazon
We've got the hack to scoring cheap and good-for-you grub on Amazon!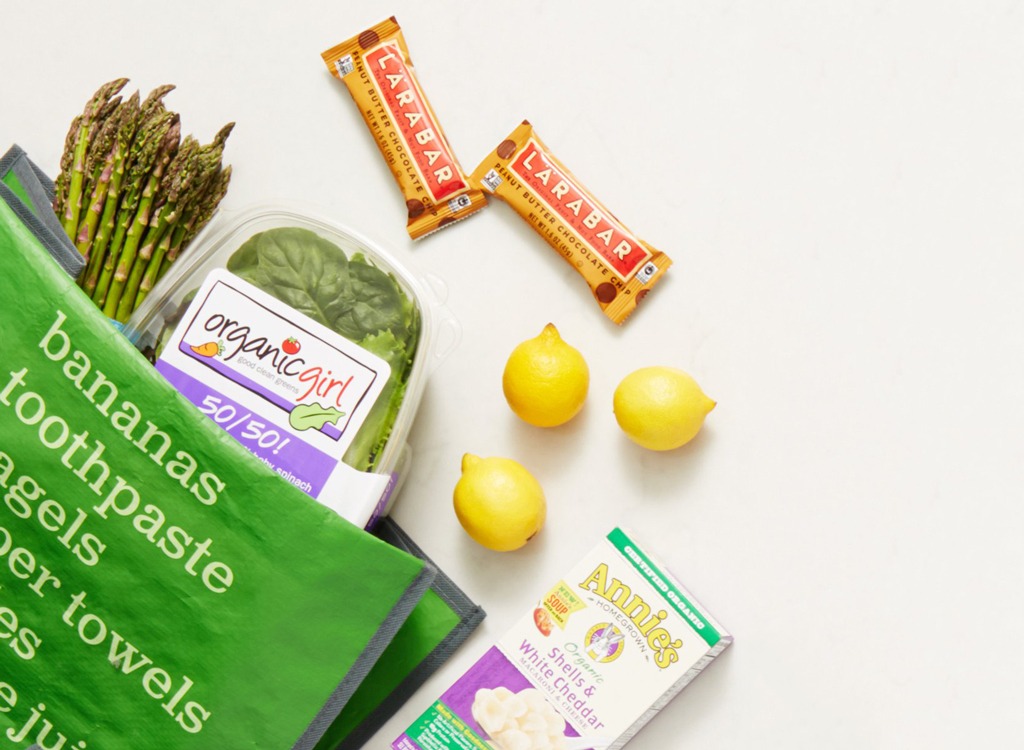 When you're trying to stock your fridge with healthy foods, your efforts can often slim down your wallet before they do the same to your waistline. So why take a trip to the grocery store in hopes of scoring a massive sale when Amazon.com is just a few clicks away?
Thanks to services such as Amazon Prime, Prime Pantry, and Amazon Fresh, you can add everyday essentials to your cart and expect them at your door in days. In fact, the hack to finding cheap foods on Amazon—that don't come in Costco-sized packages—is to subscribe to these services.
We've compiled a list of affordable—but still good-for-you—grub below; each item on our list is under $9. Want healthy recipes, supermarket shopping guides, and essential nutrition tips at your fingertips? Subscribe to the new Eat This, Not That! magazine now! For a limited time, you can save 50 percent off the cover price—click here!
Chickpeas, the base of one of our favorite spreads (hello, hummus!), is one of our 10 Canned Foods You Should Always Keep In Your Pantry for good reason. The versatile legume is packed with six grams of plant protein and six grams of blood-sugar-stabilizing fiber per serving, lending your soups, stews, and dips a potent nutritional punch.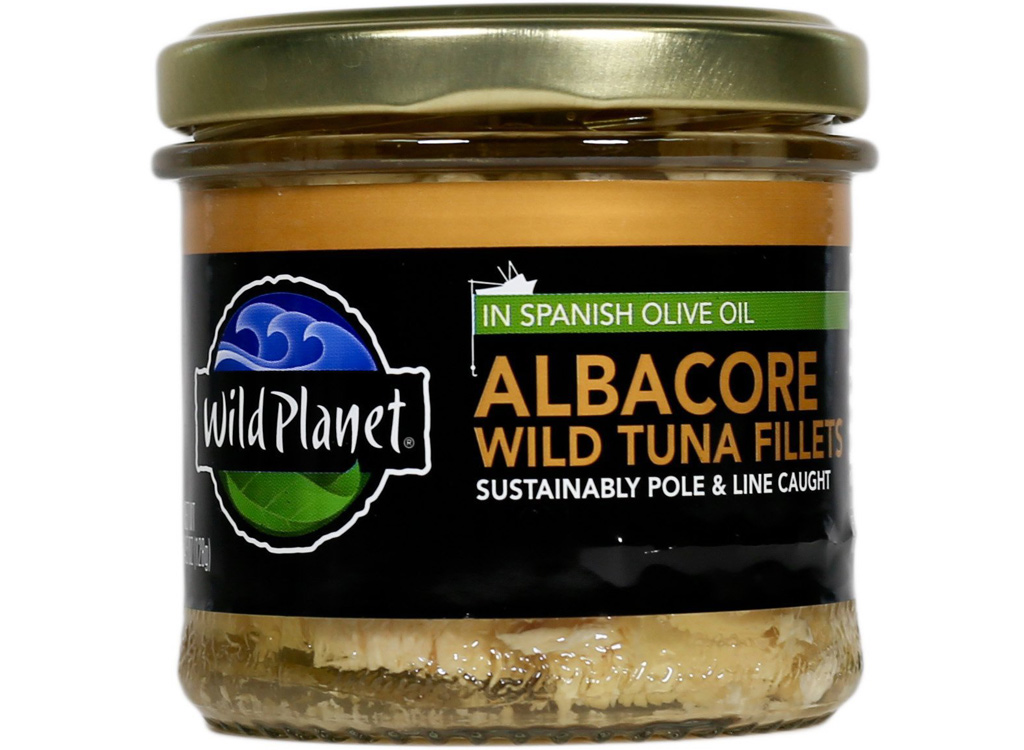 Rife with heart-healthy omega-3 fats and robust Mediterranean flavor, these sustainably-caught tuna fillets will become your go-to protein. Add a serving to spice up your salads or craft it into a filling sandwich.
Spruce up your Sunday brunch with FlapJacked's buttermilk mix. Whether you're making waffles, pancakes, muffins, or doughnuts, this mix has a solid amount of both protein and fiber to keep you full for way longer than your local diner's flapjacks would.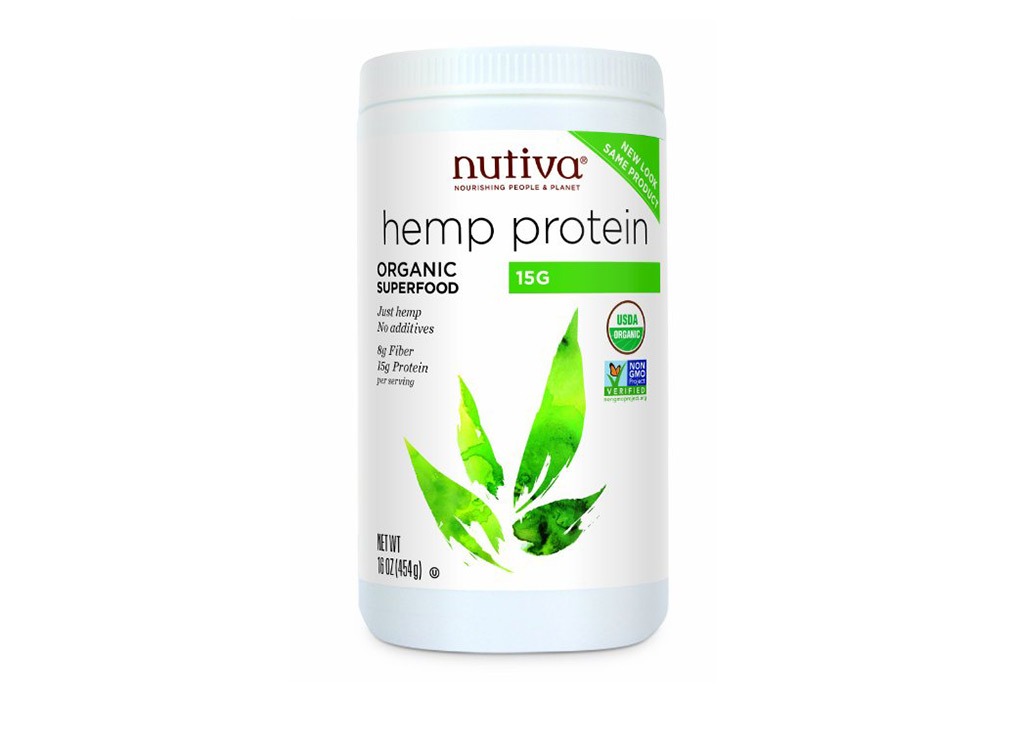 Nutiva cold-processes its Canada-sourced hemp so that it retains its natural omega-3 fats and potent antioxidants. And unlike other protein powder options we've come across, this plant-based pick manages to sneak in an impressive eight grams of fiber, yielding a super-low net carb count.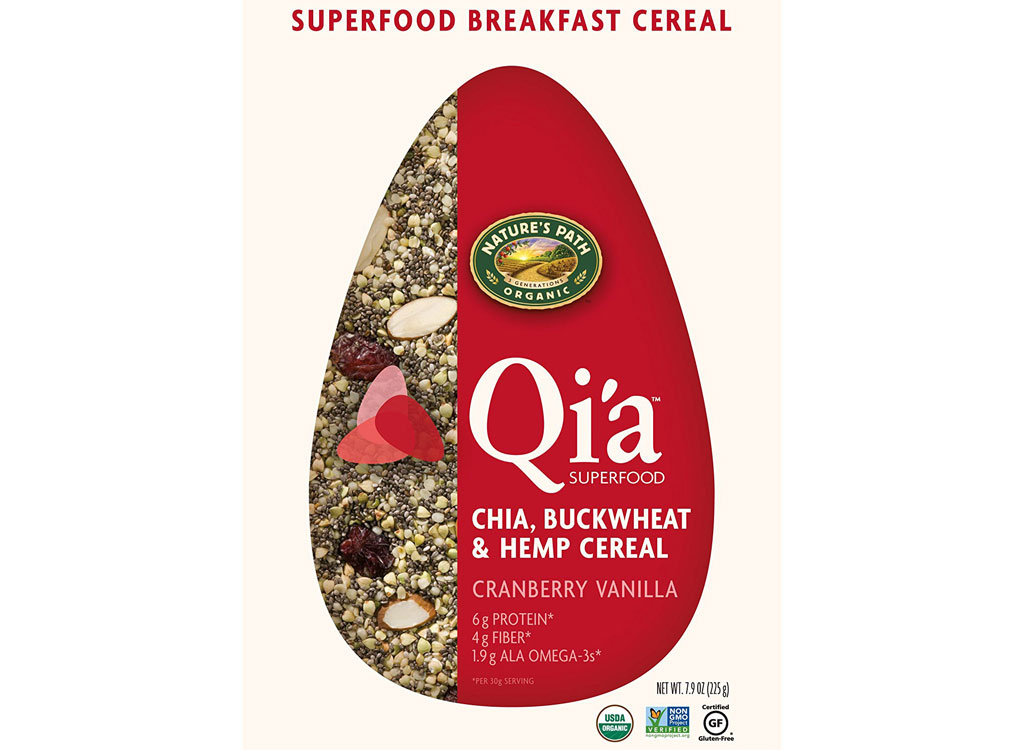 Organic chia seeds, buckwheat, and hemp provide all-day energy as well as belly-filling plant-based protein and fiber. Add the vanilla-infused blend to cereal, oatmeal, parfaits, and smoothies for an easy and nutritious boost.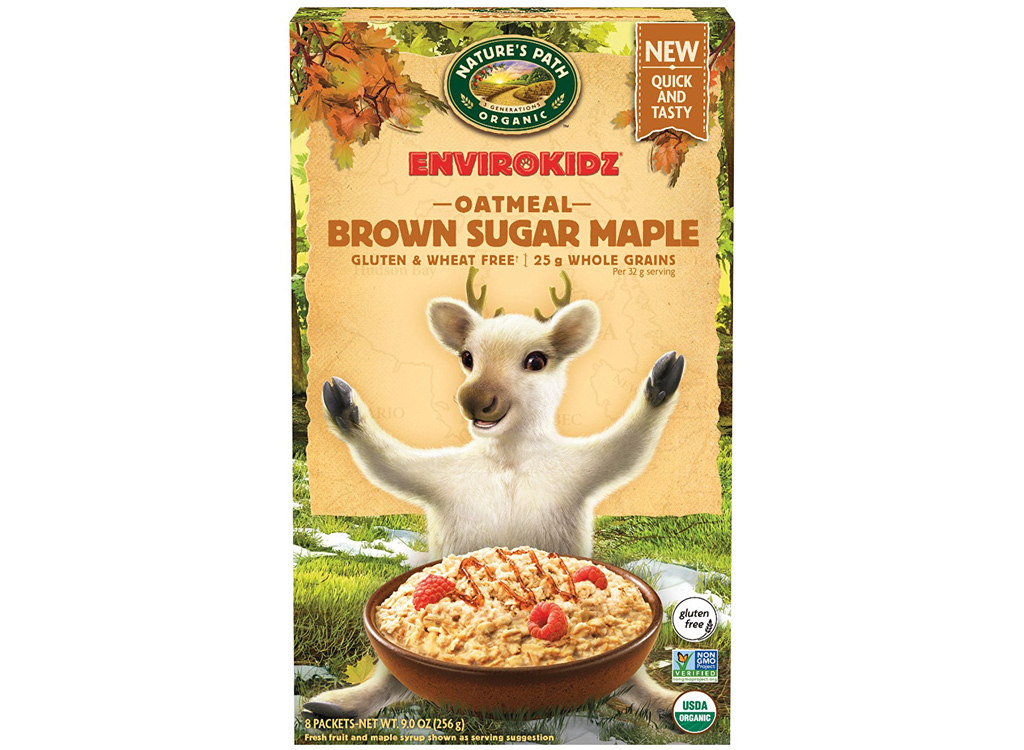 Get your kids (or your inner child) pumped about oatmeal with this low-sugar, maple syrup-spiked hot cereal. It's made with gluten-free rolled oats and ancient grains such as amaranth and quinoa and is free of any preservatives and additives.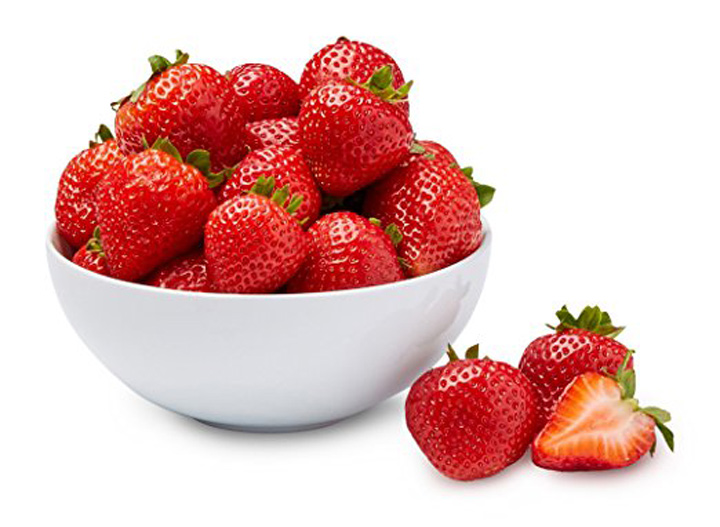 6254a4d1642c605c54bf1cab17d50f1e
A study in the journal PLoS One discovered that organically-grown strawberries contain more antioxidants—namely, ascorbic acid (or vitamin C) and phenols—as well as a longer shelf life than their non-organic counterparts.
$6.99 per pound at Amazon Fresh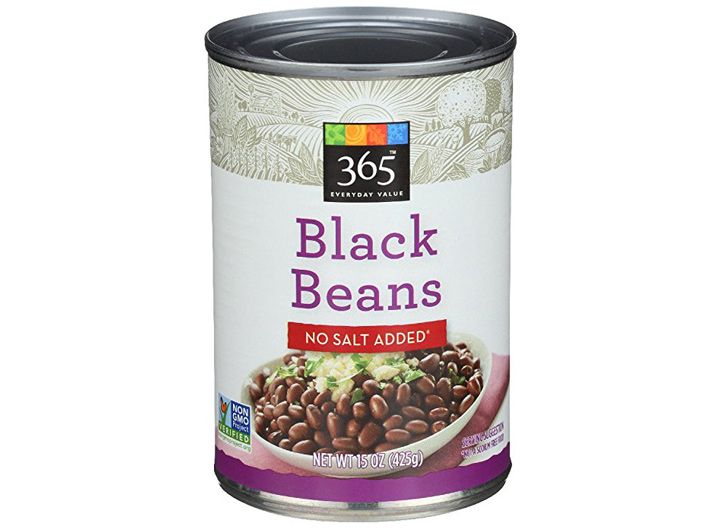 For just 79 cents a can, you can whip up a hearty black bean chili, tasty dip, or creamy soup that's brimming with cholesterol-lowering fiber, bone-protecting calcium, and mood-regulating magnesium.
Remember when granola bars were all the rage before protein bars usurped the packaged snack scene? Well, these Junkless bars are swimming into the spotlight, thanks to their uber-clean ingredients and irresistible flavors.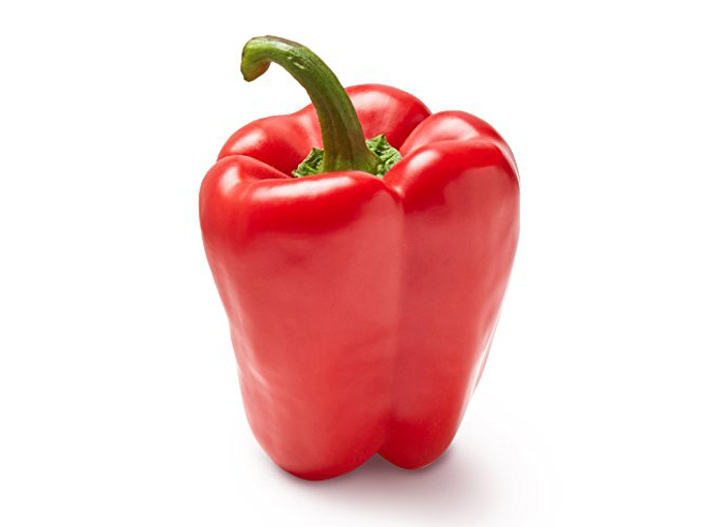 Rather than becoming a bedridden victim to cold and flu season, fight the bugs by filling your fridge with red bell peppers. Just one medium pepper contains 253 percent of your daily value of vitamin C—that's about 70 milligrams more than your average orange!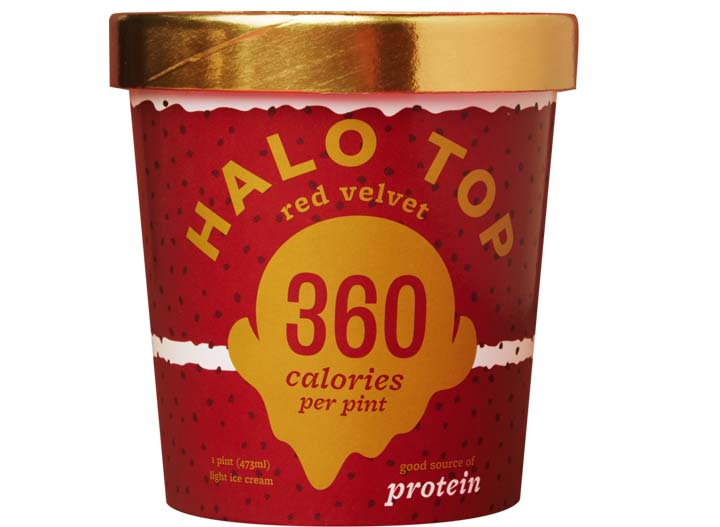 As one of Halo Top's more indulgent flavors, this red velvet pick is like cake in a pint! Just remember to stick to one serving size—ice cream is still a dessert rather than a meal replacement.
There are plenty of reasons to pick siggi's over other yogurt brands: It uses clean and few ingredients; is always low in sugar; and satisfies with a thick, heavenly texture. The fact that siggi's offers a sweet and spicy orange ginger flavor is another perk.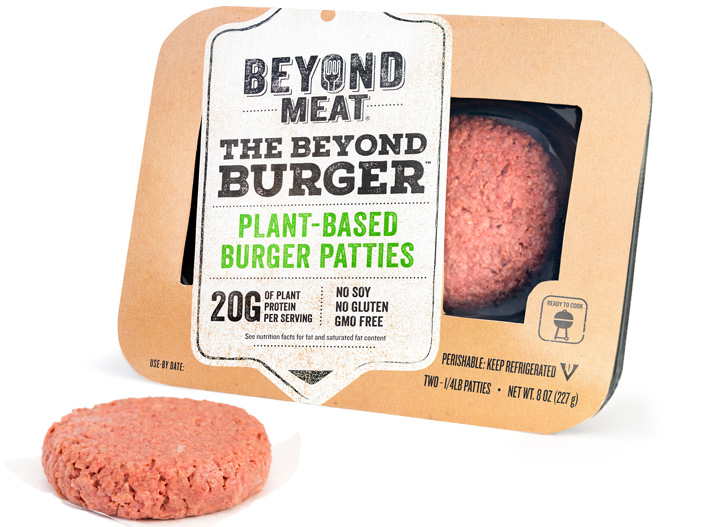 Vegetarians and omnivores rave over this revolutionary plant-based burger that looks, cooks, and tastes like the real thing. The patty's meat-like taste and texture, as well as its stellar protein count, helped us to deem it the best veggie burger to line the meat aisle.
Field Trip's Original beef jerky uses grass-fed cows for a snack that's lean and packed with metabolism-boosting protein. Leave a pack in your office desk drawer to keep your tummy satisfied until dinnertime. Like protein snacks? You'll find Field Trip's jerky along with dozens of other options in our round-up of The 25 Best High Protein Snacks at the Supermarket.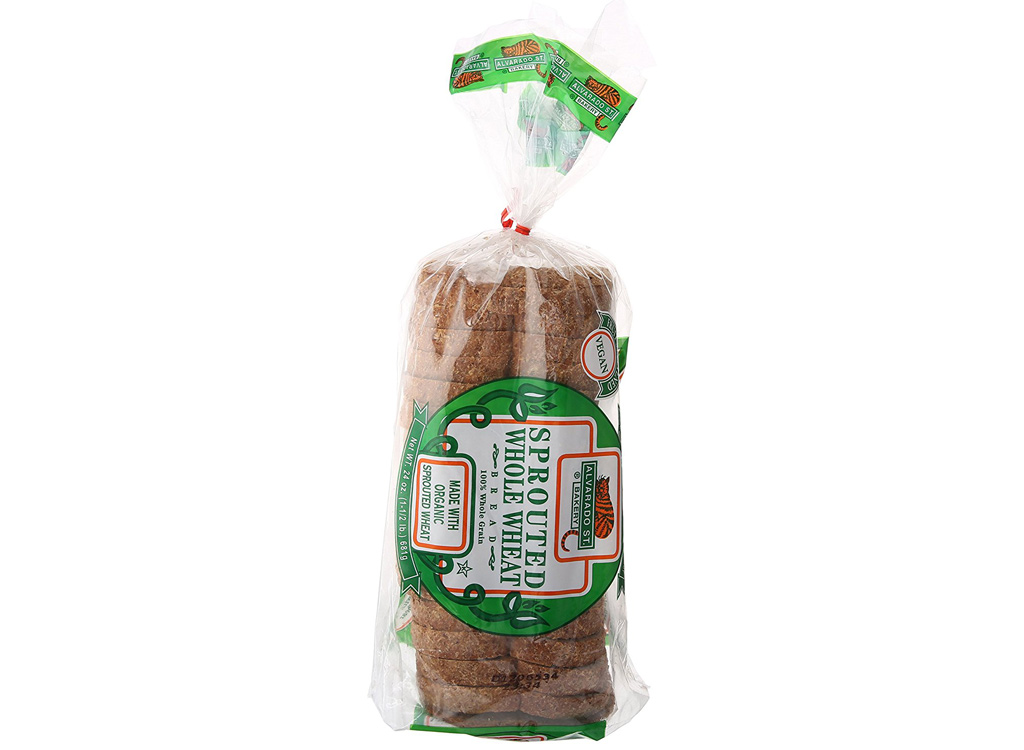 Looking for a loaf you can enjoy without feeling like your diet just took a nosedive? This sprouted, organic whole wheat bread is the perfect base that'll hold up to lean meats, crunchy veggies, and a swipe of creamy mayo.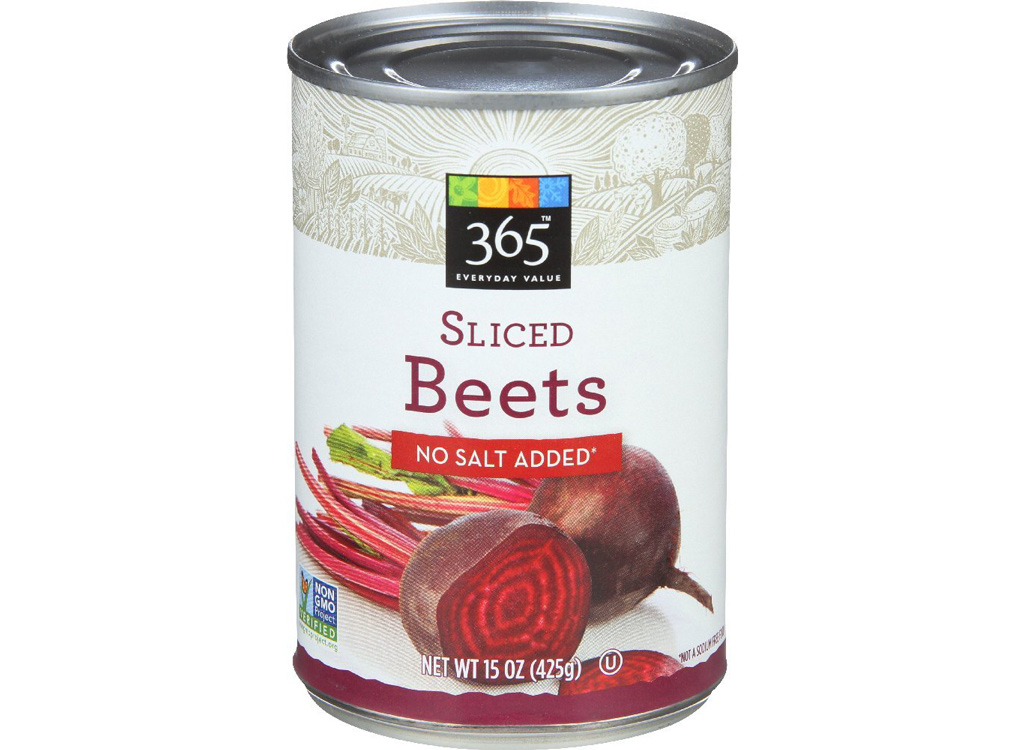 With just two non-GMO ingredients (beets and water) and zero added sodium, these canned beets are an inexpensive way to spruce up soups, salads, and side dishes alike.
Wild-caught sardines are farther down in the food chain, so they're lower in mercury than other fish you'd find in the supermarket such as salmon. Plus, the fatty fish is a prime source of omega-3s, calcium, iron, and potassium.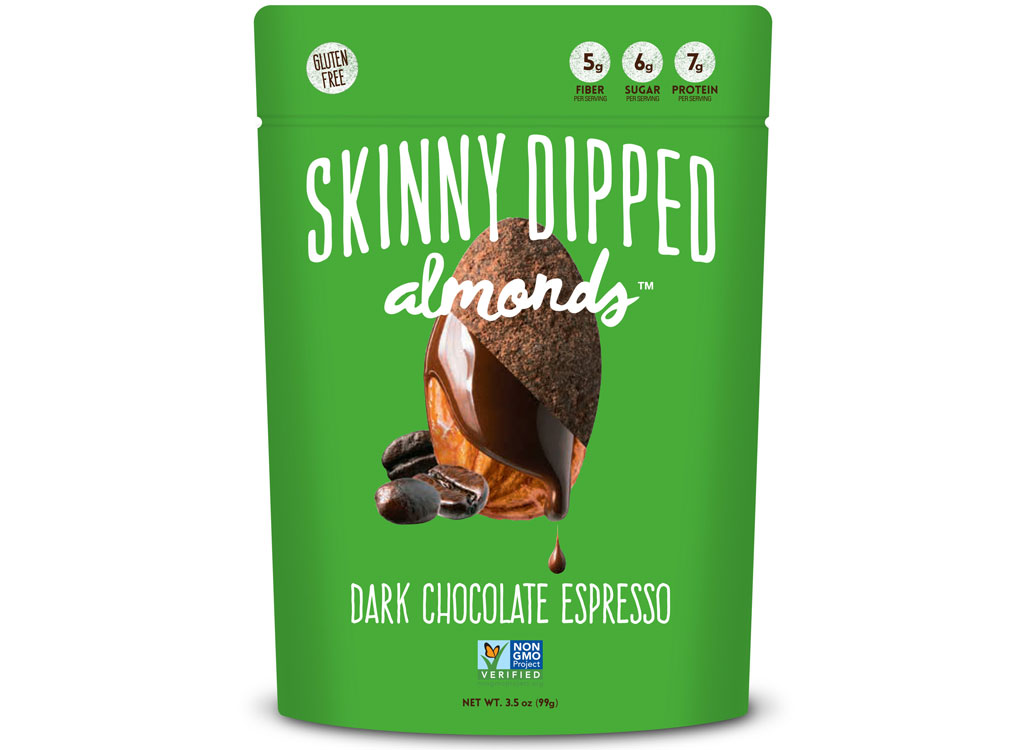 Unlike other chocolate-covered nuts, Skinny Dipped's almonds boast only 6 grams of sugar per serving and omit artificial additives from their ingredient list.
Baked with nutrient-dense superfoods such as organic whole grain millet, adzuki beans, quinoa coconut oil, onion, and sweet potatoes, this plant-based patty is as delicious as it is nutritious. If you're looking to spice up your lunch—literally—grill this cumin- and chili-spiked pick.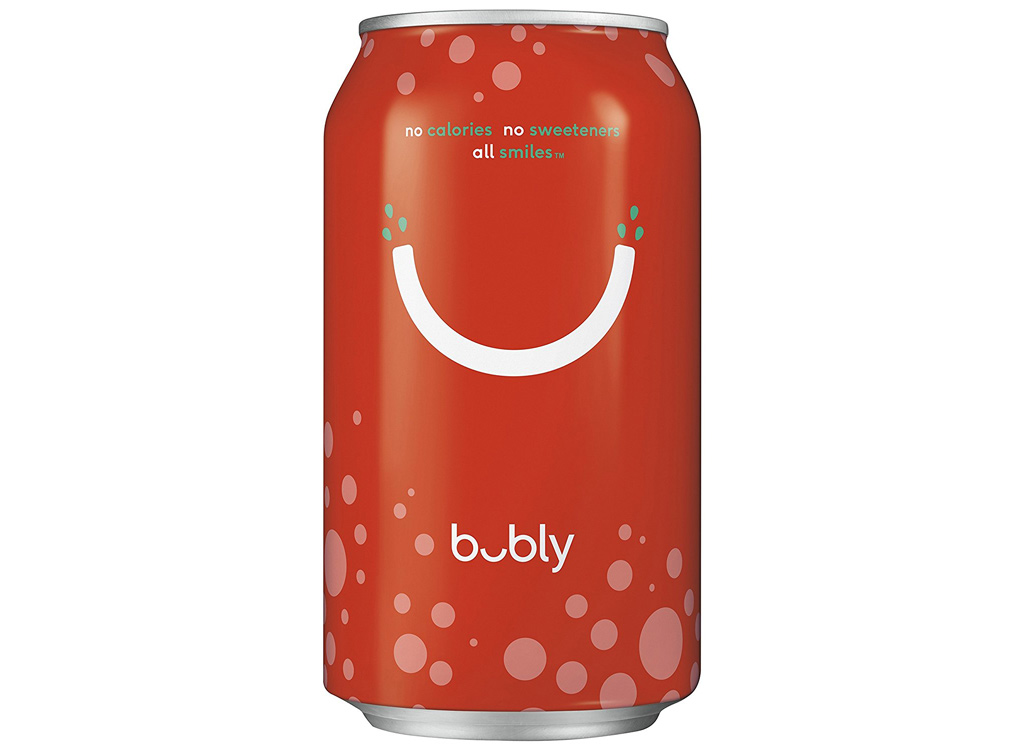 For a refreshing drink that won't cost you any calories, grab a case of bubly, Pepsi's new line of calorie-free sparkling waters. Much like La Croix, this fizzy drink is free of added sweeteners and full of natural, fruity flavor.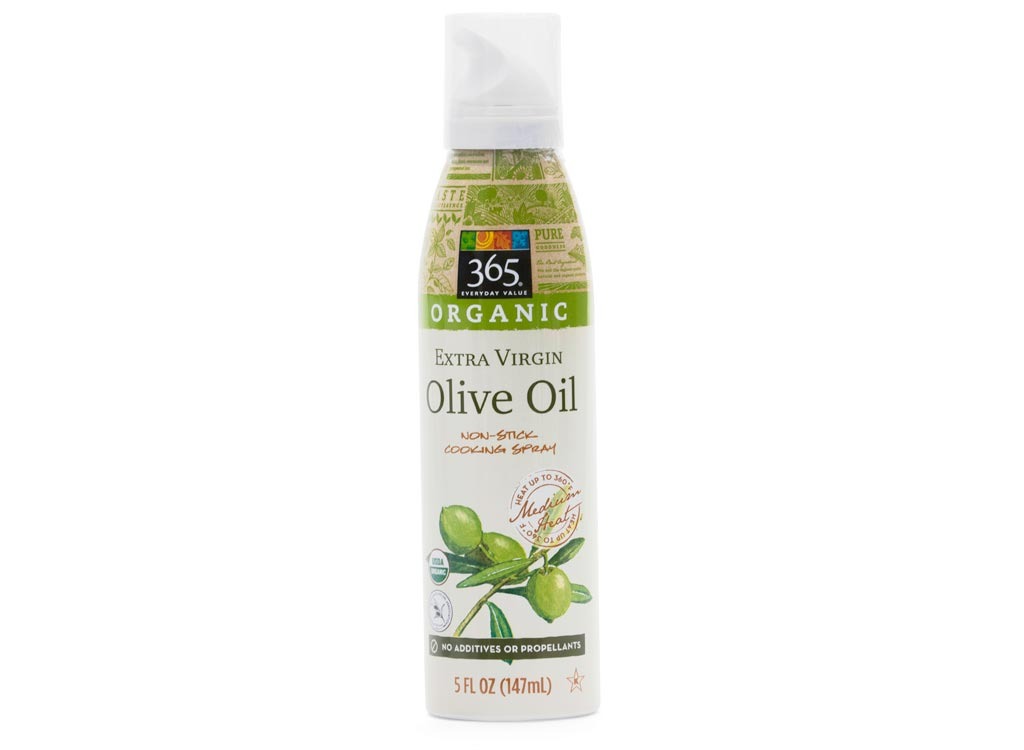 Rather than dousing your pan with butter, spritz this organic olive oil spray on your cookware to prevent spending extra time scrubbing. Although we love olive oil for its heart-healthy benefits, one tablespoon racks up 120 calories, as opposed to this additive-free spray, which is calorie-free.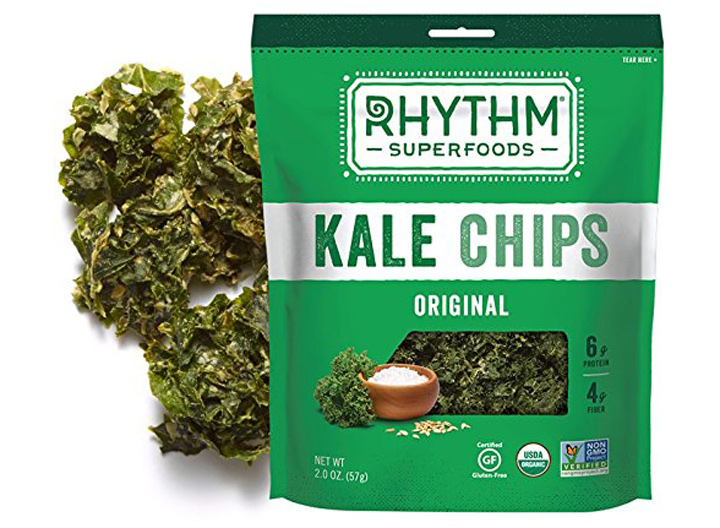 Many vegetable-based chips are jam-packed with hydrogenated oils and sketchy dyes, fooling snackers with their bright health halo and good-for-you guise. Luckily, this superfood snack isn't sneaky. It's made with air-crisped kale and flavored with organic herbs, seeds, and spices.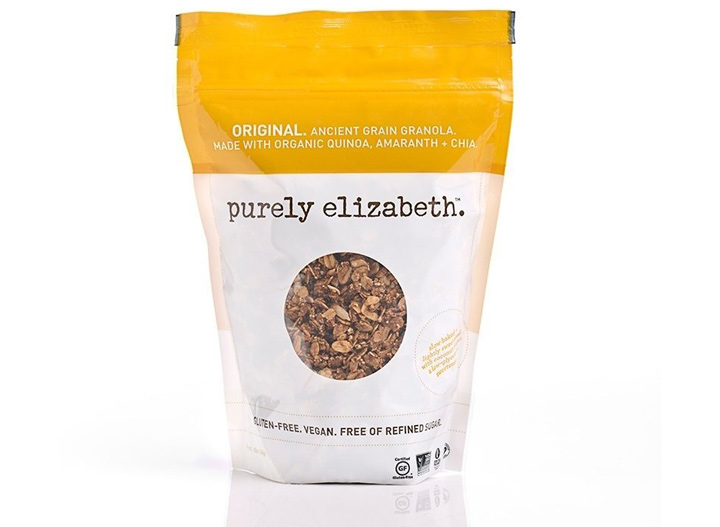 Granola cereals usually get a bad rap because they're brimming with sugar and calories, but Purely Elizabeth's blend is packed with calorie-dense grains for good reason. With organic gluten-free oats, amaranth, quinoa, sunflower seeds, and blood-sugar-regulating cinnamon, you can feel good about sprinkling this pick onto a parfait.
Yogurt isn't the only probiotic-packed tub you can find in the dairy aisle. Good Culture's organic cottage cheese is filled with live and active cultures for a healthy gut, sprinkled with just Celtic sea salt, and free of thickening agents such as carrageenan.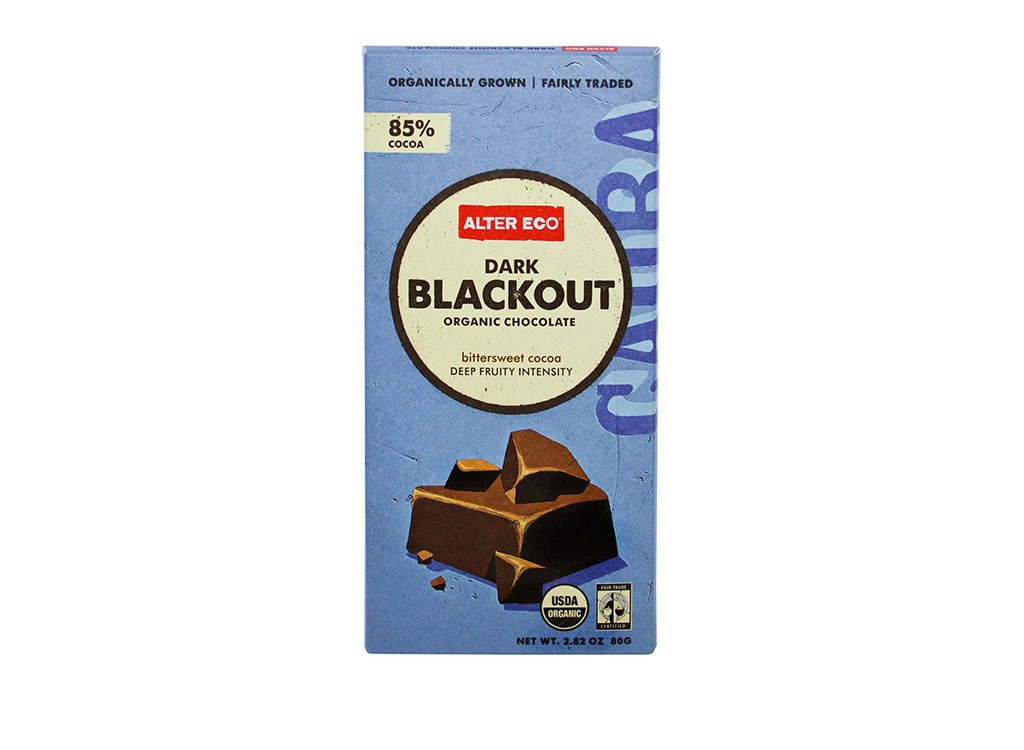 Swap your midnight Milky Way bar for a few squares of Alter Eco's antioxidant-packed chocolate. Not only does this fair-trade dark bar come packed with less sugar and more fiber than your average cocoa, one serving size also provides you with 40 percent of your daily recommended amount of anemia-fighting iron.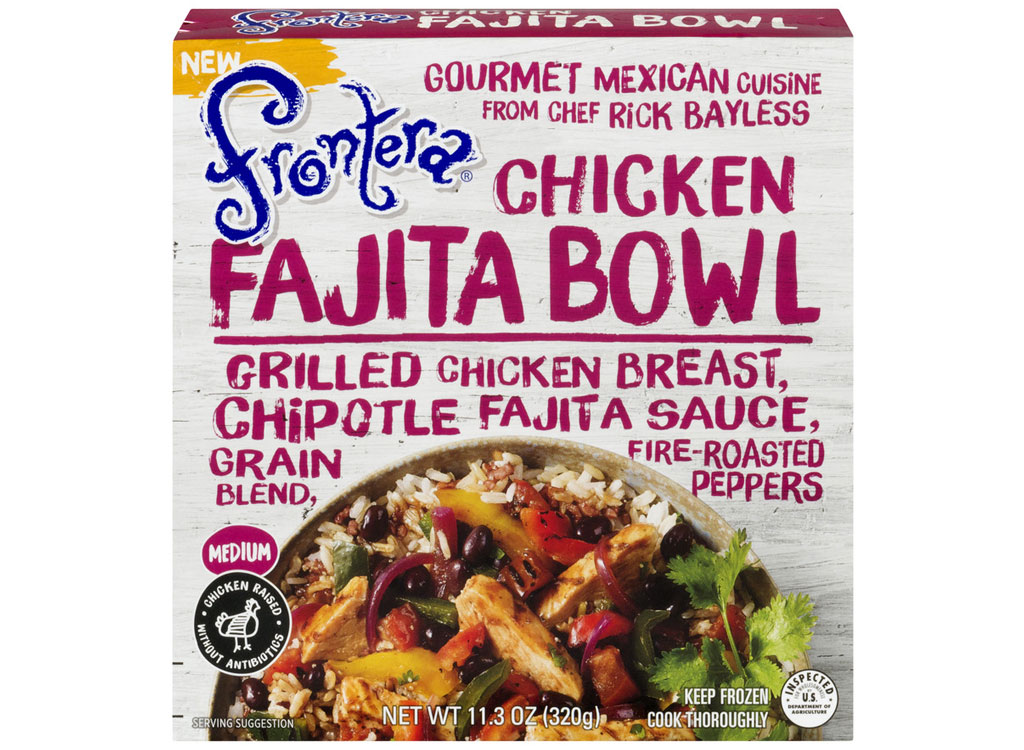 For a Mexican-style lunch that doesn't require a trip to the supermarket or extra time slaving over the stovetop, add Frontera's fajita bowl to your cart. It's stacked with lean chicken, satiating grains, and fire-roasted peppers for a sweet kick.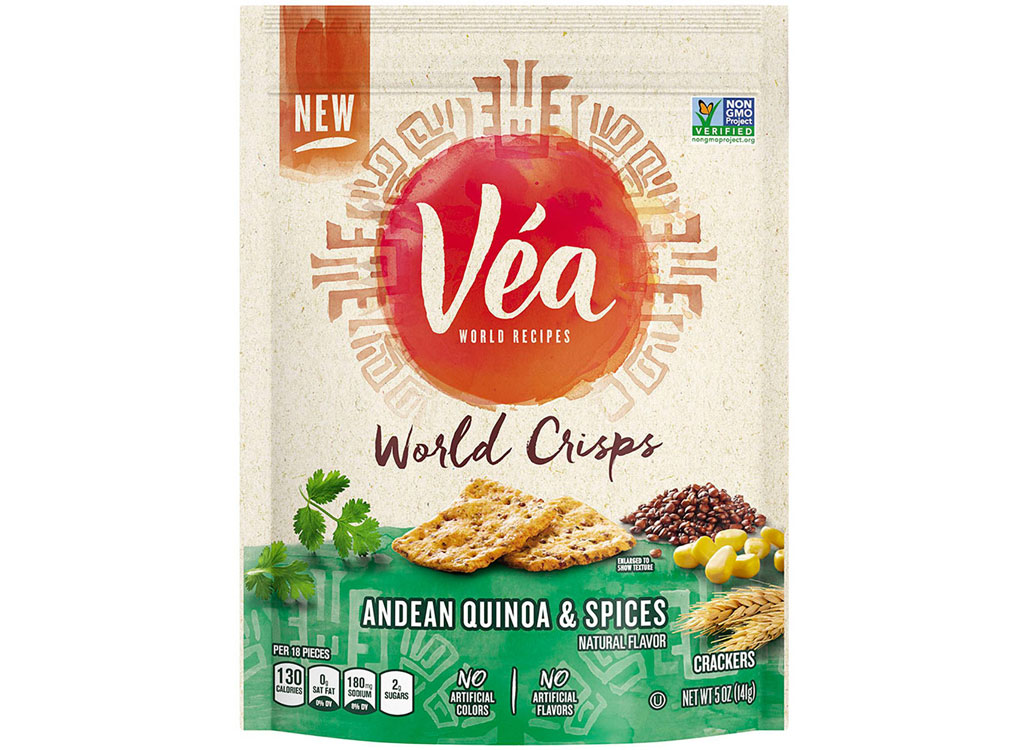 Andes-sourced red quinoa, whole-grain wheat flour, lime juice, and cayenne are baked into these textured crisps that'll rival your go-to cracker. Top with avocado slices and cottage cheese for a filling snack.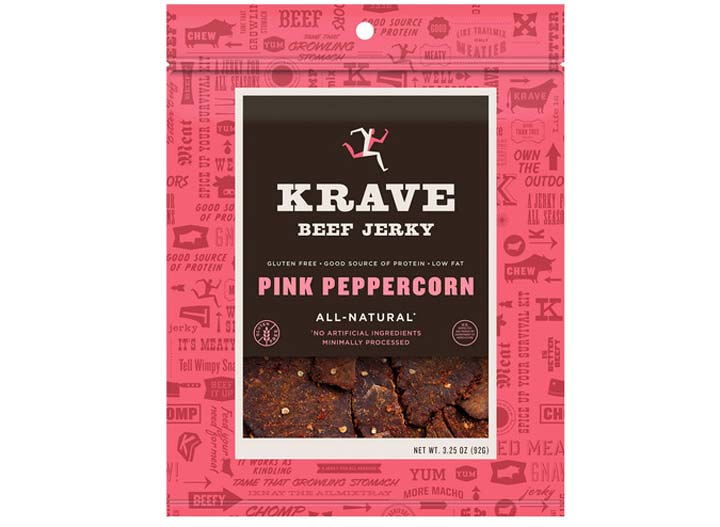 Stuff this into your gym bag for a potent protein punch post sweat sesh. Krave's minimally-processed jerky packs in 10 grams of the muscle-building macro for under 100 calories.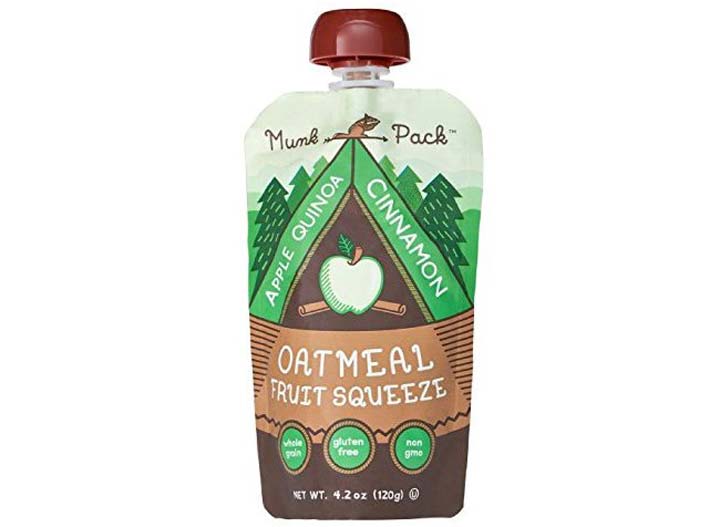 You won't even have to convince your kids to eat their oatmeal when you toss this tube into their lunchboxes. Spiced with cinnamon and filled with fiber-rich whole grains, Munk Pack's vegan fruit squeezes make for the perfect midday pick-me-up.
Pistachios are the lowest-calorie and lowest-fat nut out there, but they definitely don't skimp out on nutrition. They're a natural source of cholesterol-lowering phytosterols as well as minerals such as bone-building calcium, metabolism-maintaining magnesium, depression-fighting zinc, and organ-protecting phosphorous.
For just $7 a jar, this might be the best deal you'll find when it comes to all-natural almond butter. Whole Foods' pick is made with 100 percent dry roasted almonds as the first and only ingredient and is free of added salt and sugar for a truly wholesome spread.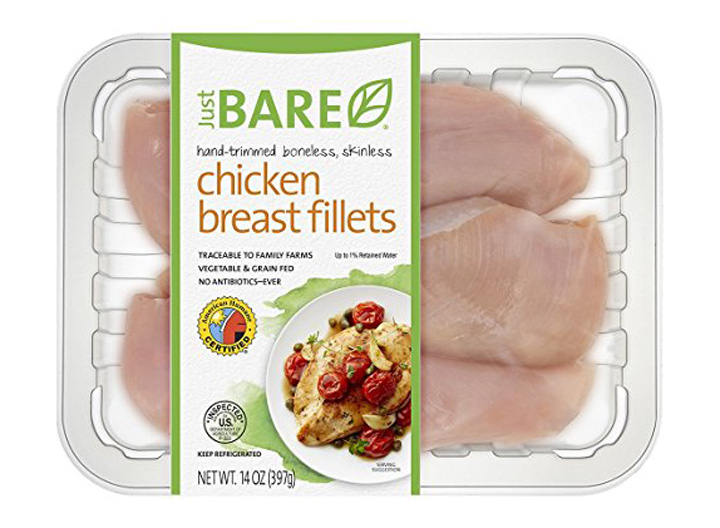 Marinate these lean chicken breasts with a mixture of olive oil, minced garlic, and rosemary, and throw 'em on the barbie for a quick, high-protein weeknight dinner.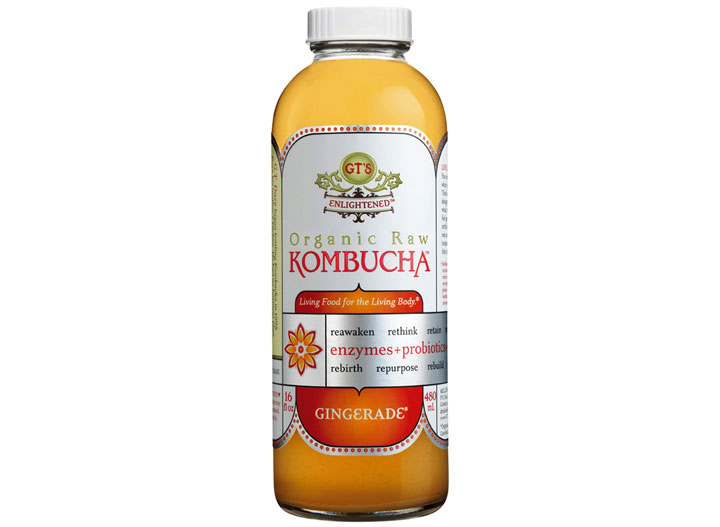 Swimming with living probiotics, the fermented drink has been linked to improving stomach ulcers to preventing diseases and improving mood. Want to reap the benefits? Buy a bottle of GT's ginger-infused kombucha and try it out for yourself.
Always seem to char your chocolate chips or devour the entire package of cookie dough before popping it into the oven? These delectable cookie thins are made with real ingredients—vanilla, butter, and cane sugar—so you can throw in the apron and sit back with a glass of milk.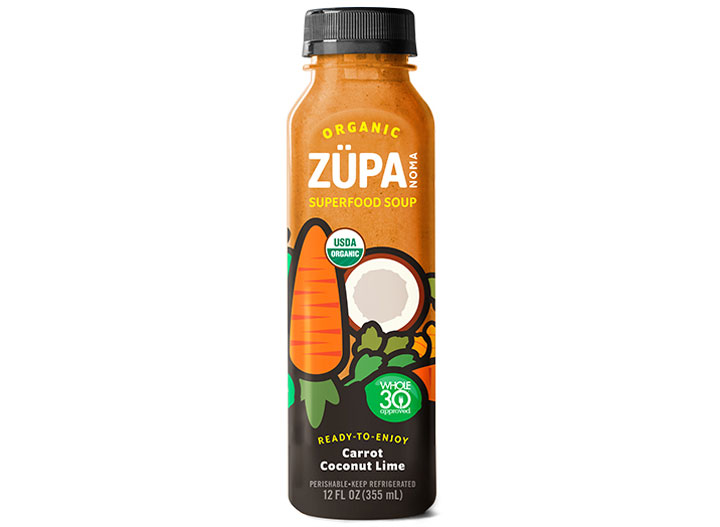 Most prepared soups contain upwards of 600 milligrams of sodium per serving yet Zupa's refreshing pick bypasses the blood-pressure-spiking stuff and fills its bottle with superfoods such as organic turmeric, olive oil, and coconut milk instead.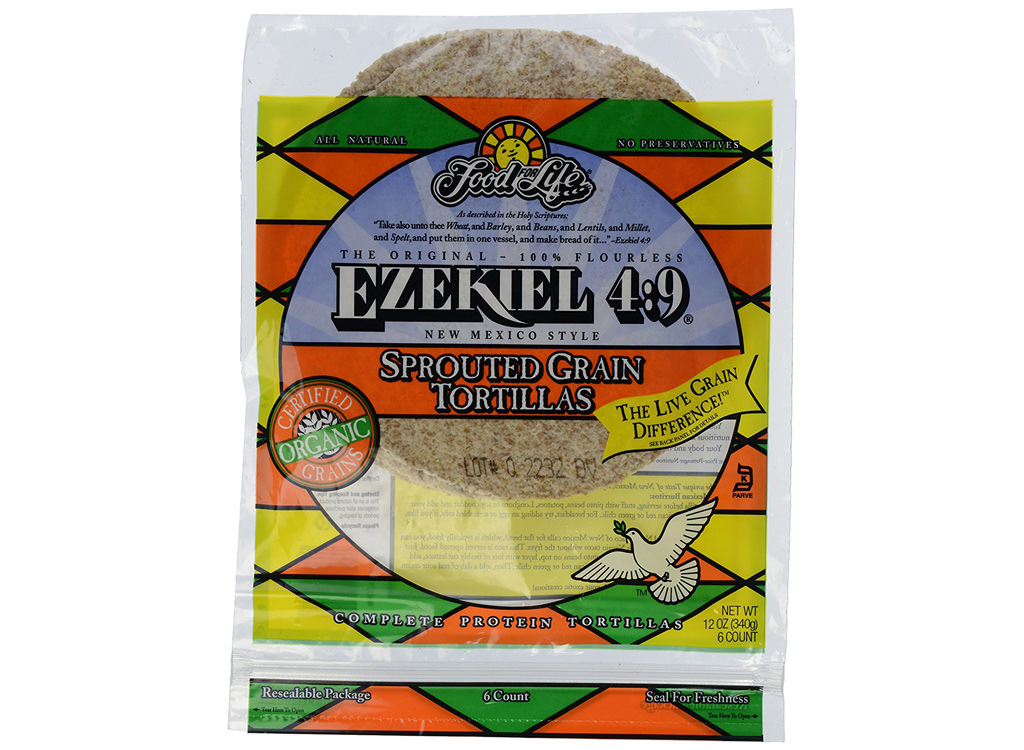 Spread this high-fiber, sprouted whole-grain wrap with homemade hummus and then stuff with roasted veggies and top with feta cheese for a deliciously lean lunch that's sure to keep you satiated until suppertime.
With cheese being the biggest food source of saturated fat in the American diet, you might want to look into dairy-free alternatives to help slash your risk of heart disease. Kite Hill's chive-infused spread tastes just like the real thing (seriously!) and would make the perfect addition to whole-grain crackers or that occasional everything bagel.
Canned tuna may be one of the cheapest proteins around, but many cans are lined with hormone-disrupting BPA and doused in salt. This wholesome can is BPA-free, only contains 100 milligrams of naturally-occurring sodium, and is lower in mercury than regular tuna.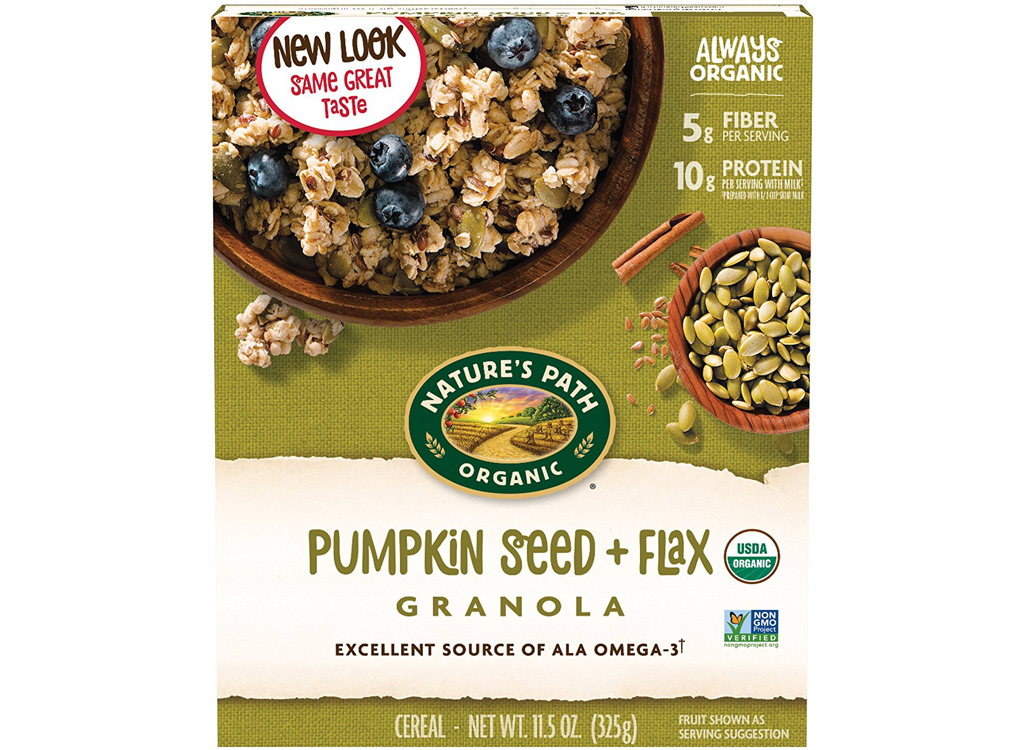 This organic omega-3-packed granola marries whole grain crunch with the aromatic flavors of molasses and cinnamon for a sweet start to your day.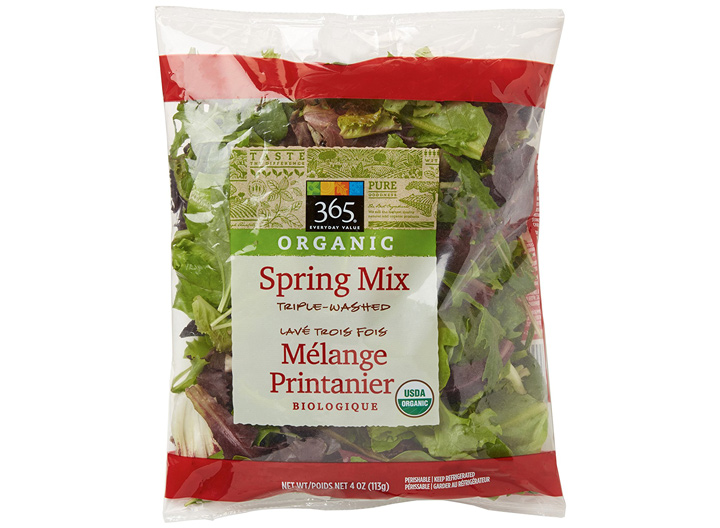 Build a better salad with Whole Foods' organic spring mix that blends antioxidant-packed greens such as chard, radicchio, arugula, and spinach.
With 5 grams of protein and 4 grams of fiber per serving and just one heart-healthy ingredient (100 percent whole-grain oats), you'll want to start your mornings with this oatmeal more often. (Perhaps in one of these 50 Overnight Oats Recipes for Weight Loss?) Stir with a teaspoon of maple syrup, chia seeds, and a handful of slivered almonds to punch up the flavor factor.
Spice up your soups and add zest to your stews with Pacific's free-range organic chicken broth. Major bonus: This carton doesn't sneak in additives such as appetite-spiking MSG or caramel color like other commercial brands do.
If you're an avid snacker and love finding new alternatives to nuts and seeds, these seasoned broad bean crisps will become your go-to. Nosh on these on their own, toss them on salads, or sprinkle them into soups for an added dose of plant protein and fiber.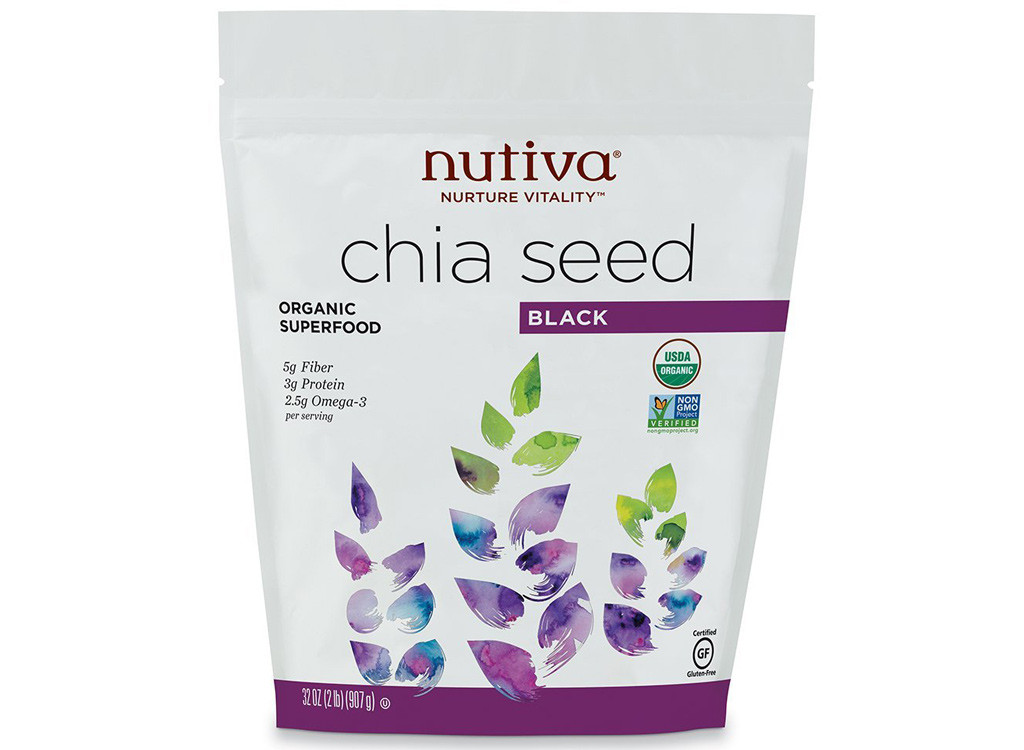 Chia seeds were usually one of our superfood splurges—until we came across this super steal! The viscid seed packs in omega-3 fats, a wonderful fiber to protein ratio, and zero net carbs, deeming it the perfect pantry staple, especially if you're going keto.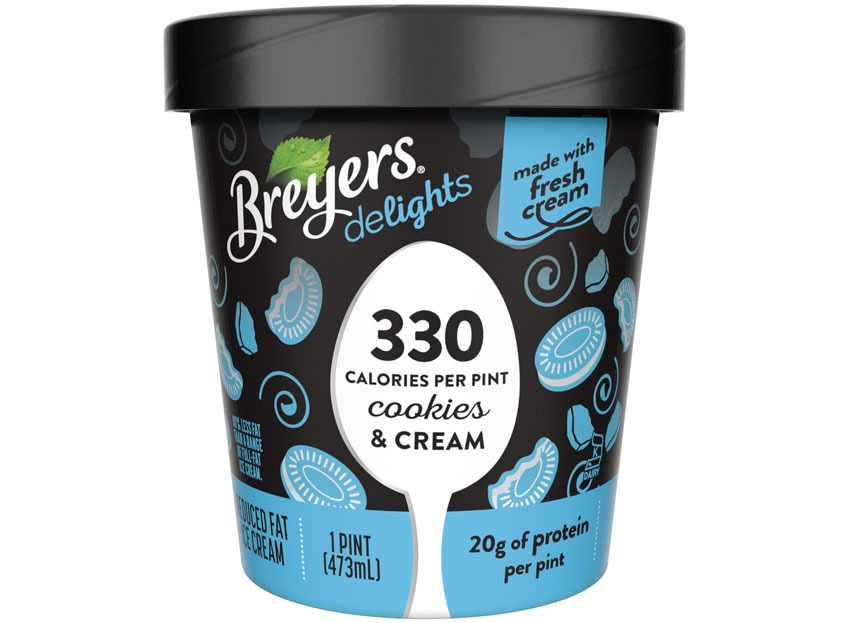 Halo Top, meet your match: Breyers Delights' cookies and cream flavor tastes like the real thing and packs in only 330 calories and a whopping 20 grams of protein per pint! Instead of dunking sandwich cookie after sandwich cookie, grab this truly delightful treat instead.
Since conventionally-grown apples are sprayed with more pesticides than many other fruits (they're on the Dirty Dozen list), it's important to go organic. Add these organic gala apples to your cart to ensure your midday snack is free of unnecessary chemicals and jam-packed with antioxidants.
Made with three types of mushrooms and two types of cheeses, this veggie burger seriously tastes like mushroom pizza. Stack it between two slices of sprouted toast and fresh tomato slices for a delicious dinner that's ready in minutes.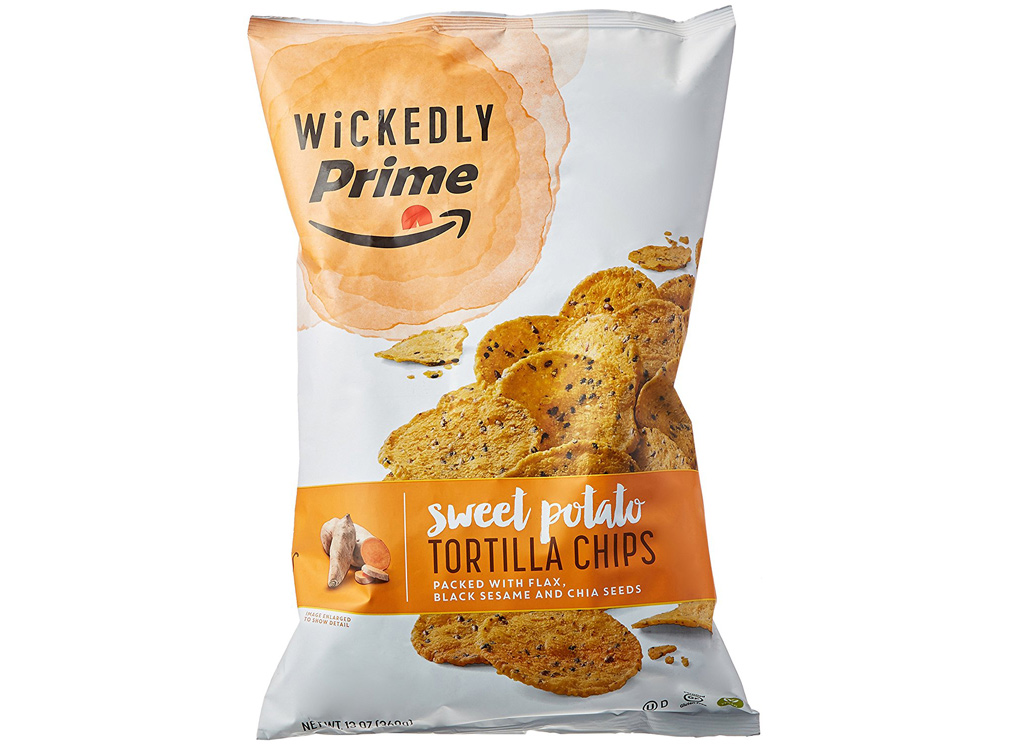 These low-sodium, Amazon-brand tortilla chips aren't like your average salsa vessel. They're loaded with chia, flax seeds, and black sesame seeds for healthy fats and a hint of sweet potato for bright flavor.
Ditch the cardboard-esque crackers and go with Mary's Gone instead. They're baked with flax, poppy, and pumpkin seeds, and serve up a solid amount of inflammation-fighting fats.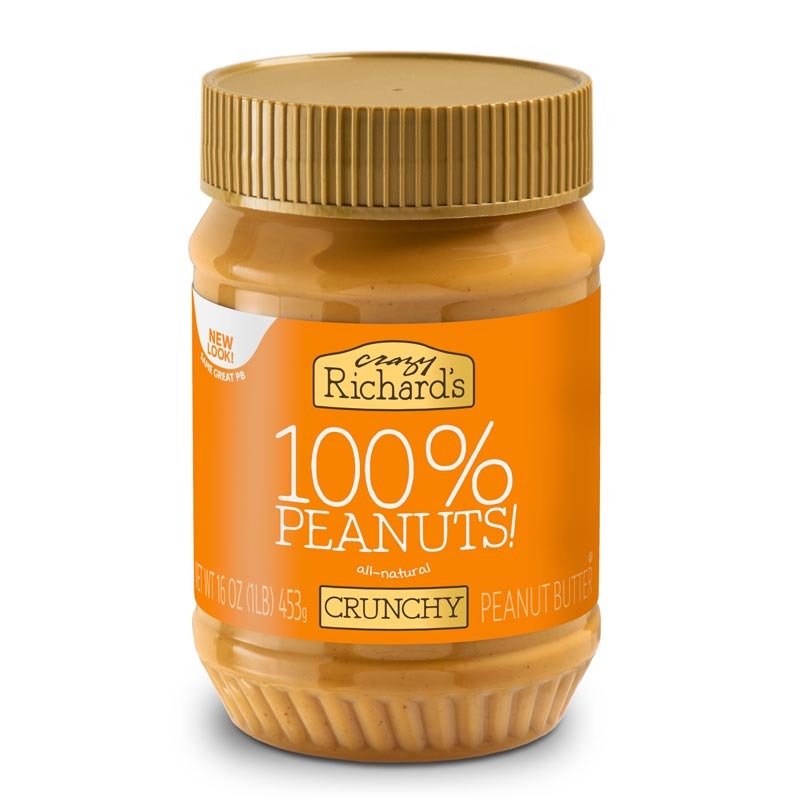 Call it crazy, but Crazy Richard's refuses to make its rich peanut butter with anything other than peanuts. This one simple ingredient renders a spread that's high in protein and healthy fats, sodium-free, and delicious on practically anything. Use it in one of these 40 Healthy Snack Ideas to Keep You Slim.
April Benshosan
April is a born-and-raised Brooklynite who has a passion for all things health, wellness, and tastebud-related.
Read more about April