Why These 3 Classic Snack Foods are Making a Comeback
At the start of the pandemic, shoppers wanted comfort food so snack companies pulled back on making fun flavors.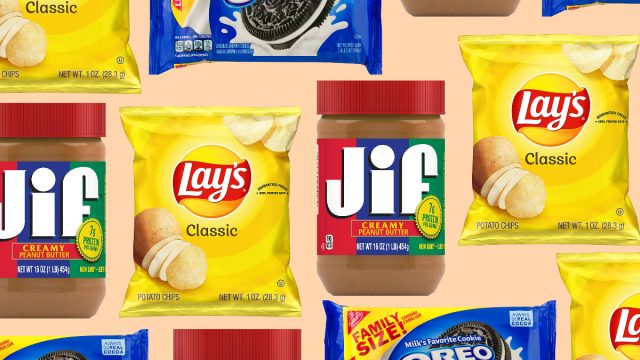 Restrictions have lifted in many states, however, people are still encouraged to practice social distancing and self-quarantine to some degree. Remember, the pandemic isn't over.
Consumers are still stocking up on food from the grocery store, especially snack foods. According to the International Food Information Council's 2020 Food and Health Survey, which polled 1,011 Americans between the ages of 18 and 80, some 32 percent of respondents said they are snacking more during the pandemic.
Whether the heightened snacking is attributable to an increase in emotional eating or another lifestyle change, one trend appears to be forming among many shoppers—they're reaching for the classic snacks in grocery stores.
RELATED: 7 Classic Snacks From Your Childhood Everyone's Buying in Quarantine
According to CNN Business, when the shelter-in-place orders began in mid-March, several food companies experienced a surge in demand for some of their original products. As a result, they've produced more of these popular snacks and scaled back on the less traditional ones. For example, Mondelez noticed a huge uptick in sales of the regular Oreo and a decrease in many of the fun, wacky flavors.
"Some of the innovation flavors that we have in the pipeline … we've chosen to either postpone or cancel to allow us to make sure that, from a production standpoint and an execution standpoint, we can continue to deliver to consumers what they know and love," said Glen Walter, president of North America for Mondelez, to CNN. Essentially, the current variety of Oreos offered in the supermarket isn't "as robust today as it would have been before the pandemic," he said.
Similar to Mondelez, J.M Smucker reduced its production of several non-traditional Jif peanut butter varieties, namely the reduced fat and omega 3-enhanced versions. PepsiCo's Frito-Lay also had put a pause on producing less popular items such as Lay's Lightly Salted potato chips and Cheetos Crunchy Xxtra Flamin' Hot chips to produce more of Lay's Classic potato chips and regular Tostitos Scoops.
Cheyenne Buckingham is the news editor of <Eat This, Not That!, specializing in food and drink coverage, and breaking down the science behind the latest health studies and information.
Read more