The Best & Worst Frozen Foods at Costco—Ranked!
Here's how to navigate the freezer aisle based on nutrition.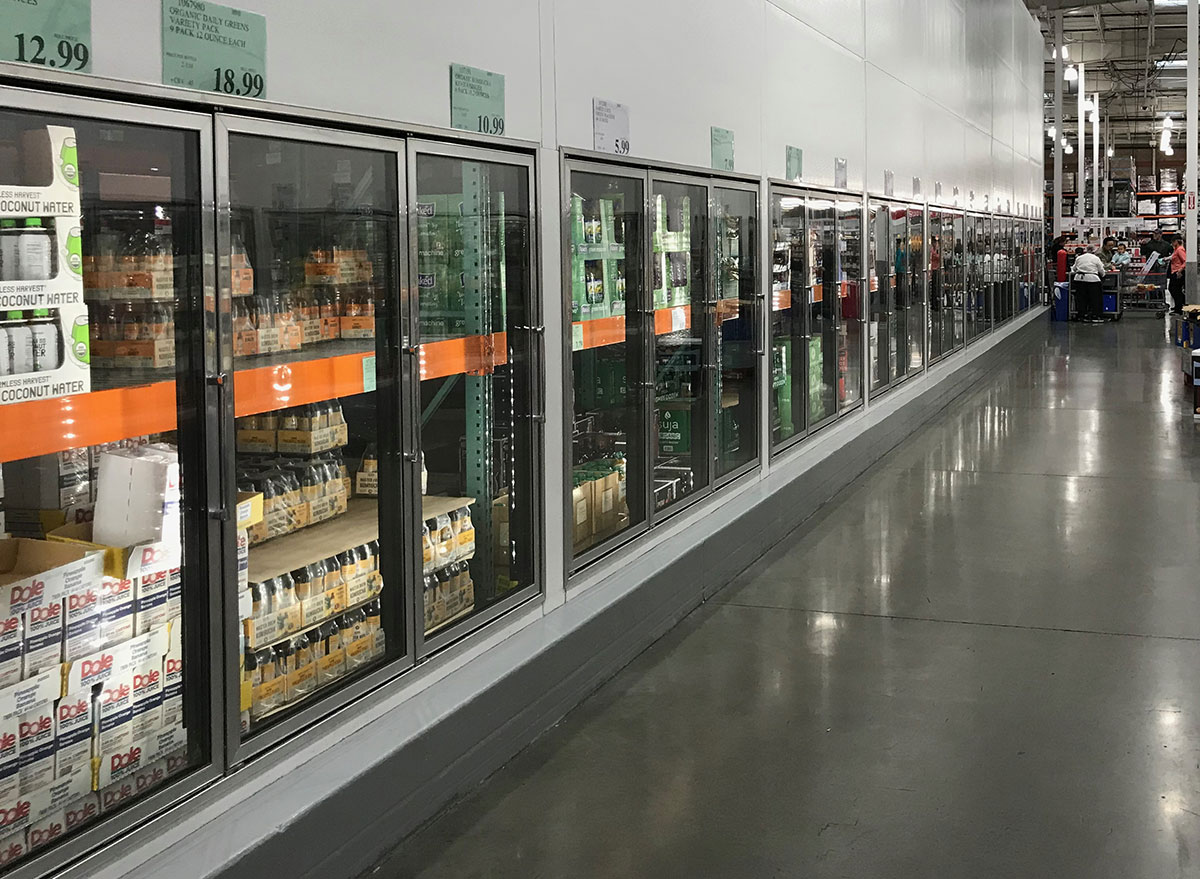 Navigating the aisles of Costco can be a fun grocery challenge. There are so many options—and in big, family-sized packaging—that lure you in… because of course you need a 50-bag box of assorted chips. But, when it comes to the frozen food aisles at the warehouse, how do you know if you're making a healthy choice?
We checked out the frozen section at our local Costco to find out what's currently in the freezers. While every Costco may have different products based on supply and region, these are some tried and true, cold favorites that should be in every store—and we've ranked them all based on nutrition from the worst to #1 best.
Keep reading to see the ranking, and for more great Costco news, don't miss these 15 Costco Foods That Make Meal Prep Easy.
Pierre Signatures Angus Cheeseburger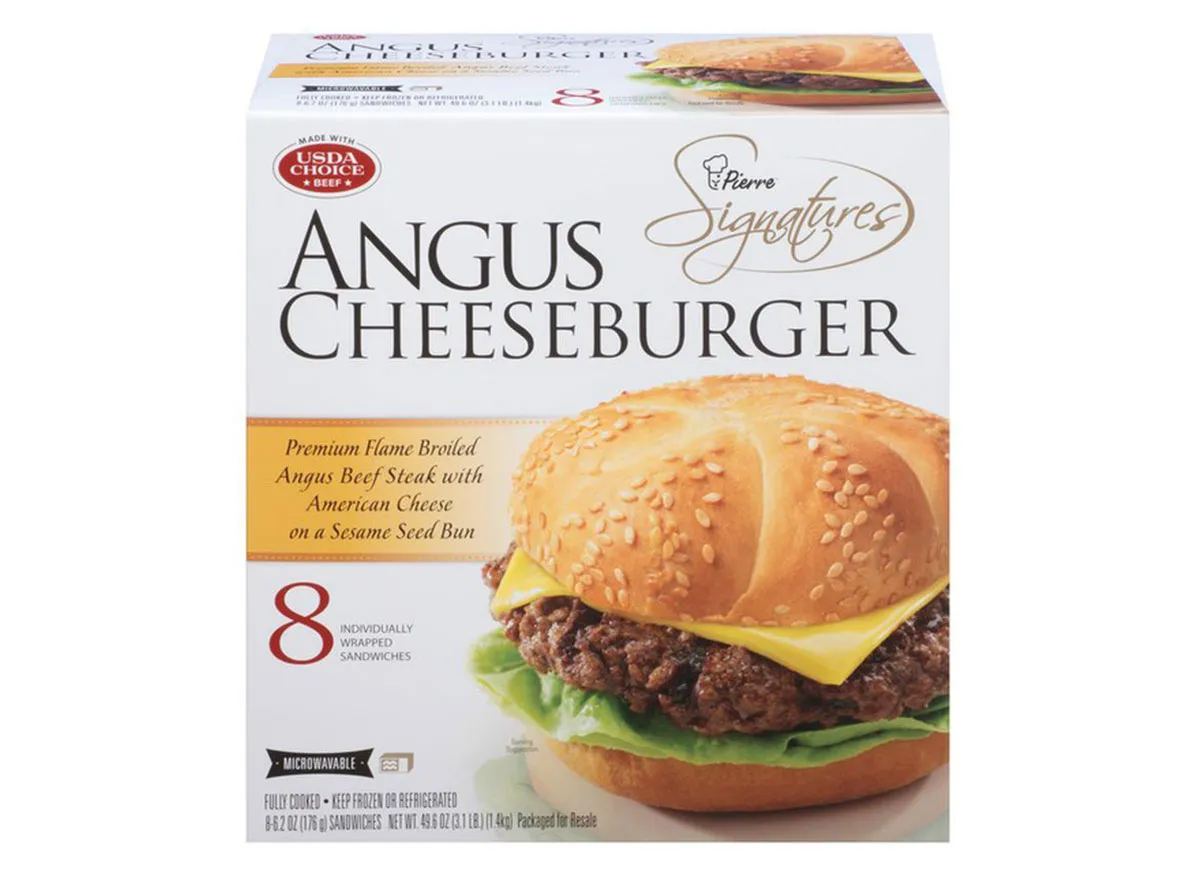 Per sandwich (174 g)
: 500 calories, 27 g fat (10 g saturated fat, 1 g trans fat), 820 mg sodium, 40 g carbs (2 g fiber, 6 g sugar), 25 g protein
These aren't just frozen burger patties; they're frozen sandwiches, complete with the bun. But these frozen meals contain a gram of trans fat and a whopping 820 milligrams of sodium. You're much better off building a burger with the Impossible patty and piling that sandwich with some fresh veggies like onions, tomato, and lettuce.
Related: Sign up for our newsletter for the latest healthy eating news.
Marie Callender's Chicken Pot Pies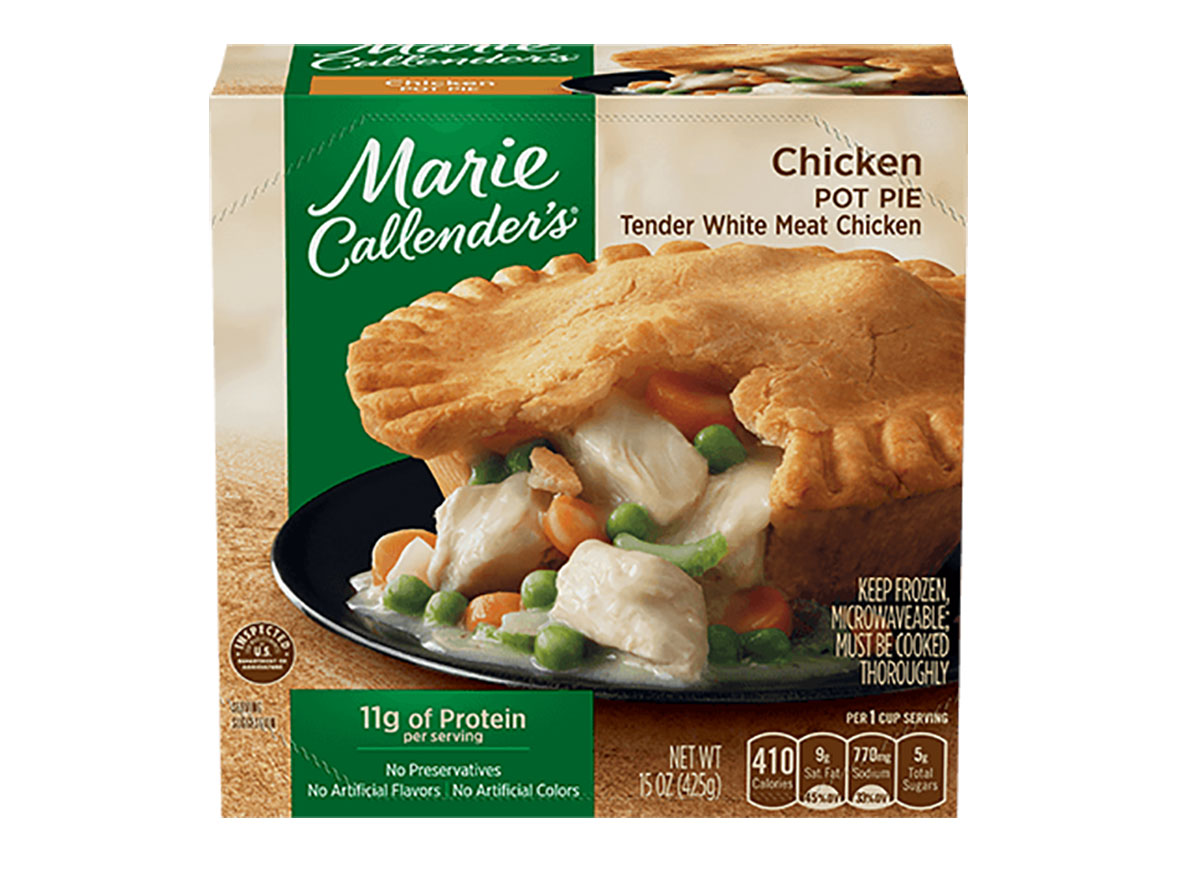 6254a4d1642c605c54bf1cab17d50f1e
Per 1 cup (200 g)
: 410 calories, 22 g fat (9 g saturated fat, 0 g trans fat), 770 mg sodium, 43 g carbs (4 g fiber, 5 g sugar), 11 g protein
One serving size of this frozen pot pie is only half of the pot pie tray. And even then, you're still getting a lot of fat and sodium in your meal. For a healthier option, try one of these 14 Healthy Chicken Pot Pie Recipes.
Tyson Panko Breaded Chicken Breast Tenderloins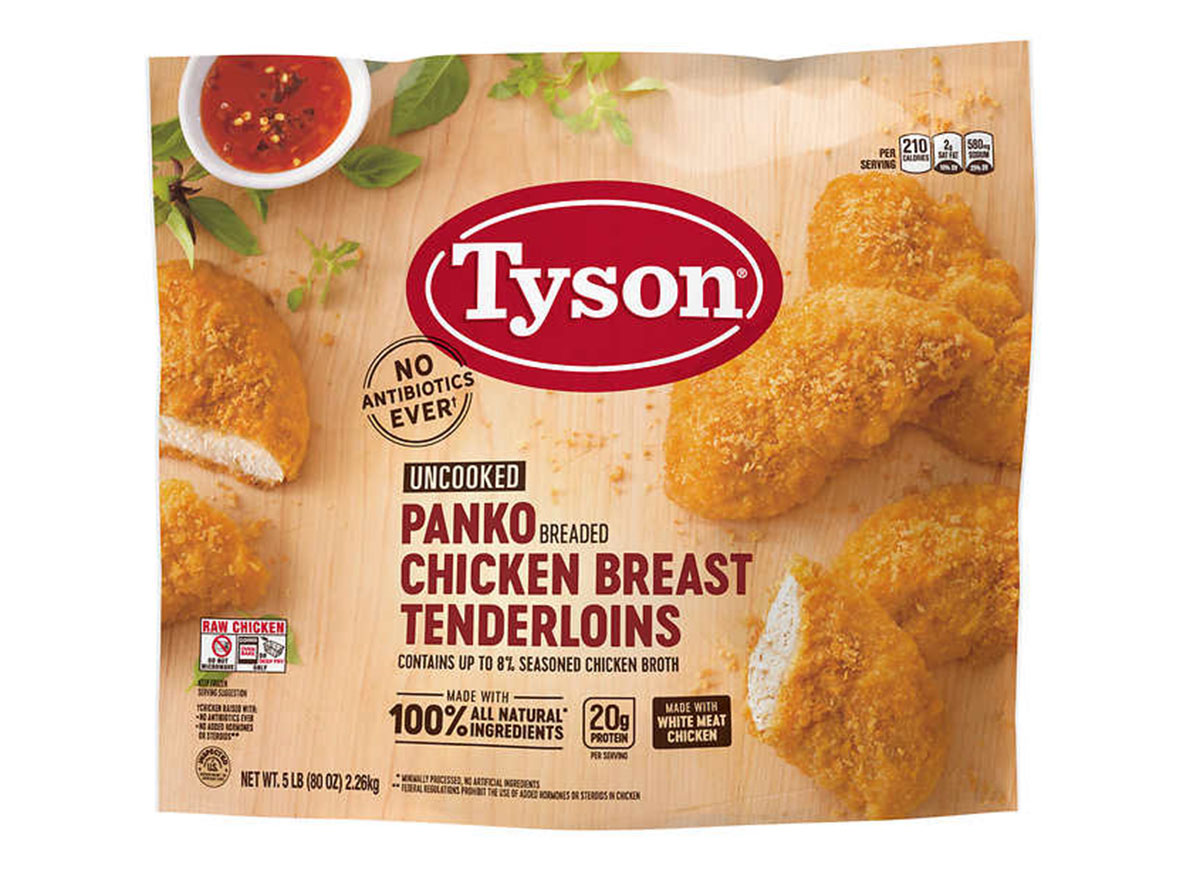 Per 4 oz serving
: (112 G): 210 calories, 9 g fat (2 g saturated fat, 0 g trans fat), 580 mg sodium, 13 g carbs (0 g fiber, 1 g sugar), 20 g protein
While these chicken tenders are relatively high in protein, they are also high in sodium. Skip these and make your own at home with panko breadcrumbs and your favorite seasonings that have less salt.
Related: We Tasted 6 Frozen Chicken Tenders and This Is the Best
Farm Rich French Toast Sticks, Cinnamon
Per 4 stick serving (106 G)
: 333 calories, 14 g fat (2.5 g saturated fat, 0 g trans fat), 380 mg sodium, 46 carbs (1 g fiber, 13 g sugar)
French toast sticks are an easy breakfast for those of us who are on the go, but the Farm Rich brand packs a punch with 13 grams of sugar and over 20% of your daily total of fat for just four sticks. Consider making your own French toast at home with whole-grain bread for a heartier breakfast. 
Jimmy Dean Delights English Muffins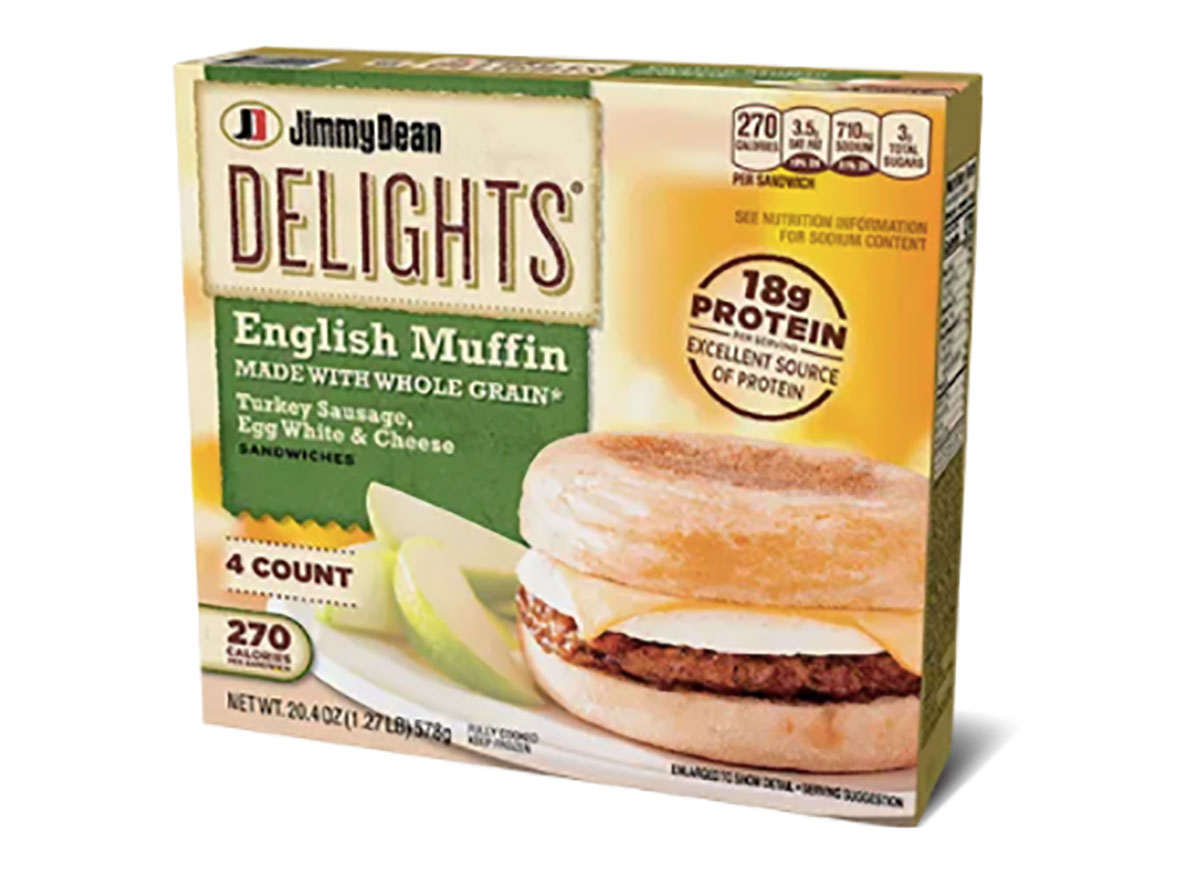 Per 1 sandwich (143 g)
: 270 calories, 8 g fat (3.5 g saturated fat, 0 g trans fat), 710 mg sodium, 31 g carbs (2 g fiber, 3 g sugar), 18 g protein
You might think that these lighter versions of Jimmy Dean's frozen breakfasts are a healthy choice. But they're still loaded with more sodium than you ideally want to consume at breakfast, or in one meal at all. You're better off making a breakfast sandwich with one of these 16 Healthy Breakfast Sandwich Ideas.
Impossible Plant-Based Burger Patties
Per 1 patty (113 G)
: 240 calories, 14 g fat (8 g saturated fat, 0 g trans fat), 370 mg sodium, 9 g carbs (3 g fiber, <1g sugar), 19 g protein
The plant-based Impossible burger patties are a great alternative to traditional burger patties. These can be made into a tasty sandwich with fresh veggie toppings, or into a lettuce-wrapped burger with the help of iceberg lettuce.
Related: One Major Effect of Eating a Plant-Based Diet
Smucker's Uncrustables Peanut Butter and Strawberry Jam Sandwich
Per sandwich (58 G)
: 210 calories, 9g fat (2 g saturated fat, 0 g trans fat), 220 mg sodium, 28 g carbs (2 g fiber, 10 g sugar), 6 g protein
Those looking for a quick snack or something to go with their lunch should consider the nostalgia of a peanut butter and jelly sandwich in the form of a Smuckers Uncrustable. The sandwiches have a decent amount of protein and are low in fat and sodium making them a healthier alternative to other lunchtime options.
Yucatan Avocado Pulp, Extra Chunky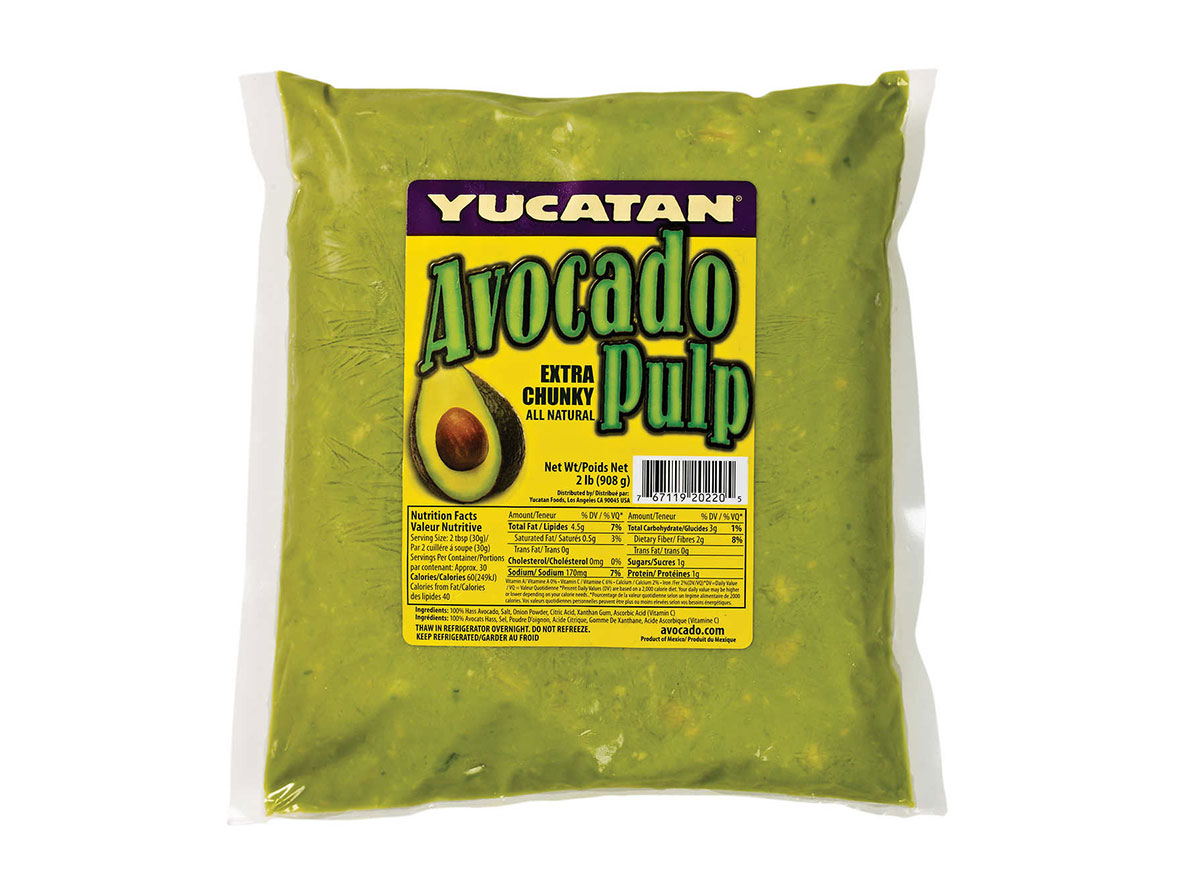 Per 2 tbsp serving (30 G)
: 60 calories, 4.5 g fat (0.5 g saturated fat, 0 g trans fat), 170 mg sodium, 3 carbs (2 g fiber, 1 g sugar), 1 g protein
Adding avocado to just about anything can have a load of health benefits, including added good fats that your body needs to survive. If you hate cutting, pitting, and chopping avocado consider this ready-to-go option from Yucatan in the frozen section of Costco. Add it to a sandwich, slather it on toast, or enjoy it mixed into a dip.
Related: Secret Side Effects of Eating Too Many Avocados
Trident Seafoods Wild Alaskan Salmon Burgers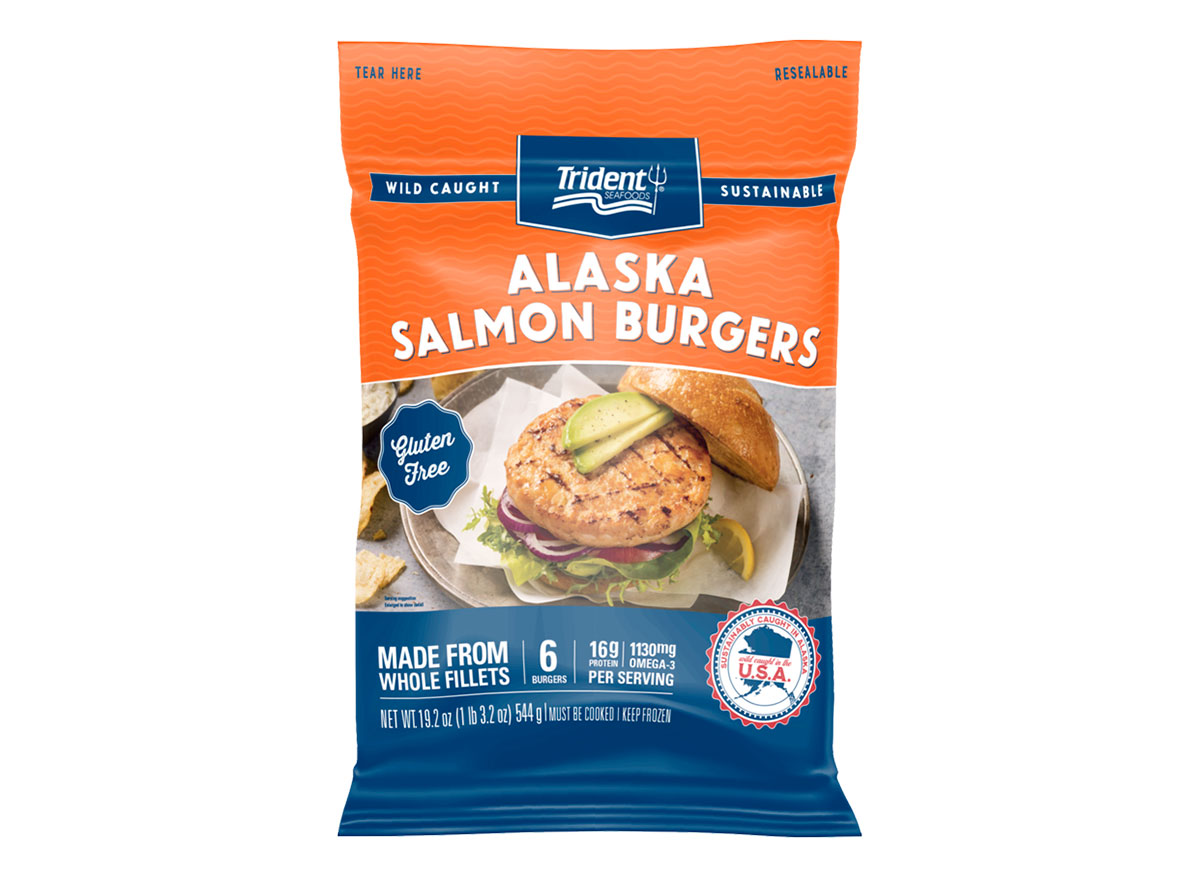 Per 1 patty (79 G)
: 130 calories, 7 g fat (1 g saturated fat, 0 g trans fat), 230 mg sodium, 1 g carb (0 g fiber, 0 g sugar), 14 g protein
Trident Seafoods salmon burgers are a nice alternative for those who don't like the taste or texture of Impossible plant-based burgers but still want that satisfying burger experience. The burgers are loaded with protein and are low in fat and carbs, making them one of the healthier options at the big-box store.
Kirkland Signature Farm-Raised Raw Shrimp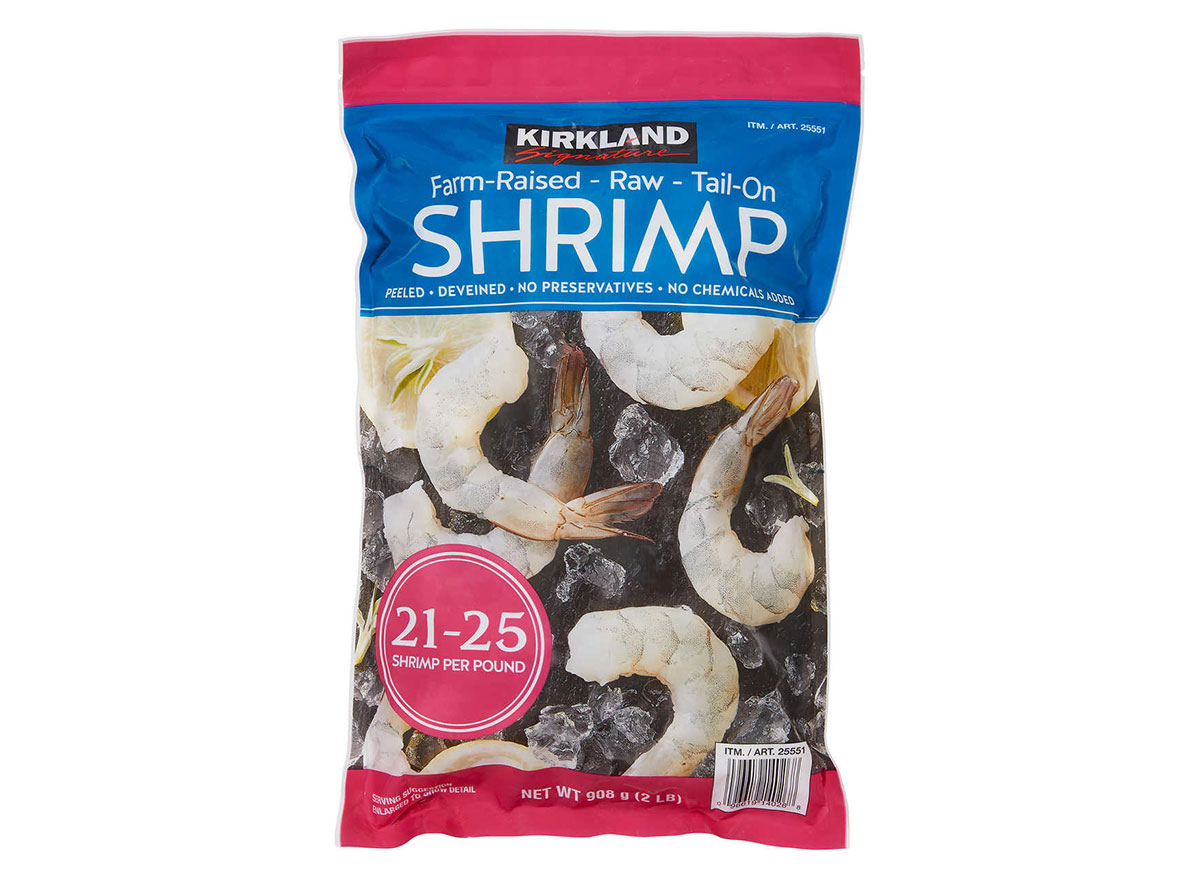 Per 4 ounce serving (112 G)
: 90 calories, 0.5 g fat (0 g saturated fat, 0 g trans fat), 310 mg sodium, 0 g carbs (0 g fiber, 0 g sugar), 22 g protein
Raw, frozen shrimp are a must-have for your freezer. This two-pound bag from Kirkland Signature packs in a ton of protein per serving to keep you fuller longer, and with less than a gram of fat total, it's a great item to add to almost any meal and the #1 best frozen food item you can buy at Costco.
For more, check out the 100 Unhealthiest Foods on the Planet.
Meghan De Maria
Meghan De Maria is a senior editor at
Eat This, Not That!
, specializing in food, product, and restaurant coverage.
Read more about Meghan