10 Grocery Items You Should Always Buy Frozen, According to Experts
If we took a quick gander into your freezer right now, what would we find? Just bare bones and ice? Perhaps an array of scattered has-been foods such as one single Eggo waffle—how long has that been there anyway? Or, maybe an entire collection of foods which are now sporting a considerable amount of freezer burn?
The freezer can be a dark and scary place if you don't know how to fill it correctly. But, with the proper guidance, it can be an Eden of healthy snacks and lifesaving meal options.
Don't believe us? Take it from founder of GetNaked® Nutrition and author of Slimdown with Smoothies, Laura Burak MS, RD. "Frozen items are one of the best ways to never say 'what's for dinner?' again," she says. "Stocking up with lots of nutrient-packed foods that you can simply heat and eat (or blend and sip), will save you time, money, and can be much healthier than ordering take-out again."
We asked Burak, along with a few additional members of our medical board, what their own freezers are likely to be stocked with on any given day. Find out which frozen foods have their backing, and adjust your list accordingly before your trip down the frosty aisles of the freezer section.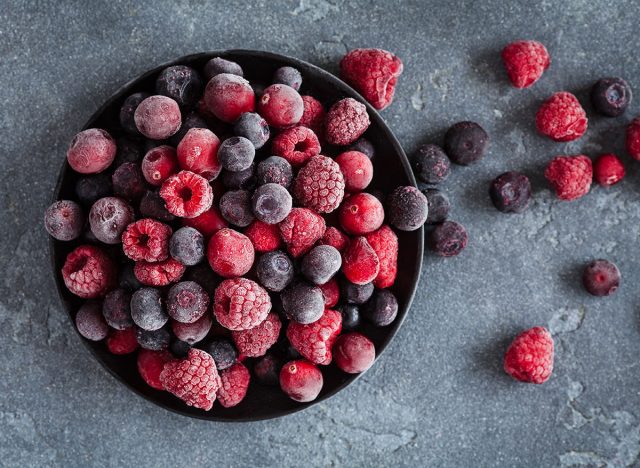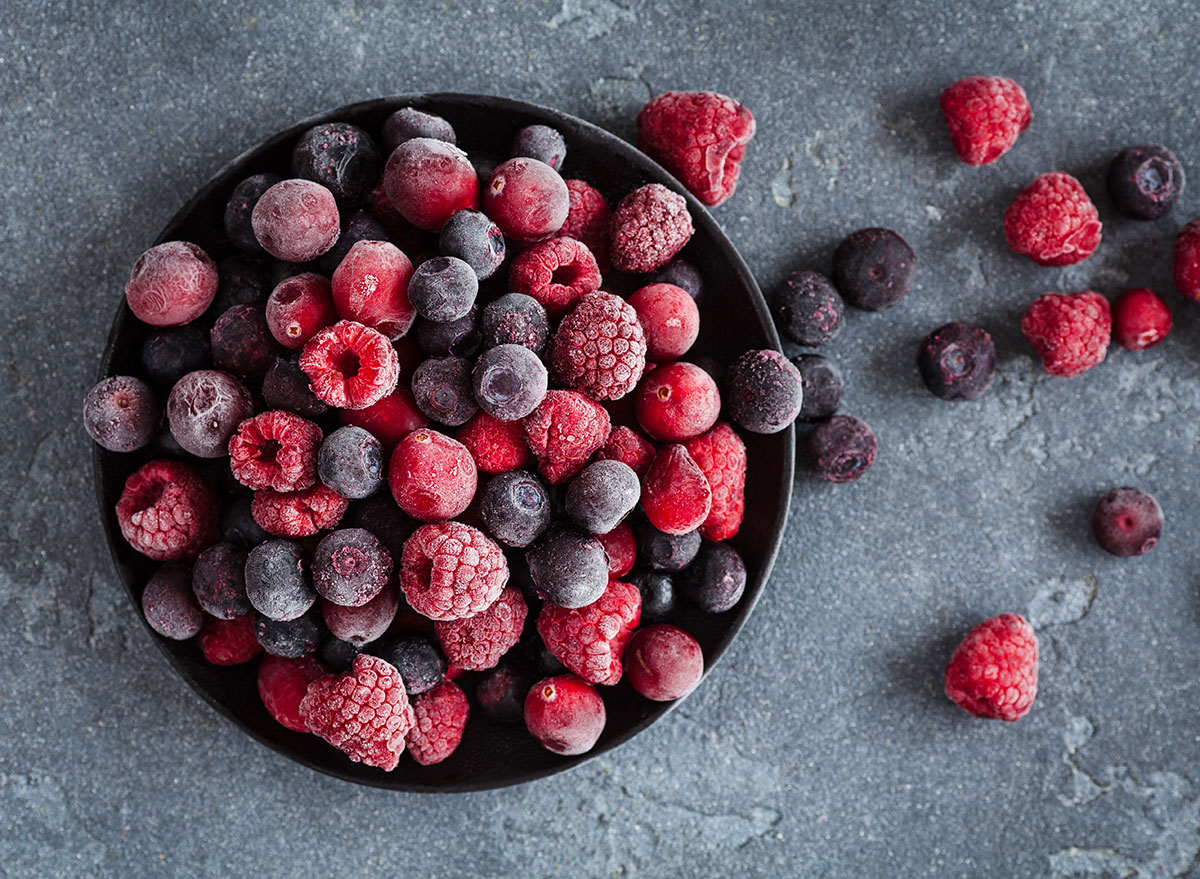 Because they are frozen at their peak of ripeness, frozen fruits (and vegetables) can actually be more nutritious than fresh, explains Burak. She specifically recommends hoarding "a variety of fruits like berries, mango, cherries, and pineapple to throw into the blender".
Berries were a popular choice among our other nutritionists as well—and more specifically blueberries. Amy Shapiro, MS, RD, founder of Real Nutrition NYC, describes the frozen version of the tiny blue fruit as a "nutritional powerhouse" with two times the antioxidants and 72% more fiber compared to regular, fresh blueberries.
As you're browsing the frozen fruit aisle, one additional hint from Burak is to reach for organic brands with no added sugars.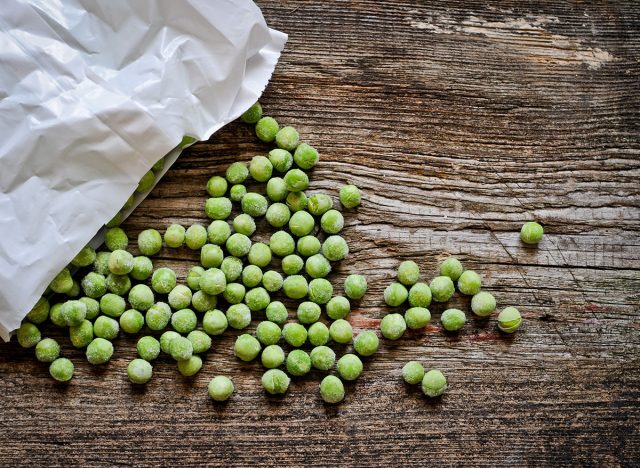 We can't mention fruits without their food pyramid equivalent: vegetables. And, our food experts had a few specific frozen choices to share, starting with frozen peas. "I add these to pasta dishes right at the end of cooking the pasta," Shapiro says. "This adds green, protein, fiber and nutrition to a simple pasta dish. Cooks up quick, is great for a vegetarian or vegan meal, and is kid-friendly too." She adds that this is a great alternative for times when you are fresh out of fresh vegetables but still want them represented in your family's dinner.
Nutrition consultant and author of Finally Full, Finally Slim, Lisa R. Young, PhD, RDN, likes to keep a stash of frozen spinach in her freezer. She shares that it's "terrific to add to soups, stews, and other vegetable and meat dishes." Popeye would be so pleased!
And, if you have picky kids that turn up their noses at green vegetables, Burak suggests adding veggies like spinach or even avocado chunks to your fruit smoothies instead. "I promise you won't even know those veggies are hiding in there," she assures us.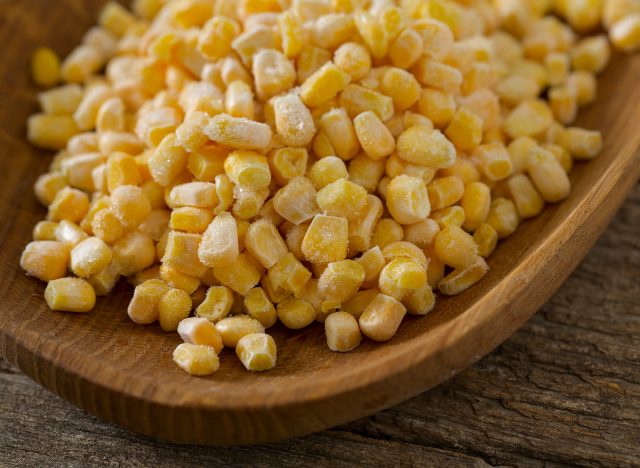 Fresh ears of corn are a staple for summer barbecues, but are typically MIA from the grocery store throughout the colder fall and winter months. Young's solution is to purchase frozen corn, which is conveniently available all year round and also retains its sweetness very well—better than canned corn we've heard.
Pro tip: To get the most flavor out of your frozen corn, cook it in a skillet with your favorite spices rather than boiling it or microwaving it. You do not need to thaw frozen corn before preparing, but giving it a quick rinse can help to remove any of those pesky ice crystals.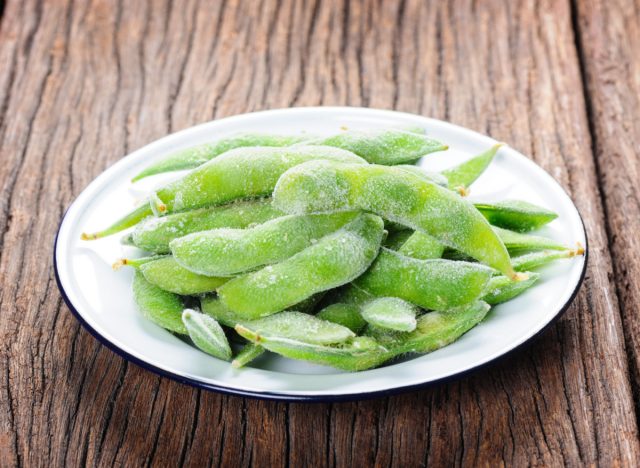 Both Young and Shapiro are on the frozen edamame bandwagon. "Edamame is a terrific plant protein, which you can add to salads and vegetable dishes," Young shares. "I love keeping edamame in my freezer and heating some up as a snack or to round out a meal."
Shapiro adds that since the vegetable is oftentimes hard to find fresh, you should scoop it up frozen to add some extra fiber to your diet. You can typically find frozen edamame either shelled or still in the pods. The latter makes for the perfect poppable appetizer when served with just a pinch of salt!
Sliced Bread and Other Wheat-Based Items
Burak recommends "keeping a sliced loaf of bread, English muffins, bagels, or toaster waffles for quick breakfast ideas and sandwiches.  These foods can be plopped directly into the toaster oven from the freezer and are ready in mere minutes—a busy mom's dream. Just try to limit any frozen toaster items, which typically include gobs of added sugars. We're looking at you, Pillsbury Toaster Strudels.
Additionally, if you're not a fan of the frozen bread options on the market, Burak points out that you can alternatively pick up a sliced loaf of grainy bakery bread and freeze it yourself for the same effect.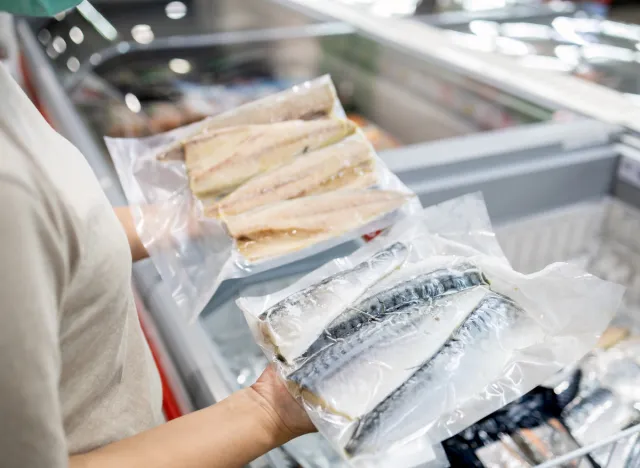 If you're shopping for a large family, or just don't enjoy frequent trips to the grocery store, keeping a supply of frozen fish, poultry, and meat at the house is always a good idea. These proteins don't stay fresh for long, so Young recommends saving money by purchasing them frozen and just defrosting as needed. "Veggie burgers are also best bought frozen and they will last for several months in the freezer," she adds.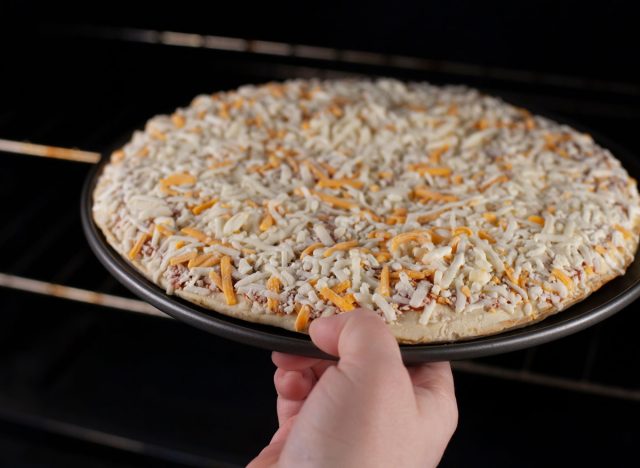 There's no shame in resorting to a scrumptious and hassle-free frozen pizza for dinner. Burak even encourages you to always have one or two on deck. The great thing about frozen pizza–besides its obvious convenience factor–is the wide assortment of options out there. You can really cater to your own health preferences and taste. For Burak, this means reaching for names like Banza or Cali'flour Foods. "Crusts made with more nutritious ingredients like chickpeas and veggies like these two brands offer more bang for your buck in terms of nutrients," she says.
You could also give Milton's Craft Bakers Thin & Crispy Roasted Vegetable Cauliflower Crust Pizza a try—the standing favorite of medical expert Lauren Manaker, MS, RDN, LDN, CLEC, CPT. Whichever pie you choose, just pair it with a side salad or vegetable, and boom! You have an easy well-rounded meal.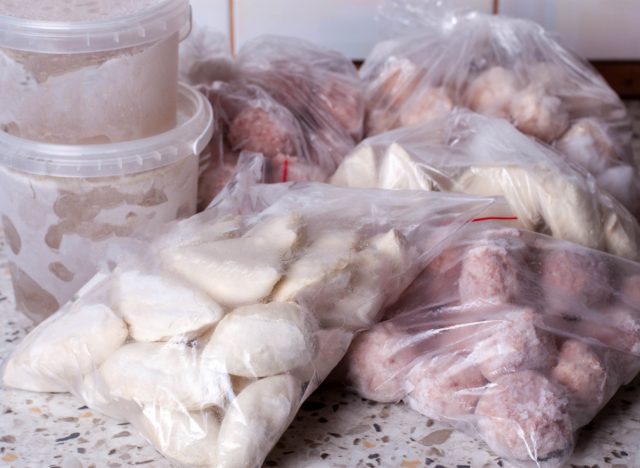 In addition to pizza or flatbreads, Burak suggests stocking up on select frozen appetizers so you're never left empty-handed in a pinch. She specifically calls out soup, and if you've ever walked down the freezer aisle (we're assuming you have), you know there are plenty of other frozen eats competing for your attention as well.6254a4d1642c605c54bf1cab17d50f1e
Take some extra time to examine the nutritional facts on frozen apps, however. We know they're delicious, but selections such as Ore-Ida Tater Tots or Totino's Pizza Rolls typically offer nothing in the way of health value. Treat your family to something more wholesome and nourishing instead.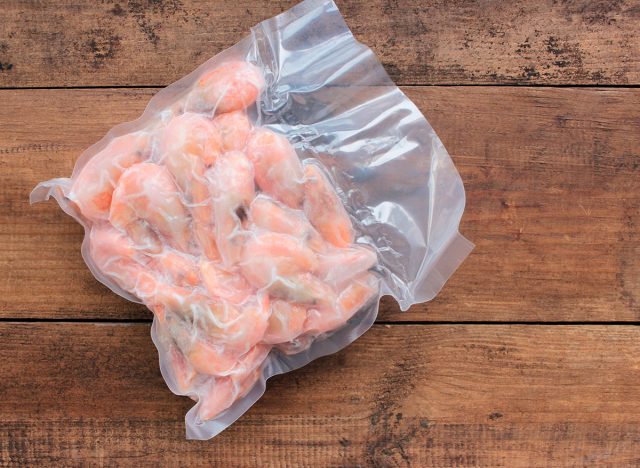 If you're a seafood lover, you're in luck. Along with fish and other meats, Shapiro adds shrimp to the list of great freezer aisle grabs. "I always keep frozen shrimp on hand. It is more affordable than fresh and defrosts and cooks up in minutes, making a healthy meal that is high in protein, iodine, and delicious in minutes," she says.
She even gives some great advice on how to cook the crustaceans. Make sure to save this info for your next delicious dinner! "Simply place the frozen shrimp in a colander and rinse under warm water. Broil for two to three minutes or pan fry until pink and opaque," she instructs. "I use a pesto sauce, but butter or olive oil and garlic work well too!"