8 Dessert Chains That Use the Highest Quality Ingredients
The best sweet treats are made with the finest ingredients, and these first-rate shops do it right.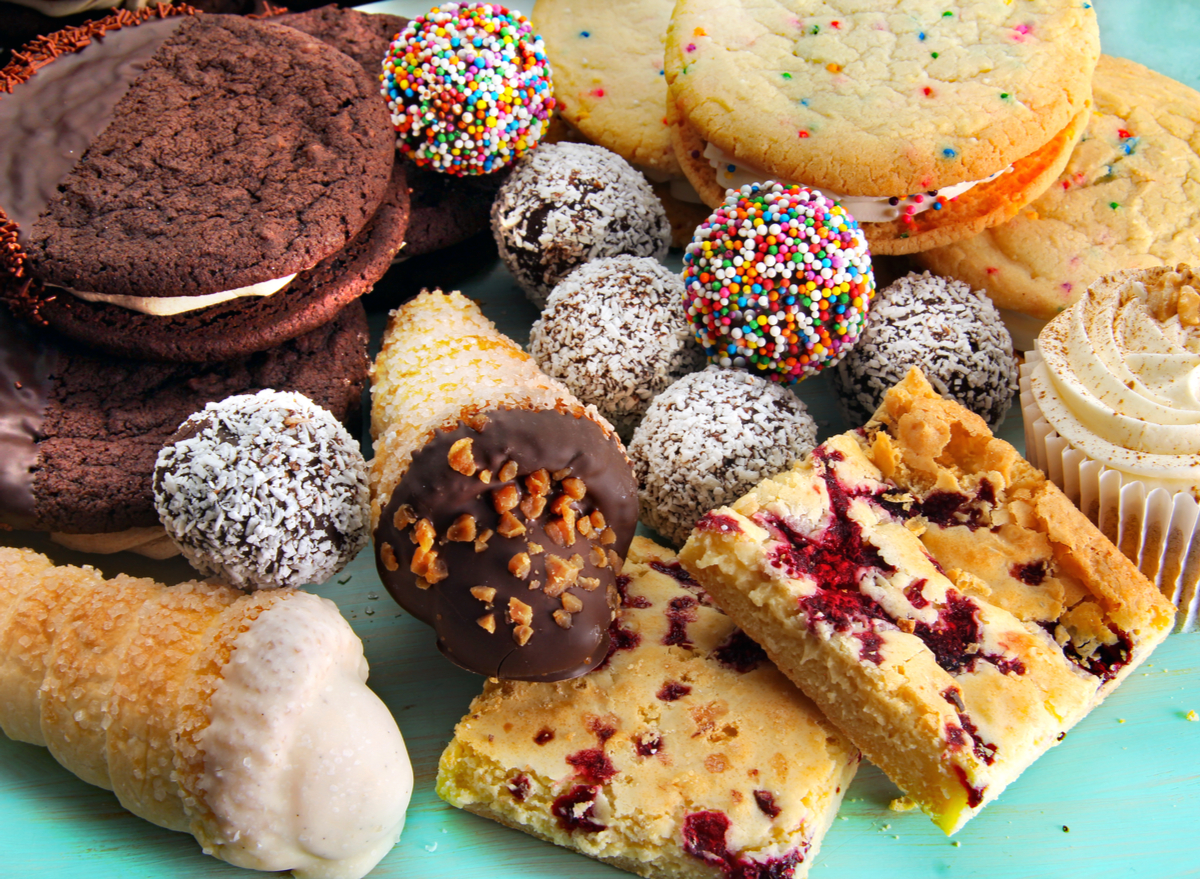 The product recommendations in this post are recommendations by the writer and/or expert(s) interviewed and do not contain affiliate links. Meaning: If you use these links to buy something, we will not earn a commission.
Cookies, doughnuts, cakes, cupcakes: whether baked fresh for a special occasion or enjoyed as an after-dinner snack, dessert is always a good idea. And according to a OnePoll survey for Crumbl cookies, one in six Americans eat dessert every single day. Now that's a lot of sweets!
Of course, baking a homemade cake or serving a plate of freshly baked cookies is always nice, but those who don't have the time (or skills) to do so will be happy to hear that there are plenty of dessert chains out there that can satisfy sugar cravings in a flash. Even better? Many of these chains use top-notch ingredients that not only elevate the taste and texture of each sweet treat they offer but may also be healthier for you.
From a popular cookie chain that offers over 200 rotating cookie flavors to a delicious ice cream chain that makes inventive ice cream options using unexpected components, including brie cheese, olive oil, potatoes, Colombian coffee, and black pepper, here are nine dessert chains that use the highest quality ingredients.
Sprinkles
If you're in the mood for cupcakes and need a spot that uses only the finest ingredients, check out Sprinkles. The popular chain has over 50 brick-and-mortar shops plus cupcake ATMs throughout the country—yes, cupcake ATMs are precisely what they sound like.
You can expect mouth-watering cupcake options at Sprinkles, like strawberry, salty caramel, triple cinnamon, and a limited-edition banana split flavor, baked fresh daily. All cupcakes are free from added preservatives and feature fun ingredients like yuzu citrus buttercream, crushed peanuts, fresh coconut, fleur de sel sea salt crystals, wild blueberries, Madagascar bourbon vanilla, freshly grated carrots, ripe bananas, and more. The chain also makes cakes, cookies, brownies, and chocolate bars for those looking to broaden their cupcake horizons.
Van Leeuwen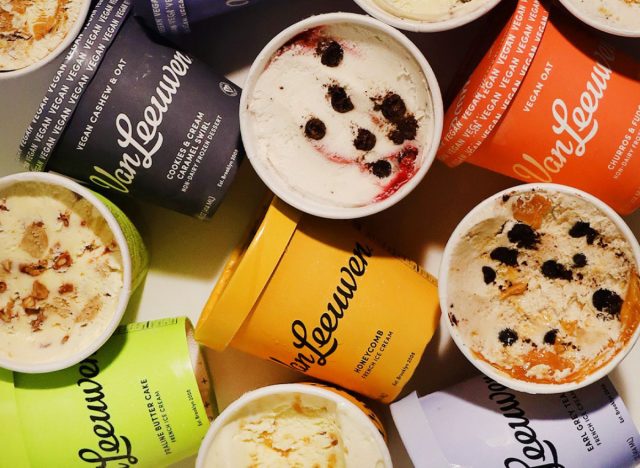 Van Leeuwen started as a food truck in New York City about 15 years ago and has grown into a beloved ice cream chain with over 50 locations throughout the country. As the brand notes on its website, "if it's tough to pronounce, it's probably tough to digest," so the company sticks to using simple, yet intriguing, high-quality ingredients, like lemon curd, jam made from Oregon-grown strawberries, single-origin dark chocolate chips, Tahitian vanilla beans (cold-ground whole), Italian hazelnuts, and much more. Chocolate caramel cheesecake, lemon poppyseed muffin, black cherry chip, and cookies and cream are especially eye-catching flavors at the moment.
Even better? It sells pints in supermarkets across the country, and those who are vegan will be happy to hear that the brand has plenty of vegan options available.
Jeni's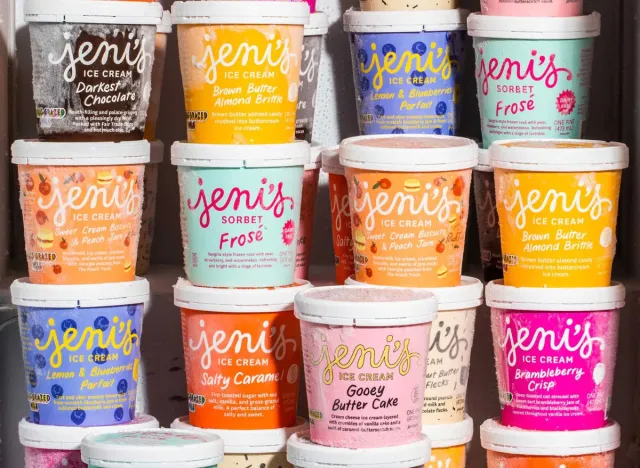 Between its incredible flavors, colorful packaging, and high-quality ingredients, Jeni's is one of the best ice cream chains out there. The brand's mouth-watering ice cream flavors—Brambleberry Crisp! Gooey Butter Cake! Boston Cream Pie! Skillet Cinnamon Swirl! Limited-edition Double Dough!—are made using Direct Trade ingredients, including milk from family-run dairy farms, fruit from fourth-generation fruit farms, cheese from family-run creameries, and much more.
Jeni's currently has over 80 locations, but if you don't live near one, don't sweat it: the brand's pints are available to order online, and many grocery stores carry them, too. It also has dairy and gluten-free options available for those who are interested.
Lady M
If you dream of a bakery chain with beautiful cakes that taste as good as they look, here's some good news for you—this place exists. Lady M, which came onto the scene in 2001, is the world-famous cake boutique with nearly 40 locations worldwide. It's particularly known for its Mille Crêpes cake that features at least 20 layers of thin crepes and cream.6254a4d1642c605c54bf1cab17d50f1e
At Lady M, you can expect only the best of the best. Each cake is made using top-of-the-line ingredients, such as fine flour from Japan, handmade fresh cream, coffee beans from Colombia, ceremonial-grade matcha, marron glacé from France, sustainable pistachios sourced from California, and premium Earl Grey tea blended in Singapore. Everything on its menu looks great, but the Signature Mille Crêpes and the Green Tea Mille Crêpes are best sellers.
Ben & Jerry's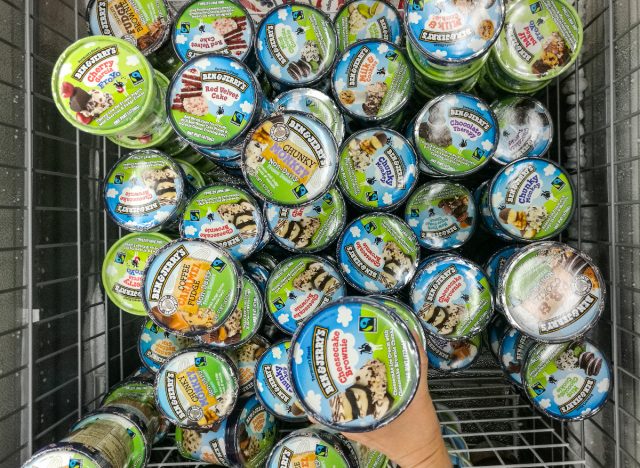 Ben & Jerry's is the place to go if you're in the mood for ice cream, or need to pick up an ice cream cake for a special occasion. Founded in 1978, the iconic ice cream company specializes in making frozen desserts (and cookie dough chunks) using carefully sourced, non-GMO, Fairtrade-certified ingredients. At Ben & Jerry's, you can expect its creations to be made with cage-free eggs, sugar from small-scale farmers, cocoa sourced from  growers in the Ivory Coast, and coffee beans from Mexico. The brand also partners with farmers in Vermont, the Netherlands, Germany, and the United Kingdom through its Caring Dairy program, which helps support improved farming practices.
As for flavors, you can expect out-of-this-world combinations like Half-Baked, made with brownies from Greyston Bakery and cookie dough by Rhino Foods, and Americone Dream, packed with fudge-covered waffle cones and mixed with a caramel swirl.
Levain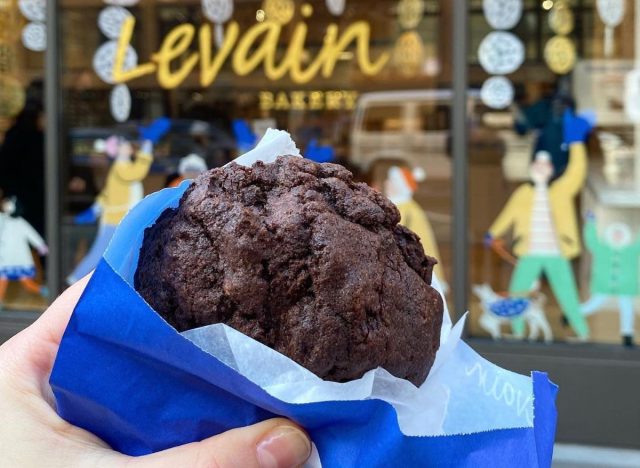 Speaking of cookies, Levain has been making some of the best since 1995. The dessert chain, which currently has over a dozen locations in places like New York City, Boston, Los Angeles, and Washington D.C., prides itself on sourcing only the finest ingredients—"in other words, nothing you can't pronounce or recognize, and no preservatives either," according to its website.
Keeping this in mind, the brand makes delicious handmade cookies on-site using simple ingredients, such as crunchy almonds, semisweet chocolate chips, sweet raisins and smooth peanut butter chips. Here, the cookies are thick and chewy and offered in lip-smackingly good flavor combinations, including chocolate chip walnut, oatmeal raisin, dark chocolate chocolate chip, and a limited-edition rocky road.
Beard Papa's
Dubbed the "world's best cream puff," Beard Papa's makes delicious, mouth-watering cream puffs that will have you hooked. What's so fun about Beard Papa's is that they let you customize each puff. First, you choose a shell—original, chocolate eclair, green tea eclair, honey butter, crispy almond, Oreo cookie crumble eclair, strawberry eclair, or S'mores eclair—and then pick your filling: vanilla, green tea, or chocolate.
Each puff is made using carefully selected, high-quality ingredients, like imported vanilla beans from Madagascar, domestic eggs, and fresh whipped cream, and Beard Papa's currently has over 430 locations worldwide, so maybe you have one nearby. Other mini desserts, like crème brûlée, fondant, and cheesecake, are also available at the chain.
Salt & Straw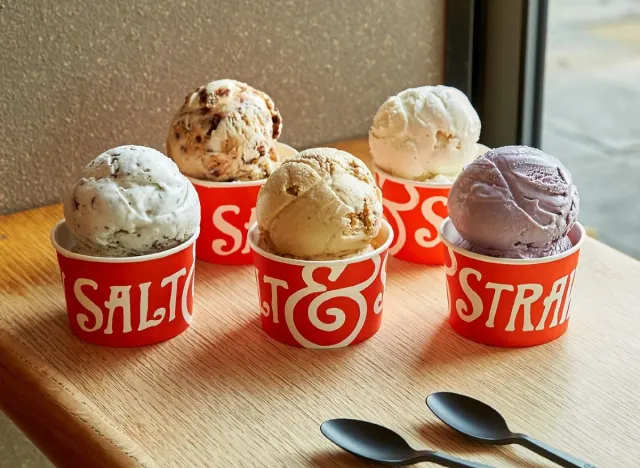 If you want impressively good ice cream, give Salt & Straw a try. The popular chain, which currently has over 35 locations, whips up small-batch handmade ice cream using delicious, local ingredients. These ingredients include brie cheese, Sokol Blosser Winery rosé, Valrhona cocoa, Guatemalan fleur de sel, pure Oregon mint, Singing Dog vanilla extract, Durant Olive Mill's Arbequina extra-virgin olive oil, Jacobsen sea salt, Oregon Bartlett pears, world-renowned Rogue Creamery blue cheese, and much more.
Here, you can expect innovative flavors like strawberry honey balsamic with black pepper, pear and blue cheese, cinnamon snickerdoodle, honey lavender, and chocolate potato salad, a summer special made with potato salad ice cream and chocolate fudge.