9 Discontinued Coca-Cola Drinks You'll Never See Again
Gone but not forgotten. Let's take a peek into Coca-Cola's fizzy graveyard.
Innovation and constant change are essential cogs in the Coca-Cola machine. For the multibillion dollar company, it's simply not enough to be one of the top-selling soda manufacturers in the world. It strives to also continually recapture audience attention through relentless brand and product releases, and even reimagining of older classics.
And, while some of these soft drink additions and alterations fare quite well, others fizzle out right before our eyes. We all remember the epic failure that was New Coke, which caused a Mento and Diet Coke-sized eruption in the industry. Many Coca-Cola fans also watched in horror in 2020 as the company cleaned house, discontinuing 200 different drink brands which were no longer pulling their own weight.
Since then, Coca-Cola has recovered, of course, and is back to its usual ways of releasing beverage after bubbly beverage that no one ever really asked for. The latest ventures–including Coca-Cola Move–are focused on collaborations with artists like Rosalía and the world-renowned DJ Marshmello.
While the jury is still out on these more recent releases, there are many Coca-Cola drinks that went flat a while ago and have since been long gone from our memory. Let's take a look at just a few of the company's discontinued products that you're unlikely to ever see again on store shelves.
Coca-Cola with Lime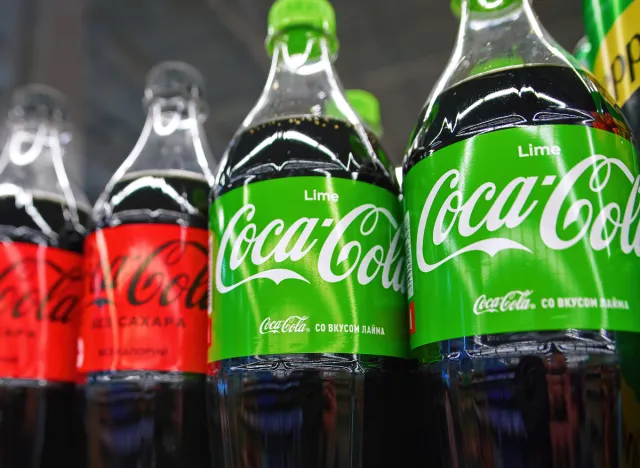 "Put the lime in the Coke, you nut," were the witty lyrics used to introduce Coca-Cola with Lime back in 2005. The company's advertisements were set to the tune of Harry Nillson's 1972 hit song "Coconut," and it's still stuck in our heads nearly two decades later.
The formula for this new innovation was simply normal Coke, but with a hint of lime flavoring. A review of the product on BevNET called the lime flavor "more subtle than the vanilla or cherry flavored varieties," "more natural tasting," and also said that it gave "the product a nice citrus finish that [helped] reduce the normal aftertaste found in cola." The review also questioned, however, if the soda and lime combination (which had been done before by other drink producers) would have any long-term success.
Well, the answer is that it didn't—at least not in the United States. The citrusy beverage was discontinued throughout the country in 2006, just a year after its arrival. Diet Coke Lime, which came before Coca-Cola with Lime in 2004, better stood the test of time, but eventually met its own demise in 2018.
Coca-Cola Orange Vanilla
In 2019, Coca-Cola dove back into the grove, and this time came up with Coca-Cola Orange Vanilla. Many thirsty fans said it was reminiscent of a creamsicle and it was originally announced that it would become a permanent addition to the Coke lineup.
However, early in 2022, consumers noticed the orange goodness was quietly being picked from store shelves. And soon after, the following message from Coca-Cola appeared on Twitter: "​​The Coca-Cola Company recently made the decision to discontinue Coca-Cola® Orange Vanilla. Coca-Cola® Orange Vanilla will not be available on store shelves after March 2022."
While cans and bottles of Orange Vanilla are no longer being stocked, there's still a way to savor that flavor combo once again—and no, it doesn't involve signing one of the petitions which have popped up asking for it back. The Orange Vanilla flavor, as well as other citrus notes such as lime or lemon, are still accessible at the touchscreen Coca-Cola Freestyle machines which can be found at movie theaters, restaurants, resorts, theme parks, and more.
Tab
Introduced in 1963, Tab was the very first diet soda under the Coca-Cola umbrella. With its sugar-free, no-calorie formula, the drink was marketed to consumers wanting to keep "tabs" on their weight.
Tab quickly gained what can only be described as a cult following in the '60s and '70s–one which holds true to this day. And, multiple variations of the beverage including six different flavors and a caffeine-free option hit the market before the entire brand was let go during Coca-Cola's 2020 wave of discontinuations.
However, there were no hard feelings during the breakup, and Coca-Cola even wrote Tab a heartfelt farewell note which was shared in honor of the drink's 57 years of influence. "The brand is a pop icon, thanks to the highly recognizable colorful pink can, and the effervescent liquid tucked inside is truly one of a kind," the dedicated TaB page on the Coca-Cola website reads. "The larger than life diet soda has charmed people across the world. Tab is stepping out of the spotlight, but the legacy continues."
Coca-Cola Black Cherry Vanilla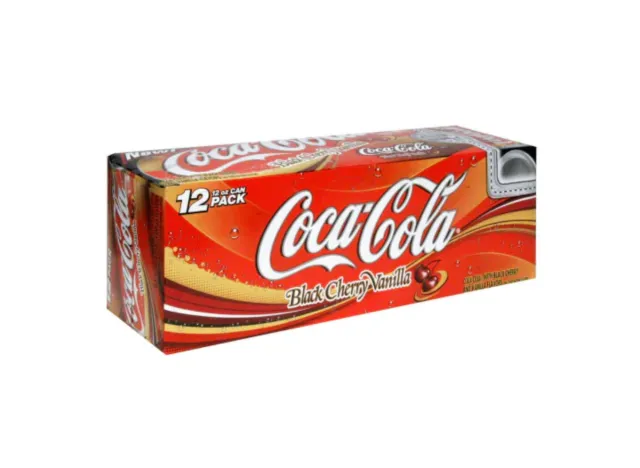 It seems some of the Coca-Cola mixologists got a little pour-happy back in 2006, giving life to this wildly fruity and creamy concoction. Coca-Cola Black Cherry Vanilla, which sounds more like a dessert than a drink, was released in both regular and diet varieties. But, neither made it longer than a year on the market.
Rumors have circled that with the return of Coca-Cola Vanilla in 2007, Black Cherry Vanilla consequently got the boot. We guess there's only room for one vanilla-based Coke around these parts.
If you're still chasing that cherry vanilla high, though, you can give the newly released Coca-Cola Cherry Vanilla a try to see how it stacks up. The company says the "great taste of Coca-Cola + Cherry and Vanilla = UNBELIEVABLY DELICIOUS," but judge for yourself.
Coca-Cola Cinnamon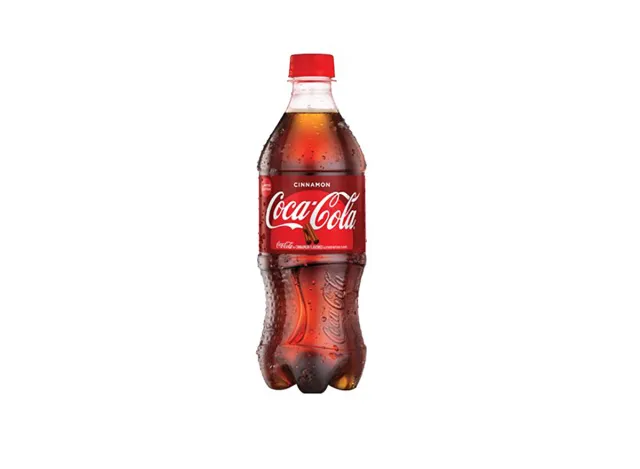 Each year around the holidays, beverage companies feel the need to warm us up with a spicy take on their classic sodas. Specifically, in 2019, Coke's gift to us was Coca-Cola Cinnamon. The drink reappeared the following year in 2020 for a limited time but has been MIA ever since.
According to a review by The Impulse Buy, the soft drink had "enough cinnamon to separate it from regular Coke, but not enough to make people feel like they're taking the Cinnamon Challenge." While this seems like the perfect amount to us and even though this was altogether a shining review compared to what other cinnamon drinks like Pepsi Fire faced, it's doubtful that Coca-Cola Cinnamon will return any time soon.
Coca-Cola Blak
6254a4d1642c605c54bf1cab17d50f1e
In 2006, Coca-Cola thought some consumers may enjoy their soda like they enjoy their coffee: black. Coca-Cola Blak was a mid-calorie (landing somewhere in between regular and diet) coffee and soda mashup which used high-fructose corn syrup and the artificial sweeteners aspartame and acesulfame potassium in place of sugar.
According to BevNET, the bold combination got off to a great start but left you with an aftertaste that was "bitter" and even "somewhat brutal." This opinion seemed to be a popular one, and after less-than-ideal sales, the drink's production was ground to a halt after less than a year and a half.
Despite being called a drink "before its time" by Coca Cola's own chief technical officer, Coca-Cola Blak actually came a decade after other cola and coffee drinks, including the failed Pepsi Kona. Apparently, Coke didn't learn from the mistakes of its competitors, and later on proved that it didn't learn from its own, either. The company introduced a similar beverage in 2019 called Coke with Coffee which met the same fate as its predecessor in late 2022.
Hopefully the soft drink manufacturer has finally picked up that these two caffeine powerhouses are better off alone.
Vault
Vault, released in 2005, was one of Coca Cola's first ventures into the world of energy drinks. The jolting beverage contained 47 milligrams of caffeine in each eight-ounce serving and came complete with punchlines like, "Get it done, and then some" and "Chug & Charge." It was commonly compared to another drink owned by Coca-Cola called Surge with its citrus taste and nearly identical list of ingredients.
Before it was discontinued in 2011, the drink had additionally been released in electrifying flavors of grape, orange, peach, lime, and even Red Blitz, which competed with Pepsi's Code Red Mountain Dew. Vault's exit from the market was abrupt and came at a time when Coca-Cola was focusing more heavily on other lines of highly-caffeinated beverages including Mello Yello.
Coca Cola Energy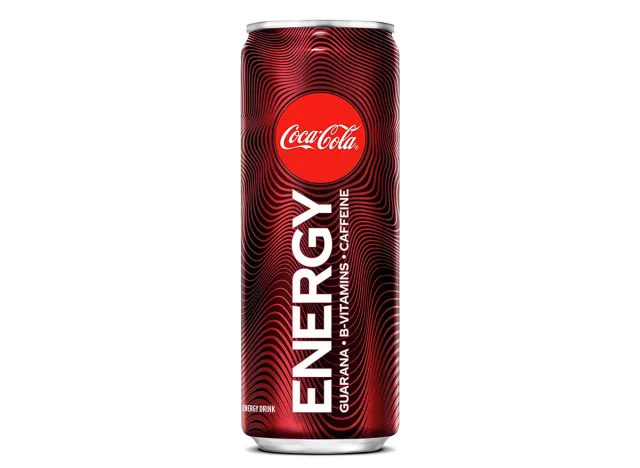 Following along within the same beverage category, Coca-Cola Energy was thrusted onto shelves in 2020 as the first official Coke-branded energy drink. Unfortunately, the drink's 80 milligrams of caffeine only gave it enough oomph to get through just about a year on American shelves, according to CNN.
All four variants of Coke Energy–including the original, Energy Zero Sugar, Energy Cherry, and Energy Cherry Zero Sugar–were made with guarana, B-vitamins, and safe-to-consume sugar alternatives.
If you did happen to fall in love with the caffeine-packed line of soft drinks during the brief time it was here, you may still be able to find it internationally in countries like Canada and the United Kingdom.
New Diet Coke Flavors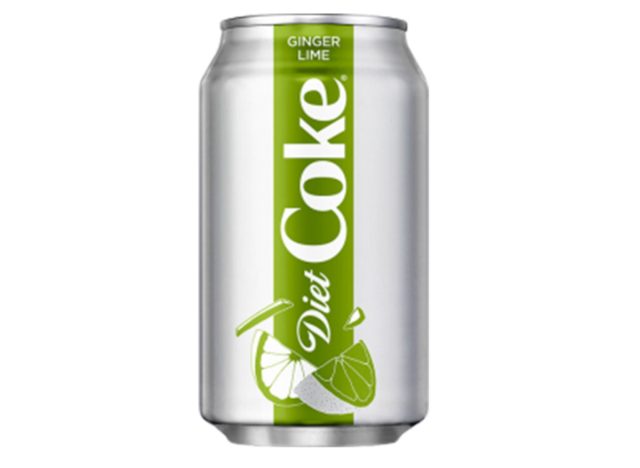 In order to reinvigorate the Diet Coke brand, and to further engage those trendy and sometimes picky millennials, Coca-Cola announced a big change early in 2018. The Diet Coke line would add four new progressive flavors including Ginger Lime, Feisty Cherry, Zesty Blood Orange, and Twisted Mango–this time in tall, skinny cans. The following year, two more sensational tastes of Blueberry Acai and Strawberry Guava joined the bunch.
In Coca-Cola's press release about this new Diet Coke era, the group director of the brand Rafael Acevedo emphasized the importance of "modernizing Diet Coke to appeal to a new consumer base" and also noted that providing a flavor variety was a key piece to the puzzle.
Unfortunately, not all of the puzzle pieces were a great fit and a couple of these new, exciting flavors have already been axed from the lineup, including Zesty Blood Orange and Blueberry Acai.