10 Best Secret Menu Options at Taco Bell
Ramp up the excitement of your next Taco Bell order by trying out an unofficial menu item.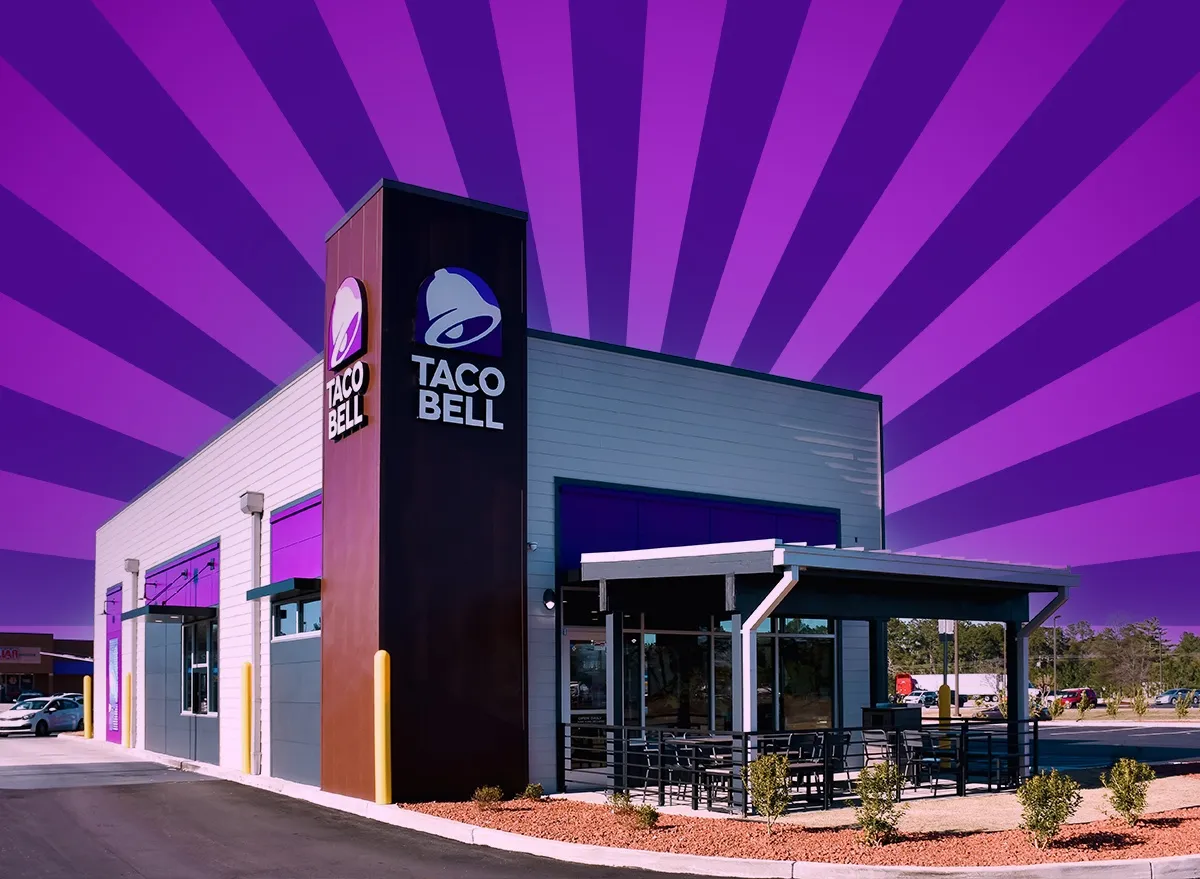 The product recommendations in this post are recommendations by the writer and/or expert(s) interviewed and do not contain affiliate links. Meaning: If you use these links to buy something, we will not earn a commission.
Taco Bell is no stranger to menu innovation. The fast-food chain regularly introduces new menu items, leaving customers with ample opportunity to continuously switch up their usual order. However, if the list of current offerings isn't enticing enough, there's always the option to customize or take it a step further and order a secret menu item.
Thanks to social media and word of mouth, Taco Bell customers have popularized various "secret" dishes that include both minor changes to regular menu items and entirely new creations. Some of these orders have even once existed on Taco Bell's standard menu like the Quesarito, which left the chain in April, much to fans' dismay.
To help guide you through the mysterious world of Taco Bell's unofficial food offerings, we put together a list of some of the most intriguing secret menu items. Here's what you can order the next time you visit the Mexican fast-food chain.
Although a name like "the Hulk" might evoke images of meat-filled menu items like beefy burritos, this option is completely vegetarian. Drawing on the superhero's signature green skin color, the Hulk solely consists of a bean and cheese burrito with added guacamole. And yes, guac is extra.
To give the Hulk some additional heartiness, or rather, incredibility, you can try ordering the Incredible Hulk. "This monster makes other burritos quake in fear, unable to compare to its size and powerful flavor," SecretMenus writes.
To order this menu item, just ask for the 5-Layer Burrito with guacamole instead of the usual nacho cheese sauce. The burrito will include seasoned beef, beans, cheese, and sour cream.
"The fact that you're getting two types of cheese initially on that 5-Layer Burrito, you're not going to miss the nacho cheese whatsoever because the regular shredded cheese is coming through beautifully," YouTuber Peep This Out! said in a review of the menu item.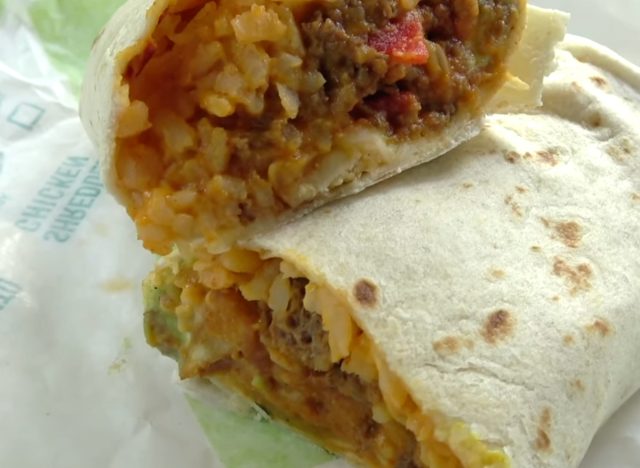 If neither of the Hulk-inspired menu items excites you, there's still another superhero-themed option to try: the Superman. As described by SecretMenus, "This burrito—quite like the hero it's named after—does everything in excess."
The secret menu item starts with a Cheesy Double Beef Burrito and then adds potatoes, sour cream, guacamole, and crispy tortilla strips.
"It's very heavy, very dense, and definitely, I think worthy of the Superman name," Peep This Out! said in another YouTube review. "[…] As it stands, very tasty, classic Taco Bell with a very fun superhero theme."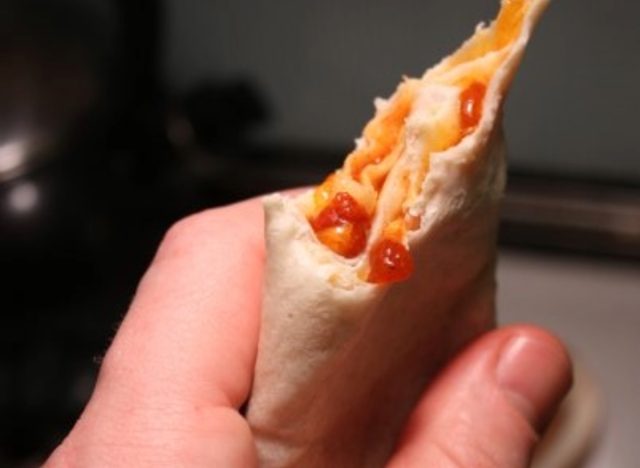 The Cheesarito may have been discontinued from Taco Bell's standard menu, but that hasn't stopped fans from ordering it. Standing as one of Taco Bell's most popular secret menu items, according to Hack the Menu, the Cheesarito features a tortilla filled with melted cheese, scallions, and taco sauce. Unlike a quesadilla, this option isn't grilled, making it an appealing choice for those who enjoy softer quesadillas.
Double Grilled Quesadilla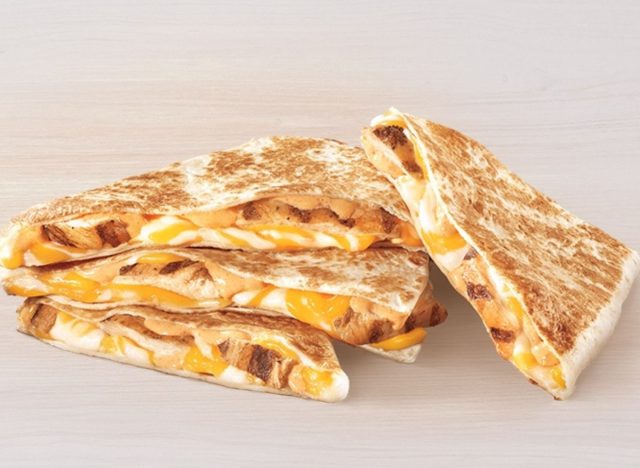 If you prefer an extra crispy quesadilla, just ask for a Double Grilled Quesadilla, which means your quesadilla will get grilled twice for some additional crunch.6254a4d1642c605c54bf1cab17d50f1e
Quesadillas aren't the only menu items you can get grilled twice, though. Customers can also make this request for the other staples, such as burritos.
"I remember getting their grilled burritos and really liking the texture and flavor," one Reddit user wrote. "Everything you can reasonably grill is so good doing so. I get the cheesy rollup with white hot ranch + grilled. Like a mini spicy cheese [quesarito] if you ask me," another fan added.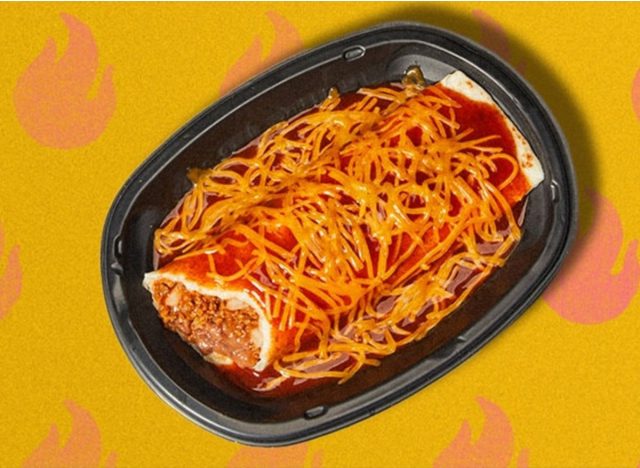 Taco Bell introduced the Enchirito back in the 1970s, but after a 43-year run, the chain removed it from menus. Although the item returned in November 2022 and then again this past May, Taco Bell has yet to make it a permanent offering. That doesn't mean customers can't resurrect it themselves, though.
While many restaurants will know this menu item by name, you can also ask for this by ordering an enchilada with beef, cheese, and beans.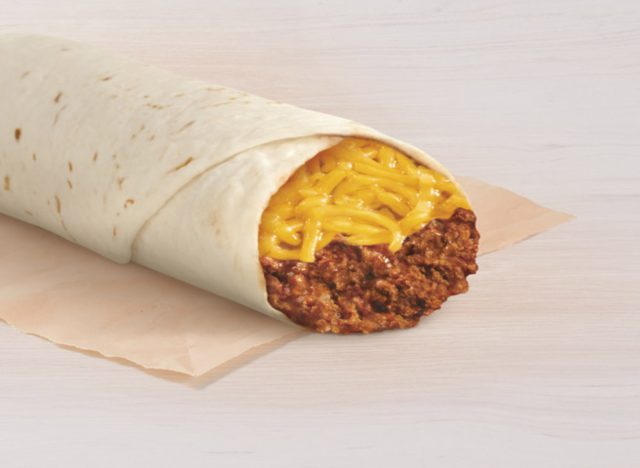 Taco Bell debuted its Chili Cheese Burrito—also known as the Chilito—in 1990 only to give it the ax a few years later. While some locations currently offer the burrito, it's not available everywhere—unless you know what to order.
If you'd like to sink your teeth into the fan-favorite Chilito, simply ask for a regular burrito with chili and cheese. Or, you can make it yourself with our copycat recipe.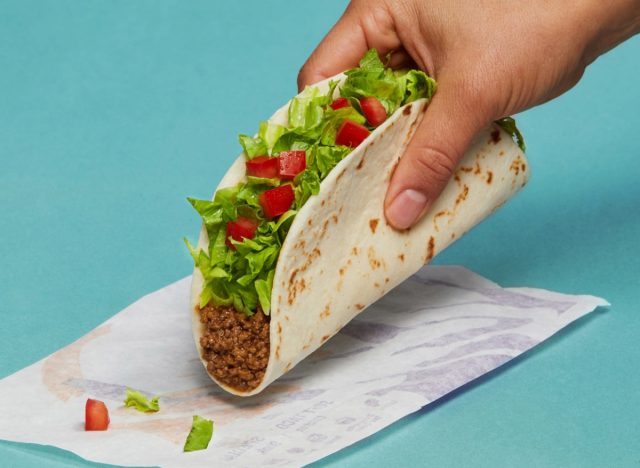 This one is more of a menu "hack"—and it's hardly a secret. Taco Bell advertises this ordering option on its website, in restaurants, and on its mobile app. Whether you're looking for a vegan option or to reduce your calorie intake, the fast-food chain allows you to order your food "Fresco Style." This means Taco Bell will remove mayo-based sauces, cheeses, and sour cream from your order and replace these toppings with freshly prepared diced tomatoes.
Fiesta Potatoes BellGrande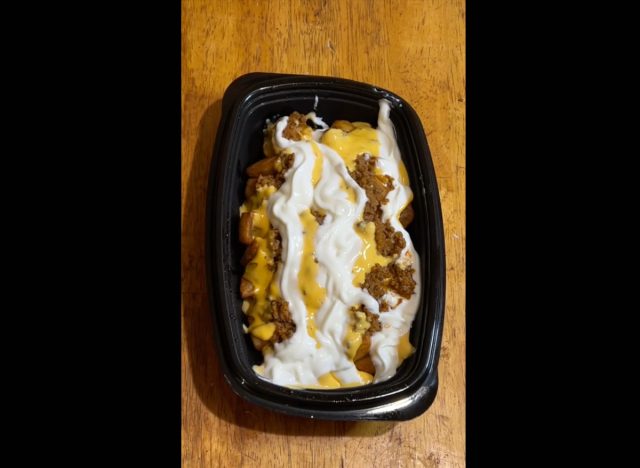 If you're a fan of Taco Bell's Fiesta Potatoes, then this menu hack is for you. All you need to do is order the chain's Nachos BellGrande with double beef and double cheese and swap out the tortilla chips with Fiesta Potatoes. The potato-based creation will be topped with beef, cheese, beans, sour cream, tomatoes, and nacho cheese sauce. According to TikTok user @oddfoodideas, this can only be ordered in-store.
"I tried it tonight! Definitely my favorite thing to get there. Make this a thing @tacobell," one TikTok user wrote last year.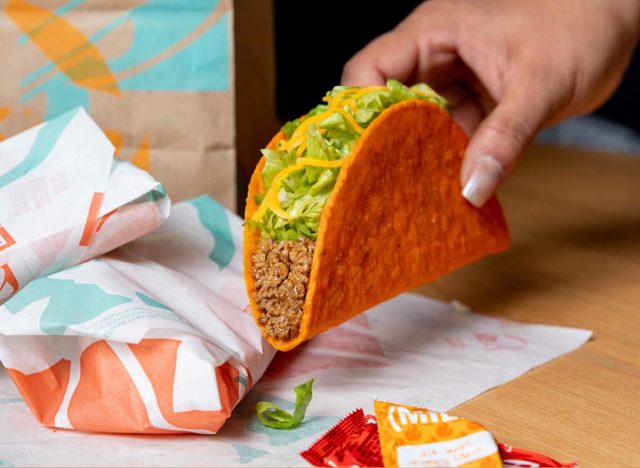 The Doritos Locos Tacos rolled out in 2012 and soon became "the company's most successful product launch ever," according to Taco Bell. While the chain's menu currently has two tacos featuring a Doritos shell, customers aren't limited to those options. In fact, they can adjust any menu item by replacing its usual shell with its more flavorful Doritos counterpart, according to Hack the Menu.
Brianna Ruback
Brianna is a staff writer at Eat This, Not That! She attended Ithaca College, where she graduated with a degree in Journalism and a minor in Communication Studies.
Read more about Brianna