7 Fitness Habits Every Man Should Follow in His 40s
A fit, healthy lifestyle starts with these habits.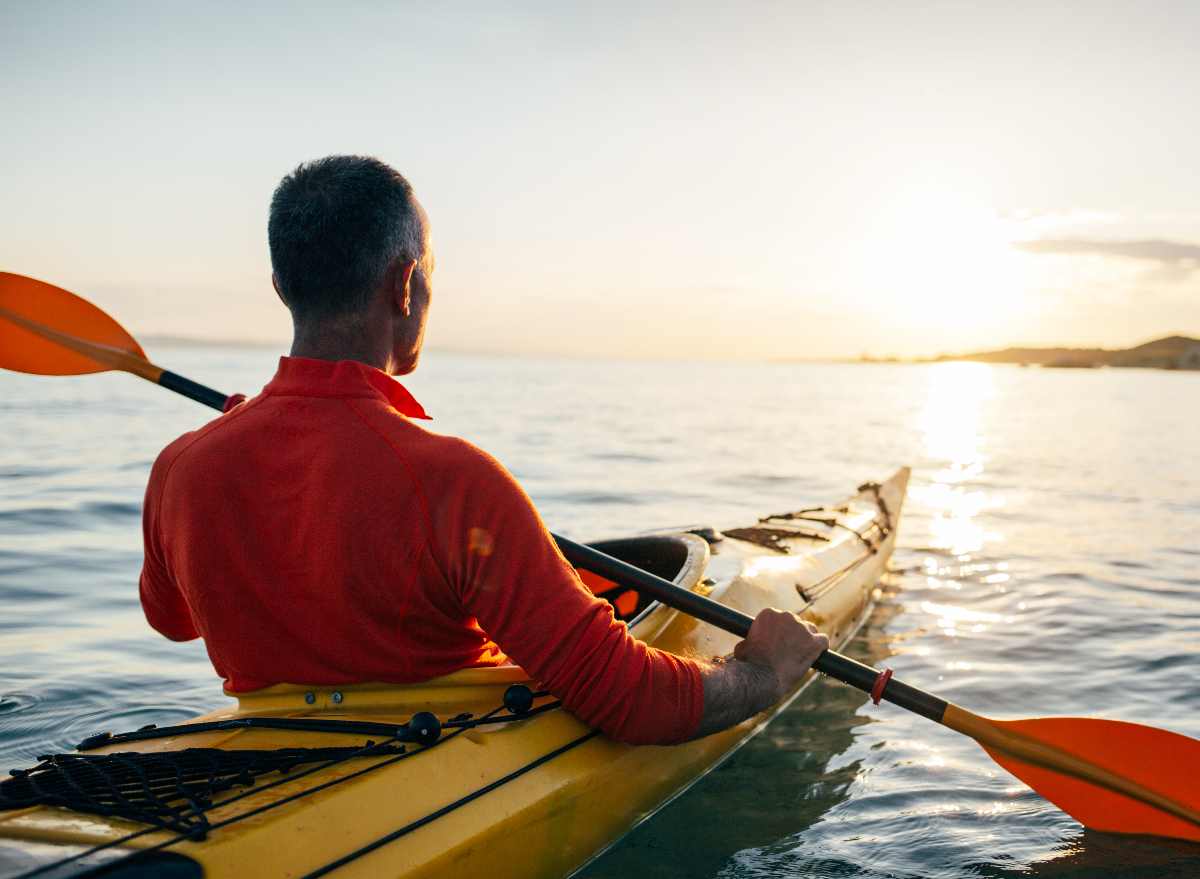 Midlife happens between 40 and 60 years of age. To make this time period an amazing chapter—and to avoid suffering the dreaded "midlife crisis"—it's really important to continue to lead a healthy, fit lifestyle. That means eating well, taking care of your mental health, and getting in regular exercise (with an emphasis on strength training). Maintaining a solid routine will help you remain independent well into your next stage of life. To get you moving in the right direction, we spoke with Zac Armstrong, NASM-CPT and master trainer for YogaSix, who shares with us seven of the most productive fitness habits for men in their 40s to follow.
There are many medical conditions that can occur after 40 if you don't take the right steps to boost your overall health and fitness. Some of them include high blood pressure, diabetes, obesity, chronic pain like arthritis, high cholesterol, heart issues, osteoporosis, depression, and so much more. It's necessary to have a well-rounded, fit lifestyle to avoid problems in the future.
Remember that it's never too late to get started! The important thing is to get the right amount of movement. It's also wise to check in with your healthcare professional before starting any new aggressive exercise routine.
Now, let's see what Armstrong has to say about the seven fitness habits for men to follow in their 40s. And when you're finished, be sure to check out the 5 Floor Exercises Men Should Do Every Day in Their 40s.
Establish fitness goals for yourself.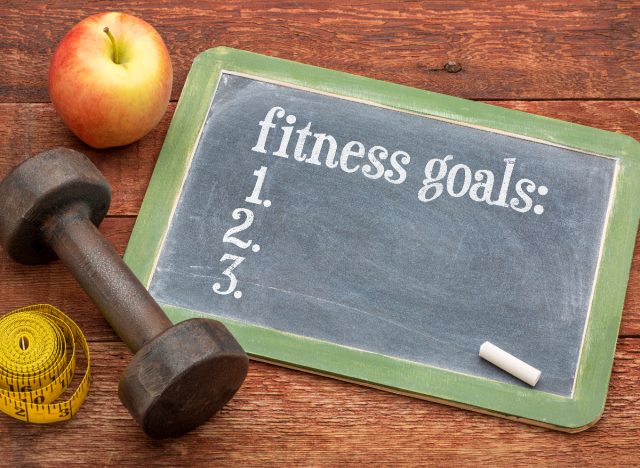 In order to keep the motivation going strong and crush any plateaus in his 40s, Armstrong explains he establishes fitness goals for himself. "This year I have set out to do my first Ironman," he explains. "This has helped me adjust my fitness level and get outside of my comfort zone. It makes training much easier knowing there will be a reward at the end. This kind of accomplishment after a year of training will yield great benefits for my mental health and self-esteem."
Spend more time outdoors.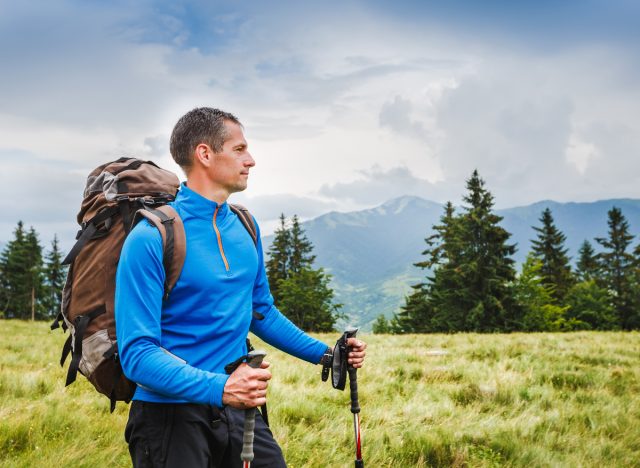 Immersing yourself in nature works wonders for the mind, body, and soul. Especially if you work from home, your daily routine can feel pretty mundane and isolating. Some days, you may even be too busy to leave the house or carve out a 15-minute break to go outside for fresh air. This can take a major toll on your mental well-being.
"I break up my work by taking a few short walks outside with my dogs," Armstrong says. "This helps clear my head, gives me time to think of new ideas to be more productive, and energizes me when I start to feel sluggish."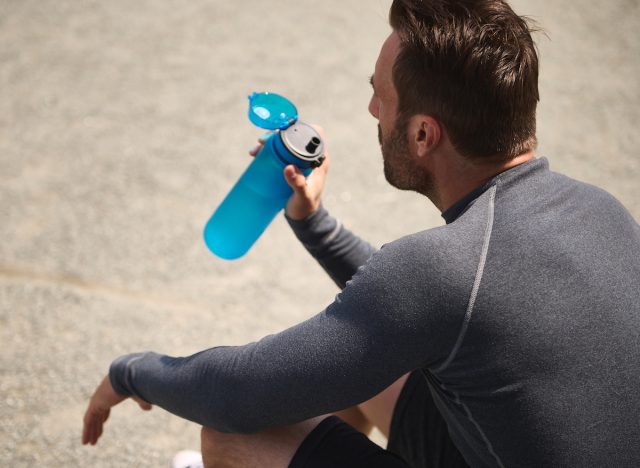 Getting your fill of H2O comes with a host of benefits. It provides lubrication to your joints, transports oxygen throughout your body, enhances the health of your skin, manages your body temp, and even helps you lose weight, Medical News Today explains.
"Before I ingest caffeine every morning I drink at least 16 oz of water," Armstrong tells us. "This immediately helps my brain wake up. Also as an active person and heated yoga teacher, I tend to always be sweating so incorporating electrolytes has been a game-changer in how I feel overall, recovering from intense workouts, and reducing my brain fog."
Stick to a consistent bedtime and wake-up schedule.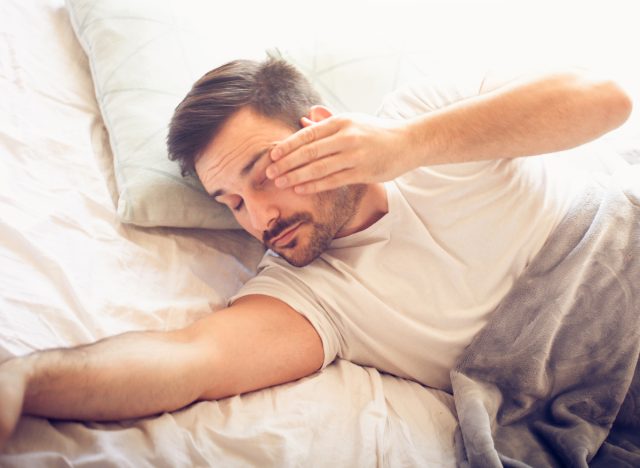 Next up on this list of fitness habits for men in their 40s is to stick to a consistent sleep schedule. Armstrong himself practices what he preaches, telling us, "I go to bed at 8:30 each night and wake up at 4:45 each morning. This ensures I can obtain a proper eight hours of sleep. I know it may not sound sexy, but it has benefitted me the most out of all of my habits. By giving myself these hard guidelines, I feel I can schedule my day more efficiently, accomplish more, and always feel rested and ready to go."
Plus, during those extra hours Armstrong has in the AM "before the rest of the world wakes up," he's able to cross items off his to-do list, which gives him back some of his time later on in the day.
Preserve your range of motion.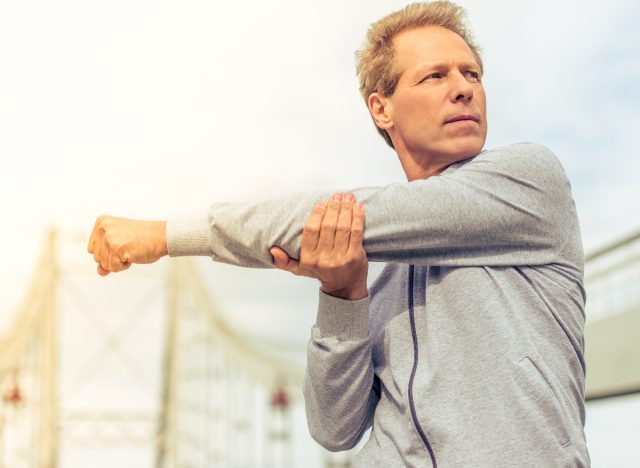 Maintaining your range of motion helps you lead a more independent life as you grow older. "The last thing I want is to be an 80-year-old vegetable," Armstrong says. "Having a healthy range of motion not only in my yoga practice but in all things has helped preserve me as I age. I can get on the floor and play with my kids with ease, maintain proper form when lifting weights, enjoy activities outside more (running, hiking, climbing, cycling, etc), and recover from workouts."6254a4d1642c605c54bf1cab17d50f1e
Surround yourself with individuals who challenge you.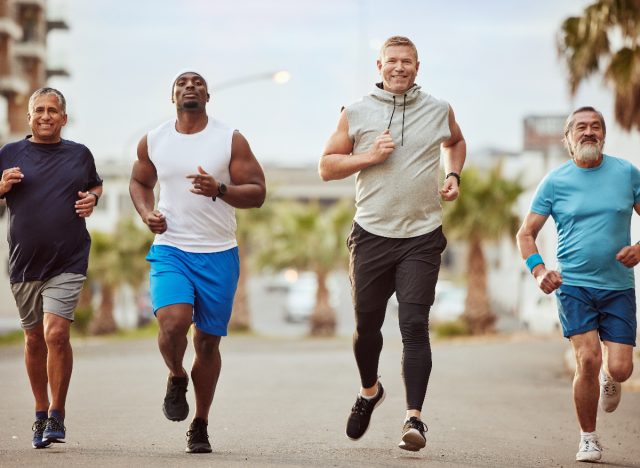 Surrounding yourself with like-minded individuals who lift you up and challenge you to be the best version of yourself in and out of the gym is incredibly rewarding. Armstrong experiences this through being a yoga teacher. He shares, "This really challenges me to continue my personal growth.  The community aspect also keeps me accountable to maintain consistency since I look forward to going to class to socialize with the community. Less time on the couch and more time being active with positive people."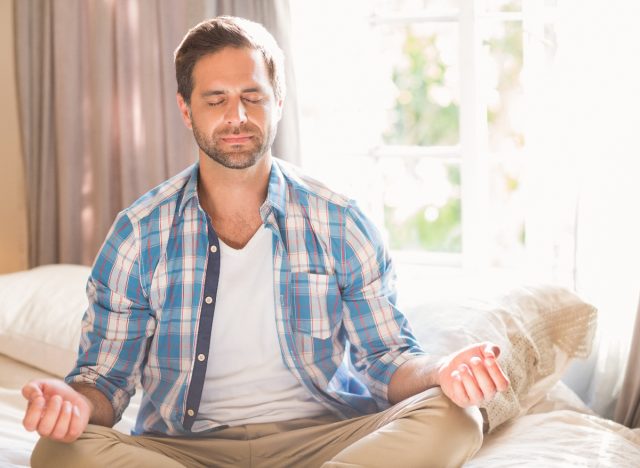 Last but not least, carve out some time in your hectic schedule to meditate. When your mind is running or you're feeling stressed, practicing meditation—whether moving or sitting down—can truly work wonders.
"I have the energy of a Jack Russel so the idea of sitting still for even five minutes is very challenging for me," Armstrong shares. "I tend to do moving meditations. I use my time walking or swimming to not have headphones and focus on my breath. I am able to tune into the rhythm of my breath. This helps me regulate my thoughts, manage my nervous system response, and refocus my energy on what is important."
Alexa Mellardo
Alexa is the Mind + Body Deputy Editor of Eat This, Not That!, overseeing the M+B channel and delivering compelling fitness, wellness, and self-care topics to readers.
Read more about Alexa