The #1 Thing Nutritionists Are Eating at Home
Curious to what health experts are cooking up in quarantine? Here's what they're making.
With so much going on in the world around us, eating healthy can seem absolutely impossible to do—especially when all you want to do is eat lots of comfort foods. However, thanks to a few tips from some trusty nutritionists, we were able to see the types of dishes they're cooking. And surprisingly, they all look like the type of comfort foods we want right now! From homemade chili to breakfast cookies (that's right, cookies), here are a few healthy meals nutritionists are whipping up at home in quarantine.
And for more, check out these 15 Classic American Desserts That Deserve a Comeback.
"Chilis and soups are so easy to make with mostly non-perishable foods/foods that last a long time in the fridge," says Rachel Paul, Ph.D., RD from Best Body. "And when you're making a chili or soup, you really can't go wrong! Put different veggies and proteins in there—whatever you have." Put together your own chili with Paul's easy chili recipe builder! Or try our recipe for An Instant Pot Chili Recipe That's Keto.
Bowls with Non-Starchy Veggies
"Pasta is not the only food to eat right now! Many non-starchy vegetables last for weeks or even months—including frozen vegetables like broccoli, cabbage, canned tomatoes, onions, beets, celery, peppers, carrots, and spaghetti squash," says Paul.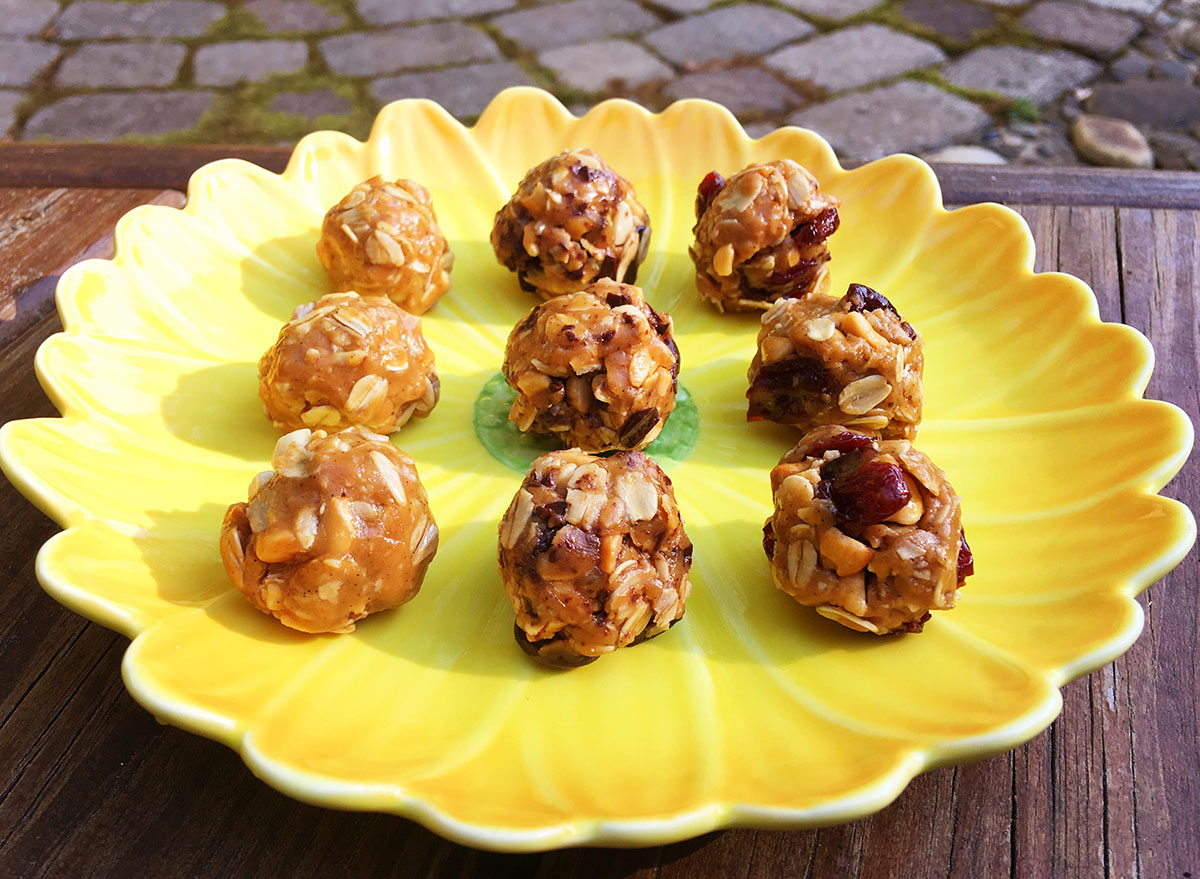 "These little whole grain oatmeal energy balls are a breeze to make. No baking required and kitchen cleanup is minimal," says Elizabeth Huggins, RDN at Hilton Head Health. "You have total flexibility in which nut butter you use and which optional ingredient(s) you mix in. This recipe is scaled back to make about 15 to 16 balls, but it can be doubled. These energy balls are a satiating snack that contains healthy fats, fiber, and a variety of vitamins and minerals, including vitamin E, potassium, and magnesium." Here's how to make them yourself!
Ingredients:
1/4 cup peanut butter (or your favorite nut butter)
2 Tbsp honey
2 tsp vanilla
1/2 cup rolled oats
~2 Tbsp of optional ingredient: dried cherries, mini dark chocolate chips, or chia seeds
How to Make It:
Mix peanut butter, honey, and vanilla in a medium-sized bowl. Stir in oats and an optional ingredient(s). The mixture will be a bit sticky. Place the mixture in the refrigerator for about 30 minutes to allow the oats to moisten. Roll the mixture into balls (about 1 heaping tsp. per ball).
Casey Seiden, MS, RD, CDN, DCES, has been sharing numerous meals of hers over on her Instagram. This one is a bowl of pasta with mixed veggies and ricotta cheese.
Seiden is also enjoying bowls of warm soup! This soup is a white bean and chicken green chili soup, perfect for those days you're craving a comforting meal. Make a homemade version with our Instant Pot White Chicken Chili.
Katie Boyd, Nutritionist, M.S., has been cooking up lots of recipes, especially her favorite greek salad recipe! She makes it with chicken, mixed greens, kalamata olives, pepperoncini, feta cheese, cucumbers, a few grape tomatoes, toasted pine nuts, and Greek dressing.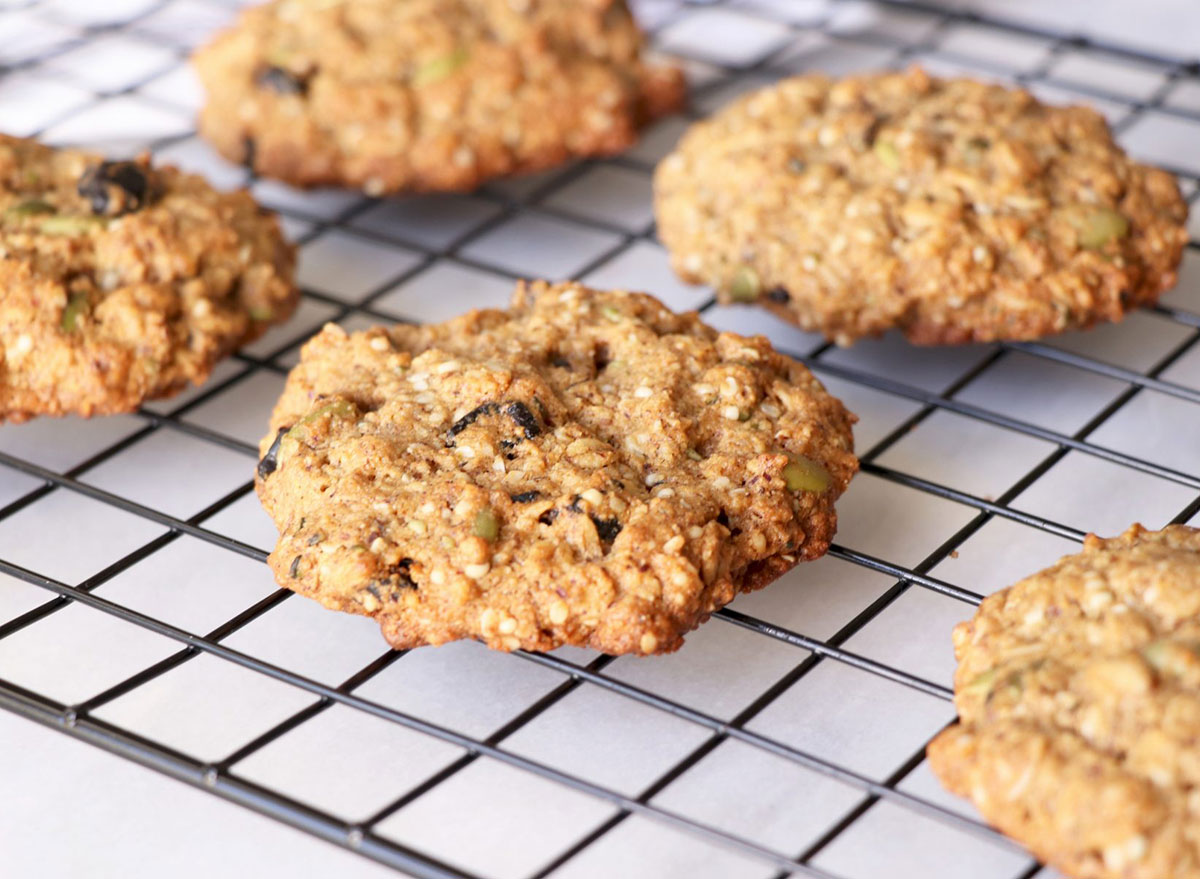 Cookies for breakfast? Yes, really! Jeni Hollifield, RDN at HealthyGroceryGirl.com has been making batches of these breakfast cookies made with oats, coconut oil, seed butter, non-dairy milk, and lots of other healthy ingredients. Try the recipe yourself!
Sweet Potato Noodles with Spicy Peanut Butter Sauce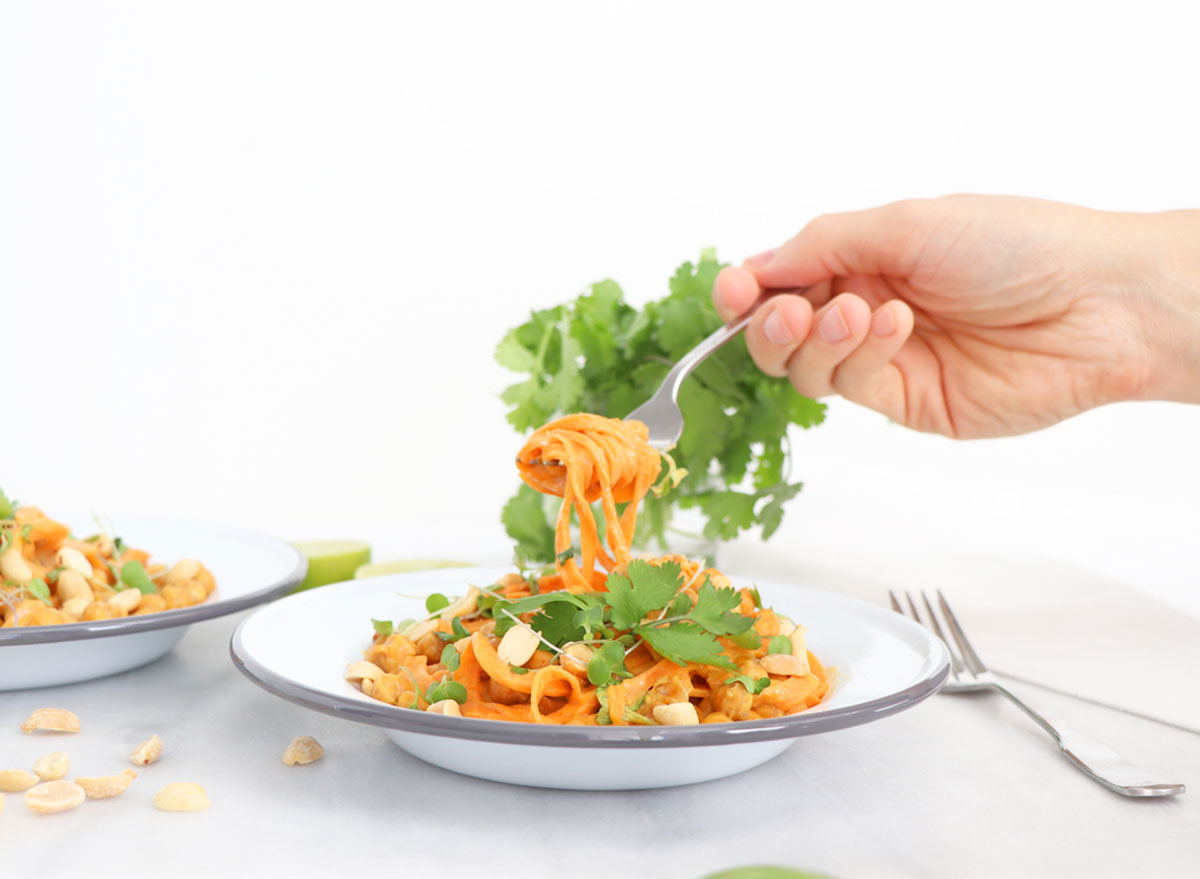 Along with breakfast cookies, Hollifield has been making plates of this spicy sweet potato noodle dish! It's gluten-free, vegan, full of veggies and fiber—the perfect comforting, healthy dish you want at home. Try the recipe from HealthyGroceryGirl.com.
Fruits & Roasted Vegetables
"Any chance I get, I'm eating fruits and vegetables," says Crystal Cascio, RDN and Health Coach for the Anticancer Lifestyle Program. "When it comes to immune health the more, the better! I've been adding them to smoothies (think: spinach, strawberry, banana smoothie), soups (have been loving lentil soups lately with any veggies I have handy to throw in the pot), and making use of frozen vegetables such as broccoli to quickly steam or pop in the oven to roast. One of my favorite comfort meals is a warm bowl of nourishing soup filled with veggies!"
Honey Pumpkin Energy Balls
"I think we're all snacking a little more at home, which is why I like to have these honey pumpkin protein energy balls at the ready when hunger strikes in the afternoon," says Maggie Michalczyk, RDN and founder of OnceUponAPumpkin.com. "They're packed with a nice dose of protein and fiber and sweetened with honey which gives them a natural sweetness. I like using honey to make them because it's 100% pure and unprocessed. The wholesome ingredients in these definitely help me to feel my best while at home."
Mediterranean Chickpea Salad
"Other things I'm eating during quarantine? Beans like black beans and chickpeas in a variety of different [meals]," says Michalczyk. "I too bought a couple of extra cans and am loving using chickpeas in a Mediterranean salad like this, roasting them as a snack, and putting black beans in everything from enchiladas to Mexican cauliflower rice."
In our debut video on TikTok, we asked nutritionists and health experts to share some of their snacks they are eating in quarantine! Here are a few more clever snacks you can eat at home.
For more, check out these 108 most popular sodas ranked by how toxic they are.