13 Healthy After-school Snacks to Keep Your Kids Satisfied Until Dinner
Healthy snacks will hold your kids over until dinner without making them too full.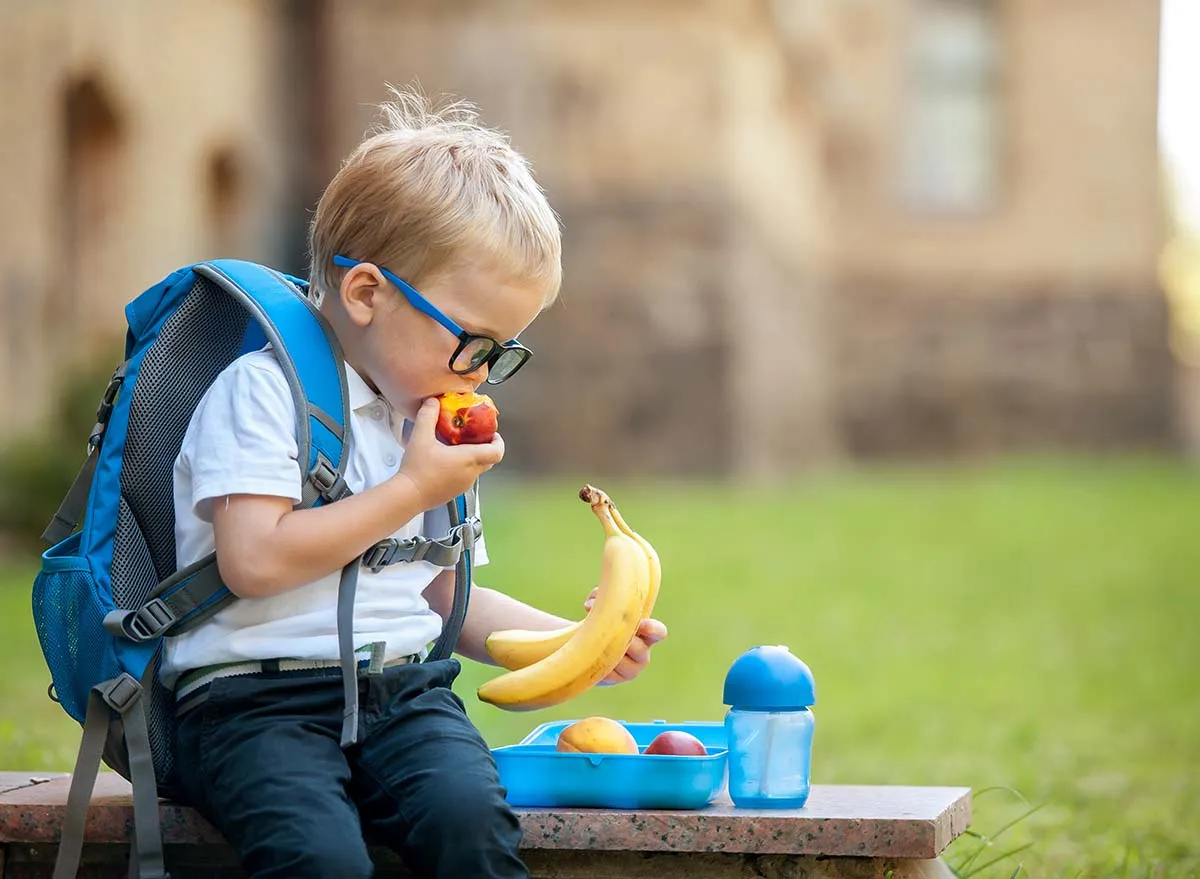 After a long day at school, kids may come home with a hungry tummy. Whether it be their lunch period is earlier in the day, they've worked up an appetite in gym class or stayed after school for an extracurricular, they need some food. Dinner isn't for another few hours, so you want to make sure you give them healthy after-school snacks that don't fill them up too much but also hold them over until their next meal. You also want to make sure these snacks are nutritious and you're not giving them junk food to curb their appetite.
We spoke with some of the experts who know just what after-school snacks to give their kids in order to keep them satisfied until dinner. Read on, and for more, don't miss 9 Healthy Snacks To Pack in Your Kid's School Lunches (That You'll Want to Eat Too).
Turkey rolls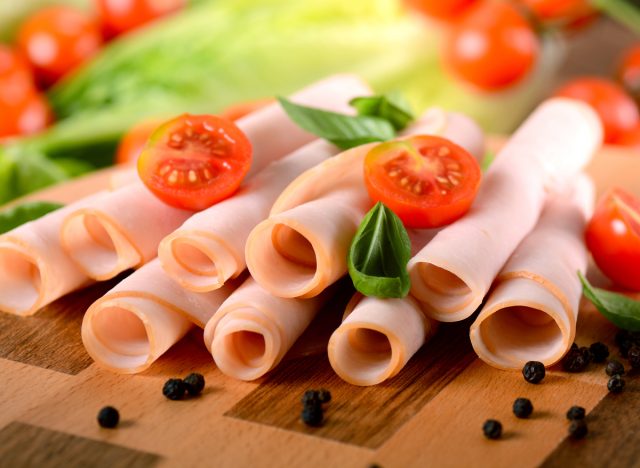 "Whether it is in a sandwich, as a part of a meat and veggie skewer, or simply enjoyed rolled up on a snack plate, [oven roasted turkey breast] is a perfect addition to after-school snack time," says Lauren Manaker, MS, RDN, LDN, CLEC, CPT, author of The First Time Mom's Pregnancy Cookbook, The 7 Ingredient Healthy Pregnancy Cookbook, and Fueling Male Fertility.
Manaker recommends Applegate Organics Oven Roasted Turkey Breast as a kid-friendly option because it's packed with protein and is totally gluten, dairy, and casein free. It makes after-school snacking both convenient and delicious.
"This deli meat is Applegate humanely raised with no antibiotics and free of chemical nitrates and nitrites—even more reason why this turkey should be a staple for after-school snacking," shares Manaker.
Stuffed medjool dates with nuts, chocolate, and coconut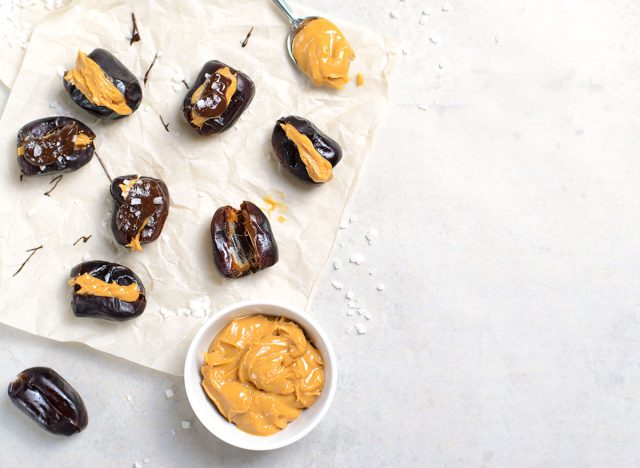 This makes for the perfect sweet snack that won't have those sugar repercussions. Amy Goodson, MS, RD, CSSD, LD, author of The Sports Nutrition Playbook recommends date snacks with additions of nuts, seeds, dried fruit, coconut, and cacao powder. She says these taste like dessert while providing fiber, a few grams of protein, and nutrients like potassium in every bite.
You can make your own at home, or for a quicker option, check out Mini Medjools. "If your kids have a sweet tooth after school, they will love Mini Medjools," says Goodson. "Made with fresh Medjool dates, these are a naturally sweet, wholesome, and bite-size snack that comes in all kinds of flavors!"
Egg bites
Eggs don't have to be just for breakfast! They can make for a great snack at any time of the day. For an easy after-school snack, whip up a batch of egg bites by scrambling eggs and cooking them in a muffin tin.
For a shoppable version, try Eggland's Best Egg Bites. "These bites are a deliciously convenient hot and fluffy option that is packed with protein," says Manaker. "Made with Eggland's Best Cage-Free Eggs (which have 6 times more vitamin D, 25% less saturated fat, and 10 times more vitamin E vs. ordinary eggs), these egg bites provide a whopping 14 grams of protein per serving and they are an excellent source of vitamins D, E, and B12."
These bites are also easy to prep. Simply heat these bites in the microwave, and in minutes your kids have a nutrient-packed snack at their fingertips.
Pistachios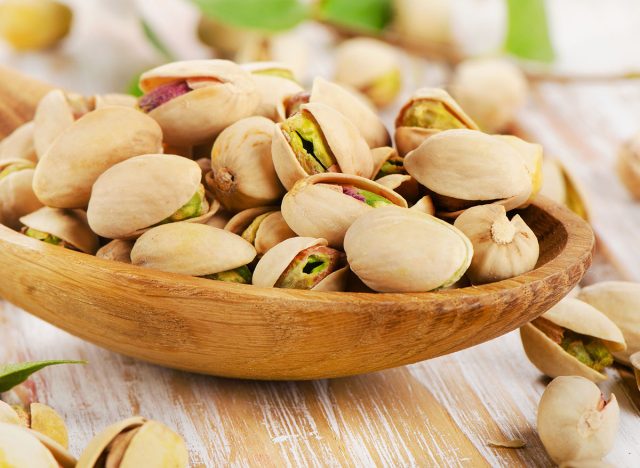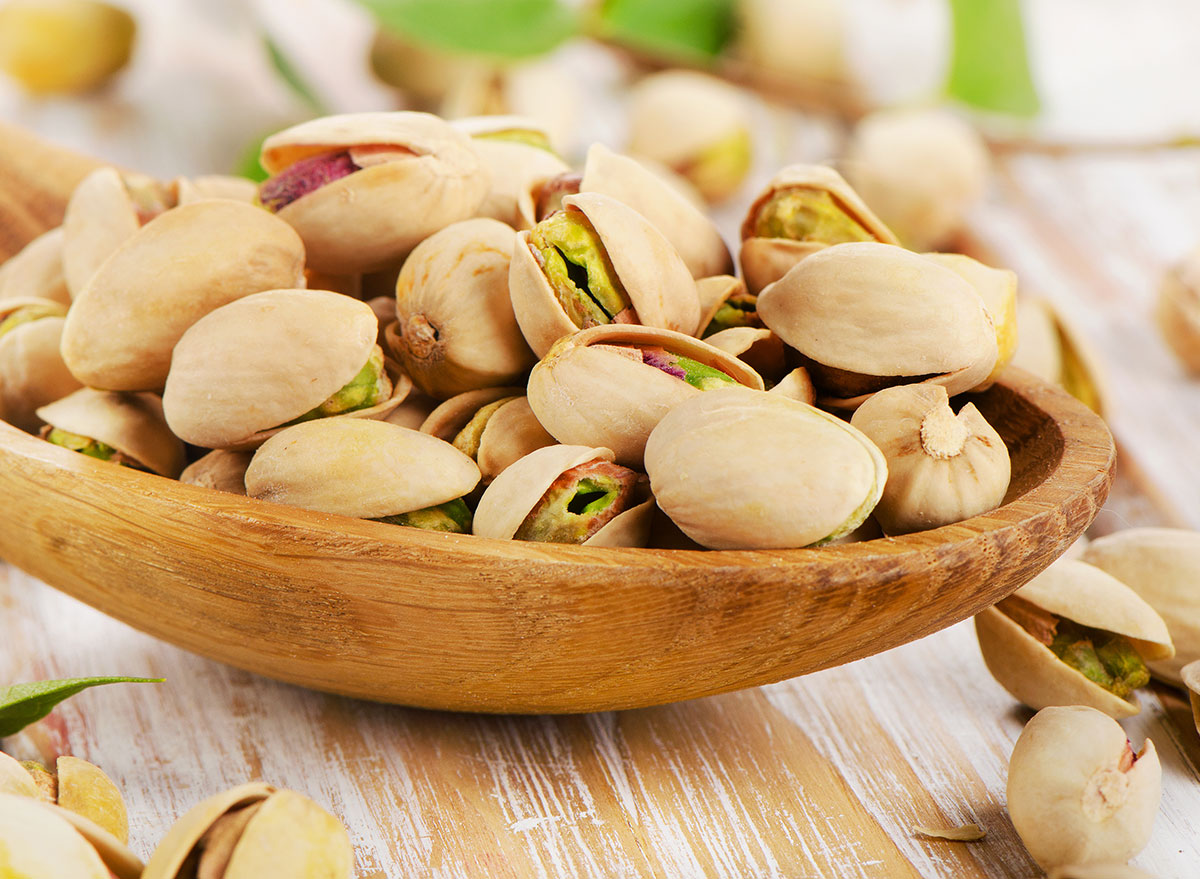 "For kids that love the crunch, [pistachios] are a fantastic snack pick," says Goodson. "With 6 grams of complete-based protein and 3 grams of fiber per serving, they are the perfect after-school treat!"
Furthermore, Goodson suggests that 90% of the fat found in pistachios is the "better-for-you" unsaturated fat.
"The trio of protein, fiber, and fat helps kids feel fuller longer after eating," explains Goodson. "As a registered dietitian, I love partnering with Wonderful Pistachios as the ultimate crunch for kids (and adults). And bonus—[Wonderful Pistachios] come in lots of flavors like Honey Roasted, Chili Roasted, BBQ, Sea Salt & Vinegar, and more! "
Peanut butter banana bites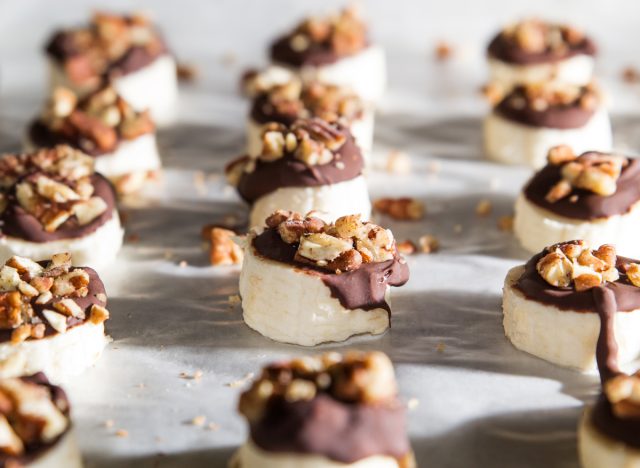 Slice up a banana, dip it in chocolate, add some peanuts or peanut butter on top, stick it in the freezer, and you have a healthy after-school snack your kids will love.
For an easy take on this snack, you can also try diana's Peanut Butter Cup Banana Babies which are frozen bananas on a stick with a layer of peanut butter and chocolate!
"Getting kids to eat fruit can sometimes be a challenge. Frozen bananas on a stick that is covered with chocolate get kids from rolling their eyes at fruit to happily noshing," shares Manaker. "These frozen dipped bananas are made with real peanut butter, adding a boost of protein and healthy fats into the mix. At 300 calories and perfectly portioned, these frozen bananas are a treat that actually gives some staying power."
Pasta with sauce
You don't need to eat a bowl of pasta for a meal. Instead, why not try to make it an after-school snack for your kids?
"A bowl of pasta can be a satisfying snack to have after school, thanks to the B vitamins, protein, and fiber that it provides," says Manaker. To make this snack easier (and faster) to prepare, try Barilla Ready Pasta, which is a microwaveable pasta pouch that's ready after just 60 seconds in the microwave, "making it a super-convenient option for hungry kiddos," Manaker adds.
There are 4 pasta shapes to choose from, so you can choose your child's favorite one. And to make it more appealing, Manaker suggests pairing the pasta with a favorite sauce and some parmesan cheese for a more hearty snack.
Acai bowls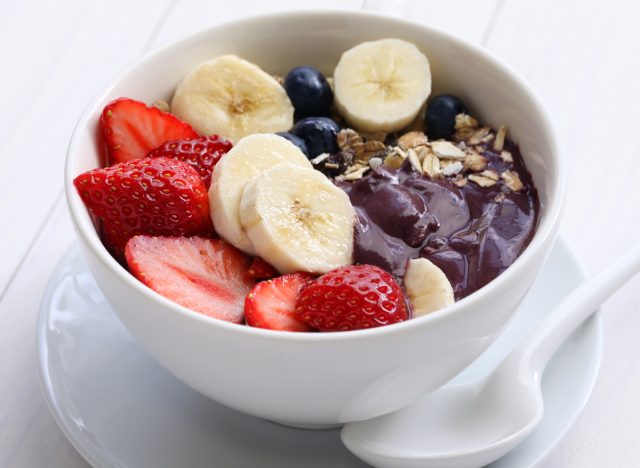 This fruit bowl is trendy for a reason—it's actually nutritious! "Acai is one of the most powerful antioxidant sources out there," says Manaker.
Making an acai bowl is a lot of effort, so it may not be on your usual list of healthy after-school snack choices; however, you can take out the prep time with Tattooed Chef Organic Acai Bowls.
"These pre-made acai bowls take seconds to prepare, allowing kids to reap the health benefits of this fruit."
Manaker suggests topping this bowl with some nut butter. This will give the bowl some more satiating nutrients, surely holding the kids over until dinnertime.
Dried fruit and nuts
Trail mix is great for both adults and kids to get a serving of healthy fats from seeds and nuts as well as a serving of fruit.
Make your own at home with dried or dehydrated fruit and seeds, or make things easier with That's It Crunchables, which are mostly made up of pumpkin seeds and dehydrated apples. "A combo of real dried fruit and pumpkin seeds makes for a balanced snack that is satisfying and easy to enjoy when on the go," says Manaker. "With no added sugars and free from the top 12 allergens, this snack naturally contains healthy fats, plant-based protein, and fiber, making for the ultimate satisfying snack."
Chocolate almond butter
The perfect spread to top off a healthy snack, chocolate almond butter gives your kid a lot of extra nutrients in their day. But for a brain boost, find Brainiac Brain Butter at the store.
"Pairing this brain butter with a piece of fruit or some crackers not only gives kids some satisfying protein, fiber, and fat, but it also gives them a boost of brain health-supporting nutrients like choline and omega-3 fatty acids that their body can benefit from while they are spending their days learning," says Manaker.
Manaker suggests that this brain butter tastes similar to the classic hazelnut chocolate spreads, but with the addition of the brain health-supporting nutrients that most kids are not eating enough of.
Roasted Macadamia Nuts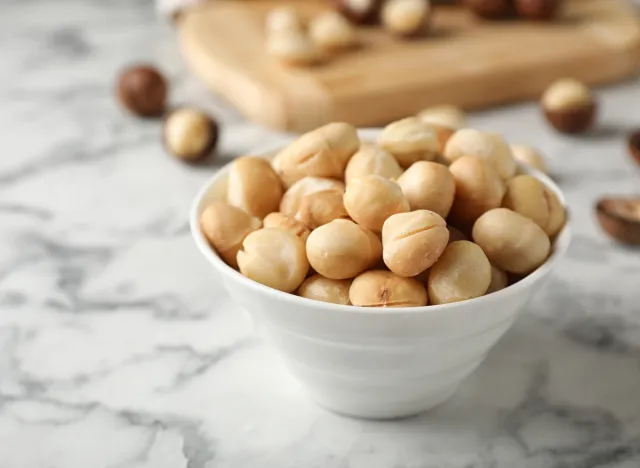 Have your kids feel as if they're eating a healthy snack on a tropical island with macadamia nuts.
"Macadamia nuts are a rich nut that is jam-packed with satisfying fat and protein," explains Manaker. For a sweet twist, try Mauna Loa Honey-roasted Macadamia Nuts. "The honey-roasted macadamia nuts make this snack food super-appealing to tiny palates that can help their bellies from grumbling until dinnertime."
Real Food From The Ground Up Cauliflower Stalks
It might sound like you're feeding your kid a legitimate cauliflower vegetable stalk, but this snack is more appetizing for them.6254a4d1642c605c54bf1cab17d50f1e
"Need to bridge the snack gap from school to supper? Real Food From The Ground Up has you covered, with a plant-based twist," explains Manaker.
These snacks come in a bag and have a chip-like texture, making them crunch. But they also have a light texture that won't make you feel too stuffed.
"Cauliflower Stalks give you more flavor, more crunch, and more bites," exclaims Manaker. "Get crunching on 24 Stalks per serving, just enough to fill you until dinner!"
CLIF Kid Zbar® Protein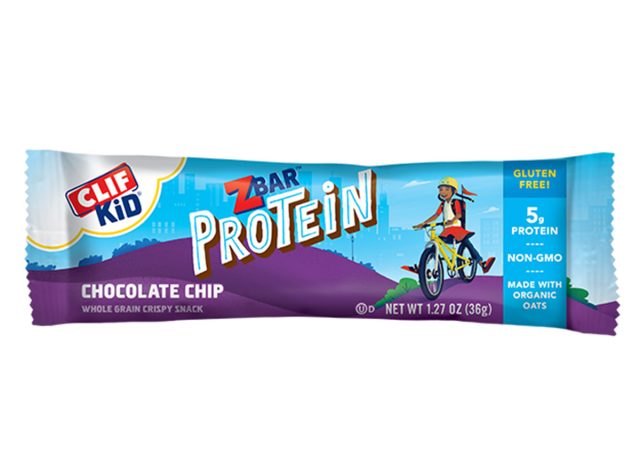 A protein bar specifically made for kids will be a sure way to hold them over until dinner.
"Made for little hands, CLIF Kid Zbar® Protein is a delicious, crispy, and satisfying gluten-free snack bar that's made with organic rolled oats," says Manaker. "It provides a good source of hunger-helping protein (from dairy and pea protein) for kids' growing bodies (bones and muscles) and rumbling bellies."
Plus, Manaker advises that it has no high fructose corn syrup or artificial flavors, and it's non-GMO.
"With 5 grams of protein and made with organic rolled oats, these bars are a true winner," she says.
Veggies Made Great Margherita Stuffed Cauliflower Bites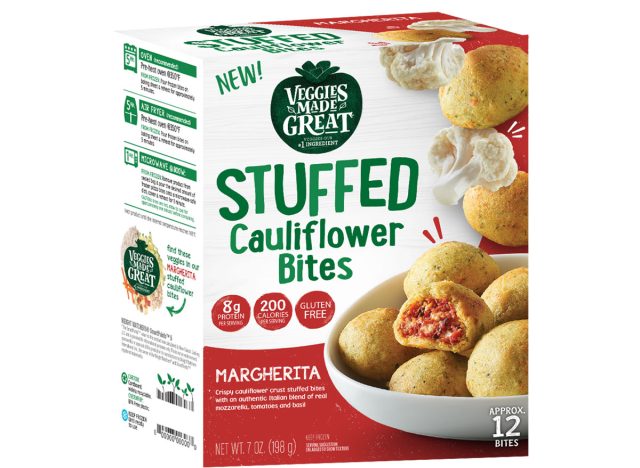 "Kids love pizza, but what if you could fit in veggies without them knowing," asks Goodson. "Veggies Made Great has new Stuffed Cauliflower Bites and come in four flavors, one being Margherita!"
These cauliflower crust bites are stuffed with an authentic Italian blend of real mozzarella, tomatoes, and basil. It also consists of 8 grams of protein and 4 grams of fiber per serving. And yes, it tastes like a bite-size pizza!
"Protein and fiber help slow down digestion leaving kids feeling satisfied longer after eating," explains Goodson. "And the bonus? The crust is made of a vegetable blend of cauliflower, broccoli, carrots, and spinach!"
Kayla Garritano
Kayla Garritano graduated from Hofstra University, where she majored in Journalism and double minored in Marketing and Creative Writing.
Read more about Kayla