9 Healthy Snacks To Pack in Your Kid's School Lunches (That You'll Want to Eat Too)
These delicious, nutritious kids snacks will have you wishing you packed these in your own lunch.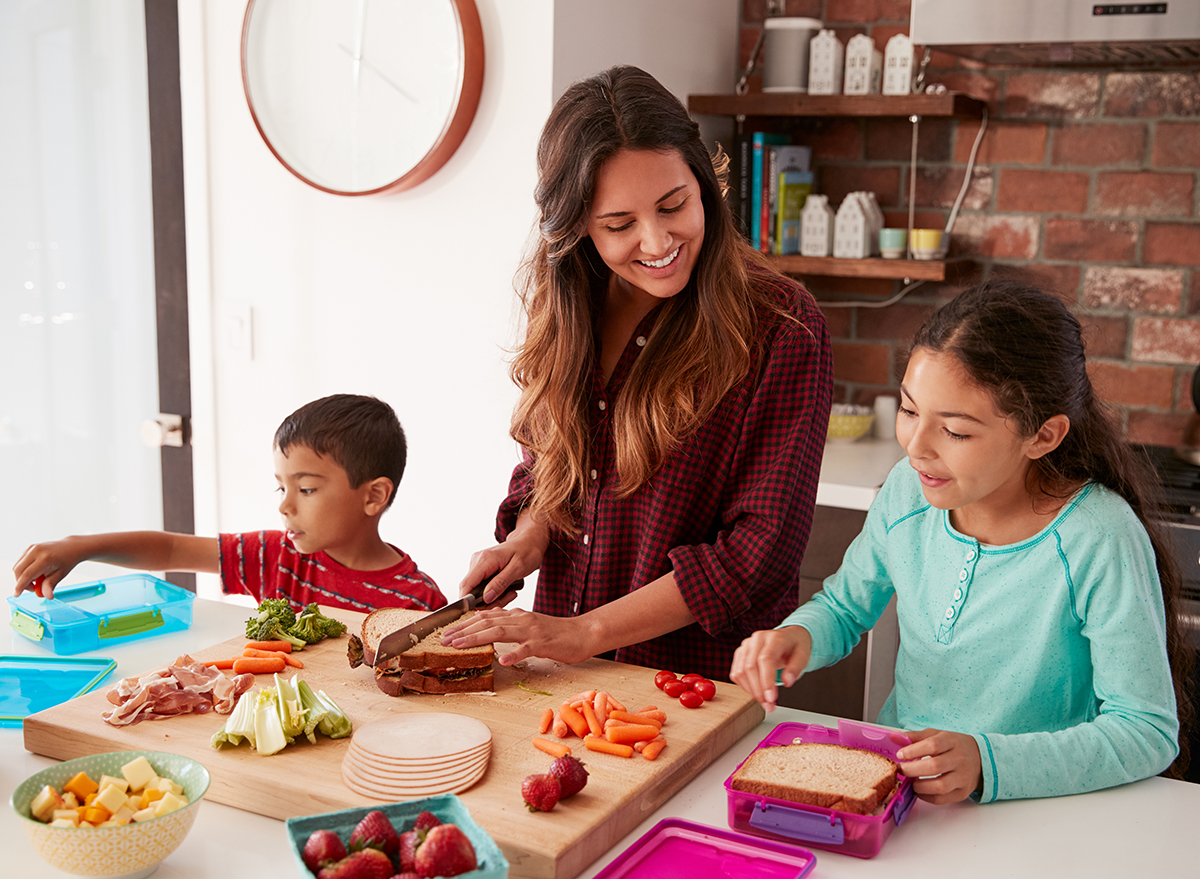 With back to school coming in full swing, it's time to get back into the groove of prepping and packing weekly lunches for your family—or more importantly, deciding which healthy snacks are best to include in your kids' lunchboxes to ensure they get a well-balanced assortment of foods that can fuel them throughout the day.
"Snacks are like meal supplements; they are foods that you might include in your kids meal rotations, but that can also be eaten separately," explains Jessica Sylvester, MS, RD, LDN, CNSC, CDCES, clinical dietitian, media spokesperson for the Academy of Nutrition and Dietetics, and owner of Florida Nutrition Group.
Whether your children are picky eaters or mini foodies with big appetites, you'll want to find healthy snacks that are not only nutritious but also still taste good. This way, you kids can enjoy snacking—and you'll actually want to join in and have some of their snacks, too.
Why it's important to pack healthy snacks in school lunches
Sylvester points out that healthy snacks are important because kids have "small tummies and busy schedules," meaning they don't always have an appetite for big meals, nor do they have the patience to eat everything that's on their plate. Providing healthy snacks offers more opportunities to meet daily nutrition requirements while keeping your kids satiated and energized.
Additionally, as the parent or main guardian to your children, you are their primary role model in every aspect, including personal diet. Therefore, it's imperative that you provide healthy snacks to your kids that you would also eat and can enjoy.
"Kids learn by modeling; they are more likely to eat foods that their caregivers eat," Sylvester says. "If they don't eat the snacks you provide, you yourself can eat them and feel confident knowing that you are contributing to your well-being and saving money by preventing waste."
Below are a few healthy snack suggestions selected by some of our dietitians, which are sure to enhance any packed lunch. Whether ready to go or easy to create, each option is a delicious and nutritious snack you and your kids are sure to love down to the last bite!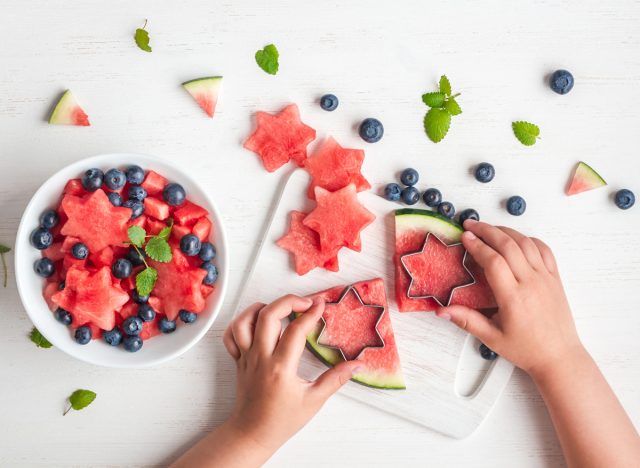 Sylvester explains that like gas to a car engine, glucose—aka sugar—is what fuels us.
"My biggest recommendation when choosing a snack is to read the ingredient label to make sure there is no added sugar," Sylvester says. "All carbohydrates break down to glucose. Fruits and vegetables are carbs; they provide an adequate amount of glucose for our system, as well as important nutrients like vitamins, minerals, and fiber."
"When food companies add sugars to packaged foods, they decrease the nutritional value of those foods, and prime our palates to expect extreme sweetness with most meals," Sylvester says.
Consequently, the expectation for extreme sweet flavors that your mouth can get accustomed to via an excess of packaged foods may mute the natural sweetness experienced from biting into a fresh mango or roasted butternut squash, she adds. For kids, this means a lesser likelihood of food acceptance.
"It's why we save sugars for dessert and dessert for last," Sylvester says.
To encourage your kids to eat more fresh fruits and vegetables, Sylvester recommends cutting them up into bite-sized pieces. "Cutting them into fun shapes [by using cookie cutters] helps, too," she says.
Pureed fruit and vegetable pouches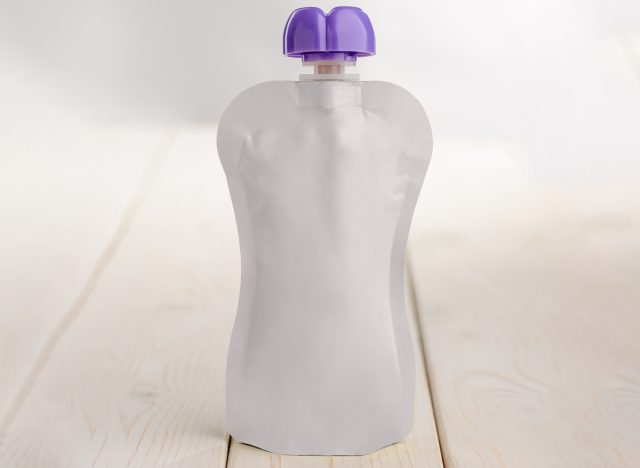 If cutting up fruits and veggies won't do, it's worth trying a different method.
"Since I first discovered [pureed fruit and vegetable pouches] pouches five years ago, the market for them has exploded," says Sylvester. "There are so many different varieties, brands, and combinations of foods today."
When it comes to choosing the best-tasting, most nutrition-packed variety of puree pouches, Sylvester suggests looking for a flavor that combines fruits and vegetables. According to Sylvester, this can ensure that "your child is exposed to nutrients that they might not get if they don't eat specific foods."
For instance, in order to expose her daughter to cauliflower and increase her likelihood of later accepting it with other meals, Sylvester shares that she used to give her a puree pouch that included cauliflower in its blend, among other foods.
Muffins by Veggies Made Great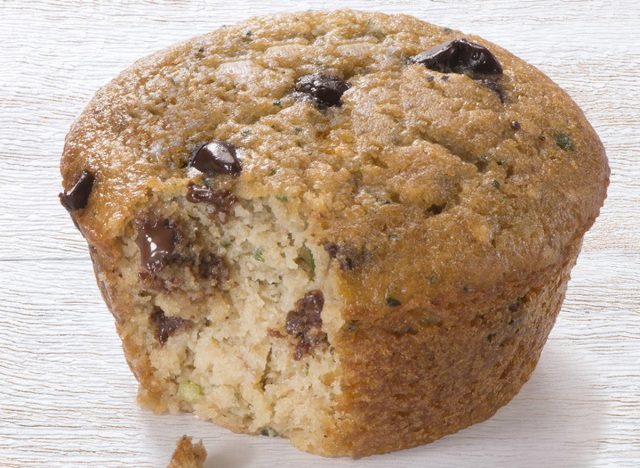 If you are looking for a nutritious snack masquerading as a sweet treat, then you and your family will definitely enjoy Veggies Made Great muffins.
"With veggies as the first ingredient, these muffins provide fiber, protein, and are gluten-free and a great way to fuel kids and adults," says Amy Goodson, MS, RD, CSSD, LD, and author of The Sports Nutrition Playbook. "These muffins are individually packaged—plus, they are delicious!"
In addition to being gluten-free, Veggies Made Great muffins are allergy friendly, reportedly devoid of all soy, peanuts, and tree nuts—thus making this a safe snack for your kids to share on the playground with friends.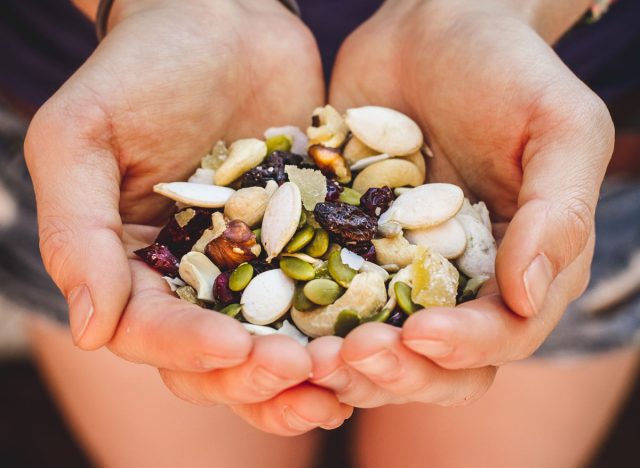 "A clever way to provide your child with protein, healthy fats, and fiber is by making your own trail mix," says Emma Laing, Ph.D., RDN, director of dietetics at the University of Georgia, and a spokesperson for the Academy of Nutrition and Dietetics.
Nut-free trail mixes can be made at home by simply mixing up a few dry ingredients you can find in your pantry. Combine pretzels, whole grain cereals, granola, and mini-crackers with dried fruits like cranberries, blueberries, pineapple, mango, and raisins. Even yogurt-covered pretzels or raisins can be used to sweeten up your homemade trail mix.
"Sprinkle some dark chocolate or coconut chips into the mix for good measure," suggests Dr. Laing. "And for an added dose of protein and healthy fats, include seeds like pumpkin or sunflower seeds."
According to Dr. Laing, the beauty of trail mix is that you can always switch things up the contents based on what you already have at your disposal.
"Whatever nutritious concoction you create, trail mixes are easy to prepare in advance, and can be stored in a sealed container or sandwich bag," she says. Easy to travel with in the car, on the bus, or even on field trips, DIY trail mixes can be added to any lunchbox or tossed straight into a backpack for an extra snack that can satisfy hunger while offering an added boost of energy.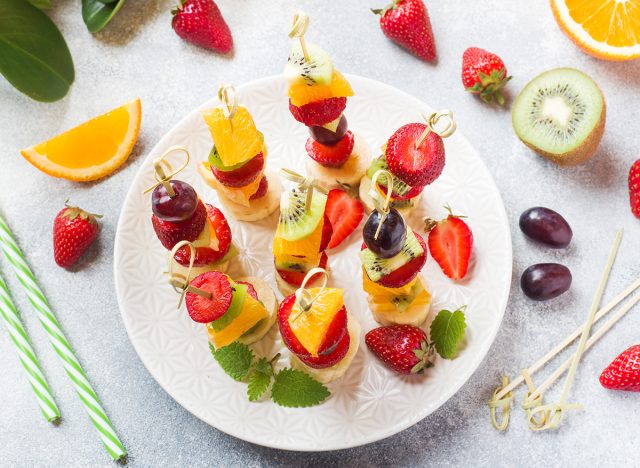 Creating mini kebabs using fruits, veggies, cheeses, proteins, and more is a unique, fun snack idea offering a creative avenue to providing your kids with the protein, fiber, and antioxidants they need each day in their school lunches.
"Purchase small bamboo or plastic skewers, and search your refrigerator for colorful, nutritious items you already have on hand," explains Dr. Laing. "Start by halving fruits and veggies—like grapes, strawberries, or cherry tomatoes—and gathering smaller fruits, like raspberries or blueberries."
She also suggests that foods like cucumbers, whole wheat bread, and cheeses can be sliced or portioned using a mini cookie cutter. You can also try using meats like turkey, chicken, or ham. Alternate the ingredients into colorful patterns along the skewer, and voila!
"This snack is sure to be a hit," says Dr. Laing. "Involving your child in building their own kebabs can also add to the fun."
"Yogurt is a great source of calcium—an important mineral that supports bone health and muscle function," says Sylvester. "Because of the way yogurt is made, it is also a source of probiotics; healthy bacteria that maintain gut integrity and contribute to efficient digestion."6254a4d1642c605c54bf1cab17d50f1e
If that's not enough, Sylvester also says that yogurt can sometimes be a generally tolerable source of dairy for those who might otherwise be lactose intolerant. Yogurt also comes in various flavors and forms, including ones with mixed fruit, in pouches or tubes, or even as smoothie drinks—there's a taste for everyone!
Hippeas Organic Chickpea Puffs
"Made with chickpea flour as the first ingredient, Hippeas are the ultimate crunchy snack for a lunchbox," Goodson says. "With a few grams of fiber and protein per serving, these are a tasty snack that satisfies a crunch craving, while also providing good nutrition."
Similar to their less-nutritious counterpart potato chips, Hippeas come in large bags between 14 and 18 ounces each or variety packs with mini individual bags. Easy to pick up and pack in addition to supporting quality nutrition, they are great to include in any lunchbox or have as an after-school snack.
"Oats are an important source of fiber, they keep you full, improve heart health, and help to regulate your bowels," Sylvester explains. "Oats are the main ingredient in a lot of packaged snack foods—like granola bars or parfait cups—used to boost health grades and flavor of products, but oatmeal is a healthy and inexpensive snack that doesn't require much doctoring, if any, in order to satisfy."
If you need an easy way to pack oatmeal as a lunchtime snack, Sylvester suggests boiling plain oatmeal with water and then adding dried fruit. "The dried fruit adds sweetness, texture, and important nutrients like iron," she says.
According to Sylvester, whether quick-cook instant or steel cut, any plain oatmeal will suffice. What works best for you and your family will ultimately depend on pricing and ease of preparation.
"Some people cook their oatmeal in milk, which is another great approach," Sylvester continues. "But, it might not last as long in a lunchbox as water-cooked oats. There are also some newer varieties of overnight oats (served cold) that are prepackaged. They can be found in the yogurt aisle at most supermarkets."
Whole wheat toast and fat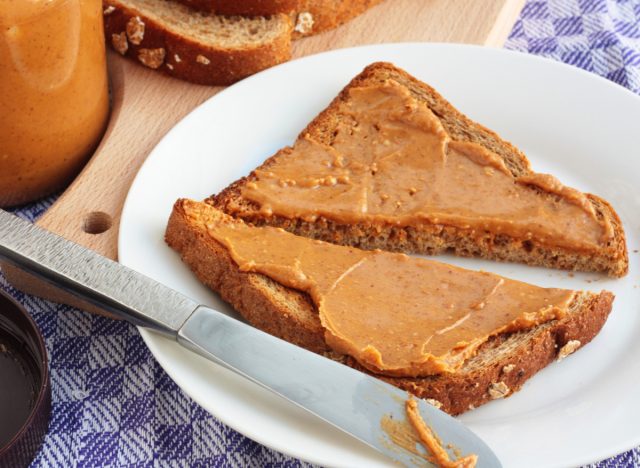 "When deciding on a bread, make sure the first ingredient is 'whole wheat,'" explains Sylvester. "Otherwise, it's probably not what you're looking for." Sylvester notes that whole wheat provides essential nutrients and fiber.
While the term "fat" may cause your mind to wander to unhealthier foods, Sylvester explains that fat is an important macronutrient. It is necessary in order for proper growth, brain development, and health preservation. Furthermore, it's required for the absorption of vitamins A, D, E, and K. Minimally, these vitamins support skin health, bone strength, vision, and blood clotting.
"Essentially, we need these nutrients," says Sylvester. "By combining a fat with whole wheat—carbohydrate and fiber—you slow the processes of digestion and absorption. This allows for longer feelings of fullness. Some sources of fat are nut butter, ghee or clarified butter, eggs, cheese, avocado, or fish."
Kayla Garritano
Kayla Garritano graduated from Hofstra University, where she majored in Journalism and double minored in Marketing and Creative Writing.
Read more about Kayla