The One Food Everyone's Eating at Breakfast
Have your (pan)cake and eat it too—with a healthy upgrade!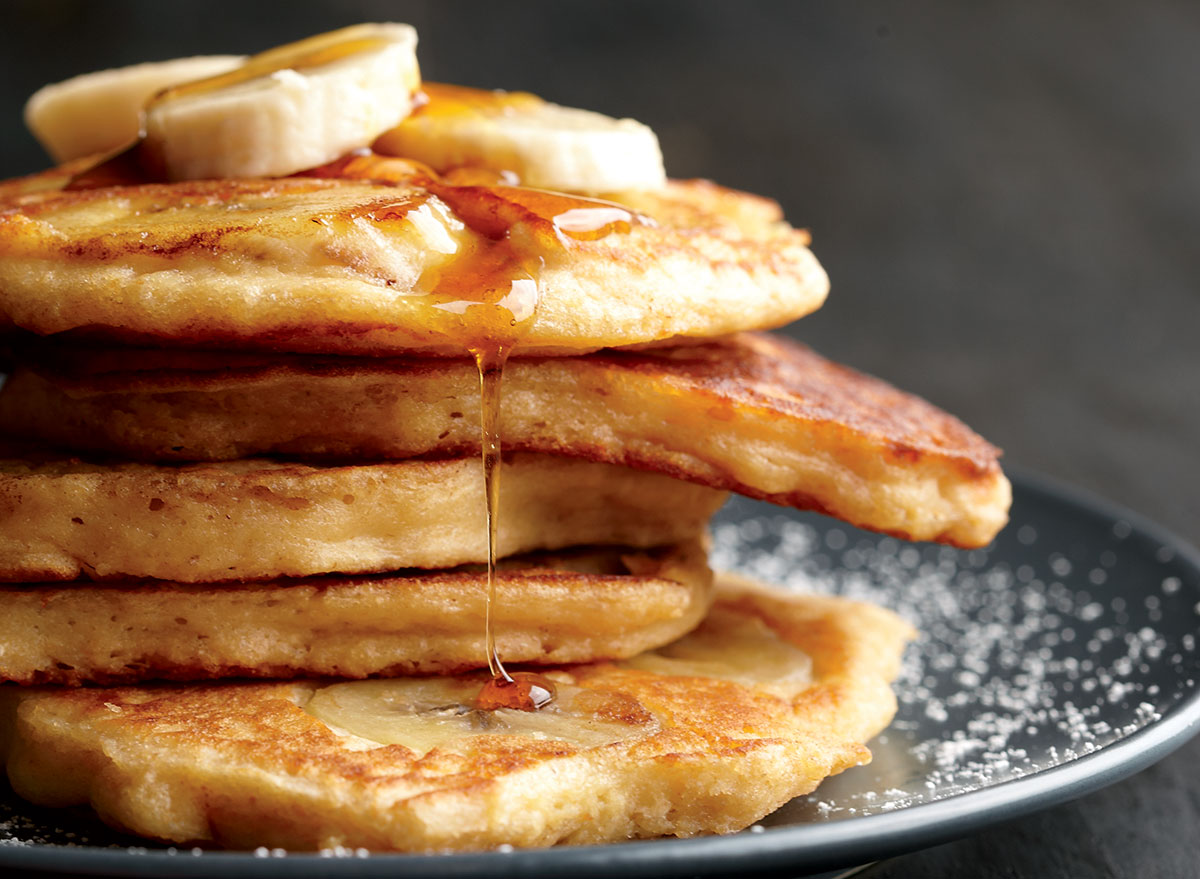 Ah, the beloved pancake. It's a staple of weekend brunches with friends and Sunday morning stacks with family. Piled high and oozing syrupy goodness, it's hard not to love flapjacks. But while they may be delicious, traditional pancakes are less than what you'd call a "healthy breakfast."
Made with refined white flour and little else, pancakes offer minimal health benefits. Rather than filling you up with fiber and nourishing you with micronutrients, pancakes are loaded down with calories—especially if you're eating these sugar-filled versions. And pancakes aren't just unhealthy on their own—it's also the "pancake syrup" you're putting on top of them. These supermarket syrups are essentially just high-fructose syrup with chemical additives that are maple-flavored, enabling them to masquerade as pure maple syrup.
Enter: The protein pancake. It's actually healthy and a great way to get your fill of protein early in the day. "Most folks get in their protein during lunch and dinner and forget about breakfast," Toby Amidor, MS, RD, CDN, tells us, explaining that the macronutrient provides essential nutrients.
The main ingredients in protein pancakes are eggs, a healthy flour (such as oat, almond, or coconut), a splash of your preferred plant-based milk, and protein powder. You can also add yogurt (like this light, fluffy banana pancake does), nut butters, veggies, and more—the options are endless!
The benefits of protein pancakes
When you opt for protein pancakes in the morning, you're not only giving your typical flapjack an upgrade, you're also upgrading your entire morning meal.
Since many protein pancake recipes can pack in 15 to 20 grams of protein per serving, opting for this breakfast is going to benefit you much more than a frozen waffle or bagel would. When you eat meals that are higher in protein, it helps you to feel full for longer and lower your appetite more than it would if you just had simple carb pancakes, according to research published in PLOS One. Not having to think about how hungry you are all morning can help you focus better at work as well as support the maintenance of a healthy weight.
How to make protein pancakes
To hop on the protein pancake trend like everyone else, try a recipe for Blueberry Banana Plant-Based Protein Pancakes from Staying Mindfull and Four Sigmatic.6254a4d1642c605c54bf1cab17d50f1e
This stack is not only yummy, it's packed with nutrients. The recipe uses oat flour and egg whites, plus banana and blueberries for healthy added sweetness. But the key here for an extra protein punch is using the Four Sigmatic Sweet Vanilla Plant-Based Protein, which contains 18 grams of plant proteins (from peas and hemp, chia, and pumpkin seeds), amazing adaptogens—like eleuthero, ashwagandha—and a slew of powerful mushrooms. Go nuts (pun intended) by topping it with some almond butter for extra protein or pile on some antioxidant-rich berries.
Strapped for time? Make it easy on yourself with a healthy pancake mix, like the ones from Birch Blenders or Nush Foods that are made with a range of low-carb, high-protein flours—such as almond, coconut, cassava, and tiger nut.
Looking for more? Whether you're gluten-free, Paleo, vegan, or just looking for a healthy flapjack to spice up your mornings, these 19+ healthy pancake recipes won't disappoint.
For more healthy eating news, make sure to sign up for our newsletter!
Caitlin Kilgore
Caitlin is a freelance health and wellness writer who is always in search of science-backed tips to living a healthy and balanced life.
Read more about Caitlin