12 Healthy Fast Food Breakfasts Under 360 Calories
Yes, healthy fast food breakfasts do exist—and we've discovered the best ones.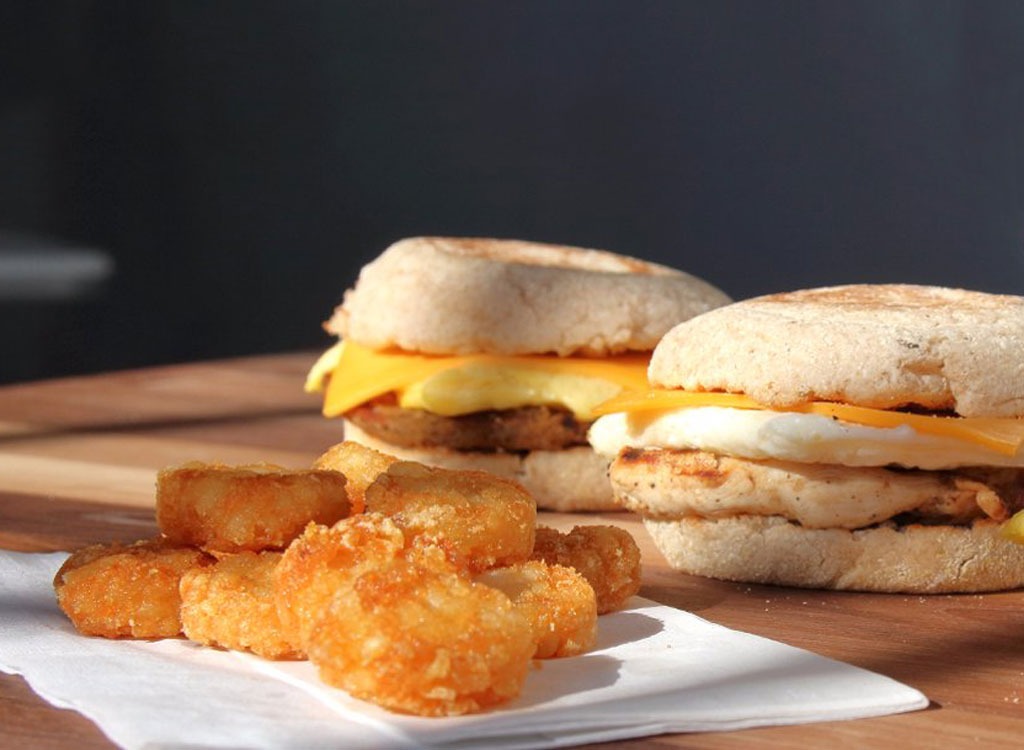 We've all heard it: breakfast is the most important meal of the day. According to research discussed in Zero Belly Breakfasts, people who nosh close to waking up actually eat 12 percent healthier later on in the day. But, unless you're one of the few blessed with the early riser gene, mornings are typically the most stressful time of day, too. This makes it way too easy to grab whatever is quickest and most convenient, without thinking what's inside and how it might affect your diet.
While fast food chains won't be offering you the healthiest options on earth, plenty of places are making the healthy fast food breakfast classics—and many even fall under 300 calories! New staples are showing up to accompany egg and cheese with healthy ingredients like chicken and [chia seeds making appearances. Read on to see what your favorite chain's low-calorie option is—it might surprise you! These quick-service establishments aren't just offering better breakfasts. Next up: low-calorie restaurant meals under 500 calories.
Taco Bell's Breakfast Soft Taco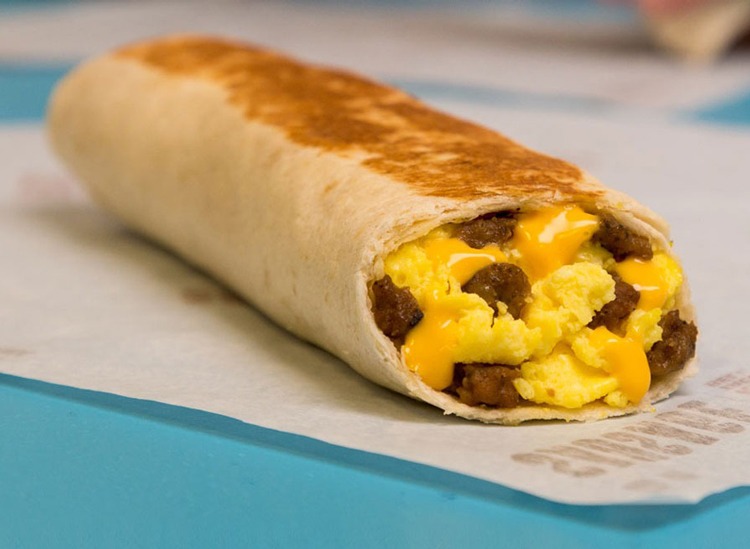 240 calories, 14 g fat (5 g saturated fat), 580 mg sodium, 15 g carbs (< 1 g fiber, 1 g sugars), 11 g protein
This menu item is somewhere in between a taco, an omelet, and a quesadilla. It doesn't matter what you call it, though, because you get eggs, bacon, and cheddar cheese for only 240 calories! Since other breakfast menu items are creeping up to a whopping 700 calories, this is your best bet from Taco Bell.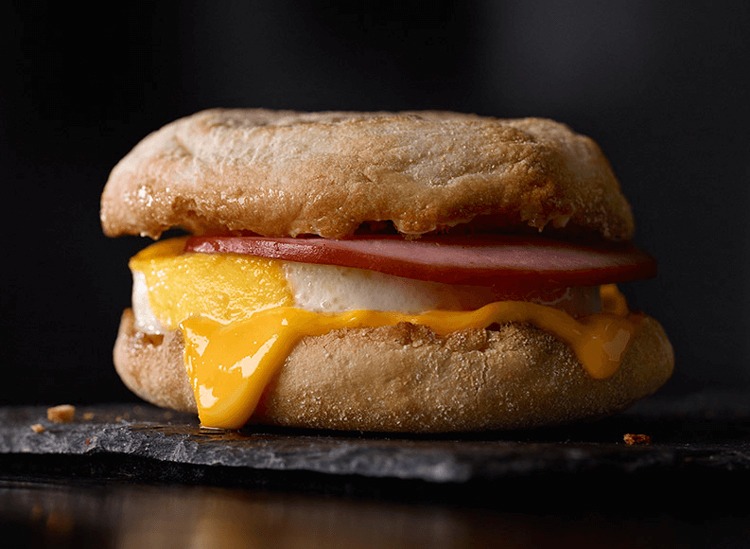 300 calories, 12 g fat (6 g saturated fat), 730 mg sodium, 30 g carbs (2 g fiber, 3 g sugar), 17 g protein
The fast-food breakfast classic isn't just low in calories. It's also a protein-packed breakfast and doesn't overdo it on the carb count. This well-balanced meal ranked as #1 in our ranking of McDonald's Menu.
Starbuck's Classic Whole Grain Oatmeal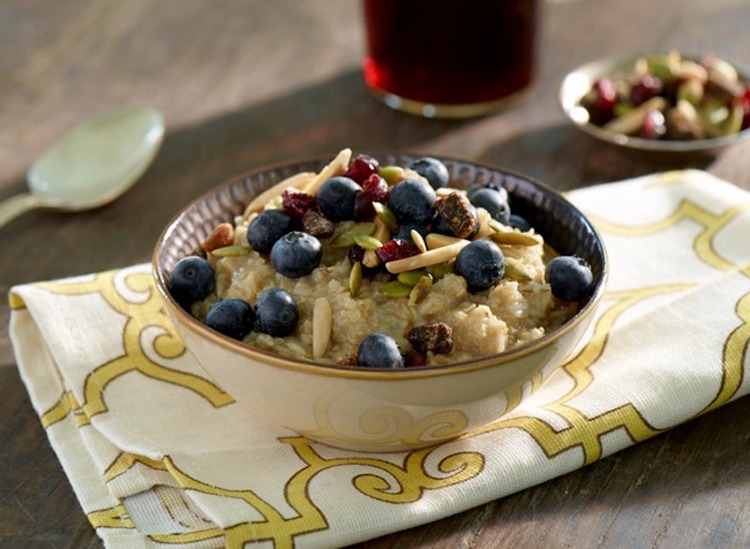 160 calories, 2.5 g fat (0.5 g saturated fat), 125 mg sodium, 28 g carbs (4 g fiber, 0 g sugar), 5 g protein
If you're looking for a healthy breakfast, oatmeal is probably your best bet. It's super low in calories, fat and sodium, without any sugar! The oats are filled with fiber, keeping you full without hurting your waistline. Adding a chopped banana and healthy-fat-filled nuts that come on the side, this dish becomes a tasty, satiating breakfast option.
Dunkin Donuts Veggie Egg White Flatbread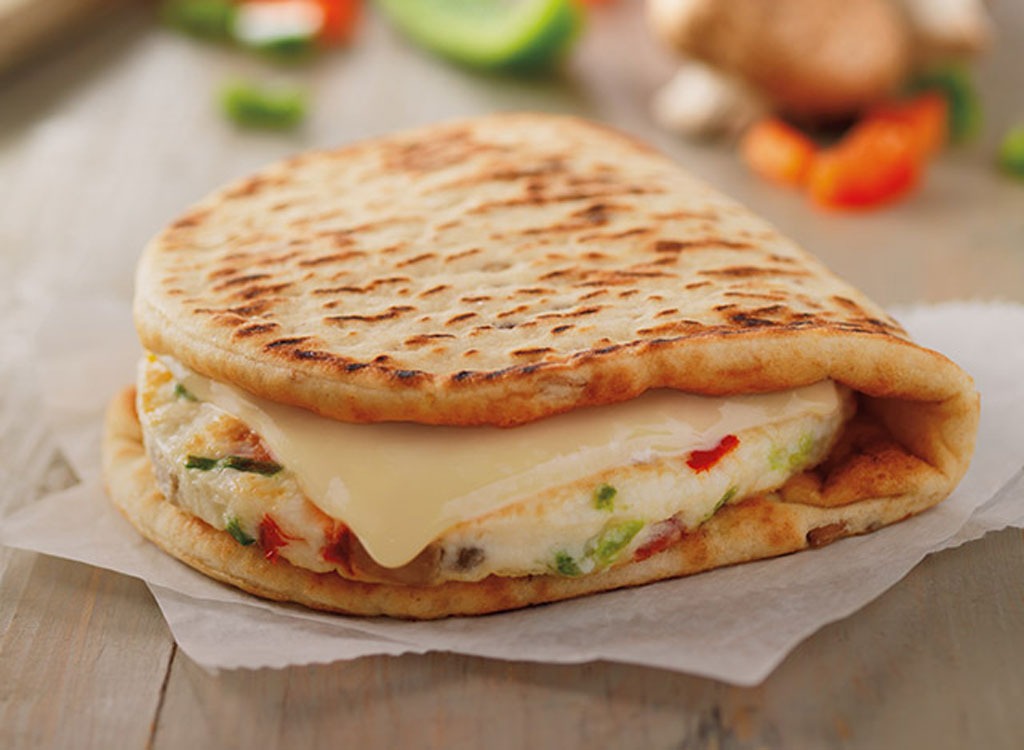 330 calories, 14 g fat (7 g saturated fat), 570 mg sodium, 33 g carbs (3 g fiber, 5 g sugar), 18 g protein
"The Egg White Flatbread has vegetables mixed in with the egg whites, reduced-fat cheddar cheese and is served on multigrain flatbread, making this a healthy meal for anyone," says Jim White, ACSM Health Fitness Instructor and Registered Dietitian. As a DDSmart Item, this flatbread has at least 25 percent fewer calories, saturated fat, fat & sodium than the original Sausage Egg & Cheese on Croissant. Another plus is the added nutrition from chopped veggies inside. The hardest part about this dish is going into a Dunkin Donuts and not ordering a sugary drink or donut to go along. Grab some high protein snacks to keep your cravings at bay.
Au Bon Pain's Superfood Cranberry Almond Hot Cereal, Medium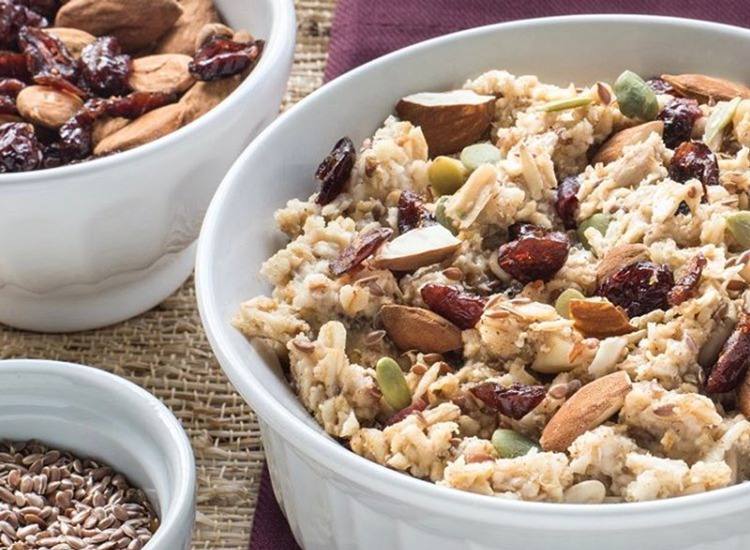 270 calories, 10 g fat (1 g saturated fat), 25 mg sodium, 38 g carbs (7 g fiber, 4 g sugar), 9 g protein
These oats are kicked up a few notches with added superfoods quinoa, amaranth, cranberries, almonds, sunflower seeds, pepitas, and raw flax seeds. The oat-quinoa-combo means extra protein, fiber, and amino acids, while flax seeds are linked to fighting tumors, lowering blood pressure, and lifting your mood. This dish is a breakfast DO.
Panera's Ham Egg, & Cheese Breakfast Sandwich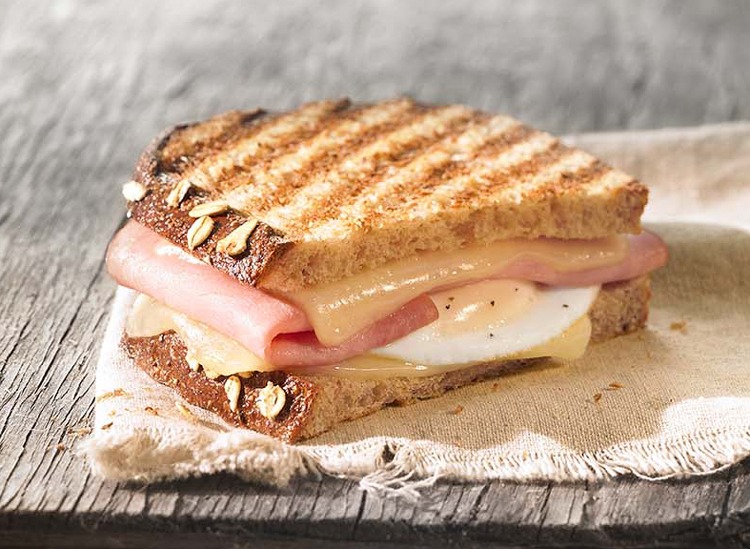 6254a4d1642c605c54bf1cab17d50f1e
340 calories, 15 g fat (7 g saturated fat), 890 mg sodium, 30 g carbs (4 g fiber, 3 g sugar), 23 g protein
The lowest-calorie sandwich option from Panera just makes the cut at 340 calories. With its high sodium count, we wouldn't recommend eating this every day if you're trying to debloat your belly, but it can be a here-and-there dish if you need something protein-packed before work.
Burger King's Egg & Cheese Croissan'wich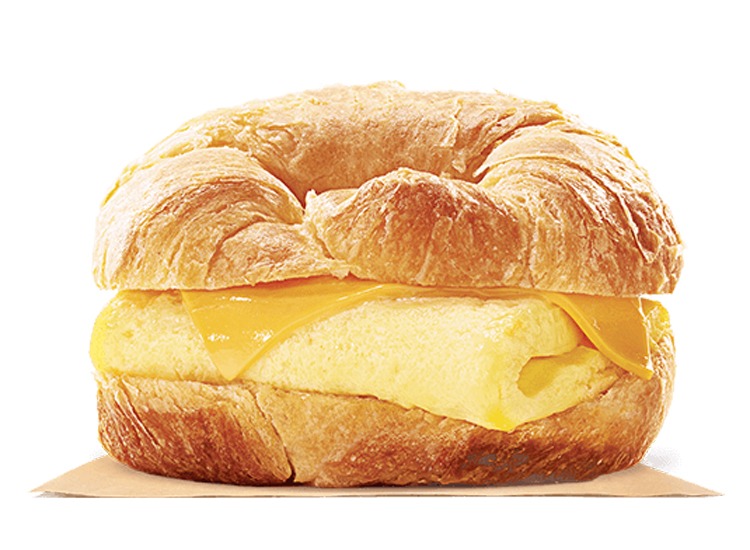 300 calories, 15 g fat (7 g saturated fat), 580 mg sodium, 30 g carbs (1 g fiber, 4 g sugar), 11 g protein
Your breakfast dreams just came true. Burger King makes a flaky, buttery, croissant-based breakfast sandwich for under 300 calories. While the Croissan'wich comes in many shapes and forms, your best bet to keep off pounds is the simple egg and cheese. In fact, adding bacon only ends up adding 200 milligrams of sodium and an additional 40 calories for only the benefit of a single additional gram of protein.
Wendy's Artisan Egg Sandwich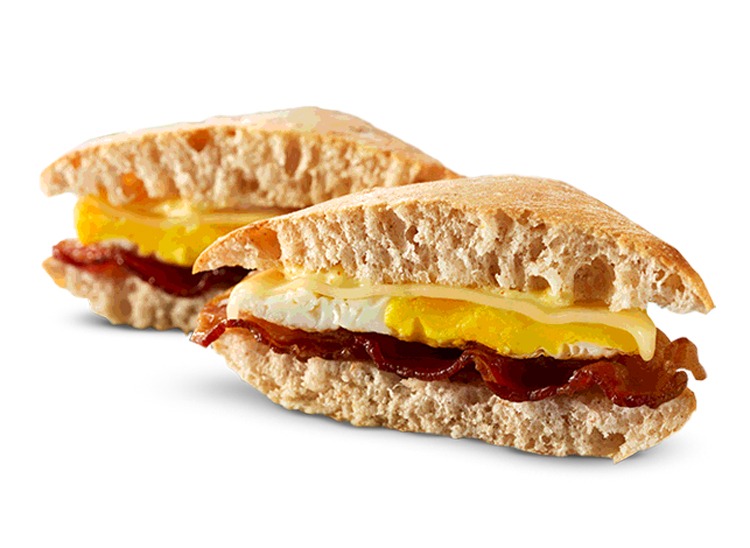 360 calories, 19 g fat (8 g saturated fat), 750 mg sodium, 29 g carbs (1 g fiber, 4 g sugar), 20 g protein
If you're looking for a fancy fast food breakfast sandwich, Wendy's has your back. Instead of American cheese, Wendy's uses Asiago and pairs it with freshly cooked applewood smoked bacon, Hollandaise sauce, and honey-wheat artisan muffin. Sounds mighty good to us.
Chick-Fil-A's Egg White Grill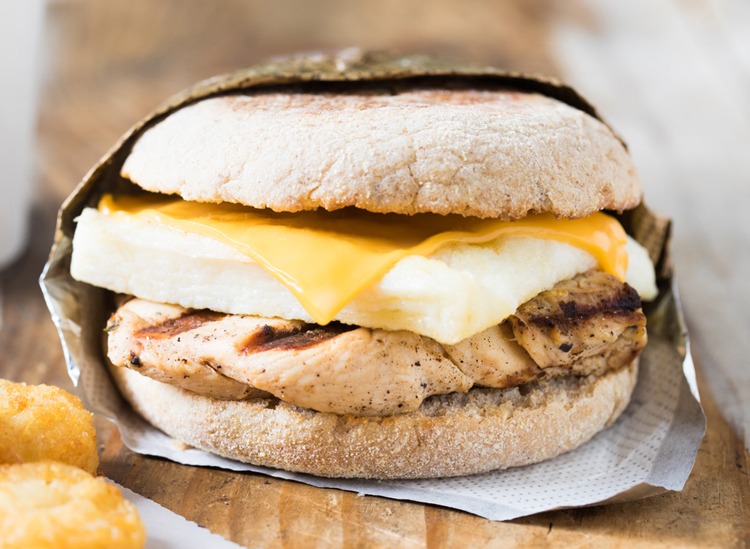 300 calories, 7 g fat (3 g saturated fat), 970 mg sodium, 31 g carbs (1 g fiber, 1 g sugar), 25 g protein
Grilled chicken is probably not what first comes to mind when you think of breakfast. But, what else would you expect from Chick-Fil-A? The extra protein means this meal will keep you fuller longer, and it's still only 300 calories! Chicken-lovers should also check out healthy chicken recipes for the rest of the day's dishes.
Jack in the Box's Breakfast Jack
350 calories, 18 g fat (6 g saturated fat), 840 mg sodium, 30 g carbs (1 g fiber, 4 g sugar), 16 g protein
This is your safest bet when you're at Jack in the Box: Ham, a freshly cracked egg, and American cheese on a bun. Because the sodium count is a bit high, be sure to wash this sandwich down with a glass or two of water.
White Castle's Bacon, Egg & Cheese Slider
210 calories, 12 g fat (5 g saturated fat), 510 mg sodium, 13 g carbs (1 g fiber, 2 g sugar), 12 g protein
White Castle's sliders are a great way to portion-control your cheats— as long as you only have one! At just 210 calories, you can fulfill your bacon needs while leaving room for a healthier side, like some fruit or a weight loss smoothie. Waffles in place of a bun is an option for this breakfast treat, but you can decide if it's worth an extra 50 calories.
Jamba Juice's Berry Berry Coconut Chia Pudding Cup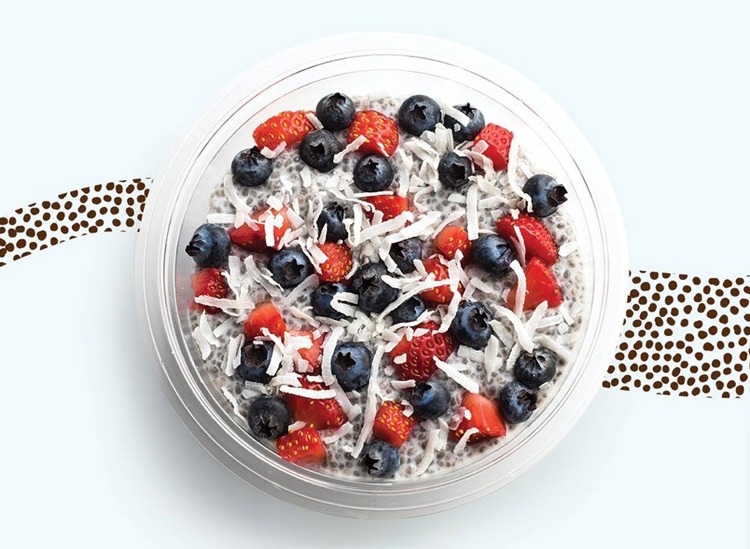 220 calories, 12 g fat (5 g saturated fat), 55 mg sodium, 28 g carbs (9 g fiber, 16 g sugar), 4 g protein
Balance out a week of egg sandwiches with a chia pudding breakfast. Filled with fiber and omega-3's, chia seeds are a weight-loss staple. They're paired with antioxidant-rich strawberries, blueberries, and coconut, making this menu item tasty AND healthy.