35+ Best Healthy Meatball Recipes for Weight Loss
From soups to lettuce wraps, here are our favorite meatball recipes to whip up at home.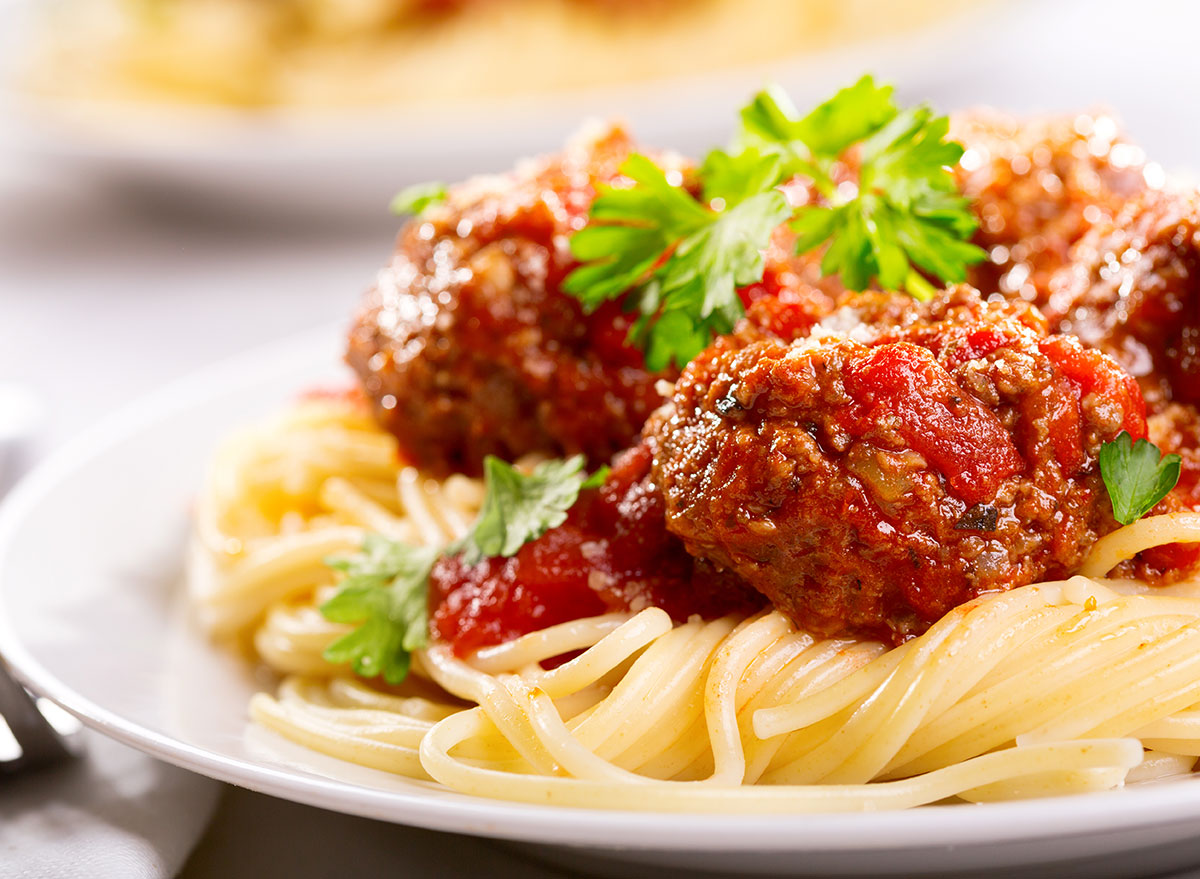 Meatballs made their debut in America during the 19th century when Italians migrated to the States and started dishing them up with spaghetti—and we're forever grateful. Although a lot has changed since then, meatball mania has only gotten better and better. They've made their way out of spaghetti bowls and onto kabobs and into soups. And meatballs consistently hold their own against other apps at the party table. Between chicken, ground turkey, grass-fed beef, pork, and veggie, there are healthy meatball recipes on this list for every type of dieter.
And for more, don't miss these 35+ Healthy Pasta Recipes for Weight Loss.
Spaghetti and Turkey Meatballs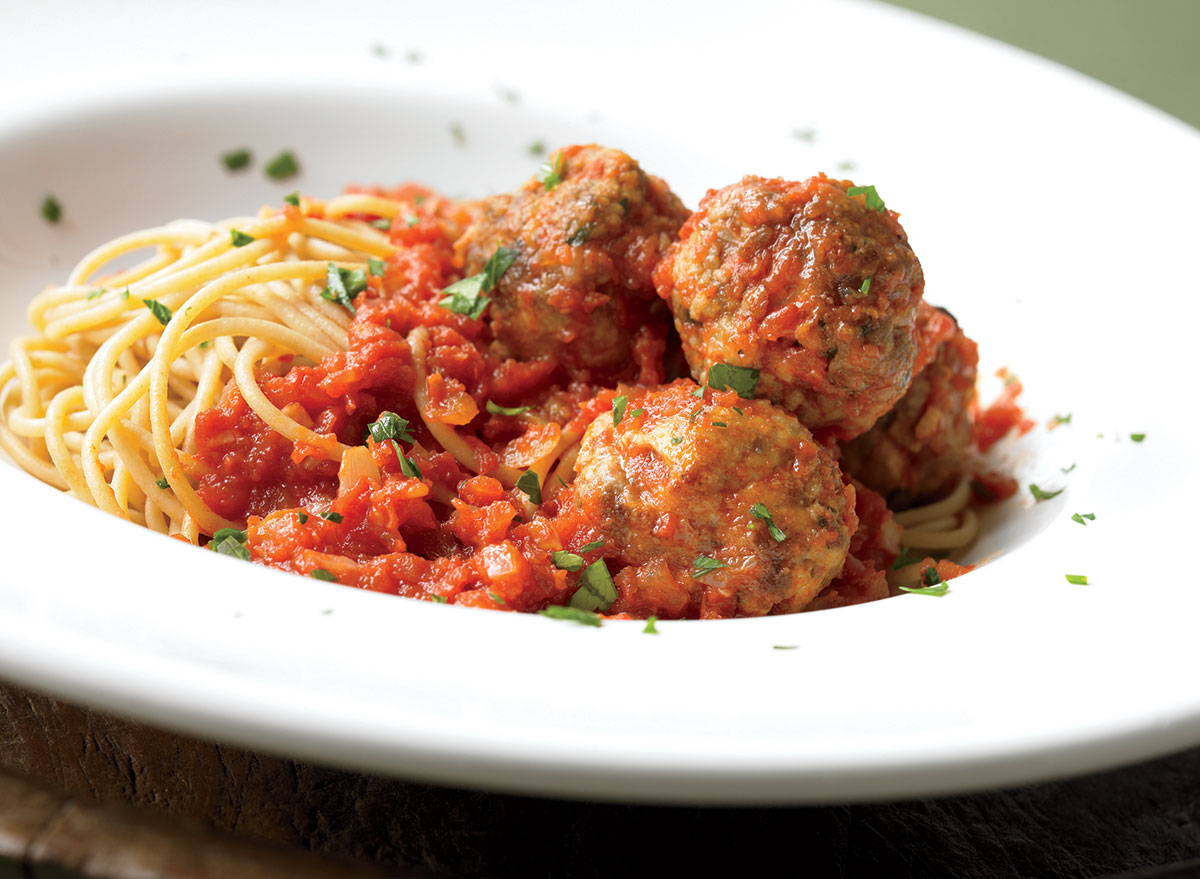 Traditional meatballs are made with a mixture of beef, pork, and veal. Turkey, lean and tender, replaces the latter two in these meatballs, saving you major calories while simultaneously providing your taste buds with major yum. And if anything, go heavy on the meatballs and light on the pasta.
Get our recipe for Spaghetti and Turkey Meatballs.
STAY INFORMED: Sign up for our newsletter to get the latest food news delivered straight to your inbox.
Asian Chicken Meatballs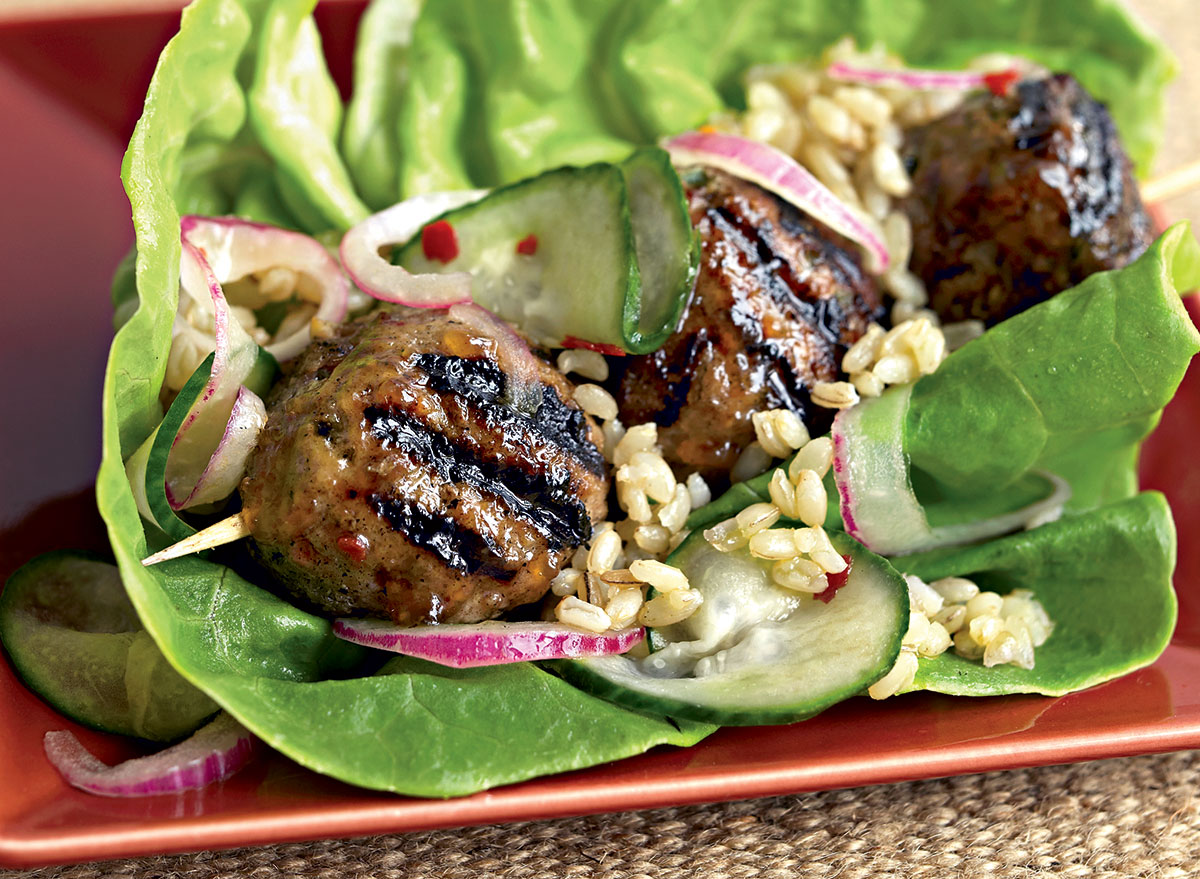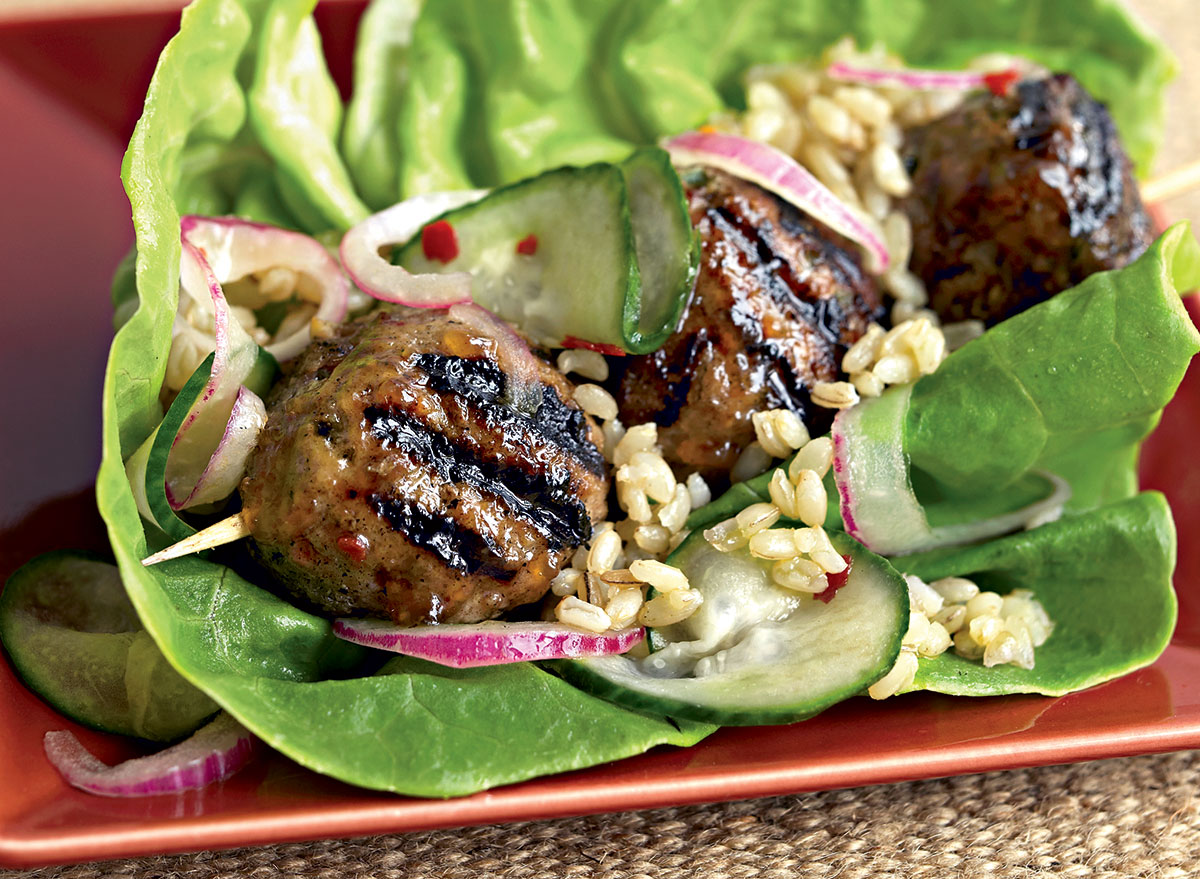 These chicken meatballs are inspired by street-corner grills in Vietnam and Thailand, where ginger, garlic, and chiles reign supreme. With those bold flavors, plus the char of a hot charcoal grill, you won't need a fat-heavy mix of meat, or even a pile of spaghetti, to make an outstanding dinner with this chicken meatballs recipe. Serve them with steamed rice, cucumbers, maybe a bit of sauce, and big lettuce leaves for wrapping, and let everyone make their own Asian-style burrito.
Get our recipe for Asian Chicken Meatballs.
Spicy Turkey Meatballs with Sweet Potato Fries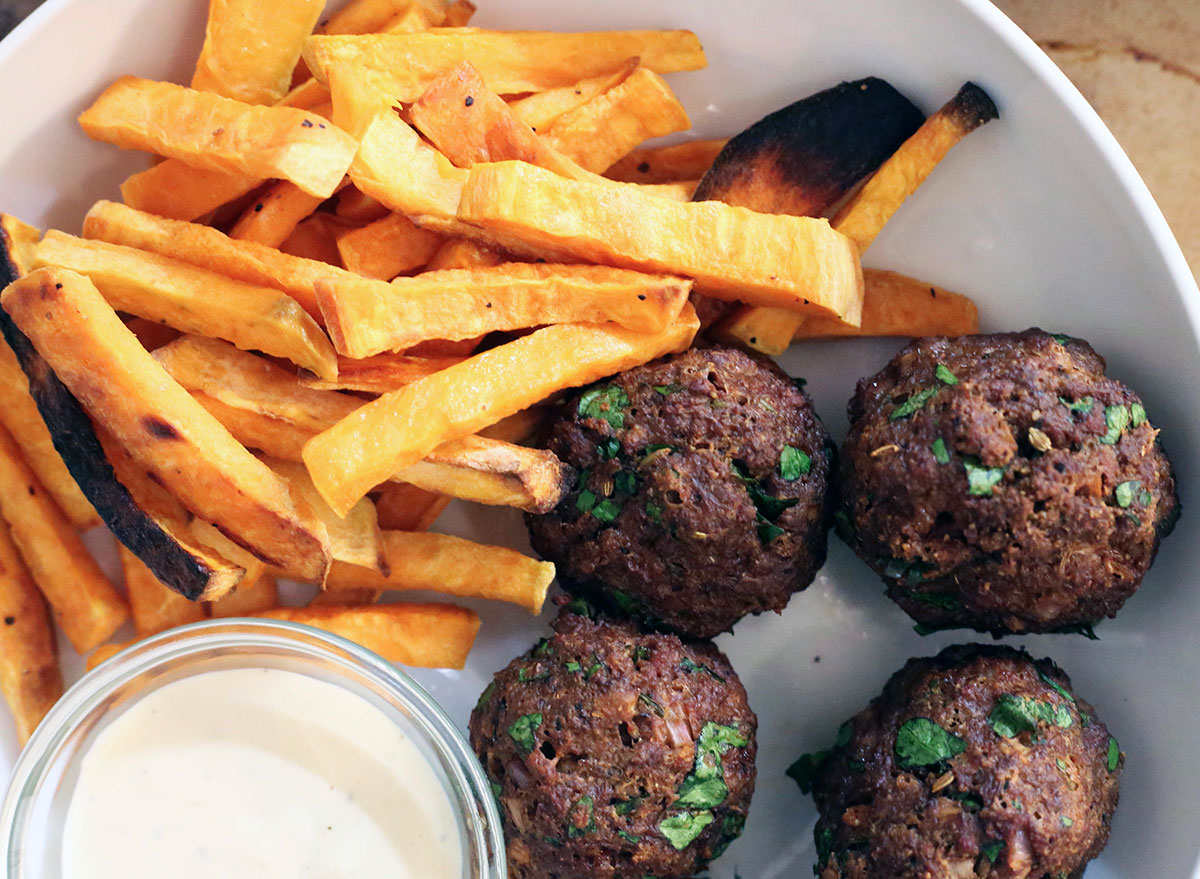 These lean turkey baked meatballs pack a punch of spice and are the perfect comfort food for a Whole30 diet. They are flavorful thanks to the dried herbs and fresh chopped parsley, while almond meal keeps them moist, standing in for the breadcrumbs. This dish is Whole30-approved and gluten-free.
Get our recipe for Spicy Turkey Meatballs with Sweet Potato Fries.
Meatballs With Polenta
This recipe lightens up the meatball (using sirloin and turkey instead of veal and pork), but, more importantly, it ditches the spaghetti in favor of polenta, an Italian staple of stone-ground corn with a fraction of the calories, but just as hearty, creamy, and completely delicious.
Get our recipe for Meatballs With Polenta.
Italian Meatball Soup
Though it's light in calories, this is still a potent bowl of goodness—served with a lightly dressed salad, it makes for an incredible weekday dinner. Also perfect for meal planning as it will keep great frozen in the fridge. Double the recipe, and you'll be set for the week!
Get our recipe for Italian Meatball Soup.
Crock-Pot Italian Meatballs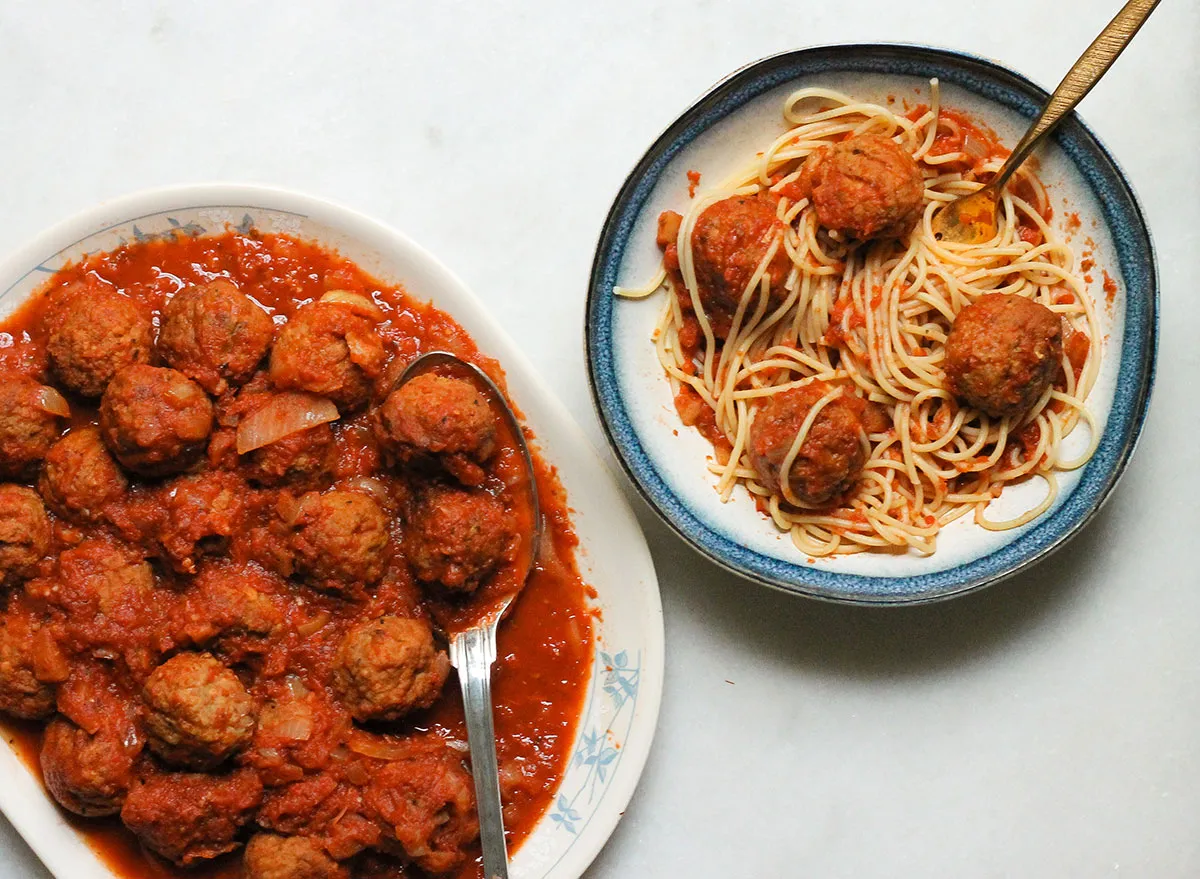 This slow cooker recipe will create a delectable homemade sauce as the Italian meatballs start to cook, and it will only take you 2 to 4 hours to do so.
Get our recipe for Crock-Pot Italian Meatballs.
Turkey Swedish Meatballs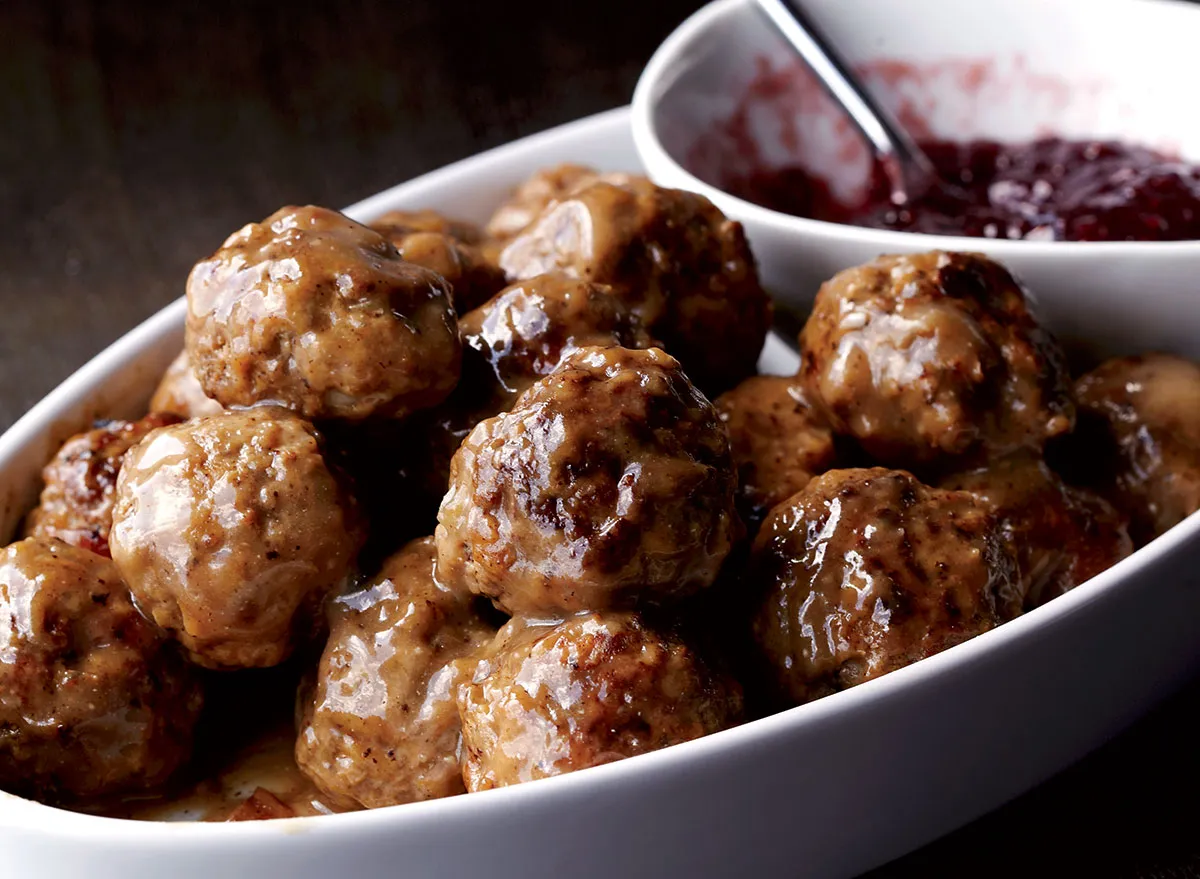 This version of the Swedish meatball cuts the beef with turkey, which is tender and light like veal, but considerably leaner. You'll save on calories, but you'll gain considerably on taste!
Get our recipe for Turkey Swedish Meatballs.
Classic Italian Meatballs
Ever want to learn how to make authentic Italian meatballs? This recipe is a classic straight from one editor's Italian grandmother who shared all her secrets for the best tasting Italian meatballs around.
Get our recipe for Classic Italian Meatballs.
Vegan Eggplant Meatballs with Kale Pesto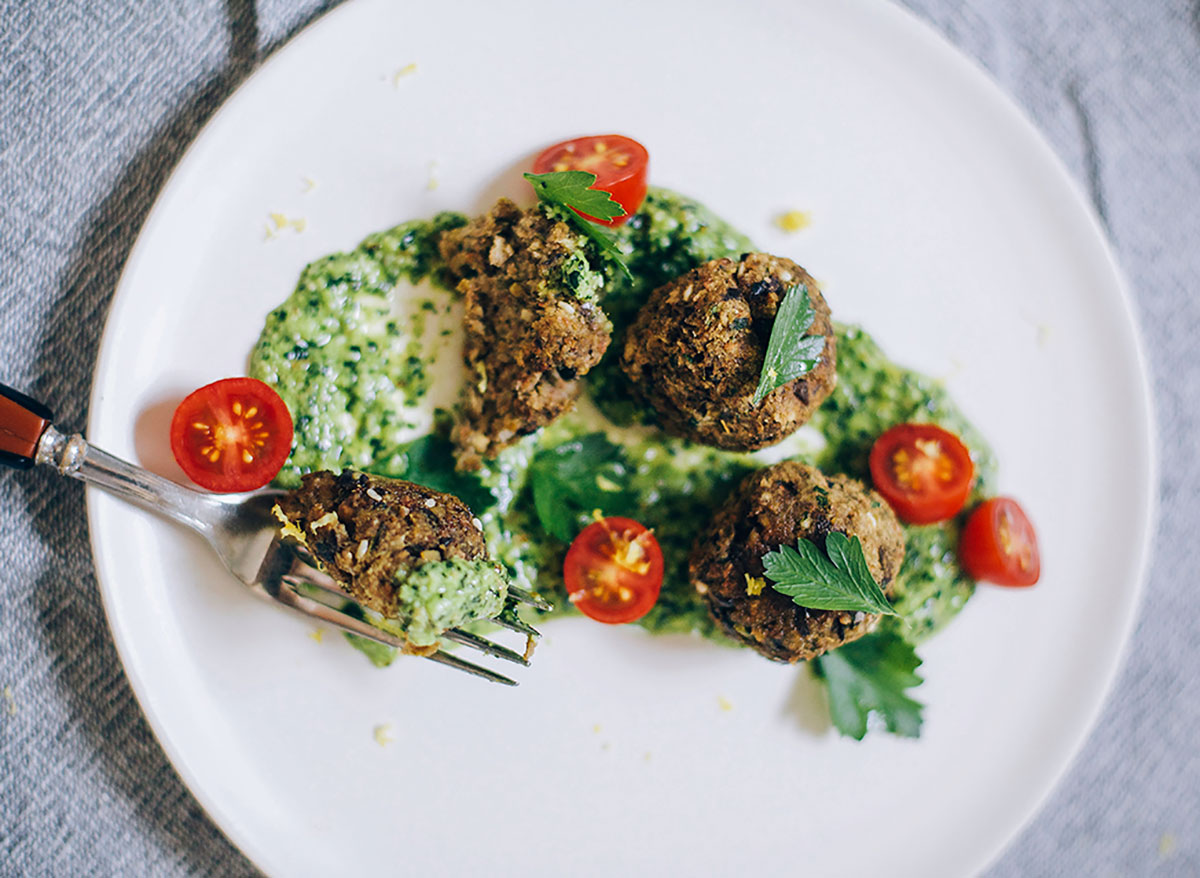 These vegan meatballs, made from eggplant, chickpea water, and almond flour, are the perfect hearty dish for anyone looking to sneak more nutrient-dense ingredients into their meals. Don't forget to whip up the kale pesto to serve alongside it!
Get the recipe from The First Mess. 
Feta Turkey Meatballs with Zucchini Pasta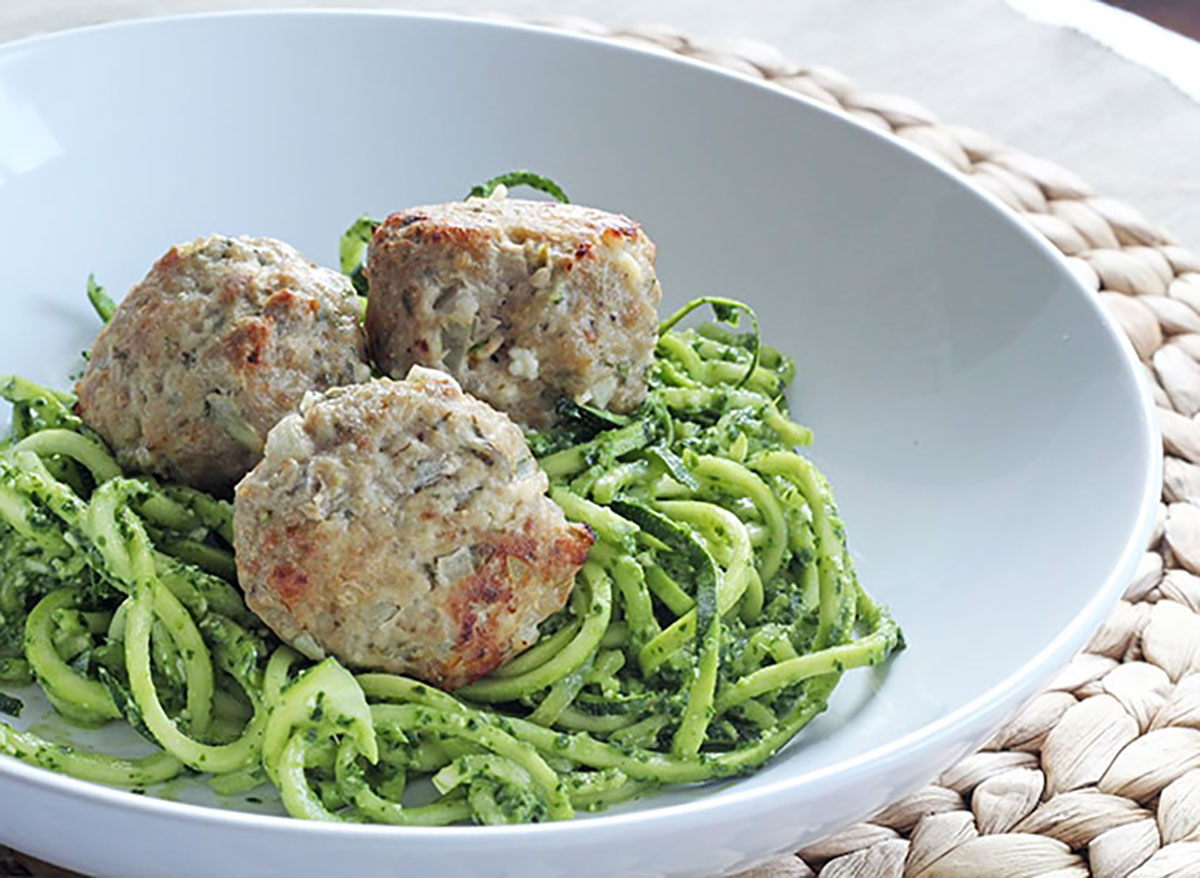 No noodles? No problem! Zucchini pasta takes the place of spaghetti in this health-conscious dish, which is served with tasty feta turkey meatballs. We love that this recipe utilizes two cheeses—feta and parmesan—to keep you coming back for more.
Get the recipe from Inspiralized. 
Baked Apple Cider BBQ Turkey Meatballs
Apple cider and meatballs is the unlikely combination you didn't realize you needed in your life, until now. Baked meatballs meet their match when they are coated with a mouthwatering BBQ-apple cider glaze that takes just seconds to prepare. Breadcrumbs can easily be switched out for ground oats or almond flour to make this dish a gluten-free one, too.
Get the recipe from Cupcakes and Kale Chips. 
Green Curry Sweet Potato Chicken Meatballs
We love that instead of using eggs to bind together the meat, this recipe calls for shredded sweet potato, which is a healthy, and tasty, alternative. Complete the meal by serving this delicious curry dish over warm rice, quinoa, or rice noodles.
Get the recipe from Fit Foodie Finds. 
Greek Meatball Gyro Bowls
This Greek meatball recipe, made using ground lamb and garlic and topped with tangy tzatziki sauce, gets an extra boost of nutrients from a side salad featuring crunchy spiralized carrots. The best part? This vitamin-rich meal takes just 45 minutes to make!
Get the recipe from Inspiralized. 
Lemon Cardamom Meatballs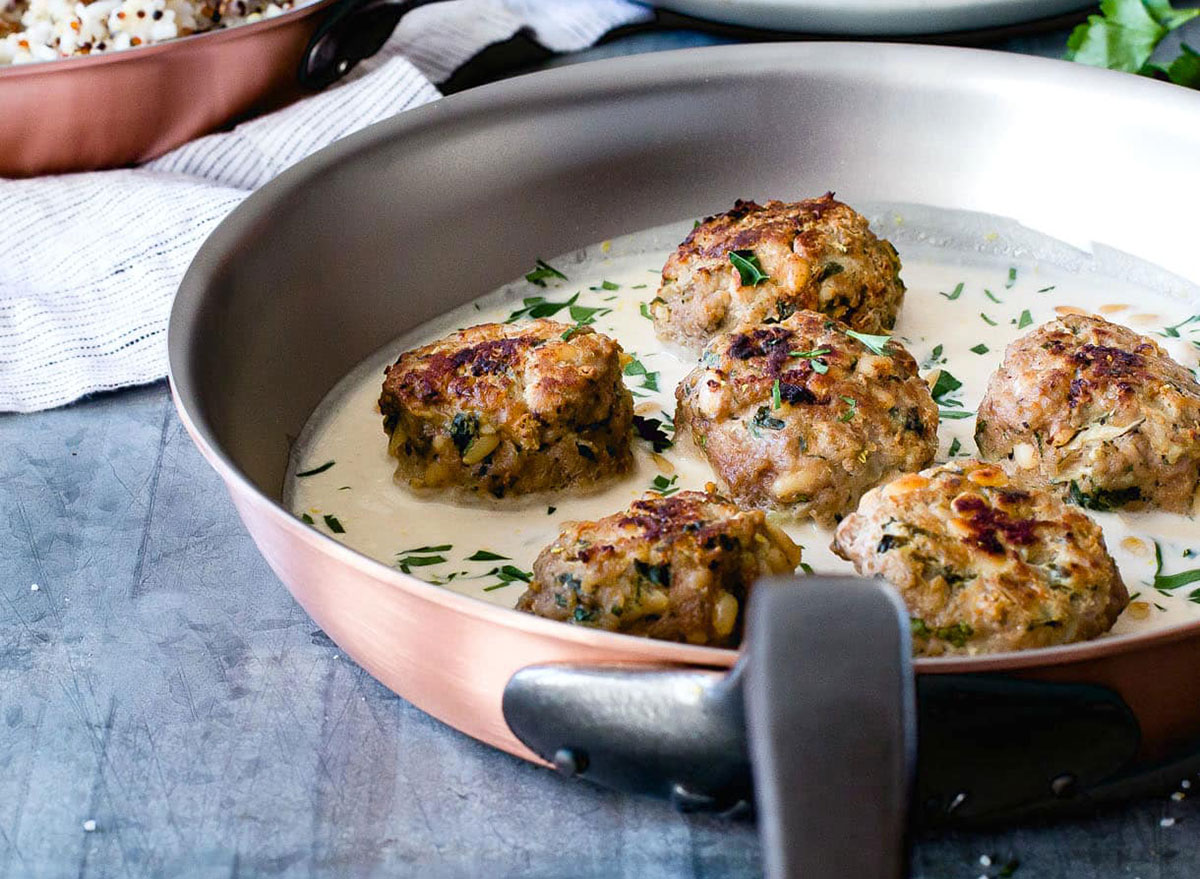 Flavorful cardamom takes center stage in this lemon cardamom meatball recipe that is packed with pine nuts and lemon zest and served with a garlic tahini sauce. Be sure to make extra while preparing this recipe—this dish is so comforting and tasty, you may just come back for seconds (or thirds).
Get the recipe from Heartbeet Kitchen. 
Sweet and Sour Meatball Skewers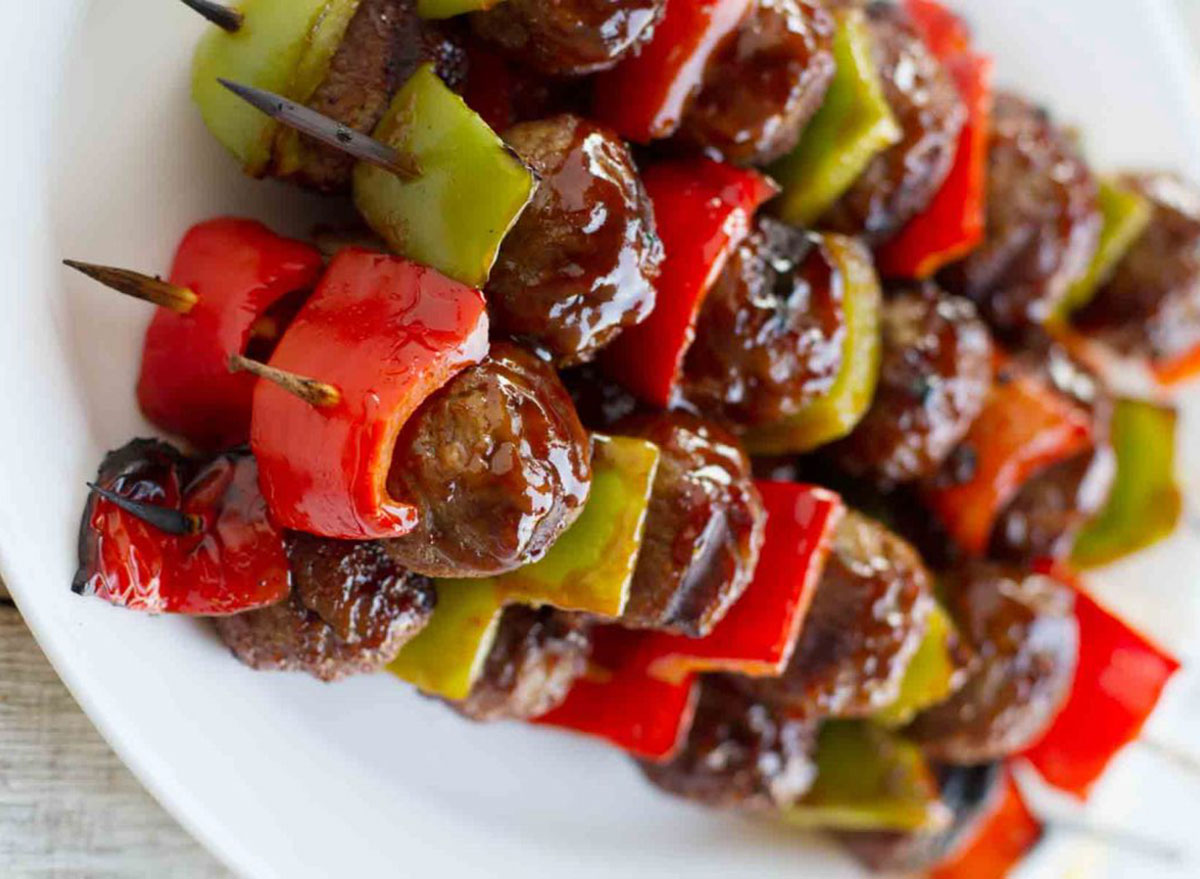 Meatballs on a skewer? Sign us up! This recipe comes to life by using frozen meatballs, fresh-cut red and green peppers, and apricot jam. It takes under half an hour to make, so you will have this meal ready in no time.
Get the recipe from Taste and Tell. 
Skillet Lemon Rosemary Turkey Meatballs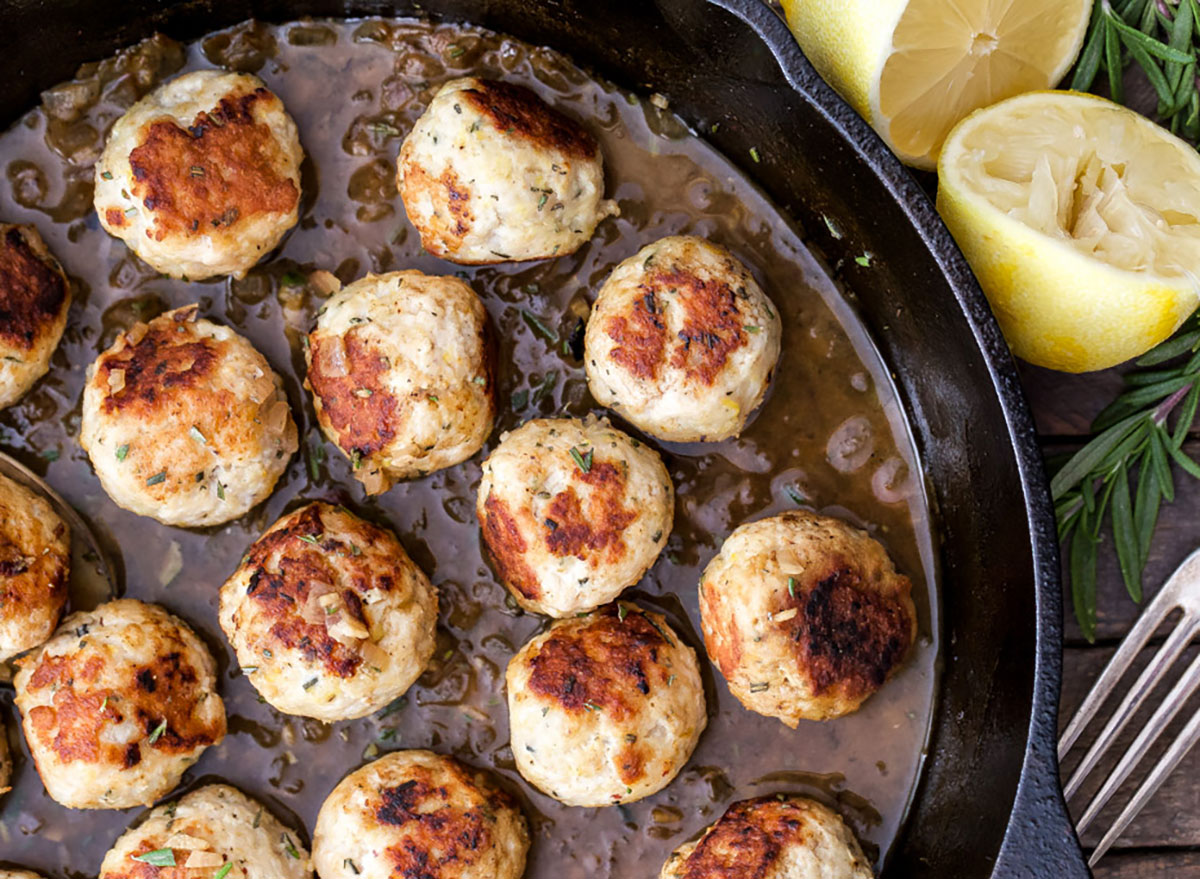 Fragrant rosemary and zesty lemon come together to make this dish a memorable one. One of its best parts? Its mouthwatering white wine sauce is made by combining chopped shallots, dry white wine, chicken broth, and lip-puckering lemon juice.
Get the recipe from Recipe Runner. 
Chicken Meatball Pitas
Chicken meatballs, roasted red pepper whipped feta, tzatziki sauce, and freshly chopped vegetables are layered inside a warm pita to create one of the most scrumptious dishes that can be eaten for lunch or dinner. We imagine this tasty recipe would pair great with a steaming cup of avgolemono soup or a side of garlicky rice.
Get the recipe from How Sweet Eats. 
Keto Meatballs alla Parmigiana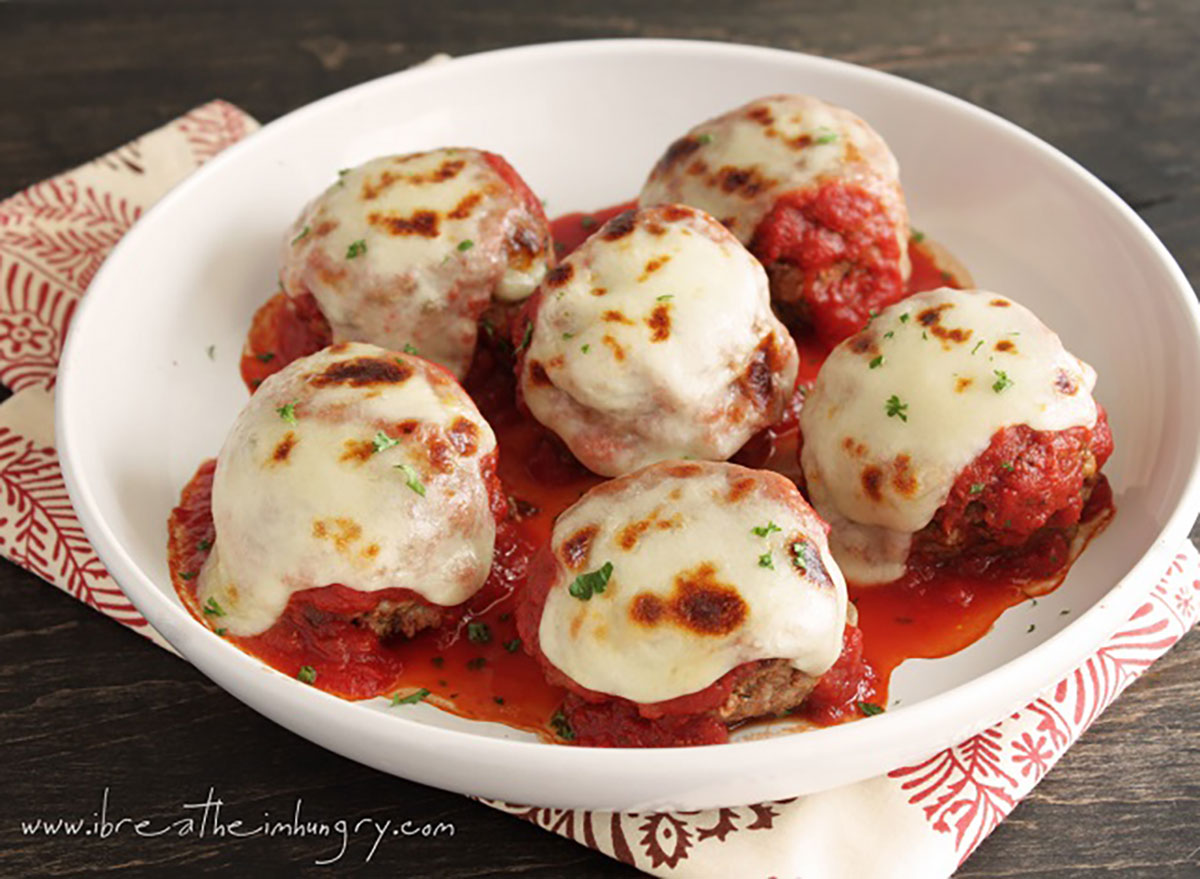 If you are looking for a keto-friendly, gluten-free meatballs alla parmigiana recipe, then today is your lucky day. This low-carb dish, which swaps out breadcrumbs for almond flour and uses an easy-to-make keto marinara sauce, is also full of protein.
Get the recipe from I Breathe, I'm Hungry. 
Buffalo Cauliflower Quinoa Meatballs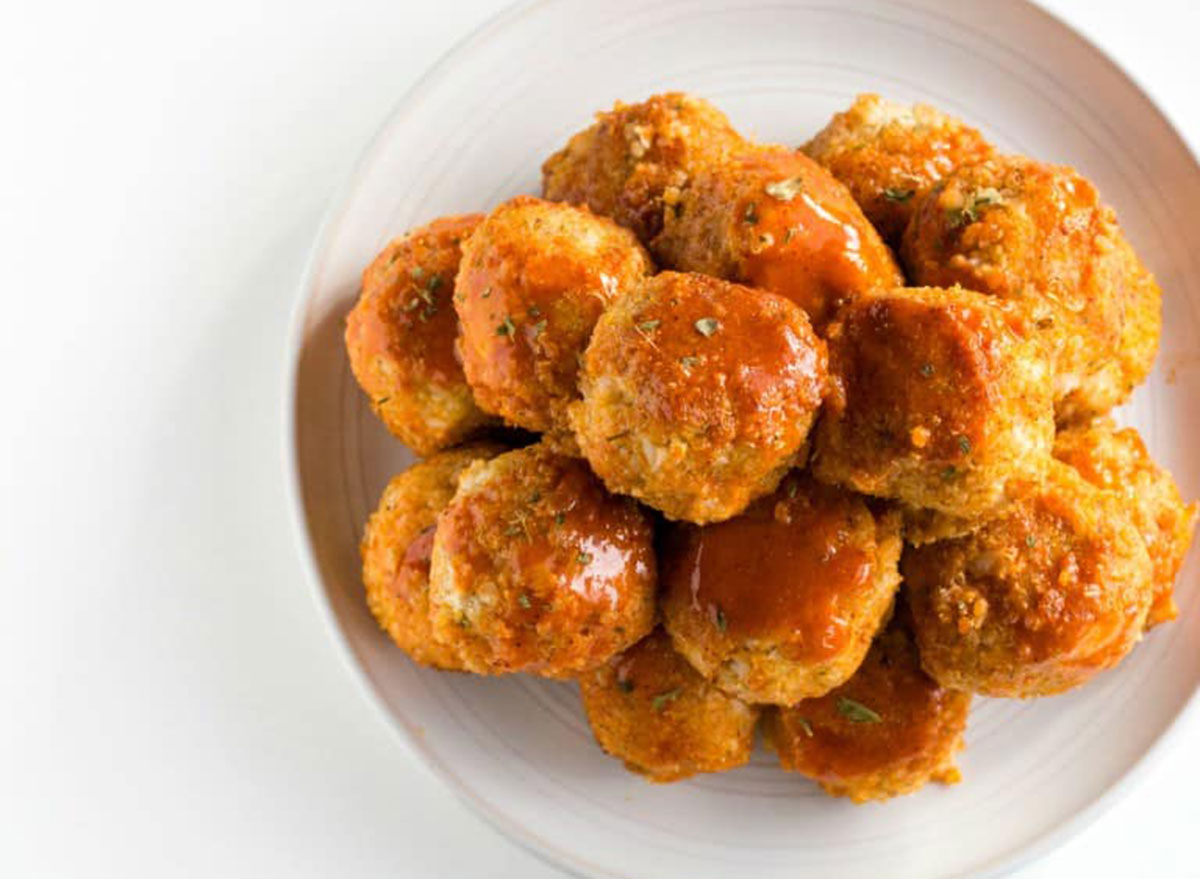 Cauliflower is sneaking its way into everything from pizza, mashed potatoes, mac and cheese, and rice recipes to meatballs. This recipe also has hot sauce, meaning it'll rev up your metabolism, too.
Get the recipe from The Almond Eater.
Italian Meatball Minestrone Soup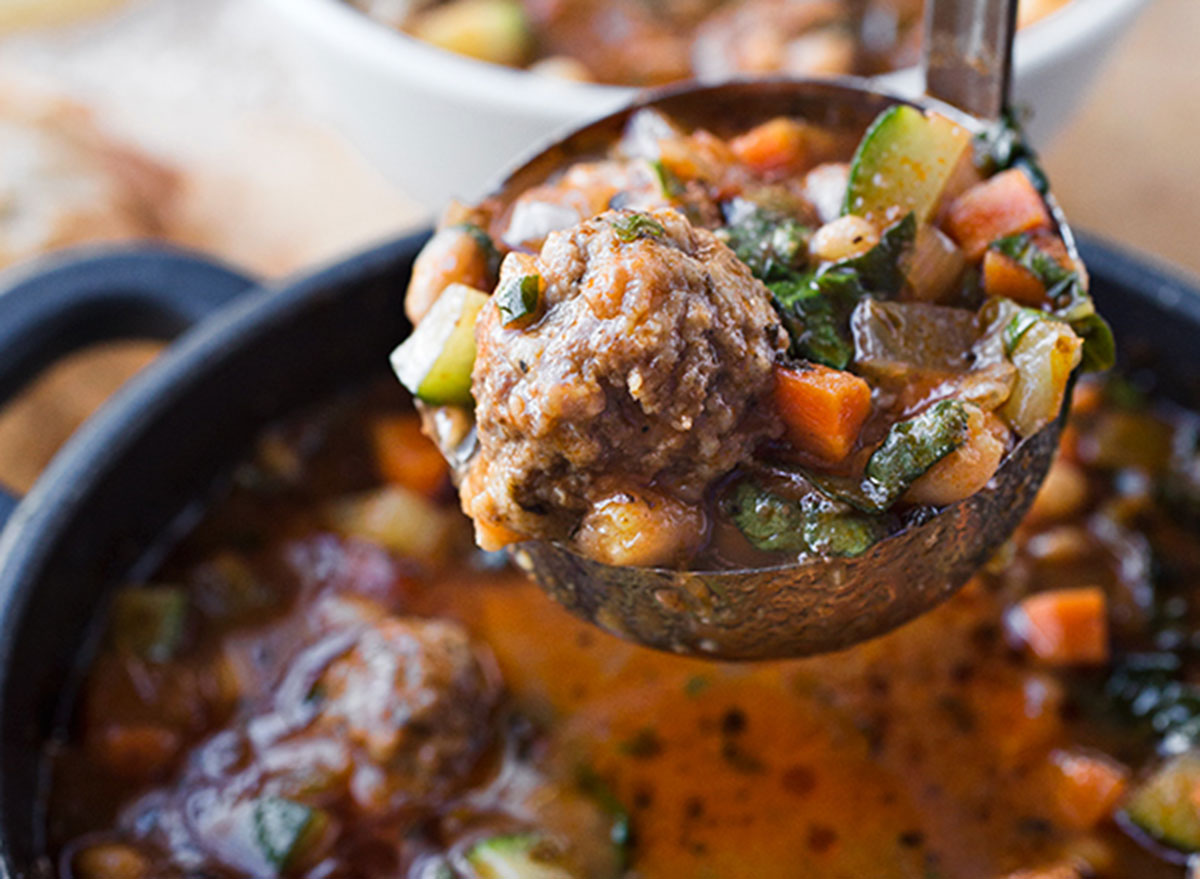 This soup is brimming with nutrient-rich veggies, protein-packed lean beef meatballs, and fibrous beans. In fact, beans contain a special kind of fiber that resists digestion, keeping you fuller longer.
Get the recipe from The Cozy Apron.
Hawaiian BBQ Chicken Meatballs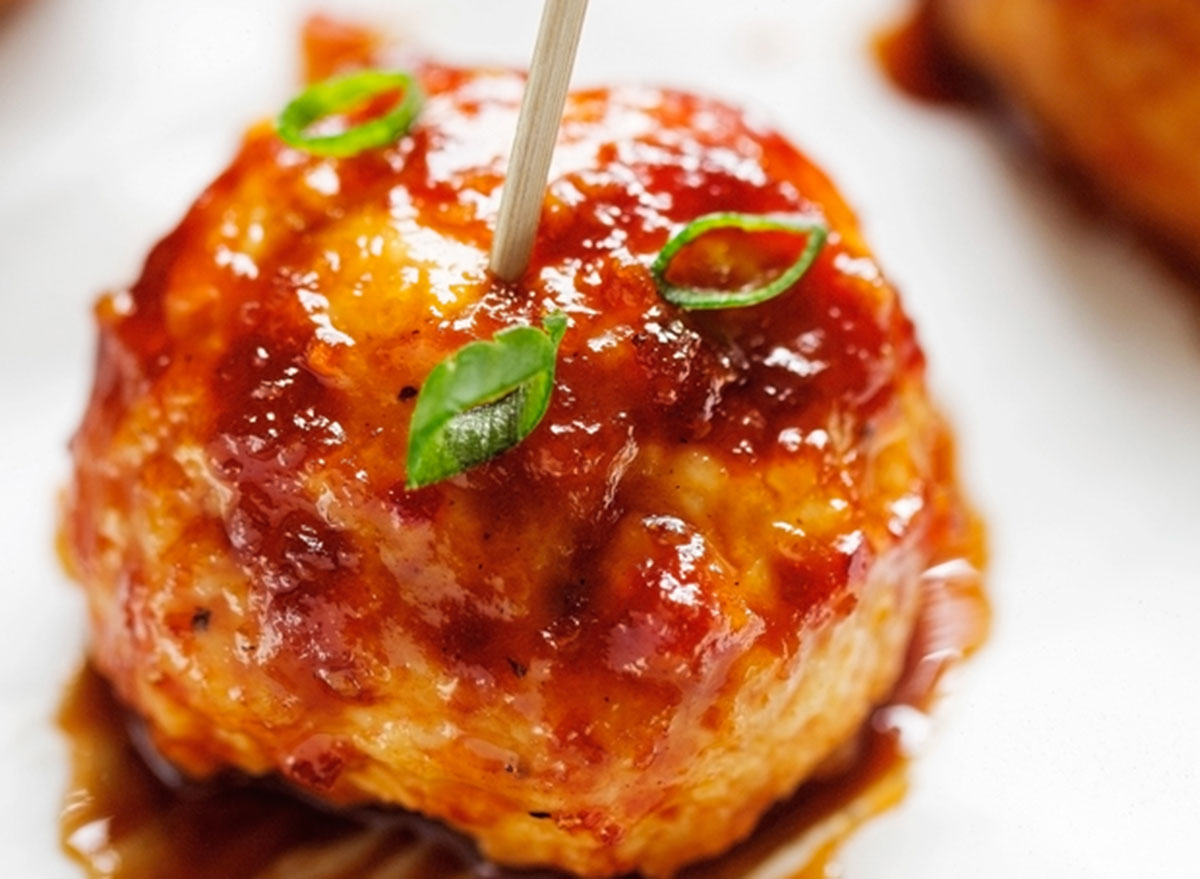 If you're eating something marinated in BBQ sauce, you can almost guarantee it's full of sugar and sodium, thanks to the processed sauce. And while sodium is an essential nutrient (aiding in bodily fluid balance, maintaining blood volume, and moderating blood pressure), excessive sodium intake raises blood pressure and causes fluid retention. This recipe is an exception to the rule because it's made with a homemade BBQ sauce, so we were all over it!
Get the recipe from Little Spice Jar.
Bacon Cheeseburger Meatballs
You won't even miss the nutrient-void bun with these bacon cheeseburger meatballs. Whether you pair them with a salad or grilled veggies, serve them as an app, or just use them to put the thrill back into dinner, we promise that your taste buds won't be disappointed. Just make sure to opt for grass-fed beef, which is naturally higher in protein.
Get the recipe from An Affair from the Heart.
Chicken Nugget Meatballs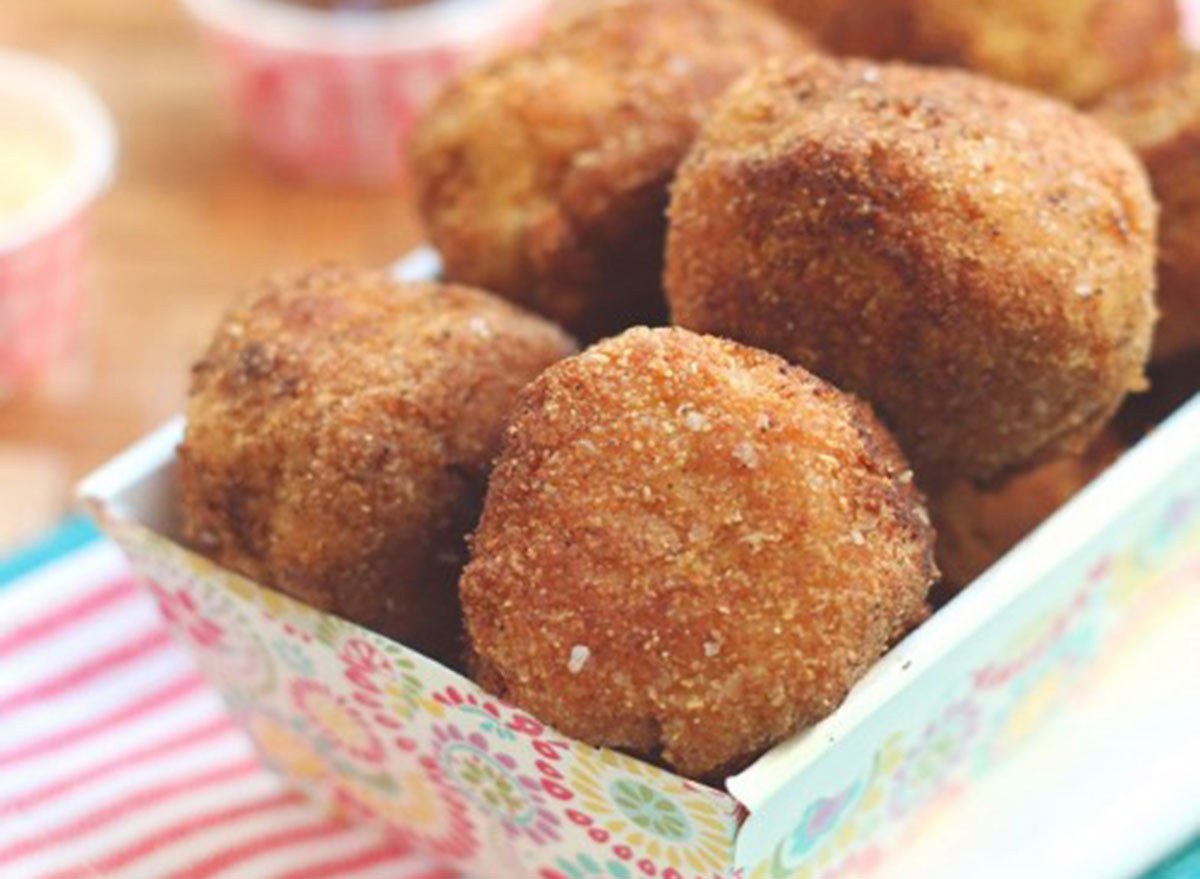 Apparently, chicken nugget meatballs are a thing—and we're into it. Aside from being a creative way to get your munchkins to expand their diet and nutrient intake, they'll even have you smitten.
Get the recipe from I Breathe, I'm Hungry.
Roasted Garlic Rosemary Baked Meatballs
Both fresh rosemary and garlic are sources of antibacterial, antifungal, and antiviral chemicals. Plus, the herbs house several antioxidant essential oils such as cineol, camphene, borneol, and bornyl acetate. So if you needed any more of a reason to roast these flavorful meatballs, a serious health boost should do it.
Get the recipe from Will Cook for Smiles.
Zucchini Meatballs
From zoodles to zoats, zucchinis are one of the most versatile veggies around. And with a super low calorie and carb content and adaptable taste, they can be snuck into almost any recipe and improve the nutritional profile. For more ways to slim down your meals with the super squash, check out these 25 Zucchini Recipes for Weight loss.
Get the recipe from Skinny Taste.
Creamy Swedish Meatballs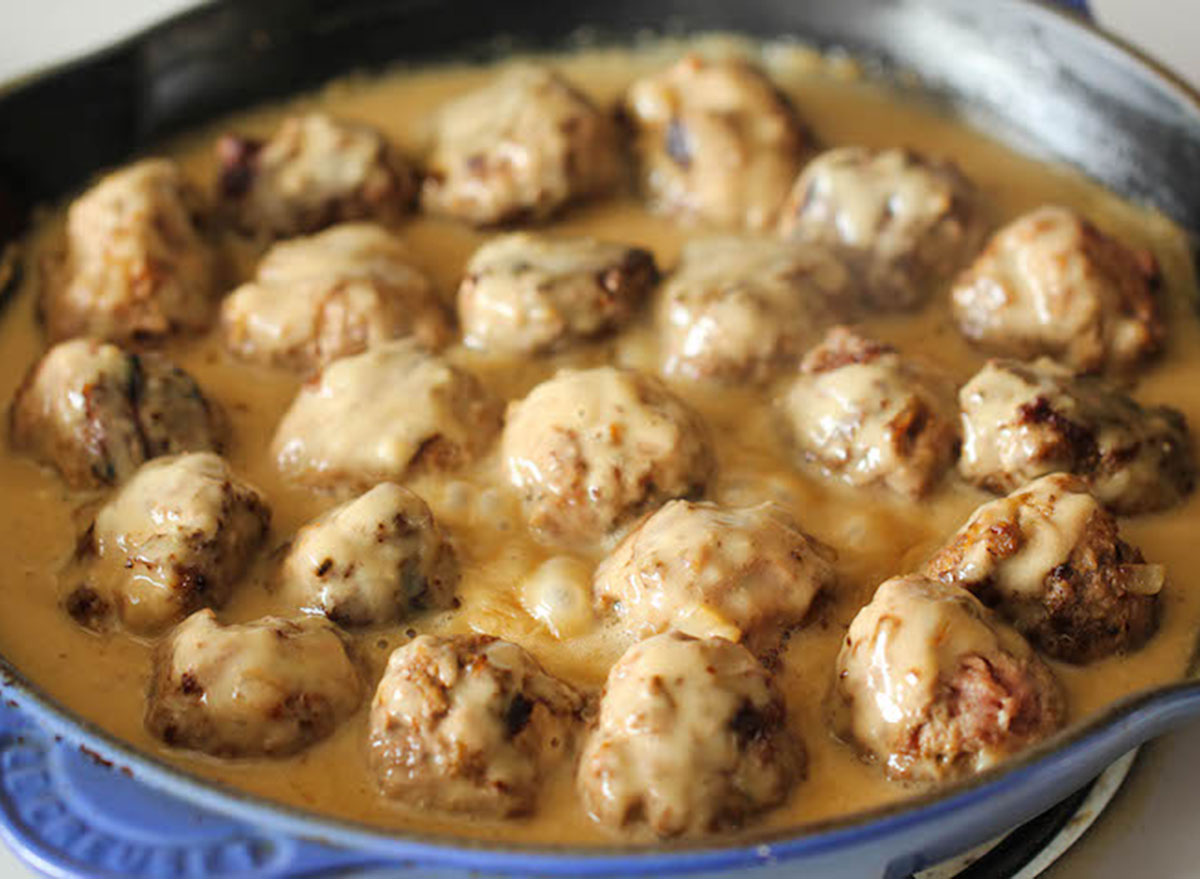 Skip Ikea and whip up this homemade Scandinavian favorite. Not only will you save 85 calories and 609 milligrams of sodium, but you'll get 10 more grams of satiating protein. Sounds like a no-brainer to us.
Get the recipe from Damn Delicious.
Asian Chicken Meatball Lettuce Wraps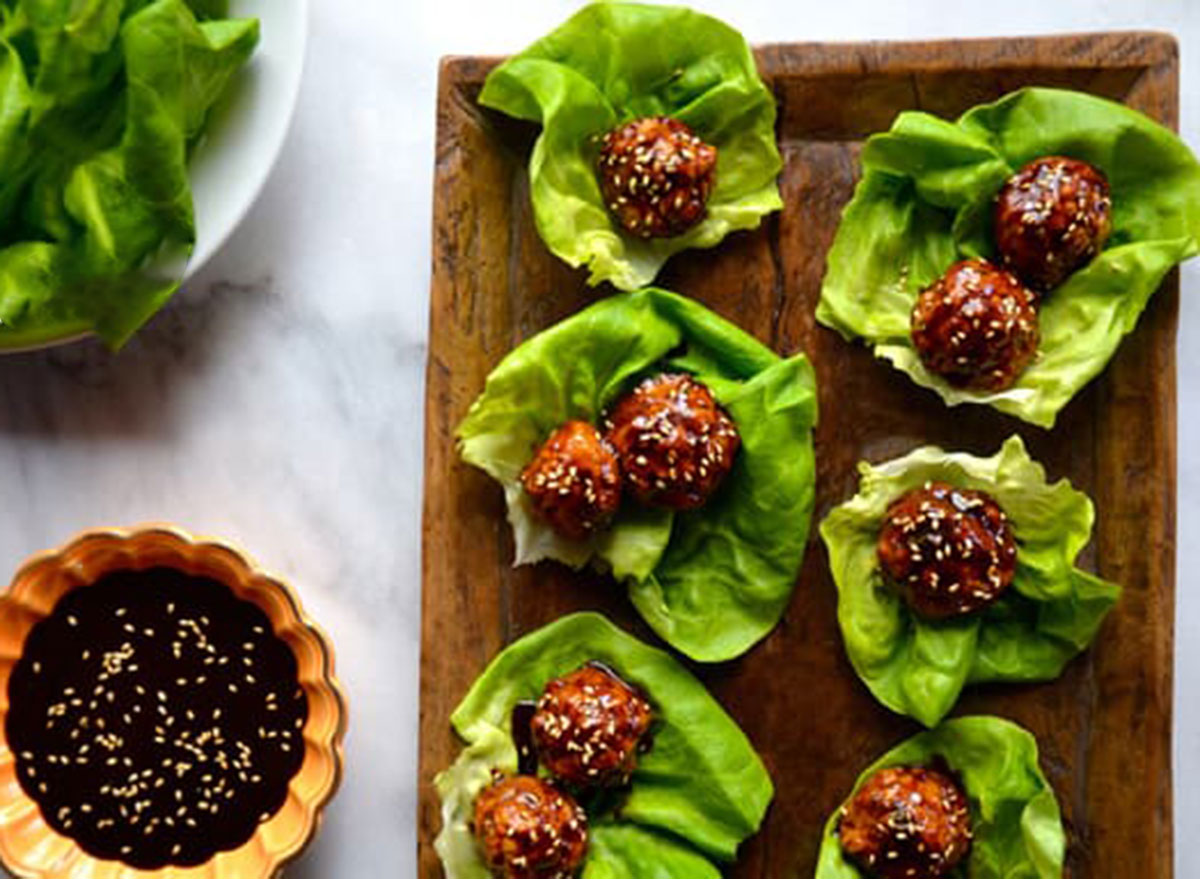 This recipe has a ton of protein, a macronutrient that boosts metabolic activity, increases satiety, and even helps the body retain muscle while frying flab.
Get the recipe from Just a Taste.
Mozzarella Stuffed Turkey Meatballs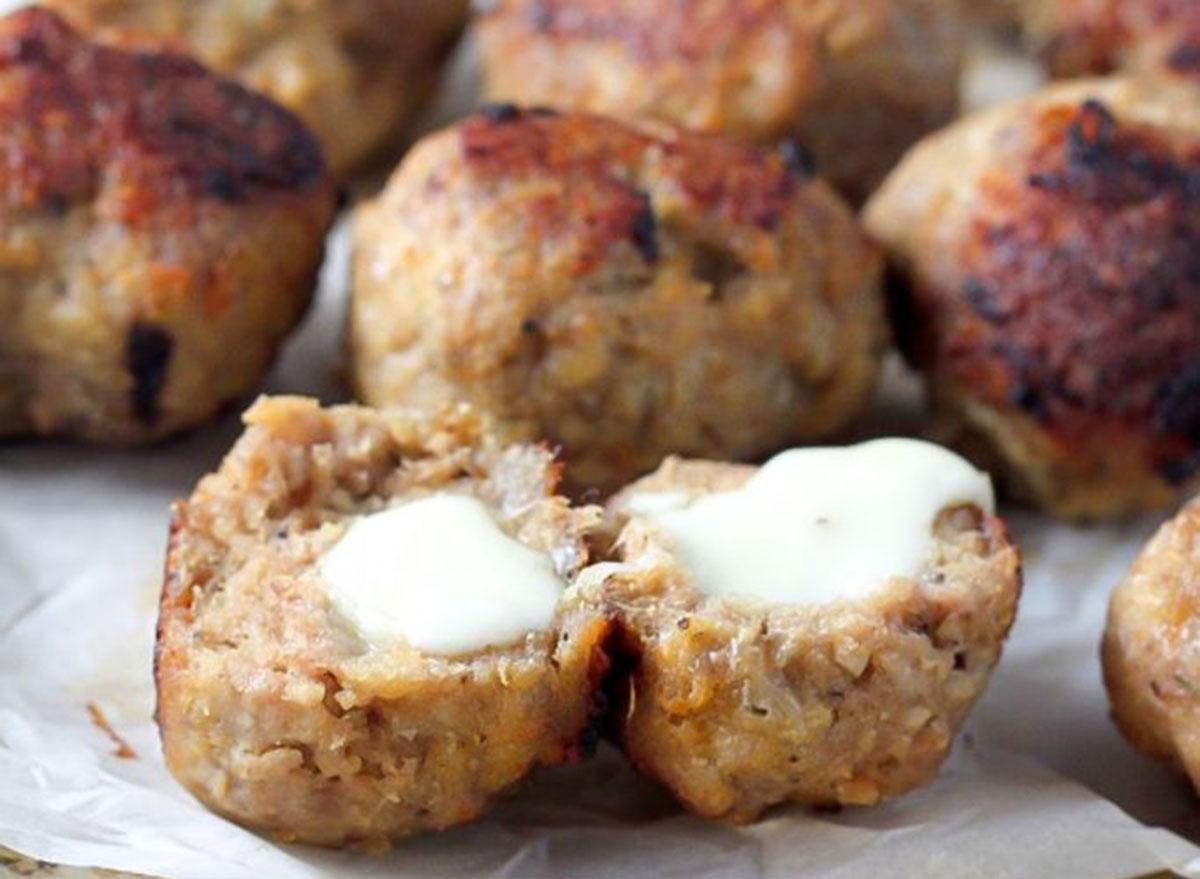 It's hard to imagine anything more divine than biting into a juicy meatball and finding melted mozzarella inside. To lower the saturated fat content, opt for part-skim cheese. While eating full-fat dairy is associated with a smaller frame over time, in a dish like this, there's so much to obsess about that you won't even miss the few extra grams of fat or calories.
Get the recipe from Baker by Nature.
Cauliflower Vegetarian Meatballs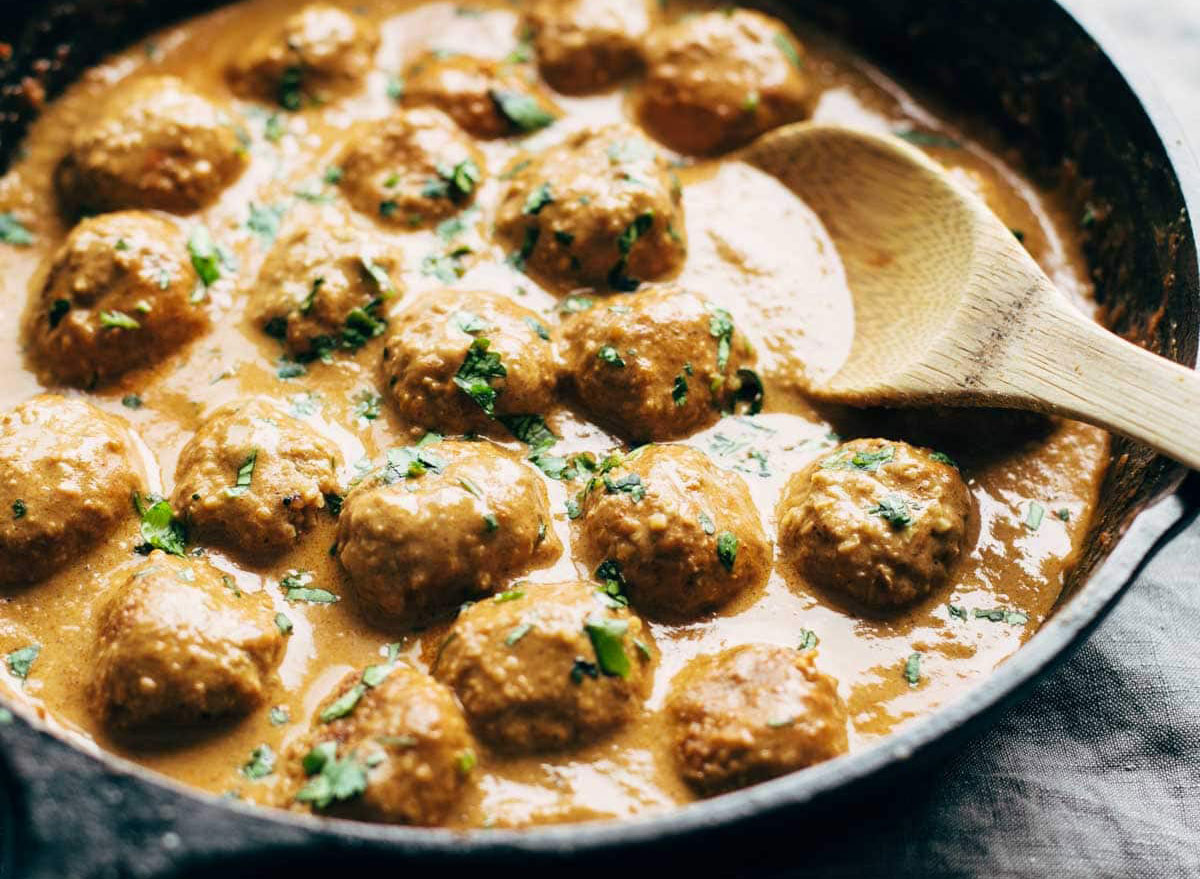 Just because you don't eat meat doesn't mean you can't enjoy the Italian staple. This meatless recipe is made with cauliflower, quinoa, egg, almond flour, garlic, and spices. Not only do they look like the real thing, but the plant-based ingredient list also does a fine job of satisfying the occasional meatball hankering. P.S.: You can use a similar recipe to create meatless burgers!
Get the recipe from Pinch of Yum.
Porcupine Meatballs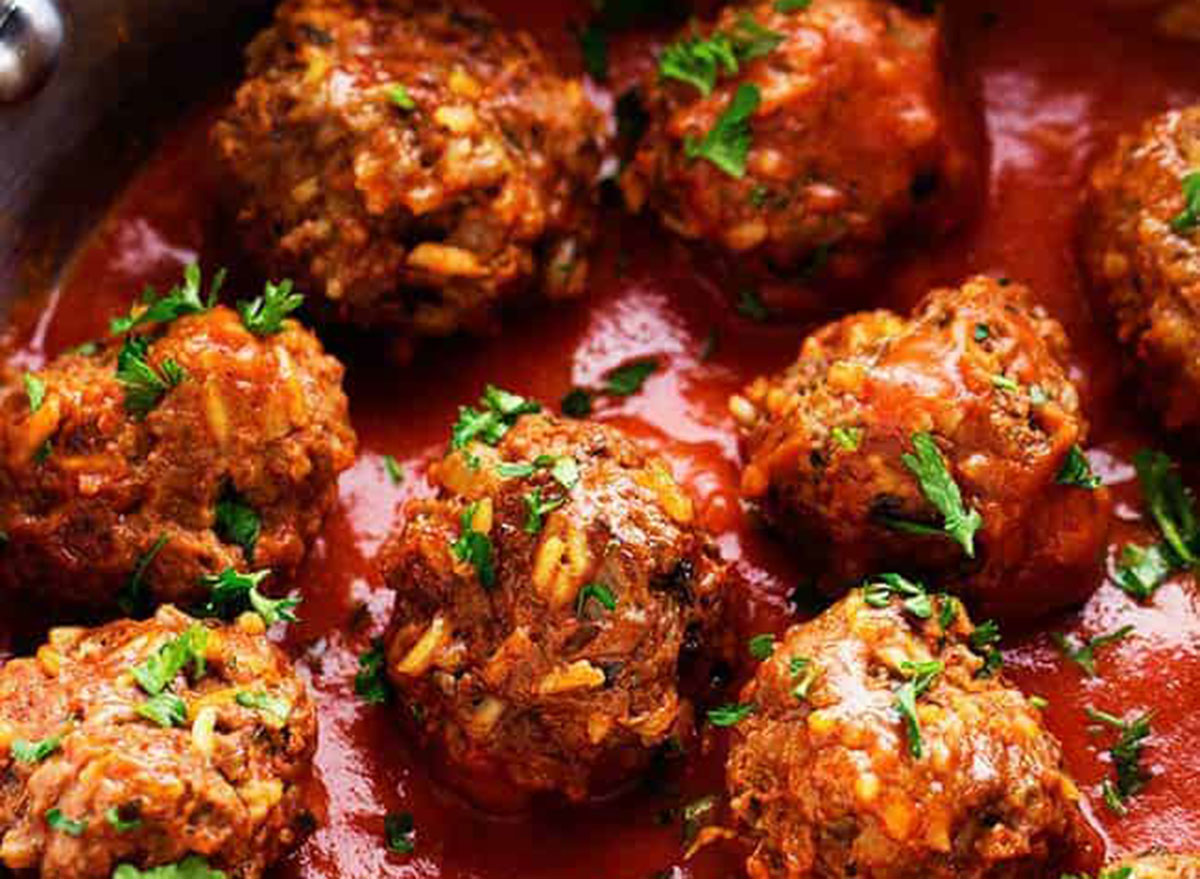 Despite its name, there aren't actual porcupines in this recipe—but they do contain long-grain rice, giving them a porcupine appearance. To increase its weight-shrinking effects, let the rice cool after it's cooked. This changes the starches into resistant starches through a process called retrogradation. According to researchers from the College of Chemical Sciences in Sri Lanka, chilling rice overnight can increase the amount of resistant starch 10 times more than traditionally cooked rice, and it has 10-15% fewer calories!6254a4d1642c605c54bf1cab17d50f1e
Get the recipe from The Recipe Critic.
Cheesy Meatball Bites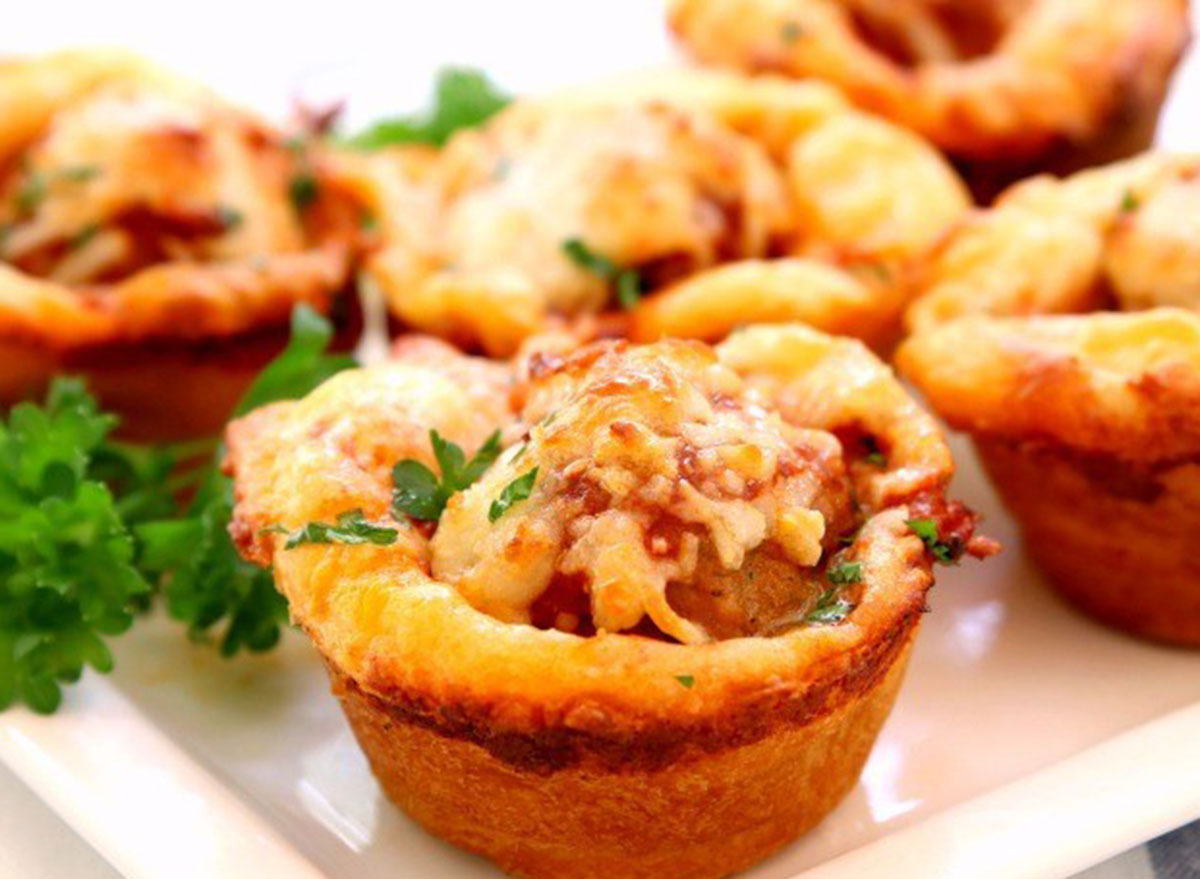 Meatball parm addicts, we have a killer recipe for you. It's tough being on a weight-loss diet when you're an Italian foodie. But with a little portion control, you can still enjoy this classic dish. Start here.
Get the recipe from Butter with a Side of Bread.
Slow Cooker Kale & Turkey Meatball Soup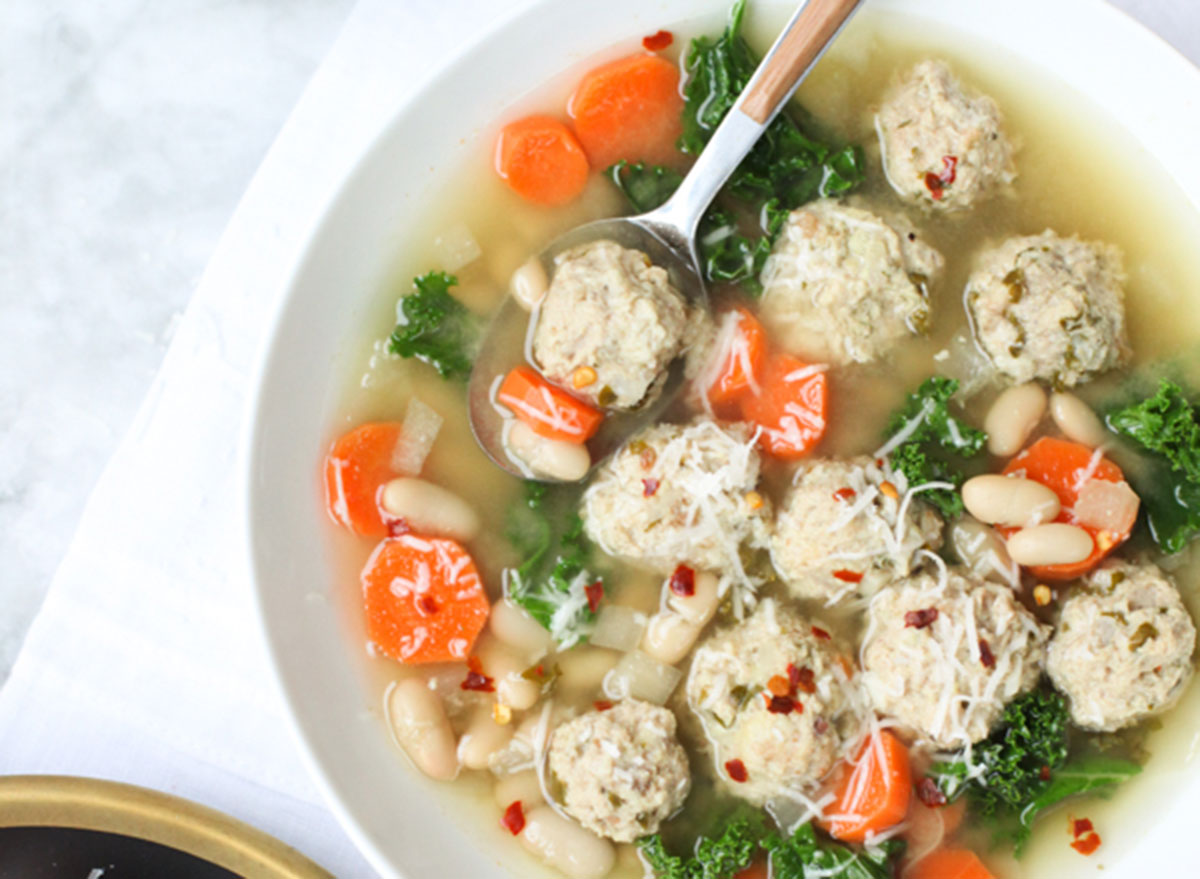 Kale's been stealing the superfood spotlight for a while now—and for good reason. It has one of the highest ORAC (oxygen radical absorbance capacity) ratings, promotes urinary health, fights cancer, and aids weight loss. Combined with lean ground turkey meatballs, veggies, and low sodium broth—and a whopping 53.2 grams of protein and just 31.8 grams of sodium per cup—this soup is a rare breed.
Get the recipe from Foodie Crush.
Feta Stuffed Greek Meatballs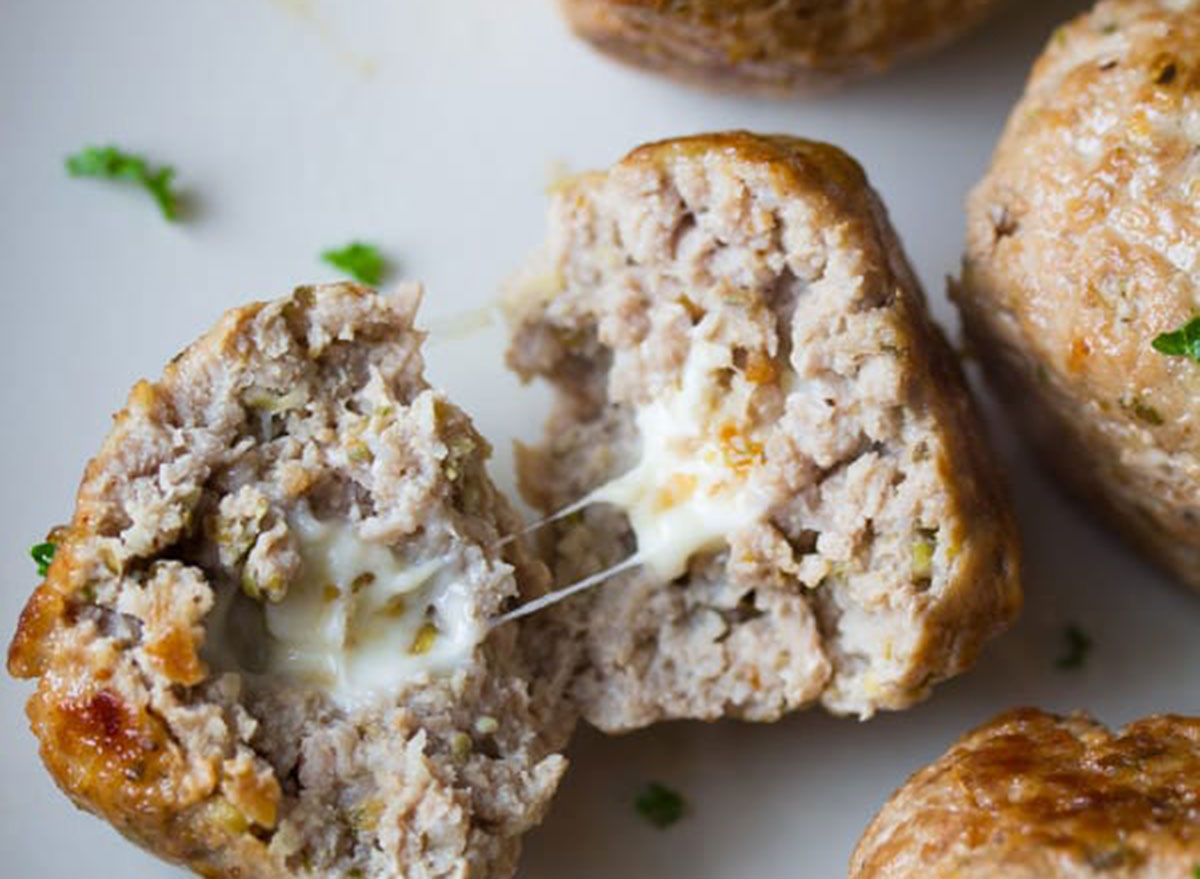 With immunity-boosting lemon juice, antifungal garlic, and satiating feta cheese, these are some wholesome, savory meatballs. Drizzled with a tasty yogurt sauce, this one livens up even the most boring menu. To boost the protein count, opt for Greek yogurt over plain.
Get the recipe from Sweet Peas and Saffron.
Hibachi Steakhouse Meatballs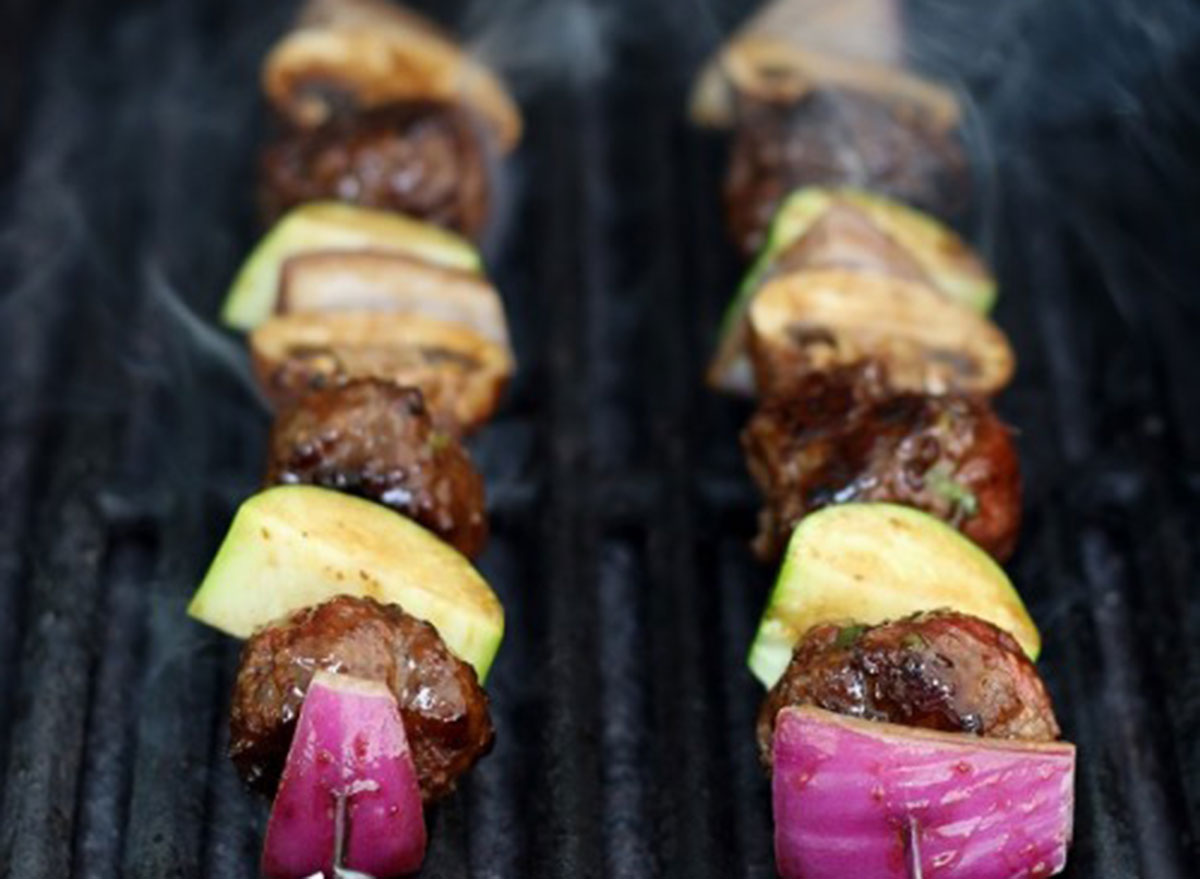 These low-carb, gluten-free steakhouse meatballs are made on the grill and served kabob style, making them more visually appealing and more fun to prepare and eat.
Get the recipe from I Breathe, I'm Hungry.
Mini Meatball Spaghetti Pie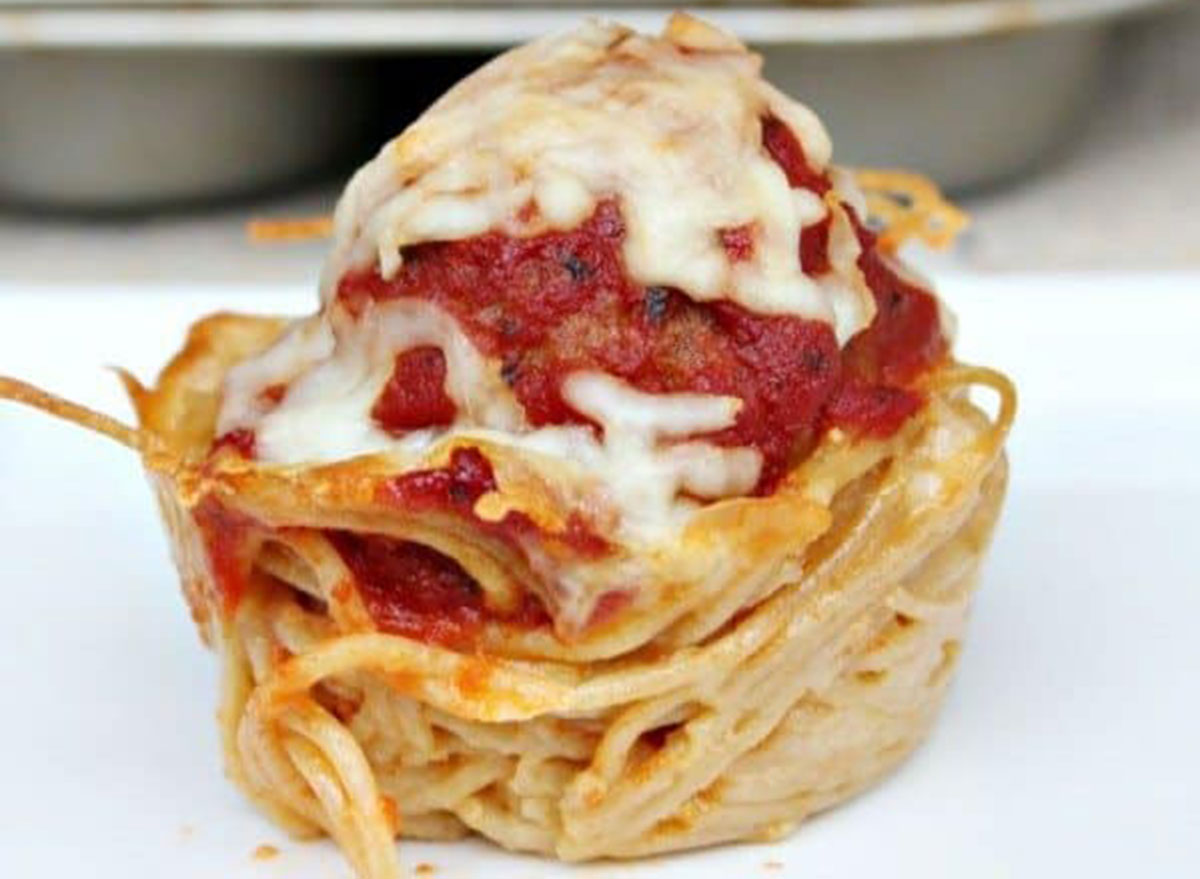 This recipe is so simple and effortless, you'll wonder why you hadn't thought of it sooner.
Get the recipe from The Melrose Family.
Thai Chicken Meatballs with Peanut Sauce
Ah, peanut butter. The foodie fave contains a plant sterol called beta-sitosterol, which helps manage stress. Studies indicate that it helps balance out the stress hormone cortisol, which is why PB has you dipping into the jar a little too often. Fortunately, when PB is heated, a little bit goes a long way; so you can innocently get your fix! But if you're consuming peanut butter on a daily basis, check out The 20 Top Peanut Butters—Ranked!
Get the recipe from Jo Cooks.
Get more easy weeknight recipe ideas:
21 Best Healthy Baked Chicken Recipes for Weight Loss
30 Healthy Stuffed Chicken Recipes to Make Tonight