Healthy Foods To Bring on Picnics, Say Dietitians
Snack on these nutritious eats while you enjoy the great outdoors with loved ones this summer!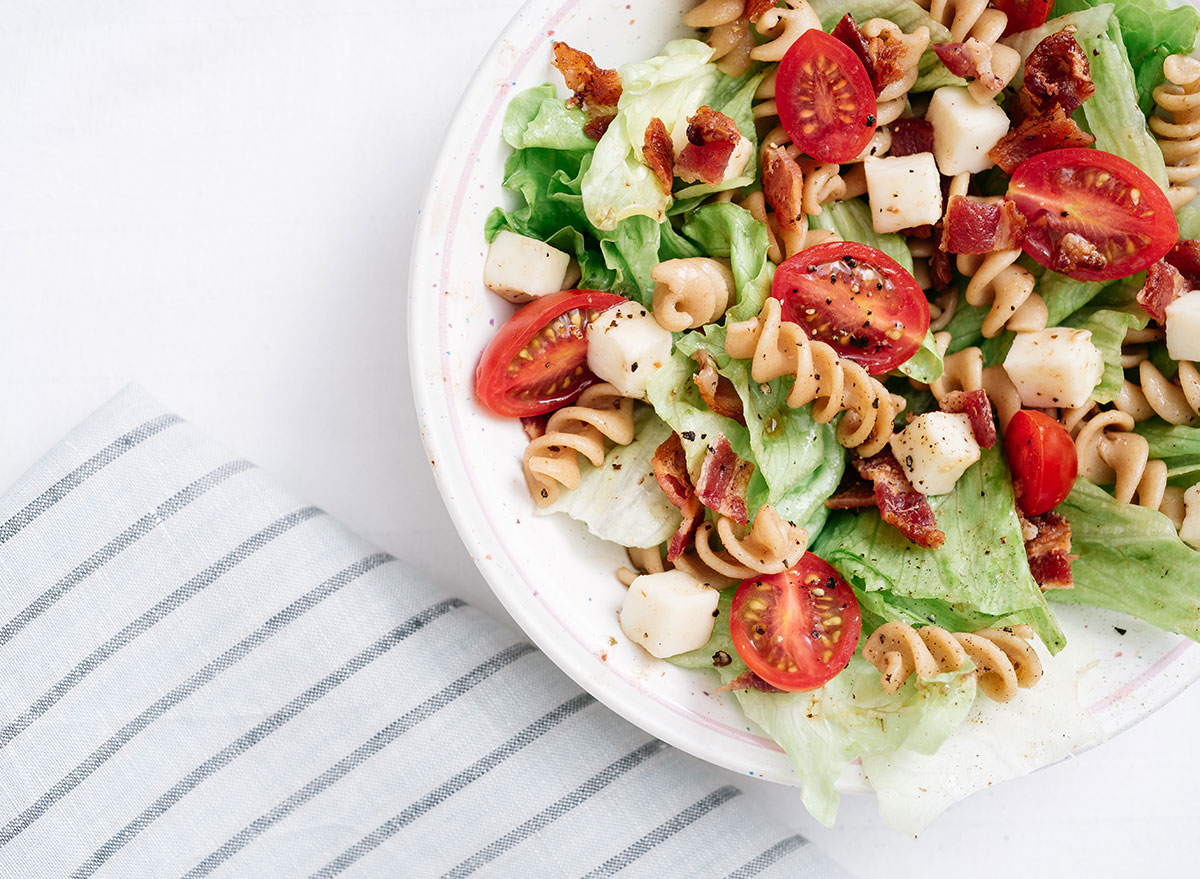 The weather is getting warmer outside, which can only mean one thing—it's picnic weather! Enjoying the sunshine, sitting on a blanket, eating delicious foods, and hanging out with friends is the epitome of summer perfection. However, if you're packing your picnic baskets with foods that aren't going to make you feel your best—or even make you feel hungrier—then it sort of kills that perfect summer vibe. That's why having some healthy picnic foods that will nourish and energize you is important!
We asked a few registered dietitians what picnic foods they recommend if you plan on laying out a blanket in the great outdoors this summer—and their answers did not disappoint. Here are some healthy picnic foods to pack in your basket, and for even more healthy eating tips, be sure to check out our list of The 7 Healthiest Foods to Eat Right Now.
Fresh produce & dips for appetizers.
"I love summer picnics because it's an opportune time to take advantage of the healthy bounty of this season," says Cheryl Musatto, MS, Rd, LD, from Eat Well To Be Well. "When packing your cooler, bring along light and crunchy appetizers such as asparagus tips, broccoli bites, sliced summer squash, cucumbers, carrots, or cherry tomatoes. Be sure to serve with a nutritious dip such as hummus, salsa, fat-free bean dip or low-fat yogurt with herbs and spices.
Or have a colorful arrangement of luscious summer fruit like cherries, berries, watermelon, kiwi or mandarin oranges. All will satisfy hungry appetites and hydration while offering delicious flavors and textures."
You can also make your own dips to pack, like one of these 6 Healthy Dip Recipes to Make at Home.
Hummus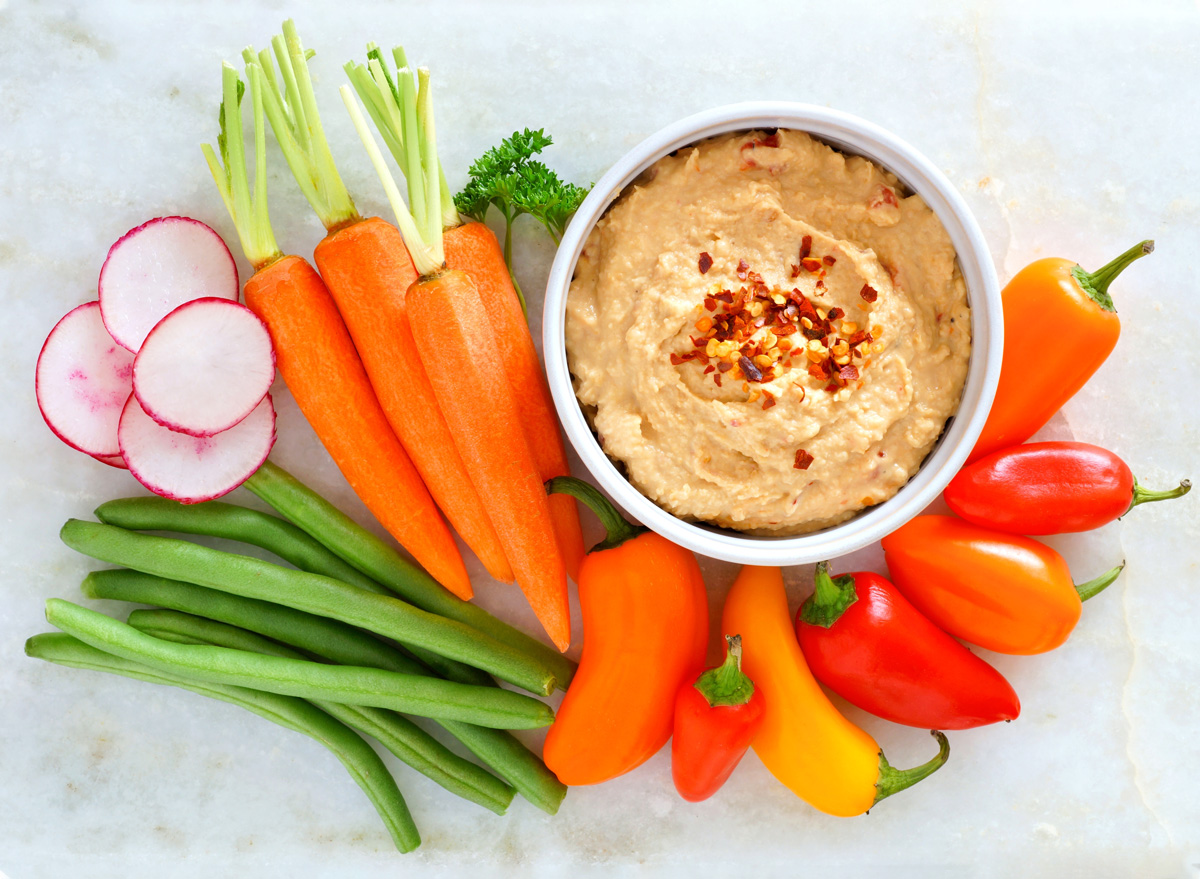 "Hummus and veggies make for an excellent picnic food," says Trista Best, MPH, RD, LD from Balance One Supplements. "It is a nutrient-dense option that is void of the refined carbs commonly found in picnic foods. It is also packed with protein to keep you feeling full longer which can prevent overeating."
Make it yourself with our Simple Homemade Hummus Recipe.
Whole grain crackers with cheese
"Picnics are a super fun way to spend some time outdoors and a great opportunity for some healthy food choices," Ricci-Lee Hotz, MS, RDN at A Taste of Health and Expert at Testing.com. "Bringing options like whole-grain crackers and cheese or a fruit and veggie platter are nice and easy finger foods that are tasty options for a picnic."
Sandwiches on whole grain bread
If you're looking for an actual meal to pack instead of just a few healthy snacks, Hotz recommends throwing together a few healthy sandwiches that are easy to pack cold with all of your other items.
"In addition, options like sandwiches with lean meat on whole grain bread or wraps with hummus and avocado and veggies are a great refreshing choice for a picnic," says Hotz.
For some sandwich inspiration, check out these 25 Healthy Sandwich Recipes Under 500 Calories.
Energy balls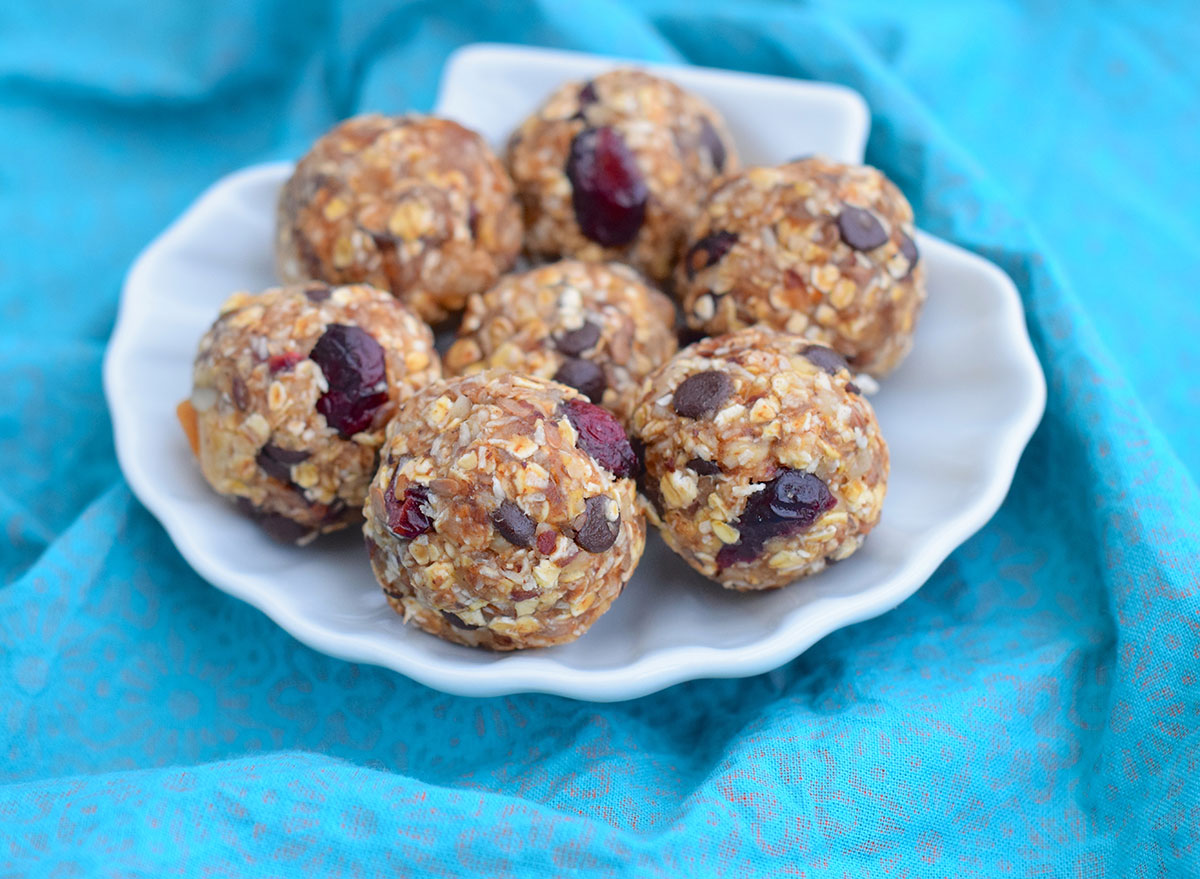 If you're looking for something sweet that will give you lots of energy, reaching for premade energy balls can be a great way to satisfy that sweet tooth after eating your meal.
"These No-Bake Protein Energy Balls with Chickpeas are portable, sweet enough that kids like them and healthy enough that parents do, too," Theresa Gentile, MS, RDN, owner of Full Plate Nutrition and media spokesperson for the New York State Dietetic Association.
Fruit kebabs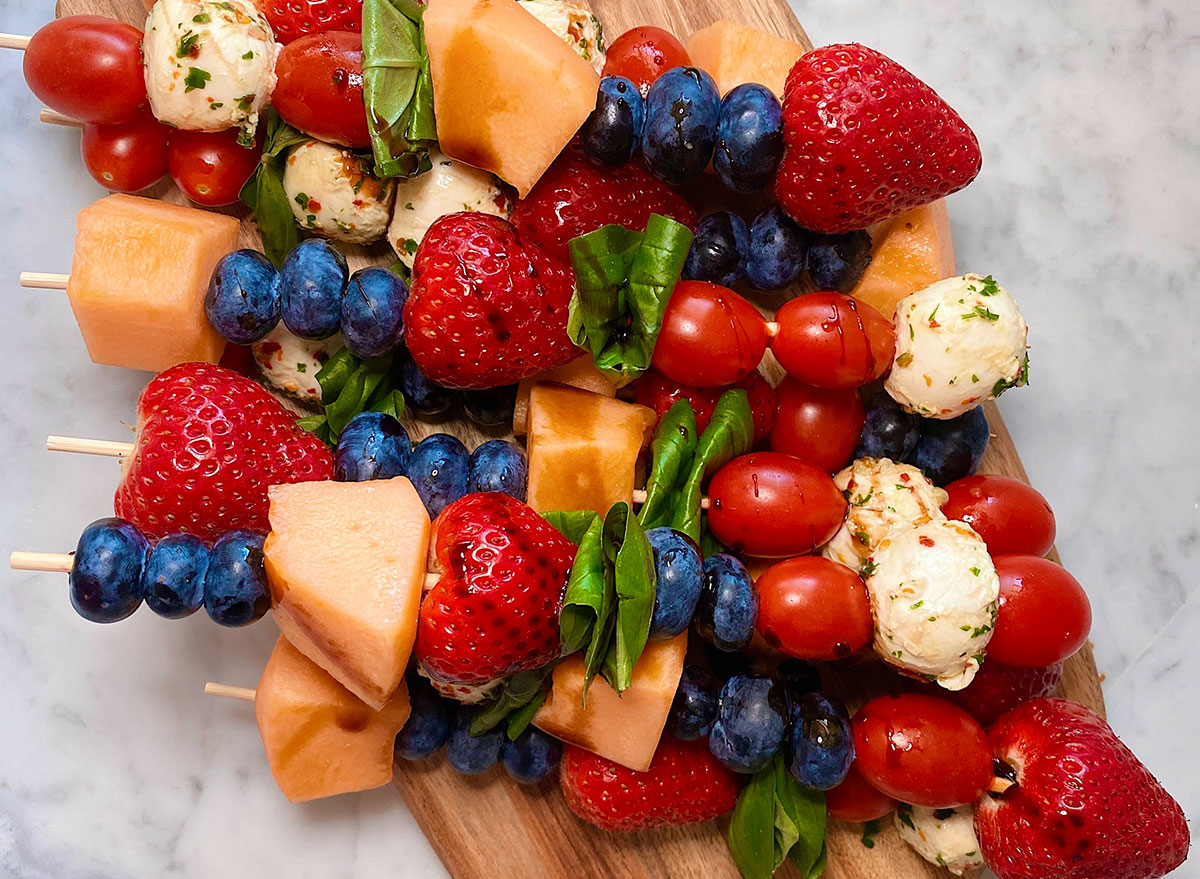 Another fun snack idea Gentile recommends is assembling a few fruit kebabs! Our refreshing Fruit Caprese Skewers are the perfect healthy snack to enjoy by the pool, at the park, or even to snack on as you wait for your burger to come off the grill.
Apple slices and nut butter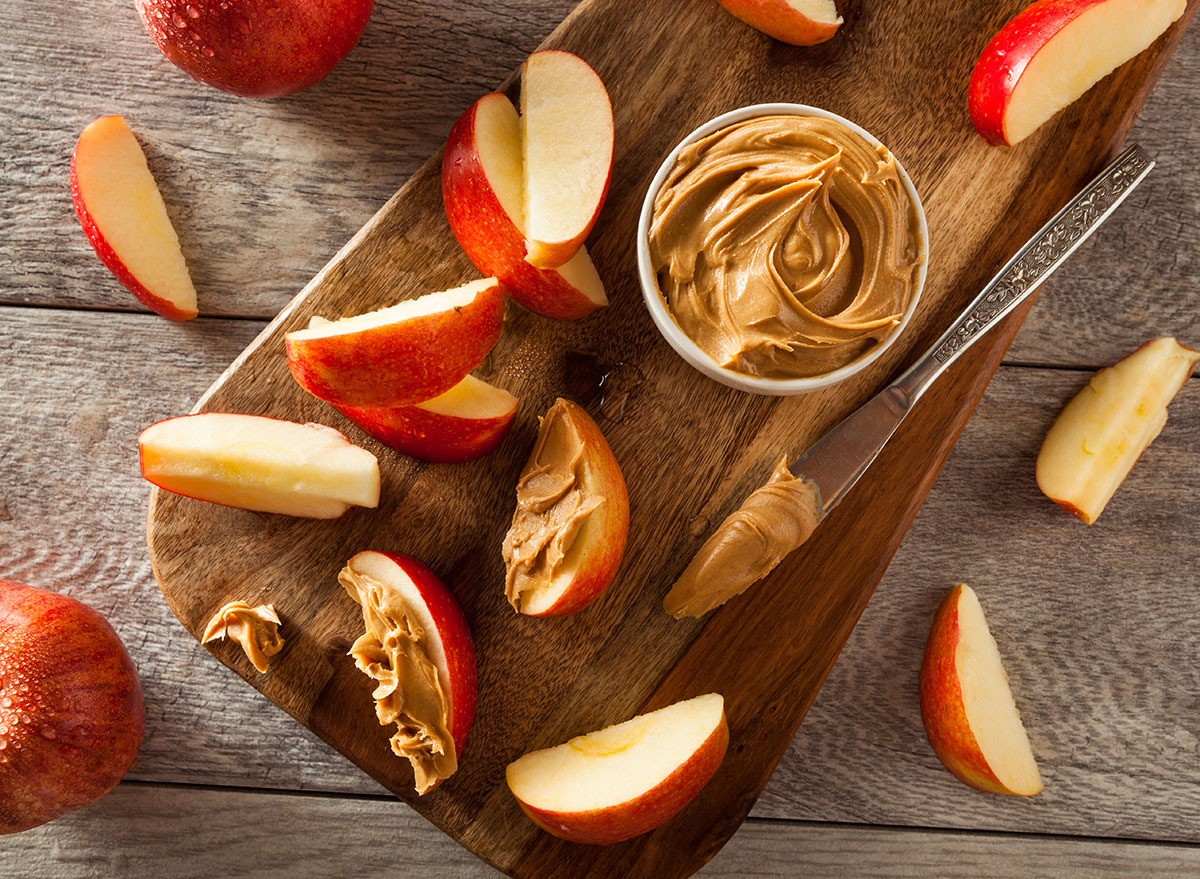 Being strategic about your healthy picnic foods is key for feeling full and satisfied! Choose foods that will fill you up and keep you full for hours, instead of grabbing foods that are full of empty calories that will leave you feeling hungrier than before.6254a4d1642c605c54bf1cab17d50f1e
"Combining foods that are rich in fiber, complex carbohydrates, and lean protein will provide lasting energy to power you through your day," Stephanie Hunter, M.Ed, Nutrition Education, CHES, NBC-HWC, and Coach Project Coordinator at Noom. "Try your favorite fruit or vegetable with some peanut butter or almond butter."
Related: Peanut Butter vs Almond Butter: What is Healthier For You?
Pasta salad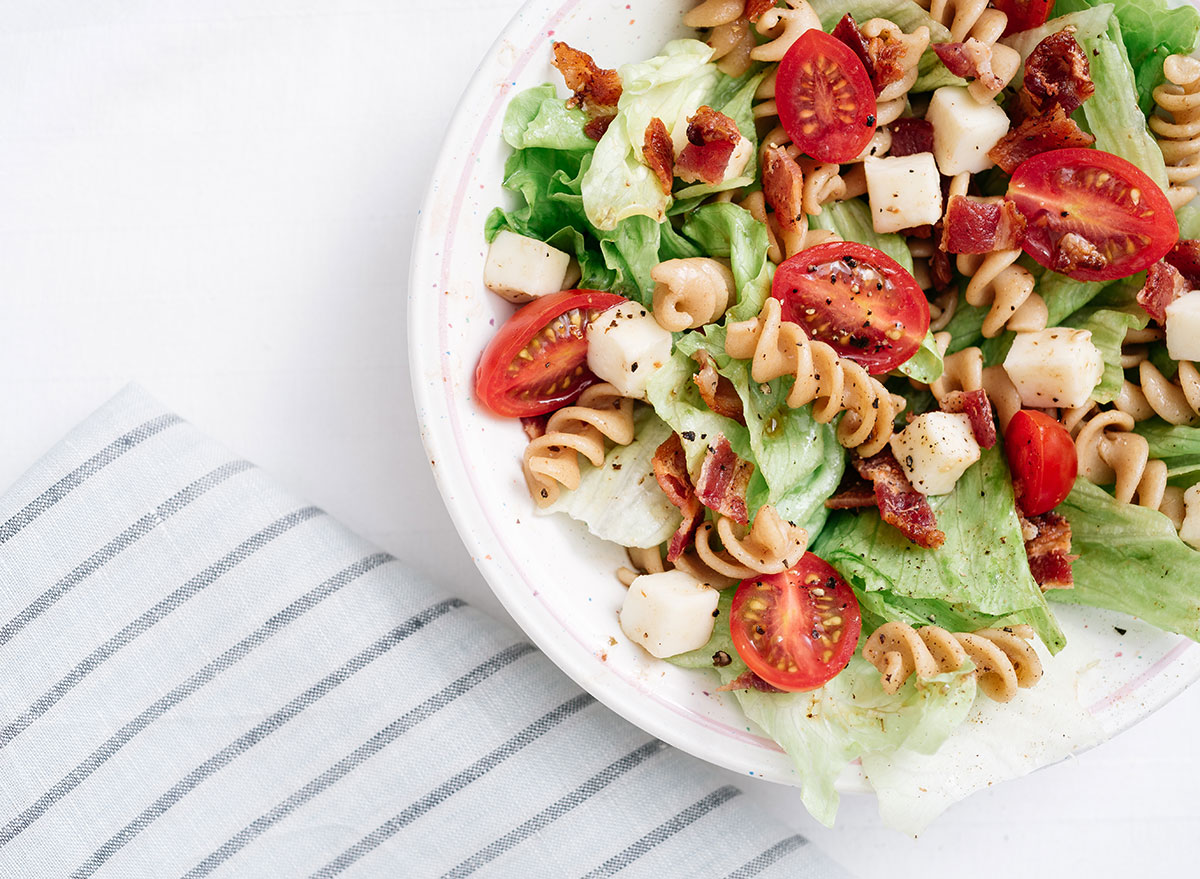 Cold pasta salad is one of the easiest—and delicious—sides to serve at any kind of picnic or summer cookout!
"My Hummus Pasta Salad is a fun and easy recipe to bring to any picnic," Sarah Schlichter, MPH, RDN of Bucket List Tummy. "It's great served cold and you can use any veggies you'd like. It can be made gluten-free, vegan, vegetarian, or dairy-free."
Here are 10 Healthy Pasta Salad Recipes for you to try as well!