17 Healthiest WFH Lunches, According to a Nutritionist
Keep lunch simple and healthy with these tasty WFH lunch ideas!
As the COVID-19 pandemic continues, many of us are facing the reality that we'll be working from home for the long haul—or at least until the new year. But even though we may be operating out of our bedrooms or taking video calls in pajamas from the waist down, it doesn't necessarily mean we're any less busy, particularly when it comes to our lunch hour. With deadlines to meet and meetings galore, the last thing anyone wants to deal with is a sink full of dishes from an elaborate lunch. Which is why it's helpful to have a few WFH lunch ideas to turn to when you're busy at home.
Making your mid-day meal at home may add a bit of extra hassle to the daily grind, but as a nutritionist, I see it as an opportunity to make more intentional choices. By crafting your own lunch, you can opt for healthier ingredients and lighter portions than you might have done when dining at a restaurant—or even when toting a lunch to work.
Here are 17 WFH lunch ideas I recommend to get you through the workweek eating "clean" (in both senses of the word). And if you're looking for more healthy eating tips, check out our list of 21 Best Healthy Cooking Hacks of All Time.
Chicken and Black Bean Nachos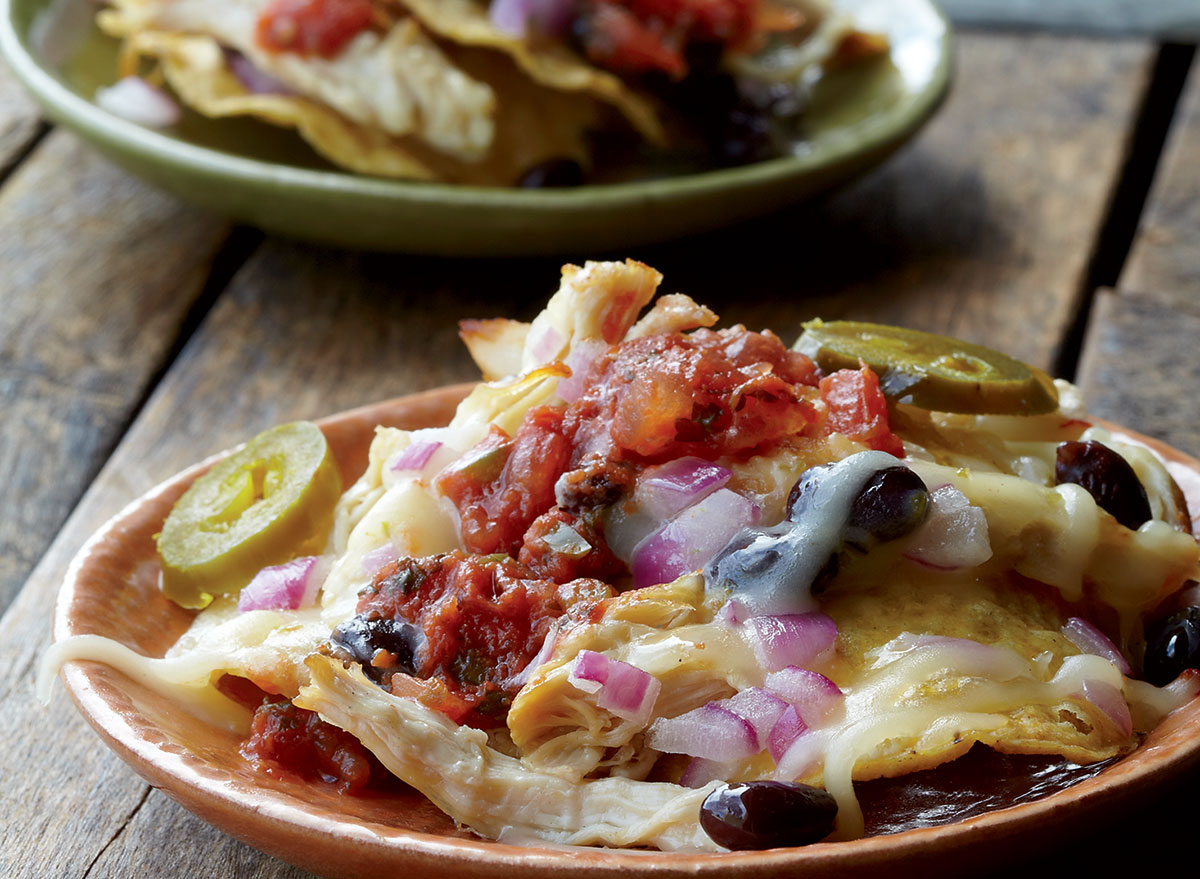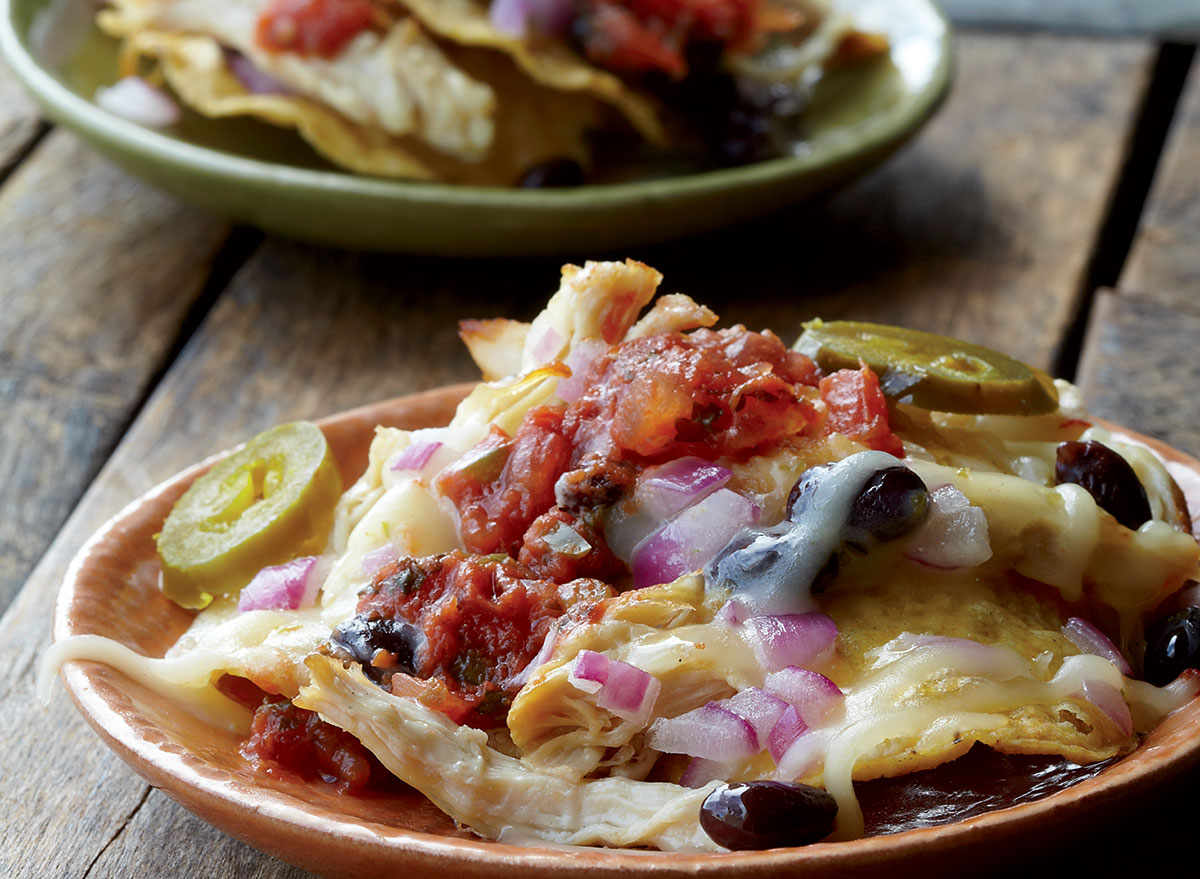 Healthy nachos? Yes, please! Even with sour cream and cheese, this Mexican classic with chicken and black beans manages to stay low-cal at 300 calories per serving. Popping the nachos in the oven (rather than the microwave) helps keep tortilla chips perfectly crispy.
Get our recipe for Chicken and Black Bean Nachos.
Easy Panini with Provolone, Peppers, and Arugula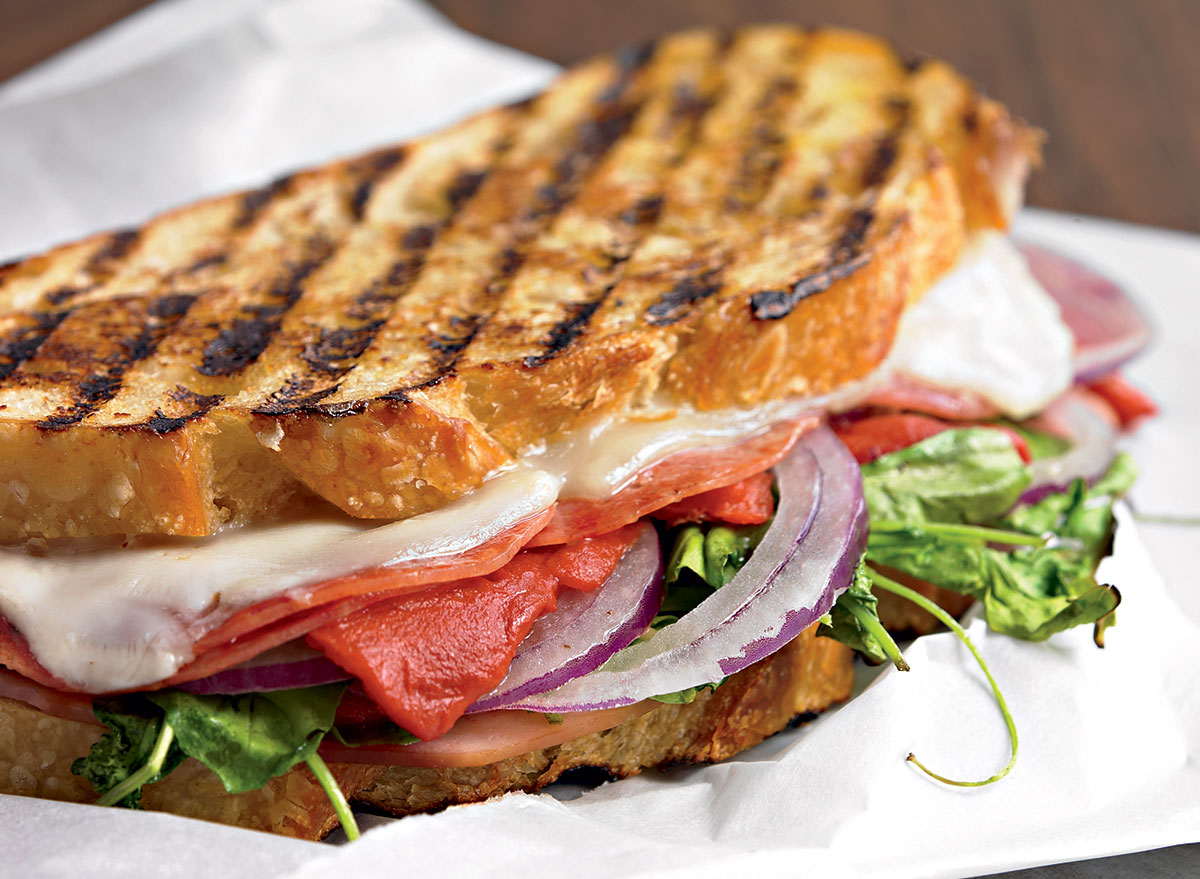 I love a good Italian panini piled with cured meats, but the truth is, loading up on multiple types of meat in a single meal isn't the best for heart health or weight control. In this lighter savory sandwich, veggies stand-in for some of the meat—thereby scaling back on unhealthy fats. No panini maker? No problem. A grill pan or cast-iron skillet will do just as well.
Get our recipe for Easy Panini with Provolone, Peppers, and Arugula.
The Quickest Caprese Sandwich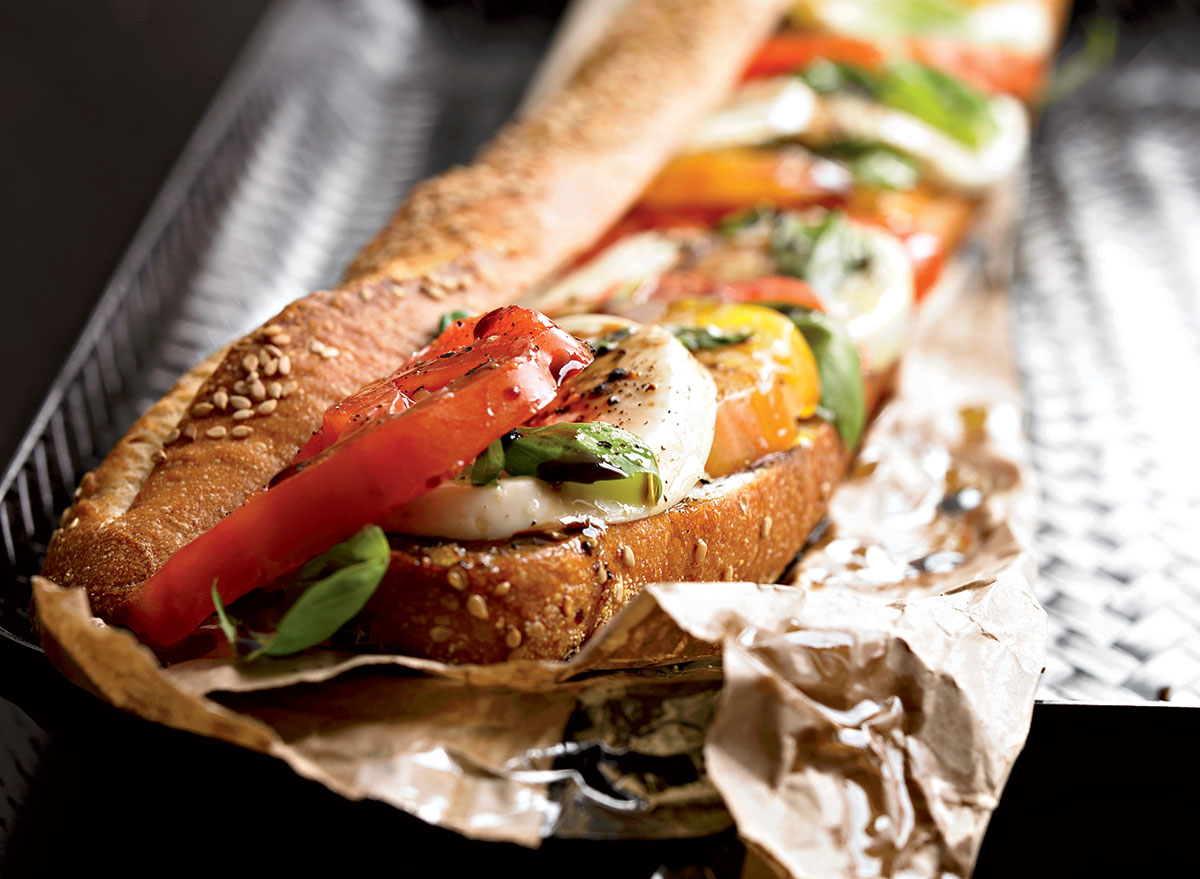 Speaking of restaurant-favorite Italian sandwiches, the thick slices of beefy tomatoes, squeaky mozzarella, and peppery basil leaves in a Caprese never fail to make me dream of a European getaway. Make this dreamy sandwich even better for you by serving on a whole wheat baguette rubbed with immune-boosting fresh garlic.
Get our recipe for the Quickest Caprese Sandwich.
Scrambled Eggs with Salmon, Asparagus, and Goat Cheese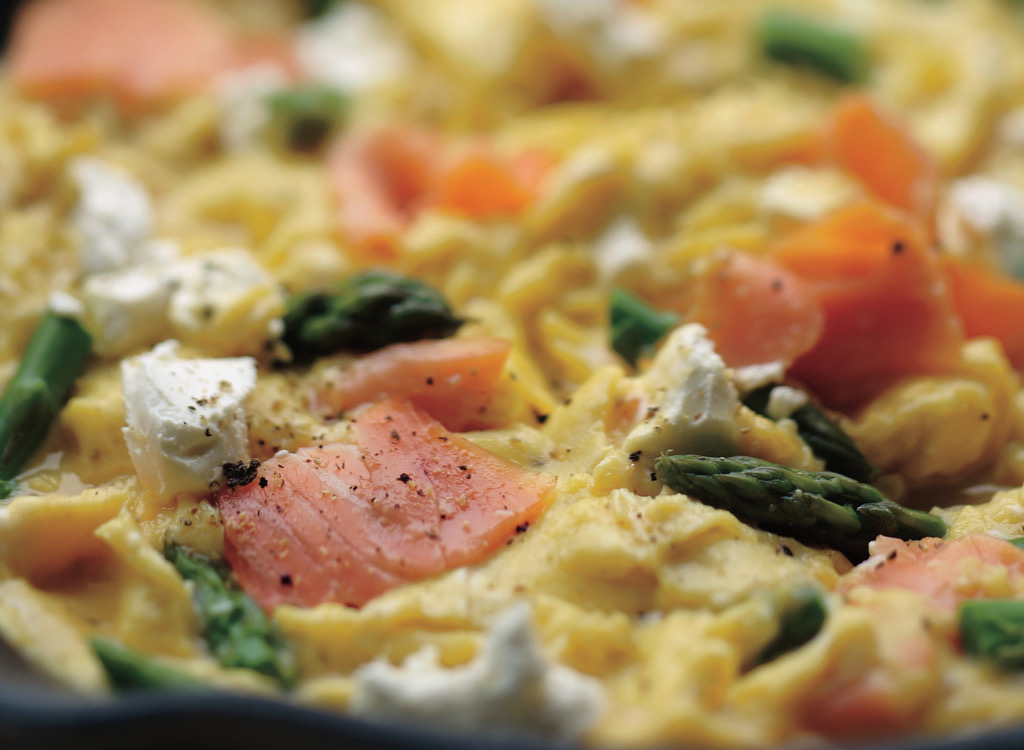 Who says eggs are just for breakfast? I'm a big fan of using them as a protein source in my WFH lunch ideas, too—especially if they're paired with goat cheese and low-calorie, antioxidant-rich asparagus, as in this recipe. Meanwhile, adding smoked salmon to this brunchy dish eliminates the hassle of pre-cooking it.
Get our recipe for Scrambled Eggs with Salmon, Asparagus, and Goat Cheese.
Pesto Gnocchi with Green Beans and Tomatoes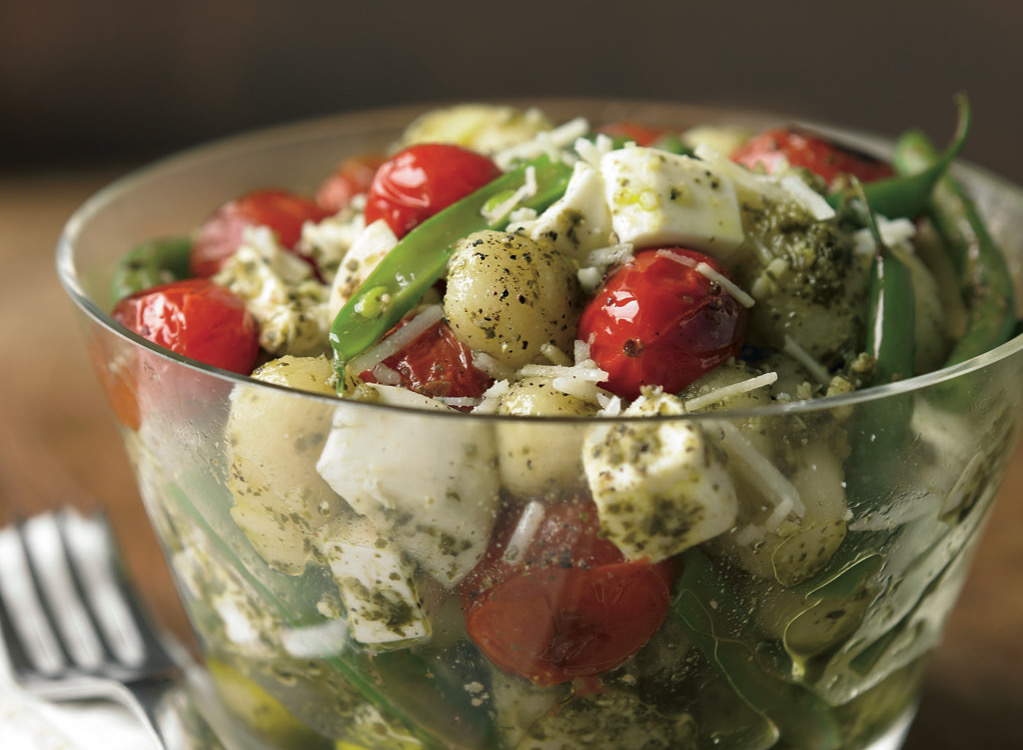 Gnocchi, spaghetti's potato-stuffed cousin, is one of the heartiest pasta options around. Get your fill in this simple salad with green beans, blistered tomatoes, and hunks of fresh mozzarella. Store-bought pesto finishes things off with minimal fuss.
Get our recipe for Pesto Gnocchi with Green Beans and Tomatoes.
Turkey BLT Salad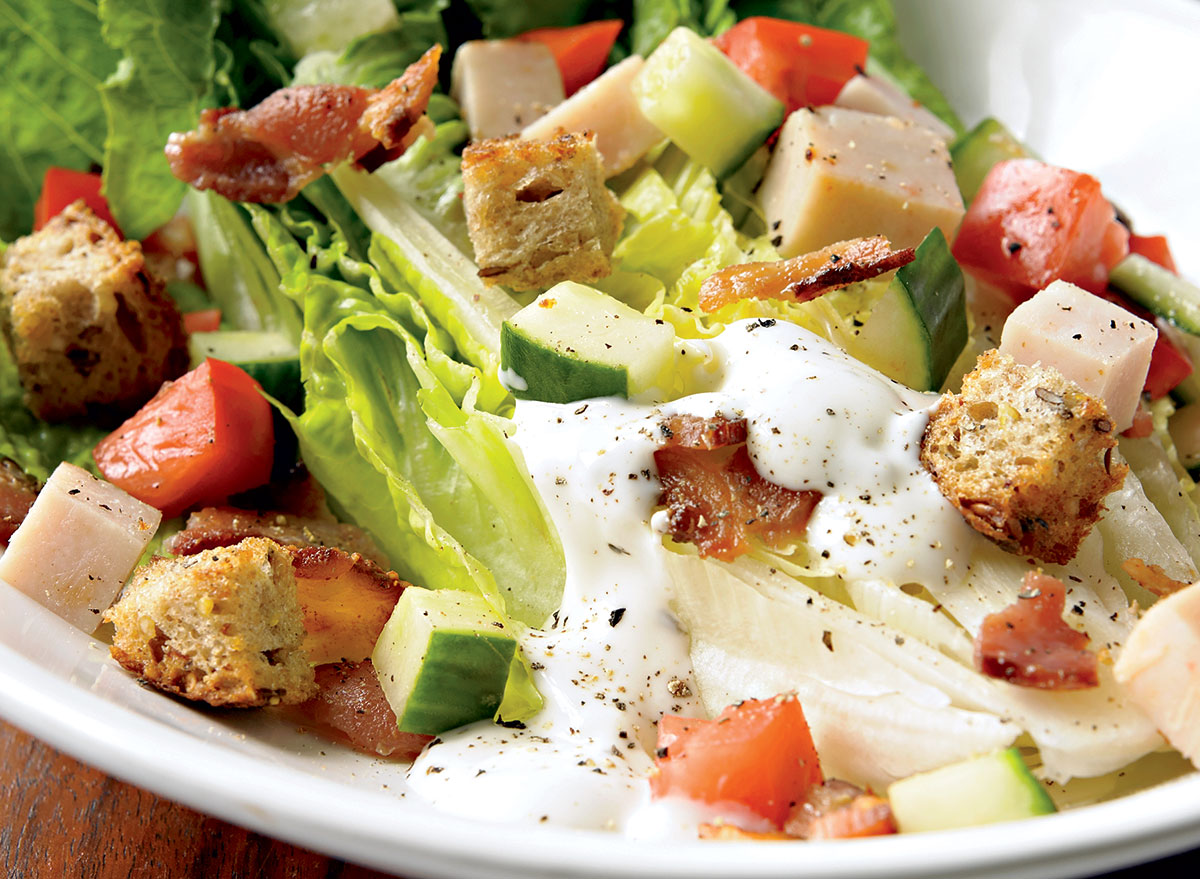 Yep, you get to keep real bacon in this salad version of the all-American sandwich staple. Not only that, you'll add turkey to the mix, too (along with tomatoes and lettuce, obviously)! If you have the time to whip up the accompanying yogurt-based dressing for drizzling, go for it. Its probiotics and protein are well worth the extra effort.
Get our recipe for Turkey BLT Salad.
Spinach Salad with Mahi-mahi, Grapefruit, and Avocado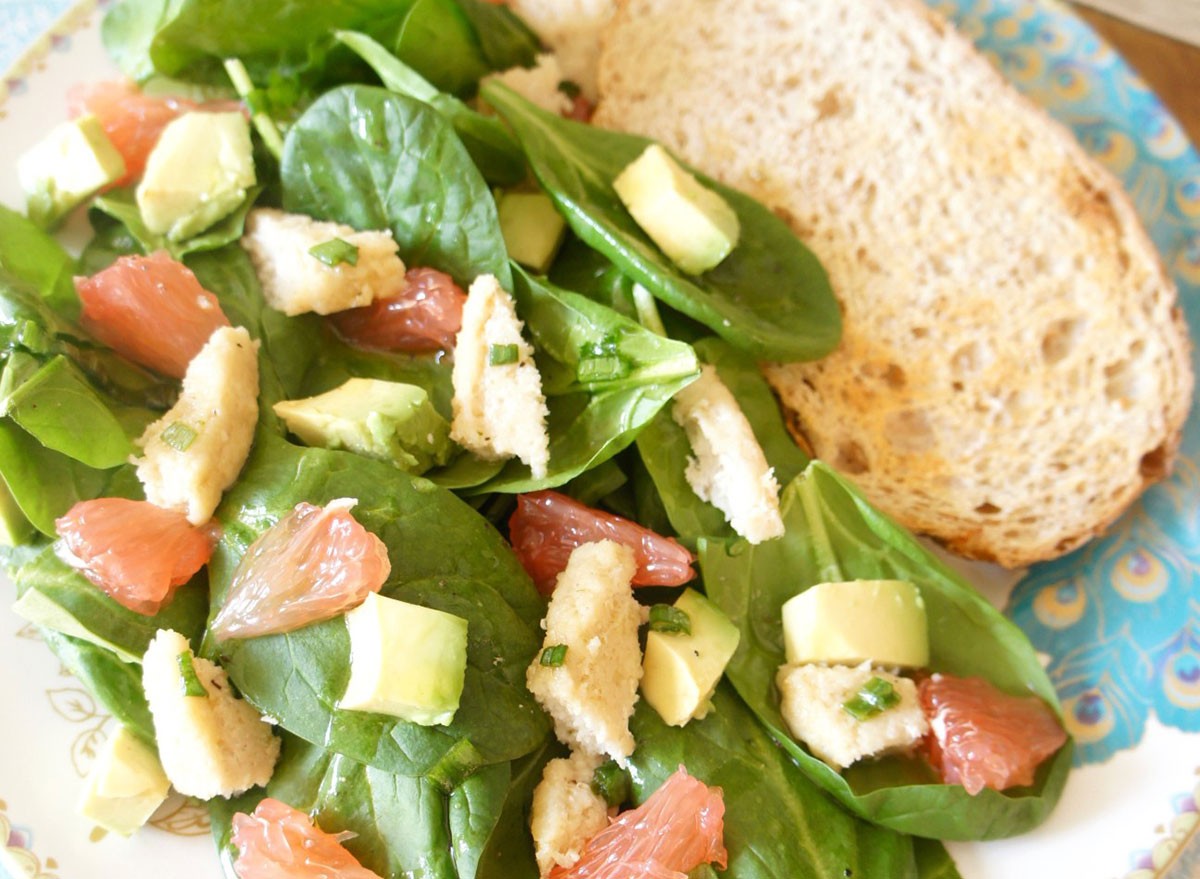 The closer we get to winter, the more likely you may be to have an extra grapefruit lying around your fruit crisper. Put its high vitamin C and antioxidants to good use in this simple, flavorful salad! Don't be deterred by the mahi-mahi here, either—the recipe uses crumbled mahi-mahi burgers for quick and easy assembly.
Get the recipe on A Love Letter to Food.
Lemon-Dill Orzo with Chickpeas and Artichokes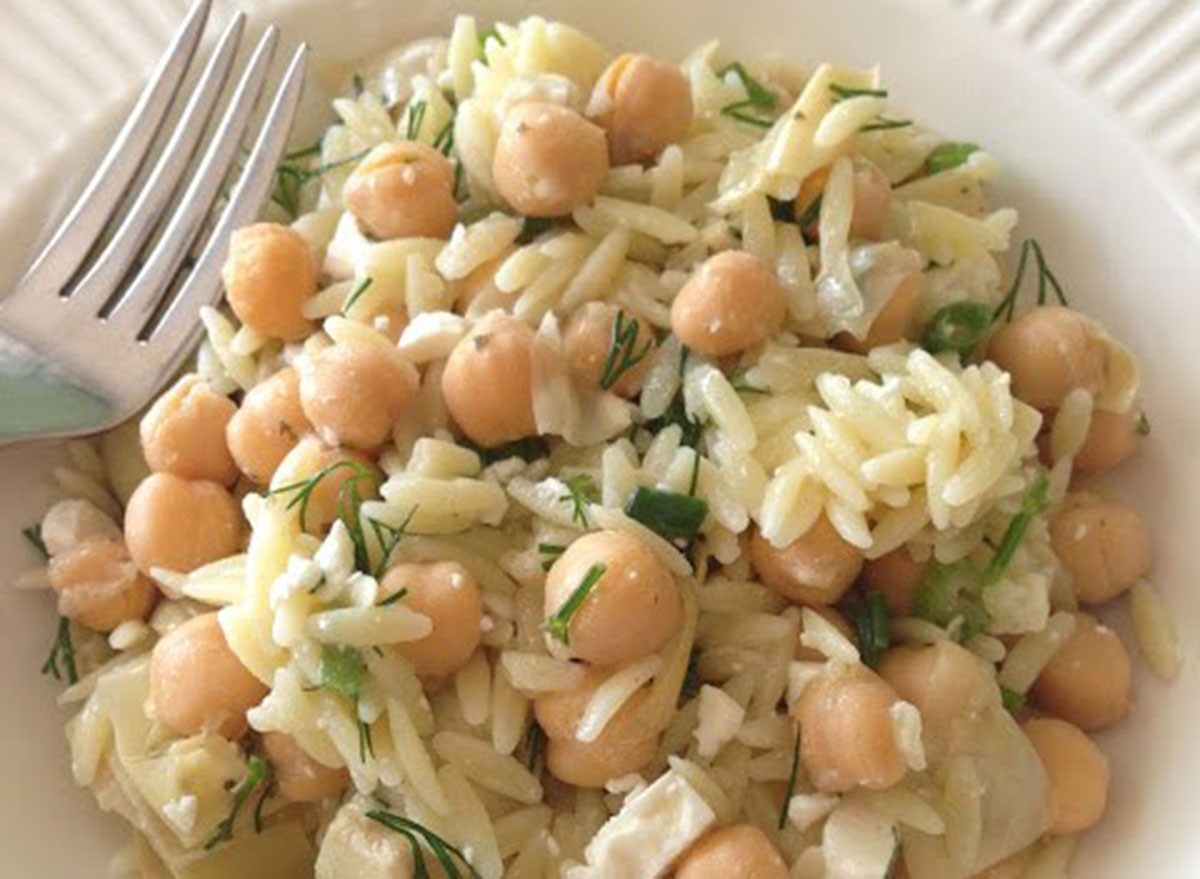 Looking for a satisfying one-dish meal that manages to pack major nutrition? Allow me to introduce you to your new BFF: this Mediterranean-inspired pasta salad. With filling, fiber-rich chickpeas and artichokes, you won't miss the meat in this vegetarian lunch. Make extra for a pre-made meal to pull out of the fridge later in the week.
Get the recipe on A Love Letter to Food.
Easy Canned Tuna Poke Bowl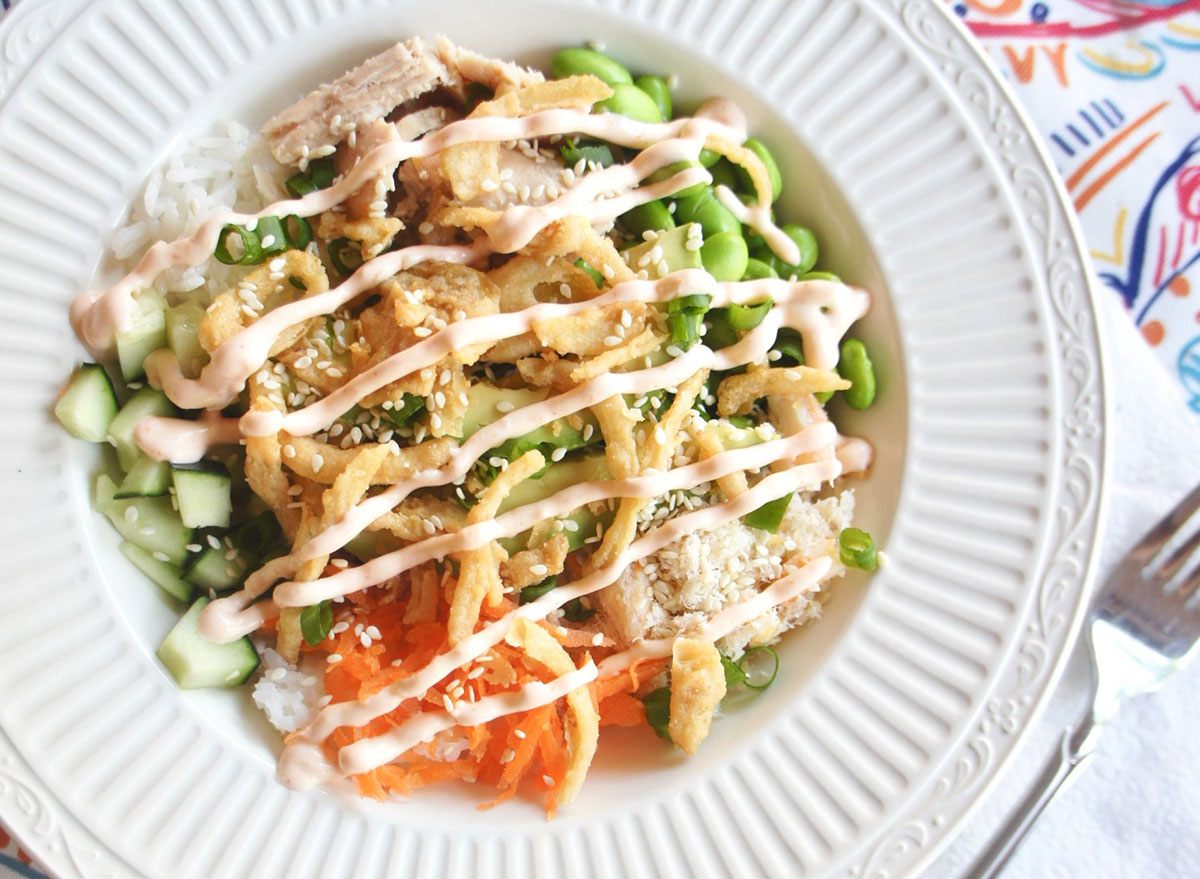 If you've got some extra rice leftover from last night's dinner, you've got the makings of an at-home version of a favorite restaurant treat. Canned tuna and canned crab contribute good-for-you omega-3 fatty acids to these effortless poke bowls, while cucumber, carrot, and edamame add color and micronutrients.
Get the recipe on A Love Letter to Food.
Honey Mustard Apple Tuna Salad Sandwich
Goodbye, boring tuna sandwiches! Expand the humble fish's horizons by introducing it to scallions, dried cherries, and a Greek yogurt base. Grab a piece of fruit as a side dish and you'll have lunch on the table in a few short minutes.
Get the recipe from Ambitious Kitchen.
Hummus Quesadillas
There's actually no cheese in these quesadillas—instead, hummus covers all your creamy bases inside a tortilla. (But since "hum-adilla" just doesn't have the same ring, let's stick with the original name.) Pick your preferred fillings to complete the healthy package, such as sun-dried tomatoes, spinach, olives, or mushrooms.6254a4d1642c605c54bf1cab17d50f1e
Get the recipe from Cookie and Kate.
Easy Taco Lettuce Wraps
If you're on a keto or other low-carb diet, cooking at home can actually pose far fewer obstacles than dining out. For a high-protein, low-carb lunch, it doesn't get much simpler than filling a leaf of butter lettuce or romaine with spiced taco meat.
Get the recipe from The Girl Who Ate Everything.
Creamy Vegan Corn and Red Pepper Blender Soup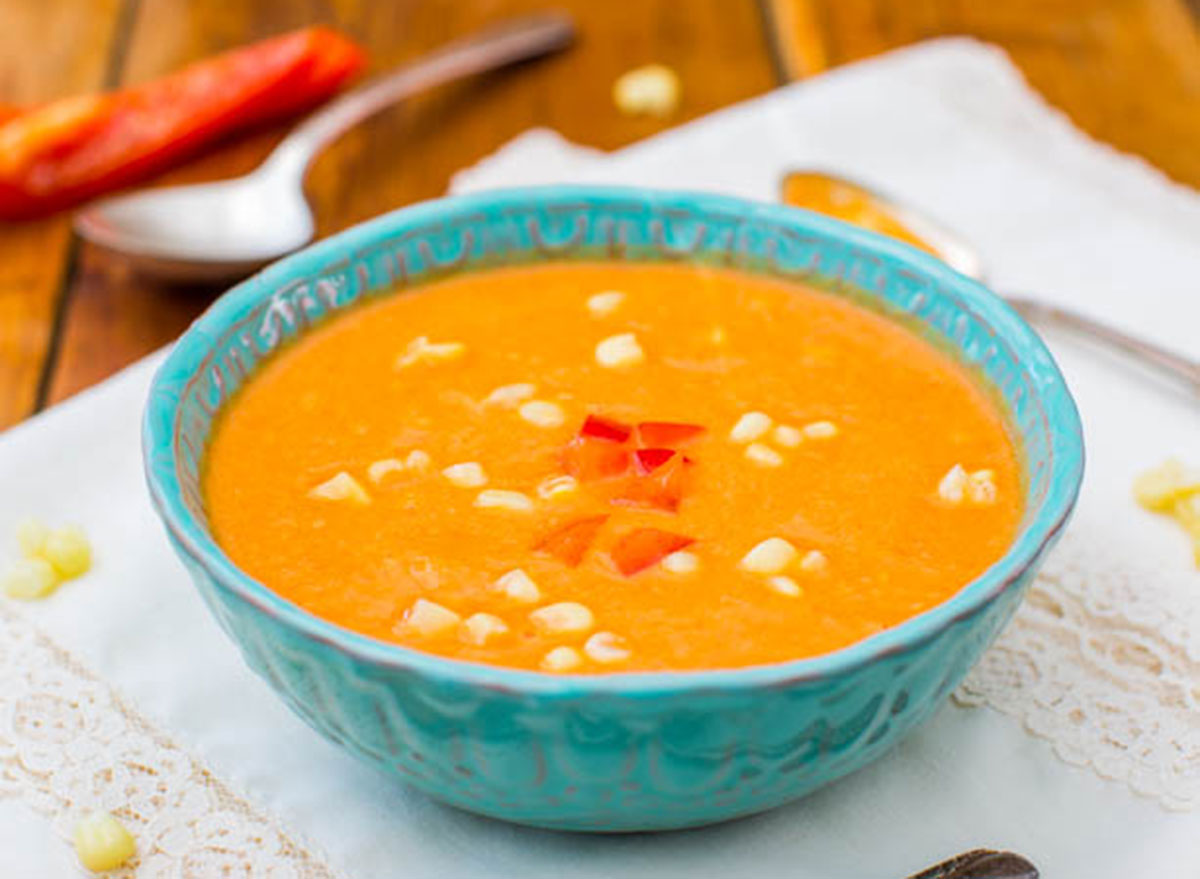 Who has time to babysit a pot of soup during the workday? Your countertop blender makes quick work of this vegan soup, which can be eaten hot or cold. An entire red bell pepper in the mix means you'll lap up plenty of vitamins A and C.
Get the recipe from Averie Cooks.
Margherita Pizza
As irresistible as pizza may be, DIY-ing your own dough can be awfully messy, and waiting for it to rise can take precious time. Solve your pizza probs by opting for packaged naan as crust. This Margherita version on premade flatbread takes just 15 minutes from start to finish. Plus, it comes in at a totally reasonable 400 calories—one of our favorite WFH lunch ideas.
Get the recipe from Chelsea's Messy Apron.
Smoked Salmon Pinwheels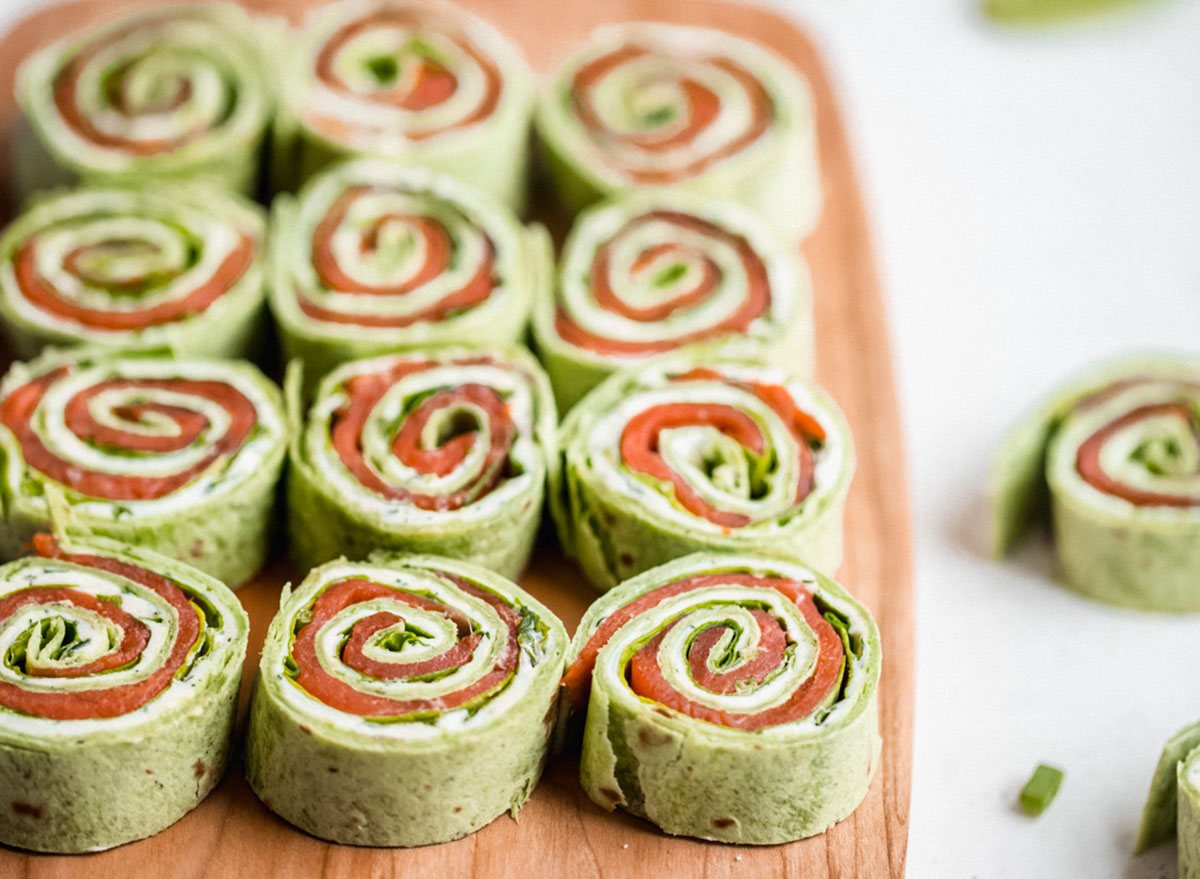 Festive-looking pinwheels make for a novel way to eat what (more or less) amounts to a sandwich—in this case, a healthy one with all the benefits of smoked salmon and spinach. Keep this recipe on file for when you return to work; pinwheels pack easily in lunchboxes.
Get the recipe from Ambitious Kitchen.
Baked Sweet Potatoes Stuffed with Feta, Olives, and Sundried Tomatoes
Baking sweet potatoes may not be fast, but that doesn't mean it's a lot of work! Pop the scrubbed orange veggies in the oven an hour before lunch. While you catch up on email, they'll cook to fork-tender perfection. When you're ready to eat, top them with a simple blend of Mediterranean ingredients.
Get the recipe from Gourmande in the Kitchen.
Autumn Kale Salad with Fennel, Honeycrisp, and Goat Cheese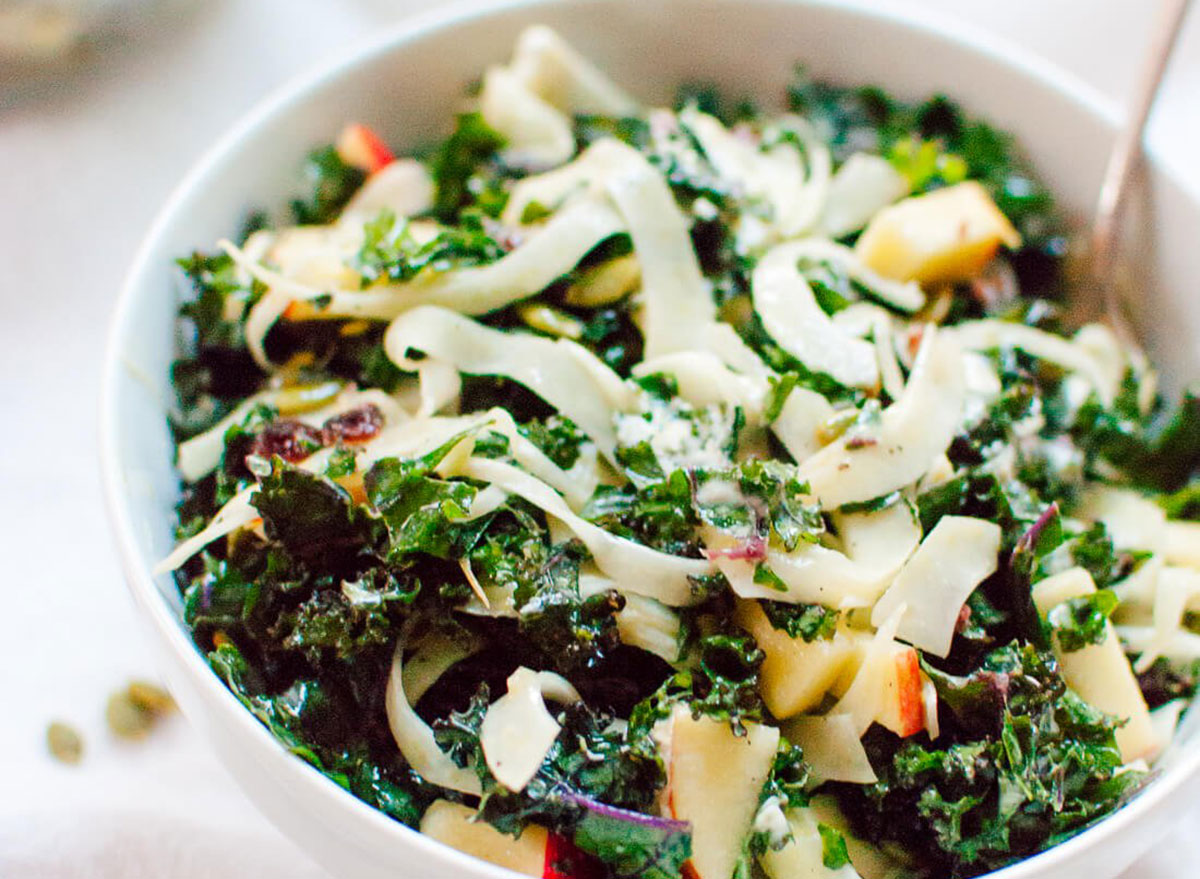 Sometimes, when work bogs you down, you just want something light and refreshing at lunch. And salads are always great WFH lunch ideas when you need something refreshing. This autumn salad does the trick, pairing torn kale leaves with sweet Honeycrisp apple slices, mild fennel, and a tangy citrus dressing. For more protein, round things out—without making a mess in the kitchen—by adding some diced rotisserie chicken.
Get the recipe from Cookie and Kate.
If you're on the hunt for even more healthy lunch ideas, here's our list of 73+ Best Healthy Lunch Recipes.
Sarah Garone, NDTR
Sarah Garone, NDTR, is a registered nutrition and dietetic technician, and a health, nutrition, and food writer.
Read more about Sarah