20 Cozy Squash Recipes That Are Perfect for Weight Loss
These healthy squash recipes show what this versatile fall vegetable can do.
Pumpkin gets all the attention during the fall months, but the other squash types should also be celebrated. This popular autumn staple, which comes in a range of different variations such as acorn, butternut, and spaghetti, has a long list of health benefits. For instance, according to research, butternut squash can help lower your risk of cancer whereas acorn squash is a great source of vitamin C.
Traditional squash recipes, whether made in the kitchen or ordered out at a restaurant, can sometimes contain heaps of butter, sugar, and salt, turning this healthy ingredient into a not-so-healthy dish. Thankfully, there are better ways to make this popular fall ingredient, right at home, without sacrificing taste.
From flavorful squash bakes to smooth soups and irresistible desserts, we put together 20 cozy squash recipes that showcase what this versatile fall veggie can do. (Plus, don't miss 47 Healthy Thanksgiving Side Dish Recipes You Need To Make.)
Sweet Roasted Butternut Squash
This time-saving recipe, which calls for only a few ingredients, uses a tablespoon of maple syrup to add a touch of sweetness to it. At 130 calories per serving, this effortless bake is the perfect dish to have in your fall weather recipe rotation.
Get our recipe for Sweet Roasted Butternut Squash.
Herbed Sweet Potato and Butternut Squash Bake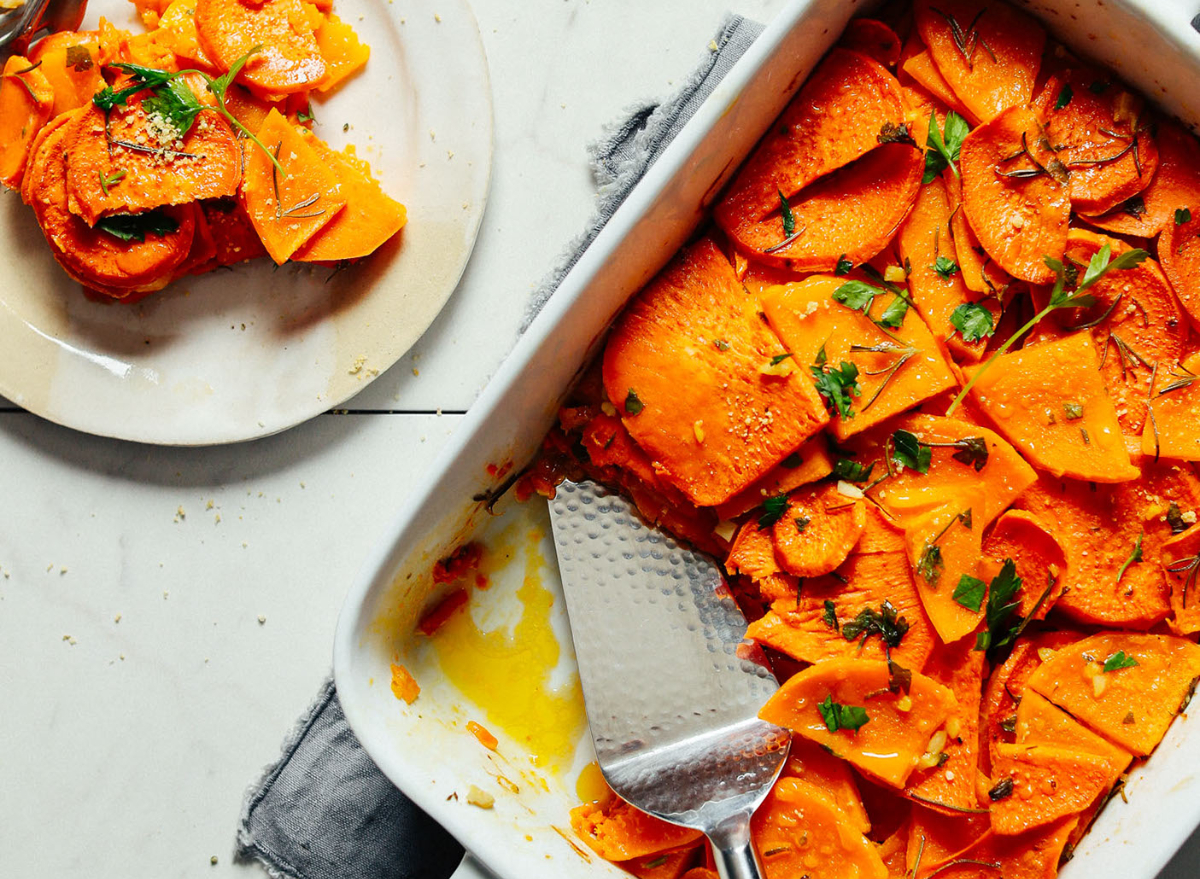 Only eight ingredients are needed for this gluten-free, Spanish-inspired sweet potato and butternut squash bake that is a breeze to make. This tasty dish, which makes a perfect holiday side dish, only has 161 calories and 19 grams of carbs per serving, making it an ideal recipe for health-conscious cooks.
Get the recipe from Minimalist Baker.
Keto Butternut Squash Risotto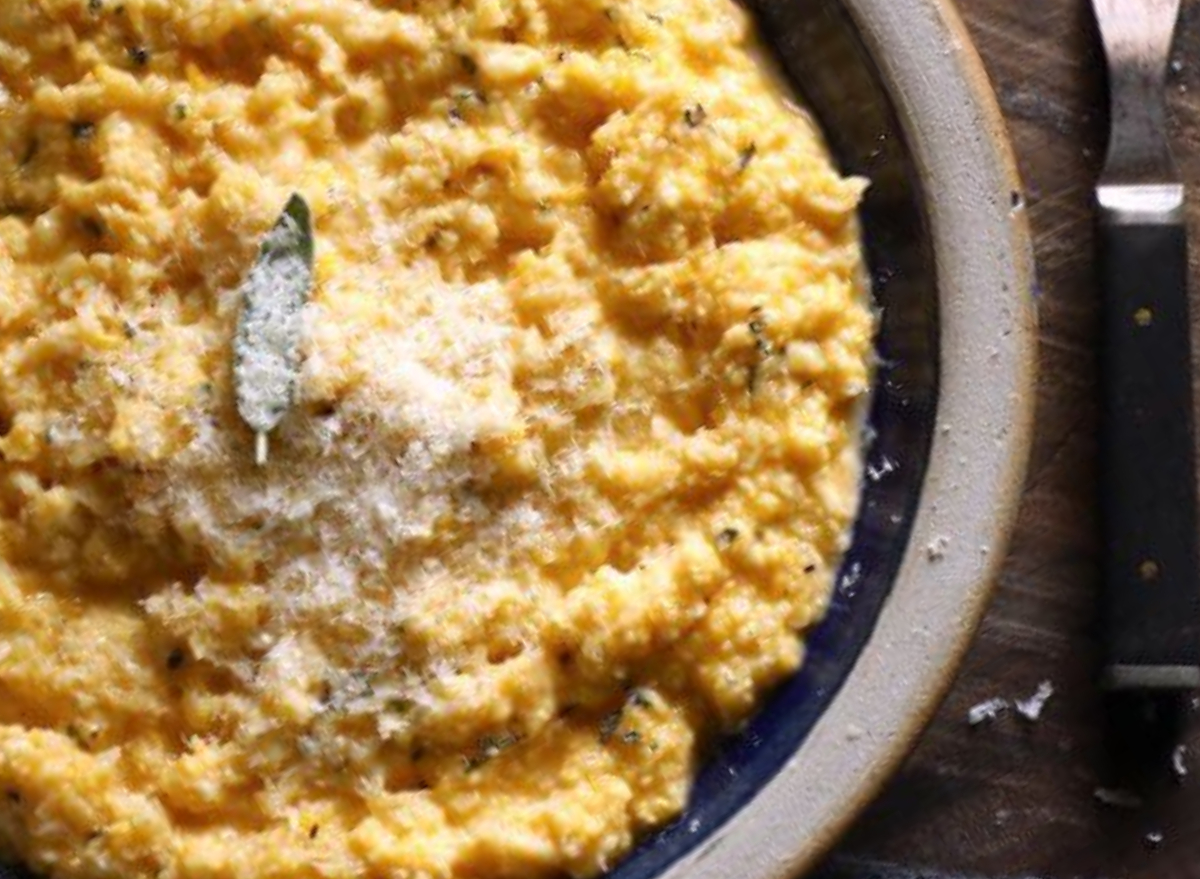 This butternut squash risotto recipe, which has only 9 grams of carbs per serving, puts a Keto spin on an Italian comfort food classic. Made using wholesome ingredients, such as riced cauliflower, butternut squash, and fresh sage, this simple, yet decadent meal can be put together in under 30 minutes.6254a4d1642c605c54bf1cab17d50f1e
Get the recipe from I Breathe I'm Hungry.
Vegan Creamy Butternut Squash Linguine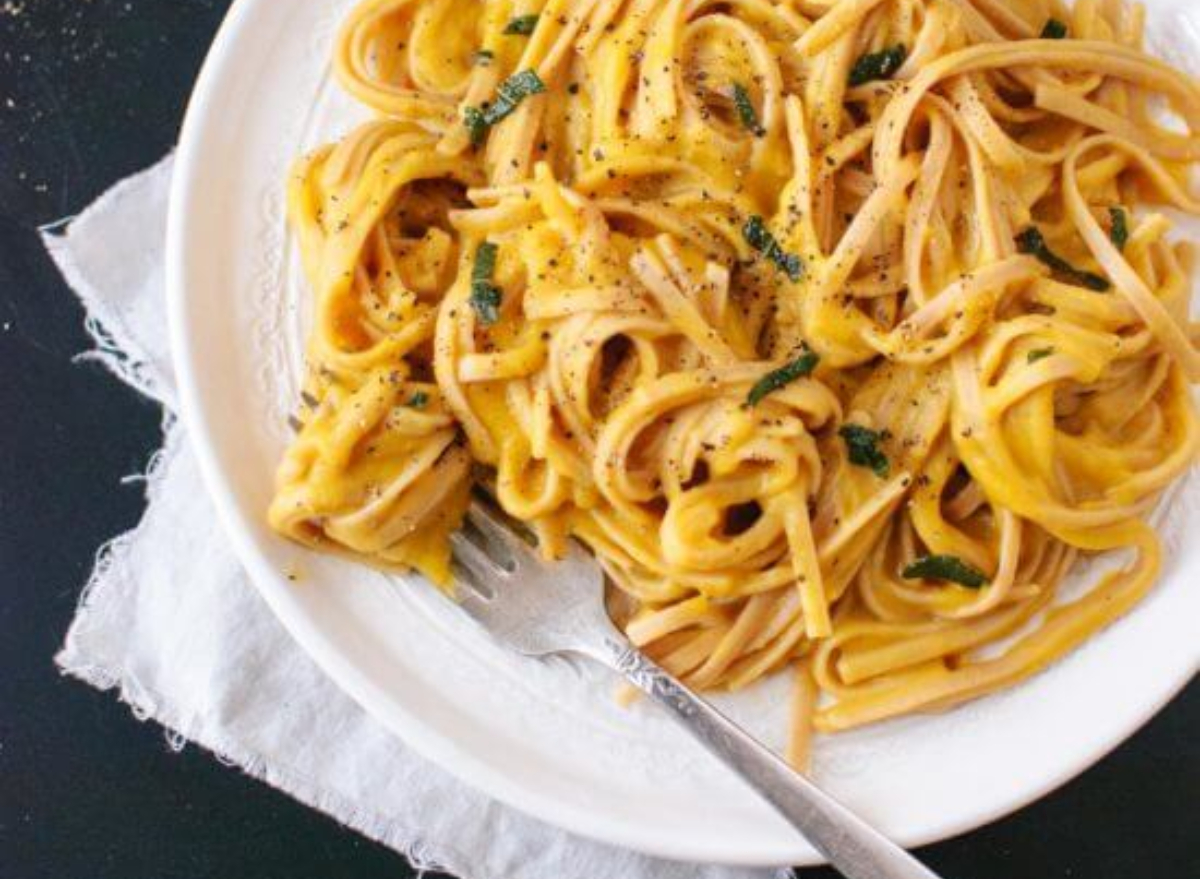 Experience the joy of eating a deliciously creamy pasta without all the carbs (or cream). This linguine dish uses pureed squash seasoned with garlic, black pepper, and red pepper flakes, to create an incredibly velvety sauce that is healthier than dairy-filled versions. For an even more nourishing dish, be sure to switch out regular pasta for a whole grain version.
Get the recipe from Cookie and Kate.
3-Ingredient Flourless Butternut Squash Fudge Brownies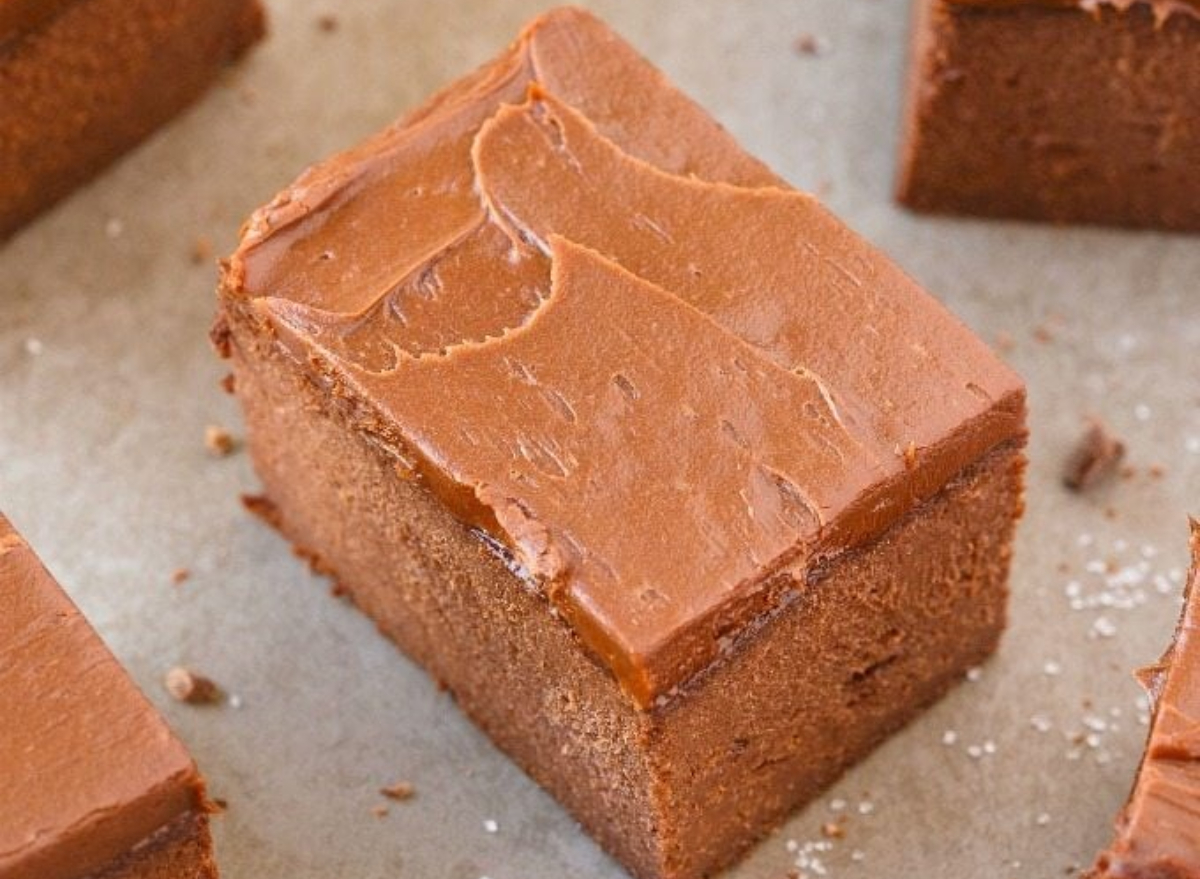 Bet you never thought you would be using squash to create a batch of irresistible brownies. This 3-ingredient fudge brownie recipe, which can be made in under 20 minutes, is free of grains, sugar, flour, and butter, making it a healthier alternative to traditional baked goods. All you need is butternut squash puree, almond butter, and cocoa powder.
Get the recipe from The Big Man's World.
Garlic Parmesan Yellow Squash Chips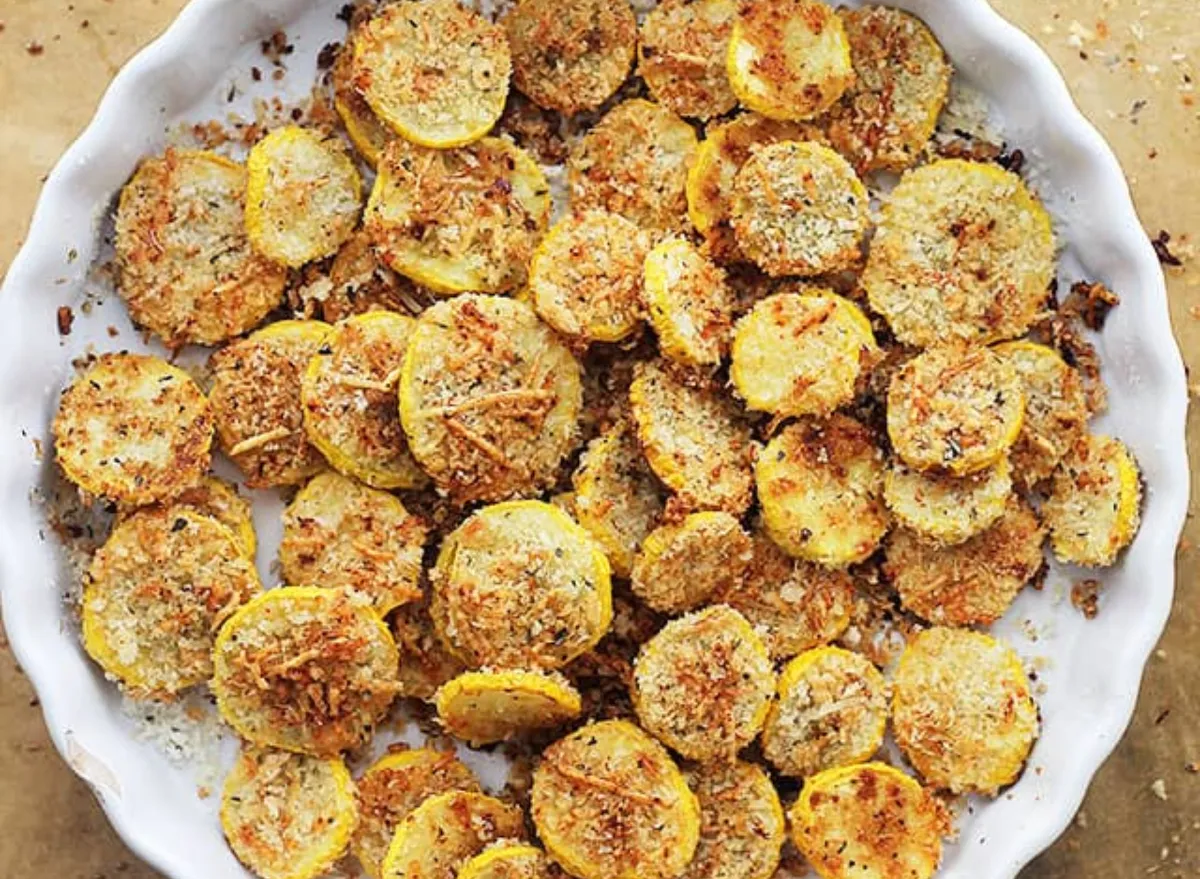 Why not make a batch of these garlic parmesan squash chips for your next Netflix night? Made using yellow squash, Panko crumbs, and parmesan cheese, this simple snack is much healthier than store-bought ones.
Get the recipe from Diethood.
Vegetarian Stuffed Acorn Squash
Acorn squash, dried cranberries, parmesan, and goat cheese all come together to create a luscious stuffing that would rival your mother's traditional version.
Get the recipe from Cookie and Kate.
Gluten-Free Butternut Squash Ravioli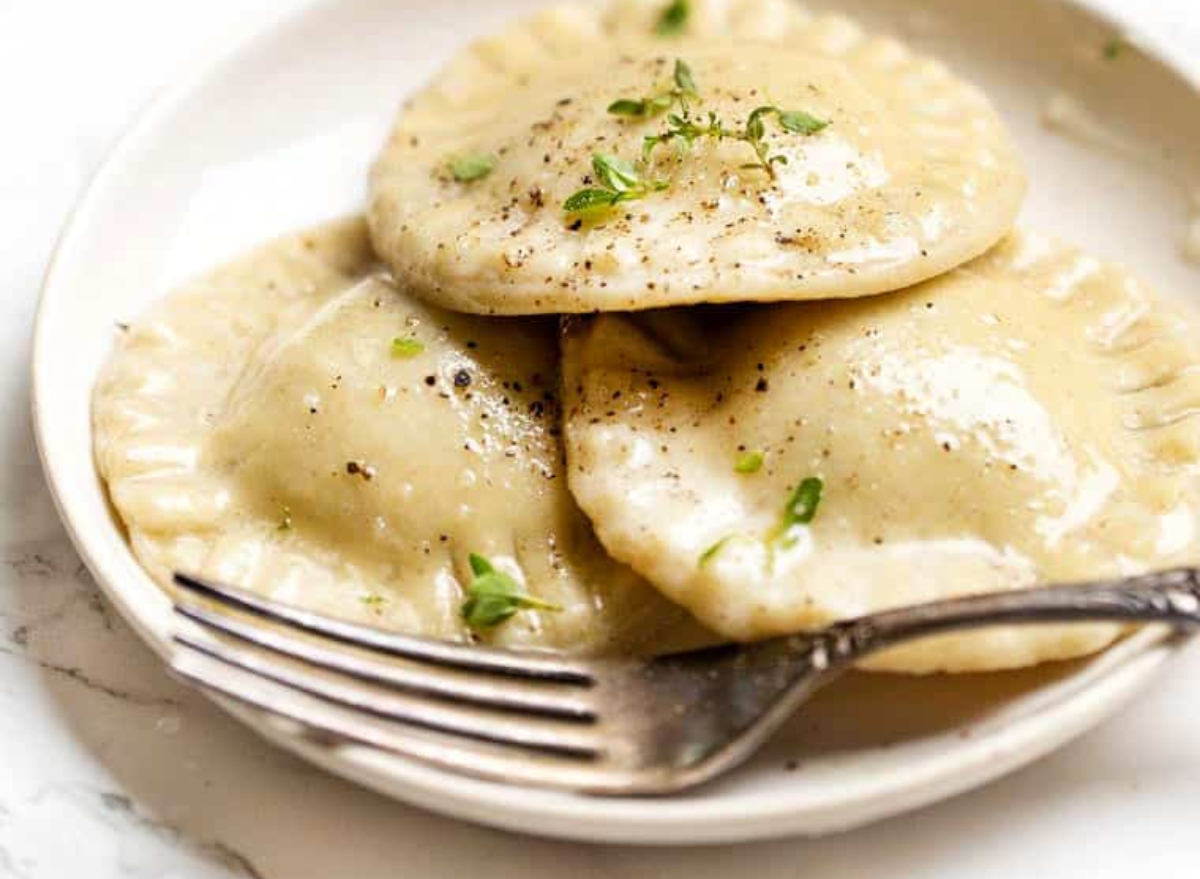 This dairy-free, gluten-free ravioli recipe, featuring butternut squash, spinach, and nutritional yeast, is a great substitute for heavy, carb-filled pasta dishes. It is also packed with 10 grams of fiber per serving, making it a perfect dish for those looking for a fiber-rich meal that doesn't sacrifice taste or texture.
Get the recipe from Simply Quinoa.
Healthy Butternut Squash Muffins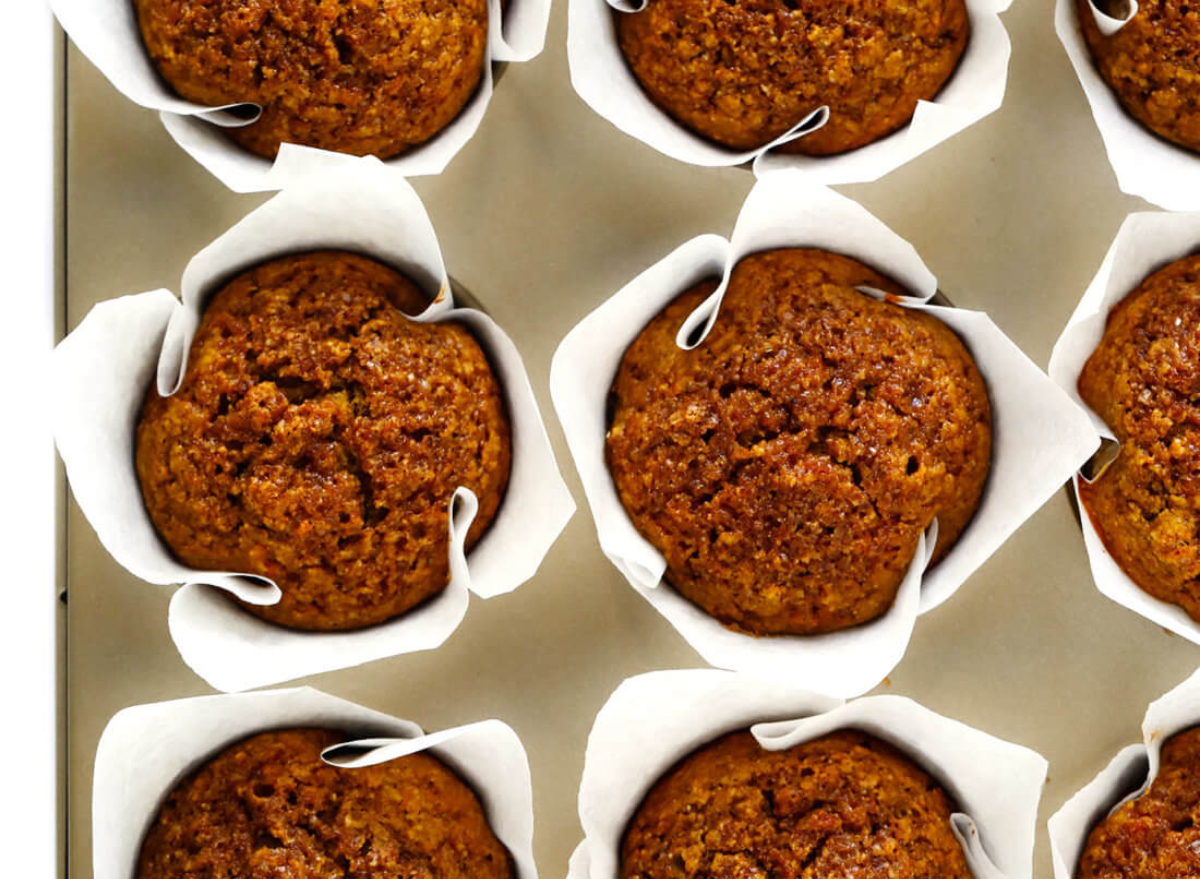 These butternut squash muffins, which are made using blended oats, unsweetened almond milk, and melted coconut oil, are not only scrumptious but also healthier than conventional muffins. We also love how easy this recipe is to customize. For instance, if you would like, you can top these muffins with a homemade cream cheese frosting or throw in a few nuts or chocolate chips into the batter for a sweet surprise.
Get the recipe from Gimme Some Oven.
Spaghetti Squash Casserole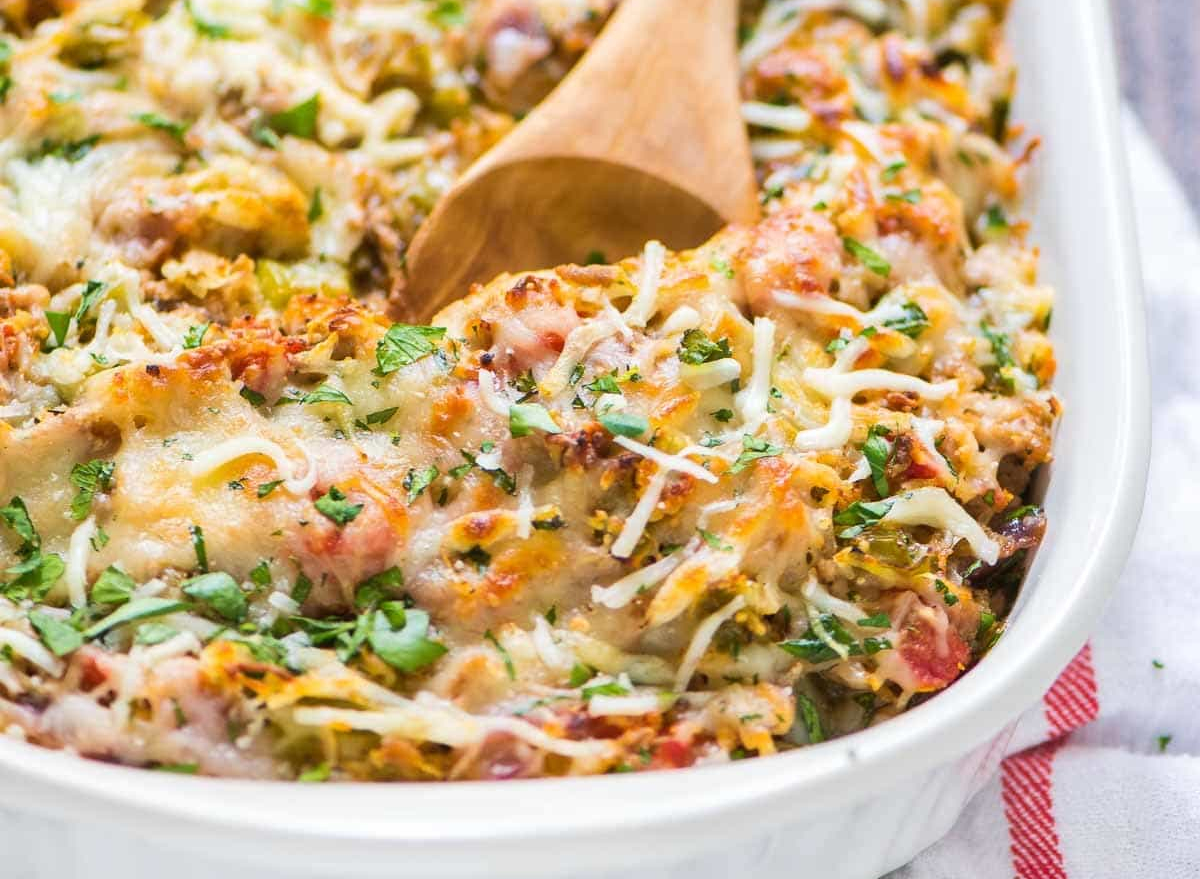 Is there anything cozier than a casserole? This spaghetti squash casserole, which is filled with bell peppers, diced tomatoes, and ground turkey, is a satisfying dish that has just 8 grams of carbs per serving. If you are looking for a dinner recipe that will keep you full until morning then this may just become your go-to — each serving packs a mighty 20 grams of protein.
Get the recipe from Well Plated.
Mashed Butternut Squash
This mashed butternut squash recipe, which is very low in carbs and saturated fats, is the perfect make-ahead side dish. Serve alongside juicy chicken, baked fish, or roasted Portobello mushrooms, for a healthy meal that is full of flavor.
Get the recipe from Well Plated.
Healing Curry Butternut Squash Lentil Soup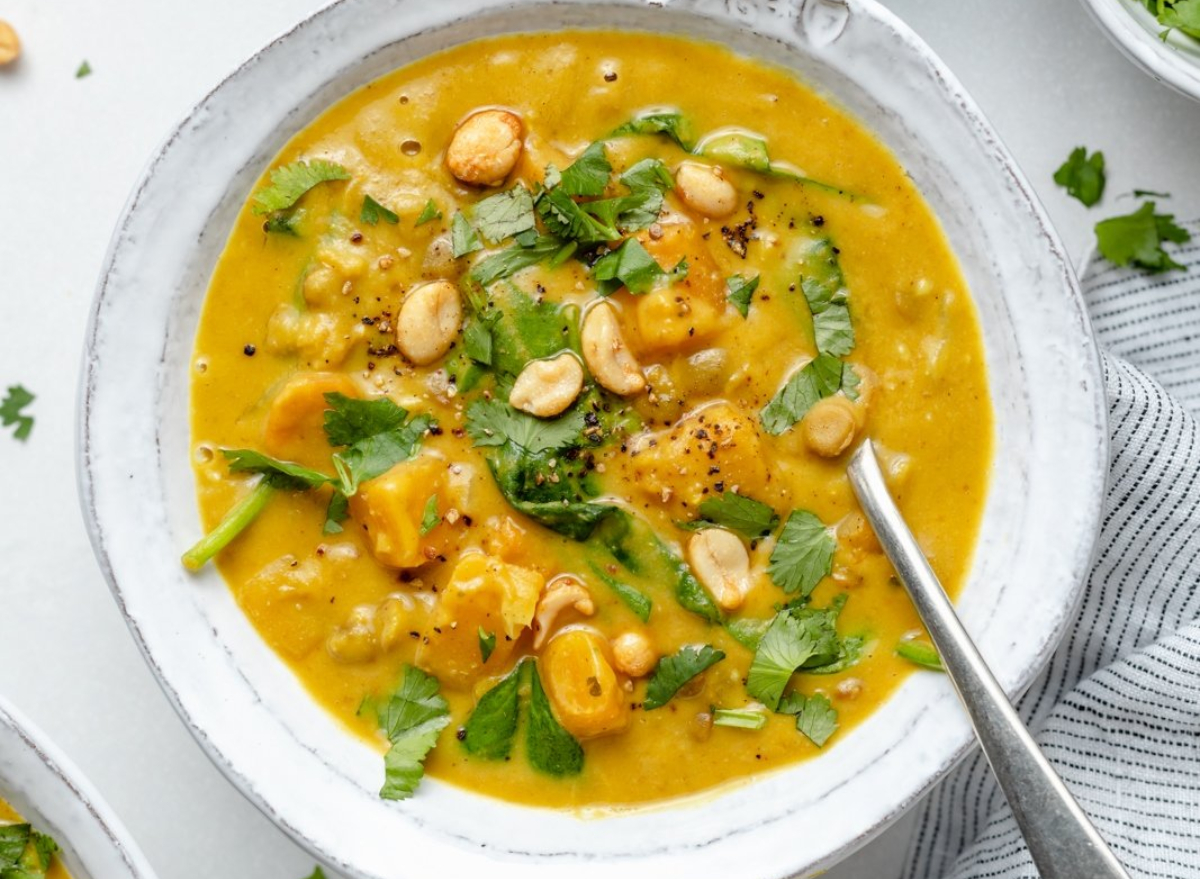 Smooth and simple, this healing butternut squash soup has a whopping 15.7 grams of fiber and 10.5 grams of protein per serving. Made as a quick dinner side or served alone with crusty bread, this delicate recipe, seasoned with freshly grated turmeric and yellow curry powder, makes for a great autumn dish.
Get the recipe from Ambitious Kitchen.
Low-Carb Butternut Squash and Fennel Gratin
This low-carb, gluten-free butternut squash and fennel gratin is the perfect accompaniment to slow-cooked roast beef dinners. Feel free to omit the bleu cheese, or use a vegan version, if you are looking to cut back on dairy.
Get the recipe from I Breathe I'm Hungry.
Butternut Squash Buddha Bowls
Put your next farmers' market haul to good use with this butternut squash Buddha bowl recipe. Teeming with sliced avocados, chickpeas, cubed butternut squash, and sprouted brown rice, this easy-to-make lunch (or dinner) is both tasty and healthy.
Get the recipe from Fit Foodie Finds.
Vegan Fall Soup in Acorn Squash Bowls
If you need a simple autumn recipe that will impress your dinner guests, then look no further. This creamy, vegan soup, which is made using butternut squash, red lentils, and vegetable broth, is not only packed with nutrients but also flavor. Our favorite part? We love how the hollowed-out acorn squashes are repurposed as adorable autumn-themed bowls, which are perfect for holiday entertaining.
Get the recipe from Minimalist Baker.
Squash Cakes with Coconut Cream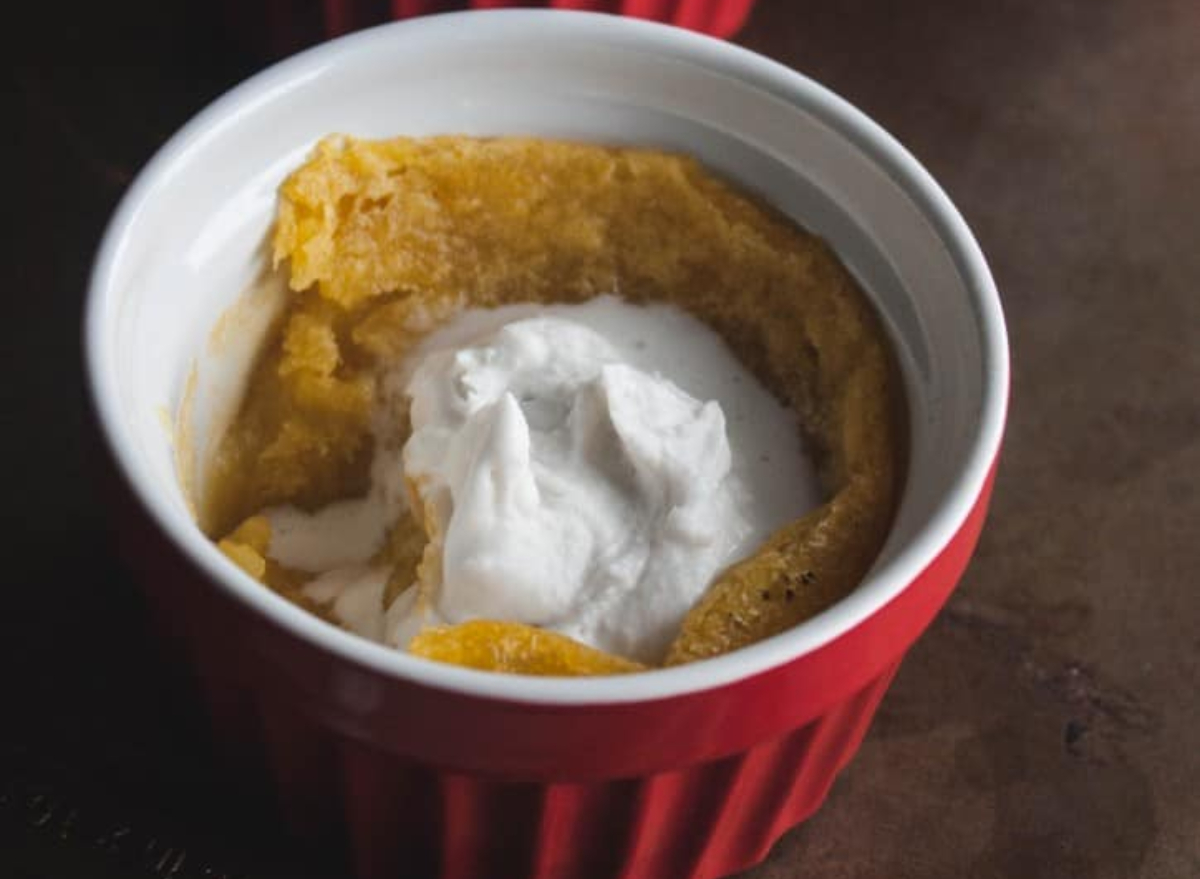 Squash isn't just for roasts and soups but can make for great cakes, too. This vegan dessert, which is made with acorn squash, unsweetened coconut milk, and flour, is an inventive way to use popular fall produce. Bonus: This sweet treat is also healthier than sugar-filled, bakery versions.
Get the recipe from Sweet Phi.
Baked Butternut Squash Fries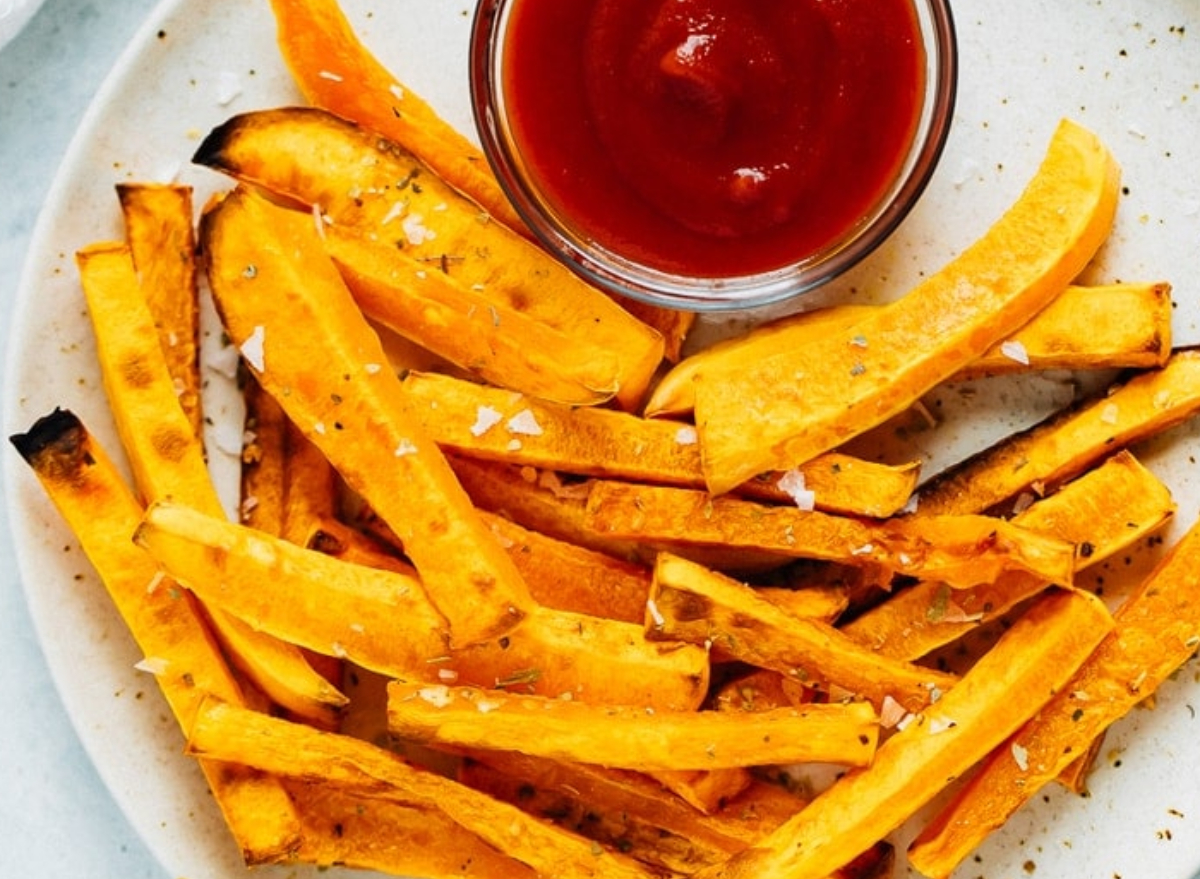 If you're a fan of sweet potato fries, then you will love this baked butternut squash version. Made using just two ingredients — squash and salt — this oil-free fry recipe is a great swap for the unhealthy, fast food variety. Serve with a side of homemade ketchup or creamy yogurt dip for an extra added "zing".
Get the recipe from Eating Bird Food.
Vegan Mac and Cheese with Butternut Squash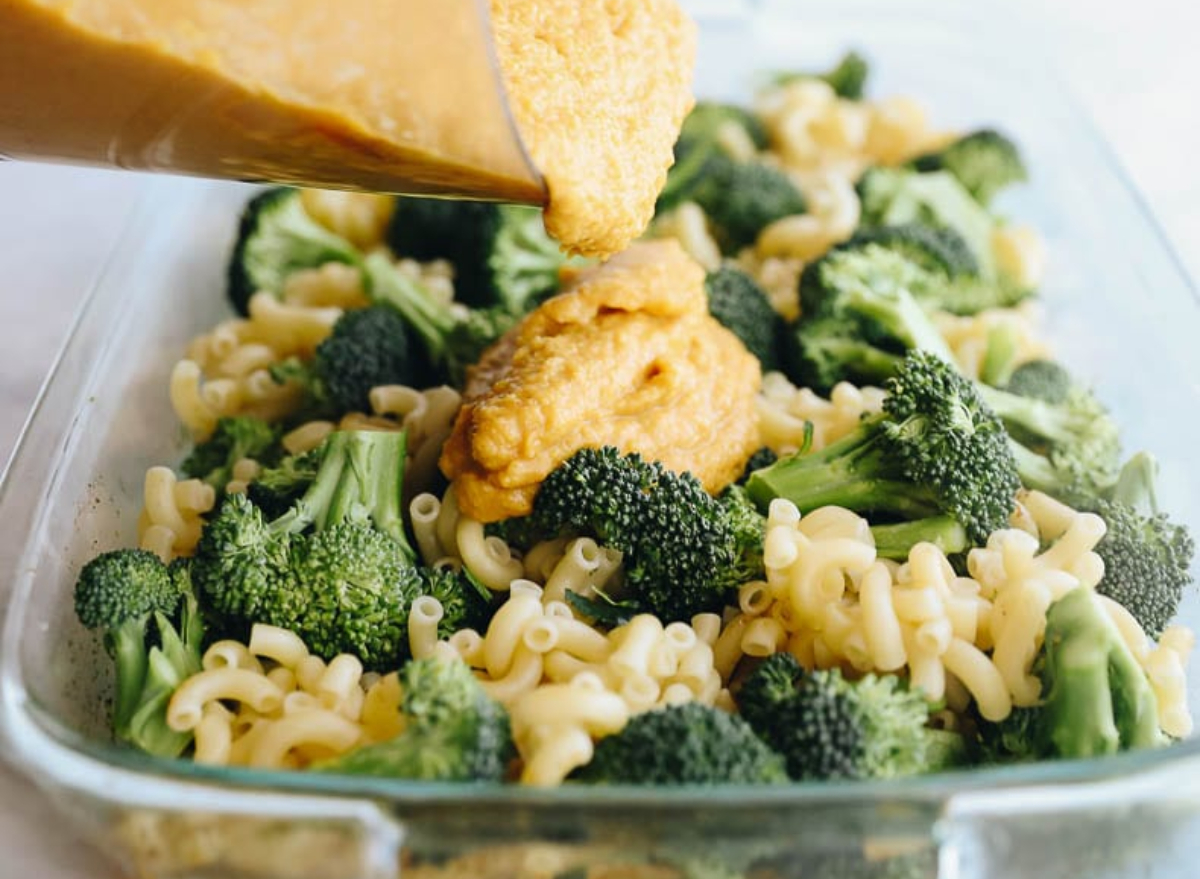 Although absolutely delicious, traditional macaroni and cheese dishes can be rich and heavy. If you're looking for an alternative mac and cheese recipe that doesn't skimp on flavor or texture then this is the one to try. If you'd like, other fresh vegetables, such as cauliflower, peas, and red peppers, can be added in for an even greater fiber boost.
Get the recipe from The Healthy Maven.
Low-Carb Brown Sugar Chili Roasted Acorn Squash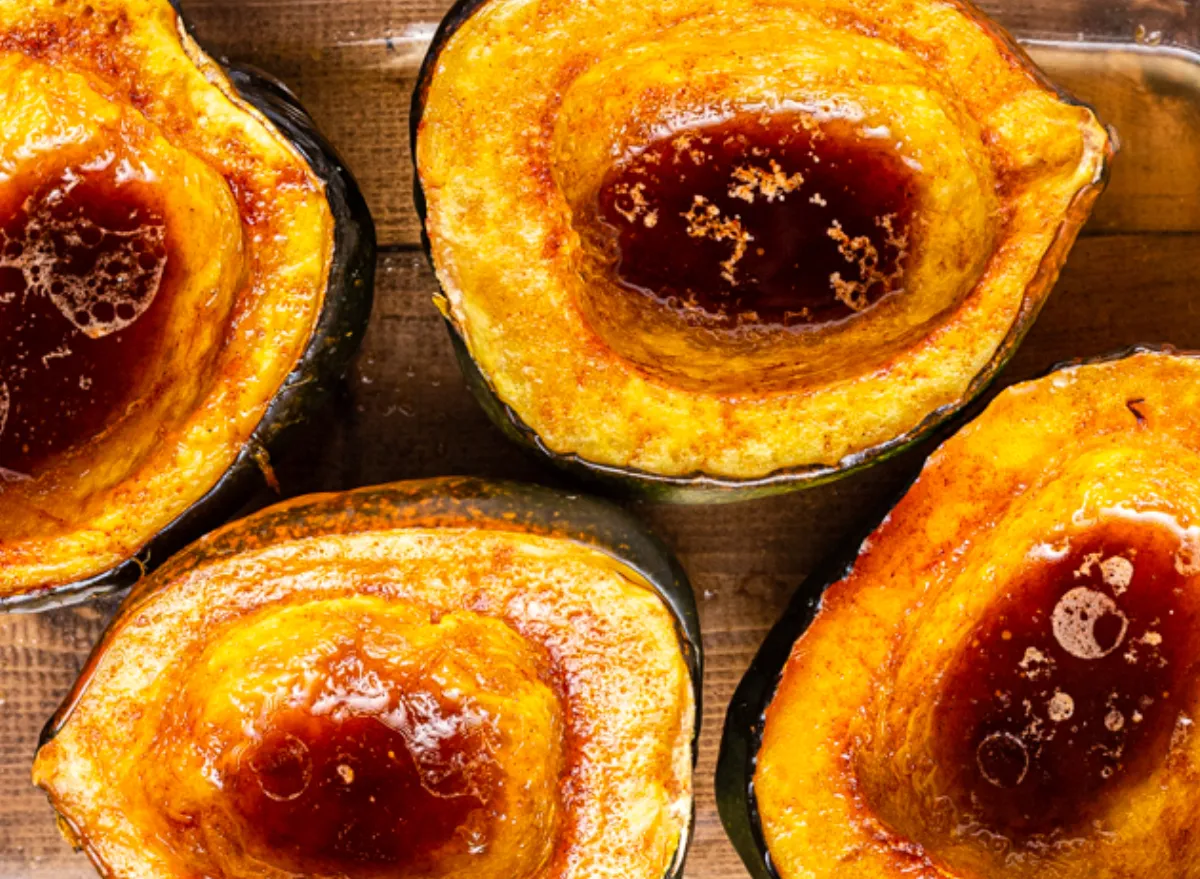 Amp up your ordinary roasted squash dishes by using this brown sugar chili roasted acorn squash recipe instead. Brown sugar "Swerve" and chili powder come together to create the perfect combination of sweet and heat in this delicious side.
Get the recipe from Bobbi's Kozy Kitchen.
Acorn Squash Soup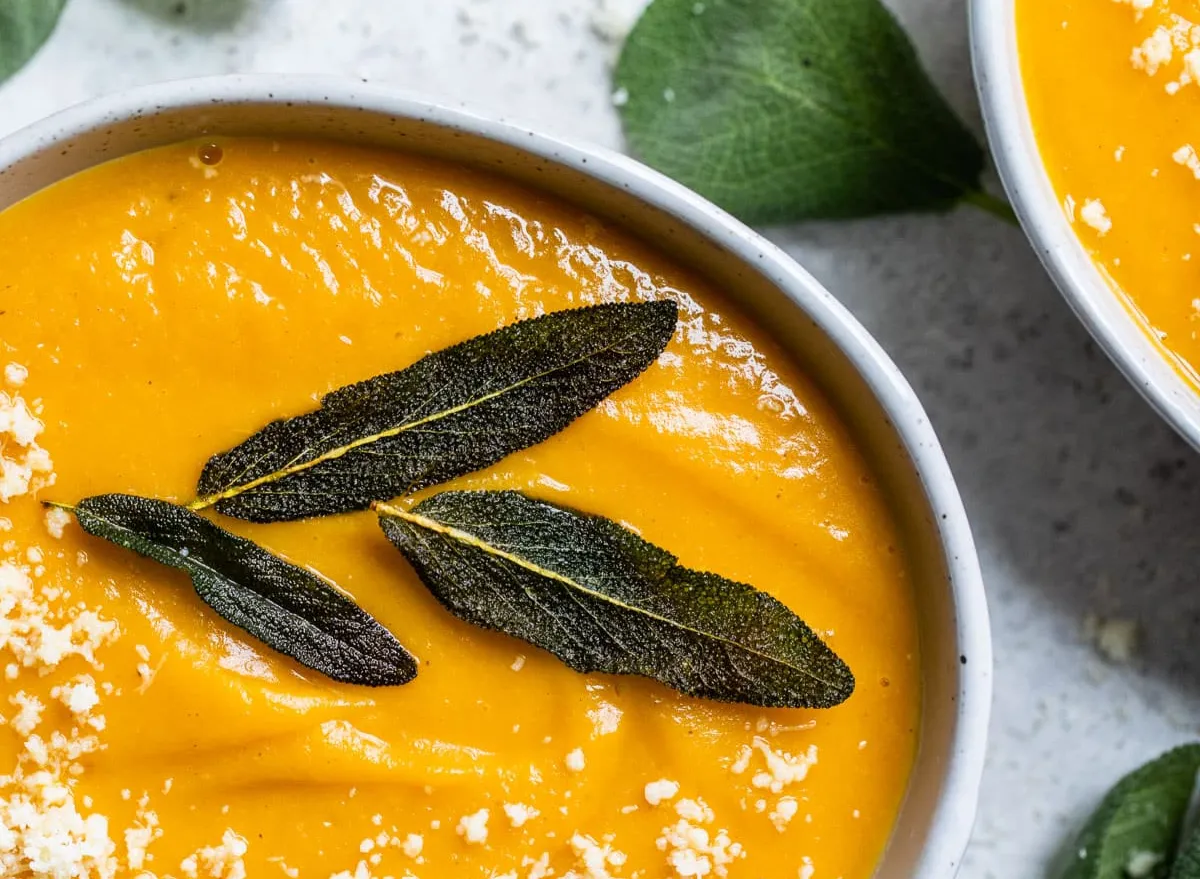 This acorn squash soup, which is made with a touch of honey and a medley of carrots, shallots, and squash, is the perfect cold-weather recipe to curl up on the couch with.
Get the recipe from Well Plated.
Get more easy, healthy recipe ideas:
73+ Best Healthy Lunch Recipes for Weight Loss
21 Best Healthy Baked Chicken Recipes for Weight Loss
22 Cozy Breakfast Casserole Recipes That Are Perfect for Weight Loss