15 High-Protein Breakfast Recipes for Weight Loss
These easy high-protein morning recipes can help you achieve your weight loss goals.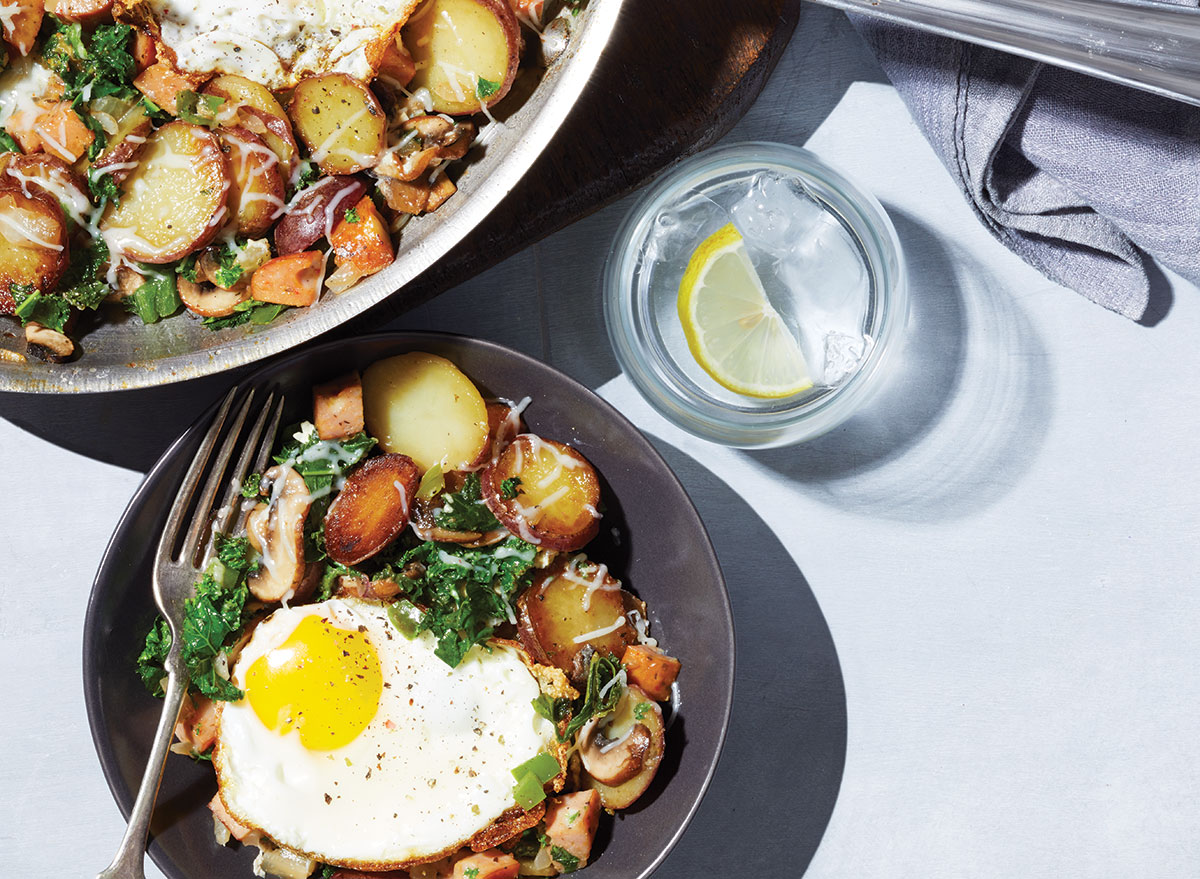 We all have different food-related goals for our health. For some, it may be to eat less added sugar or sodium in your daily diet in order to care for your heart health. For others, it may be to eat healthy foods that can help you shed some pounds and get to your desired weight. If your goal is weight loss, eating more protein is crucial. And one of the best ways to get more of this nutrient into your diet is to start your day off with a high-protein breakfast for weight loss.
Research shows that diets higher in protein can help reduce body mass due to multiple reasons. For one, protein can help regulate hunger hormones and lower appetite by way of specific appetite-reducing hormones. Protein can also cause your body to burn more calories, even while you're at rest. And lastly, protein has a higher thermic effect than carbohydrates and fats, which means your body is using more energy to digest these foods, causing your metabolic rate to increase.
To get more protein into your daily routine in order to help with your personal weight loss goals, start with your first meal of the day. Without protein in your breakfast, you'll not only miss an opportunity to pack in this nutrient, but you'll be left feeling hungrier and less satiated than if you were to eat a high-protein breakfast. Read on to learn some new recipes for including protein in your morning meal, and for more protein-rich breakfast ideas, don't miss these 28 High-Protein Breakfasts That Keep You Full.
Breakfast Hash With Sweet Potatoes & Chicken Sausage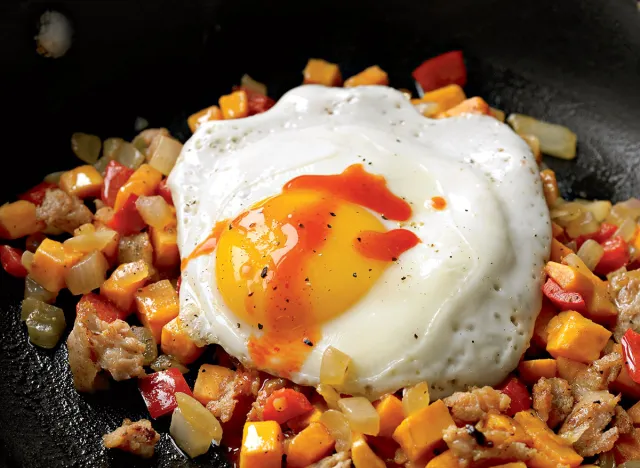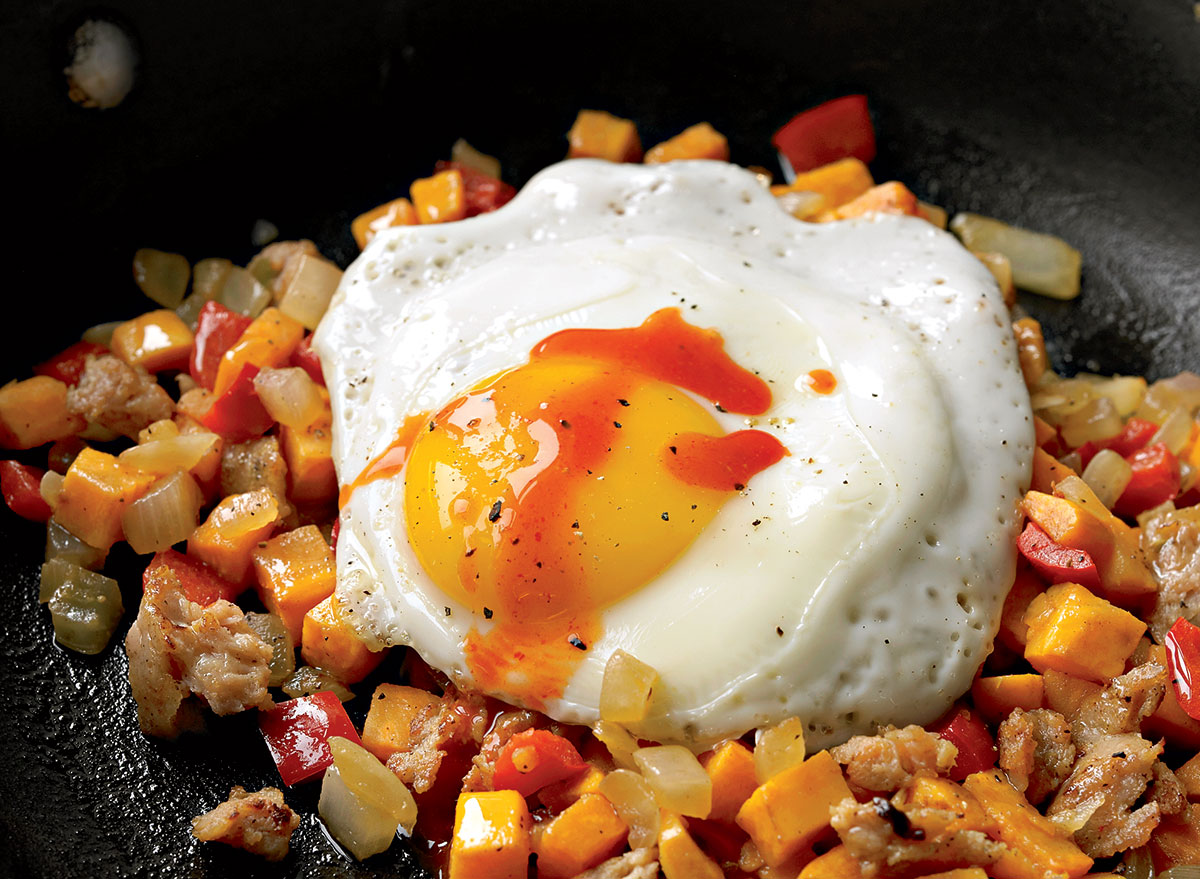 Sweet potatoes are full of protein and are a great food to throw into any breakfast meal. Chop some of this starchy macro up alongside veggies, chicken sausage, and an egg, and you have the perfect protein-packed morning dish.
Get our recipe for Breakfast Hash.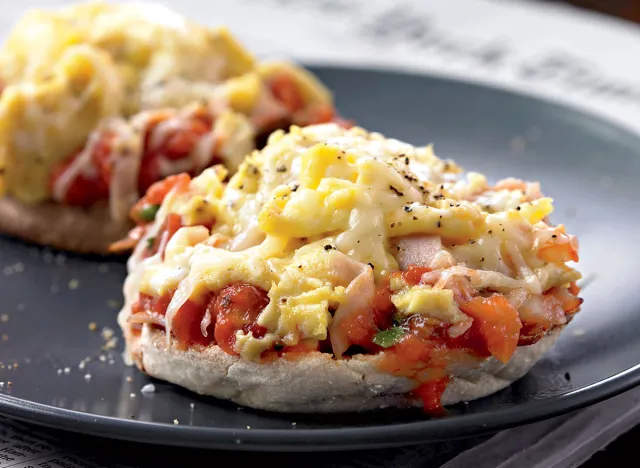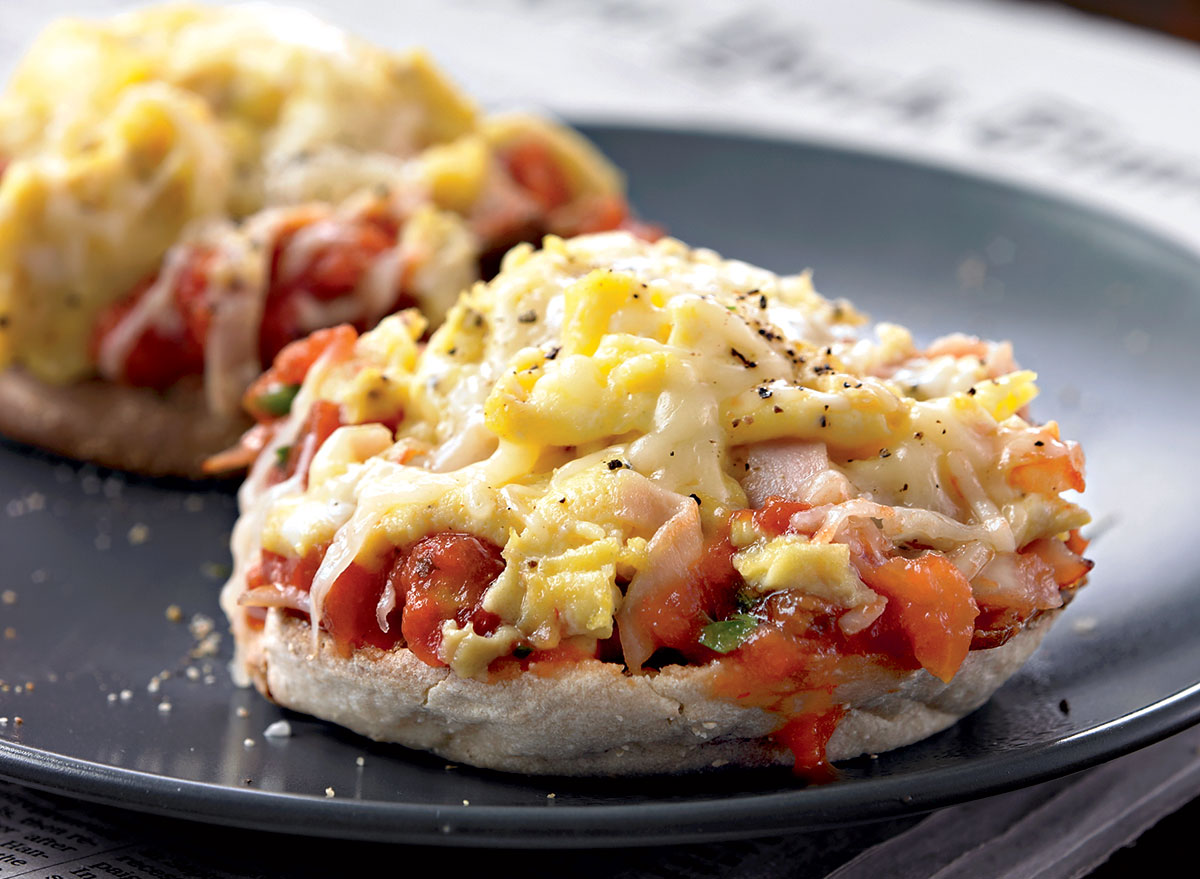 This isn't your average pizza. These mini breakfast pizzas are made with whole wheat English muffins, eggs, ham, and cheddar cheese—all of which can provide you with a protein boost.
Get our recipe for Breakfast Pizza.
Breakfast Tacos With Bacon & Spinach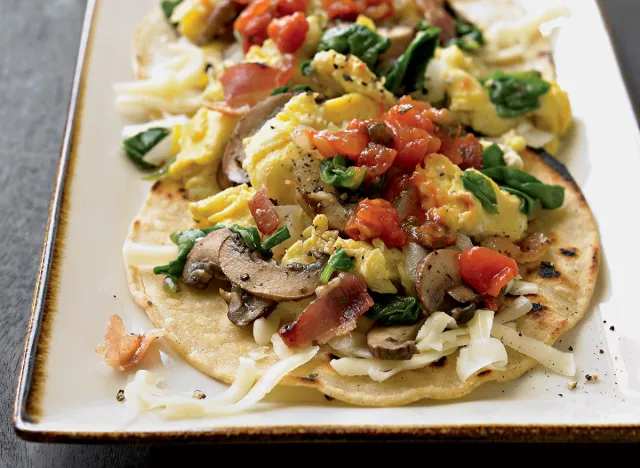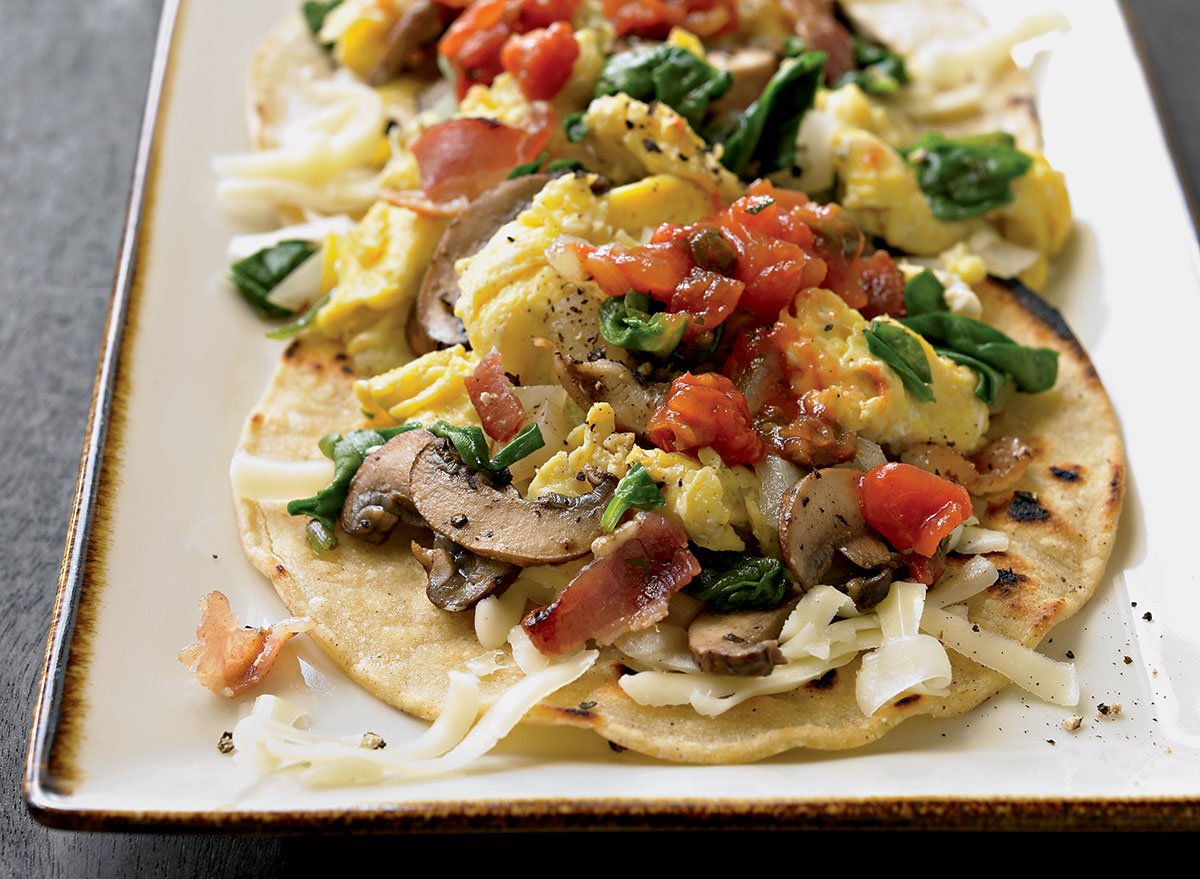 If you're in the mood for some tacos, don't limit yourself to lunch or dinner. Instead, throw together these delicious breakfast tacos made with eggs, spinach, cheese, and mushrooms, and enjoy a hearty protein-heavy meal before you get your day started.
Get our recipe for Breakfast Tacos.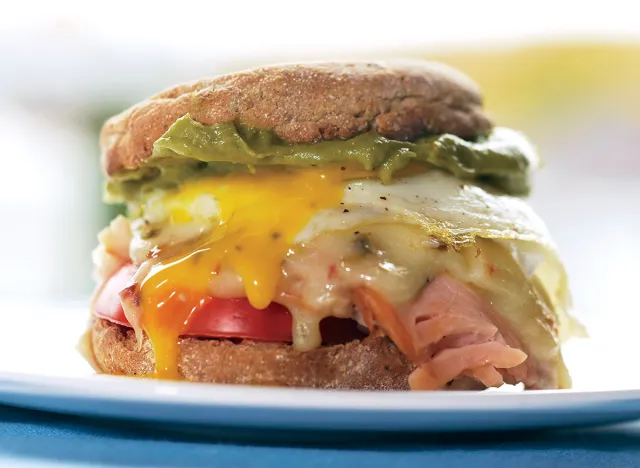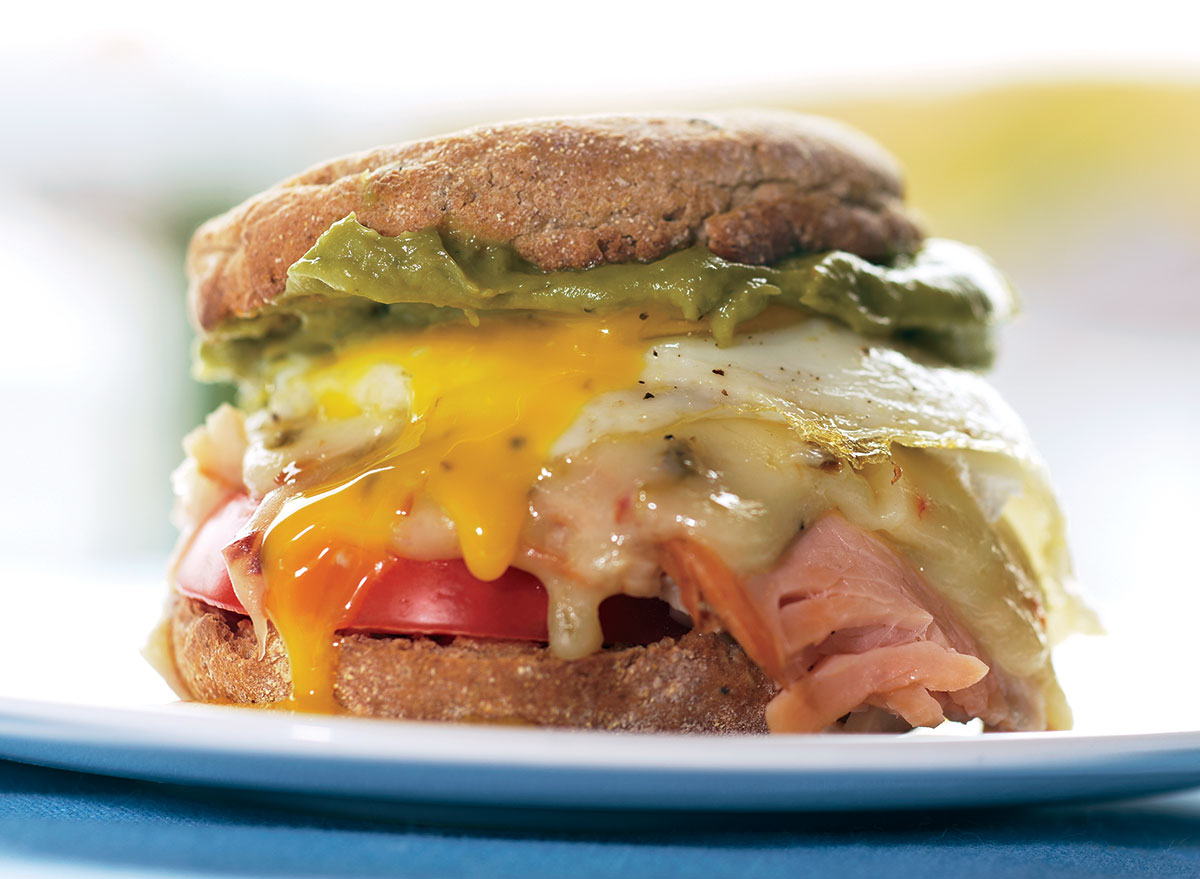 Your mouth will be watering at the sight of this breakfast sandwich. Made with egg, cheddar cheese, turkey, and guacamole piled on top of a whole wheat English muffin, the Sunrise Sandwich provides a protein boost in the most satisfying way. For an added kick, choose pepper jack cheese over cheddar.
Get our recipe for Sunrise Sandwich.
Hearty Italian Hash With Eggs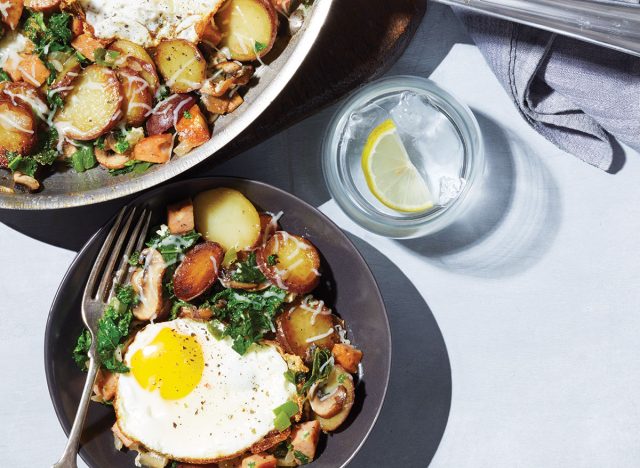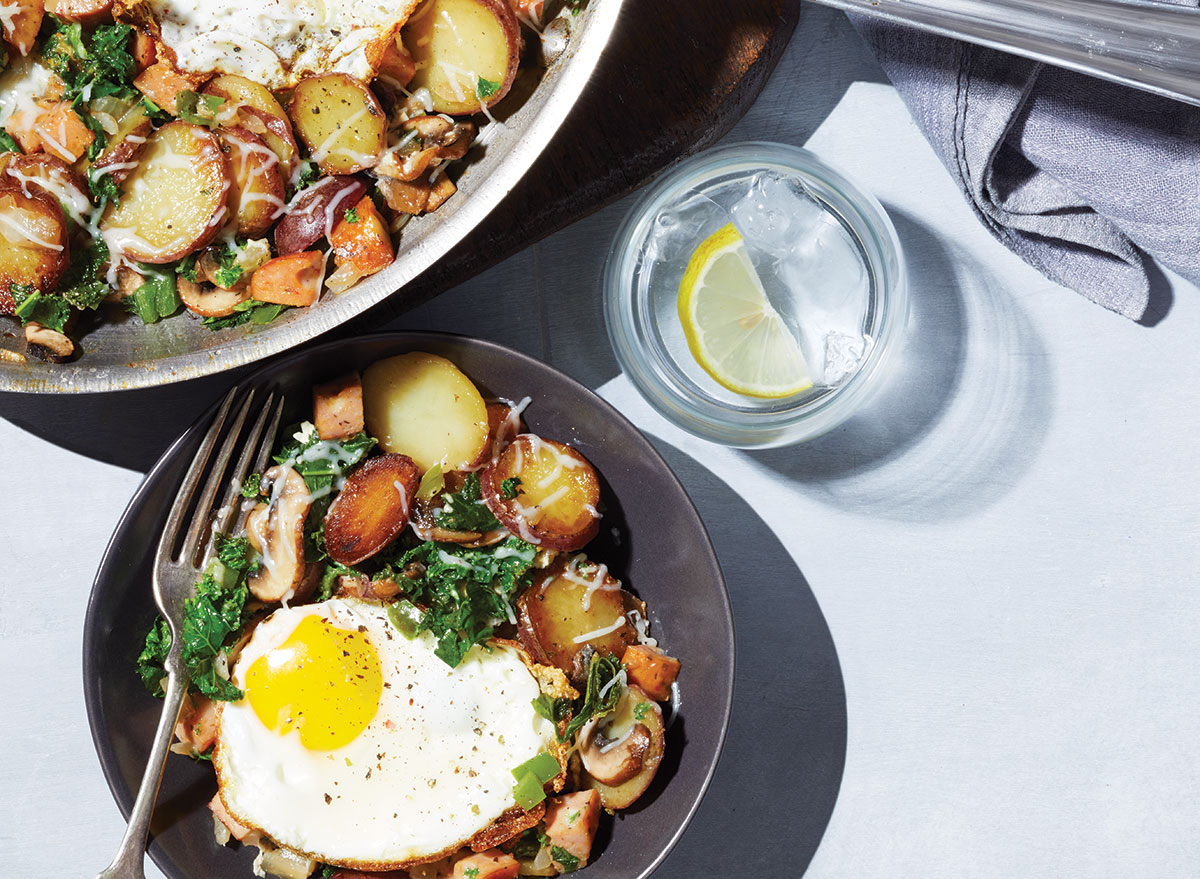 If you're wanting some sort of hash but aren't in the mood for our Sweet Potato Breakfast Hash, try this Italian-inspired dish instead. You'll enjoy red potatoes, eggs, mushrooms, kale, asiago cheese, and chicken sausage—all of which will combine for a high-protein breakfast you'll crave all the time.
Get our recipe for Italian Hash.
For those who want protein but don't want to put a ton of effort into cooking their breakfast, an omelet is the perfect solution. This ham and cheese omelet with mushrooms is simple and full of protein, and the use of Swiss cheese gives you protein with very little fat compared to other cheese.
Get our recipe for Ham and Cheese Omelet.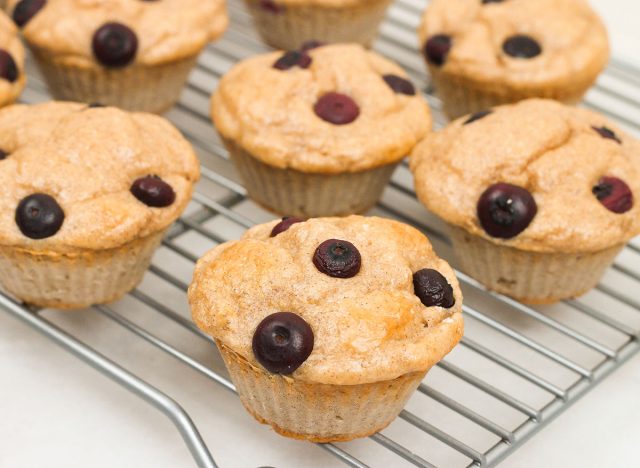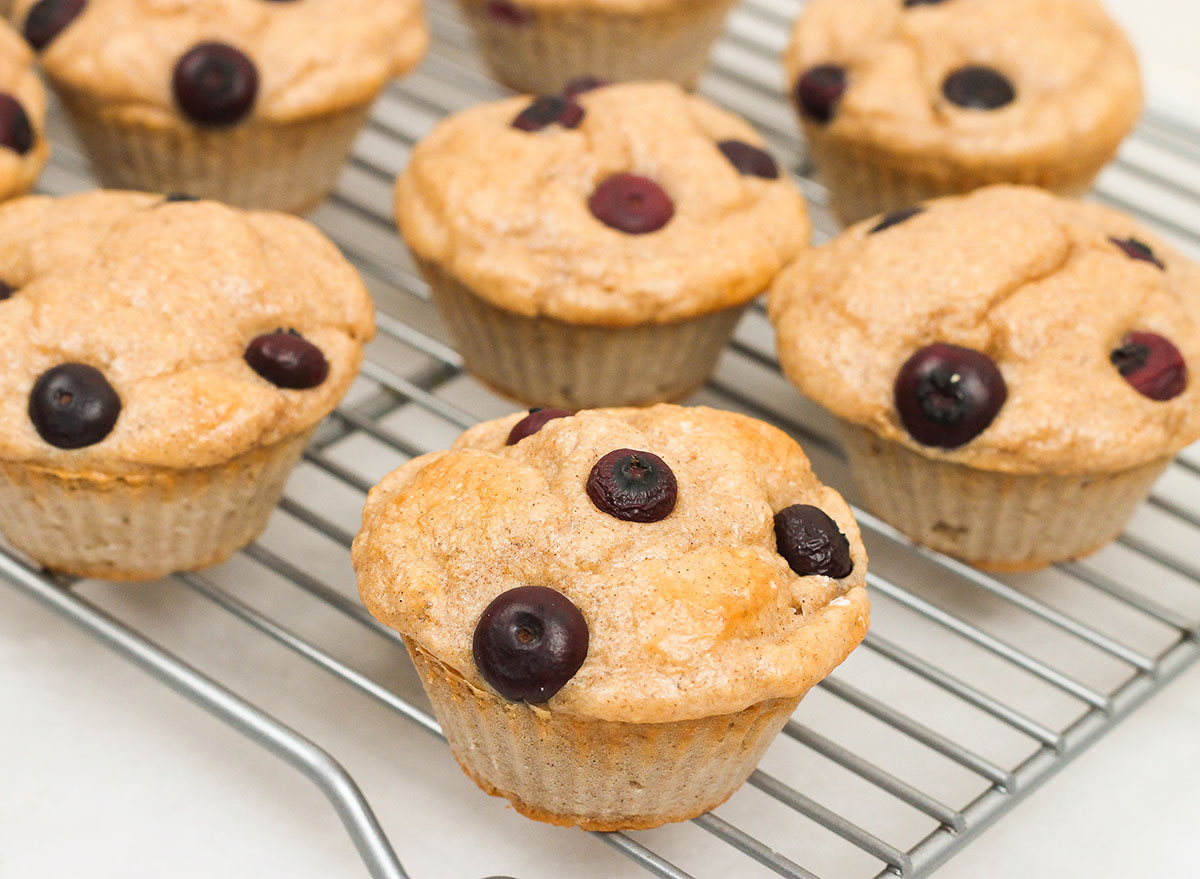 These healthy muffins are packed full of protein from eggs, oats, Greek yogurt, and protein powder, which can be a huge help with your weight loss goals. Not only that, but these will take you less than 30 minutes to make!
Get our recipe for Protein Muffins.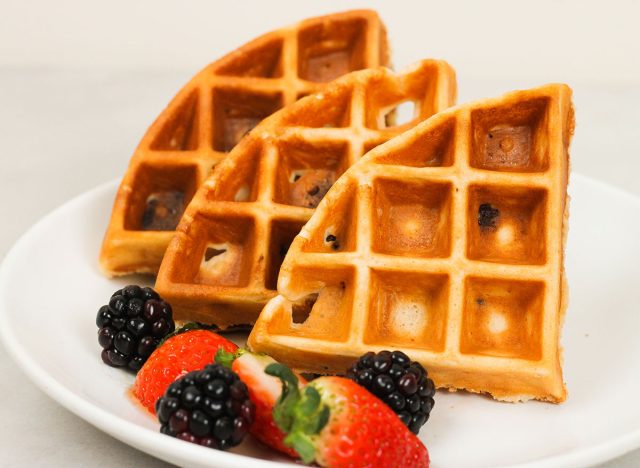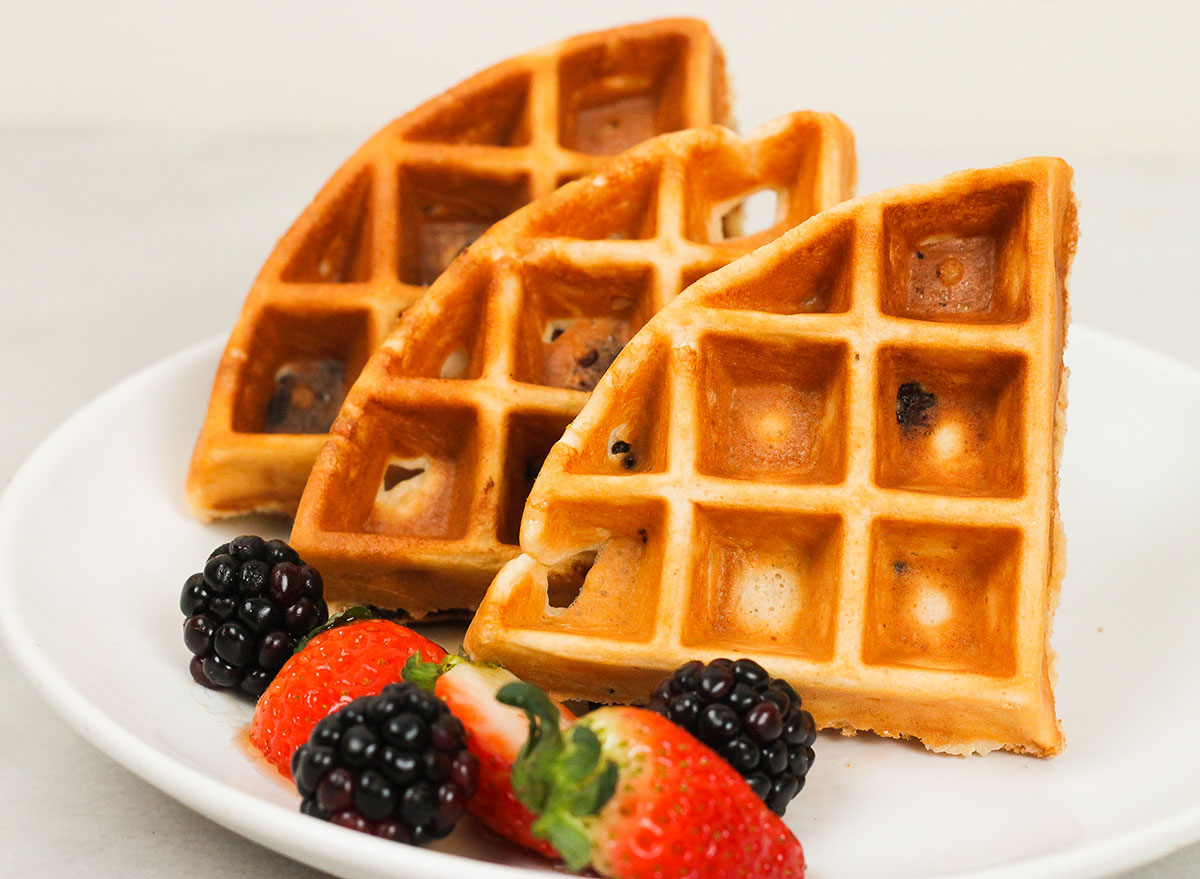 We love these waffles, not only for their protein content (which comes from Greek yogurt, protein powder, and oats), but also because you can easily make them with chocolate to jazz up your morning.
Get our recipe for Protein Waffles.
Paleo Smoothie With Yogurt & Granola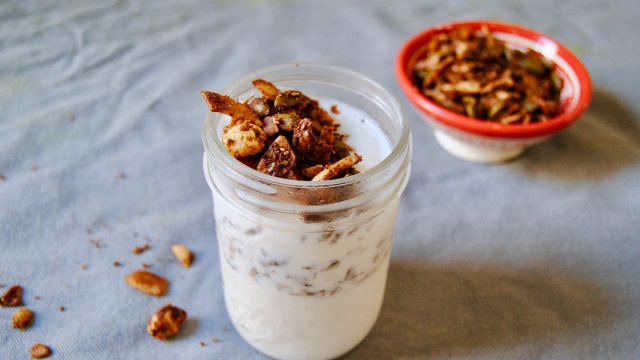 This paleo smoothie is great for weight loss because of its clean ingredients, protein, and low sugar content. And, you can customize it to fit your taste buds in the moment by changing up which granola and yogurt you're going to use.
Get our recipe for Paleo Smoothie.
Oatmeal With Peanut Butter & Banana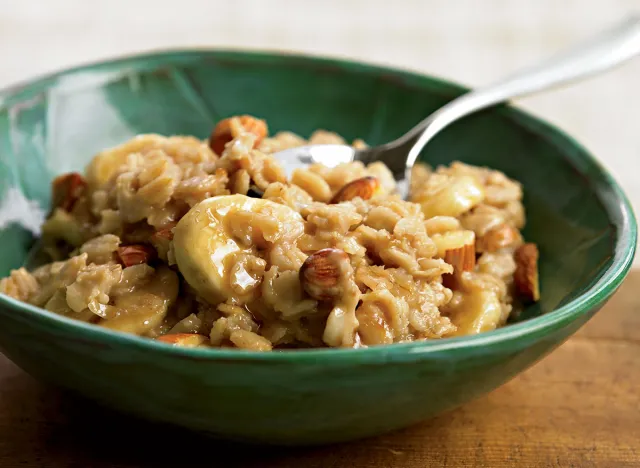 Oatmeal is one of the best breakfasts you can eat for weight loss because of its high fiber and protein content. Another perk of this high protein breakfast recipe is that it tastes naturally sweet from the bananas without the added sugar.6254a4d1642c605c54bf1cab17d50f1e
Get our recipe for Peanut Butter Oatmeal.
Vegetarian Black Bean Omelet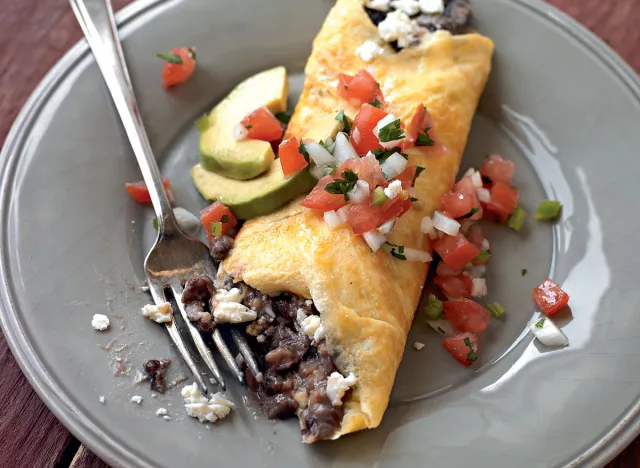 Black beans are a high-fiber food, which makes them a great choice for losing weight. These mixed with eggs will give you a delicious protein boost to start your day.
Get our recipe for Black Bean Omelet.
The Perfect Breakfast Burrito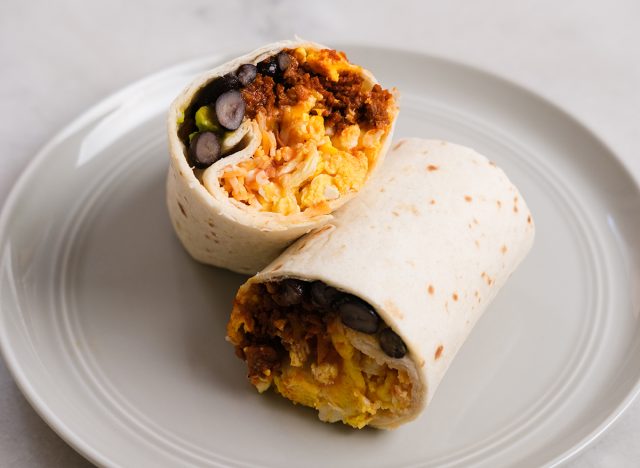 A hearty breakfast burrito like this one is the perfect way to start your day and match your weight loss goals. The beans will provide you with fiber and protein, the chorizo will give you a protein boost, and the whole burrito will keep you full and satisfied throughout the morning.
Get our recipe for Breakfast Burrito.
Cinnamon Vanilla Protein Breakfast Bites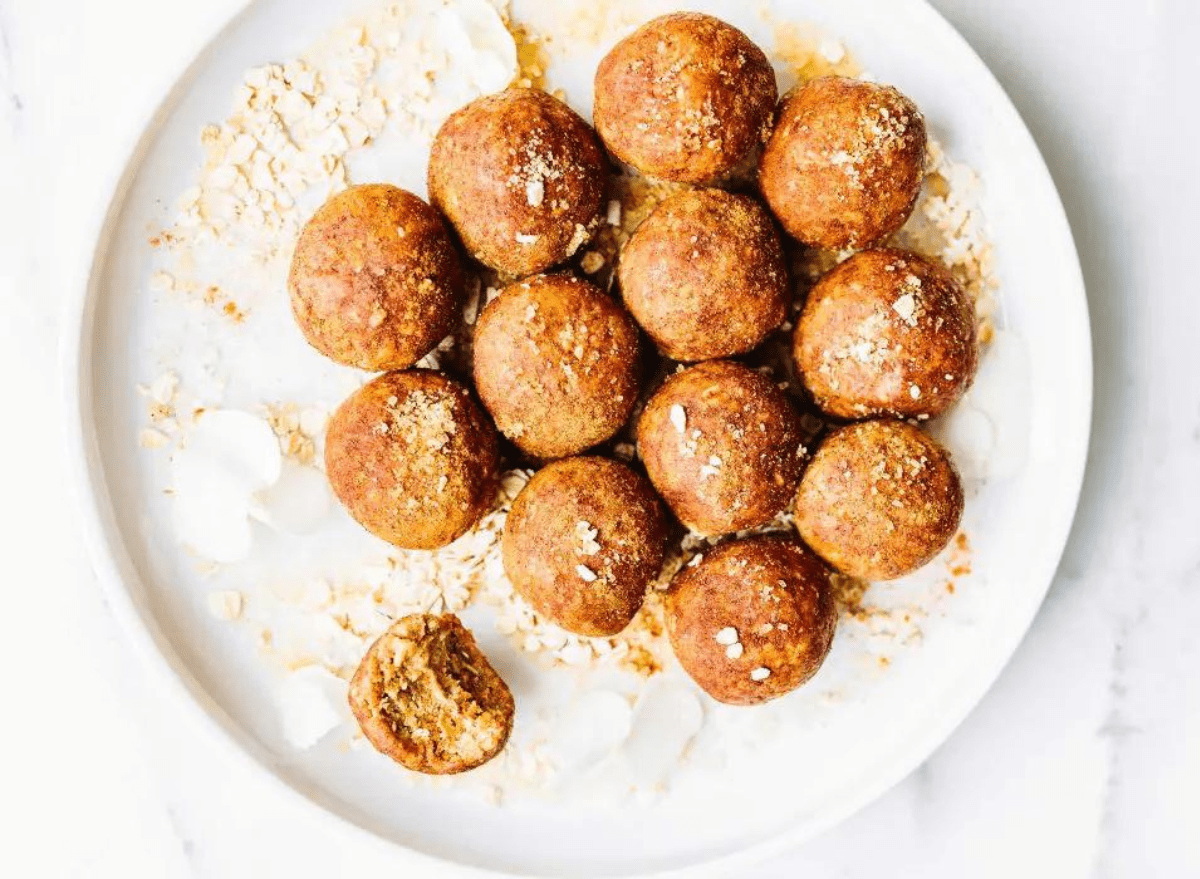 This gluten-free, lean protein recipe is a great weight loss breakfast choice. The combination of protein powder, almond butter, and oats will give you that healthy energy boost to keep you motivated to eat healthy throughout the day.
Get the recipe from Cotter Crunch.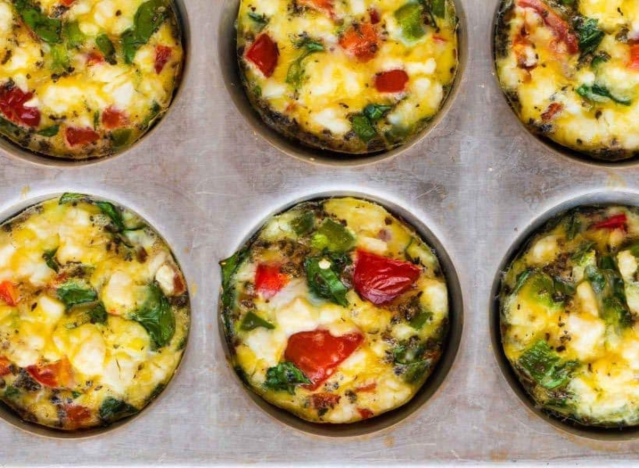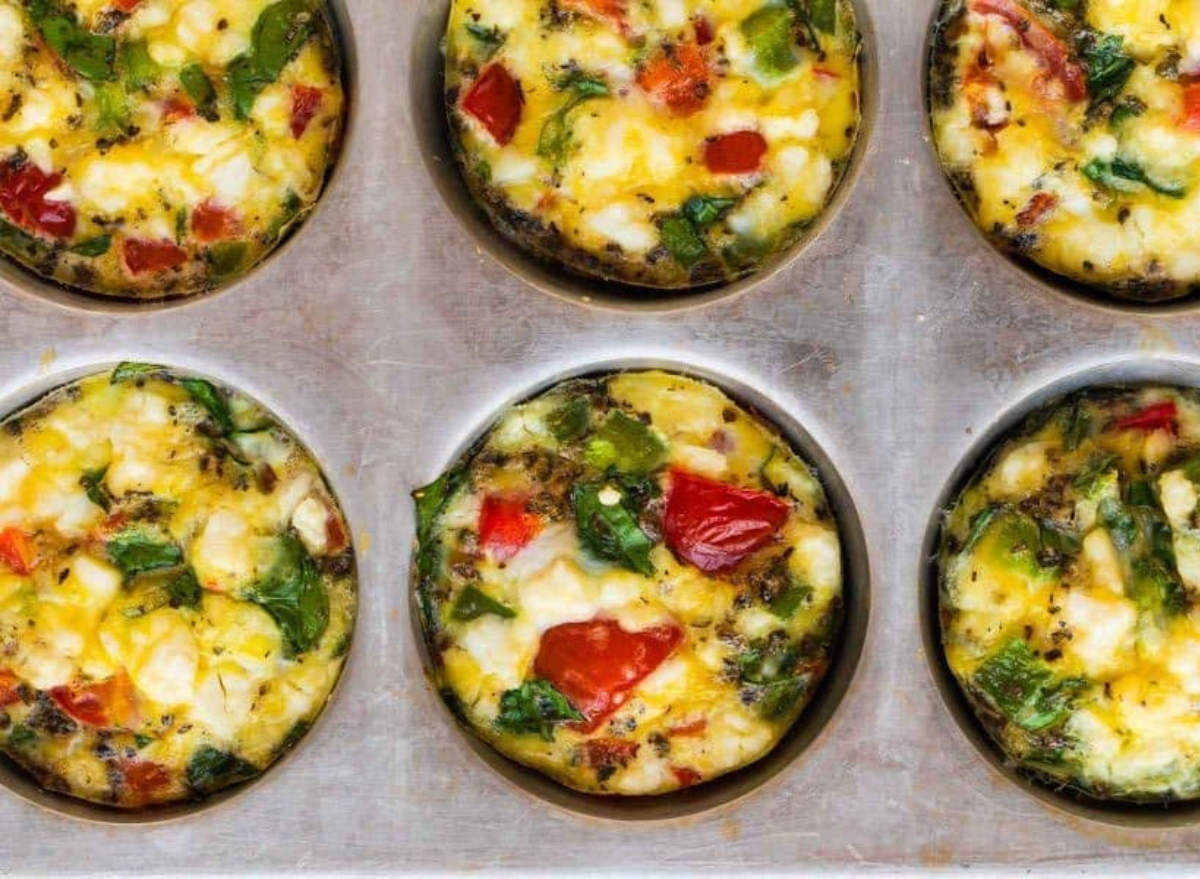 These egg muffins are so quick and easy to make, and their clean ingredients and extra protein from the eggs make for a great weight loss breakfast.
Get the recipe from Well Plated by Erin.
Sweet Potato & Avocado Burrito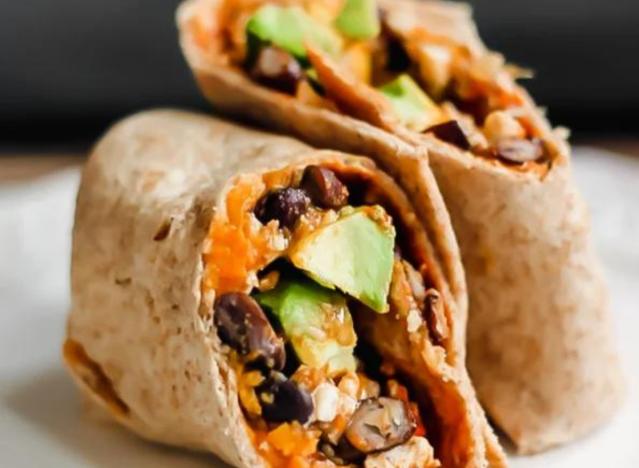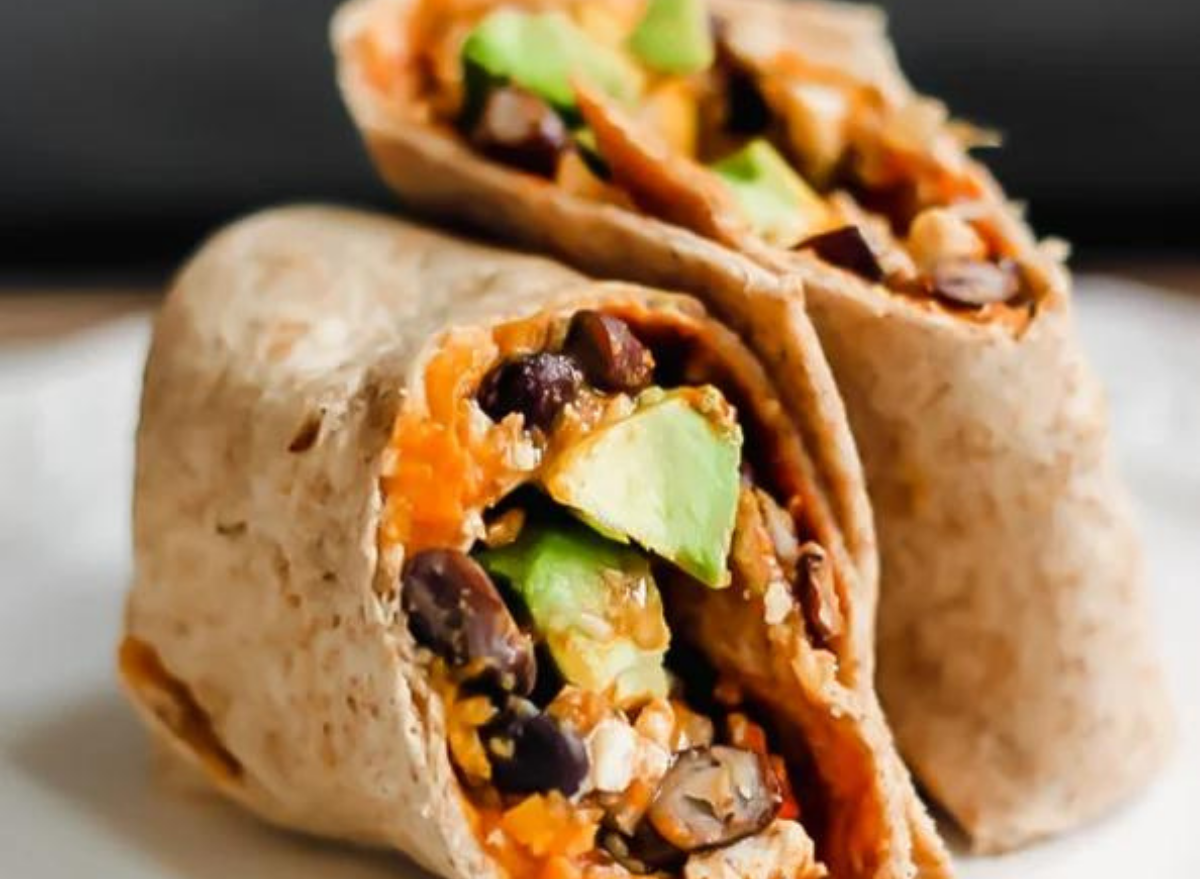 And finally, this fully vegetarian sweet potato wrap is a nice choice for a lean, protein-filled breakfast to have in the morning. You'll feel full for hours and won't be tempted to reach for the mid-morning snacks.
Get the recipe from Ambitious Kitchen.
A previous version of this story was published on May 7, 2022. It has been updated to include additional copy and proofreading revisions, as well as updated contextual links.
Sources referenced in this article