23 Best Hot Dog Toppings for Your Next Barbecue
One bite of these decadently delish hot dog toppings, and you'll never go back to basic condiments again.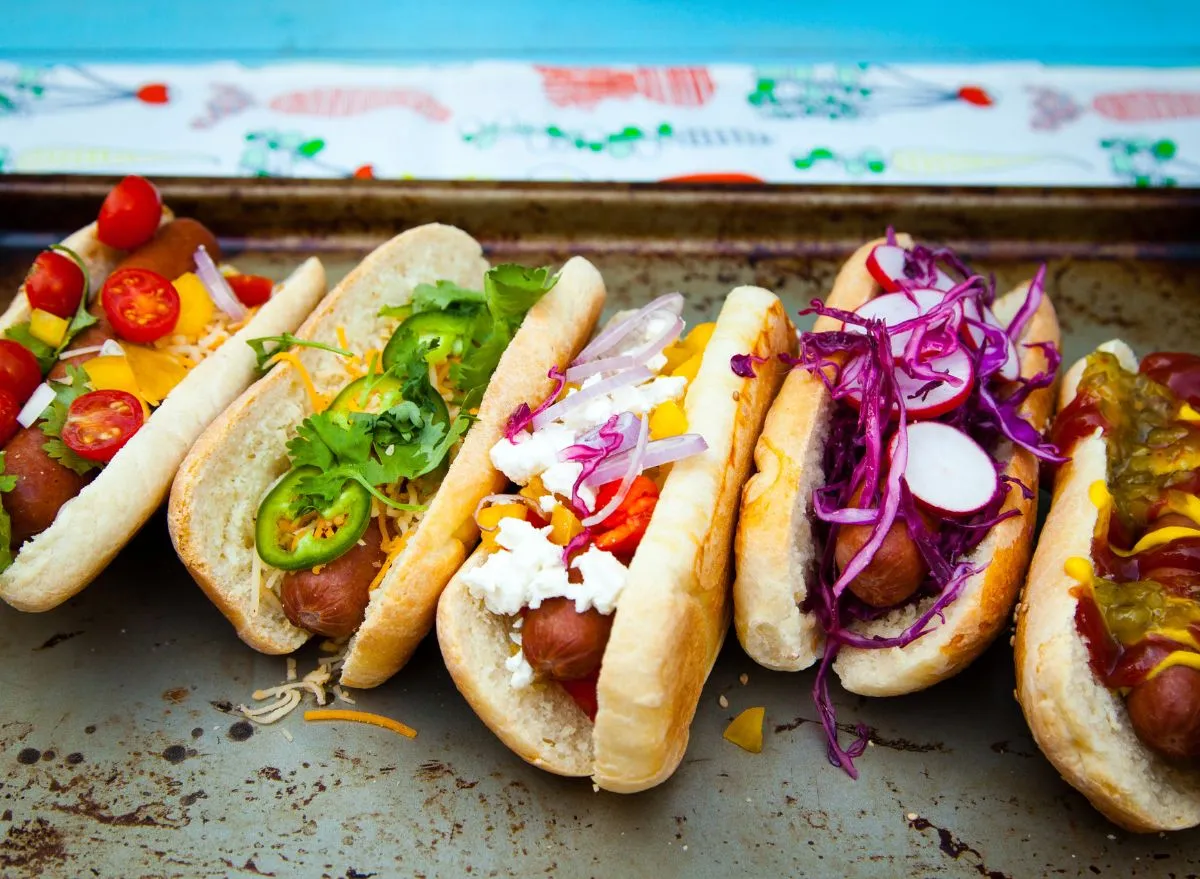 Condiments like ketchup, mustard, and relish are considered classic hot dog topping fare with good reason—they're as convenient as they are tasty, making them worthwhile to use. But for ambitious home chefs looking hoping to craft unique culinary experiences, these standard go-to dog toppers are likely to get old fast. Now that the spring/summer cookout season has begun, it's the perfect time to experiment with more creative hot dog topping combinations.
So to help you spice things up and take your hot dog game up a few gourmet notches up, we decided to come up with a few extraordinary hot dog topping combinations of our own. Believe me, these winning topping ideas will surely have everyone drooling as they line up around the grill. Give them a try at your next BBQ—and to help make your BBQs remain the talk of the town this summer and every summer to come, be sure to grab one of the best 10 Store-Bought Hot Dogs That Use 100% Pure Beef.
1. Mexican-Style Hot Dogs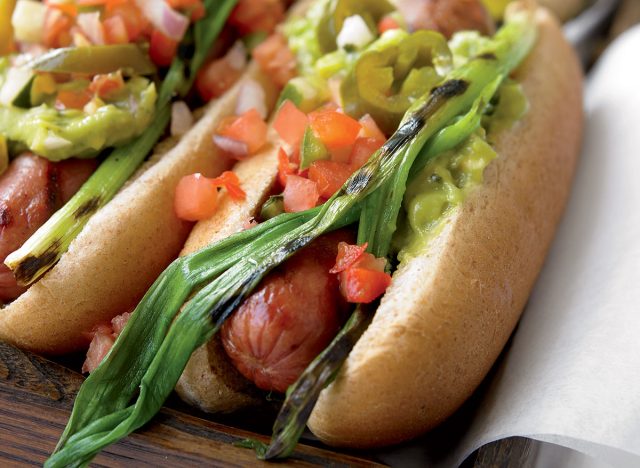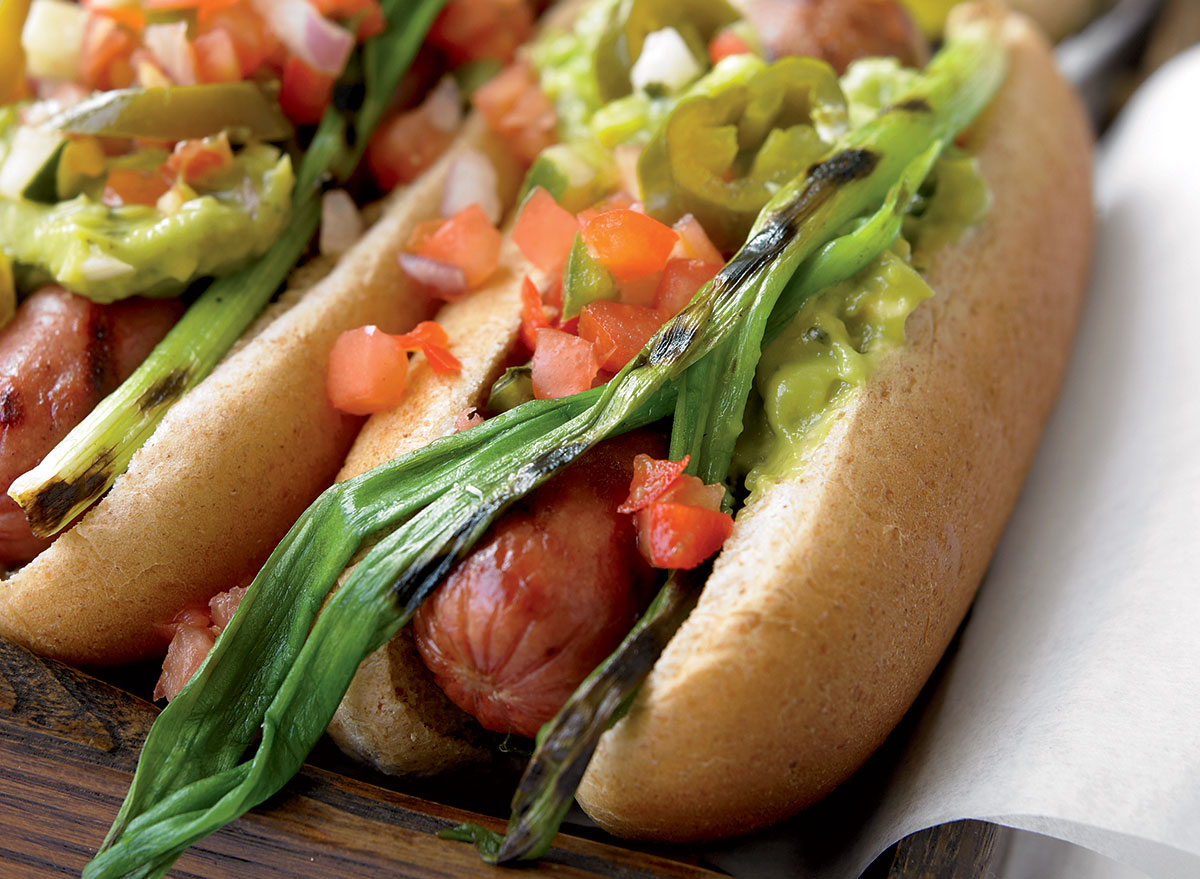 Combine the fresh taste of pico de gallo and/or salsa, guacamole, and jalapeños for a lighter mix of hot dog toppings. Pro tip: For an extra touch of smokiness (and an additional green veggie to help meet your daily veggie quota for the day) pop some fresh scallions on the grill and add those to your hot dog, too.
What you need: 
Pico de gallo
Guacamole (Try our recipe for homemade guacamole!)
Pickled jalapeños
Scallions (throw them on the grill with your hot dog!)
Get our full recipe for Mexican Hot Dogs.
2. Chicago Hot Dog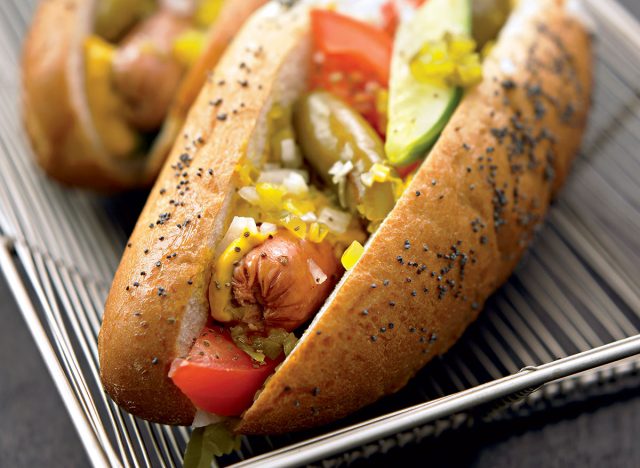 If there's one thing Chicago has mastered, it's the art of blending a dynamic mix of flavors, textures, and colors for its signature dishes—and the hot dog toppings for a classic Chicago dog are no exception. To make a Chicago hot dog,  you'll need pickles, tomatoes, raw diced onions, along with a little relish, mustard, and celery salt. And, of course, it wouldn't be a real Chicago hot dog without serving it on a poppyseed bun.
What you need: 
Yellow mustard
Chopped white onions
Sweet pickle relish
Tomato slices
Pickled sport peppers
Dill pickle spear
Dash of celery salt
Poppyseed bun
Get our recipe for Chicago Hot Dogs.
3. Teriyaki Dogs With Grilled Pineapple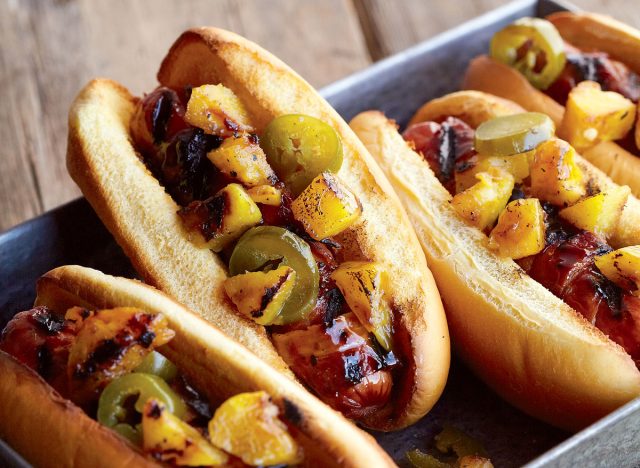 Admittedly, few meals are more indulgent than a bacon-wrapped hot dog—but sometimes you need to let yourself live a little! Each bacon-wrapped dog (minus the bun and toppings) is about 35 calories worth of pork, so consumed in healthy moderation, this decadent dog can be a tasty once-in-awhile treat. The crisp saltiness of the bacon perfectly complements the sweetness of the grilled pineapple chunks and teriyaki glaze, as well as the heat of the jalapeños. Not a fan of jalapeños' intense spiciness? For an equally flavorful kick that's more tolerable for spicy-sensitive palates, try throwing on a dash of Crystal Hot Sauce instead.
What you need: 
Bacon
Pineapple
Teriyaki sauce
Pickled jalapeño peppers and/or hot sauce
4. Kimchi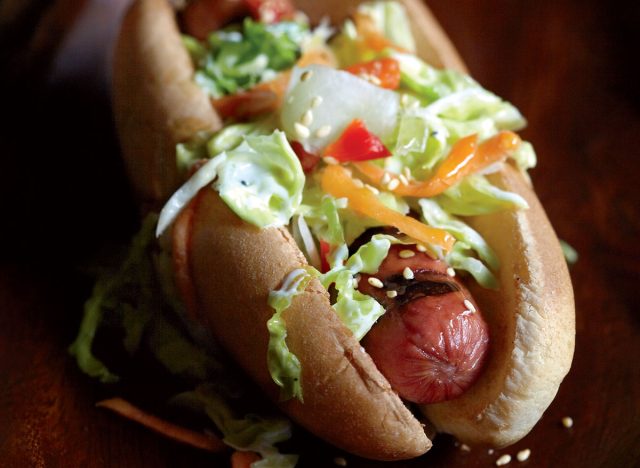 Sick of simple coleslaw and looking to branch out from sauerkraut? Try throwing a little kimchi on top of your grilled hot dog. A fermented, spicy cabbage that is a mainstay in Korean cuisine, kimchi brightens up a basic hot dog with a sweet yet sharp tanginess.
What you need: 
Cabbage slaw (cabbage, lime juice, mayonnaise, sesame seeds, sesame oil)
Kimchi
5. Sauerkraut & brown mustard
Typically, you'll find sauerkraut—a type of fermented cabbage—and brown (or ground) alongside a plate of bratwurst. However, these toppings also pair nicely will an all-beef hot dog. For an added boost of deliciousness, you can cut through the bold acidity of these toppings by also incorporating Swiss cheese.
What you need: 
Sauerkraut
Brown or ground mustard
Swiss cheese (optional)
6. Texas Chili Cheese Dog
When it comes to hot dog toppings, you can't go wrong with a classic chili-cheese combo courtesy of the great state of Texas. Pair your chili dog with a cup of crisp cold coleslaw or even throw some on top for the added textural dimension that will surely have you singing, "The chili dogs at night are big and bright (clap, clap, clap, clap) deep in the heart of Texas!"6254a4d1642c605c54bf1cab17d50f1e
What you need: 
Shredded cheddar cheese
Diced white onion
7. BBQ sauce & crispy onions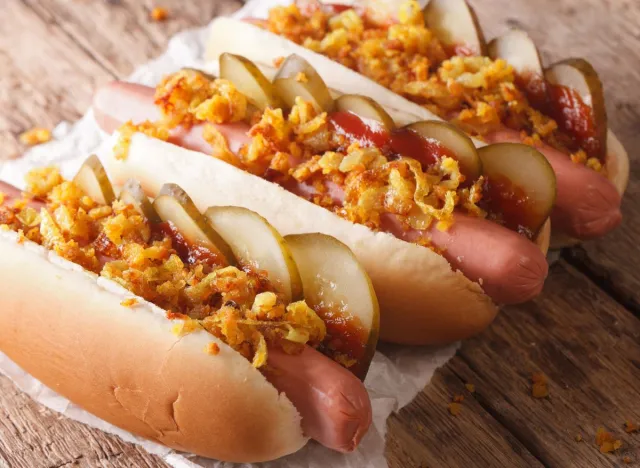 Crispy onions, or onion rights, are often seen served alongside burgers or, in some cases, even sprinkled on top. However, this savory munchy is also just as delish when served on top of a juicy grilled hot dog. And for an added gourmet touch, include BBQ sauce and some tart sliced pickles for a mouthful of vibrant flavor.
What you need: 
1 hot dog
Standard hot dog buns
Crispy onions or onion rings
Dill pickle slices (optional)
8. The 'Walking Taco' Dog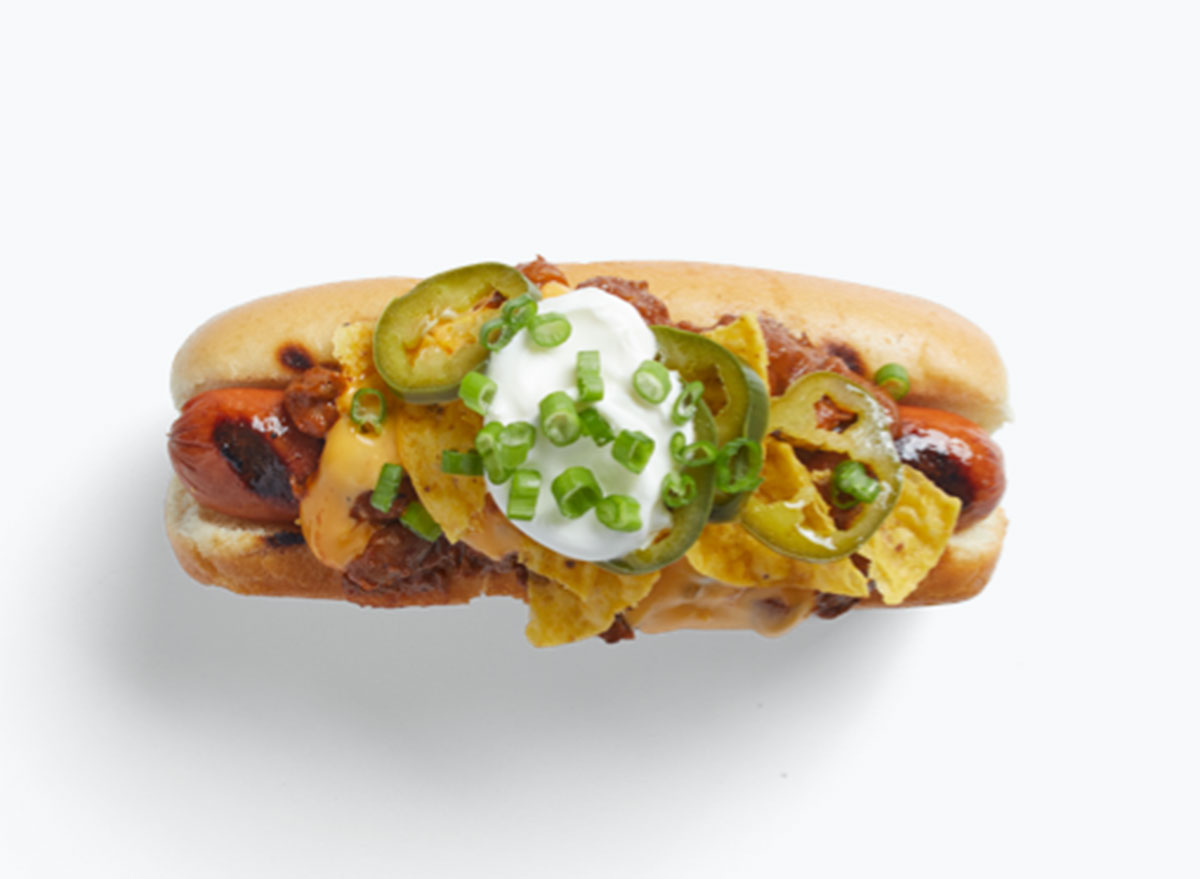 If you love a good "walking taco"—which is when you pour all your favorite taco ingredients, including taco meat or chili, into a bag of corn chips—then this is the hot dog for you! After pulling your meat off the grill and popping it into a bun, get your dog ready to strut its stuff by dressing it up with all your favorite on-the-go taco mixings.
What you need: 
Beef chili (including a little taco seasoning)
Cheese sauce
Crushed corn chips
Pickled jalapeños
Sour cream
Scallions
A small dollop of sour cream
9. Country Breakfast Dog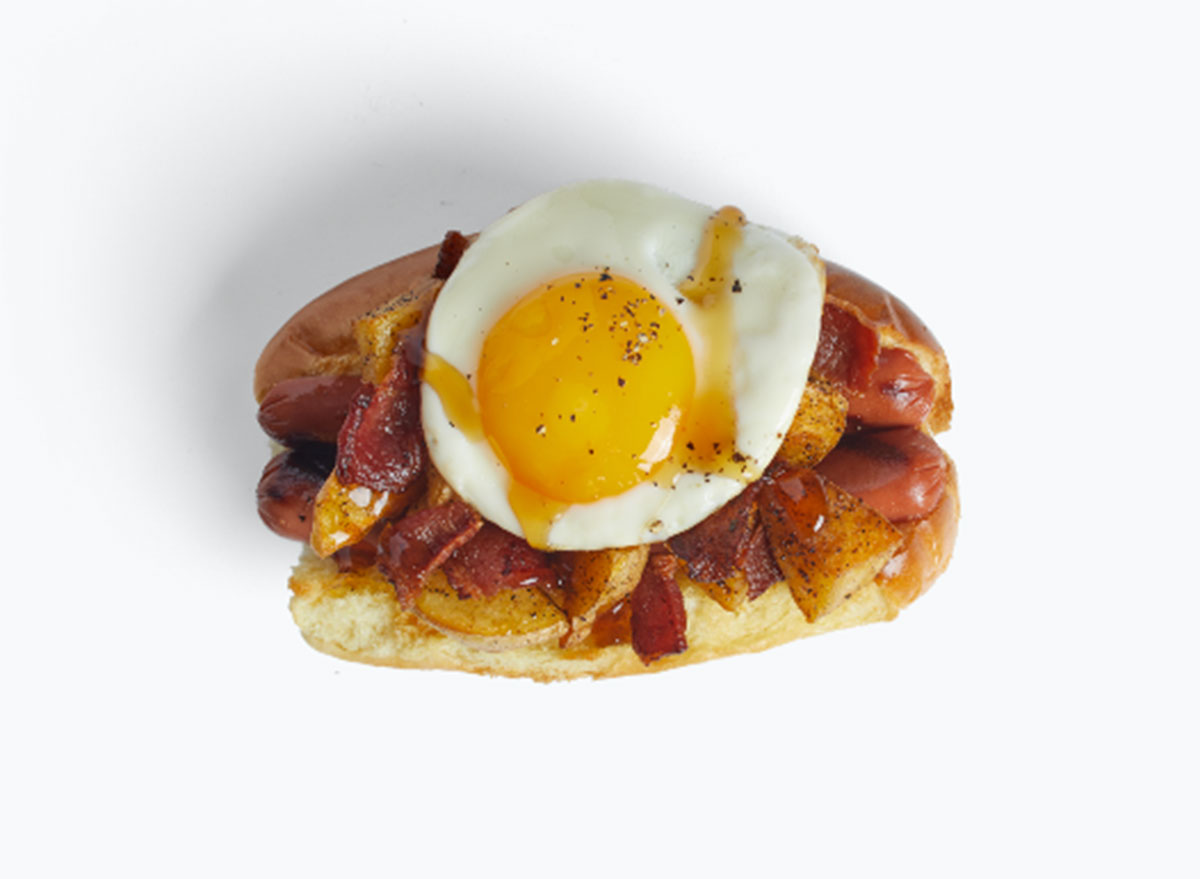 Attention early birds! Forget about getting the worm; grab one of these hot dogs instead! Hardcore breakfast and breakfast-for-dinner fans alike can prepare to salivate over the hot dog of your dreams. This hot dog topping combo includes a sunnyside-up egg, crispy bacon, savory home fries, and a light drizzle of maple syrup for an added undercurrent of sweetness that really ties the flavors together.
To load up your hot dog with these toppings, you will want to use the dog to create a bed for the ingredients to rest on. Cut your hot dog lengthwise, as if you were butterflying it, then grill cut side down for about 2 minutes. Then flip it and grill for another 2 minutes.
What you need: 
Home fries
Crumbled bacon
Sunny-side-up egg
Maple syrup drizzle
10. Italian Dog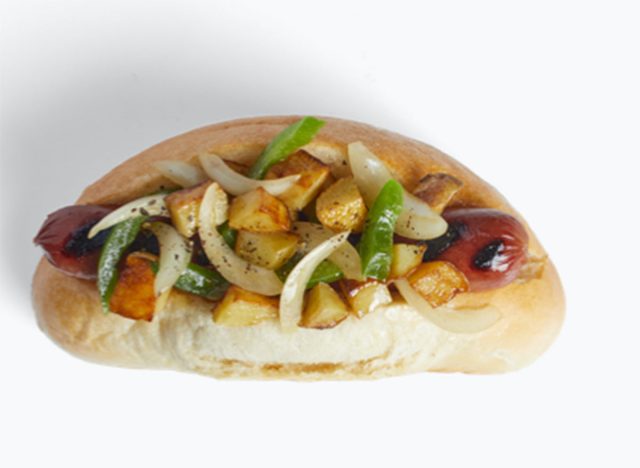 An Italian Dog is an attempt to capture the bold flavors of a classic Italian sausage and peppers recipe. To make this hot dog, you'll need a grilled all-beef hot dog and a little olive oil to sauté your potatoes, onions, and peppers in, and a torpedo roll in lieu of a regular hot dog bun.
What you need: 
Diced Yukon Gold potatoes
Green bell pepper
Sliced white onion
11. Cubano-Inspired Dog
Sink your teeth into this combination of Cuban-American flavors as you dress up your hot dog like a classic Cuban sandwich. Layers of thin-sliced deli ham, salami, Swiss cheese, spicy mustard, sliced dill pickles, and brown mustard will awaken your tastebuds like a savory shock to the system.
What you need: 
Deli ham
Swiss cheese
Salami
Dill pickle slices
Mustard
12. Bánh Mì-Style Dog
A staple street food sandwich in Vietnamese cuisine, bánh mì is typically made with savory meats (usually ham), crunchy pickled veggies, and a smear of creamy mayo, served on a light and crispy baguette. To capture the essence of a traditional bánh mì sandwich via your hot dog, forgo the usual bun to opt for a baguette and dress your dog with the same veggies. For hotheads who love added spice, we also suggest using a drizzle of Sriracha mayo on this one.
What you need: 
Sriracha mayo
Cucumber
Pickled carrots
Pickled daikon radish
Jalapeños
Cilantro
Sliced baguette
13. Avocado & Chipotle Mayo
As a healthy fat and all-around versatile fruit, avocado makes for an excellent omega 3-rich hot dog topping. To make this hot dog, slice up about a quarter of an avocado per dog. Pair this with some smoky, creamy chipotle mayo, some raw shredded cabbage, and a few scallions for an added boost of nutrients and flavor.
What you need: 
Chipotle mayo
Avocado slices
Shredded green cabbage
Scallions
14. 'Philly Cheesesteak' dog: Peppers, onions, & cheese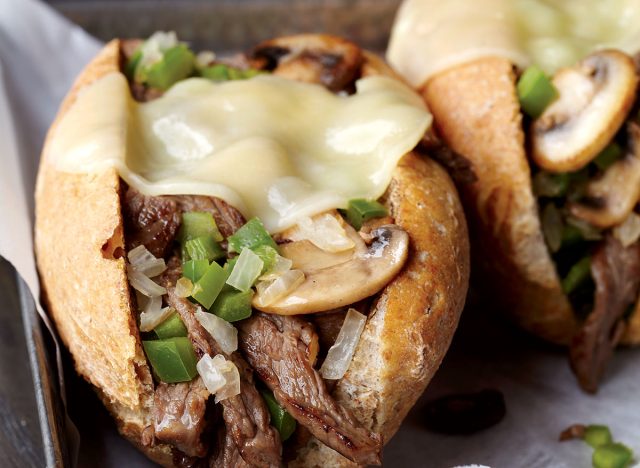 Take your tastebuds on a trip to Philadelphia, home of the Liberty Bell, Eagles football, and of course—the classic Philly cheesesteak. This hot dog combo is a take on this beloved sandwich. All you need for this Philly-inspired dog is to sauté up some onions and peppers and add a little melted cheese. If you really want to keep things true to Philly form, we suggest using provolone cheese or Cheez Whiz on this hot dog.
What you need: 
Sweet onion
Green peppers
Provolone cheese (or Cheez Wiz)
Get inspired by our recipe for a Philly Cheesesteak With Caramelized Veggies (pictured above).
15. Pimento cheese & pickled jalapeños
Although many varieties of cheese can make for a great hot dog topping addition, creamy pimento cheese will give your hot dog a one-of-a-kind comfort food twist. Turn up the heat while adding another unique facet of flavor by sprinkling some pickled jalapeños on top.
What you need: 
Pimento cheese
Pickled jalapeños
16. Baked beans & bacon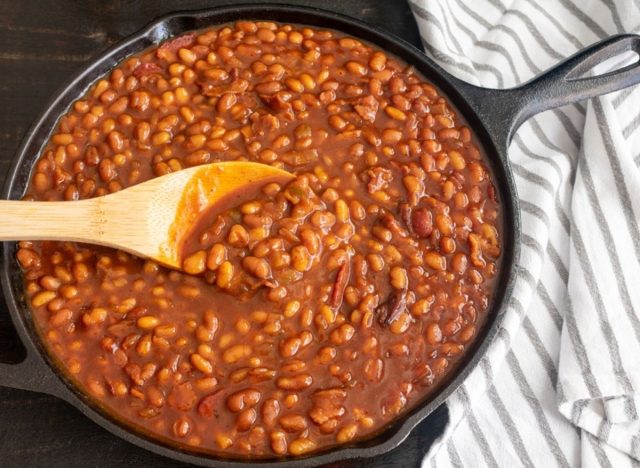 Bacon is a common ingredient used in many classic baked beans recipes. That said, it's clear that a bacon-baked beans combo represents the perfect marriage of salty, sweet, and smoky flavors. But why take a basic approach and serve this alongside your hot dog when you can put it on top and get a taste of everything all in one glorious bite?
Unsure of how to make the perfect pot of baked beans? Get our recipe for Smoky Baked Beans.
What you need: 
17. Baked beans & chips
Baked beans and potato chips are side and snack staples at summer BBQs, but have you ever considered using them as hot dog toppings? The perfect balance of salty, smoky, and sweet flavors, this combo also provides a satisfying crunch courtesy of the sprinkling of potato chips.
What you need: 
18. Disco Dog: Gravy & fries
From diners in the U.S. to pubs in Quebec, poutine—aka disco fries—remains an irresistible high-demand comfort food dish. Though a solid standalone app, this combination of ingredients also makes for incredible hot dog toppings. To make this, you'll need rich brown gravy, gooey melted cheese, and a pile of salty, crisp French fries. When it comes to which type of cheese to use for this one, we recommend a white cheese like mozzarella or American—or go the authentic Québecois distance by tossing on a few cheese curds.
What you need: 
Brown gravy
French fries
American cheese, mozzarella, or cheese curds
19. Cheese fries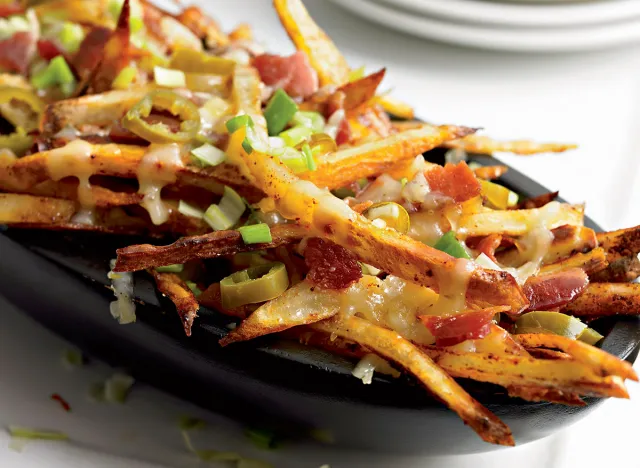 Speaking of cheese-centric hot dog topping and French fries, if the gravy used in the Disco Dog is a tad too rich, forgo the gravy and opt to dress up your hot dog with delicious cheese fries.
Looking for a cheese fries recipe that isn't a total caloric nightmare? We've got you covered! Get our recipe for Not-So-Unhealthy Cheese Fries.
What you need: 
French fries
Pepper Jack cheese (or cheese of your choice)
20. Buffalo sauce & blue cheese
If you have a serious hankering for buffalo wings but only have a fridge full of hot dogs, consider it a blessing from the summer BBQ gods! For a tasty take on a traditional plate of Buffalo wings, simply drizzle on a little Buffalo sauce and creamy blue cheese after grilling your hot dog.
What you need: 
Buffalo sauce
Blue cheese
21. Sautéed mushrooms & caramelized onions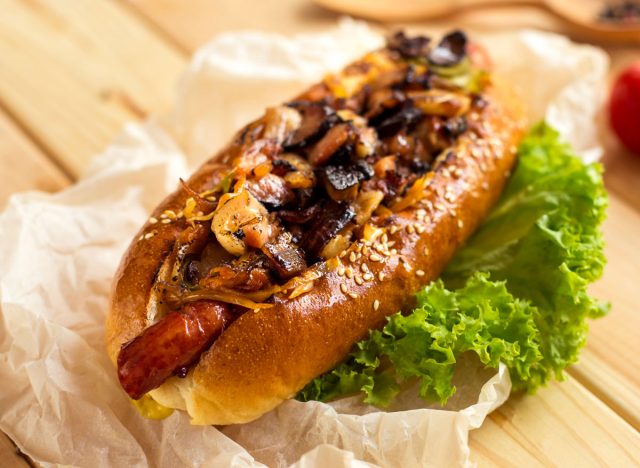 Sure, sautéed mushrooms and caramelized onions are superb on burgers. But if you haven't tried this combination of toppings on a hot dog yet, you're missing out! Similar to our recipe for a Smashed A1 Swiss Burger, elevate the complexity of this hot dog's taste by also serving it with melted Swiss cheese and a little steak sauce.
What you need: 
Baby bella mushrooms
Sweet onion
22. Avocado & bacon
If you love having hearty avocado toast with a side of sizzling, crisp bacon in the morning, then this combination of hot dog toppings is the way to go. To prepare these hot dog toppings, slice or smash about 1/4 of an avocado, fry up some bacon and break it down into bits, and get to dressing your dog! For an added breakfast-inspired twist, we also suggest sprinkling some Everything But the Bagel seasoning on top.
What you need: 
Avocado
Bacon
Everything But the Bagel seasoning (optional)
23. Mac & cheese and bacon (or prosciutto)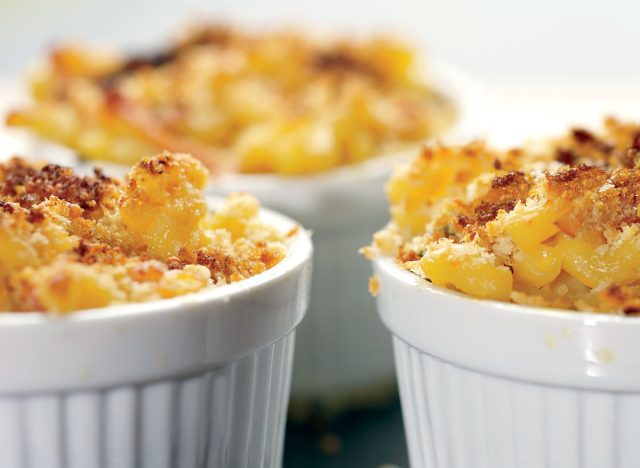 For a twist on this signature soul food dish, use mac & cheese and crispy bacon as hot dog toppings. This combo will give your hot dogs an extra comfort food edge that will stick to your ribs in the most satisfying way.
Get our recipe for Spicy Macaroni and Cheese With Jalapeños and Prosciutto.
What you need: 
Mac and cheese
Bacon or prosciutto