10 Store-Bought Hot Dogs That Use 100% Pure Beef
Take a look at this list before you buy franks for your next BBQ.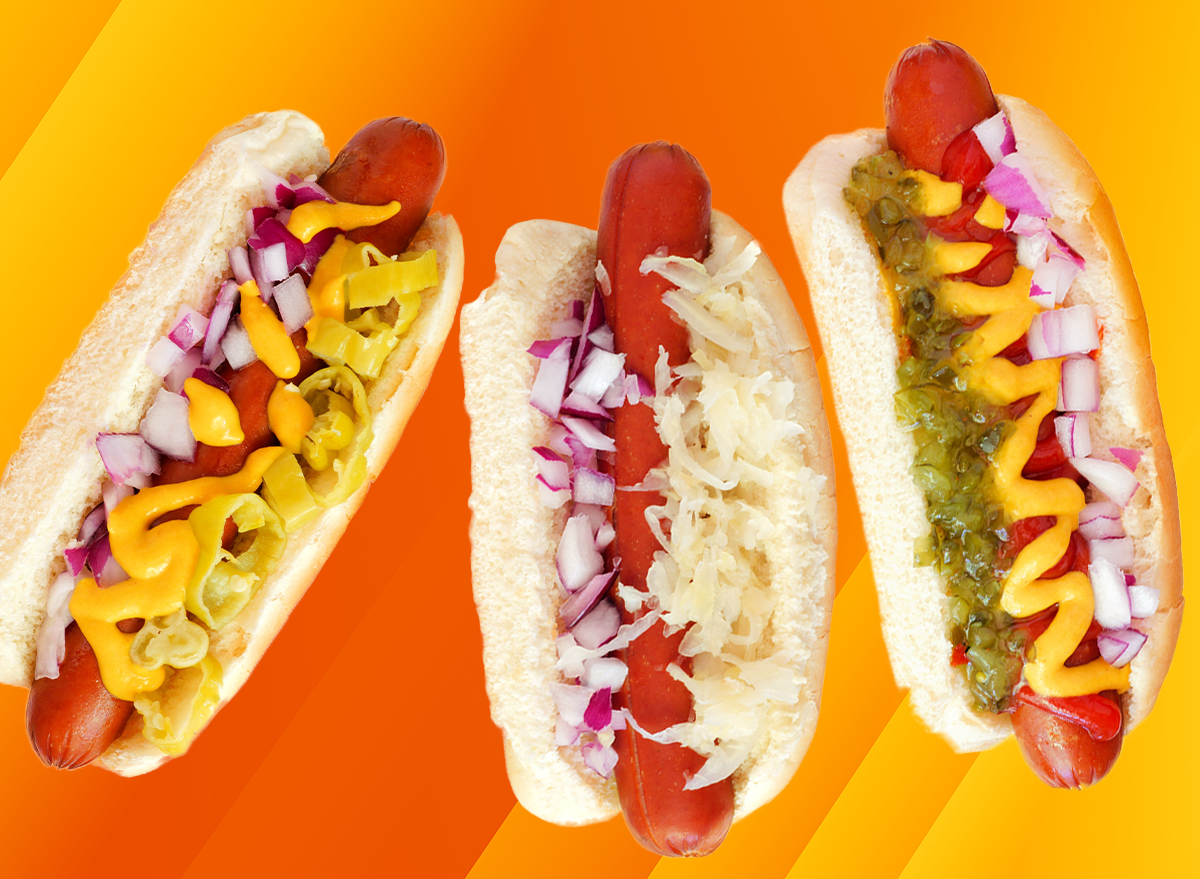 The product recommendations in this post are recommendations by the writer and/or expert(s) interviewed and do not contain affiliate links. Meaning: If you use these links to buy something, we will not earn a commission.
Hot dogs have a bad reputation for being "mystery meat" due to the fact that many brands load them with fillers, nitrates and byproducts—that is, the icky parts of the animal you'd probably never eat if you knew what you were being served. Still, franks are a staple of summer backyard BBQ's and gatherings. You can buy dogs that are 100% pure beef, but are they more nutritious?
"Leaning on pure beef hot dogs isn't necessarily more nutritious than the alternatives, but it ensures that you know the source of the meat that you are consuming," says registered dietician Lauren Manaker, MS, RDN. 
Manaker says that store-bought hot dogs can be very high in sodium, so opting for those on the lower end of this nutrient is recommended. "No matter which hot dog you are choosing, keep in mind that it is considered to be a processed meat choice—yes, even the organic or the poultry-based hot dogs are processed," she says. "Opting for choices that are lower in sodium and saturated fat is recommended." But no matter what, hot dogs should probably not be consumed on a regular basis and instead should be enjoyed on special occasions, she says.
Since there's nothing that says summer like a hot dog with mustard on a bun, here are the best all-beef franks to put on your shopping list.
Applegate's Great Organic Uncured Beef Hot Dog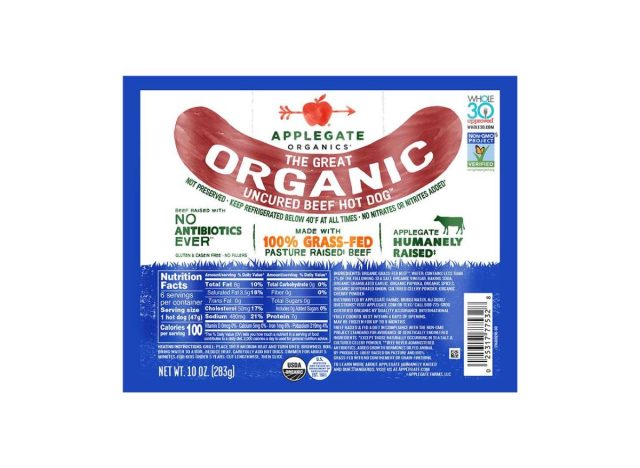 47 g hot dog, 100 calories, 8 g fat (3.5 g saturated fat), 480 mg sodium
This hot dog is made of organic grass-fed beef and water, and contains less than 2% of sea salt, organic vinegar, baking soda, organic granulated garlic and other organic spices. With 480 mg of sodium each, they make a great summer treat. Applegate says its beef is humanely raised with no antibiotics or growth hormones and that the dogs have no chemical nitrates, nitrates or fillers.
Organic Valley Organic Uncured Grass-Fed Beef Hot Dogs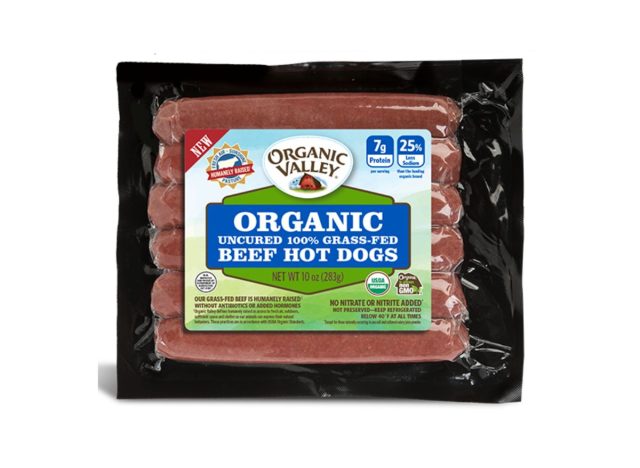 47 g hot dog, 130 calories, 11 g fat (4 g saturated fat), 370 mg sodium
These 100% grass-fed organic uncured beef hot dogs are a blend of humanely raised beef and a natural blend of spices. They are made without fillers, sugars, nitrates, and are hardwood-cooked and skinless. At 370 mg of sodium per dog, you can feel good throwing these on the grill this summer.
Ball Park Beef Franks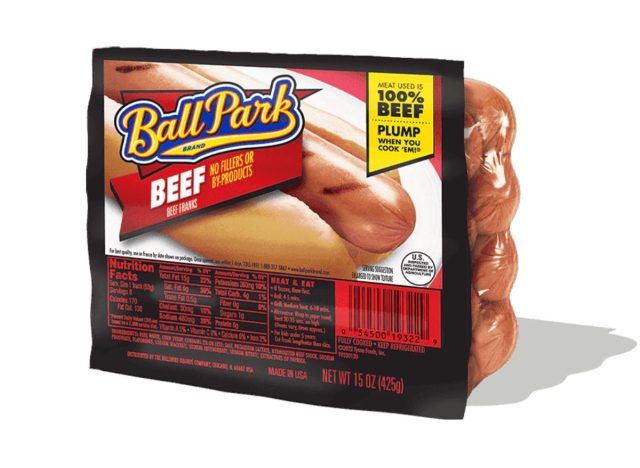 53 g hot dog, 170 calories, 15 g fat (6 g saturated fat), 480 mg sodium
These franks are made with 100% beef with no fillers or by-products. There are no artificial flavors or colors here, just good old-fashioned dogs made in the U.S.A. One frank has 480mg of sodium, but you can't beat the fact that they "plump when you cook them."
Hebrew National Beef Franks
49 g hot dog, 150 calories, 13 g fat (5 g saturated fat), 450 mg sodium
When you eat a Hebrew National, you know you're getting 100% kosher beef. "Being kosher means that the hot dog is free from pork and the meat used was slaughtered in a specific way that is in line with what Jewish law dictates," says Manaker. "Since kosher implies pork-free, people can assume that a kosher hot dog is free from any pork products. It also means that it is dairy-free, as kosher law requires people to avoid eating dairy and meat at the same time." These dogs clock in at 450mg of sodium each, and a reviewer on the website says "they're bomb dot com and you can't convince me otherwise."
Grass Run Farms Uncured Beef Hot Dogs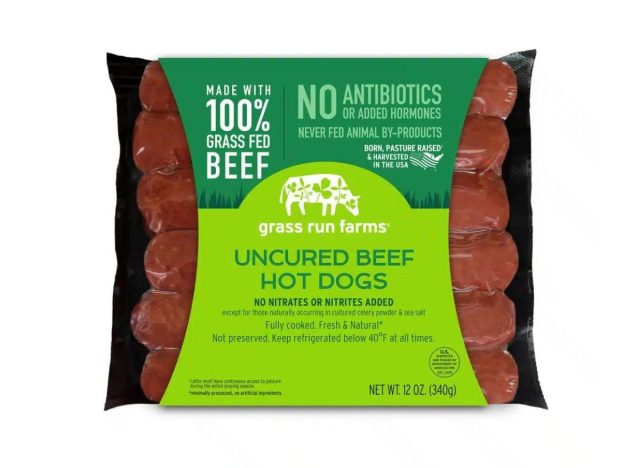 56 g hot dog, 120 calories, 9 g fat (.5 g saturated fat), 390 mg sodium
Grass Run Farms' dogs are sourced from 100% grass-fed cattle that are born, pasture-raised and harvested in the U.S.A. Ingredients include 100% grass-fed beef, water and less than 2% sea salt, vinegar and other spices and coloring including paprika. Each dog will run you 390mg of sodium. Try one Chicago-style with salad on top.6254a4d1642c605c54bf1cab17d50f1e
Oscar Meyer Uncured Beef Franks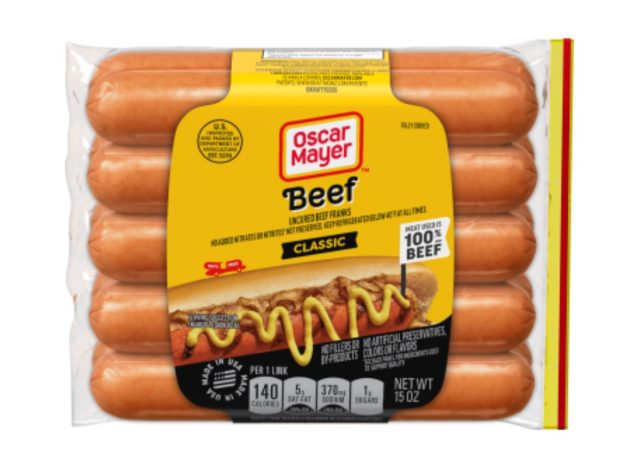 42 g hot dog, 130 calories, 13 g fat (5 g saturated fat), 370 mg sodium
Oscar Meyer fans can rejoice at this healthier version of the brand's original hot dog. These 100% beef franks have no added nitrates or nitrates, no artificial preservatives and by-products. Each dog has 370mg of sodium.
365 By Whole Foods Market Uncured Beef Hot Dogs
76 g hot dog, 190 calories, 15 g fat (7 g saturated fat), 530 mg sodium
These hot dogs contain nothing but beef and yummy spices including sea salt, organic vinegar and organic cane sugar. At 530mg of sodium, they're one of the saltiest dogs on our list, but they are also dairy-free and delicious!
Kirkland Signature Hot Dogs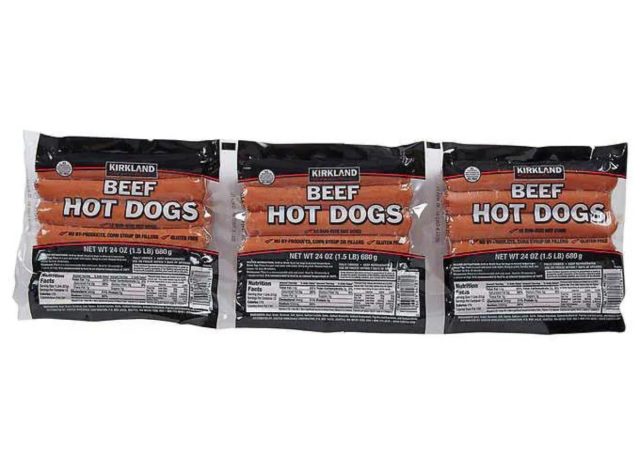 57 g hot dog, 170 calories, 14 g fat (6 g saturated fat), 530 mg sodium
Costco's hot dogs contain no fillers, by-products or corn syrup. They do have 530mg of sodium but they're also a customer favorite.
Do Good Dog Applegate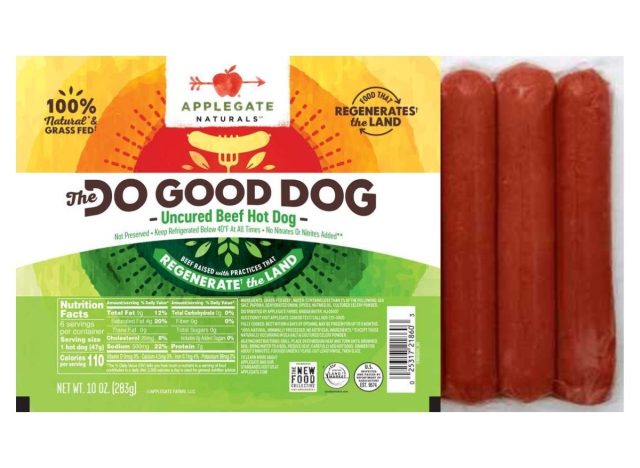 47 g hot dog, 100 calories, 8 g fat (3.5 g saturated fat), 480 mg sodium
Not only is this a popular dog, it's a nutritionist favorite. "I enjoy Do Good Dog by Applegate because of the sustainability practices that are used to produce these hot dogs," says Manaker, although she notes that she rarely eats hot dogs. The Do Good Dog (which contains 480 mg of sodium) is made with beef raised on verified regenerative U.S. grasslands and the company says it  respects the role animals play in a "healthy food system."
Nathan's Famous Beef Franks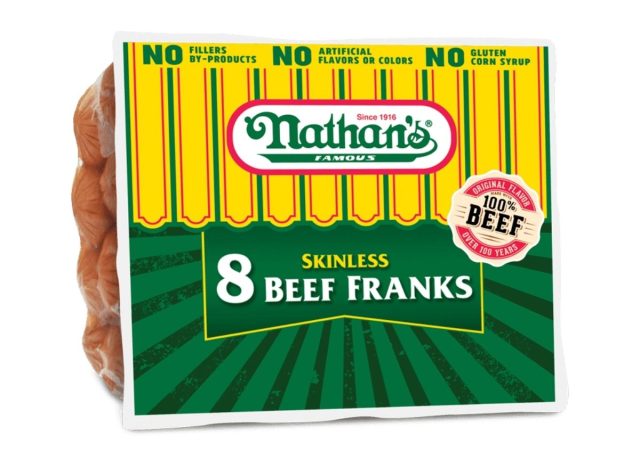 68 g hot dog, 210 calories, 20 g fat (8 g saturated fat), 650 mg sodium
These premium, 100% beef hot dogs are synonymous with New York—and of course, Coney Island! Made with 100% beef and no artificial flavors or colors, these have been around for over 100 years and are truly a classic. "These are delicious and flavorful," said one reviewer on their website. "They were great each way that I prepared them. They can be grilled, boiled, and sautéed. They fit perfectly in the hot dog buns. My kids loved them and request them every week!"
Ronnie Koenig
Ronnie Koenig has written about food, drink, travel and culture for The New York Times, TODAY, The Atlantic and many others.
Read more about Ronnie