Lazy Ways to Lose Weight All December Long, According to Science
Healthy tricks to help you navigate the unhealthiest month of the year.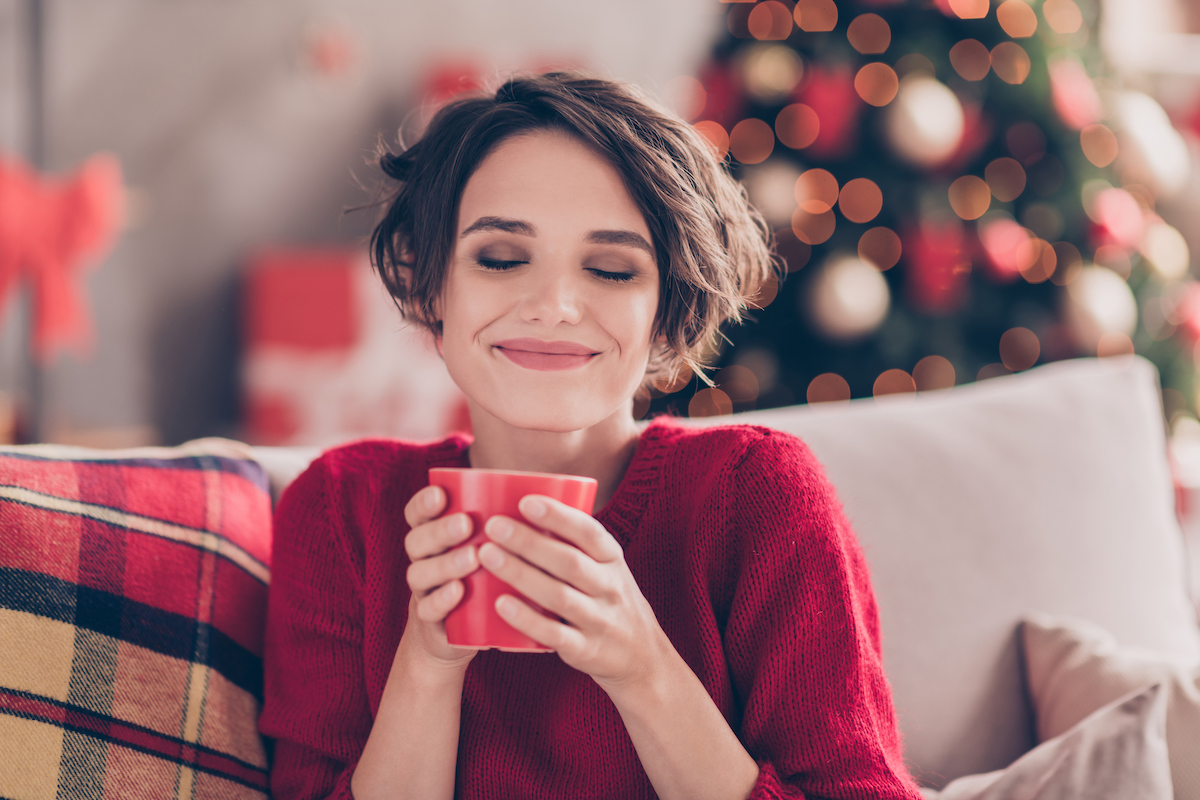 With its shorter days, plunging temperatures, stressful work deadlines, buttery feasts, and festive cocktails, December is hardly the ideal month to start losing weight. But if you're determined to see weight loss results this month, you still can, and entirely by making the right healthy eating decisions (for those, see here), by setting aside just enough time to exercise (for more on that, see here), and by incorporating the following super easy tips and tricks into your daily routine. Best of all, these hacks are just about the very least you need to do to impose meaningful change on your habits over the holidays. (Trust us: None of them will require you to live like a monk until 2021.) So read on, and for more great weight loss advice you probably didn't know, be sure to memorize these Sneaky Weight Loss Tricks That Totally Work, Say Experts.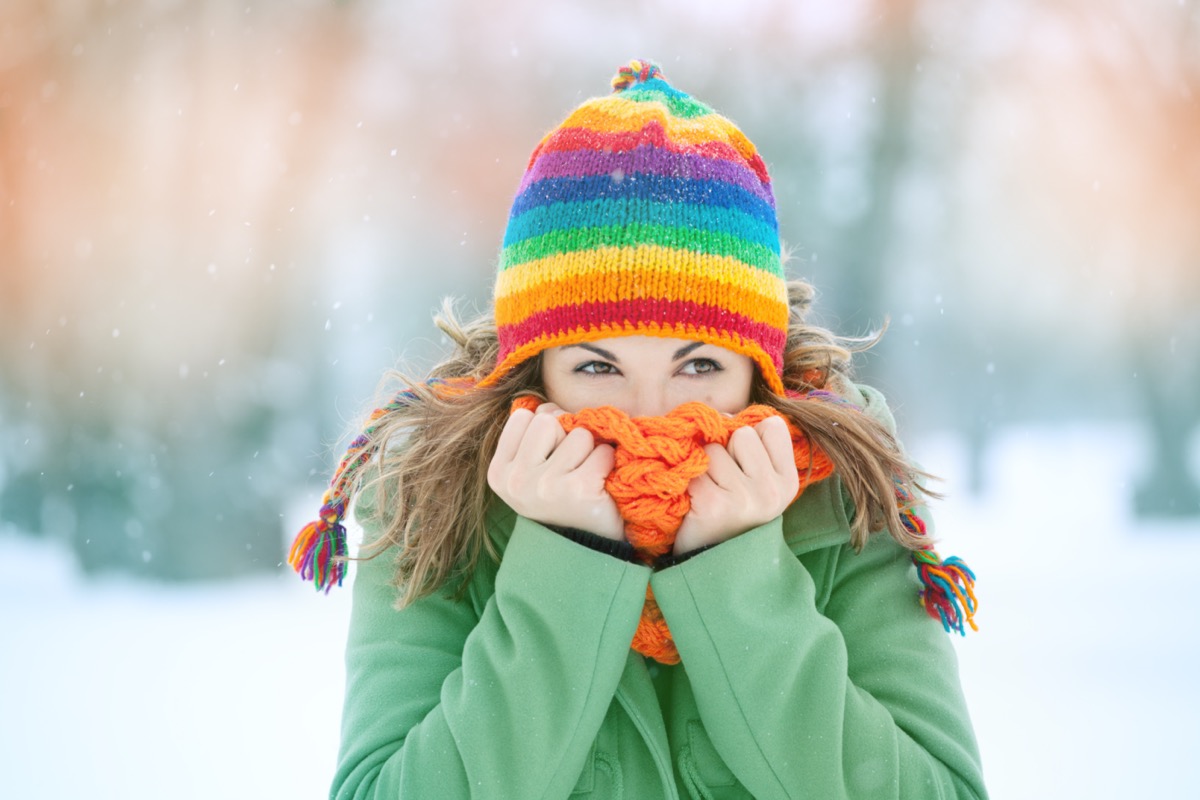 Fact: Simply exposing your body to brisk temperatures can help unleash the forces of your body's inner fat-burning machinery. According to a new study published last month in the journal Molecular Metabolism, "cold ambient temperatures" will encourage your body to produce more vitamin A naturally, which helps your body convert your body's white fat (the bad, inert kind) into brown fat (the good, healthy, and useful kind). When this happens, your body burns more energy than it stores as fat. Best of all: You don't need to load up on vitamin A supplements to experience this metabolic boost.
"Our results show that vitamin A plays an important role in the function of adipose tissue and affects global energy metabolism," the researchers conclude. "However, this is not an argument for consuming large amounts of vitamin A supplements if not prescribed, because it is critical that vitamin A is transported to the right cells at the right time."
So get outside, and when you feel those chills, know that you're priming your body for weight loss. And to find the perfect grocery shopping list for slimming down, check out these 12 Foods That Drive the Most Weight Loss of All, According to Experts!
Here's an easy hack for slashing your alcohol consumption during the booziest month of the year: "Indulge in holiday wine spritzers versus wine at holiday gatherings this year," advises Cristie Besu, RN, CSN. "You use 50 percent wine and 50 percent club soda and—voila!—your wine now has half of the calories." Tip: Though most white wines make great spritzers, red wine lovers should opt for a pinot noir, says Besu. And for some great drink recipes, see this list of the Healthiest Cocktails You Can Make at Home.
Buy Your New Year's Celebration Outfit Now
"Buy your New Year's outfit early this holiday season," says Susan Bowerman, M.S., RD, CSSD, CSOWM, FAND, the former assistant director of the UCLA Center for Human Nutrition. "Try it on, take a selfie, and keep it where you can see it. Thinking about how great you'll look on that special night can keep you motivated during the hectic weeks leading up to it."
For many it's counterintuitive, but for us at Eat This it's gospel: If you want to burn more energy, you've got to keep eating the right foods to ensure that your metabolism is always firing. "When you skip any meal your blood sugar falls throughout the day," says Richard Lipman, MD. "You arrive at the next meal not only hungry, but with low blood sugar. The result is a low energy level, which means less exercise and physical activity. Making bad choices like eating at fast food restaurants or having large meals is the result. Experiencing low blood sugar at lunch or late in the afternoon when lunch is skipped often leads to overeating and loss of control."
Start Your Big Holiday Meals with Soup Instead of Salad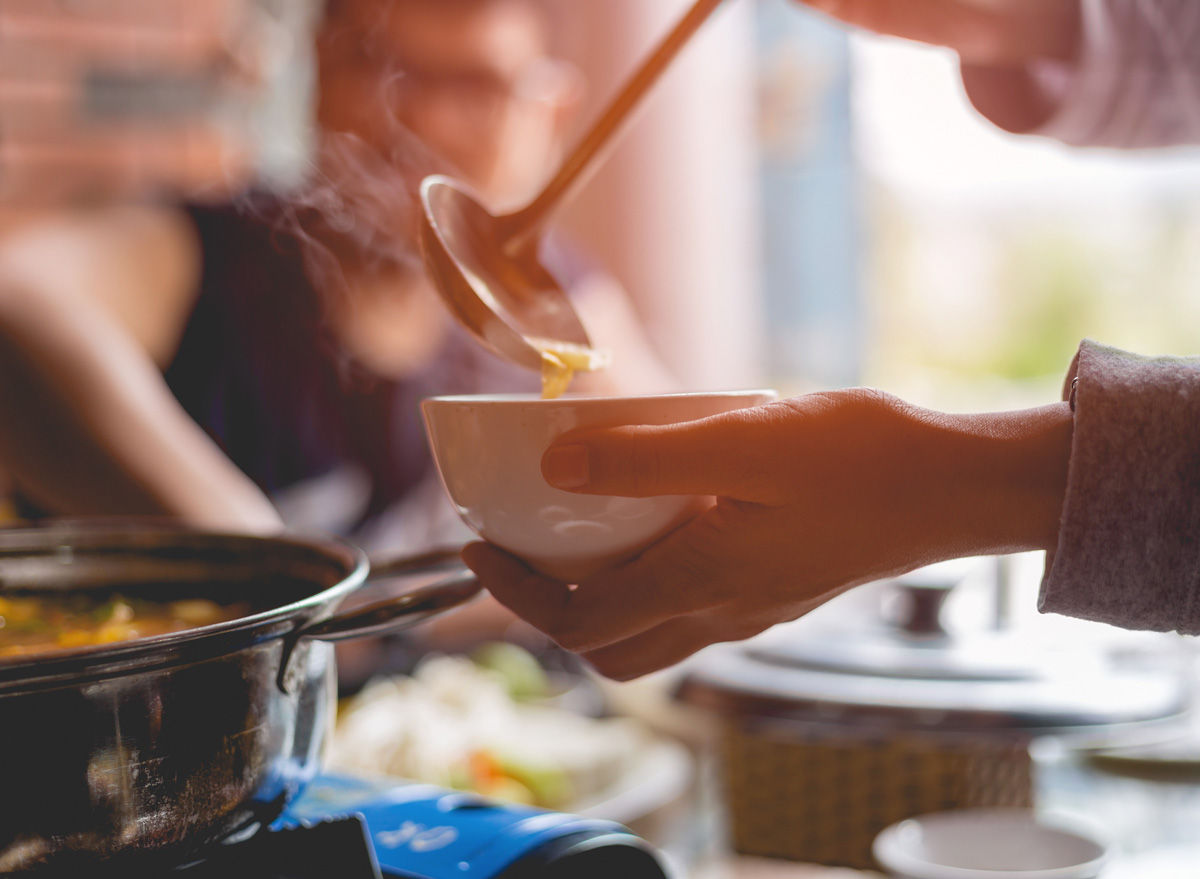 According to a study by researchers at Penn State University, starting a big meal with a bowl of soup will singlehandedly help you cut your calorie consumption by upwards of 20 percent. And, let's be clear: we're not talking about hearty, unhealthy soups that fill you up. "Consuming a first course of low-calorie soup, in a variety of forms, can help with managing weight," write the researchers. So fill your stomach with a great soup, and you're bound to eat less of the unhealthy foods in later courses. And for more easy at-home hacks, don't miss this list of Simple Ways to Start Losing Weight Immediately, According to Science.6254a4d1642c605c54bf1cab17d50f1e
Replace All Those Hershey's Kisses With Pistachios
Does practically every surface in your home during the month of December contain a bowl of sweets? This year, the latest science says you should definitely ditch the green-and-red M&Ms, Hershey's Kisses, and other unhealthy morsels for good old-fashioned pistachios.
A new study published in the journal Nutrients revealed how pistachios are your new weight-loss secret weapon. The study, conducted by researchers at the University of California, San Diego, followed 94 adults of varying body size—from slim and healthy to obese—as they embarked on the same weight-loss program. The only difference? Half of the participants added 1.5 ounces of pistachios to their diet, while the other half didn't. Though participants across the board lost weight, the ones who ate pistachios had much rosier biometrics at the end of the trial. They ultimately experienced lower blood pressure, consumed more fiber, and consumed "less sweets" than those who didn't supplement their diets with pistachios.
Add Peanut Butter to Your Breakfast
Dietitians have long known that peanut butter is a wondrous hunger killer. But a study conducted by researchers from Purdue University and the Federal University of Vicosa in Brazil—whose findings were published in The British Journal of Nutrition—found that eating peanut butter with your breakfast can satiate you for upwards of 12 hours. Try your hand at one of these 30 Amazing Peanut Butter Recipes in the AM and you've set yourself on the path to a healthier day of eating.
Drink 90 Ounces of Water Per Day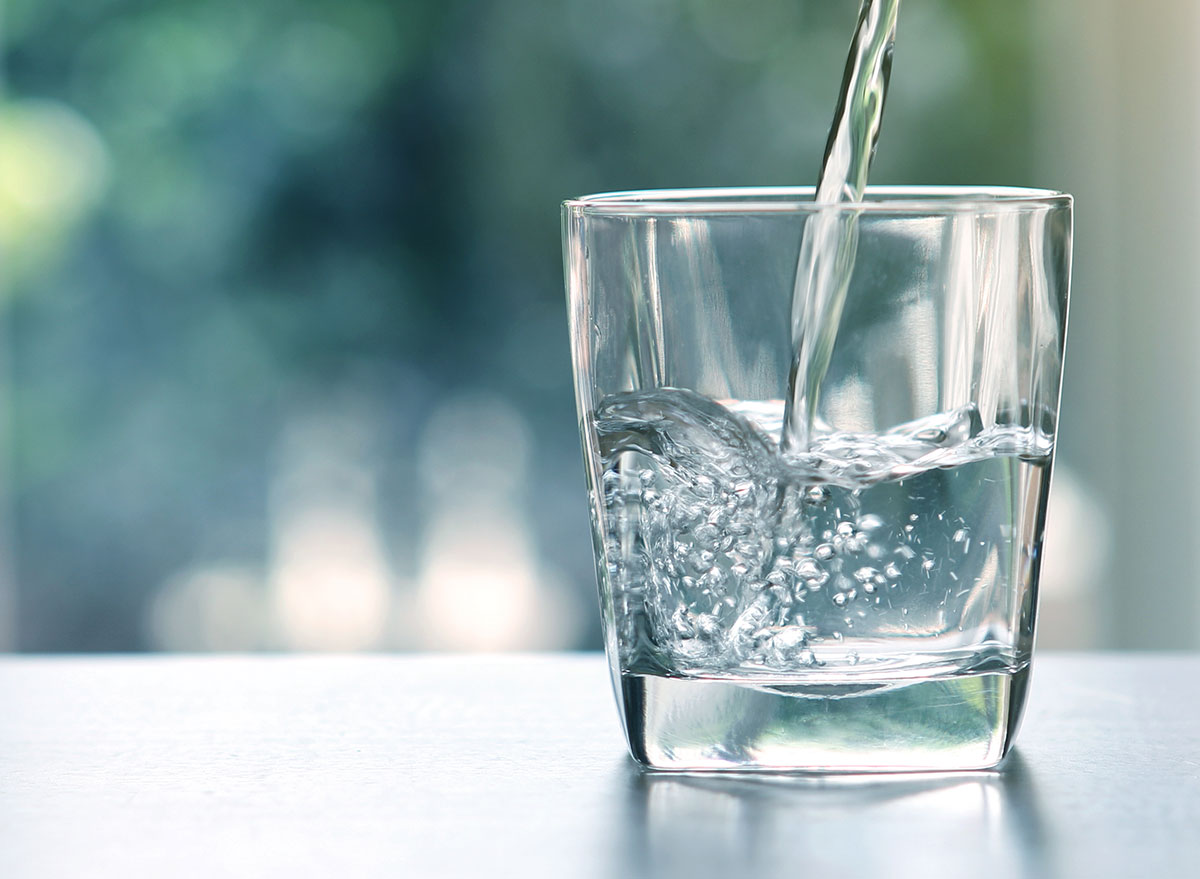 It's simply a fact that downing enough H20 is crucial for starting your day right and unleashing the full power of your metabolism. According to a study published in The Journal of Clinical Endocrinology and Metabolism, after drinking approximately 17 ounces of water (about two tall glasses), participants' metabolic rates increased by 30 percent.
"Truth is, many people live most of their life dehydrated," says Tori Jensen, RD. "If you begin to drink more water, you'll instantly feel the difference—both mentally and physically."
Treat Workouts Like Quick, No-Nonsense Appointments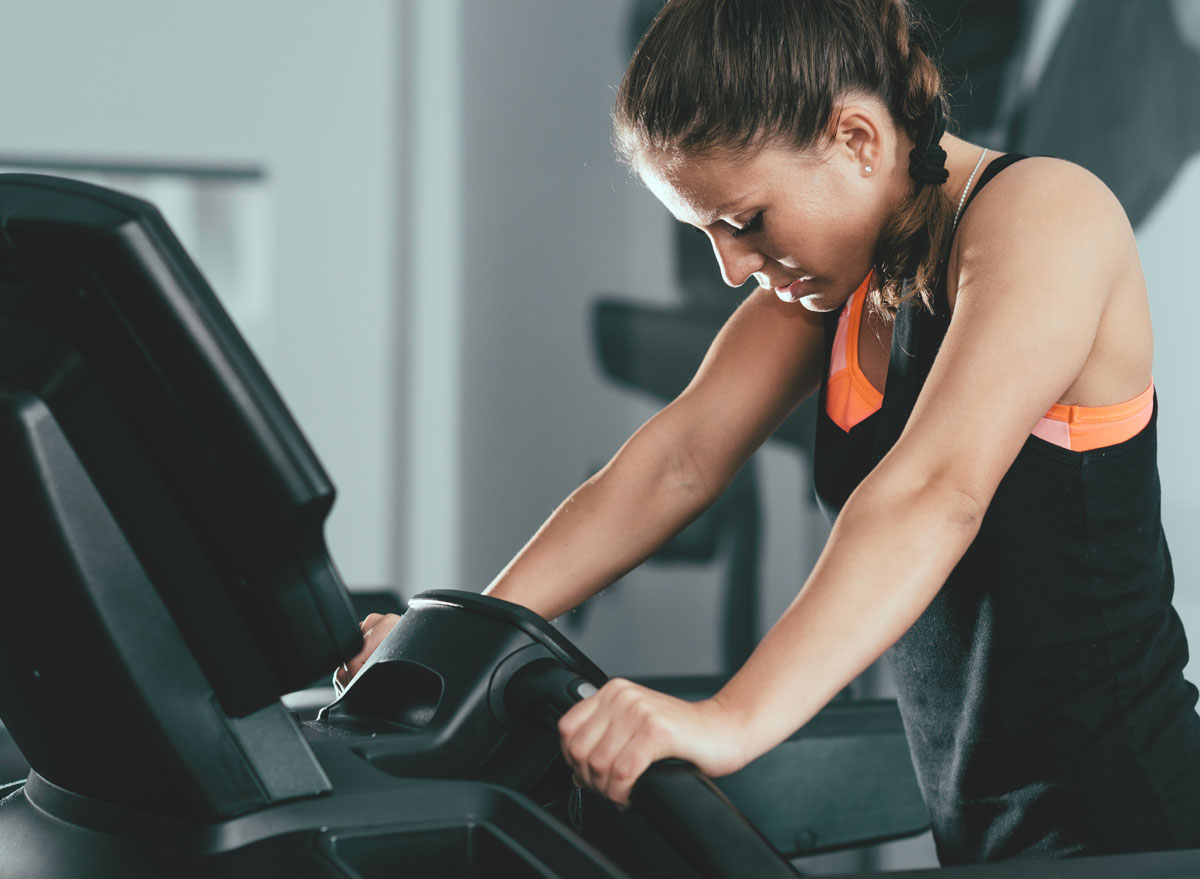 "You need to schedule your workout just like an appointment," says Cathy Battreall, a personal trainer and Florida-based owner of fit20. "Our clients find it easier to stick with a fitness program when they schedule a time to work out in advance. Schedule your workouts at a time that makes sense for you and stick to that time slot."
Give Your Guests Your Leftovers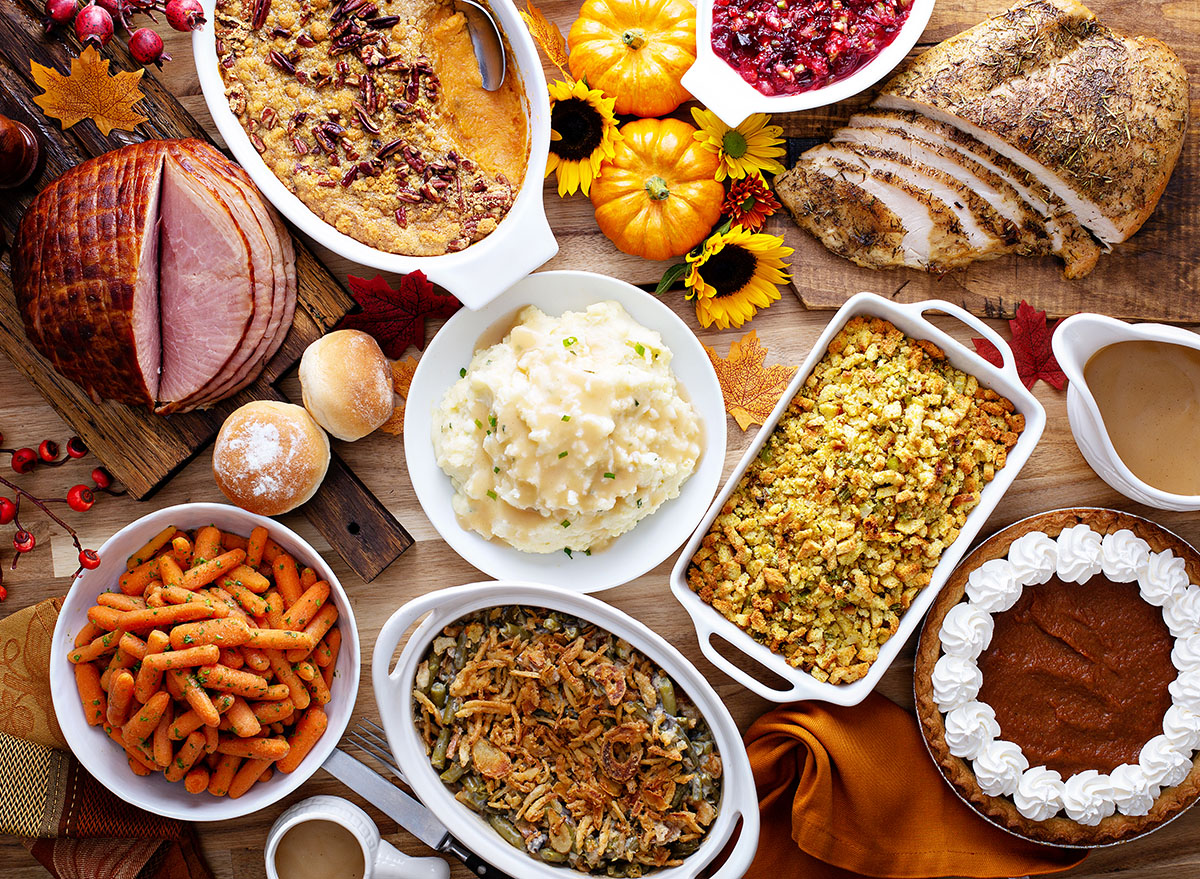 Are you lucky enough to cook for a group this year in a responsible, social-distanced manner? See to it that your guests leave with all of the leftovers you're trying to avoid. And for more great weight loss tips you always try, make sure you see the 200 Best Ways to Lose Weight Ever!
William Mayle
William Mayle is a UK-based writer who specializes in science, health, fitness, and other lifestyle topics.
Read more about William