20 Easy Leftover Chicken Recipes You'll Get Excited To Make
Whip up some of these delicious leftover chicken recipes to avoid wasting time, money, and food.
You went to your local grocery store and purchased a rotisserie chicken, but now you're faced with the problem of having too much and having no idea how to use the leftovers. Or maybe you purchased raw chicken breast and need to cook it up before it goes bad, but are looking for a few creative meal ideas to incorporate what you'll have leftover afterward.  Either way, if you have a plethora of chicken and want some inspiration for how to use it, you may benefit from some easy leftover chicken recipes.
Having recipe inspiration like this to pull from can benefit you in multiple ways. For one, you'll be far more excited about your meals if you know it's going to be more than just plain chicken with a side of vegetables. This excitement can keep you from ordering takeout and spending money when you don't have to. Another way these chicken recipes can be beneficial is by helping you have more control over what you're eating. When we eat out, we don't always know what exactly is going in our bodies, not to mention how the calorie, fat, and sodium content of restaurant food or takeout is often higher than what you would make at home.
So, if you have leftover cooked chicken or remains from the rotisserie you bought, try one of these 20 leftover chicken recipes for dinner tonight. And if you have raw chicken that you won't have time to cook anytime soon, make sure to read up on How Long You Can Store Chicken in the Freezer.
Rotisserie Chicken Tacos With Salsa Verde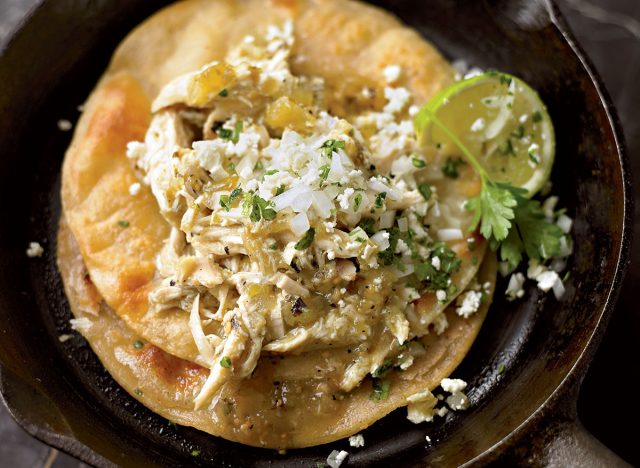 Tacos are one of the easiest dishes you can make when you have leftover chicken. Whether it's shredded or sliced, chicken goes great with this easy salsa verde recipe.
Get our recipe for Chicken Tacos.
Loaded Alfredo Pasta With Chicken & Vegetables Recipe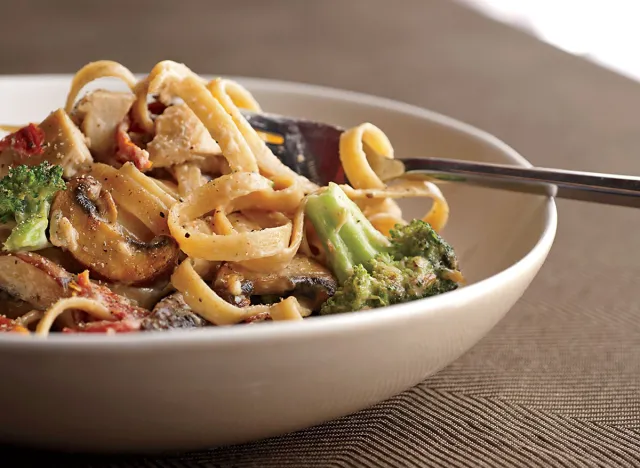 One of the most satisfying and comforting leftover chicken recipe is one that involves a creamy pasta. Throw in your leftover chicken plus any vegetables you need to eat before they go bad, and you have a delicious pasta dish in the making.
Get our recipe for Loaded Alfredo.
Low-Calorie Thai Chicken Curry Recipe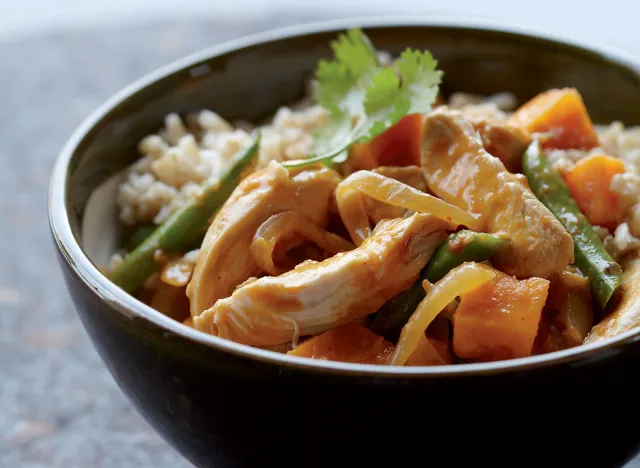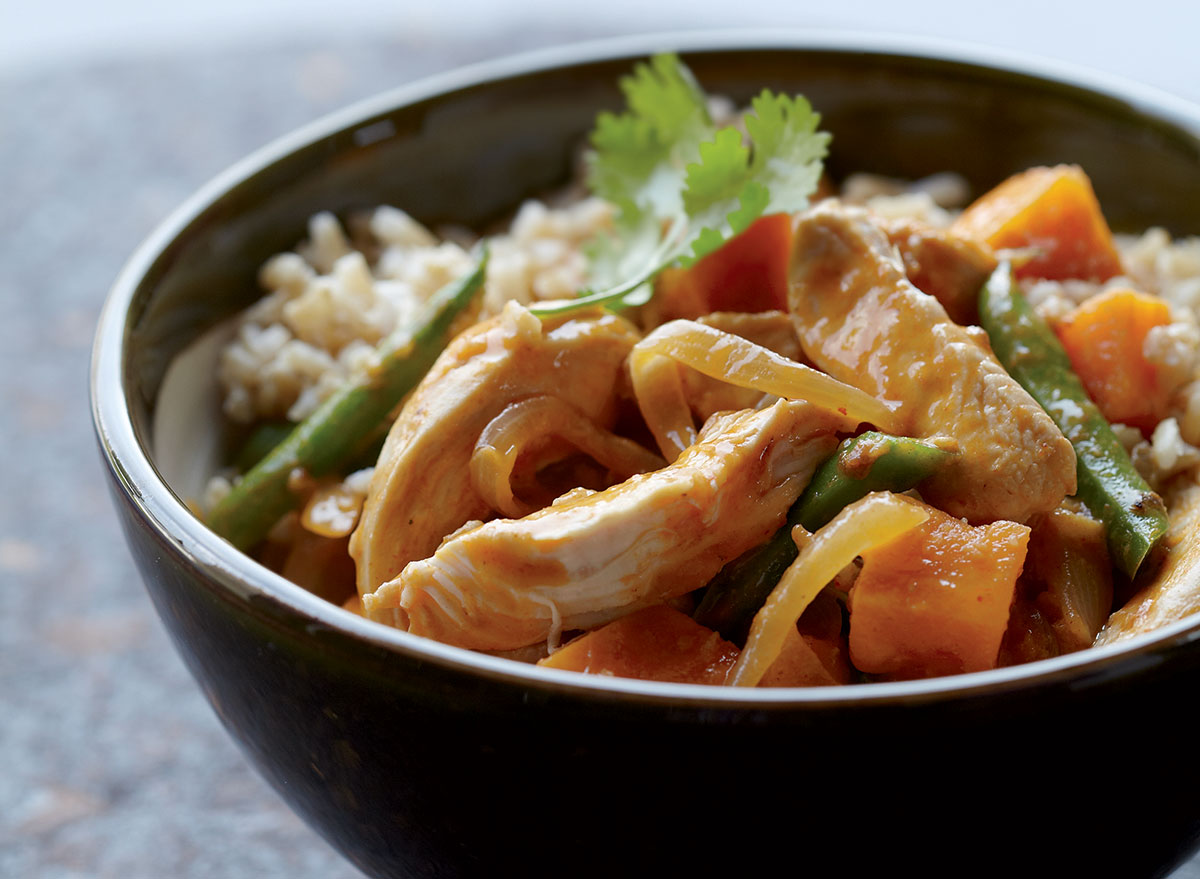 If you're in the mood for a little spice, try this Thai curry recipe using any of the leftover chicken you have. This recipe works best with chicken that is cut up, but you can also use shredded if you're using rotisserie chicken.
Get our recipe for Thai Chicken Curry.
Chili-Mango Chicken Stir-Fry Recipe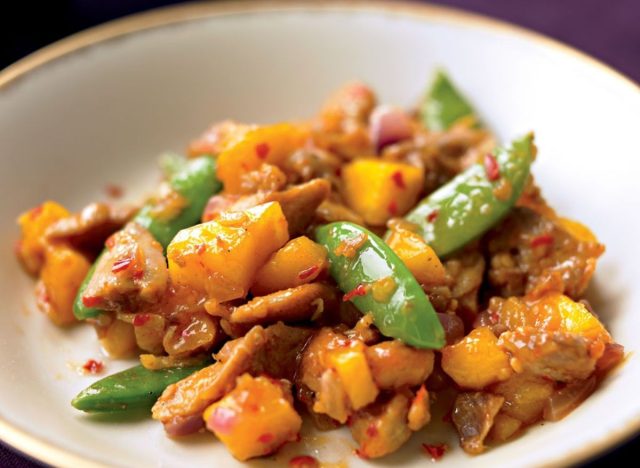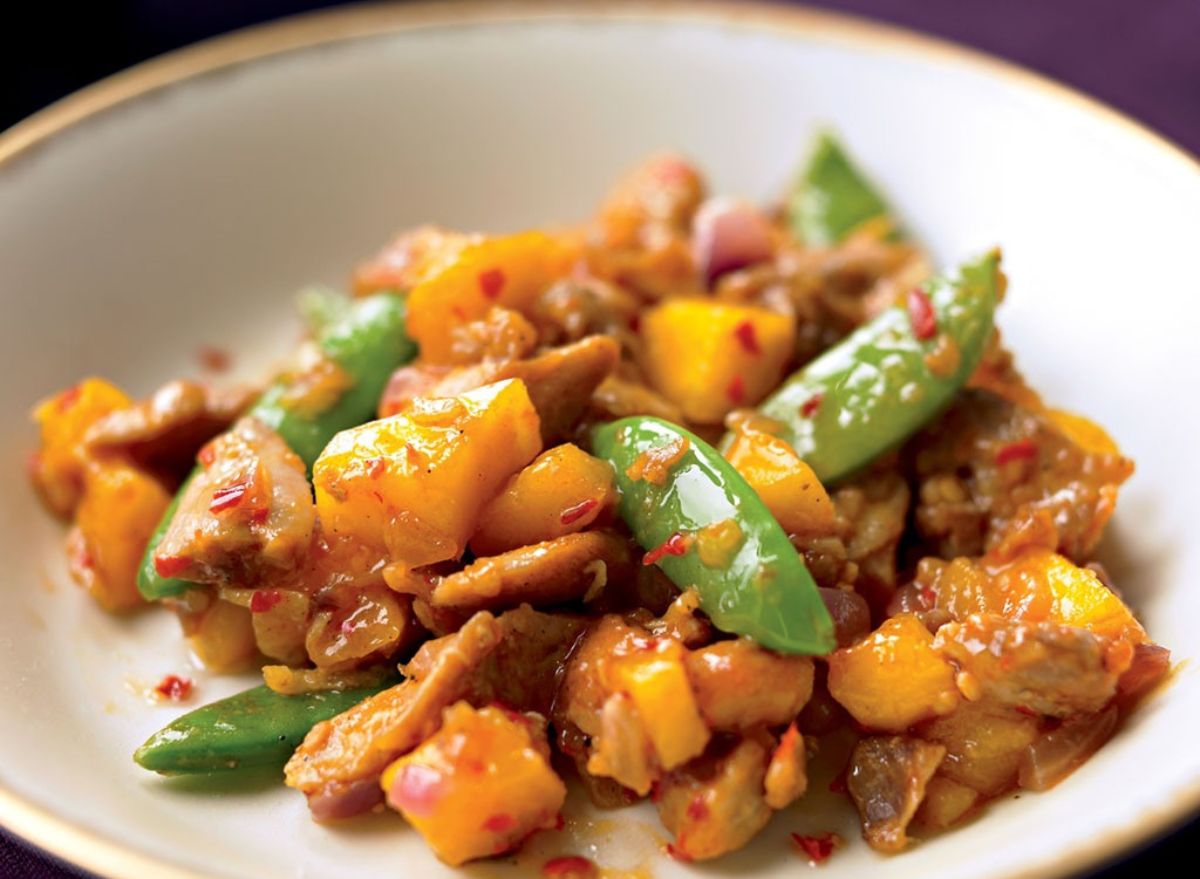 Whipping up a stir-fry is another simple way to combine any leftovers you have sitting in the fridge, including some leftover chicken. Just toss it in with some veggies, soy sauce, and a chili garlic sauce, and you'll have a quick and easy lunch or dinner.
Get our recipe for Chicken Stir-Fry.
A Low-Calorie, Low-Carb Jambalaya Recipe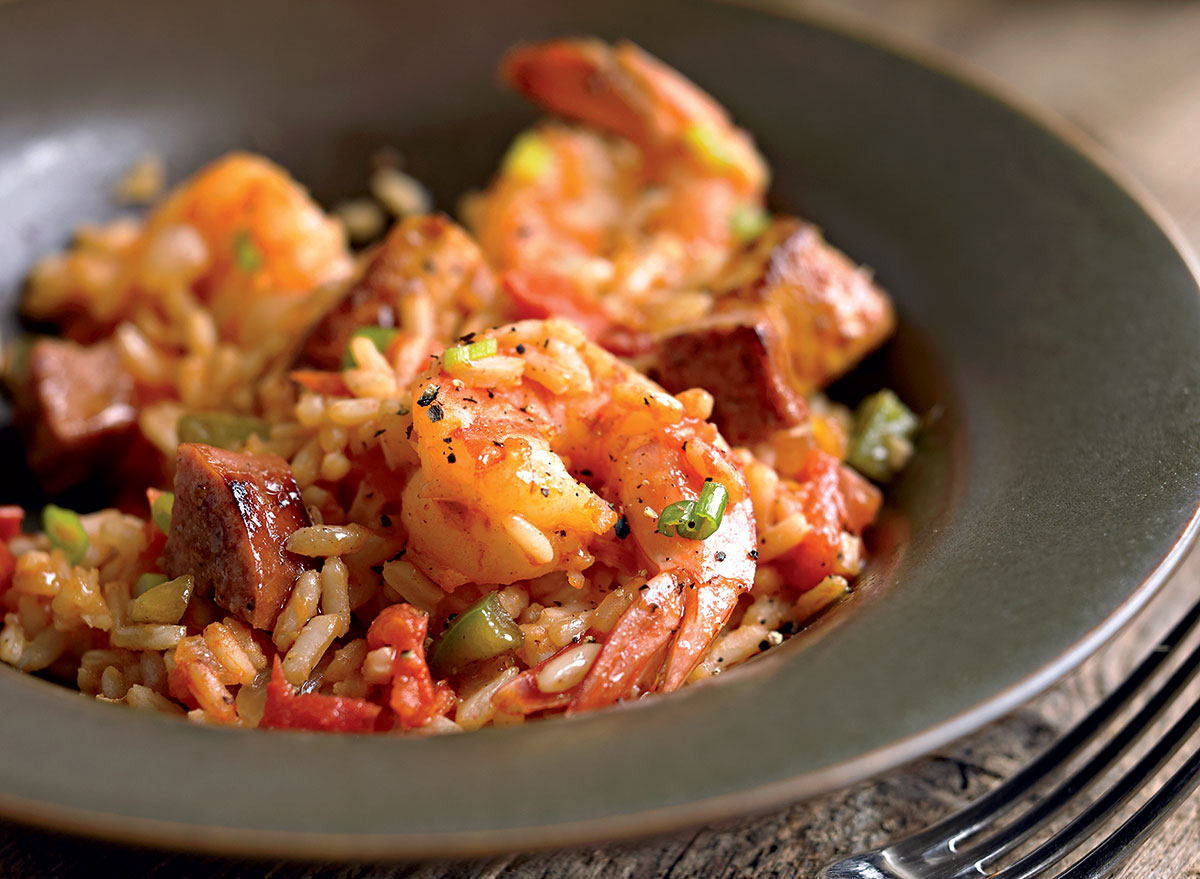 You can enjoy some Louisiana cooking with very little effort, all while using some of the ingredients that have been sitting in your fridge. Just make sure you have your favorite hot sauce standing by so you can make this dish as spicy as you'd like.
Get our recipe for Jambalaya.
Chicken Salad Sandwich With Curry Powder & Raisins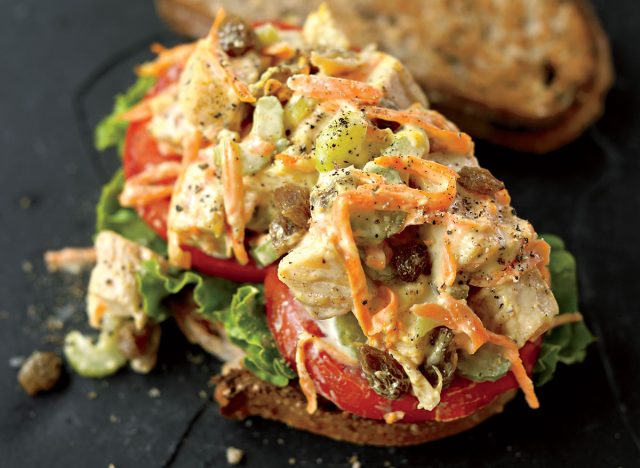 If you have leftover chicken from last night's dinner, making yourself a chicken salad sandwich is the perfect lunch idea for the next day. This recipe is unique from other chicken salads in that it uses curry powder and raisins, contributing to a nice burst of flavor.
Get our recipe for Chicken Salad Sandwich.
Healthy Chinese Chicken Salad Recipe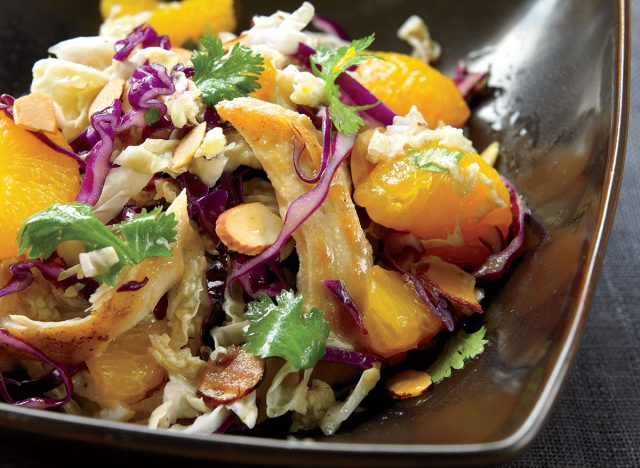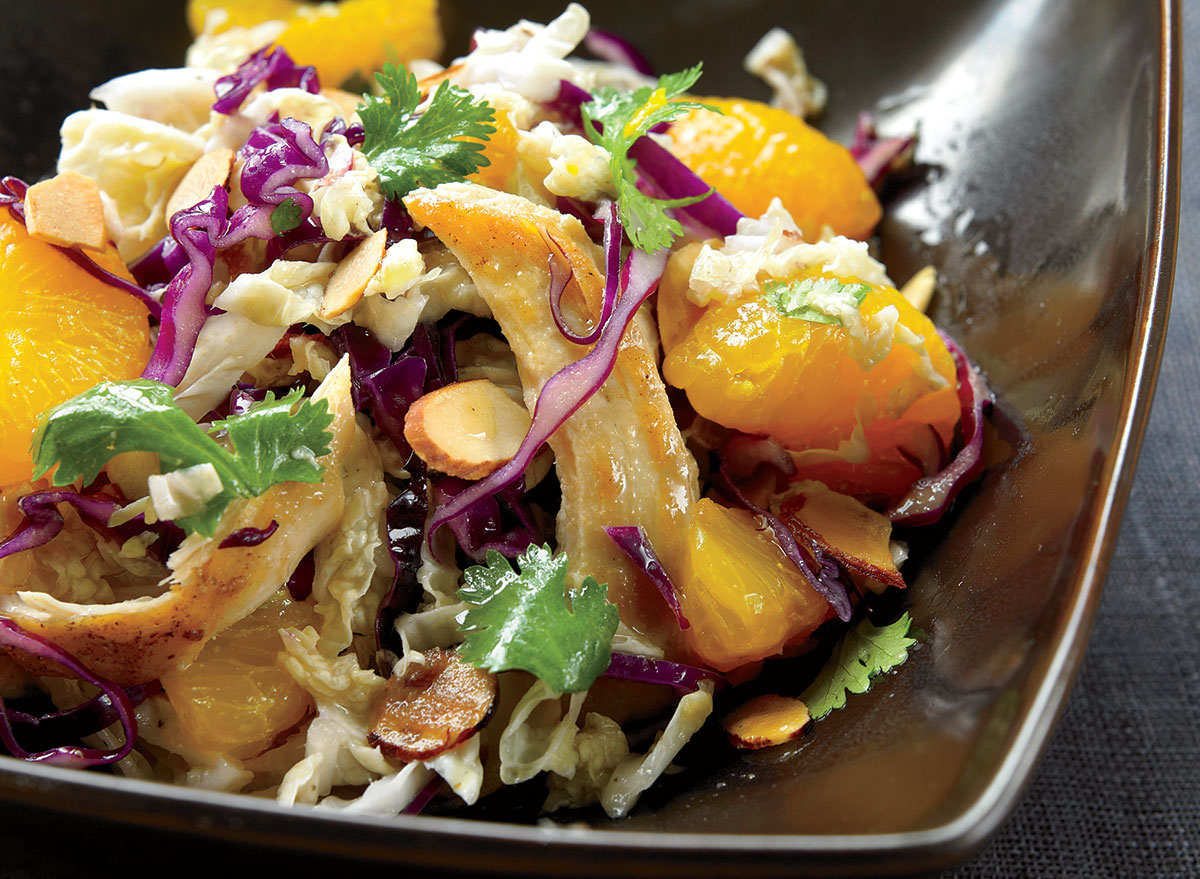 This is one of those salad recipes that really satisfies that craving for a hearty crunch. With cabbage, cilantro, mandarins, and almonds, all tossed with some of the chicken you have left over from a previous meal, you can whip up this tasty lunch in a matter of minutes.
Get our recipe for Chinese Chicken Salad.
Authentic Chicken Mole Enchiladas Recipe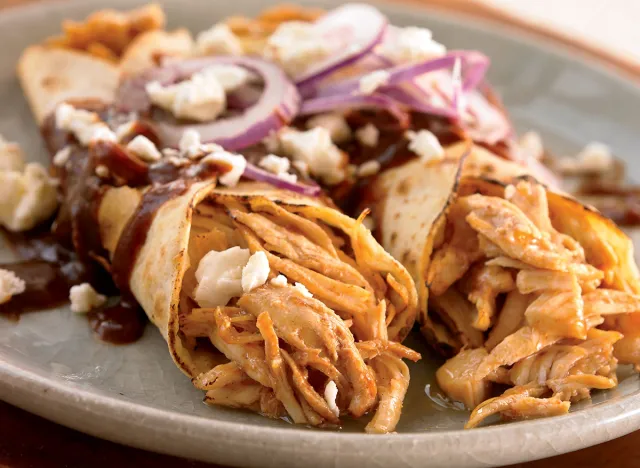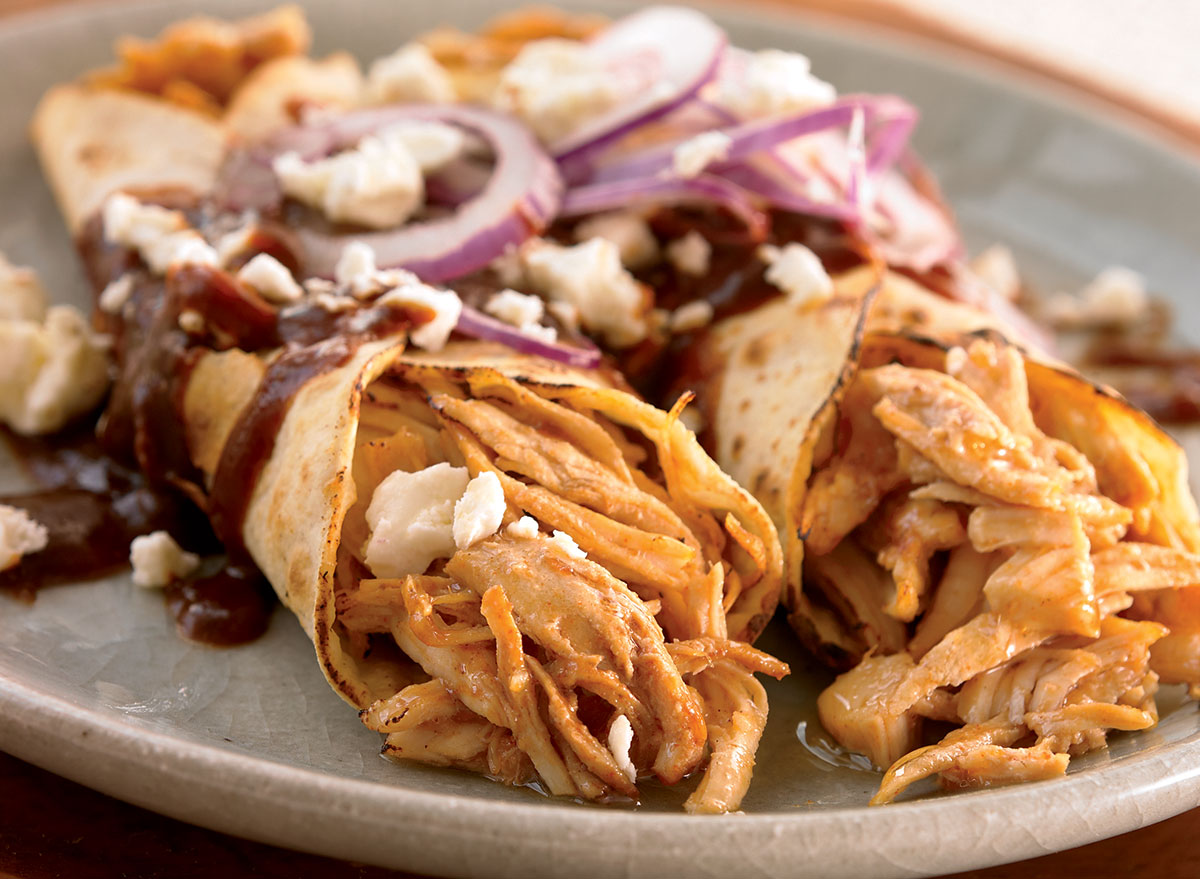 The earthy, chocolatey flavors of mole aren't for everyone, but if you're a mole fan, you're in luck. You can make this enchiladas recipe with leftover shredded chicken, or freshly cooked if you prefer. Unless you already know how to make mole sauce, we recommend buying one that's already made, as it can be a fairly complicated recipe with a ton of ingredients.
Get our recipe for Chicken Mole.
Low-Calorie Chicken & Black Bean Nachos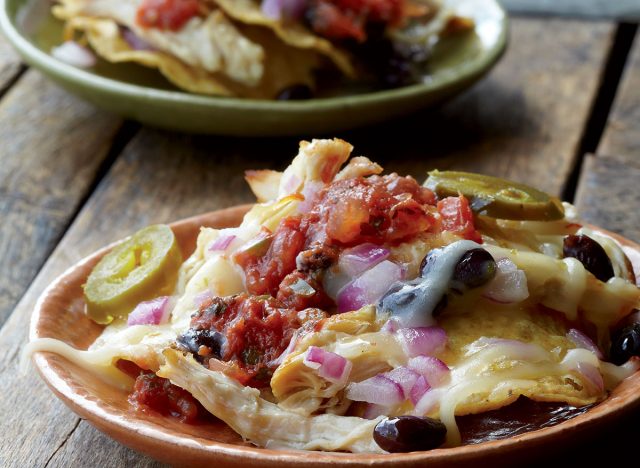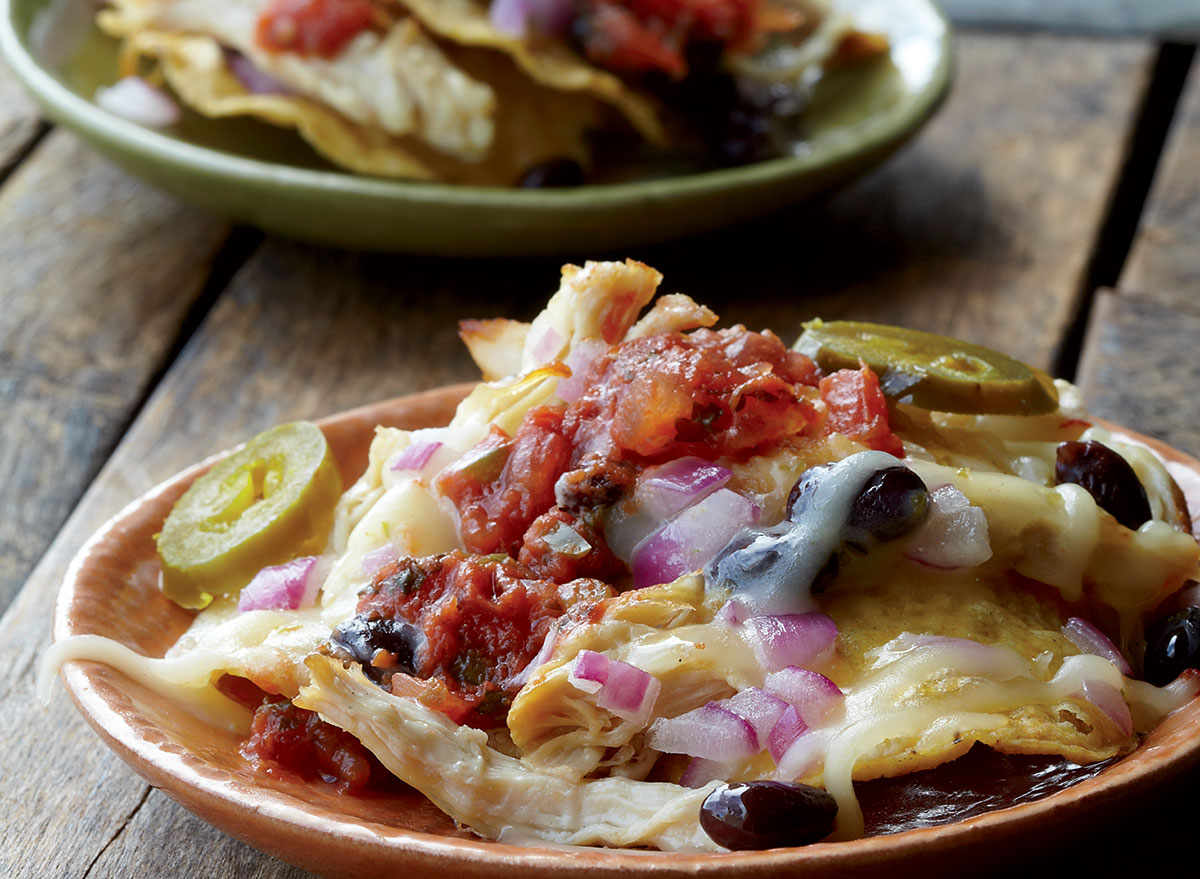 Sticking with the themes of a vibrant Mexican cuisine, these nachos are simple to make and will satisfy your savory cravings in one sitting. Throw in your leftover chicken with some black beans, onions, jalapeños, salsa, and whatever else you prefer, and you've got yourself an affordable, protein-packed dinner.
Get our recipe for Chicken and Black Bean Nachos.
Takeout Level Chicken Fried Rice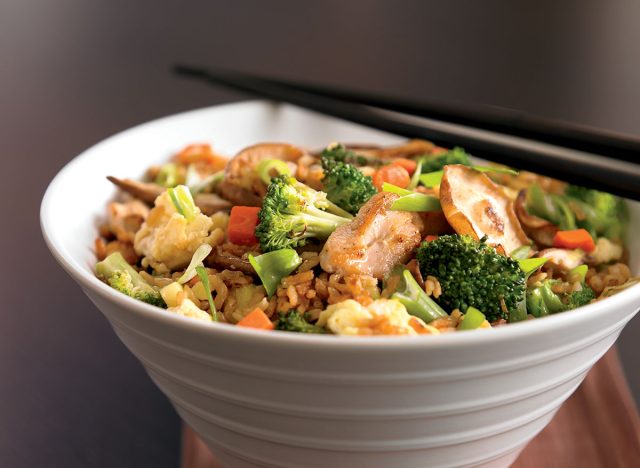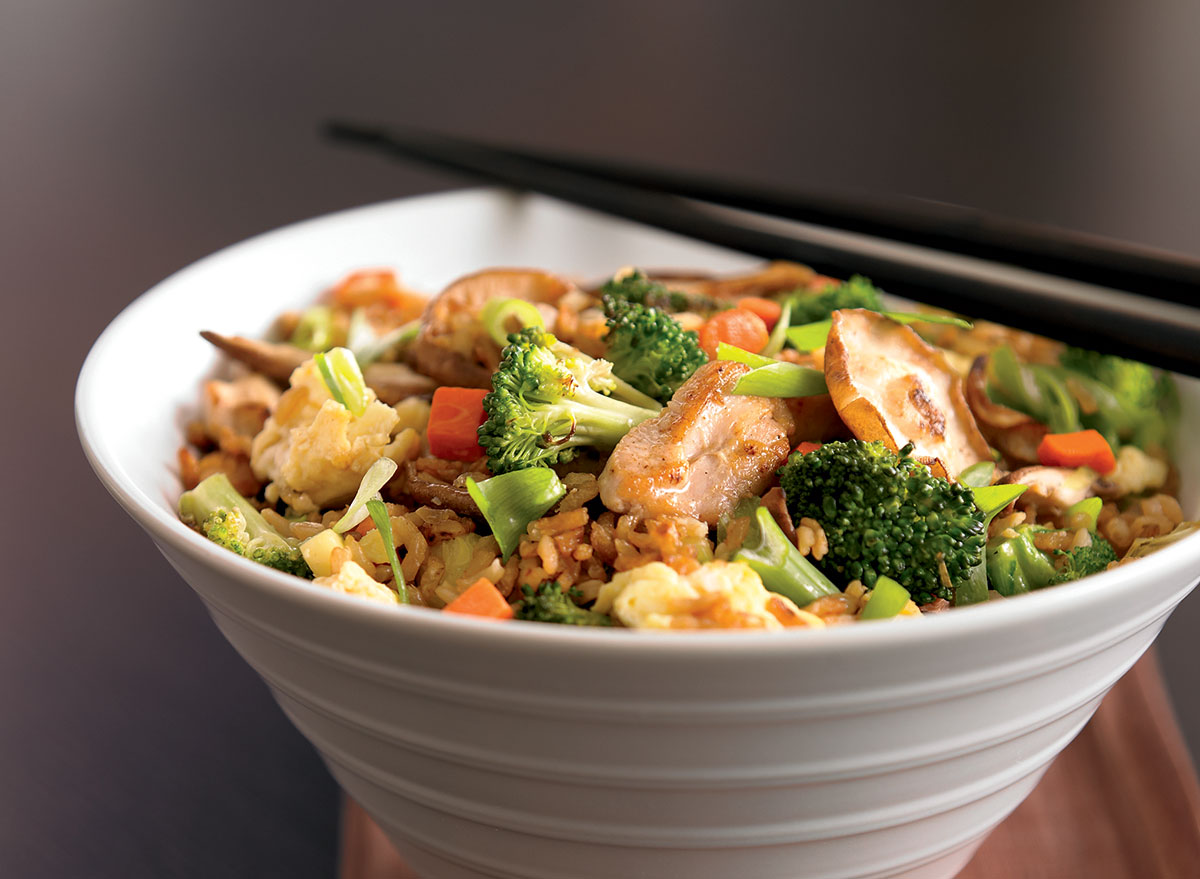 Do you have leftover chicken and assorted vegetables in your fridge, and some rice in your pantry? As long as you have a bit of soy sauce and an egg to cook everything in, you can have yourself a bowl of fried rice and can save yourself the money you'd spend on takeout.
Get our recipe for Chicken Fried Rice. 
Chicken Fajita Burrito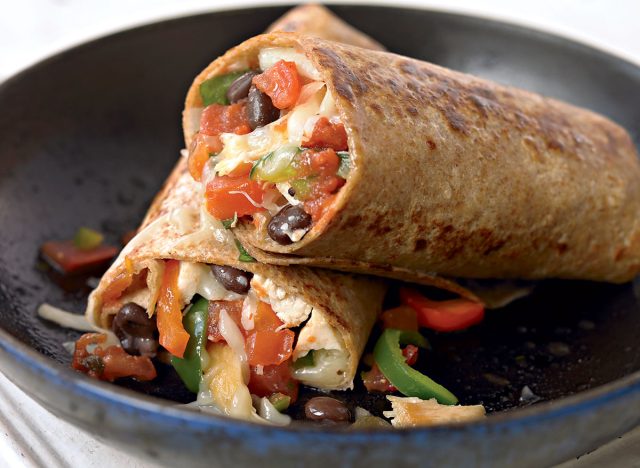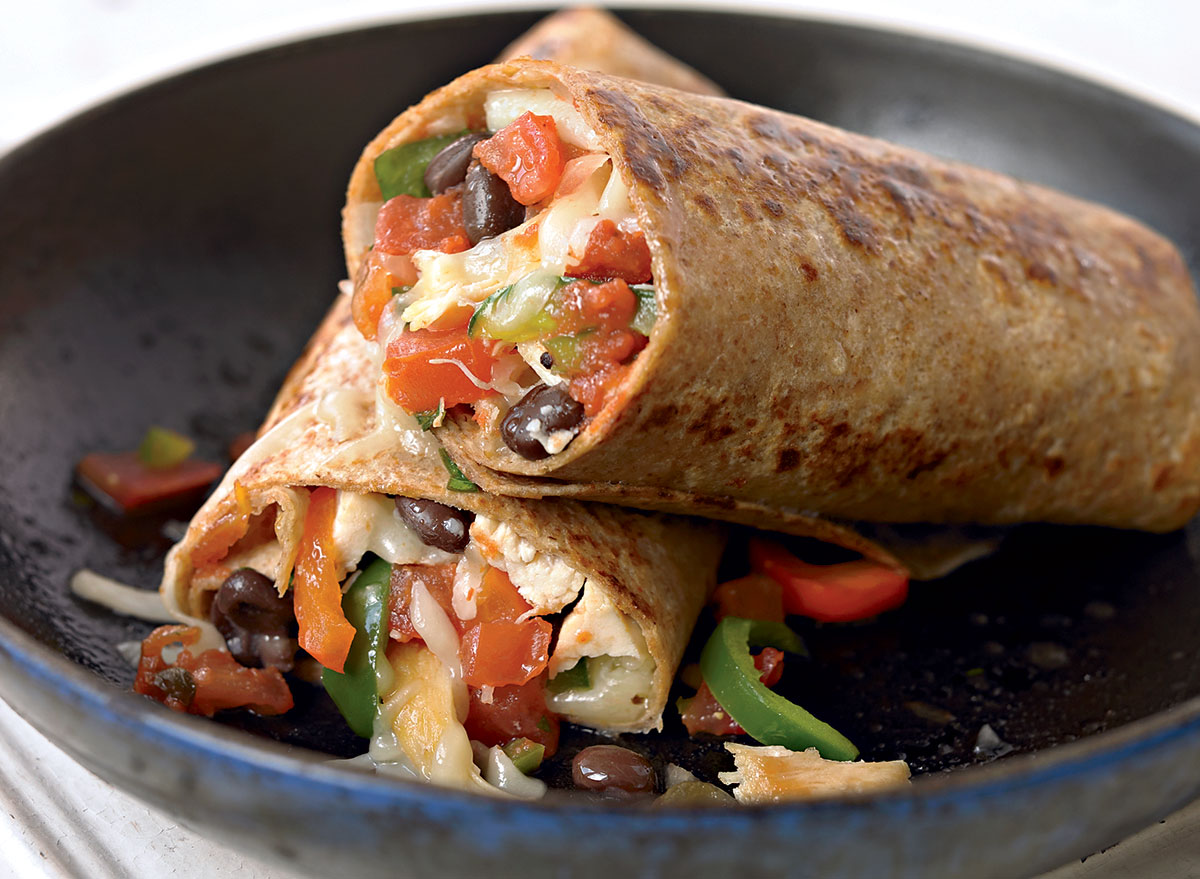 Instead of choosing between fajitas and a burrito, why not combine them and enjoy both in one meal? You can add a variety of different ingredients to your burrito, but we recommend black beans, peppers, cheese, and of course the leftover chicken you have.
Get our recipe for Chicken Fajita Burrito.
Healthier Chicken Pot Pie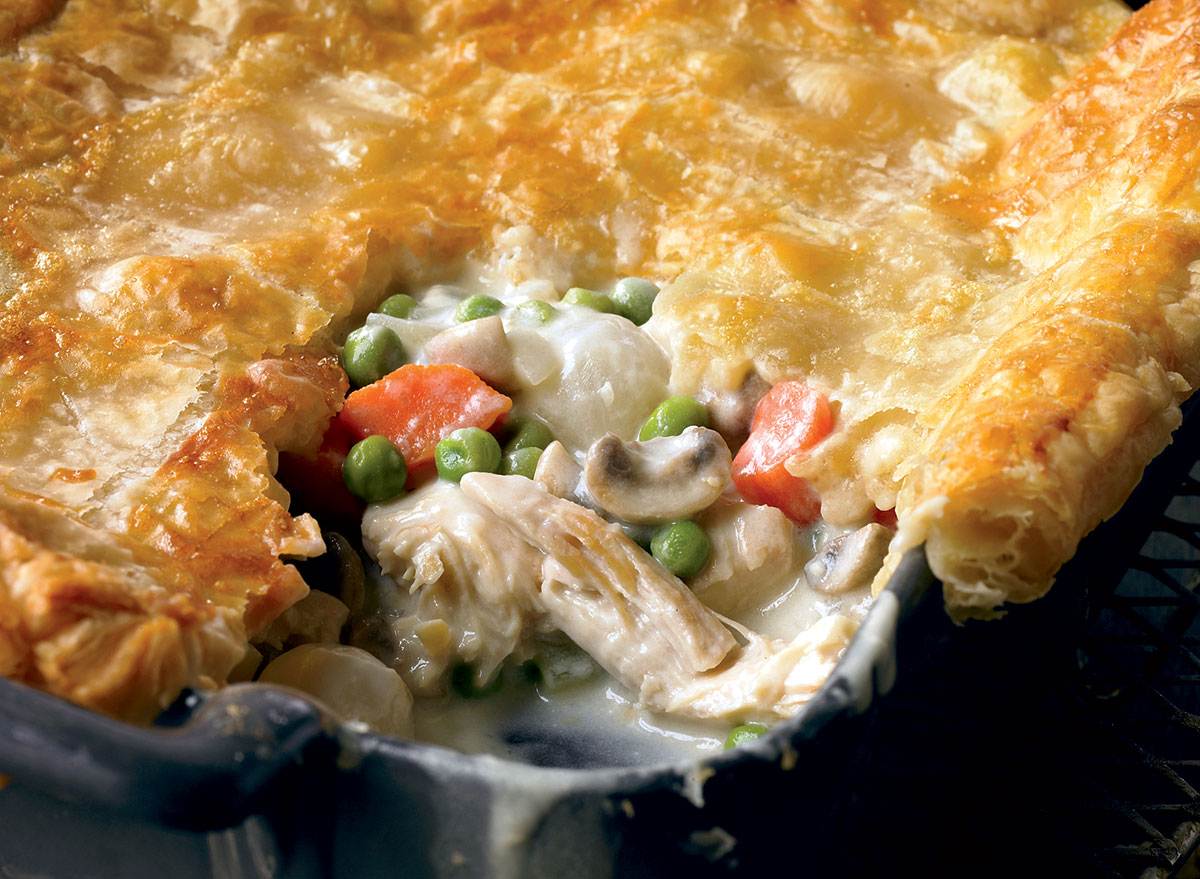 Treat yourself to one of the coziest meals out there: a comforting chicken pot pie. And even though this dish is heavier and made with cheese, half and half, and butter, you can still keep your calories at 350 per serving.
Get our recipe for Chicken Pot Pie.
Homemade Chicken Noodle Soup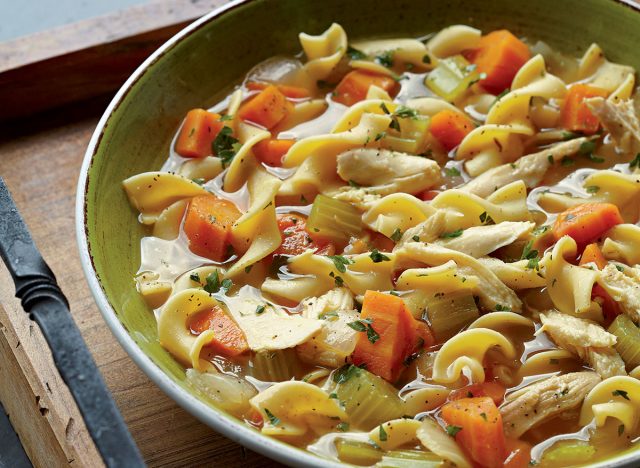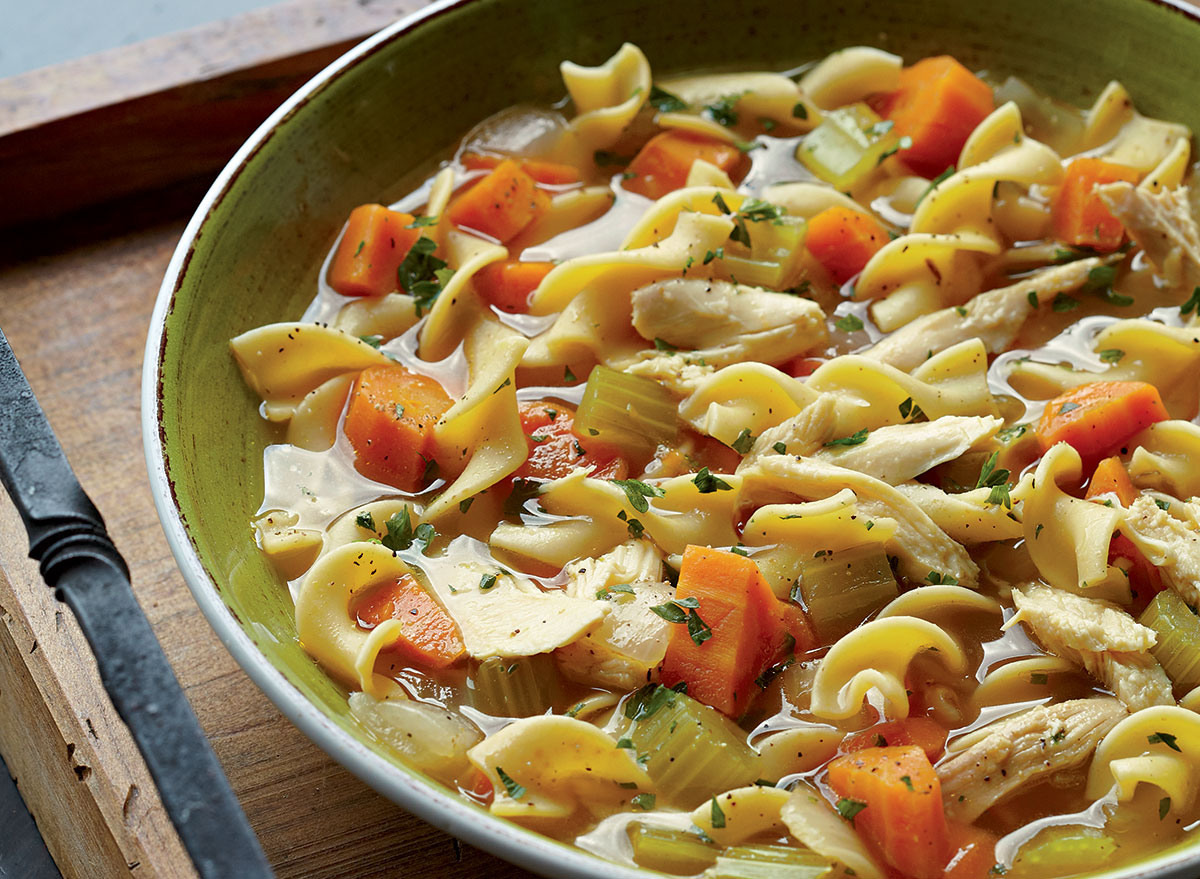 Speaking of comfort food, a classic chicken noodle soup is the a great way to use your leftover chicken. Even though spring is here and warmer weather is on the way, this soup is great when you have a bad case of allergies and need an immunity boost.
Get our recipe for Chicken Noodle Soup. 
Sesame Noodles With Chicken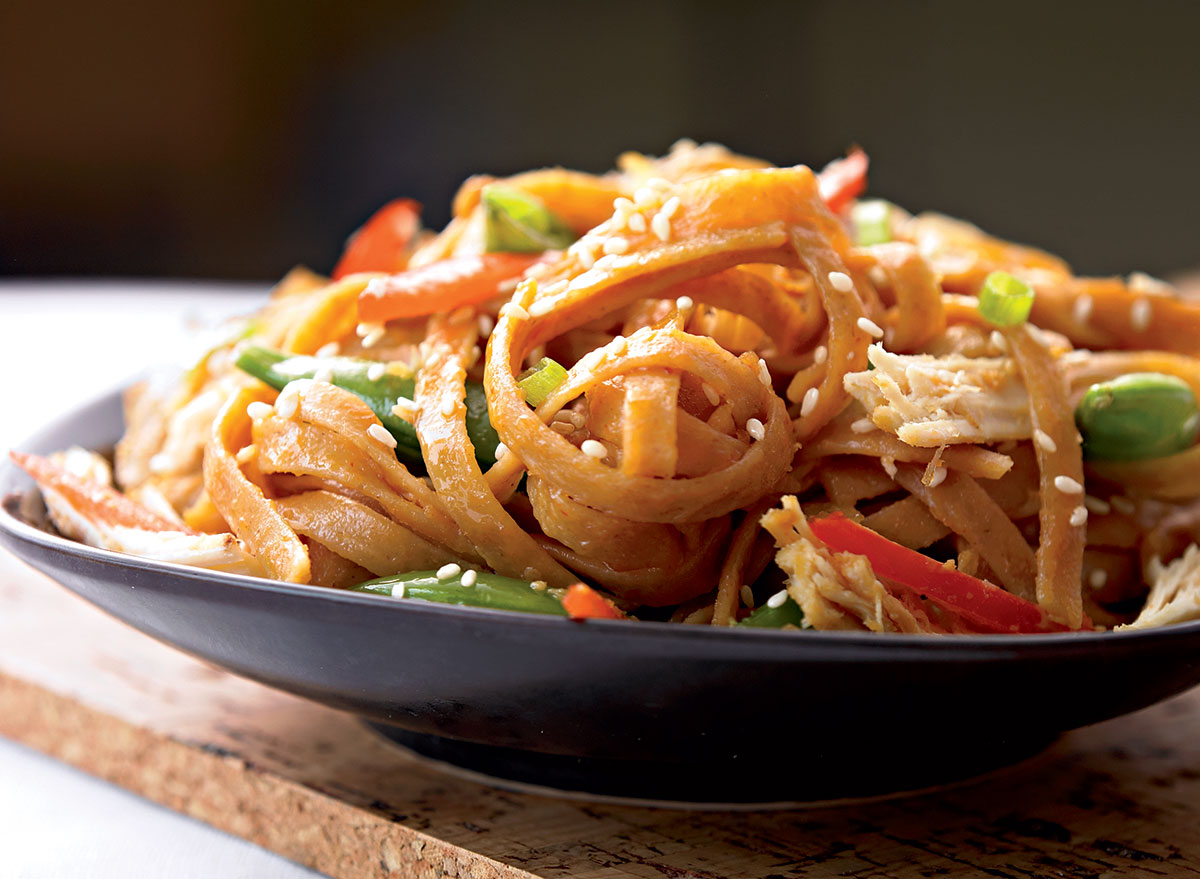 Similar to the Creamy Alfredo recipe, these Sesame Noodles are an easy way to satisfy that craving for a noodle dish while utilizing what is left over in your fridge. And because a majority of the spice comes from a chili sauce of your choosing, you can determine how spicy you want your dish to be.
Get our recipe for Sesame Noodles. 
Healthy Barbecue Chicken Pizza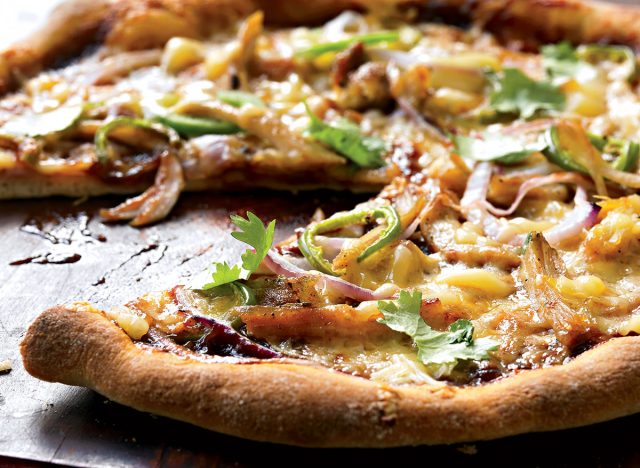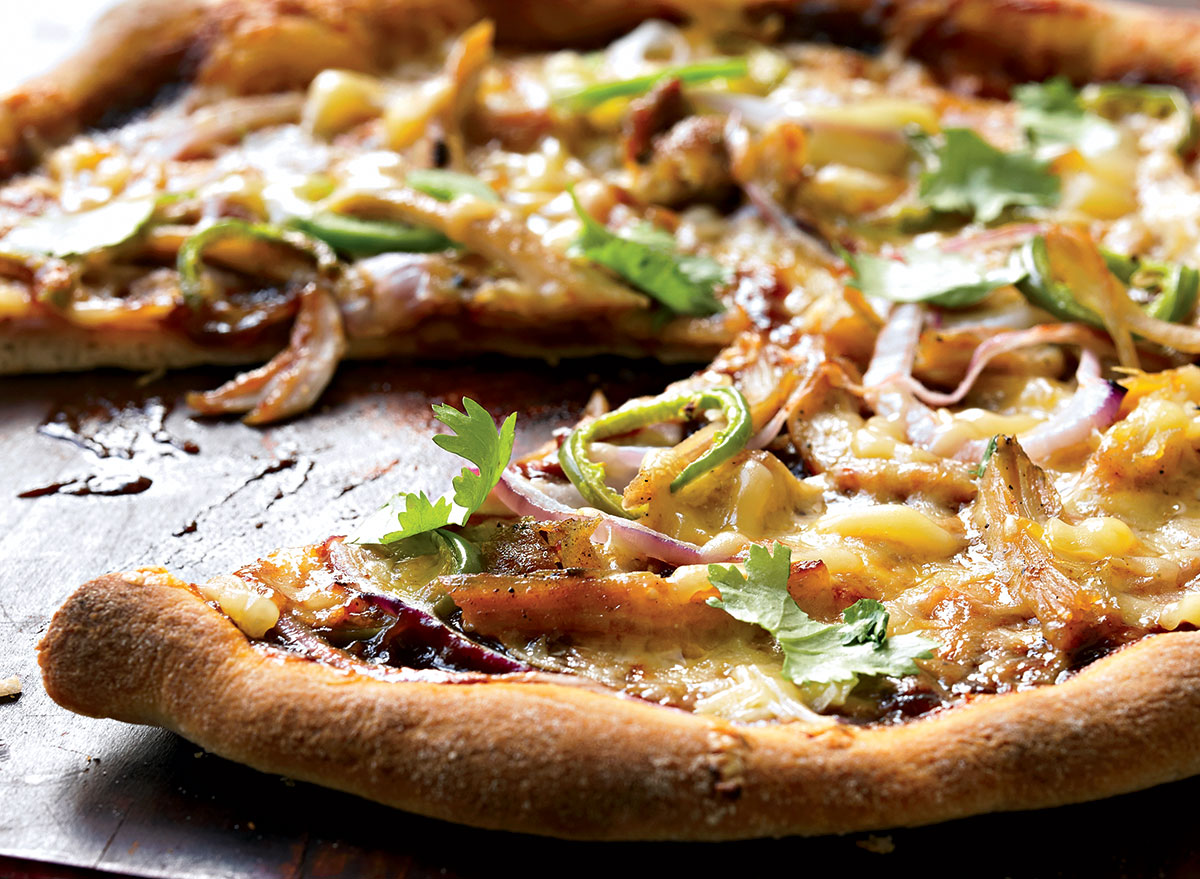 It's pizza night, and instead of spending money on delivery, or a frozen pizza that may not even taste that great, why not make your own using your leftover chicken. You can make your own dough if you're in the cooking mood, or you can buy a pre-made option and add your own toppings.6254a4d1642c605c54bf1cab17d50f1e
Get our recipe for Barbecue Chicken Pizza. 
Simple Greek Salad With Chicken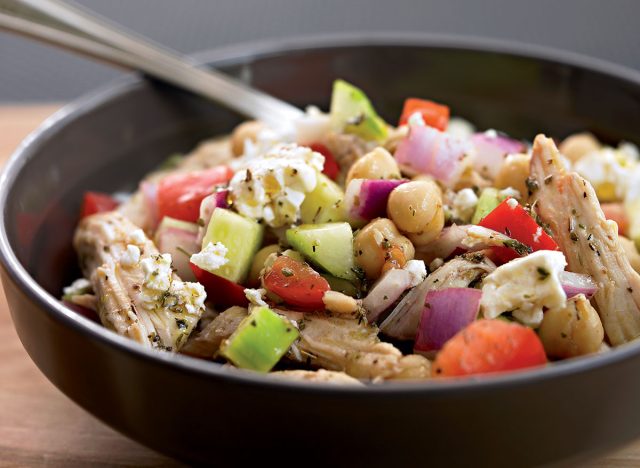 Enjoy the Greek-inspired flavors of cucumber, tomato, oregano, olive oil, and feta cheese, all combined with chicken for a refreshing and hearty salad.
Get our recipe for Greek Salad.
Kung Pao Chicken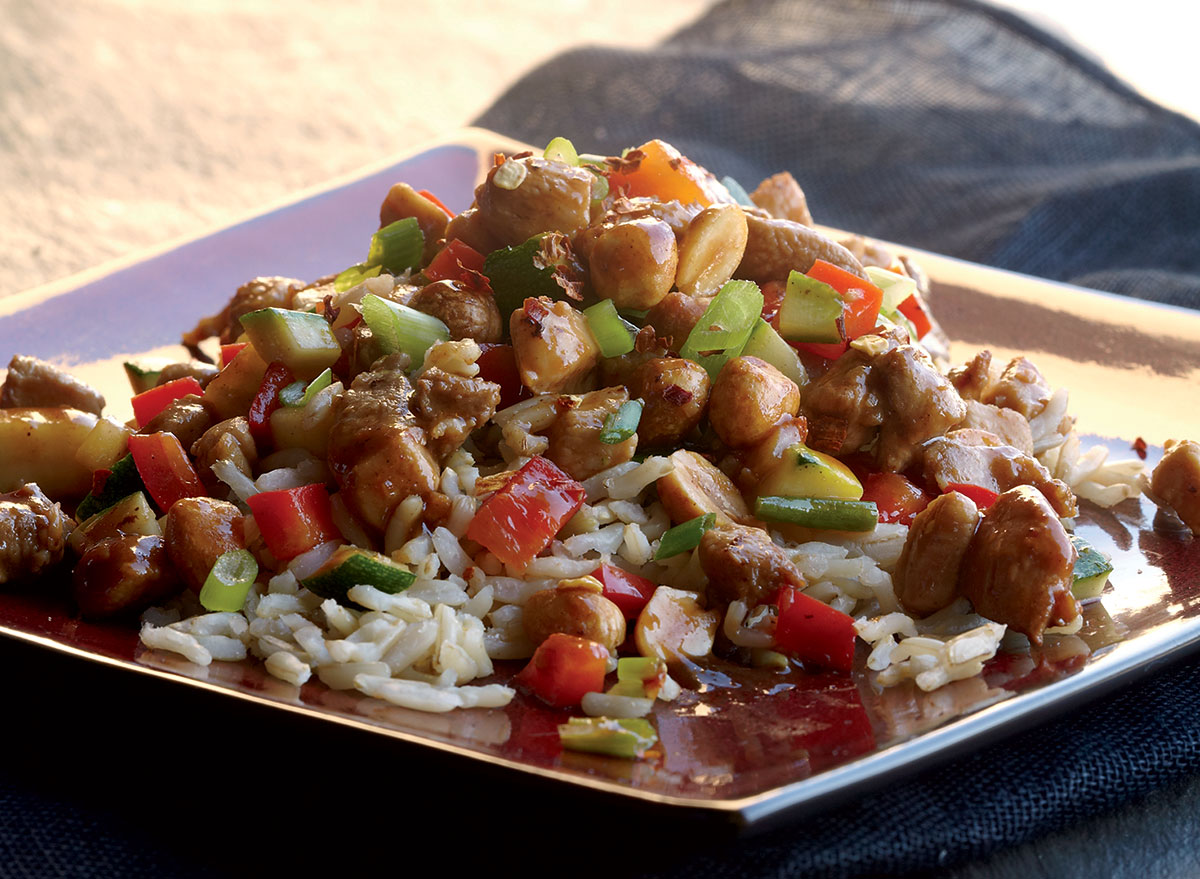 If you have leftovers you need to use and don't mind a recipe that has a lengthier list of ingredients, this Kung Pao Chicken will certainly satiate any of the savory, spicy cravings you're feeling.
Get our recipe for Kung Pao Chicken. 
Paleo Tomato Chicken Curry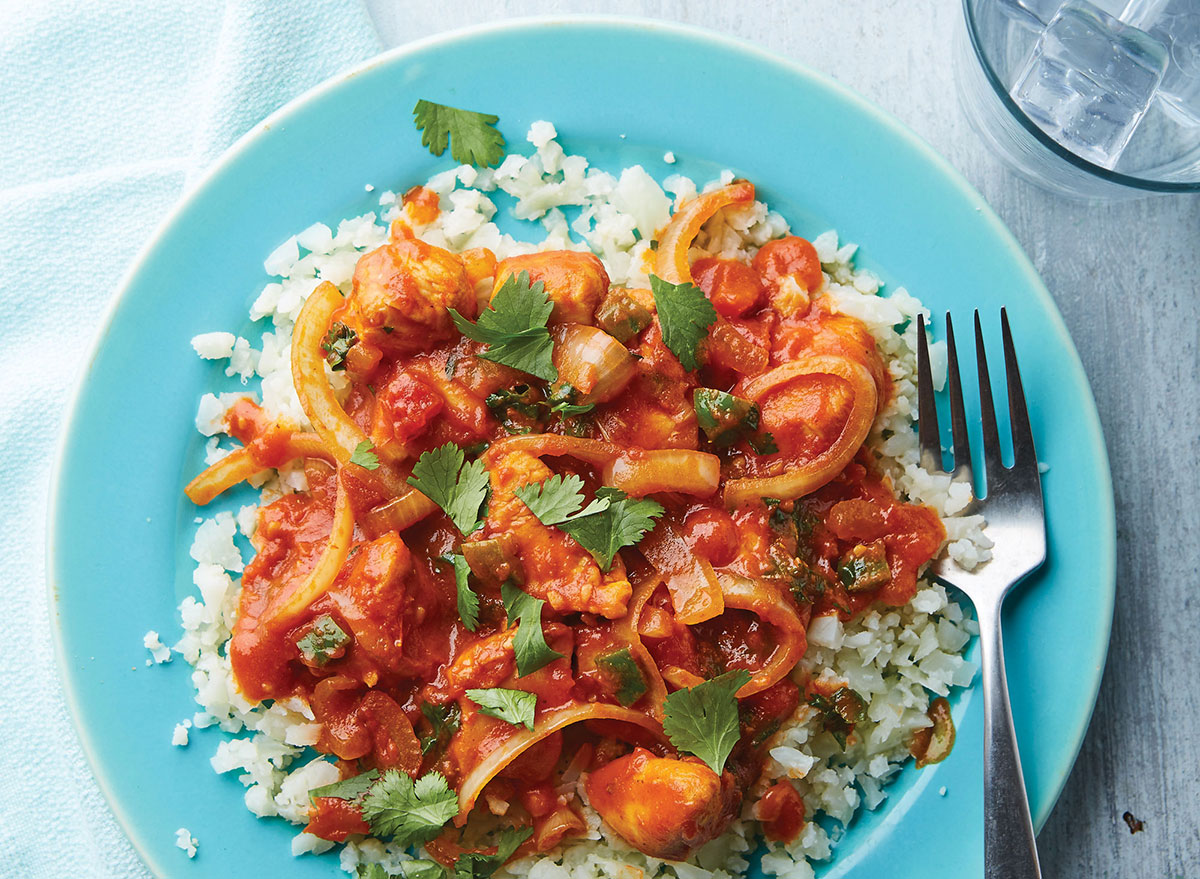 If you've never tried curry like this, you need to attempt this recipe asap. Curry powder, crushed tomatoes, and coconut milk, all on top of a bed of rice (or cauliflower rice) makes for a warm, cozy meal you can enjoy for lunch or dinner.
Get our recipe for Tomato Chicken Curry.
Whole30 Chicken Salad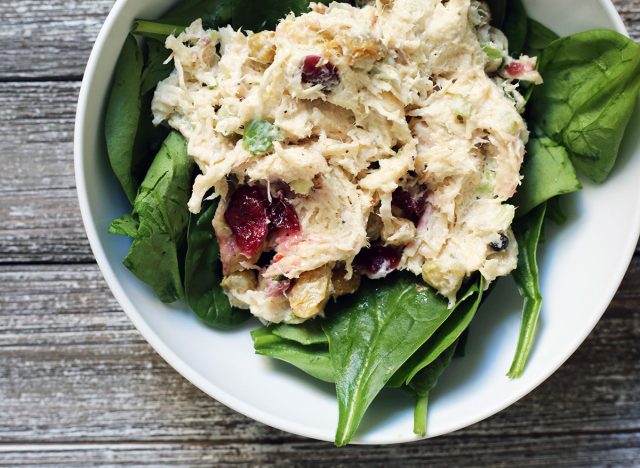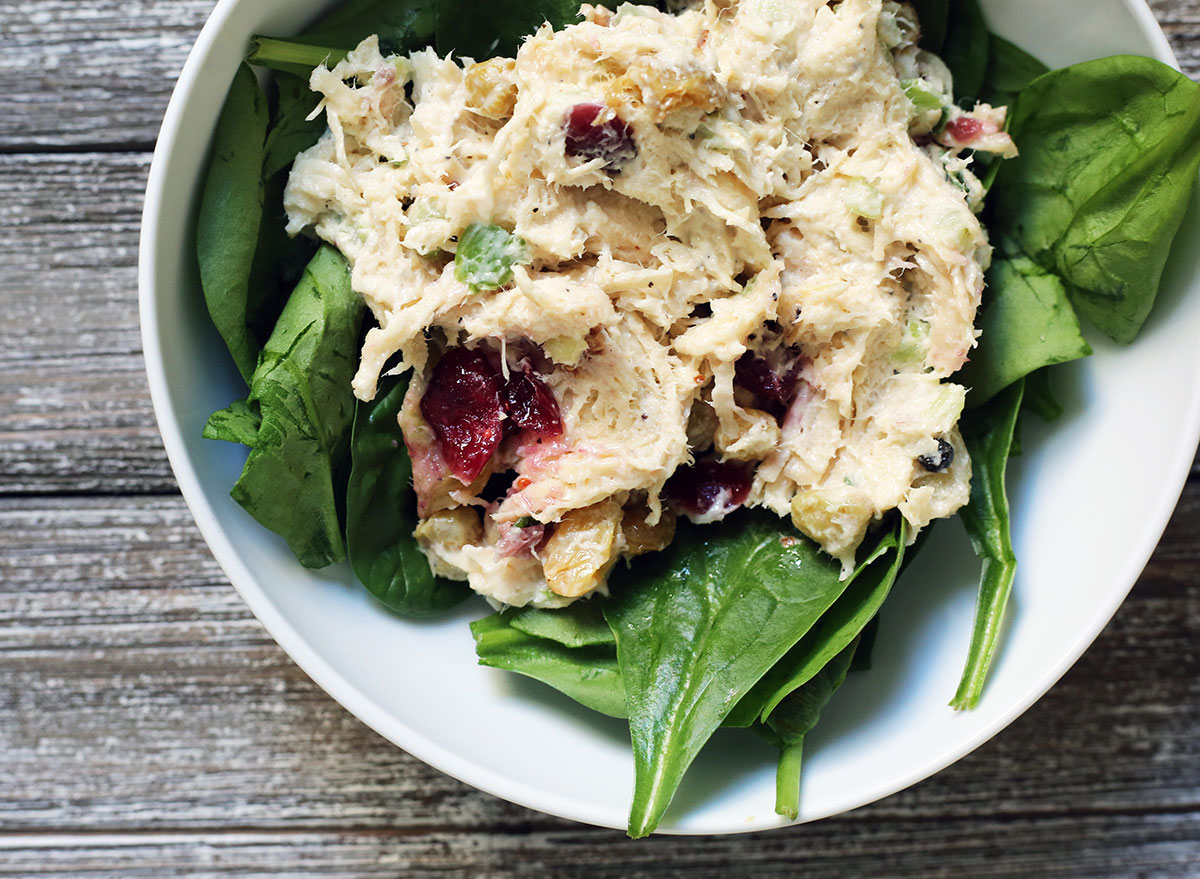 Who says you can't enjoy a creamy chicken salad while doing Whole30? You can use leftover chicken, combined with ingredients like tahini, apples, cranberries, and celery, and you'll have a savory lunch with a hint of sweet.
Get our recipe for Whole30 Chicken Salad.
Copycat Cracker Barrel Chicken & Dumplings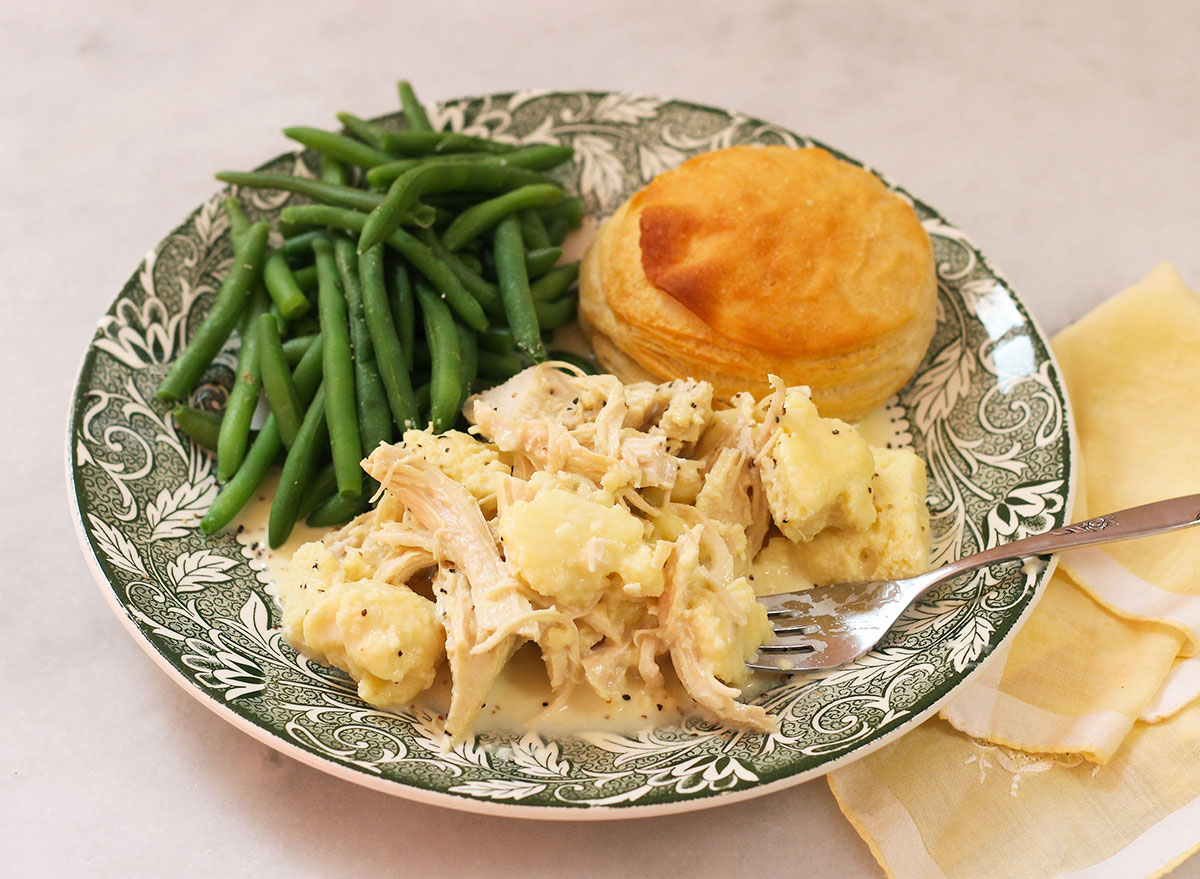 The Chicken and Dumplings at Cracker Barrel are obviously a decadent choice, but what if you're in the mood to enjoy these while saving both money and calories? This copycat recipe can help you do just that, especially if you already have leftover rotisserie chicken to use.
Get our recipe for Copycat Chicken and Dumplings.