5 Healthy Meals You Can Cook for Under $5, Says Dietitian
Here are tips to help you eat well while still saving your money.
We are all in the market to save a little money. With inflation rates in America rising, consumers are looking for ways to stretch their dollar further at the grocery store now more than ever. The latest report from the U.S. Bureau of Labor Statistics showed that the consumer price index has increased by 6.4% in the last year. But don't worry! We've got you covered with five easy recipes for healthy meals you can make on a budget. The healthy meal ideas below were calculated based on each serving clocking in at under $5.
Many of them are even less than that and you can stretch them all week if you prepare a large batch. We chose options that were balanced with a protein source, a variety of plant foods, or high in fiber—or all three! Protein and fiber specifically help keep you feeling full for longer as they take a while to digest compared to carbs alone. Including meals that have a healthy balance of protein, carbs, and fiber can help you feel less hungry throughout the day and more balanced.
Keep reading to learn how to make five delicious recipes, which you can whip up by spending $5 or less at the grocery store. And for more dietitian-approved healthy eating insight, be sure to check out 21 Superfoods That Are Surprisingly High in Protein, Say Dietitians.
Cinnamon Apple Oatmeal Pancakes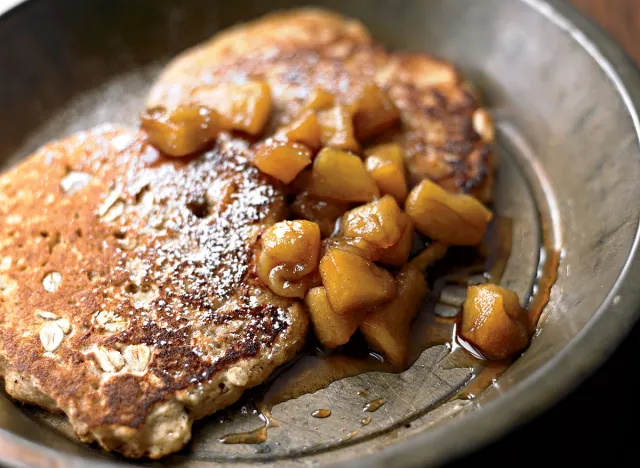 Chock-full of fiber, this hearty breakfast option will keep you full for hours and reheat for the rest of the week. Whole wheat flour and apples are the star of the show providing two good sources of fiber to start off your day.
Clocking in at 260 calories per serving, the breakfast is a low calorie, healthy meal that you can make on a budget. Kids would love this option too, and it would reheat well for family breakfasts or snacks. Try mixing it up with banana or blueberries for different flavors each time without compromising on nutrition.
Try our recipe for Cinnamon Apple Oatmeal Pancakes.
Black Bean Omelet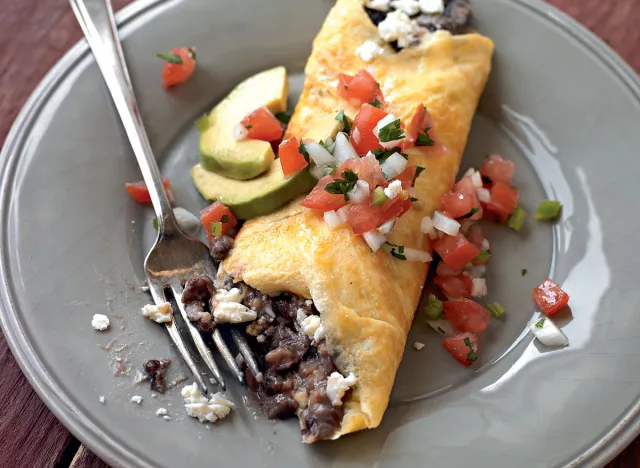 Packed with gut health-boosting black beans, this alternative take on an omelet recipe will keep you full on a budget. We know that a high-protein breakfast keeps blood sugar stable and may reduce hunger later in the day. With 330 calories per serving, you won't even realize that this breakfast is low calorie because it is so filling.
If you're looking to save even more, consider an egg alternative like JUST eggs or even add a dollop of cottage cheese or ricotta cheese as a filler to fluff up this recipe without compromising on protein. Even with egg prices increasing, you'll be sure to save money on this omelet recipe compared to if you got it at a restaurant.
Try our recipe for a Black Bean Omelet.
Tropical Greek Yogurt
A tropical parfait might be the closest we can get to feeling like we are on vacation in the mornings before work. This protein-packed recipe works great for the whole family as both a breakfast option or an after-school snack.6254a4d1642c605c54bf1cab17d50f1e
Here's a budget saving tip: Purchase your fruit canned or frozen to save money without compromising on nutrition. In fact, frozen fruit offers just as much nutrition as its fresh fruit counterpart since the frozen options are frozen at peak freshness.
For more variety, consider swapping out the different types of fruit each time. We think this recipe would work well with a berry mix medley, strawberry, banana, or cinnamon apple.
Try our recipe for Tropical Greek Yogurt.
Red Pepper Fettuccine Alfredo
We love a low-budget pasta dish, and this red pepper fettuccine Alfredo seriously delivers. With 390 cal per serving, this is an authentic fettuccine dish to feel good about. If you have some extra veggies on hand, you could beef this recipe up with broccoli or spinach tossed in for additional fiber and nutrients.
This recipe is great on its own, or pairs well with lean proteins like chicken, shrimp, or fish. However, if you are on a budget, one serving of this recipe has 10 grams of protein alone.
Try our recipe for Red Pepper Fettuccine Alfredo.
Vegetable Fried Rice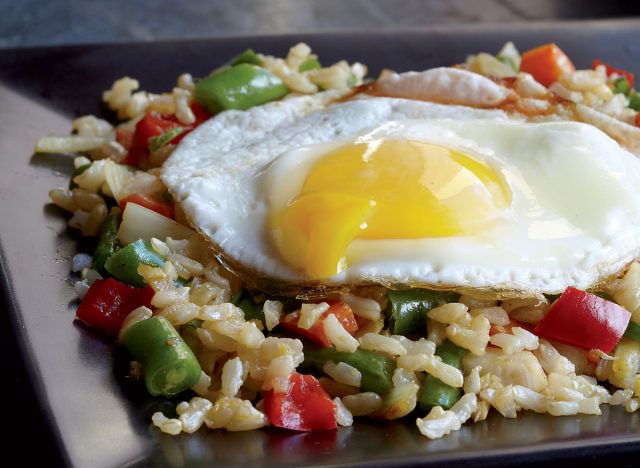 Meal prep your lunches or dinners for the week with this plant-forward veggie-fried rice that will keep you full for hours and won't break the bank. Even better, you can buy a pack of mixed vegetables frozen to dump into this recipe, and save even more money by preventing veggie waste from the crisper drawer graveyard.
With 360 calories in one serving, you'll have yourself an easy, healthy meal on a budget in no time. For more variety and protein, you can add eggs or egg whites into the rice mixture while cooking.
Try our recipe for Vegetable Fried Rice.
Caroline Thomason, RDN
Caroline is a women's health Registered Dietitian and diabetes educator based in Northern Virginia.
Read more about Caroline