5 Best Low-Sodium Recipes to Reduce Heart Disease Risk
Low-sodium paired with delicious-tasting food? Count us in!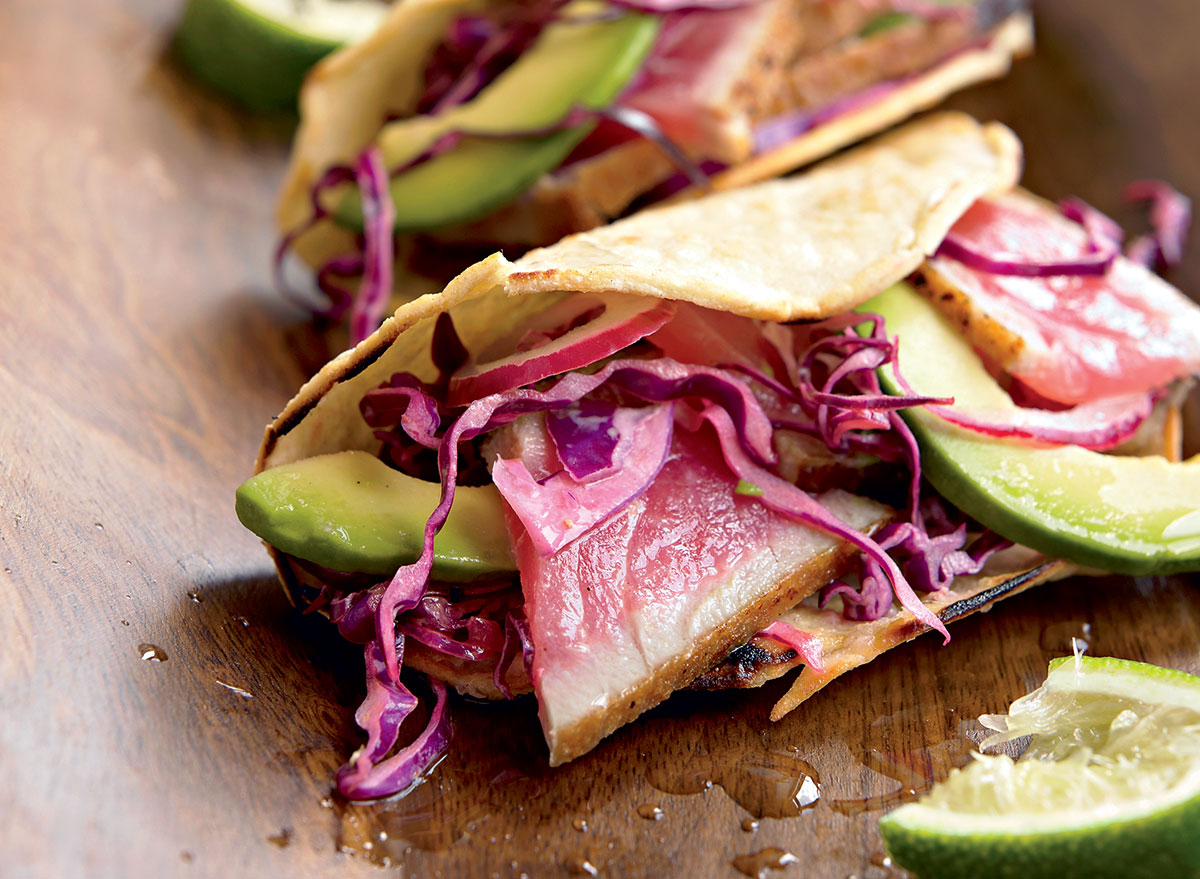 As good as sodium can taste when adding it for extra seasoning to your food, too much of it can cause severe problems such as heart disease and heart failure. That's why it's important for people who are at risk of heart problems to maintain healthy eating habits as well as drinking habits. Many pre-cooked or prepackaged foods contain tons of sodium, as do restaurant meals, making it seemingly difficult to try and control how much salt you consume, which is why creating your own recipes is a great way to maintain your intake.
We spoke with medical board experts Lyssie Lakatos, RDN, CDN, CFT, and Tammy Lakatos Shames, RDN, CDN, CFT, also known as The Nutrition Twins and authors of The Nutrition Twins' Veggie Cure, to come up with some of the best low-sodium recipes to reduce the risk of heart disease. For more recipes, check out 35+ Healthy Pasta Recipes for Weight Loss.
Chinese Sesame Tofu & Broccoli Stir-fry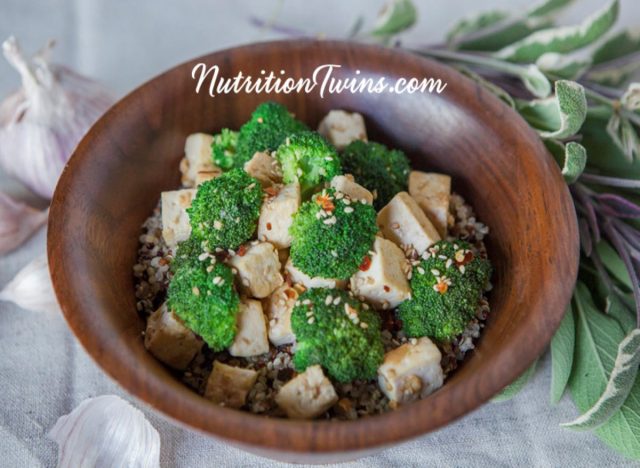 "While the average Chinese meal clocks in with a whopping 2,348 milligrams of sodium in a single take-out carton, this do-it-yourself version has less than 1/6 of that (365 mg)," says The Nutrition Twins.
An added bonus with this recipe is that the tofu can also help lower your risk of heart disease. Research posted in the Harvard T.H Chan School of Public Health discovered that people who eat tofu at least once a week lowered their risk of heart disease by 18%.
According to The Nutrition Twins, broccoli promotes heart health in many ways, including possibly helping to lower "bad" LDL cholesterol and triglycerides while raising "good" HDL cholesterol. This reduces your overall risk of a heart attack, and possibly protects against cell death following a heart attack.
"Research also shows that eating broccoli is associated with fewer calcifications in the aorta," says The Nutrition Twins.
Get the recipe from The Nutrition Twins 
Chicken Salad Sandwich with Raisins and Curry Powder Recipe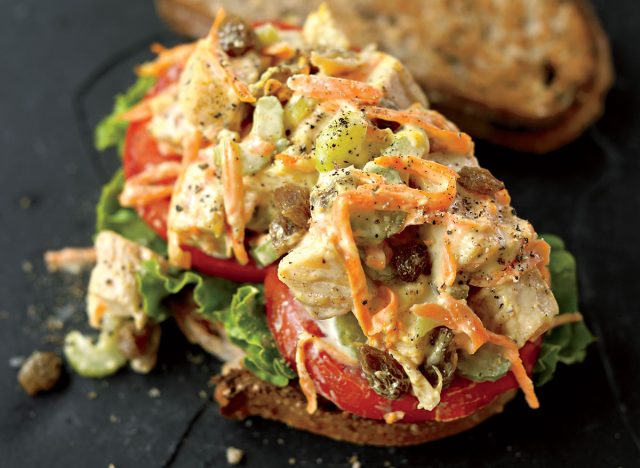 A creamy, crunchy, sweet, and savory chicken salad that is good for your heart seems too good to be true, but it's not!6254a4d1642c605c54bf1cab17d50f1e
"Chicken is rich in protein, zinc, and niacin, and new research out of Israel shows that a diet with a combination of these nutrients, makes blood vessels more flexible and improves heart health," says The Nutrition Twins.
The Nutrition Twins also say that onions contain sulfur compounds and antioxidants that fight inflammation, lower triglycerides, and reduce cholesterol, which all help to reduce the risk of heart disease.
Meanwhile, the curry powder has been shown to reduce blood pressure, improve circulation and lower cholesterol, which adds to the heart disease-fighting benefits this meal provides.
The Nutrition Twins suggest serving this sandwich up open-faced to cut sodium below 400 milligrams.
Get our recipe for Chicken Salad Sandwich Recipe With Olive Oil Mayo
Salmon with Pineapple Salsa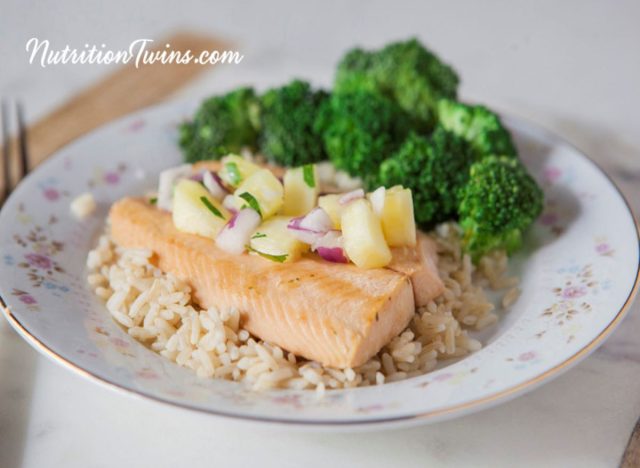 "This flavor-packed lunch or dinner recipe is a shining star when it comes to heart health," says The Nutrition Twins. "With less than 100mg of sodium in the entire dish (that's less than 5% of your maximum daily sodium allotment), you'll struggle to find a meal lower in sodium."
A study published in the Indian Journal of Endocrinology and Metabolism has shown that salmon's omega 3 fatty acids offer strong protection for the heart. It also improves the heart's function by lowering triglycerides and blood pressure while protecting against arrhythmias– an abnormality in the timing or pattern of the heartbeat– and more.
As said by The Nutrition Twins, research has shown that fish eaters are less likely to have heart attacks than non-fish eaters. Antioxidant-rich cumin helps "mop up" free radicals, protecting cells in the body, including the heart and the blood vessels against oxidation and damaging inflammation. Cumin has also been shown to keep the heart healthy by lowering cholesterol levels.
The soluble fiber and flavonoids in the pineapple and lime may also help to improve cholesterol levels by raising the HDL cholesterol and lowering the LDL cholesterol and triglycerides.
Get the recipe from The Nutrition Twins 
Spicy Tuna and Avocado Fish Taco Recipe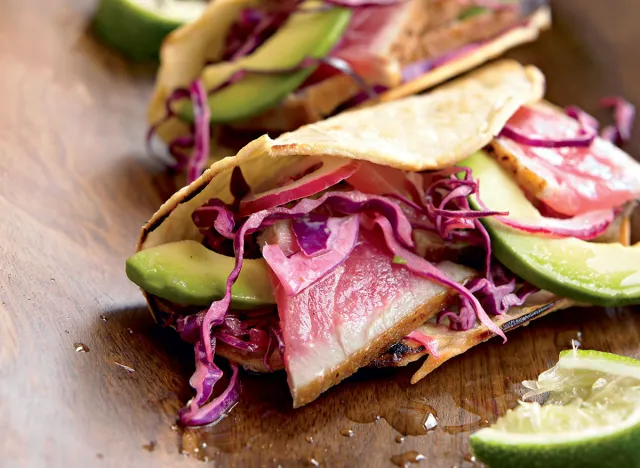 A taco dish that serves up heart protection and a party on a platter? Yes, please!
According to new research posted in the Journal of the American Heart Association, people who eat at least two servings per week of avocados have a 16% lower risk of cardiovascular disease. They also have a 21% lower risk of having a heart attack or problem related to coronary artery disease than those who rarely or never eat avocados.
The Nutrition Twins also state that replacing foods that are high in saturated fat, like butter, cheese, and meat, with unsaturated fat like avocados helps lower LDL cholesterol, which is a large contributor to coronary artery disease.
The ahi tuna contains omega 3 fatty acids, which help reduce cholesterol and improve heart health. Both green and red cabbage can raise beta carotene, lutein, and other antioxidants that protect the heart and reduce inflammation. Similar to avocados, cabbage helps to lower LDL cholesterol.
To slash sodium below 400 milligrams, The Nutrition Twins suggest going easy on the pickled onions and the hot sauce.
Get our recipe for Spicy Fish Taco With Tuna and Avocado Recipe
Orange Creamsicle Overnight Oats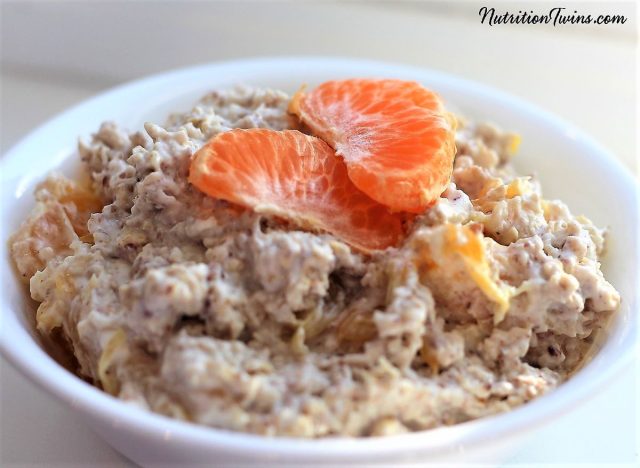 A perfect alternative for sweets, overnight oats come with a lot of benefits.
"While this recipe clocks in at only 69 milligrams of sodium for the entire meal, that's not the only reason this recipe rocks when it comes to your heart," says The Nutrition Twins. "Oats' soluble fiber, beta-glucan lowers LDL and total cholesterol to help to keep your arteries clear."
In fact, a summary of 24 studies posted in the American Journal of Clinical Nutrition found that diets with great amounts of oats dropped cholesterol an average of 6.5 points more than the control group.
According to The Nutrition Twins, orange contains potent flavonoids, including naringenin and hesperidin, which may help to improve blood pressure and reduce your risk of atherosclerosis– the build-up of fats, cholesterol, and other substances in and on the artery walls. The flaxseeds are packed with fiber, antioxidants, and contain omega 3 fatty acids, all contributing to their ability to reduce the risk of heart disease.
Get the recipe from The Nutrition Twins
Kayla Garritano
Kayla Garritano graduated from Hofstra University, where she majored in Journalism and double minored in Marketing and Creative Writing.
Read more about Kayla