I've Tasted 5 Low-Sugar Yogurts, and This Was My Favorite
Low sugar doesn't have to mean less taste!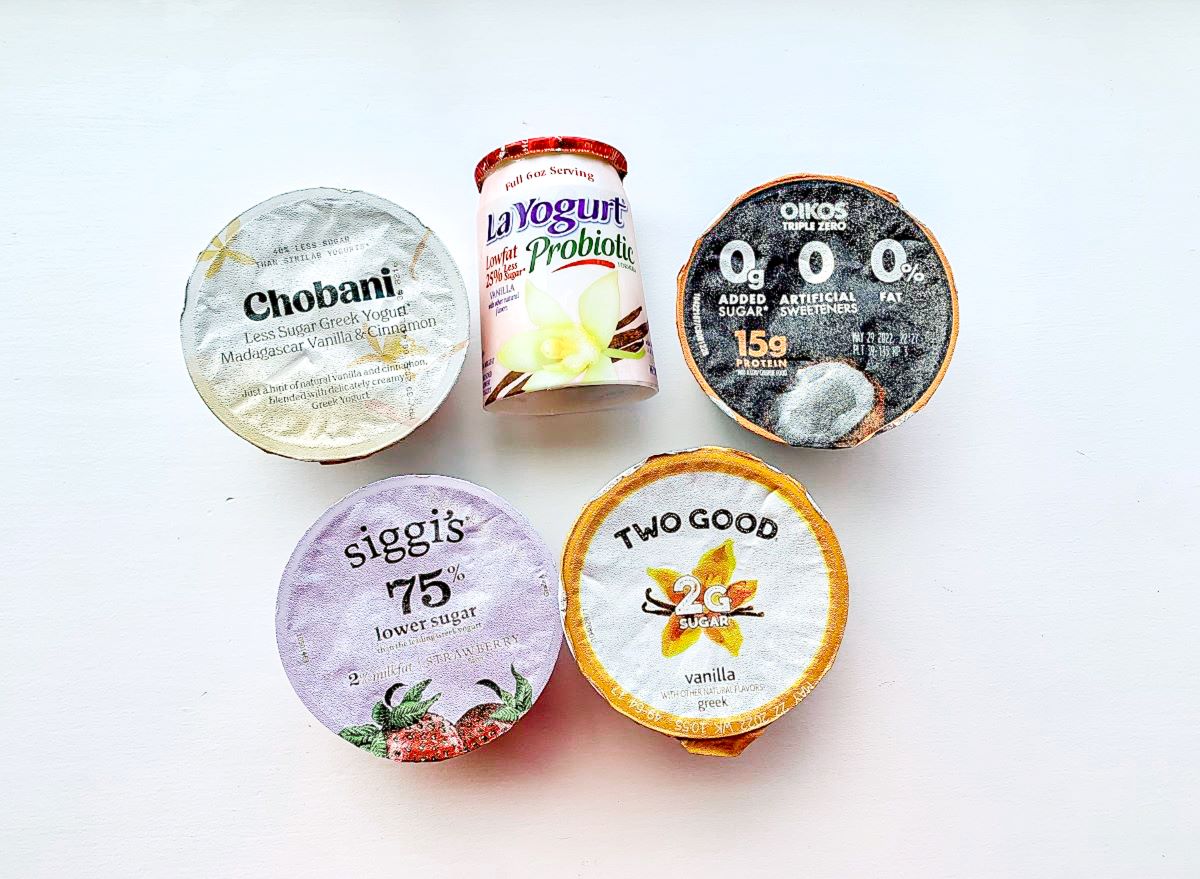 Yogurt is a super versatile food option. Typically seen as a breakfast item, you can easily incorporate different types of ingredients like granola, honey, or fruit into it to give it some pizazz. You can turn it into a parfait or just a pretty-looking bowl of food. There are even savory ways to incorporate yogurt. Who would've thought yogurt could make a substitute for sour cream?
Now that I've ranted about the uses of yogurt, let's get down to the types. There are plenty of yogurt companies striving to make great-tasting yogurts. However, companies also tend to throw in added sugars for taste, which can lead to various health problems in the long run.
As a result, it's becoming more common for brands to create yogurts that are not only tasty but healthier with fewer sugars. With that being said, I of course had to find the best low-sugar yogurt.
Because yogurt brands tend to create some pretty unique flavors, I kept it simple– popular flavors, no wild combinations,  and I could not add any extra toppings. Each yogurt brand I tried advertised to have less sugar or no added sugars.
What I tried
Chobani Less Sugar Greek Yogurt
Two Good™ Greek Yogurt
La Yogurt Probiotic Low Fat 25% Less Sugar Yogurt
Siggi's Yogurt Low-Fat Lower Sugar
Oikos Triple Zero Yogurt
Rated from least favorite to most, here are the low-fat yogurts worth picking up at the grocery store – and the ones that can stay on the refrigerated shelf. And if you're looking to learn more about the benefits of yogurt, take a look at the Surprising Side Effects of Eating Yogurt, says Science.
La Yogurt Probiotic Low Fat 25% Less Sugar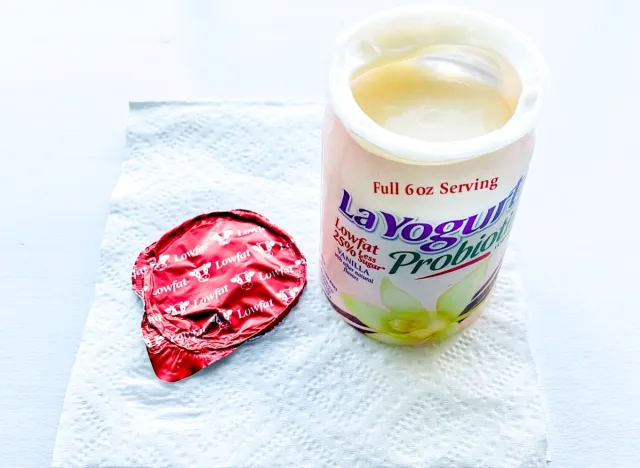 For starters, La Yogurt's container reads that there is 25% less sugar in their yogurt. While this may be true, the nutrition label showed that a full 6-ounce serving still contains 19 grams of total sugar, with 11 grams of added sugar. That just seems misleading when it comes to "less sugar."
As far as taste goes, I did like the sort of creaminess this yogurt had. It was a smoother consistency that the other yogurts did not have. However, I could feel as if I was tasting the sugar with every bite, and there was this other unusual taste of sourness to it. It wasn't sour like the yogurt expired, but something just seemed off and I couldn't pass that while trying this brand.
Oikos Triple Zero
When I think of Oikos, I think of the John Stamos advertisements from years ago, which is great advertising on the brand's part. This yogurt in particular has 0% fat, zero grams of added sugar, and zero artificial sweeteners, hence the title, "triple zero." It also contains 15 grams of protein, which is definitely a nice bonus for anyone looking to get their protein intake for the day.6254a4d1642c605c54bf1cab17d50f1e
Although protein is supposed to be filling, I have actually felt quite hungry afterward, still looking to eat something more. I think if I was able to add more ingredients to the yogurt, it would've been more satisfying.
The texture also threw me off. Even after mixing it up, the yogurt felt thin and more liquidy than some of the other brands. That could have possibly been why the serving wasn't filling, because of the thinner consistency. I also feel like it was lacking in taste.
I'm sorry, Mr. Stamos, but for those reasons, Oikos is ranked number 4.
Chobani Less Sugar Greek Yogurt
The label on this brand reads that there is "40% less sugar than similar yogurts." The website even clarifies the statement. Chobani's yogurt contains about 9 grams of sugar per serving of 5.3 ounces. Meanwhile, they claim similar yogurts without sugar substitutes average about 16 grams of sugar for the same amount of ounces. This particular yogurt also contains 12 grams of protein.
Overall, I thought the flavor was subtle but helped emphasize the yogurt. For this tasting, I picked up their "Madagascar Vanilla and Cinnamon" flavor. When you opened the lid, you could actually see cinnamon at the top. This was appreciated because I didn't taste as if I was eating less sugar.
With that being said, Chobani makes it only to the number 3 slot because I thought the yogurt was too dense. For some people, that can indicate a hearty yogurt. However, the texture felt a little too thick for me. I took off the lid to see the yogurt stuck to the edges of the container. The thickness of the yogurt led to an almost dry chew in my mouth, which isn't enjoyable when trying to eat healthy food.
Siggi's Yogurt Low-Fat Lower Sugar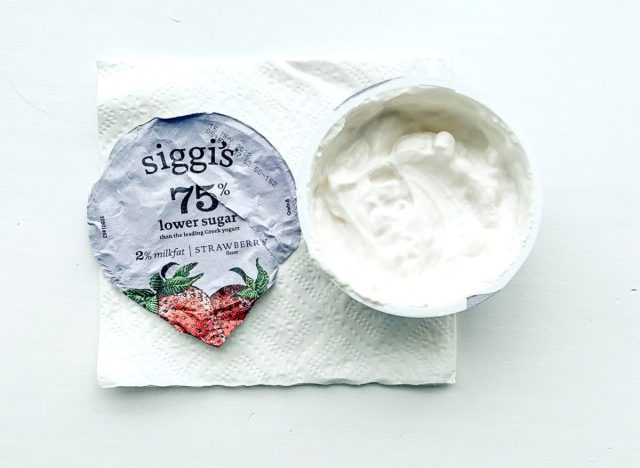 I went back and forth on whether or not I should make Siggi's yogurt the first or second place winner. It's 75% less sugar compared to the brand's original low-fat yogurts. However, you cannot tell that there is sugar missing. The yogurt itself is creamy, the texture is smooth, and I was actually full and satisfied after eating a serving of it for breakfast.
Because I had to be nitpicky with this one, the immediate presentation was not pretty. The initial look of the yogurt itself was a little messy and a tad watery, and I did have to scrape a thin layer off the lid. Once mixed, however, the consistency was perfect.
I also considered the calories. A Siggi's lower sugar serving is 100 calories. This isn't bad at all, but not the lowest out of the five. Overall, I would eat this yogurt again—no complaints.
Two Good™ Greek Yogurt
With only 2 grams of sugar, 12 grams of protein, and no added sugars, this yogurt is only 80 calories per serving. It almost seems "two" good to be true.
Let's start with the unveiling of the yogurt. You take off the lid in one perfect motion and feast your eyes on this absolutely stunning coating. It was smooth with no flaws, I almost didn't want to dig my spoon into it because it was so pretty. The way the yogurt looks is something you would see on a commercial for the brand.
Then I dug in. It was definitely a little on the thicker side, but nothing that made the texture or consistency seem off. Just like the look of it, the texture felt smooth and rich. It was creamy and satisfying, and with all the healthy benefits, what more could I ask for?
Kayla Garritano
Kayla Garritano graduated from Hofstra University, where she majored in Journalism and double minored in Marketing and Creative Writing.
Read more about Kayla