The 6 Best Costco Summer Items Right Now, According to Dietitians
These staples are healthy and cheap at Costco.
It's nearly summer and that means spending time outside with family and friends. What better way to spend time together than to enjoy good food together? It's time to take the grill out of hibernation and cook up some delicious dishes for all the upcoming backyard BBQs, pool parties, and other picnics in the sun. With over 100 million members worldwide, Costco is a go-to for everything bulk-sized, and that includes warmer weather staples.
We asked two registered dietitians for the best summer foods to stock up on from Costco: Erin Palinski-Wade, New Jersey-based registered dietitian and author of Belly Fat Diet For Dummies; and Kristian Morey, a clinical dietitian with the nutrition and diabetes education program at Mercy Medical Center in Baltimore. Here are their picks.
Del Monte Cut Green Beans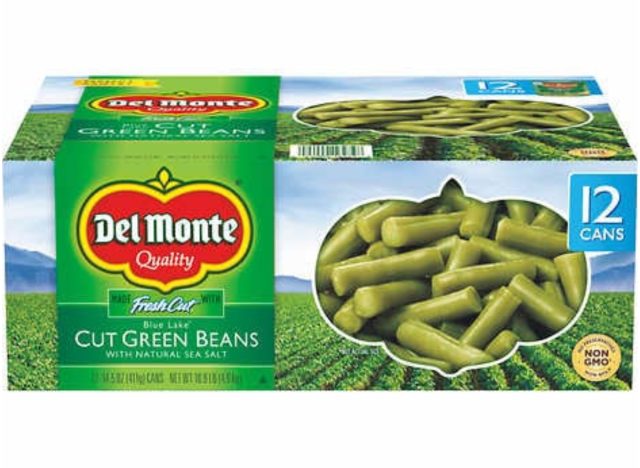 PER ½ CUP (DRAINED)
: 15 calories, 0 g fat (0 g saturated fat), 0 mg cholesterol, 200 mg sodium, 2 g carbs (1 g fiber, 1 g sugar), 1 g protein
You can't go wrong with green beans as a side dish, and this box comes with 12 cans of them for under $14. You'll always have some in your pantry to add to your meals and to take to the next gathering.
"I love these canned green beans for an affordable and convenient way to boost your daily vegetable intake. There is no reason to avoid canned vegetables, which contain just as much fiber as fresh or frozen," says Palinski-Wade before adding a tip: "If you are concerned about sodium, simply rinse them off before serving to help reduce added salt."
Goya Black Beans and Goya Chick Peas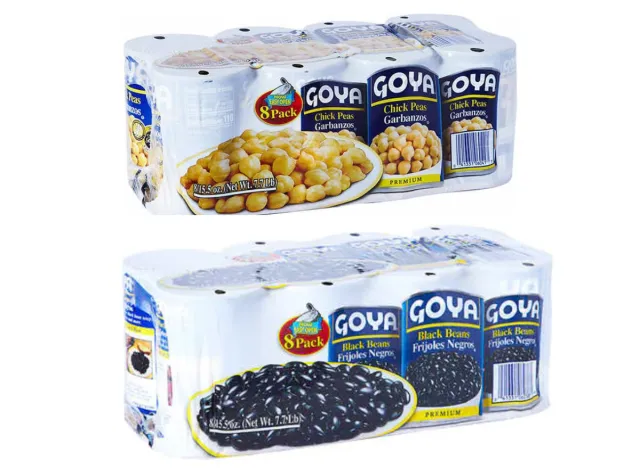 PER ½ CUP (BLACK BEANS)
: 90 calories, 0.5 g fat (0 g saturated fat), 0 mg cholesterol, 460 mg sodium, 19 g carbs (6 g fiber, >1 g sugar), 7 g protein
PER ½ CUP (CHICKPEAS)
: 110 calories, 2 g fat (0 g saturated fat), 0 mg cholesterol, 320 mg sodium, 19 g carbs (4 g fiber, 3 g sugar), 6 g protein
Stock your pantry with Goya black beans and chickpeas sold at Costco for some added nutrition to your dishes. Add to salads, whip up some hummus, or serve as a side dish.
"I'm a huge fan of adding beans to your plate and these black beans and chickpeas are both terrific options and an easy way to add fiber and plant-based protein to your plate. Canned varieties make it even more convenient without the need to soak dried beans in advance," advises Palinski-Wade.
That's it Mini Fruit Bars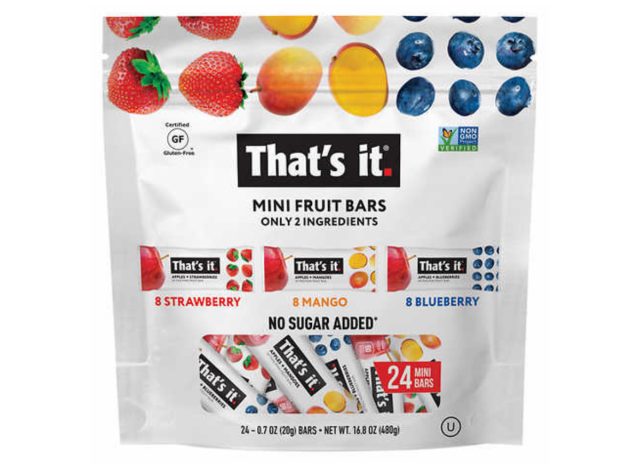 PER 1 BAR (STRAWBERRY)
: 60 calories, 0 g fat (0 g saturated fat), 0 mg cholesterol, 15 mg sodium, 12 g carbs (2 g fiber, 10 g sugar), 0 g protein
This variety pack of fruit bars provides a convenient and nutritious way to snack. The $16.99 bag has 24 bars with three different flavors: strawberry, mango, and blueberry. Plus there are only two ingredients in each bar.
"I love the That's It Bars since the only ingredients are fruit. These bars are convenient, portable, and satisfy a sweet craving with no added sugar," says Palinski-Wade.
"I'd recommend this as a great option for summer travel to keep in your bag without the mess that a piece of whole fruit can be," adds Morey.
Dole Mandarin Orange Cups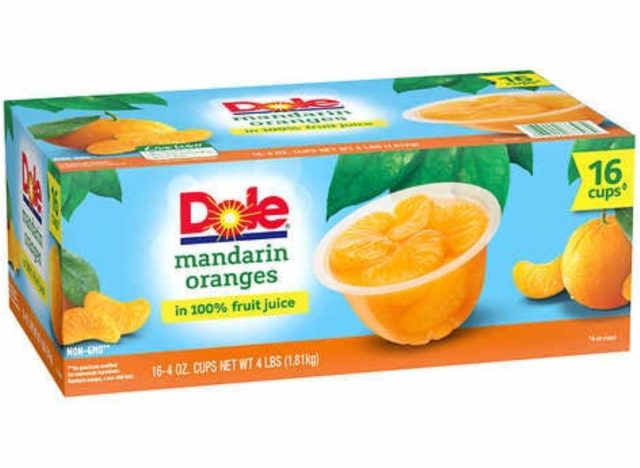 PER 1 CUP
: 70 calories, 0 g fat (0 g saturated fat), 0 mg cholesterol, 0 mg sodium, 16 g carbs (1 g fiber, 14 g sugar), >1 g protein
This pack from Costco comes with 16 cups of Dole Mandarin oranges for less than $10 and is dietitian-approved. Store in your pantry or fridge if you like them cold on a hot summer's day. They'll keep longer than fresh oranges, and they are super convenient. Toss in your lunch pack to enjoy with your midday meal.
"Nice and hydrating and low in sugar compared to cups that have syrup – this would be a nice hydrating choice on a hot day," notes Morey.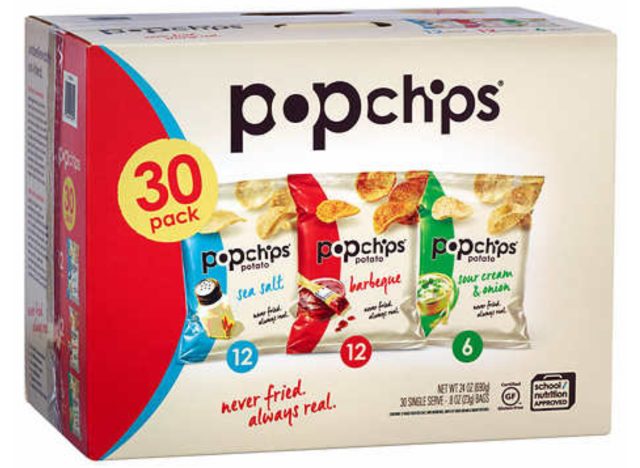 PER 1 BAG (SEA SALT)
: 100 calories, 3.5 g fat (0 g saturated fat), 0 mg cholesterol, 160 mg sodium, 15 g carbs (0 g fiber, 0 g sugar), 1 g protein
Swap out regular potato chips for this option from Costco this summer. The variety pack comes with 30 single-serving bags of Popchips Potato Chips. Flavors include sea salt, barbeque, and sour cream and onion, so there's something everyone will like. Each bag is just 100 calories.6254a4d1642c605c54bf1cab17d50f1e
"The PopChips Variety Pack is my favorite of the chip list since they are baked and not fried, which means they contain about 50% less fat than many chip brands and since they are gluten free, they can appeal to a variety of dietary needs," says Palinski-Wade.
"A great lower calorie option to regular potato chips – I think this would be a great option for snacking at home or work, traveling, or having at a cookout," notes Morey.
Kirkland Signature Grass-Fed Beef Patties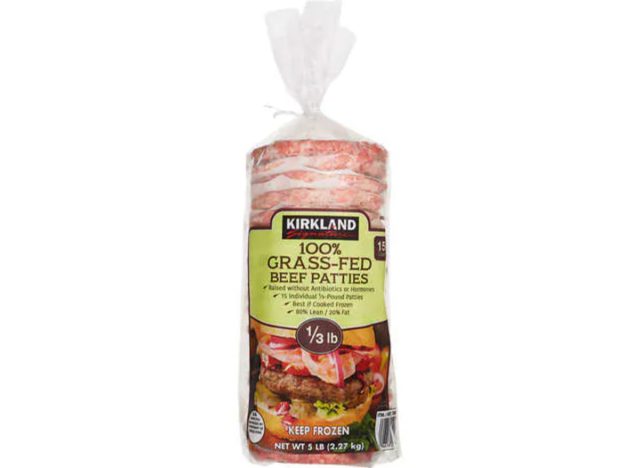 PER 1 PATTY
: 380 calories, 30 g fat (11 g saturated fat), 0 mg cholesterol, 100 mg sodium, 0 g carbs (0 g fiber, 0 g sugar), 26 g protein
Last, but certainly not least are Kirkland's Signature Grass-Fed Beef Patties. Grill up this pack of 15 and you can feed the whole family this summer for cheap. Each patty is ⅓ pound of 80% lean, 20% fat beef and is around $1.97 each.
"When selecting ground beef, choose the leanest percentage available (85% or up if possible). Chopped ground beef allows you the opportunity to 'extend' the meat by adding pureed beans or vegetables into everything from burgers to meatloaf to help boost fiber while reducing fat. If choosing patties, I recommend the grass-fed beef as 100% grass-fed beef often contains a more favorable fat profile to benefit overall health," Palinski-Wade recommends.
Before your next cookout, brainstorm some dishes everyone will love with the 60 Best Healthy Memorial Day Recipes.
Nicole LaMarco
Nicole has a first-degree black belt in Taekwondo and is passionate about everything health-related.
Read more about Nicole