5 Fast-Food Chains With the Best Salad Options Right Now
When it comes to the landscape of fast food, it's looking less green than ever. These days, many chains are pulling back on providing fresh options for customers as menus are simplified.
But why are we forgoing the fork? According to McDonald's, which ditched salads at the beginning of the pandemic, restaurant operators were reporting that tossing greens became too much work during peak times. And as operations became streamlined, it was at the expense of healthier options.
All is not lost, however. There are plenty of great fast-food chains stepping up to fill the void with fresh and leafy burger alternatives and we're here to showcase our favorites. 
These big salads aren't here to stick to the sidelines, either. If you're looking for a full plate, brimming with color and dressed like it's a party, we've got you covered. The salad days are finally here.
Chipotle's Build-Your-Own Salads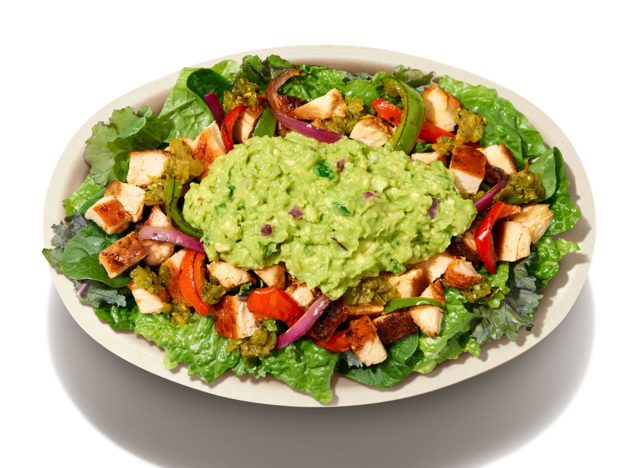 Nutritional information varies by order 
What we love about Chipotle's salad is the fact it's highly customizable, meaning you can fit it into any meal plan. The protein options include different choices of meat, where you can either go lean with two types of chicken, meatier with carne asada and barbacoa, or even vegetarian with a plant-based choice. The greens aren't boring either, with a tri-blend of romaine, baby kale, and baby spinach.
Additionally, the Tex-Mex chain lets you add rice, beans, and an array of different toppings, including its delicious Chipotle-Honey Vinaigrette.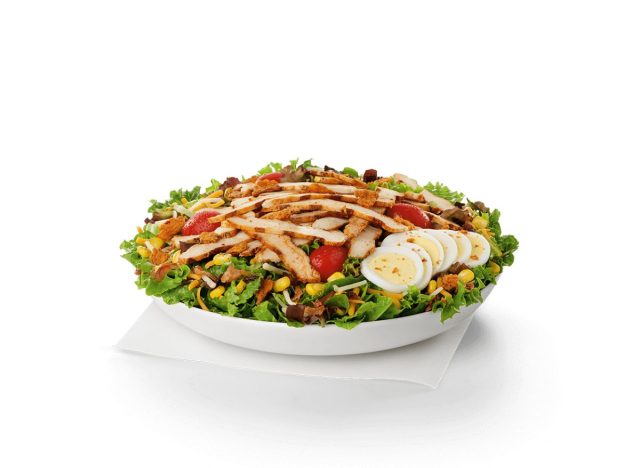 Per salad: 710 calories, 51 g fat (11 g saturated fat, 0 g trans fat), 1770 mg sodium, 25 g carbs (6 g fiber, 9 g sugar), 36 g protein
Chic-Fil-A's Cobb Salad with a Spicy Grilled Filet chicken breast is not to be overlooked. Served on a bed of mixed greens and topped with roasted corn kernels, Monterey Jack and Cheddar cheese, crumbled bacon, sliced egg, grape tomatoes, crispy red bell peppers, and Avocado Lime Ranch dressing—this fast-food salad is as good as more expensive versions at any full-service restaurant!
While it does pack a punch of protein, it comes with a big serving of calories as well, so those that are cutting down should be leery as this item isn't necessarily a low-cal option. However, it is very delicious and one of the best big salads you'll be able to find at a fast-food restaurant.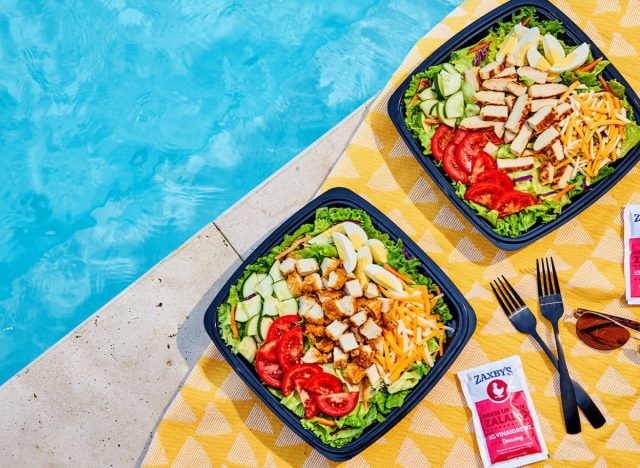 Per Cobb Salad w/Grilled Chicken: 440 calories, 20 g fat (9 g saturated fat, 0 g trans fat), 1490 mg sodium, 17 g carbs (3 g fiber, 8 g sugar), 52 g protein
Zaxby's always has a good variety of salads on its menu but this summer its upgraded selection is even healthier. The fried chicken chain has introduced a lineup of "Zensible Zalads" made with fresh ingredients that have fewer than 600 calories. 
Both the House version and Cobb salad are served with a Lite Vinaigrette dressing, and can either come with grilled or fried chicken. These specialty salads are only available for a limited time, however, so if you're feeling the salad munchies, you better get there quick.
Panera's Green Goddess Salad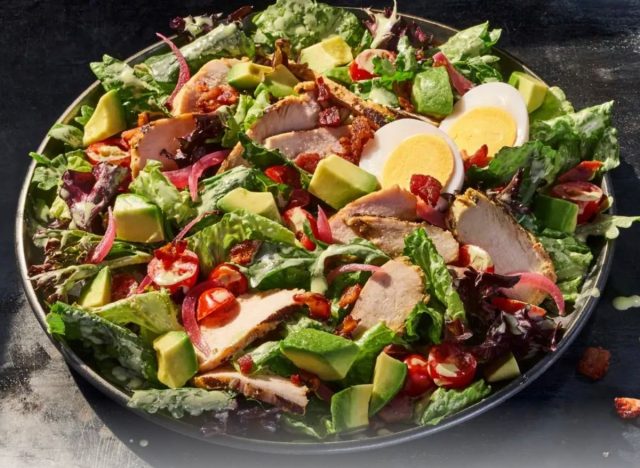 Per salad: 500 calories, 29 g fat (7 g saturated fat, 0 g trans fat), 1030 mg sodium, 27 g carbs (8 g fiber, 13 g sugar), 37 g protein

6254a4d1642c605c54bf1cab17d50f1e

Panera has always been the go-to place to grab something green and nothing has changed in that department. Our favorite salad on the menu when it comes to taste, a healthy variety of veggies, and plenty of lean protein is the Green Goddess Cobb Salad with Chicken.

It comes packed with arugula, romaine, baby kale, and red lettuce before being topped with grape tomatoes, pickled onions, avocado, chicken, Applewood-smoked bacon, and a boiled egg. The fresh Green Goddess dressing has a creamy texture with the bright lemon and fresh herbs flavors–definitely a memorable option!
Wendy's Apple Cranberry Chicken Salad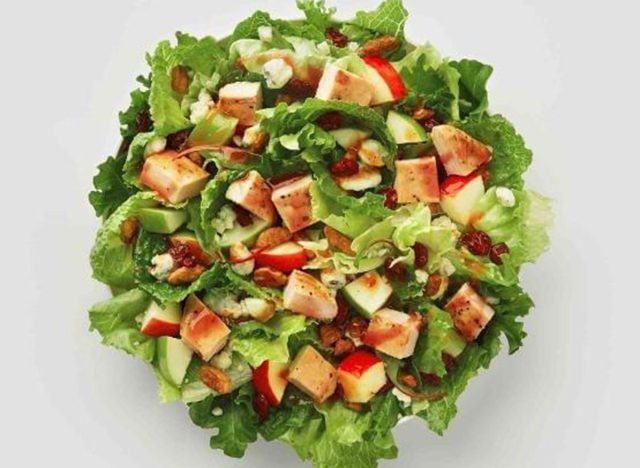 Per salad: 421 calories, 16 g fat (5.6 g saturated fat, 0 g trans fat), 0.84 mg sodium, 38 g carbs (4.3 g fiber, 34 g sugar), 29 g protein
Burger giant Wendy's never fails to impress with its salads, which it managed to keep fresh where other fast-food chains have failed.
In particular, we love the Apple Cranberry Chicken Salad. It's made daily with a lettuce blend, crisp apple chips, dried cranberries, sunflower seeds, Italian cheese, and grilled chicken. Additionally, its Pomegranate Vinaigrette dressing tops it perfectly, proving it doesn't all have to be burgers in fast food.
Amber Lake
Amber Lake is a staff writer at Eat This, Not That! and has a degree in journalism from UNF in Jacksonville, Florida.
Read more about Amber