These Are the Unhealthiest New Trader Joe's Products, Dietitian Warns
The label may make them seem healthy, but this dietitian says the ingredients tell a different story.
With unique items like Cauliflower Gnocchi, Everything but the Bagel Seasoning, and Mandarin Orange Chicken, Trader Joe's is a go-to for healthy groceries. Though ingredients like fruits and veggies may make these delicious products appear healthier than typical supermarket finds, looks can sometimes be deceiving.
We enlisted Eat This, Not That! Medical Expert Board member Lisa Young, PhD, RDN, to help us identify the unhealthiest new Trader Joe's products that you should skip on your next visit. Young is the author of Finally Full, Finally Slim, a nutritionist in private practice, and an adjunct professor of nutrition at New York University.
Related: 4 Healthy New Trader Joe's Products You Should Buy, RD Says
Vegan Cream Cheese Alternative
2 tbsp
: 90 calories, 9 g fat (8 g saturated fat, 0 g trans fat), 160 mg sodium, 4 g carbs, 0 g fiber, 0 g sugar, 0 g protein
This new item is one that vegans and those who are dairy-free can appreciate, but just two tablespoons is equal to 40% of the daily recommended value of saturated fat thanks to the coconut oil that keeps it creamy. While other ingredients include potato starch and chickpea protein, it's on the "not that" list.
"It is purely saturated fat and no healthier than regular cream cheese," Young says, noting that just because the label says one thing doesn't mean it is a better option compared to another. "Yes, it's vegan, but don't be fooled. It's not health food."
Butternut Squash Mac & Cheese Bites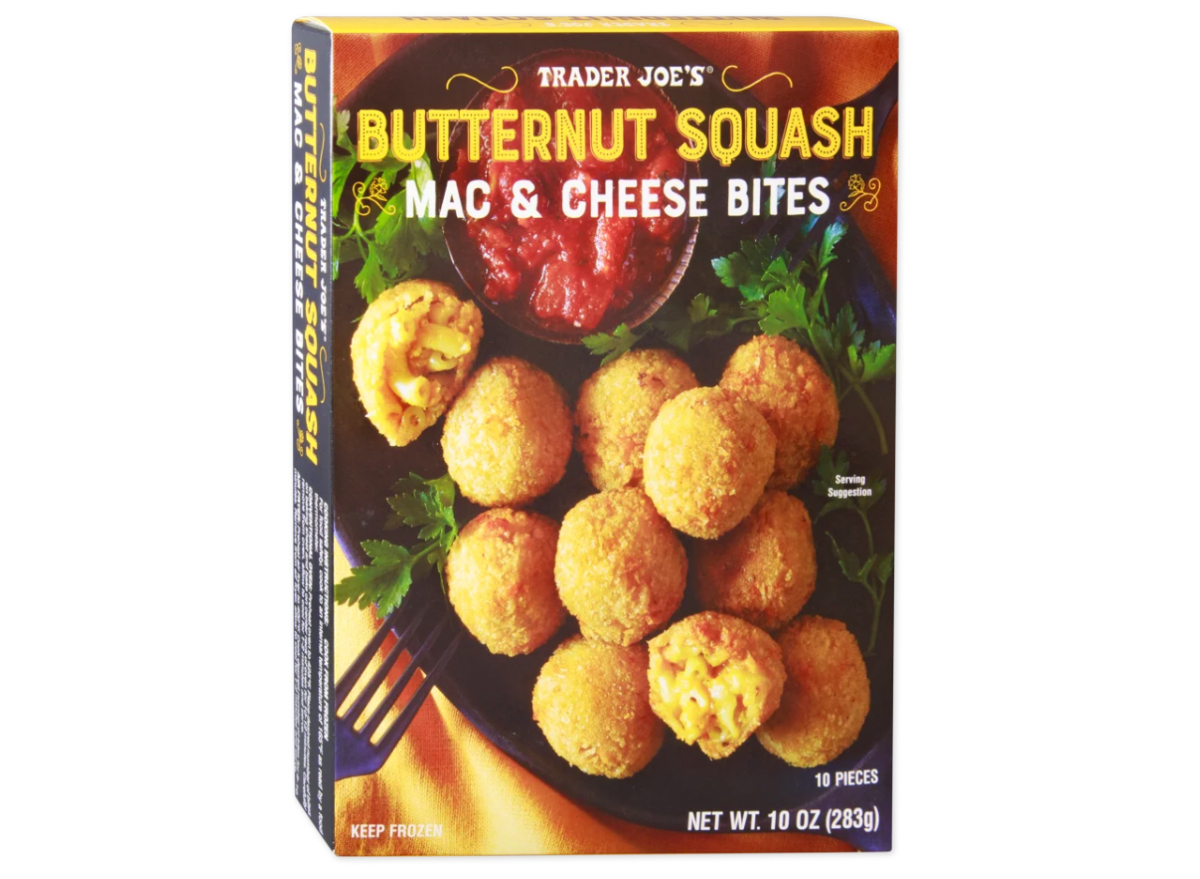 3 pieces
: 230 calories, 16 g fat (7 g saturated fat, 0 g trans fat), 45 mg sodium, 18 g carbs, 1 g fiber, 2 g sugar, 5 g protein
Butternut squash meets macaroni and cheese in this seasonal appetizer, which is covered in seasoned breadcrumbs.
"I'd skip this dish," Young says of the Butternut Squash Mac & Cheese Bites. "Just three pieces contain 230 calories and 16 grams of fat—thanks to the heavy cream and supersize ingredient list—and it's low in fiber. Enjoy roasted butternut squash instead for a yummy taste and a healthy dose of fiber and antioxidants."
Related: To get all of the latest Trader Joe's news delivered right to your email inbox every day, sign up for our newsletter!
Shredded Parmesan Cheese Alternative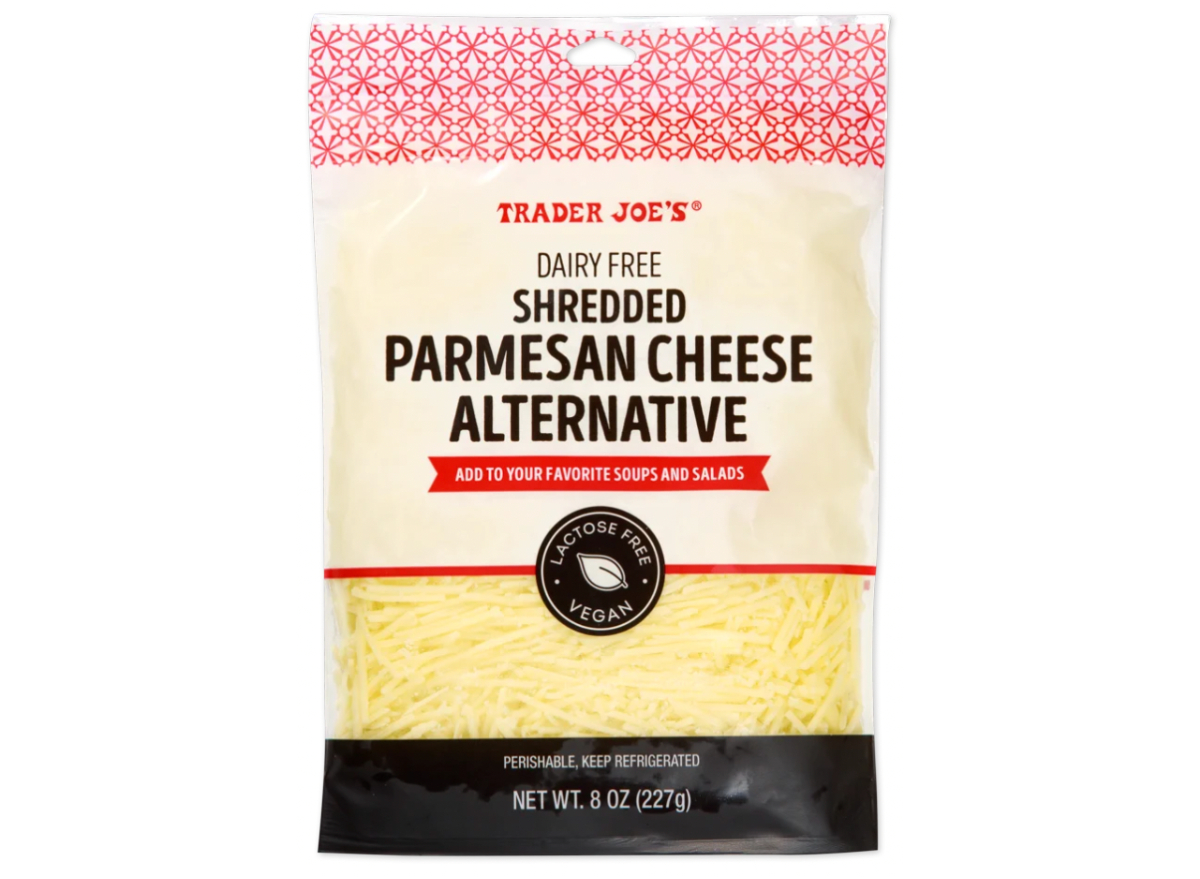 1/4 cup
: 100 calories, 7 g fat (7 g saturated fat, 0 g trans fat), 380 mg sodium, 8 g carbs, 0 g fiber, 0 g sugar, 0 g protein
Though it may taste like the real thing, you don't need to clear space for this dairy alternative in your fridge. "Unlike parmesan cheese, which contains some protein and calcium, this cheese alternative offers no healthy ingredients," Young says. "It's made mostly of potato starch and coconut oil. Skip it. Enjoy the real thing instead!"
What new healthy Trader Joe's products should you buy instead?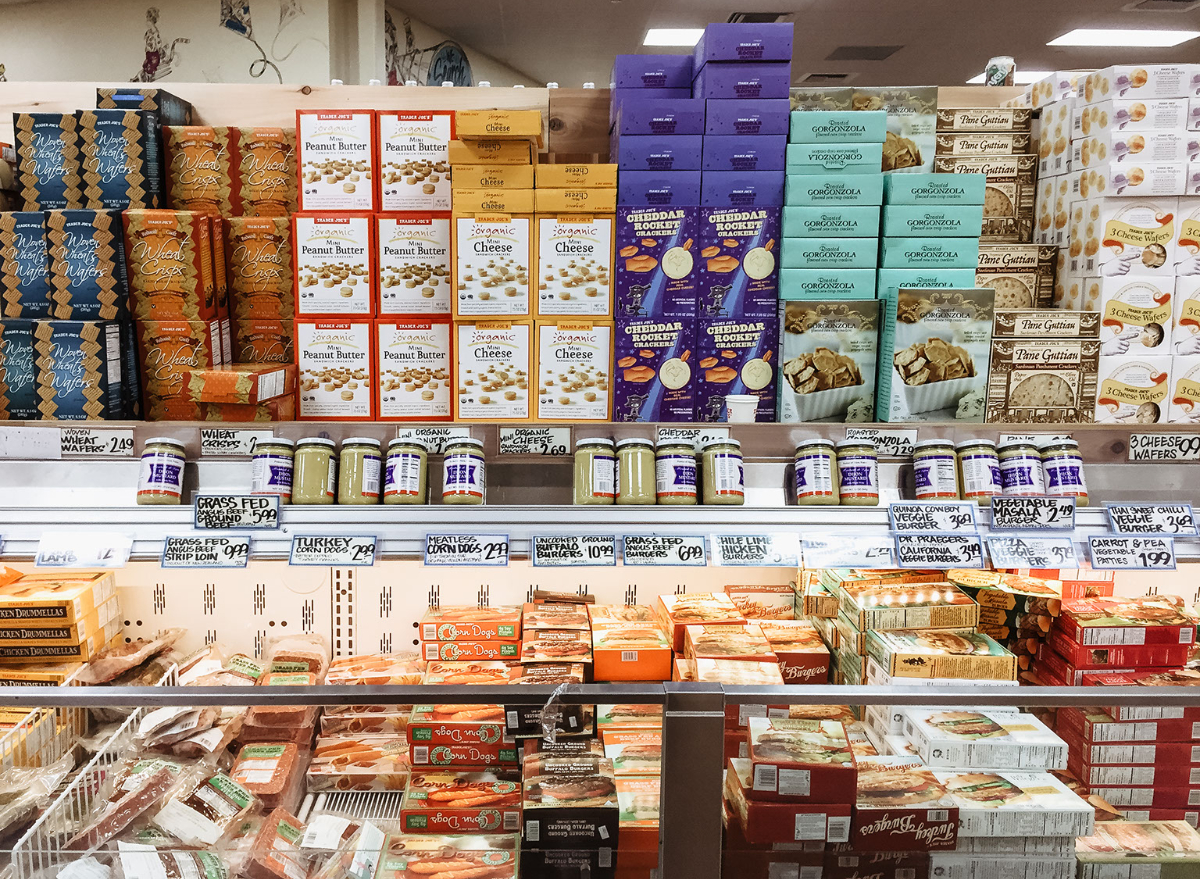 Thankfully, Young also recently revealed four new healthy products you should buy instead. They include the Organic Veggie Bites, which have a healthy dose of fiber and very little added sugar, and the Hearts of Palm Pasta, which contains one ingredient—hearts of palm!6254a4d1642c605c54bf1cab17d50f1e
Click here to find out the best of the rest!
For more on what's happening at your local Trader Joe's, check out:
Amanda McDonald
Amanda has a master's degree in journalism from Northwestern University and a bachelor's degree in digital journalism from Loyola University Chicago.
Read more about Amanda