Trader Joe's Shoppers Are Secretly Obsessed With This Underrated Item
This under-appreciated item is about to be your new weeknight dinner MVP.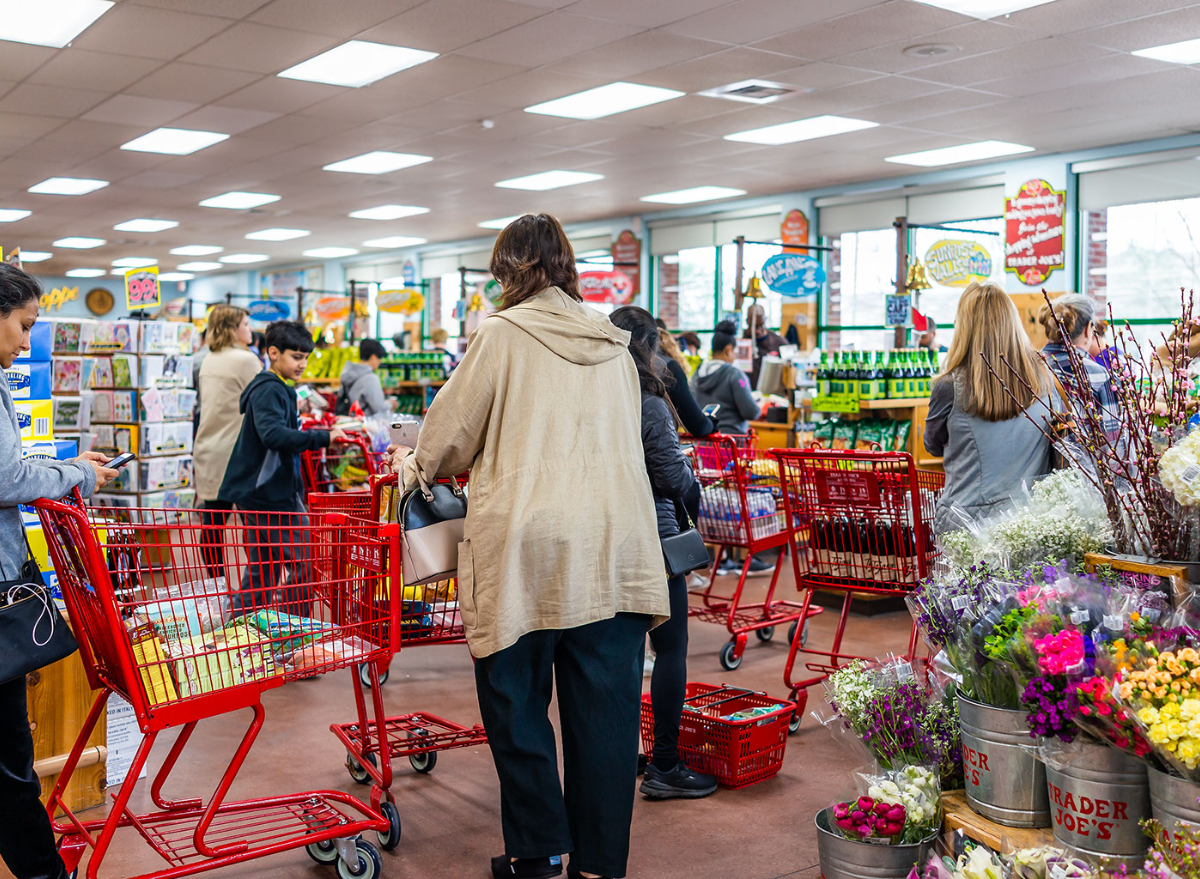 Most Trader Joe's shoppers like to go for the classic favorites: Cauliflower Gnocchi, Mandarin Orange Chicken, and that coveted Everything But The Bagel Seasoning, to name a few. But TJ's most frequent shoppers—the ones that peruse the shelves and look for those hidden gems you never seem to give a second glance—know exactly where to look and what to buy. And according to some avid Reddit users, one of the most underrated items that Trader Joe's shoppers love is their Peppercorn-Garlic Boneless Pork Tenderloin.
Hidden in the meat section of this popular grocery chain you'll find a myriad of marinated meats to choose from. While the different varieties of marinated chicken are always a top buy for easy dinners, it seems that people are sleeping on the simplicity that is the Peppercorn-Garlic Boneless Pork Tenderloin. Because, according to many Reddit users, this Trader Joe's item is one of the easiest weeknight meals you can throw together without having to do any of the taxing prep work—like putting together a homemade marinade.
"This is a great dish for those who love pastrami-style meats," says Reddit user TheOtherDragic. "The tenderloin is flavorful, salty, and always comes out tender."
So how should you prepare it? TheOtherDragic recommends cooking it with green beans and roasted potatoes. Another Reddit user, Dommichu, says that cooking up the meat and slicing it up to use for sandwiches (especially on those fluffy Trader Joe's Brioche Buns) with some au jus sauce is another easy way to go for a weeknight dinner. Or you could even take any of the leftovers from dinner on the night before spread on a toasted baguette with roasted red peppers and aioli, recommended by SpatulaCity123.6254a4d1642c605c54bf1cab17d50f1e
One Reddit user, Timely_Title38, even points out that, although most pre-marinated meats are loaded with sodium, the Peppercorn-Garlic Boneless Pork Tenderloin tends to have a lower sodium per serving compared to some of the other pre-seasoned meats on shelves.
The only downside to this underrated Trader Joe's item? The package's cooking instructions don't seem to satisfy customers' pork preferences.
"My only gripe would be that I don't feel the cooking instructions are fully accurate based on my experience, but this is a great easy option for a home-cooked meal," says TheOtherDragic. "I tend to cook a little longer than the packaging recommends and my meat always comes out the perfect medium."
Trader Joe's recommends searing the meat in a skillet before placing it in the oven at 350 degrees for 20 minutes. An easy indicator to know if the pork tenderloin is to your liking is to use a meat thermometer to measure doneness. Typically 160 degrees is for medium, and 175 degrees is for well done.
Get even more grocery tips straight to your inbox by signing up for our newsletter! After, read these next: