5 Grocery Items Plummeting in Supply
Certain items on your shopping list may get harder to find.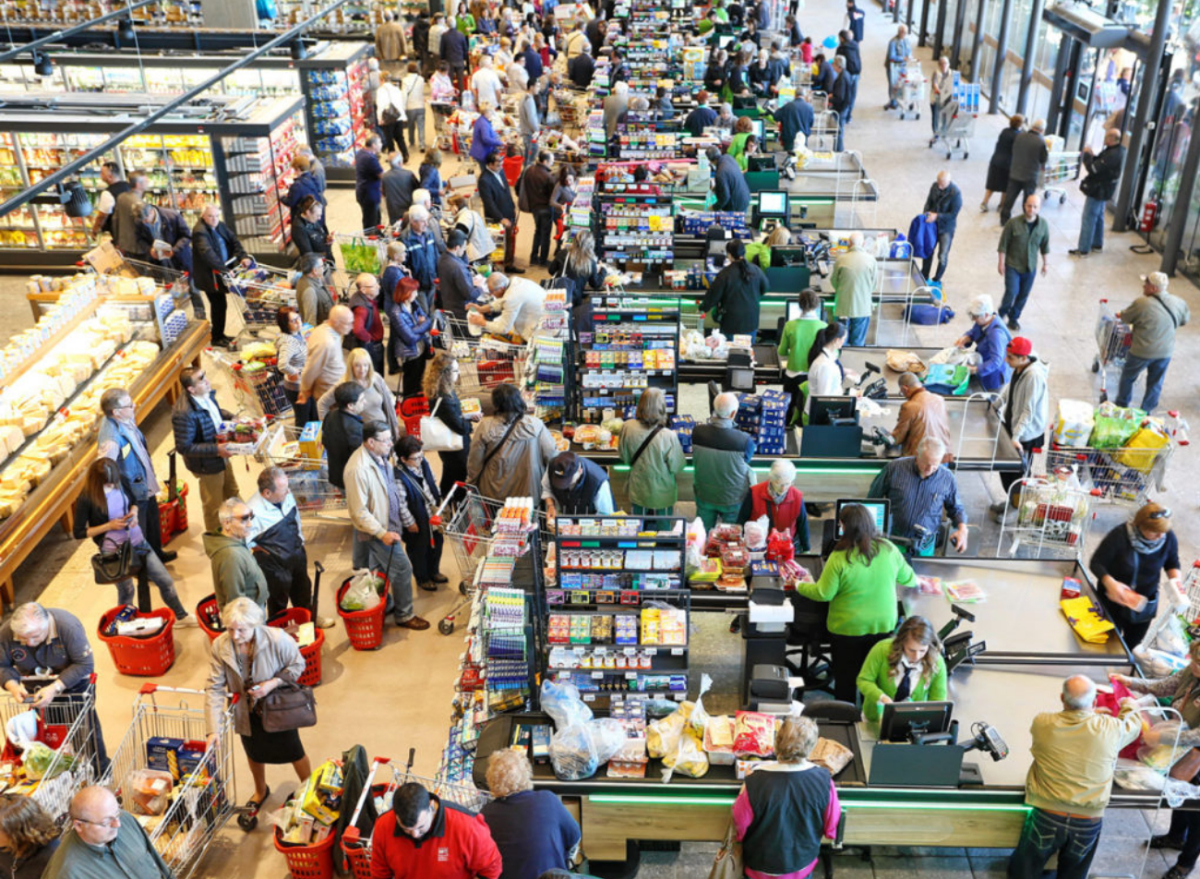 As they battle ongoing supply chain issues, some supermarkets are using lousy tricks to fake fully stocked shelves, such as displaying cardboard cutouts of fresh produce and other groceries to "fill" in the gaps.
Shortages of beloved items, including everything from breakfast bars to canned tuna, have plagued grocery stores throughout the year. Though the White House recently met with several big-name brands to address this issue head-on, the supply of some popular products is already plummeting. Here are five items on your grocery list that may be hard to find in the near future.
Related: The Best & Worst Italian Dressing on Grocery Store Shelves—Ranked!
Wine and Spirits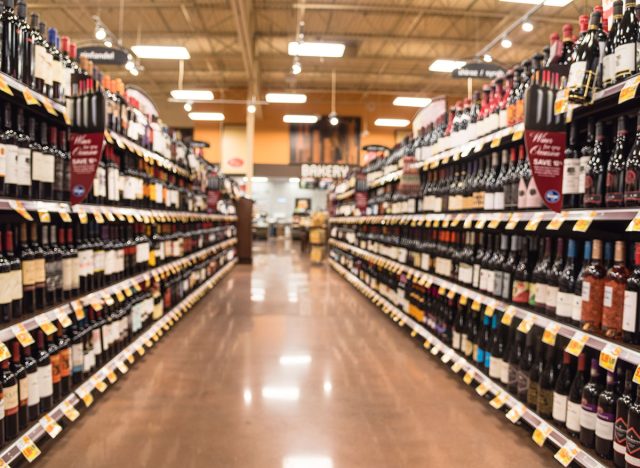 Family feasts may be a little less spirited this holiday season. To be clear, there isn't a looming shortage of wine and spirits but rather the containers they come inside. Alcoholic beverage makers are being impacted by glass bottle shortages, meaning it may soon get harder to find your drink of choice.
What does this mean for consumers? The most common bottle sizes—750 milliliters and 1.75 liters—are likely to be prioritized. Plus, if you want a specific beverage, you may have to shop around.
Chicken Tenders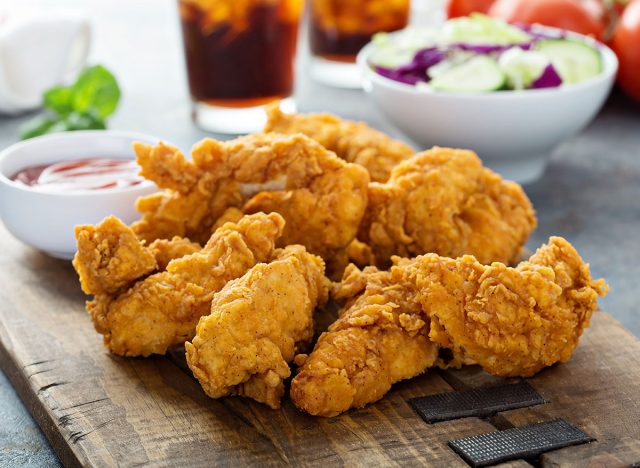 Households across America may have hungry kids soon if a potential chicken tender shortage hits grocers. This friendly meal for picky eaters is made from whole tenderloins, whereas chicken nuggets are made from scrap meat. Translation: They're harder to manufacture.
"Americans are expected to eat 100 pounds of chicken per person this year," NBC News' Kerry Sanders reported on the Dec. 2 broadcast of The Today Show. "Tenders require more processing to package and sell, which industry experts say is part of the reason why they can be harder to find and now more costly when you get them in your local market." He also notes that while a pound used to be about $2.99, they are now $1 more.
And it's not just grocery stores that may be impacted by a potential shortage of chicken tenders. In September, KFC made the decision to pause showing chicken tenders in advertisements. 
Related: To get all of the latest grocery store news delivered right to your email inbox every day, sign up for our newsletter!
Maple Syrup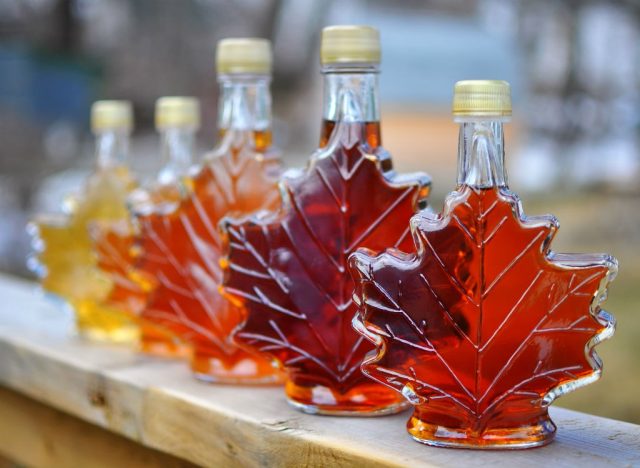 Vermont is the leading producer of pure maple syrup in the country, but Quebec is also responsible for topping pancakes and waffles across the U.S. To ensure your breakfast stays sweet, the Quebec Maple Syrup Producers are dipping into their stockpile for the first time in three years.
The amount of syrup produced this year was about 24% less than last year. While the COVID-19 pandemic is affecting the supply chain, Quebec, which produces the most maple syrup in the world, was impacted by a warmer spring. Stateside, the issue isn't as dire. 
"In Vermont, producers are not having an issue getting maple syrup to consumers, and they are looking forward to a great 2022 season," Cory Ayotte, communications director for the Vermont Maple Sugar Makers' Association, previously told Eat This, Not That!.
Related: This Low-Cost Grocery Chain Is Raising Its Prices
Fresh Produce
Supplies of fruits and vegetables in the produce section of supermarkets are also lagging, and several groups are calling for "urgent" government action.
"Simply put, without multilateral engagement to find solutions, these issues will create long lasting impacts to the detriment of all North American economies. These include: bankruptcies, legal disputes, industry consolidation, inflation, inaccessible food supplies, and many more," organizations in the North American Produce Industry said in a joint statement released in November. "Time is against us, and the necessity of addressing these challenges now cannot be understated."
Cream Cheese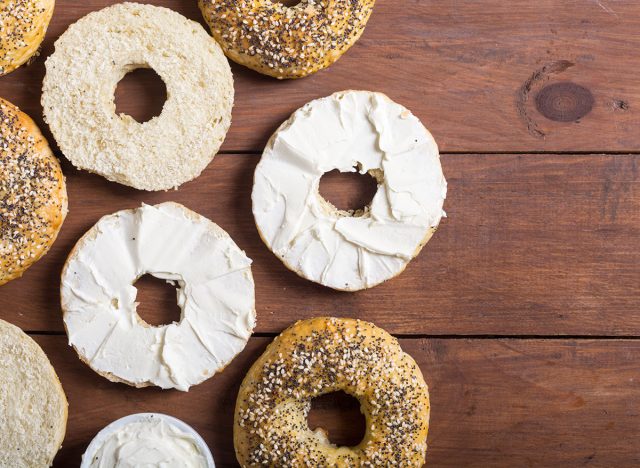 This potential shortage hasn't reached grocery stores yet, but your favorite local bagel shop may be affected. The New York Times recently reported that pallets of cream cheese sold by Kraft Heinz company Philadelphia Cream Cheese—which is popular in the dairy section of supermarkets—are running low.6254a4d1642c605c54bf1cab17d50f1e
Some New York City bagel shops are missing 800-pound orders of the beloved bagel topping. The company told The Wall Street Journal that "capacity constraints" are to blame.
For more on what's happening at your neighborhood supermarket, check out:
Amanda McDonald
Amanda has a master's degree in journalism from Northwestern University and a bachelor's degree in digital journalism from Loyola University Chicago.
Read more about Amanda