24 Items Costco Members Are Stockpiling for Back-to-School Season
A registered dietitian gives an A+ to some foods that help boost immunity and fuel your child's focus.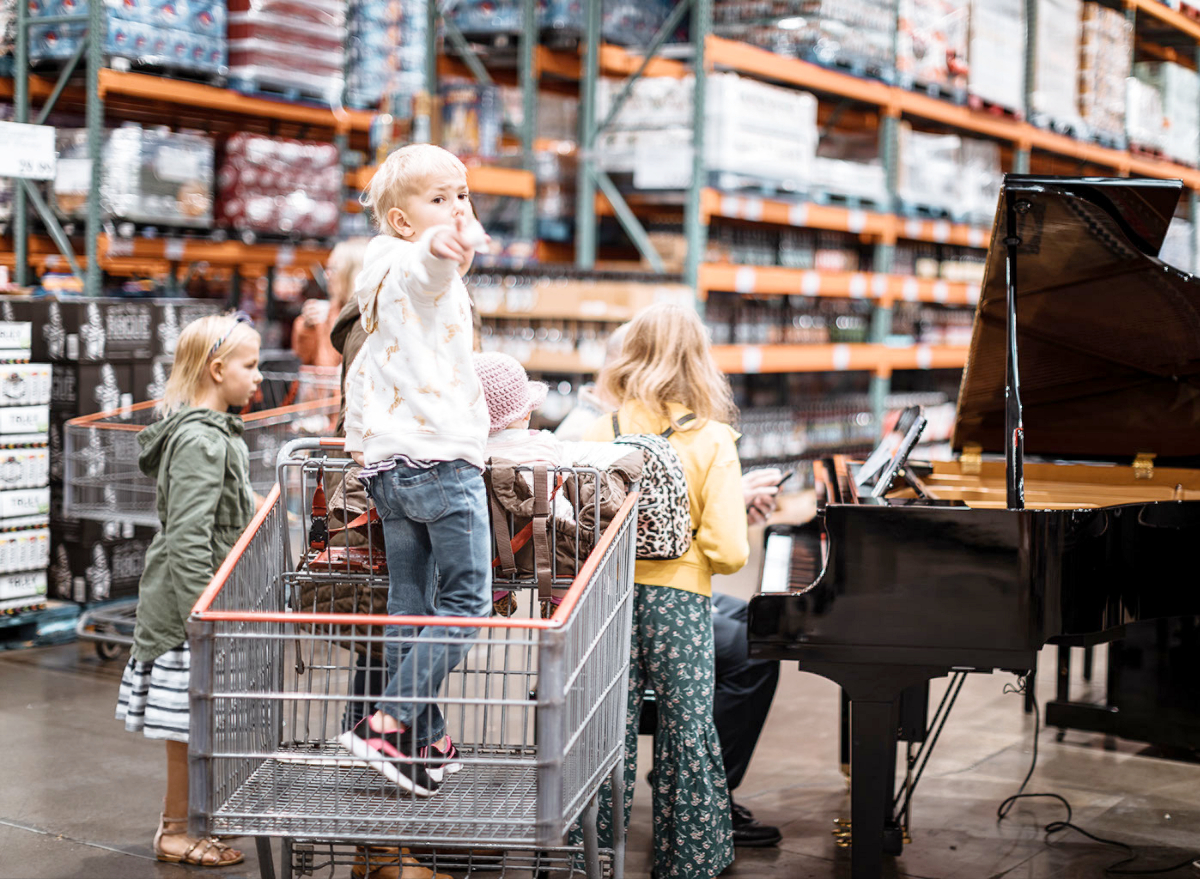 Some parts of the country are beginning to feel that hint of change in the air! If you've got kids heading back to school, we've got the grocery list you need. We've scouted a list of Costco finds, complete with insights from a registered dietitian, to support your child's critical tasks this school year, like staying healthy, concentrating… and having a lot of fun.
Bianca Tamburello, RD, CDN, is a registered dietitian and former program coordinator for the United States Department of Agriculture's (USDA) healthy eating programs at Boston Public Schools. "Moving into this school year with uncertainty, it's important to establish healthful behaviors for the whole family," Tamburello says, adding that "good nutrition [can] build strong immune systems and fuel successful school days."
Tamburello explains why a few of these Costco buys earn a gold star. Keep reading, and don't miss Popular Foods With More Vitamin C Than an Orange. (Editor's note: Some images may differ slightly from the actual products at Costco, though we aimed to meet the closest representation.)
Kodiak Cakes Power Cakes Flapjack and Waffle Mix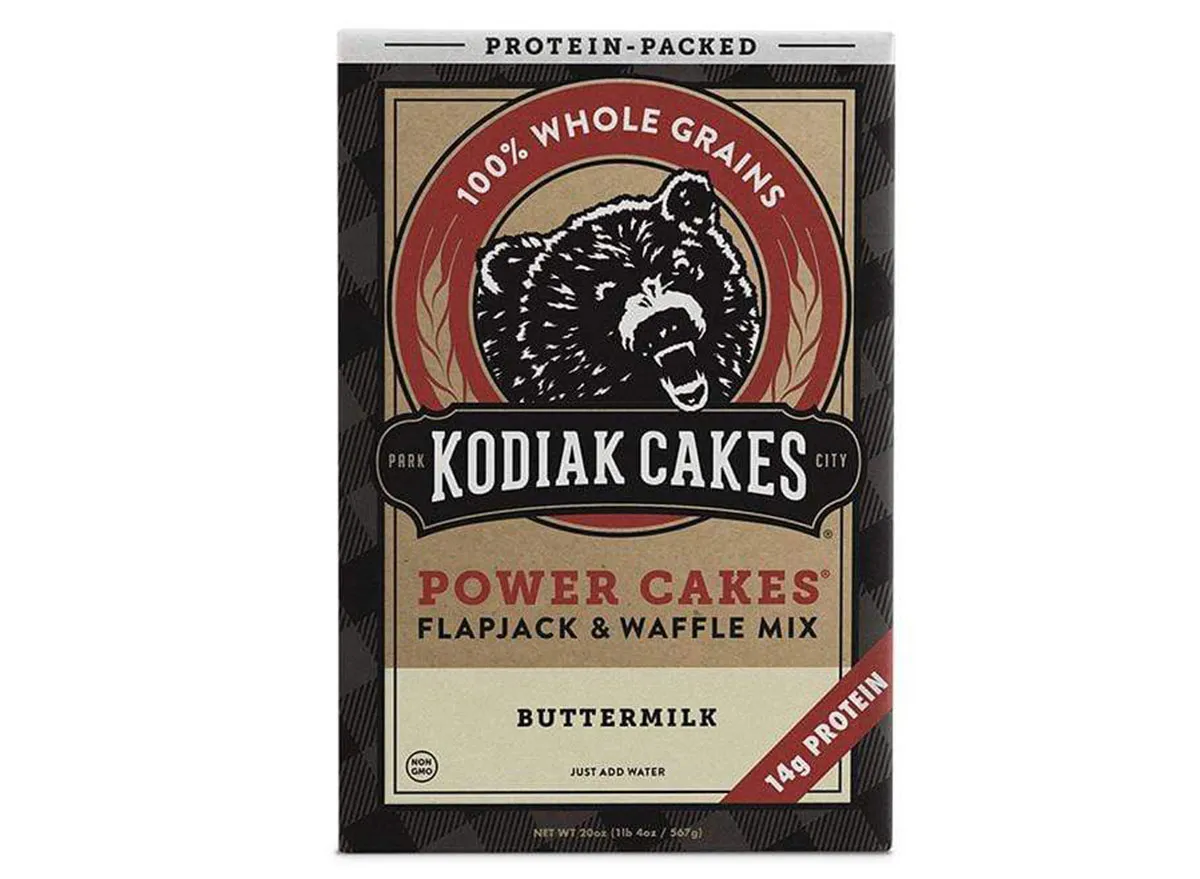 "Make the most of your breakfast by including whole grains, which are rich in brain-boosting B vitamins," says Tamburello. This 72-ounce box of Kodiak Cakes Power Cakes Flapjack and Waffle Mix, currently online for $12.99, is a good example of what Tamburello suggests you seek out to start the school year, as she advises: "Look for 100% whole grain breads, cereals and breakfast bars."
READ: One Major Effect of Eating Whole Grains, New Study Says
Made Good Foods Granola Minis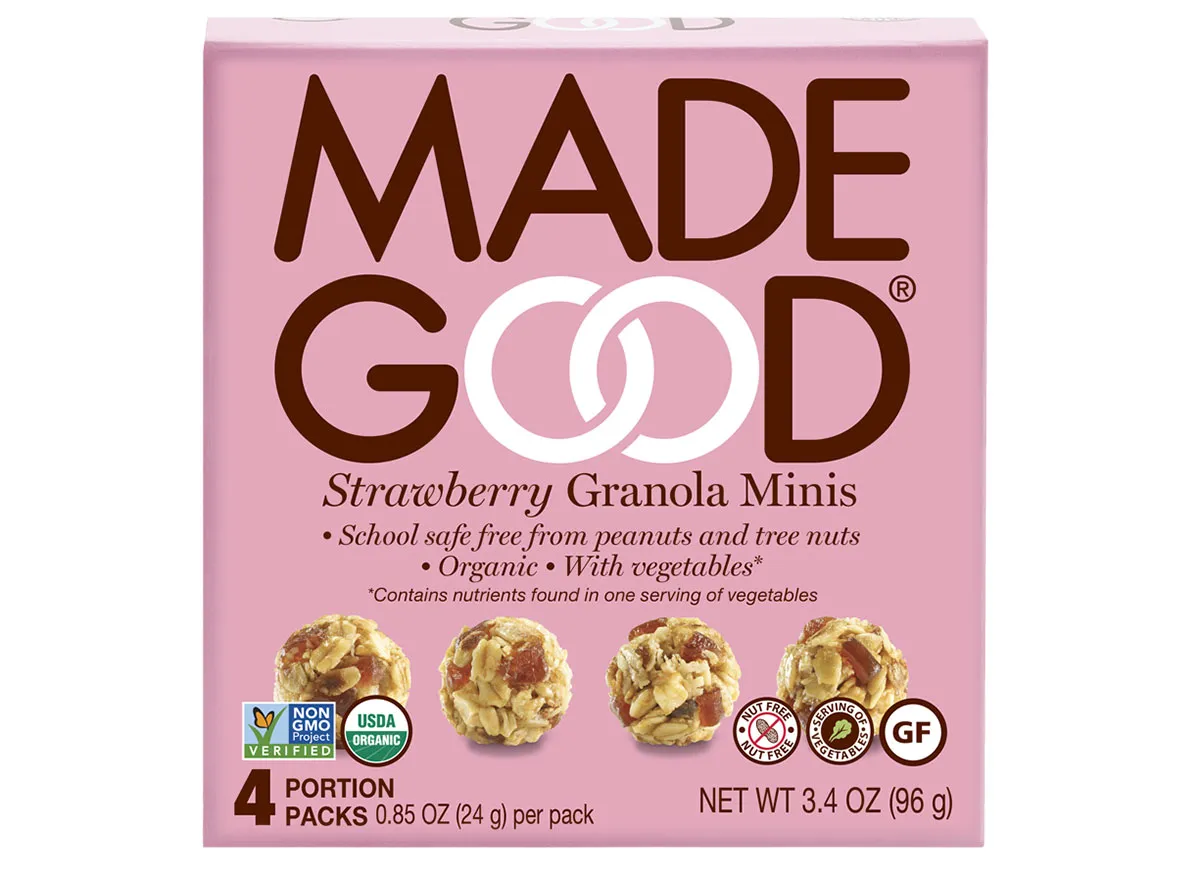 Another great source of whole grains? Oats! They're a key ingredient in Made Good Foods' 24-count Granola Minis—which, according to @CostcoBuys on Instagram, are currently $3 off at Costco locations nationwide until August 29.
The brand says their foods are certified gluten-free, as well as free of wheat, soy, and nuts, plus allergy-friendly and certified vegan. (@CostcoBuys adds: "Our kids love these!")
Three Bridges Spinach and Bell Pepper Egg Bites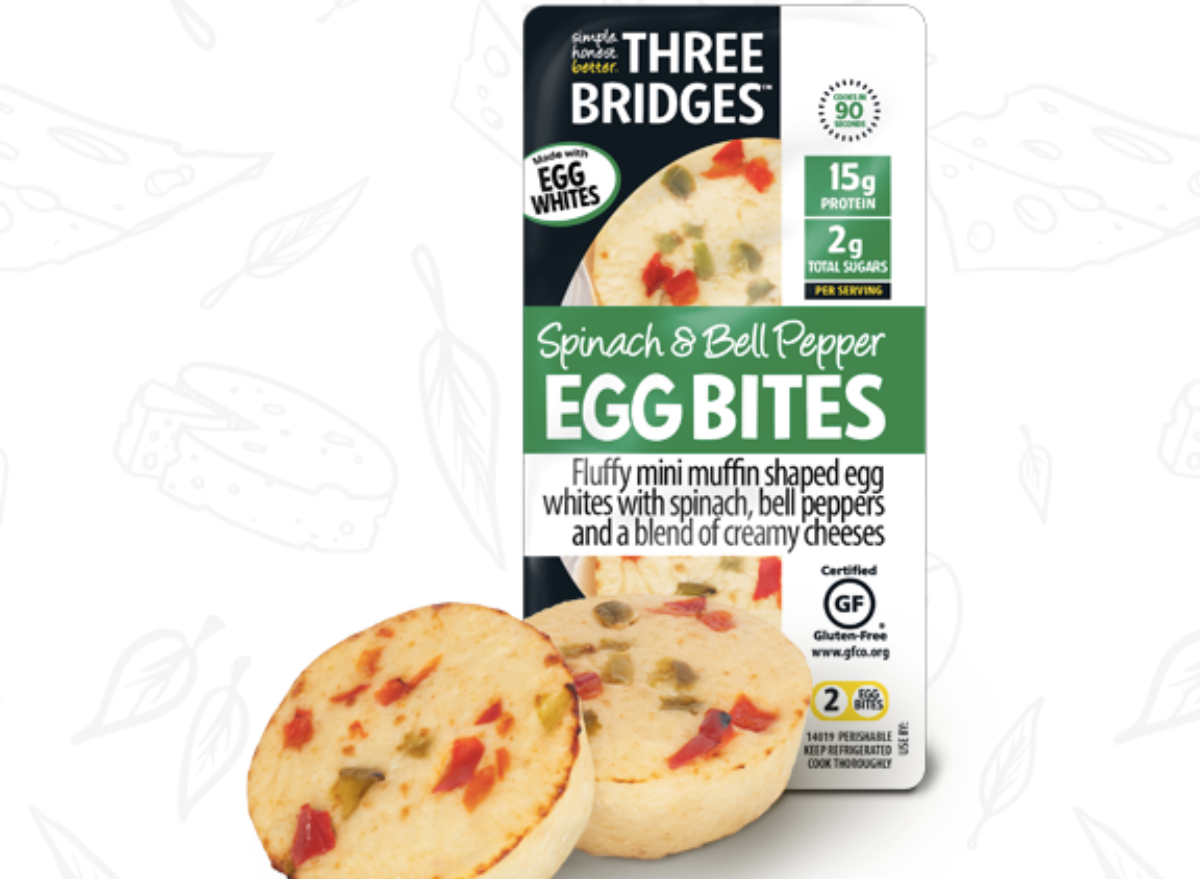 Ready to simply breakfast? These egg white bites are said to require just 90 seconds to prep. Right now, you can get four packs of two for $9.99.
Curious how else eggs can support your child's immunity? Then don't miss One Major Effect of Eating Free-Range Eggs, Says Science.
Alpha Plant-Based Breakfast Sandwiches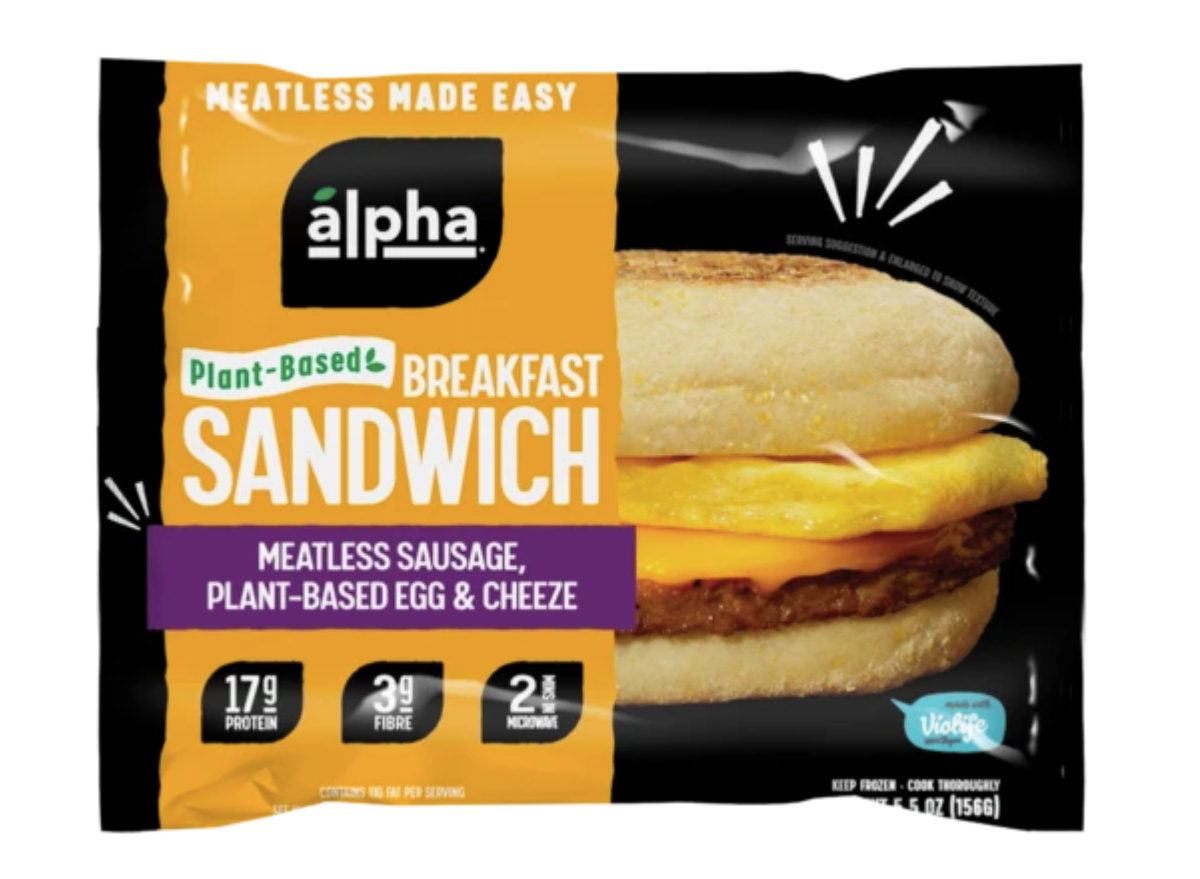 If you've been leading your family to make more conscious, meat-free transitions, one Alpha plant-based breakfast sandwich packs 17 grams of protein, plus iron and fiber.6254a4d1642c605c54bf1cab17d50f1e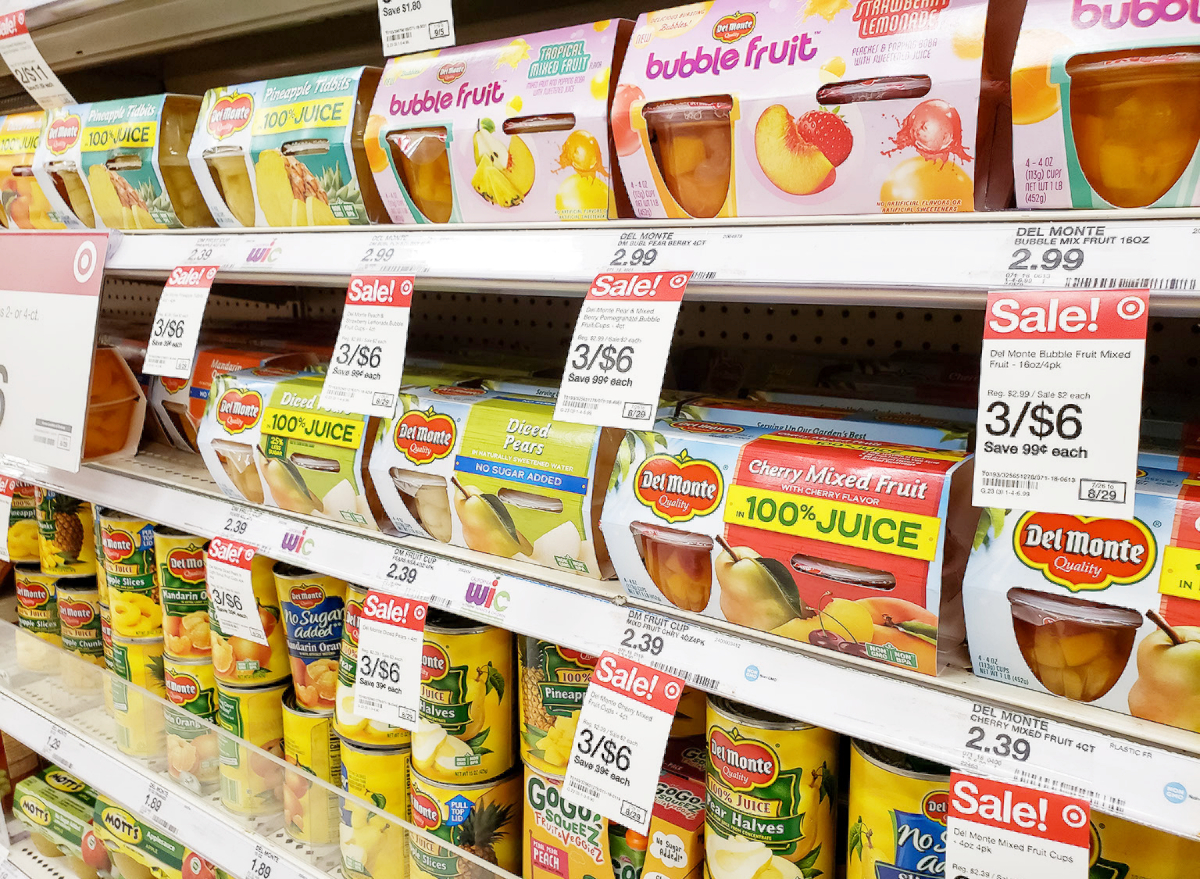 Watermelon plus sour apple equals yummy! (How's that for good math?) A fruity addition to a lunch box or snack time, DelMonte states no artificial flavors or sweeteners are added to their Bubble Fruit, which occasionally go on sale for less than $0.50 each for a 16-pack. "The popping boba literally just tastes like fruit juice," one commenter said on Instagram.
GoGo Squeeze Organic Apple Sauce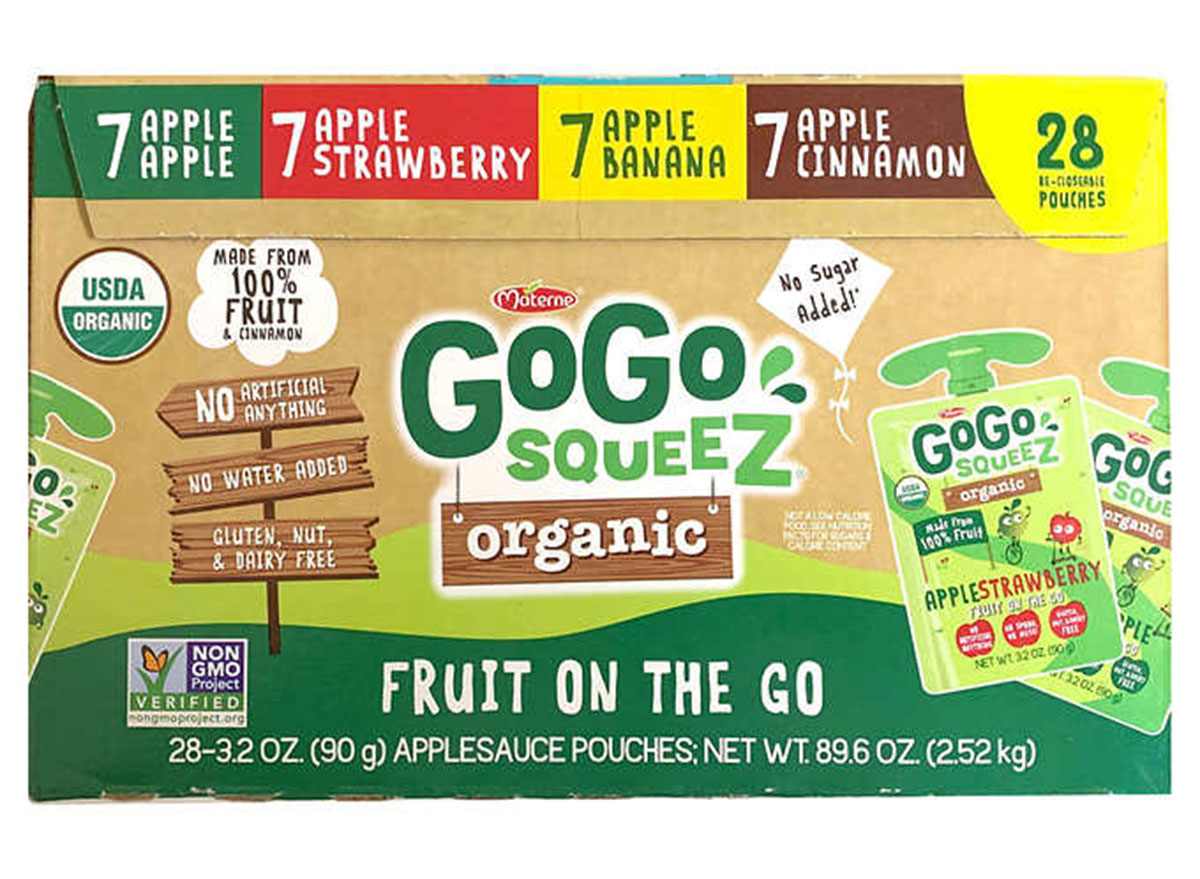 Gogo Squeez Organic applesauce in four flavors makes nutrition easy-squeezy with zero added sugar or water, plus no gluten, nuts, or dairy. At the moment, a 28-count variety box is $16.99.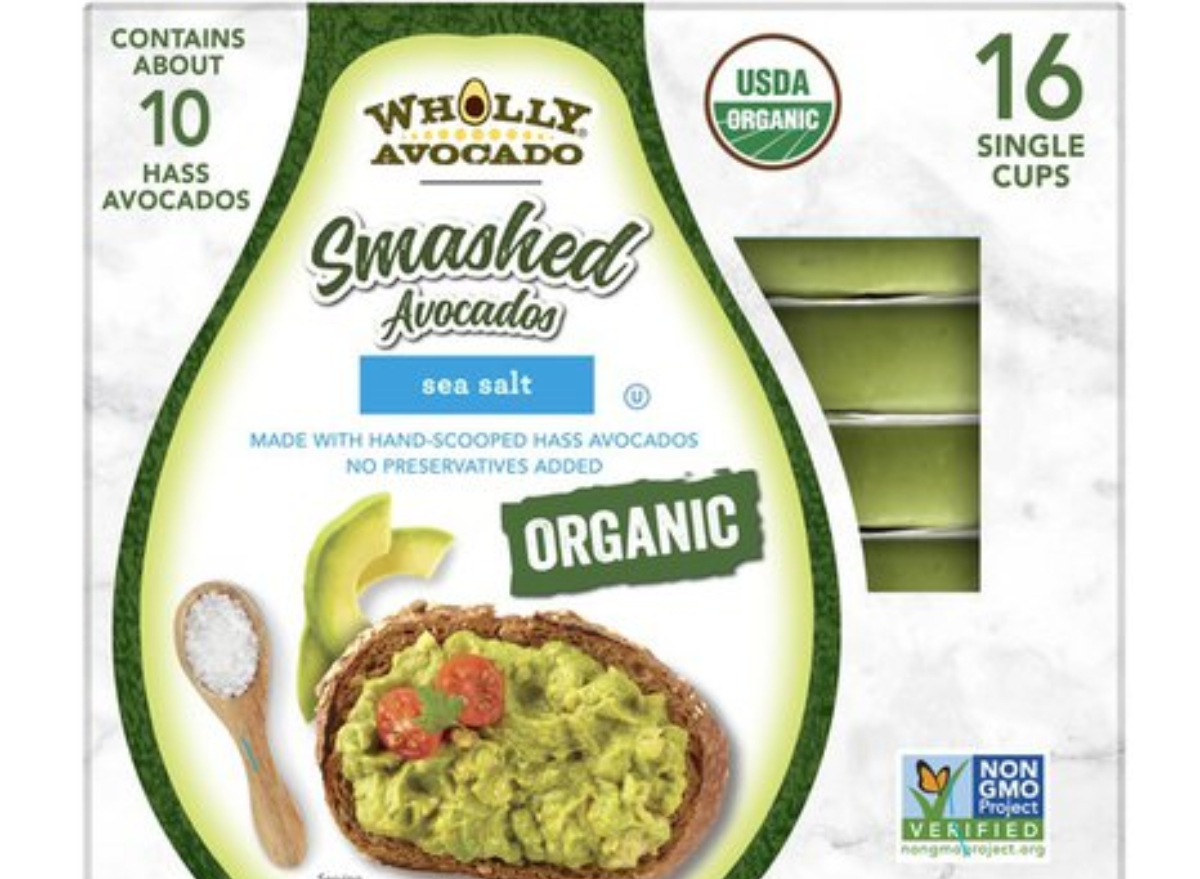 A delicious dip for veggies with all-natural ingredients, a 20-count box of two-ounce Wholly Guacamole Minis servings are the perfect lunch bag condiment!
(If you've got a house full of avocado fans, check out this exclusive recipe for tuna-cucumber boats that dietitian Sydney Greene, MS, RDN shared with Eat This, Not That! on Instagram live this week!)
Good Foods Tzatziki Style Chicken Salad[/slidetitle
Good Foods dips and salads are another great pick. In particular, their single-serving chicken salads come in varieties with cranberry, nuts, or tzatziki sauce. They're relatively low in fat, high in protein, and low on fake ingredients… which makes them great for stuffing pitas or topping crackers or veggie coins.
[slidetitle num="9"]Pitaya Foods Bite-Sized Fruit Cubes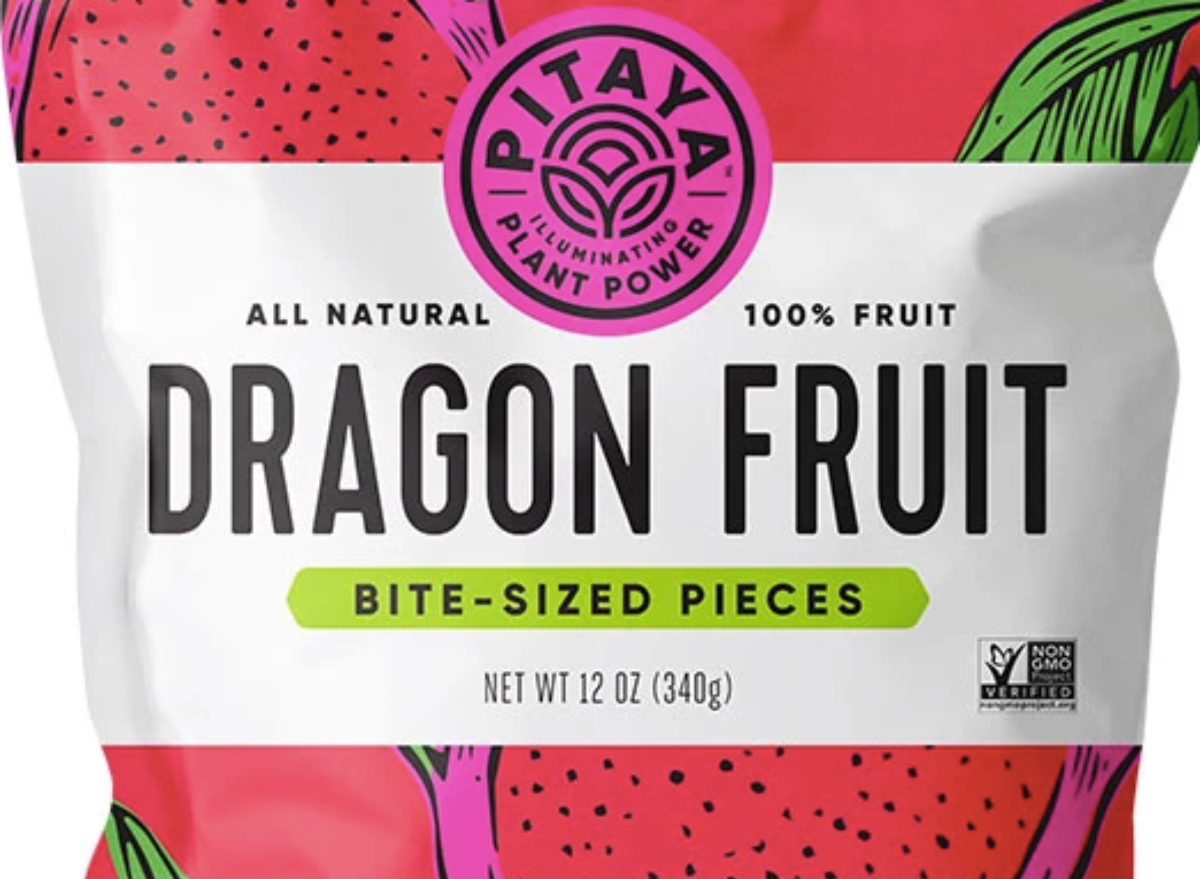 Costco sells Pitaya Foods bite-sized frozen chunks, like avocado, acai, dragonfruit which are great in overnight oats and morning smoothies. (Pitaya's new aloe bites, which support hydration, recently sold out in days.)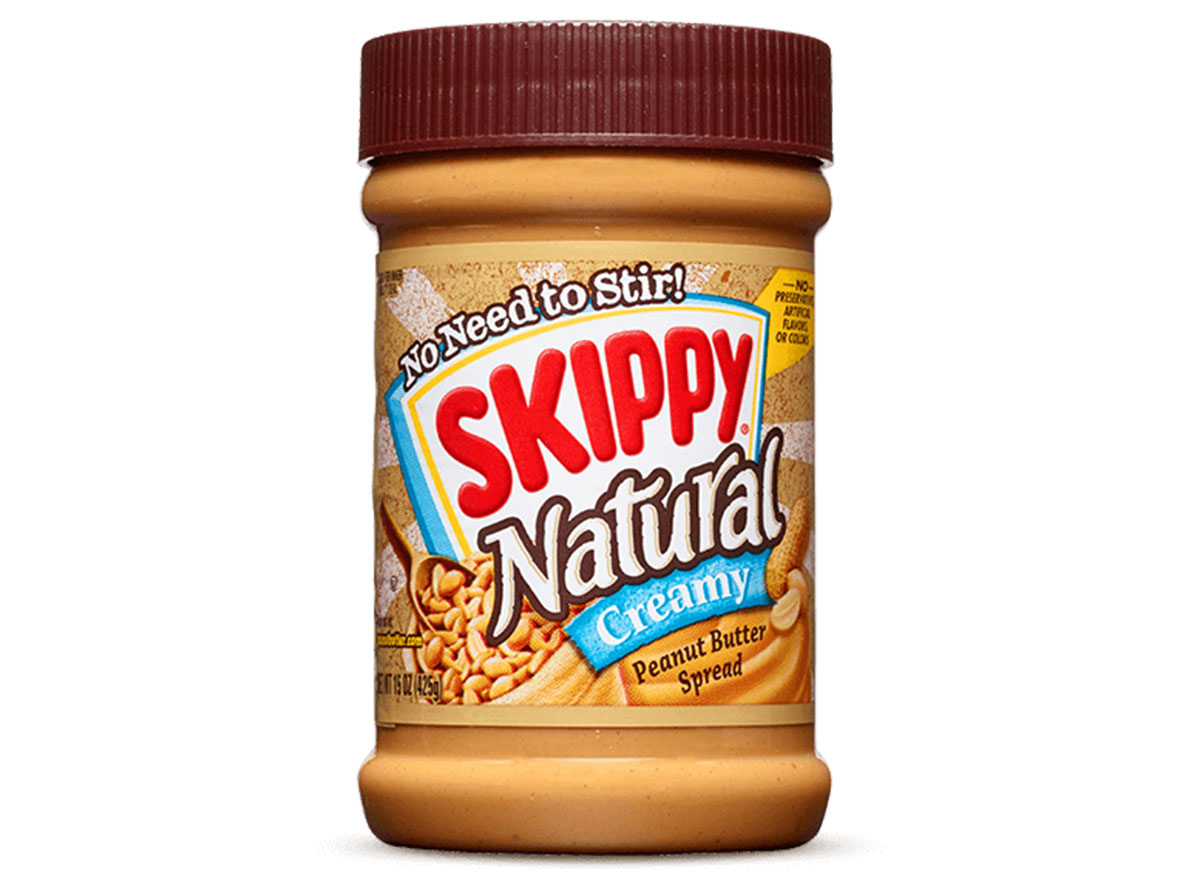 What would a back-to-school grocery haul be without topping up the pantry's peanut butter supply?! No longer just a sandwich or celery spread: These days there are so many healthy things you can do with peanut butter—just ask our dietitians!
You might not think about salmon as a school year go-to. However, Tamburello, who is a dietitian on behalf of Chilean Salmon Marketing Council, says: "Fatty fish, like salmon, is high in omega-3 fats, which are believed to be one of the most import nutrients for brain health and memory." She adds that some salmon, such as what's caught in Chile "is sustainably raised, widely available, and considered a best choice for the whole family— including pregnant women and children."
Consider mini-bagels with a little cream cheese, similar to the concept shown here. Place with an ice pack to keep it nice and chilled until lunchtime (or add to scrambled eggs as a swap for ham).
If you've been curious about Rip Van Wafels, it's time to try them. These cookie thins are a kid-friendly pantry pick, with only two grams of sugar per two wafels. They've also just come available in lemon flavor, and the brand offers a gluten-free variety.
A great alternative to the cheese curls of—ahem—our generation's childhood, Hippeas Organic Chickpea Snacks are $2 off at Costco until August 29. Stock up on their kid-friendly flavors, like this vegan organic white cheddar.
Pepperidge Farm Goldfish Snacks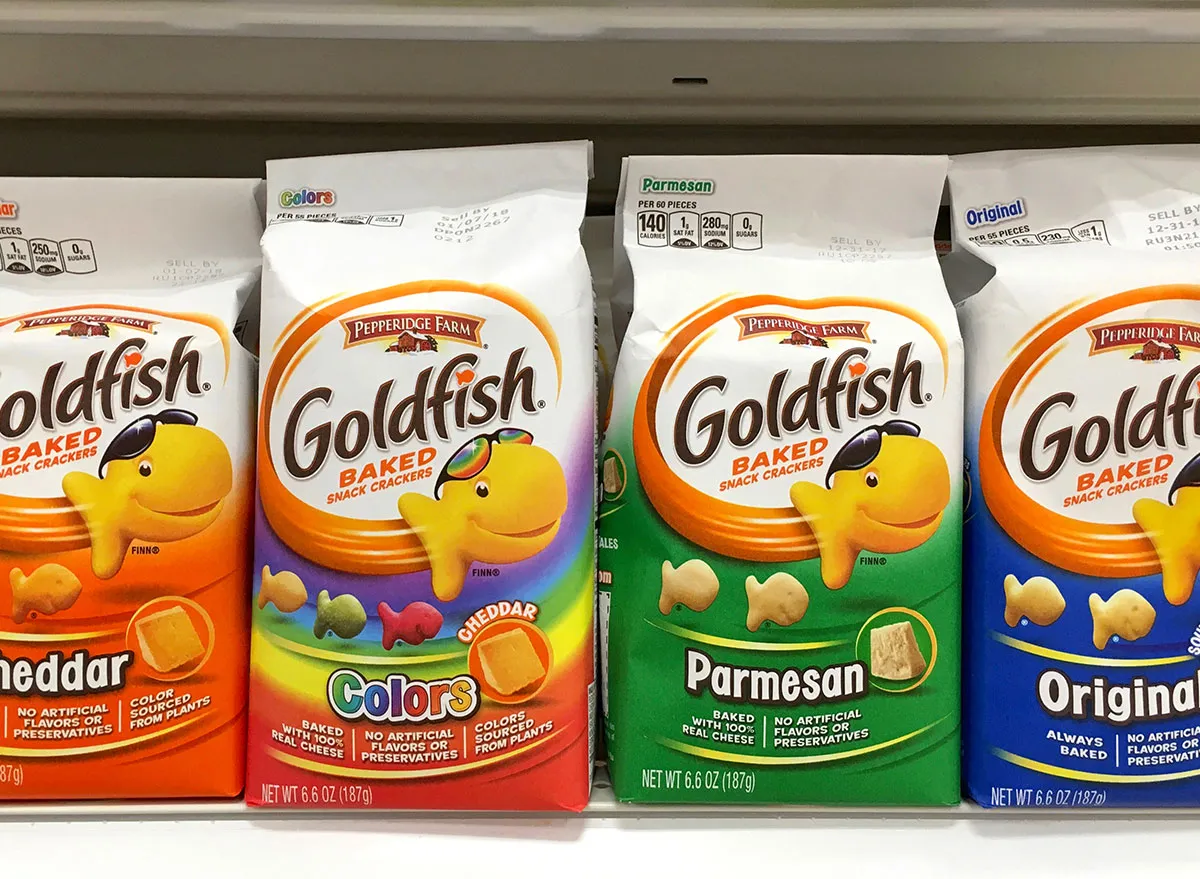 Hey, we wouldn't leave you without inspiring a little nostalgia, would we? Costco's got Goldfish for $3 off 45-count boxes, until August 29. Why are we so confident your little ones will be keen on these? PARENTS just named Goldfish the most classic Family Fave snack.
If you've tried these, you know these are definitely not the fig snacks of eras past! Nature's Bakery bars are hearty, wholesome snacks in fruity flavors you might love even more than your kids do. (If you collapse with a pack of these and a cup of tea when they're out the door, we won't judge.)
Milton's Cauliflower Crust Pizza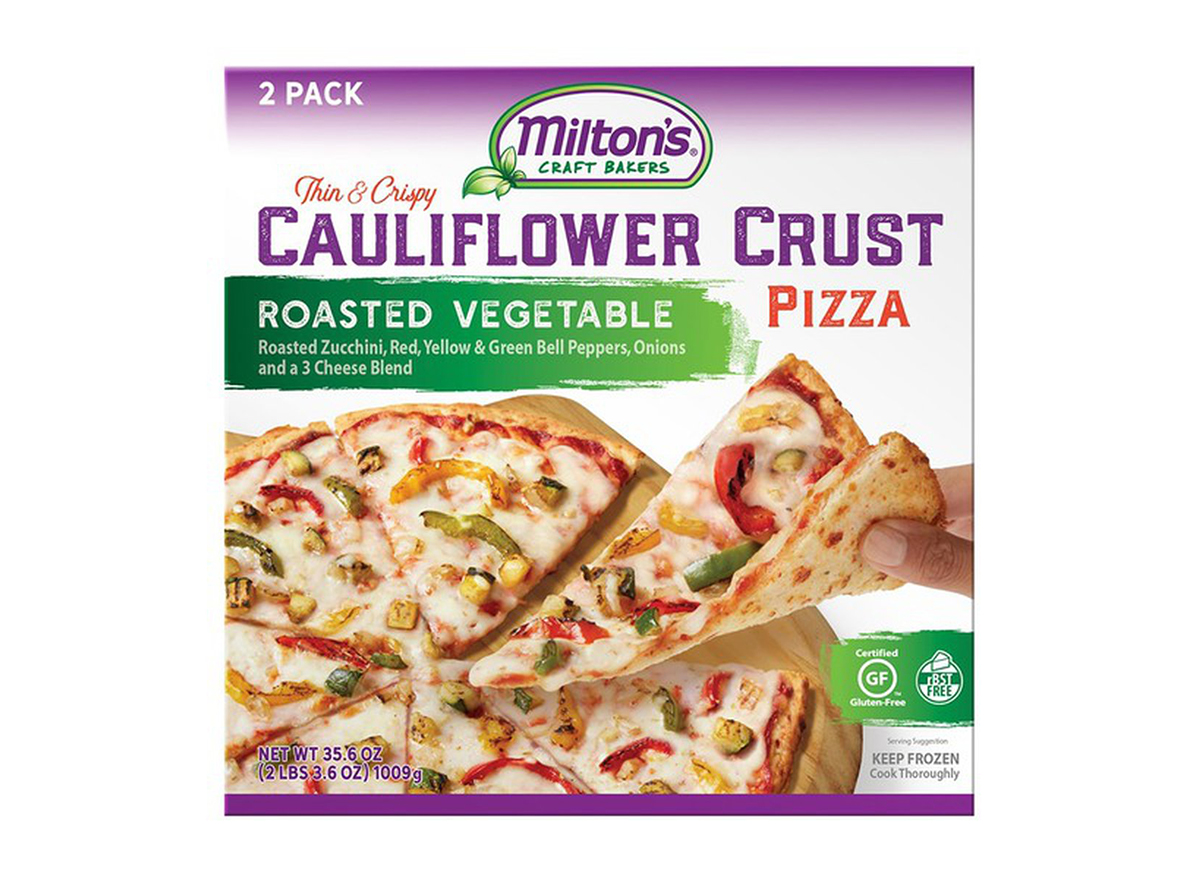 On nights when everybody's racing in different directions and trying to grab a healthy bite in between, a frozen cauliflower crust pizza, like Milton's, can be an easy solution.
If your kids have daring palates—or for a low-key, at-home date or friends' night among adults—we recommend a cheese cauliflower crust pizza, some arugula, small tomato halves, and some chickpeas tossed in a light coating of cumin, parsley flakes, lemon juice and garlic. *Cue chef's kiss* in reverence of one of the worthiest trends we've tried this summer: The salad pizza.
Toaster Grills Grilled American Cheese Sandwich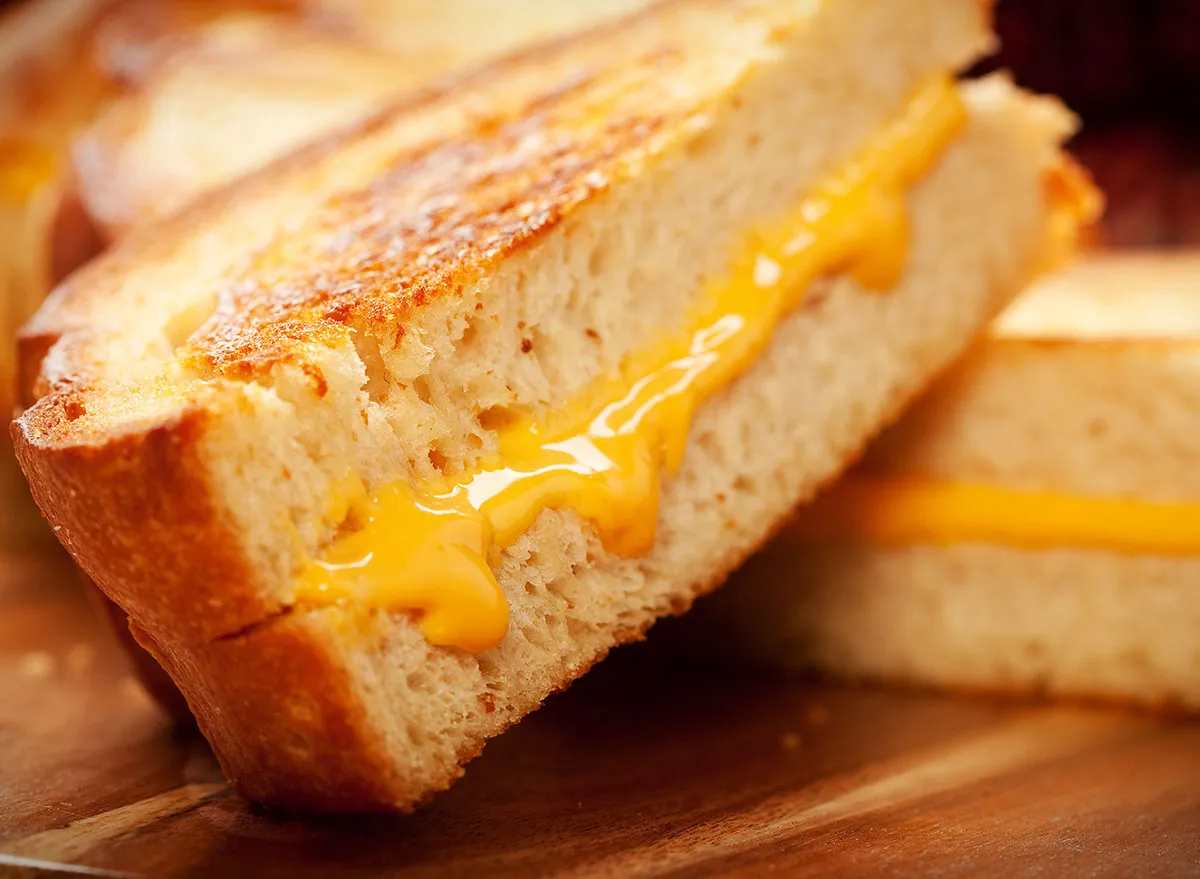 On a rushed morning, how about a grilled cheese sandwich you just pop in the toaster? You're welcome.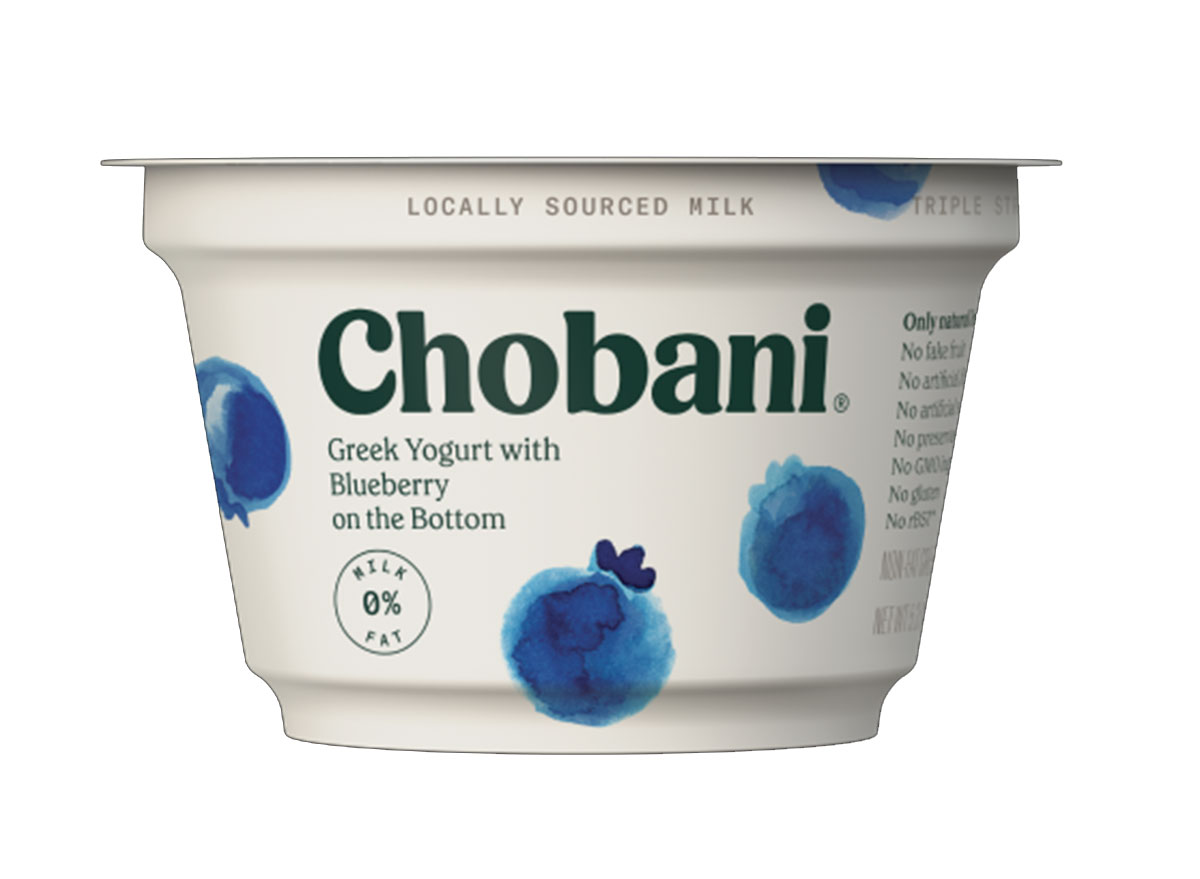 Hail Chobani, the yogurt brand that tends to please just about every yogurt lover. Right now, Costco has a 20-count of five-ounce Chobani containers for $12.99 online.
Babybel Mini Snack Cheese
Costco has 36-count packages of Babybel for $13.99 online, or just under $0.40 apiece.
Sabra Hummus With Pretzels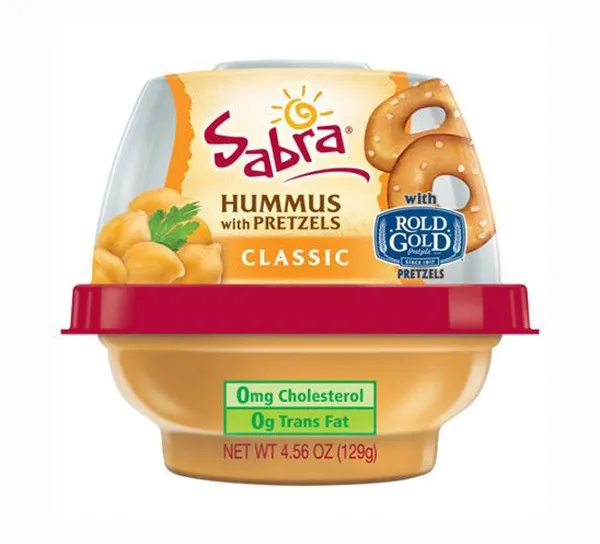 Pretzels and hummus is a prime after-school snack, especially if you can work a few bites of chopped veggies in! Costco's got 12-count boxes for $19.99.
Tru Fru Freeze-Dried, Chocolate-Covered Snacks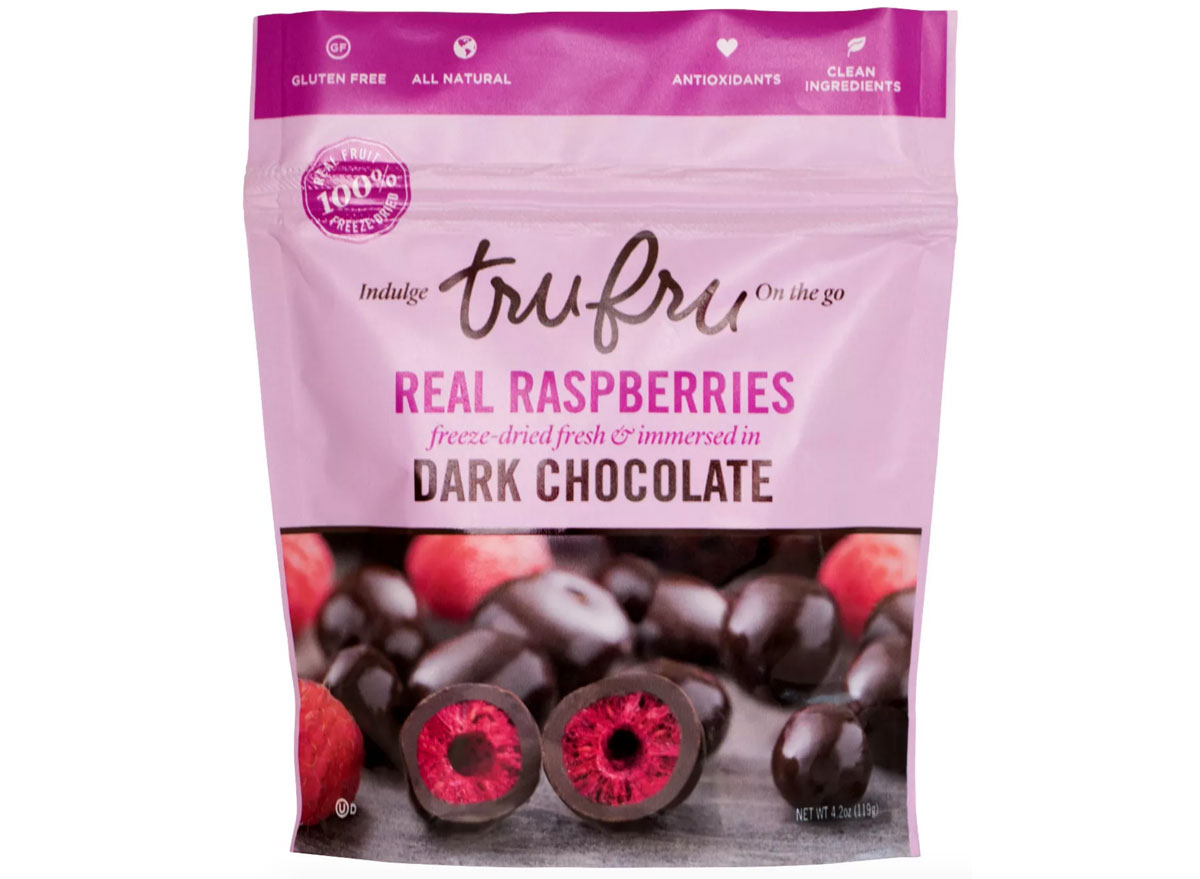 Tru Fru's fruit snacks are Costco fan favorites. The chocolate-covered raspberries in particular were voted the most popular chocolate snack in PARENTS' recent survey.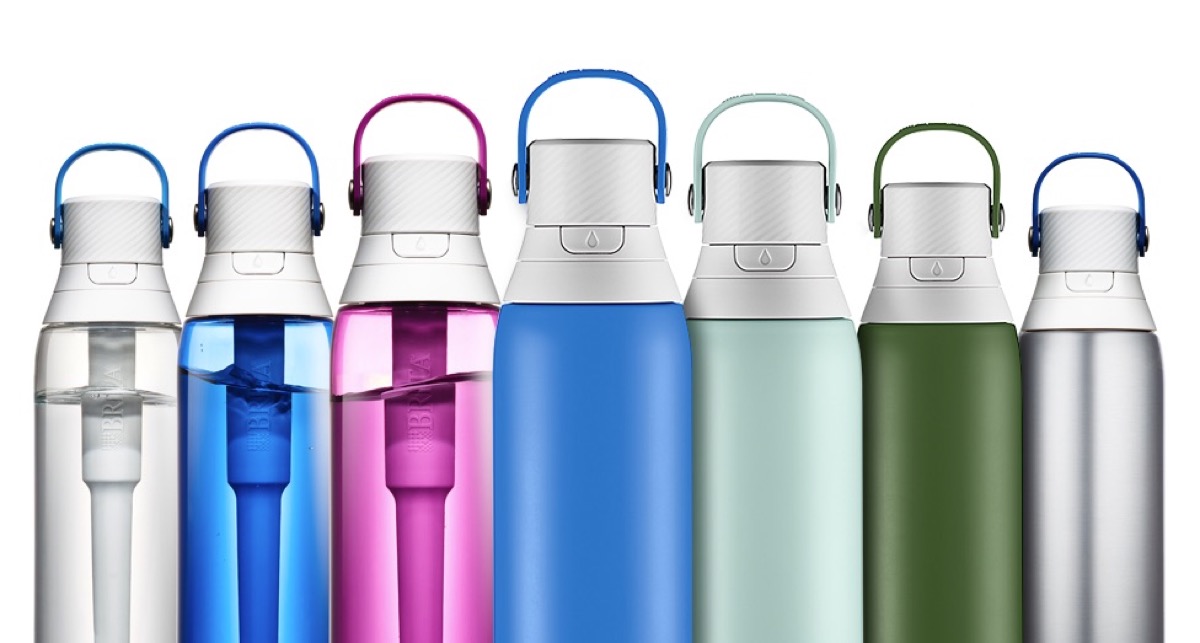 According to Tamburello, drinking plenty of water is another key to your child's wellbeing this year. "Several studies suggest that dehydration makes us feel tired and makes it difficult to focus," she says.
These self-filtered Brita bottles are perfect for your child to carry to school. Also, Costco is selling Brita pitchers for your fridge at $9.00 off, through August 29.
ZipTop Reusable Containers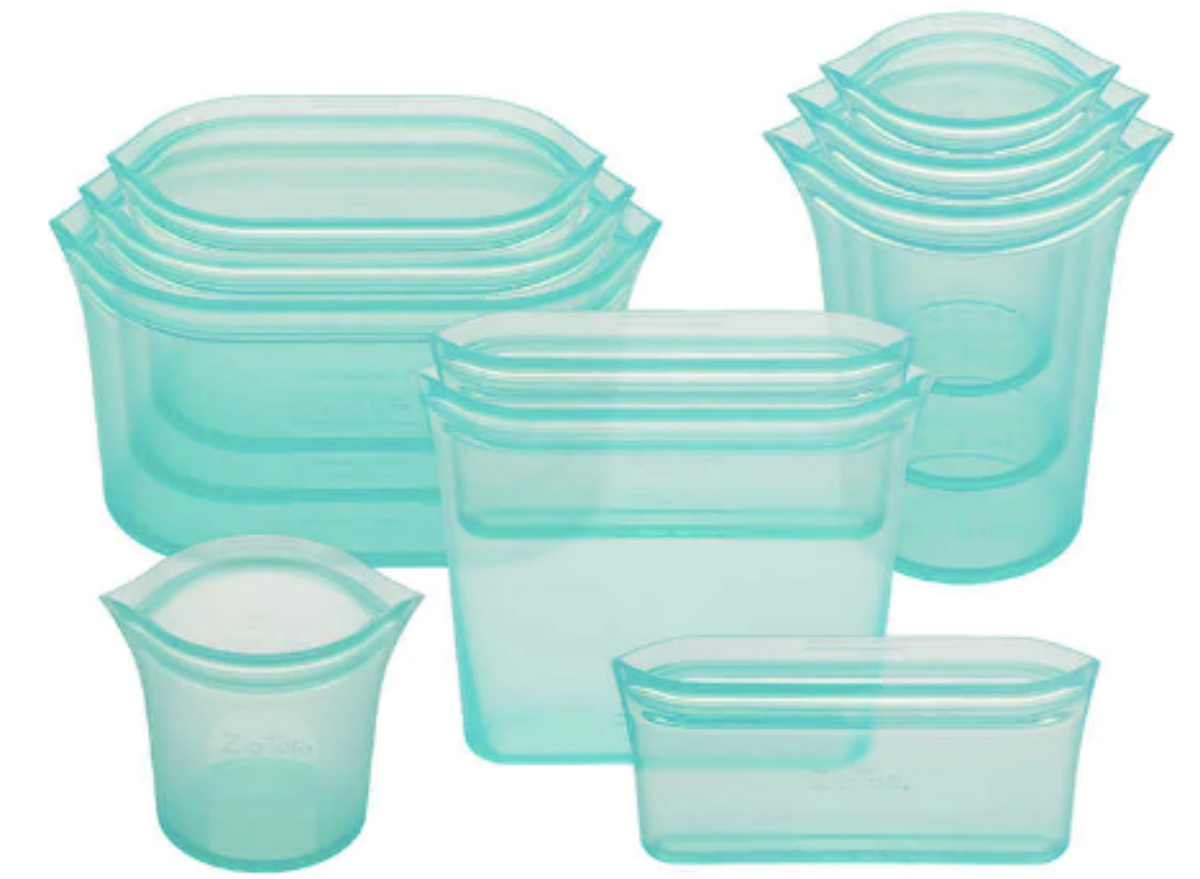 For sandwiches, snacks, and so much more, ZipTop Reusable Containers could stand to replace disposable baggies this school year. They're safe for the microwave, dishwater, and freezer, while free of the plastic chemicals that cause harm.
ZipTop products also stand upright, making them great for even your dinner leftovers… including soup.
Here's to a happy, healthy school year! Get more:
Krissy Gasbarre
Krissy is a senior news editor at Eat This, Not That!, managing morning and weekend news related to nutrition, wellness, restaurants and groceries (with a focus on beverages), and more.
Read more about Krissy