The One Peanut Butter Snack Dietitians Can't Get Enough Of
There are so many delicious ways to enjoy this classic snack combo!
While many dietitians love to snack on peanut butter in all kinds of clever ways, there seems to be one overarching theme when it comes to their one favorite peanut butter snack, and that's enjoying peanut butter with fruit. Whether it's simply dipping banana or apple slices in peanut butter, blending it up in a smoothie, or enjoying fruit and peanut butter topped on a bowl of oats, dietitians love pairing up this salty, creamy spread with sweet fruit.
If you're looking for other ways to enjoy the delicious combination of peanut butter and fruit, we asked dietitians to share some of their favorite ways to prep this snack. Here are some of the delicious peanut butter snacks they enjoy with the fruits they pair, and for even more healthy tips, be sure to check out our list of The 7 Healthiest Foods to Eat Right Now.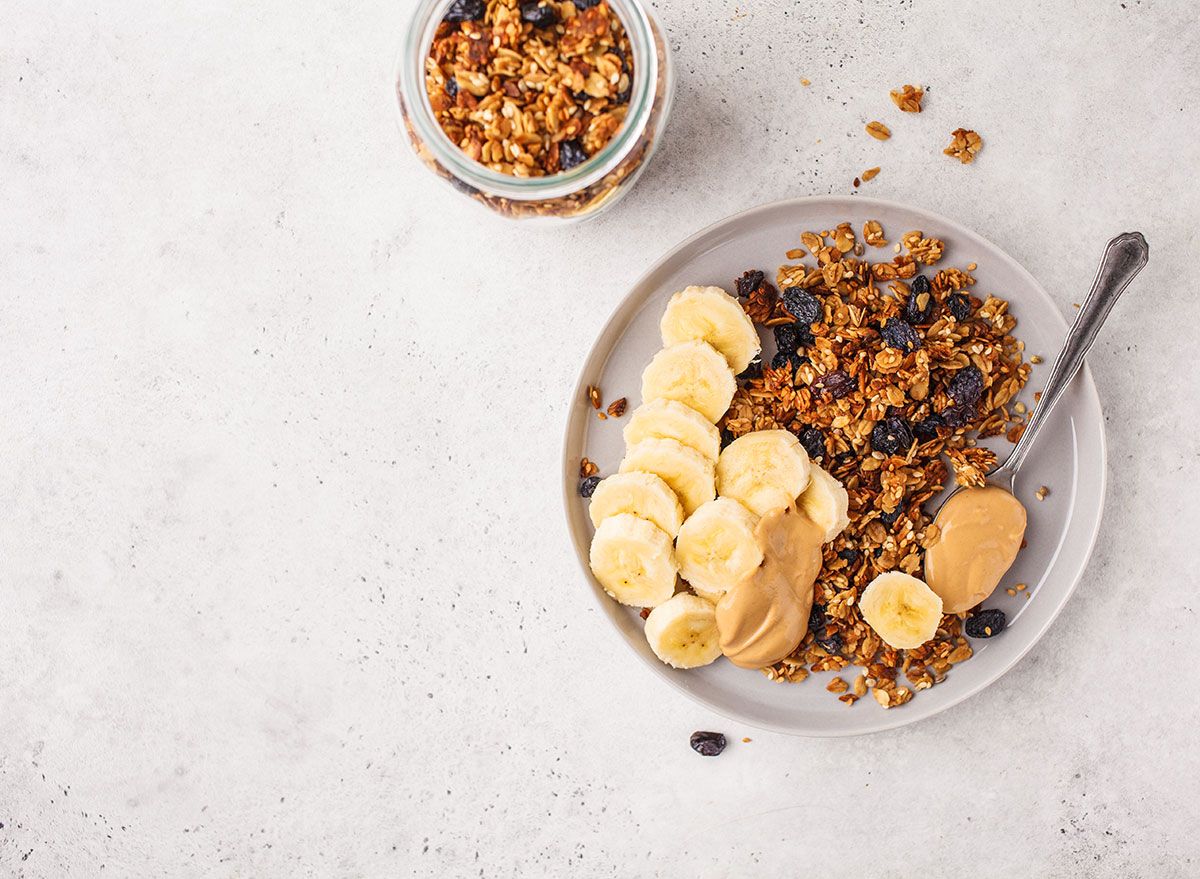 "I love [making] a 'peanut butter banola'—a frozen banana with peanut butter and sprinkled with granola," says Lisa Young, PhD, RDN is author of Finally Full, Finally Slim. "Peel a banana and cover it with peanut butter (around 1 tablespoon), and top with granola (1/4 cup). A drizzle of chocolate is optional. Put in a baggie and freeze. Enjoy this yummy—and healthy—treat when you are in the mood for a frozen treat."
Also, did you know about this One Surprising Side Effect of Eating Bananas, According to Science?
"Peanut butter and oatmeal is my go-to for any meal or snack!," says Amy Goodson, MS, RD, CSSD, LD, and author of The Sports Nutrition Playbook. "It's quick, easy, and satisfying! Plus, as a registered dietitian, I love that a half cup of oats (measured dry) and one tablespoon of peanut butter provides me with almost 6 grams of fiber and approximately 8 grams of protein (depending on your brand of oats) for just under 250 calories! This snack helps you get full faster, stay full longer, and will help keep your energy levels stable in the hours to come.
Top your peanut butter with some apples or berries for some extra sweetness and fiber! Also, We Just Discovered The Easiest Healthy Hack for Oatmeal.
Did you know you can turn your peanut butter into the perfect creamy fruit dip?
"My favorite peanut butter snack is mixing peanut butter with vanilla greek yogurt and dipping fruit in it (usually apples)," says Emily Danckers, MS, RD.
Get even more healthy eating tips straight to your inbox by signing up for our newsletter!
Peanut Butter Stuffed Dates
"With just 3 ingredients, peanut butter stuffed dates are one of the easiest snacks to whip up," says Mackenzie Burgess, RDN, owner of Cheerful Choices. "Simply cut your dates in half with a lengthwise slit, fill with a spoonful of peanut butter, and sprinkle over any toppings of your choice. Try topping with pomegranate seeds, cocoa nibs, mini chocolate chips, coconut flakes, or chopped peanuts."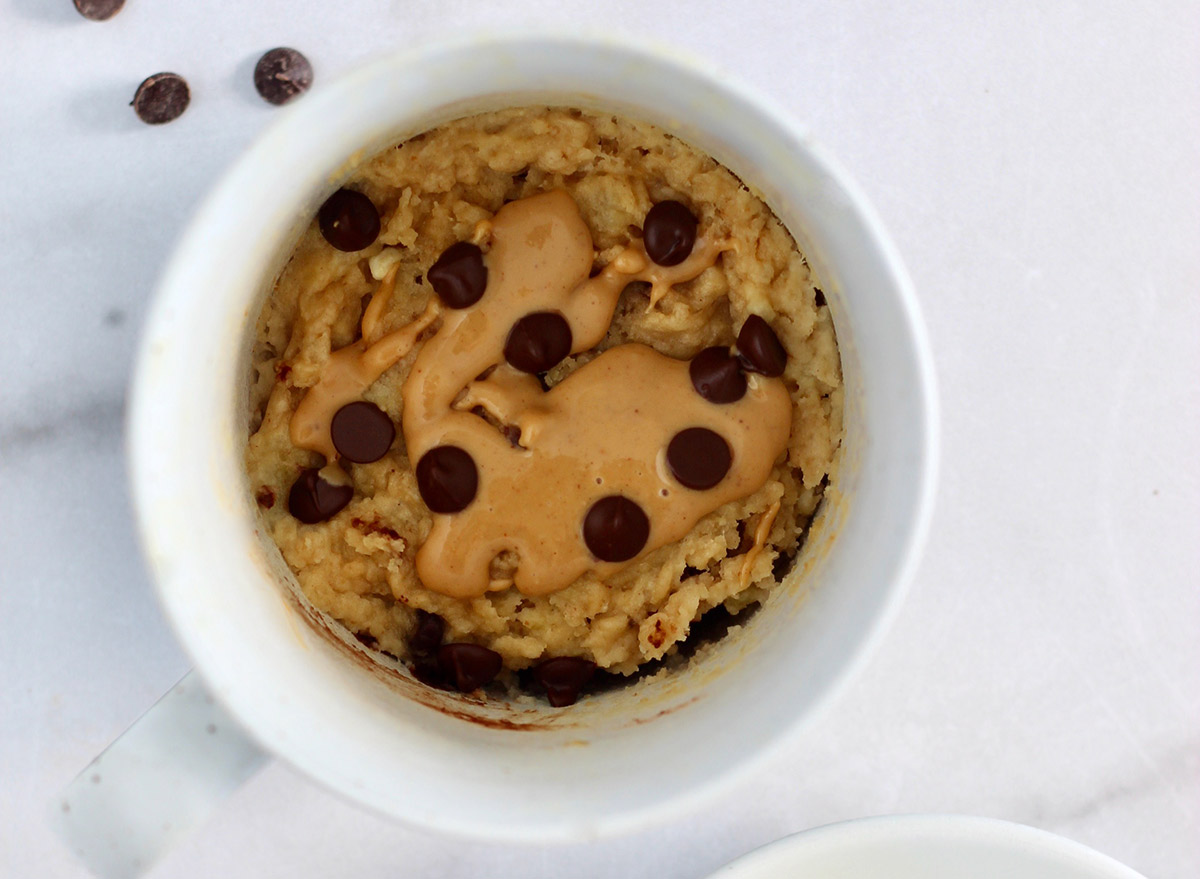 "If you're in a need of a sweeter snack, mug cakes are the perfect option," says Burgess. "This protein-packed mug cake combines simple ingredients like mashed banana, protein powder, and peanut butter. Mix it all together in a large mug and microwave for 1 minute to reveal a guilt-free cake. Drizzle with more peanut butter on top for extra creaminess."
You can even top with berries for some extra sweetness! You could also try one of these 24 Mouthwatering Mug Recipes.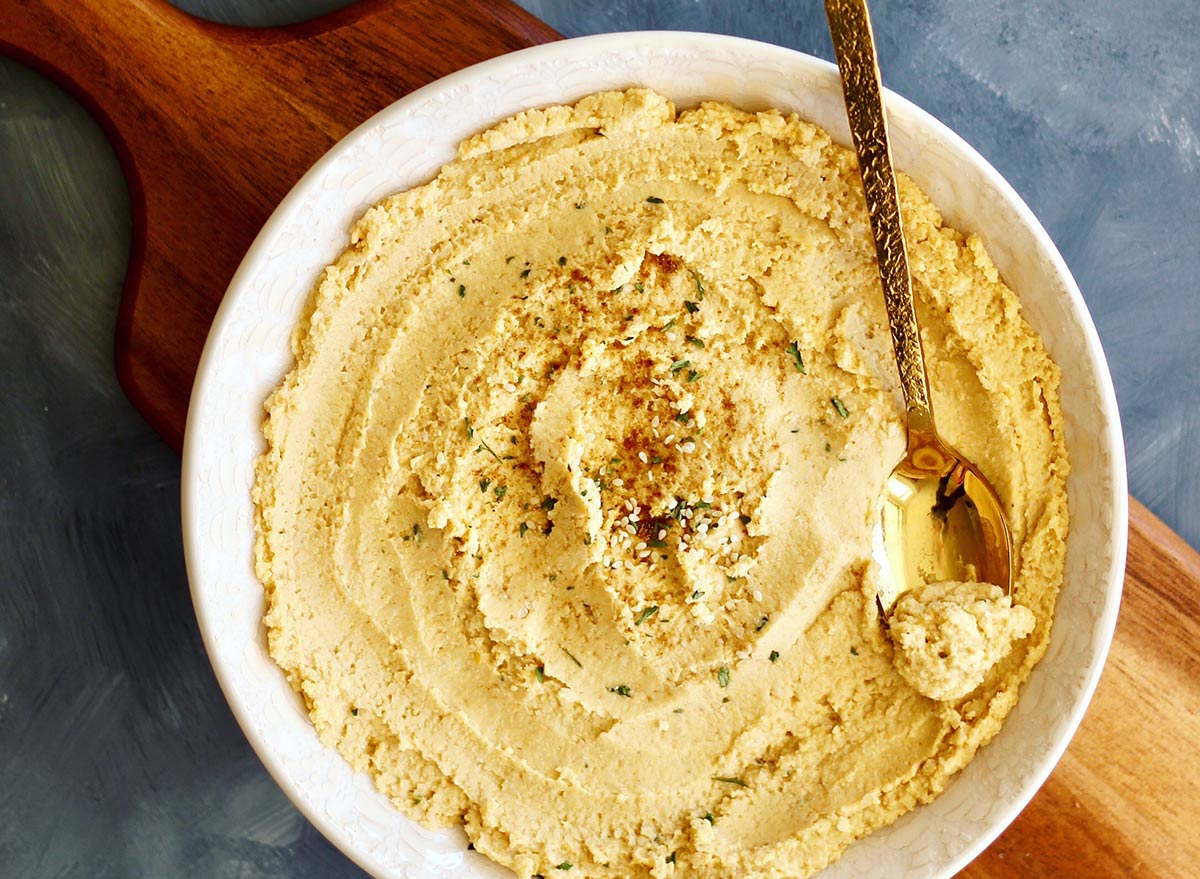 "Hummus typically calls for an ingredient called tahini, or ground sesame seeds," says Burgess. "Tahini can often be expensive and not always accessible for everyone. Instead, try using peanut butter in its place to mimic the same nutty flavor and creamy texture. Enjoy homemade peanut butter hummus with pita chips and colorful veggies for a balanced snack."
Or how about dipping apples into that peanut butter hummus?
Apple "Cookies" with Peanut Butter
"My favorite peanut butter snack is peanut butter with apples," says Shannon Henry, RD from EZCare Clinic. "It is not only a healthy snack but consists of all nutrients that our bodies actually need. Apples are a superb source of fiber whereas peanut butter consists of protein. Eating these two yummy foods together keeps your stomach full for a long time."
A clever way to enjoy this classic combo is by prepping a few apple "cookies" with peanut butter. Dr. Rachel Paul PhD RD from CollegeNutritionist.com says this is one of her favorite peanut butter snacks, which she makes with 1 small apple, 3 tablespoons of peanut butter, and 1 dash of cinnamon. Simply slice up the apples into cookies, spread some peanut butter on each slice, and top with cinnamon.
Here are the Surprising Side Effects of Eating Apples, According to Science.
Peanut Butter Yogurt Bowl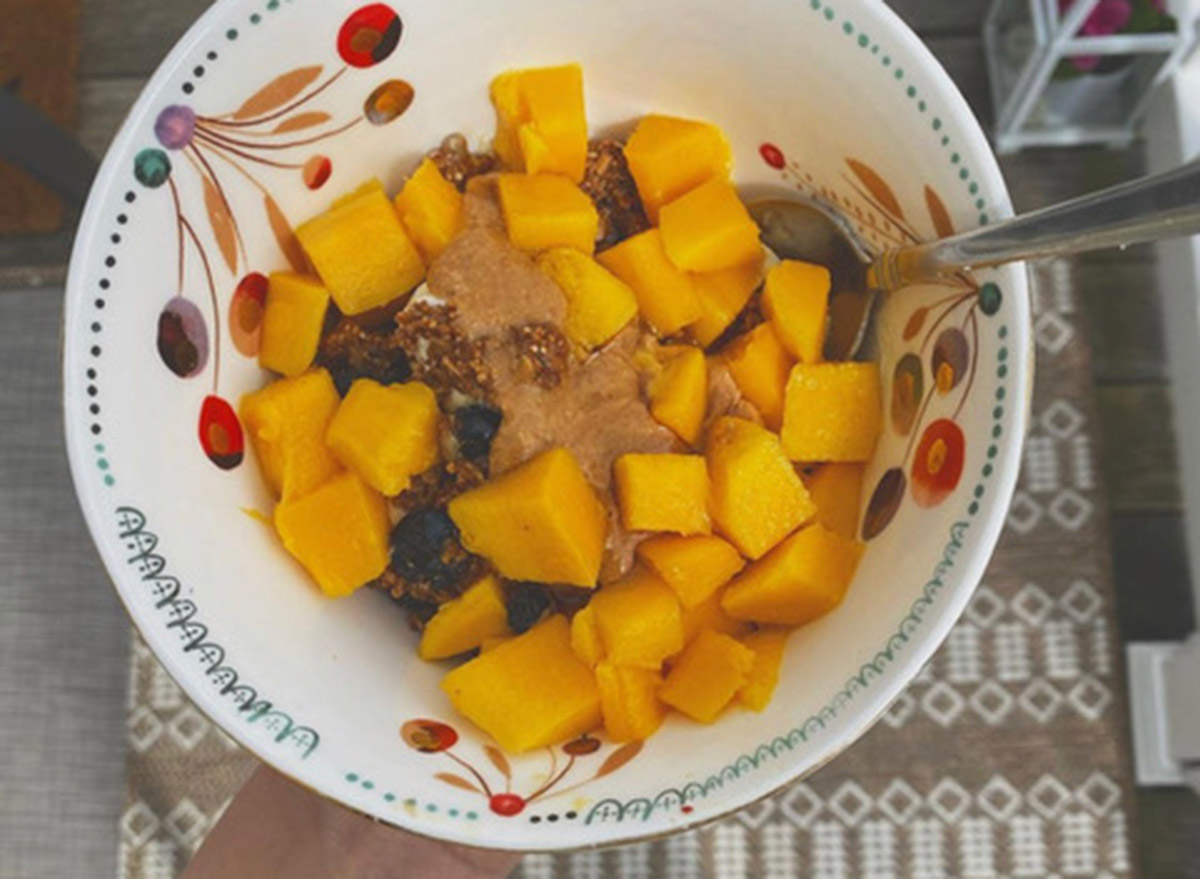 "I add peanut butter to as many things as humanly possible but my go-to fave peanut butter snack lately is either Siggi's or Icelandic Skyr plain or vanilla yogurt with fresh mango, blueberries, a bit of Purely Elizabeth granola, cinnamon, a drizzle of honey, and a BIG glob of peanut butter! My fave peanut butter is Teddie's all-natural smooth," says Lexy Penney, MS, RD, LDN, RYT, owner of Lexy Penney Nutrition and Wellness.
"I love this snack because it's the perfect blend of creamy, crunchy, salty, and sweet," says Penney. "The fiber from the granola and fruit keeps me feeling full, along with the protein from the yogurt and peanut butter. It's versatile too—I've had it for breakfast, snack, lunch, and dessert!"
Peanut Butter Apple Rings
"These apple rings are an elevated version of the traditional apple and peanut butter pairing," says Pam Fullenweider, RD and founder of Fully Mediterranean. "They are fun to make and easy to customize based on what toppings you have on hand. The apple provides fiber while the peanut butter is a great source of healthy fats and protein, making this a super satiating snack. Plus the toppings all add an additional nutritional punch!"
To make, simply cut up an apple into 1/2 inch rounds, cutting out the core with a small round cookie cutter. Pat dry the apple slices, then spread about a tablespoon of peanut butter on each round. Sprinkle with desired toppings such as shredded coconut, chopped nuts, dried fruit, or mini chocolate chips.
Frozen Banana & Peanut Butter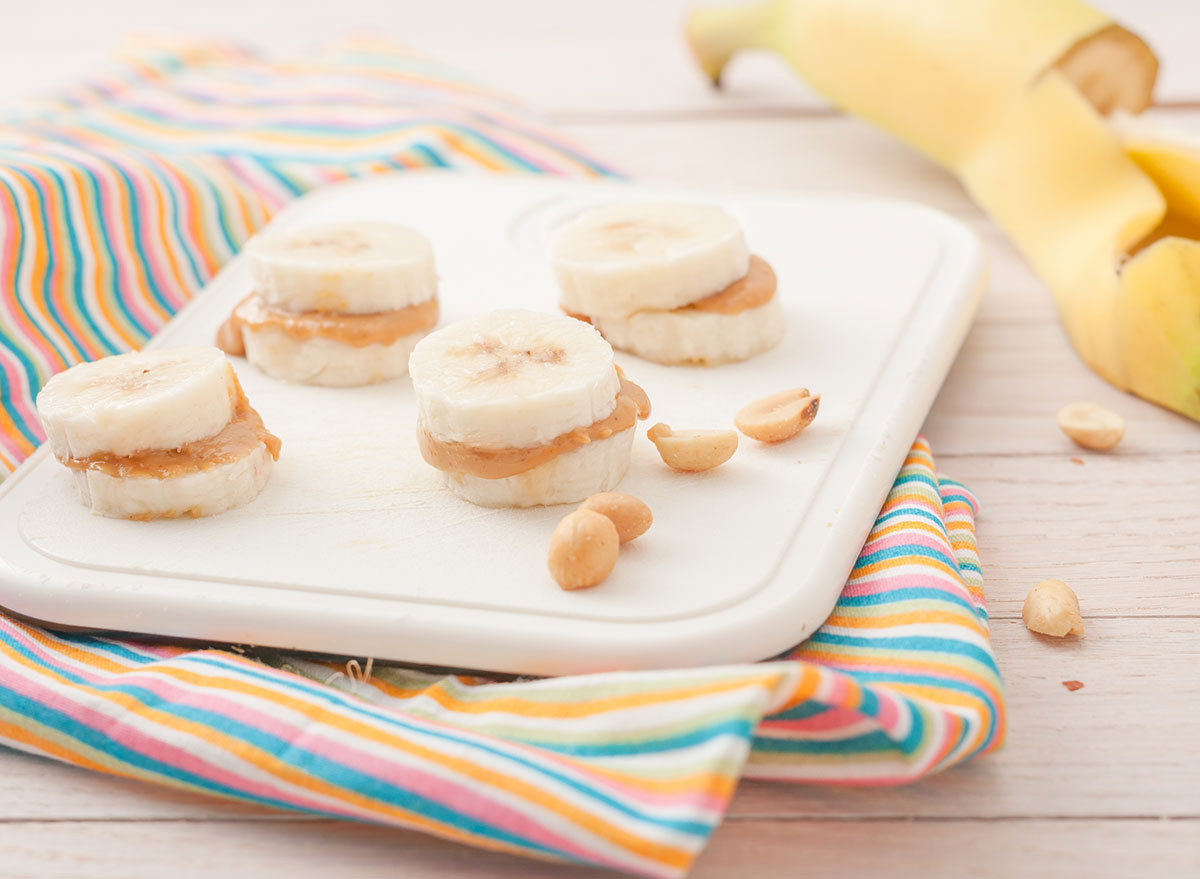 "My favorite peanut butter snack is a frozen banana with peanut butter," Jinan Banna, PhD, RD. "Cutting banana up into small chunks, freezing it, and then spreading some peanut butter on it makes a delicious dessert without added sugar."6254a4d1642c605c54bf1cab17d50f1e
"My favorite peanut butter snack is one that I enjoy in the evenings, particularly when I want to ensure a great night's sleep," says Trista Best, RD, a dietitian at Balance One Supplements. "This is because the protein in peanut butter helps me stay full throughout the night so I don't have to worry about waking up hungry. Bananas contain melatonin, the natural chemical responsible for sound sleep, and can help to improve sleep quality. This combination is both delicious and satisfying in many ways."
Here are the Surprising Side Effects of Eating Bananas, According to Science.
Peanut Butter Oatmeal Protein Cookies
"My favorite peanut butter snack [is a] homemade peanut butter oatmeal protein cookie," says Megan Byrd, RD, from The Oregon Dietitian. "They're only made with 8 ingredients, all in one bowl, and are packed with fiber and protein! Made with all-natural, real foods, they're super healthy! These cookies are also really flavorful, even kids and toddlers love them!"
Enjoy these healthy cookies with a side of fruit for a deliciously sweet afternoon snack!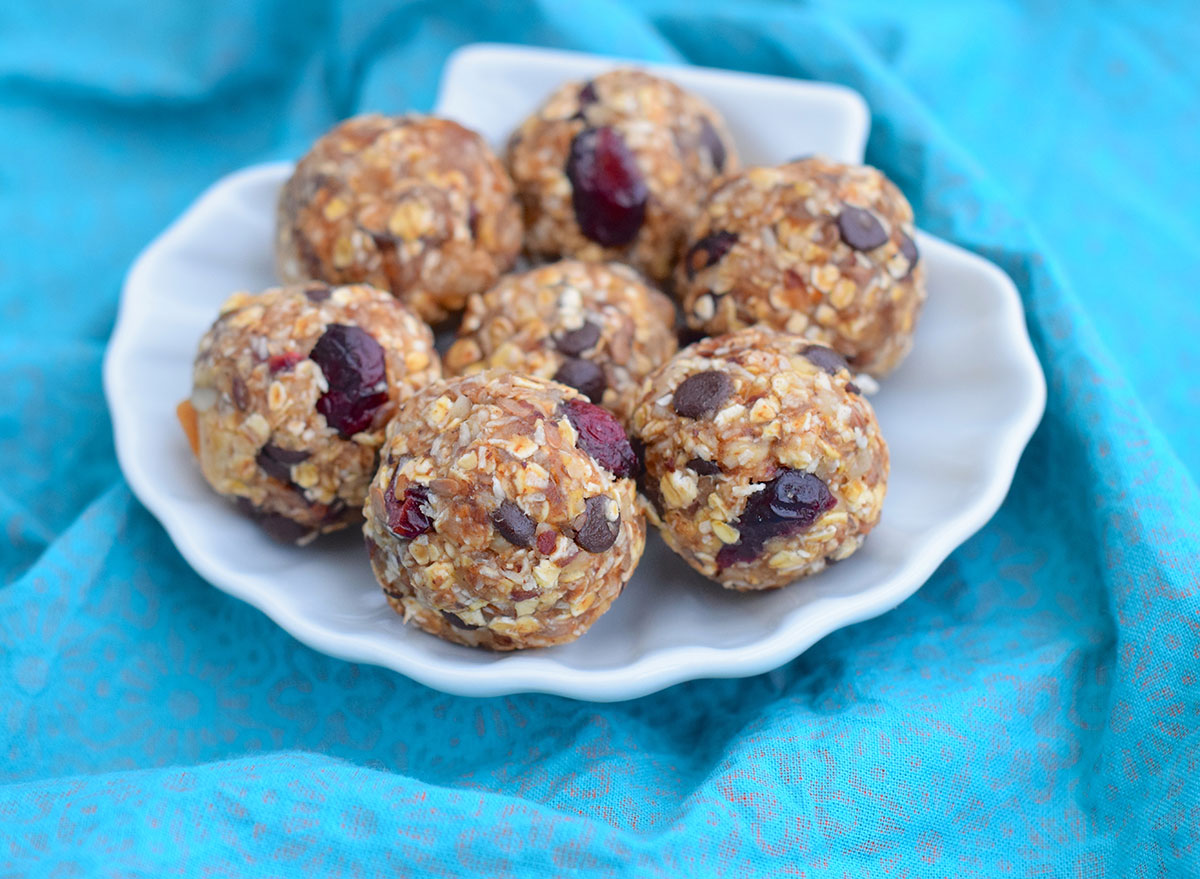 "One of our go-to recipes during our hands-on cooking classes at Operation Food Search is energy bites," says Carmen Berry, MPH, RD, LD of Operation Food Search. "These energy bites are packed full of good-for-you ingredients such as whole grain oats, protein & healthy fat-rich peanut butter, and sweetened with delicious honey, chocolate chips, and dried fruit. They are easy to make with pantry staple ingredients many people have on hand. Perfect for an afternoon pick-me-up or a quick on-the-go breakfast."
To make, combine 1 cup of oats, 1/4 cup of peanut butter, 1/3 cup of honey, 1/4 cup of raisins, and 1/4 cup of mini chocolate chips into a bowl. Roll out 1 tablespoon portion bowls and keep them in the fridge for up to one week.
"Peanut butter is packed full of monounsaturated fats which can help to increase HDL, the 'good' cholesterol, in the body," says Berry. "Honestly, I also love just eating a spoonful of peanut butter with some fresh fruit like an apple or banana!"
Peanut Butter English Muffin with Banana
"My favorite peanut butter snack is 1/2 whole-grain English muffin topped with 1 tablespoon crunchy peanut butter and 1/2 banana sliced on top," says MyNetDiary's Registered Dietitian and MS, Brenda Braslow. "It is a little sweet, crunchy, healthy, and filling. This snack is high protein (7 grams), high fiber (5 grams) and offers many vitamins and minerals such as potassium, folate, and calcium."
For an extra boost of natural sweetness, you can also add a few apple slices!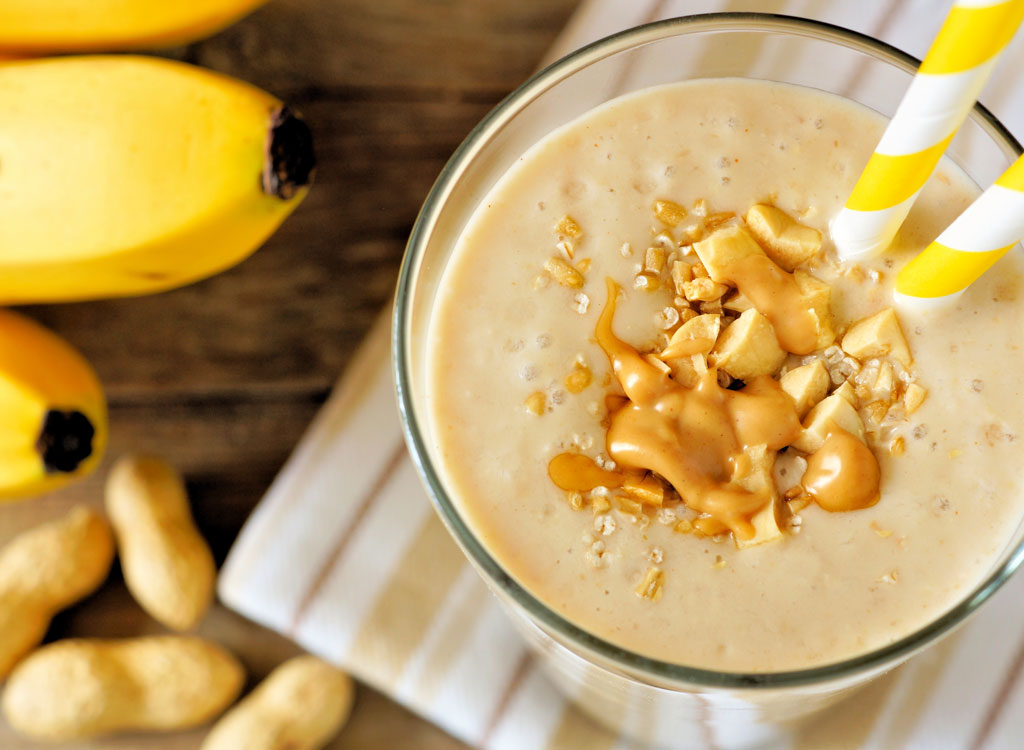 "I'm a big fan of peanut butter," says Edie Reads, RD and chief editor for healthadvise.org. "The texture, taste, and nutritional content are just everything for me. Its good fat and calorie content do a pretty good job in the body. Instead of spooking it directly from the jar and eating it, a habit that will most probably supply your body with excess calories and fats, you could use it in your favorite snack."
"Because of its versatile taste and texture, you can use it on almost every snack you can think of," Reads continues. "I think of it as a way of eliminating hunger while supplying my body with tons of crucial nutrients."
One of Read's favorite snacks is blending up a banana peanut butter smoothie. To make, simply blend up 1 frozen ripe banana, 1/2 cup of non-fat milk, about 1/4 cup of non-plain yogurt, and 2 tablespoons of creamy peanut butter.
For even more smoothie ideas, browse our list of 27 Best Immune-Boosting Smoothie Recipes.
"I love adding peanut butter to granola, like in this pumpkin peanut butter granola," says Sarah Schlichter, MPH, RDN of Bucket List Tummy. "It's crunchy, satisfying, and so jam-packed with complex carbs, protein, fiber, and healthy fats."
Add some extra berries on top for some natural sweetness and a boost of fiber!
Not sure which peanut butter to buy? Check out our list of The 20 Top Peanut Butters—Ranked!