The One Grocery List You Need To Eat Healthy All Week, Nutrition Experts Say
These shopping essentials deliver on nutrition and help you avoid unhealthy temptation.
Of course you're motivated to eat healthy—except that weekly shopping list takes some thought, while the chip and ice cream aisles seem to be calling your name. But by following a grocery list, you can avoid the unhealthy foods that stand in the way of feeding yourself and your family the foods you actually need. Not only do we have your healthy grocery list, we also explain the foods' benefits to help you hang on to that healthy eating commitment.
For this, we consulted two nutrition experts: Dr. Nicole Avena, Ph.D., an assistant professor of neuroscience at the Mount Sinai School of Medicine and a visiting professor of Health Psychology at Princeton University, and Karen Graham, R.D. and C.D.E., certified diabetes educator. Below, Avena and Graham offer direction on what should be on your grocery shopping list in order to stock your kitchen with healthy options so you can make delicious meals all week.
For more grocery store essentials, check out 17 Best Ingredients to Stockpile in Your Pantry.
Oats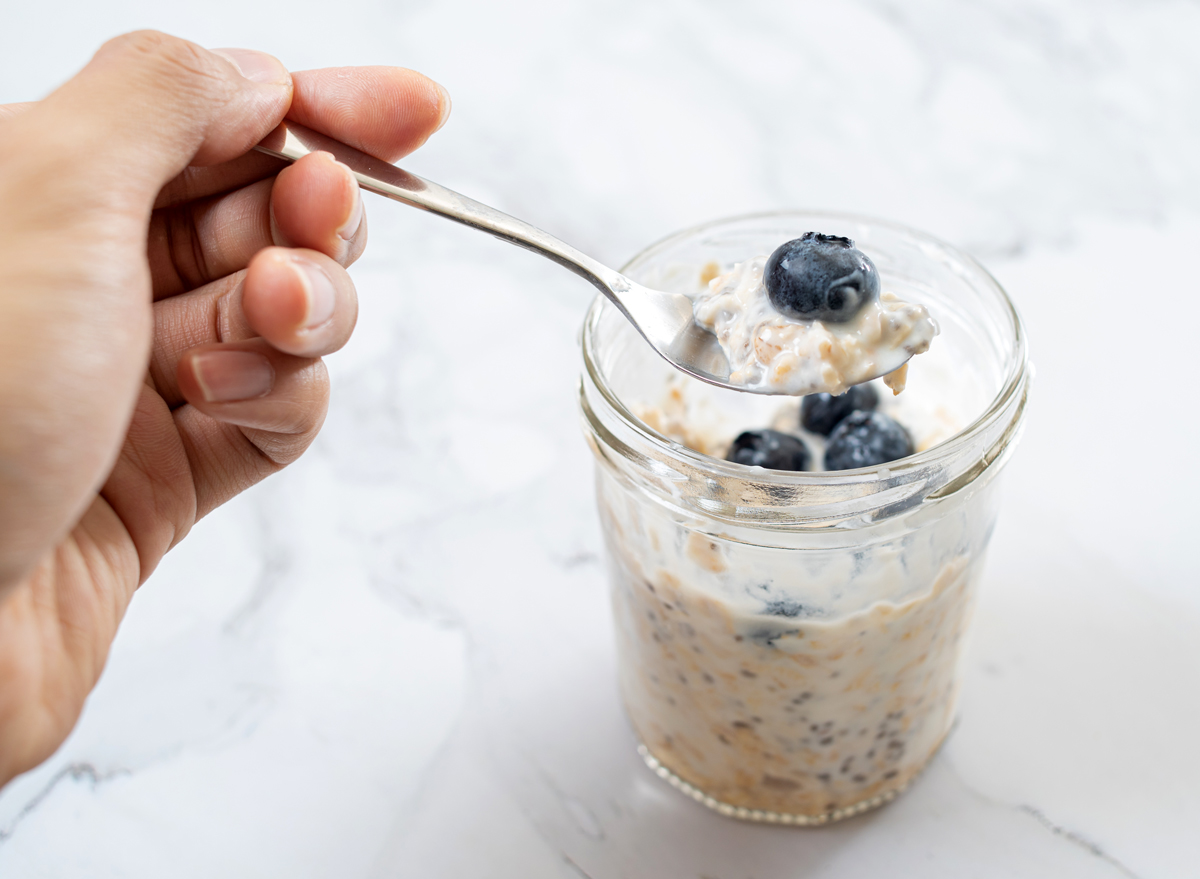 Not only are oats a delicious way to start your morning, but they're also packed with fiber, helpful for your gut and heart health, and they'll keep you feeling fuller, longer. Whether you're looking for sweet or savory recipes (that's right—get your savory oats recipes here!), there are endless ways to prepare oats. (Graham also recommends using them for a healthy crumble topping in your summer desserts!)
Avocados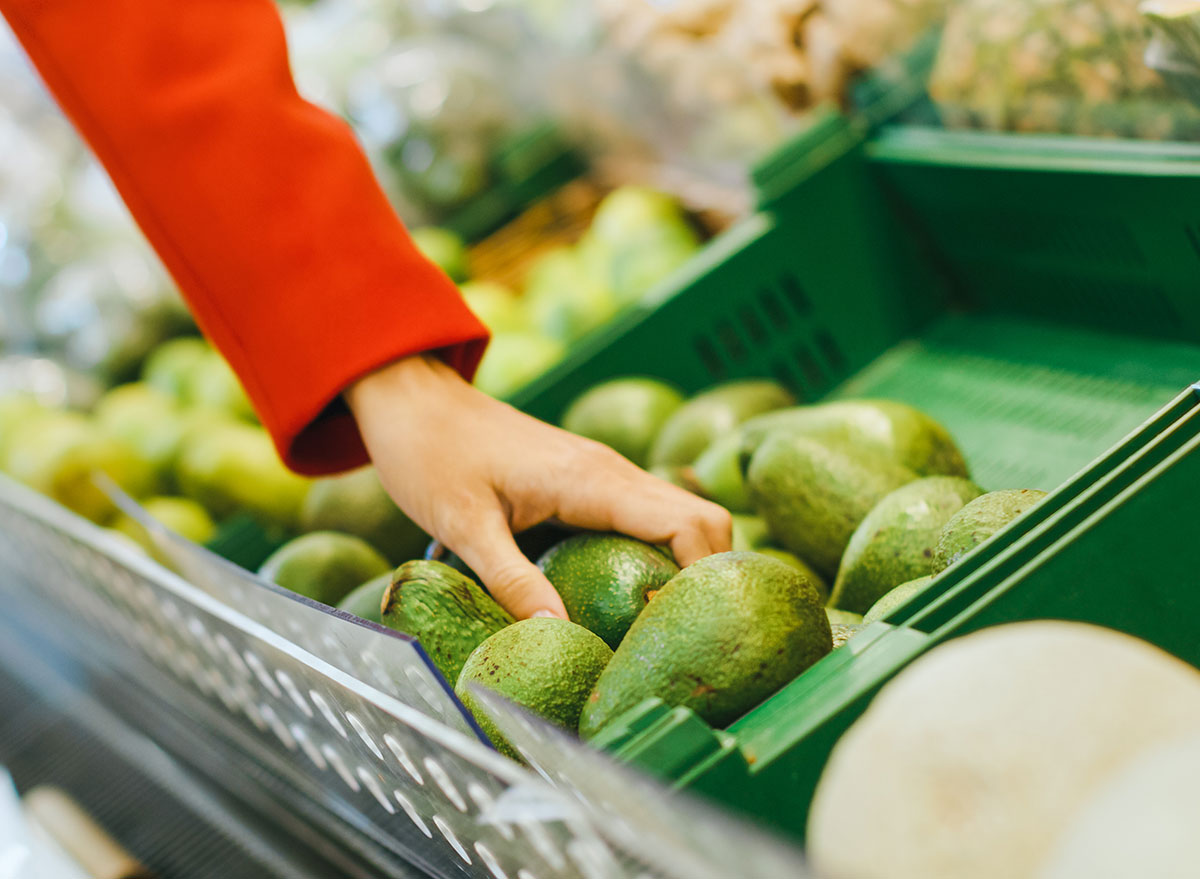 Let's talk about avocados. There's a lot of fat in these green fruits, which can often leave people wondering if they're really a healthy choice. "Avocados provide healthy monounsaturated fats that can help reduce blood cholesterol levels," says Graham—and it's these healthy fats that make avocados the ideal weight loss food. So, if you're ready to start making some guacamole, here's our favorite healthy recipe. (It's easy!)
Pomegranates
You might often overlook this gem in the fruit aisle, but after you read up on how to cut a pomegranate, they're totally worth a try. Graham says the seeds—also known as arils—are "red jewels [that] are bursting with Vitamin C and antioxidants that help fight cancer and keep your skin healthy." They're also one fruit that's key in helping with muscle health—making you look and feel stronger. Add them into a smoothie, salad, or on top of some yogurt and granola, and you'll feel their magic.
Lean Protein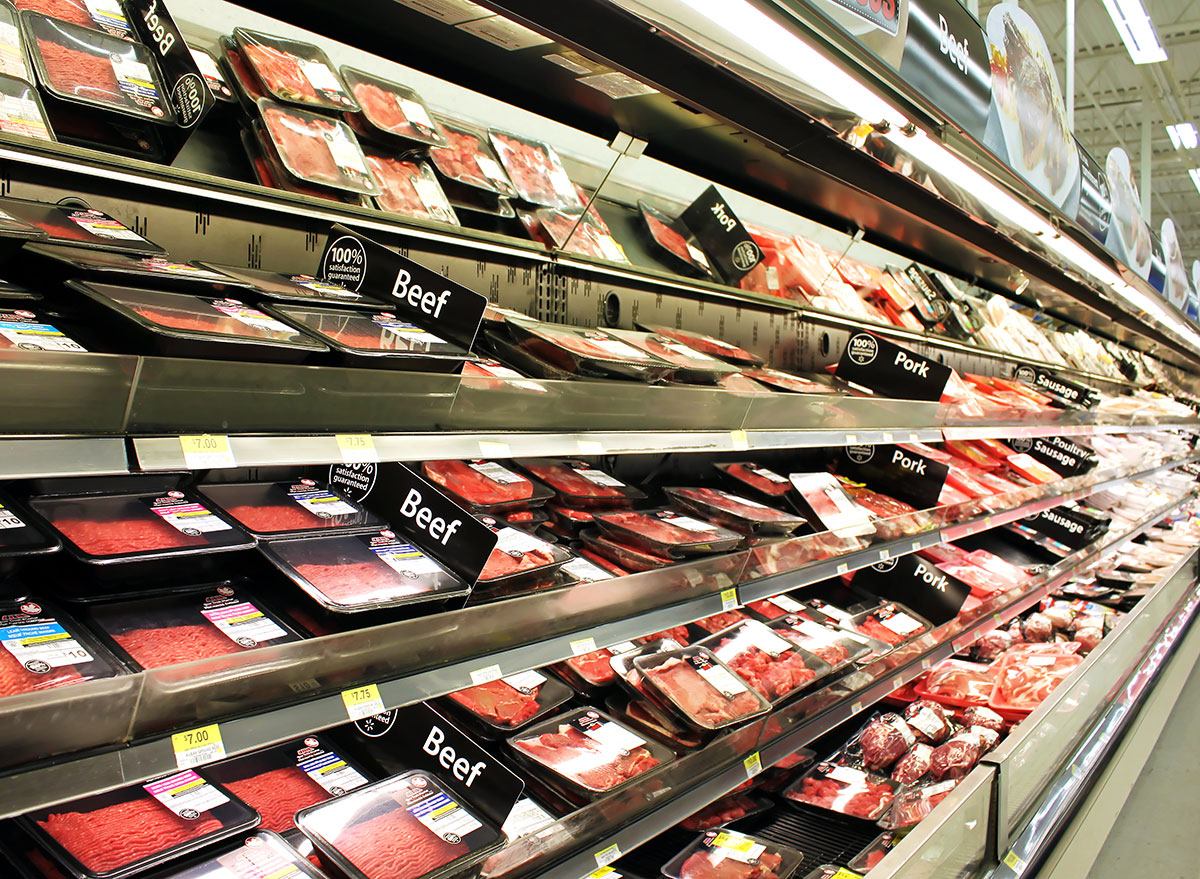 Avena has an intriguing recommendation to get the most out of the meat aisle… it's a grocery choice she refers to as "meat with benefits." She explains: "A great way to get more plants while you still are enjoying your meat is to opt for something like Grateful Market," she says. "They make burgers, sliders, and meatballs that are made of a blend of red meat or chicken and garden vegetables such as garlic, kale, celery, carrots and red onion." Your local grocer may also have house-made patties with similarly beneficial ingredients.
Plus, adds Graham, lean protein is essential to "helping slow down the absorption of carbohydrates into your system at the meal without overloading you with saturated fats." Incredibly important, especially when you read why experts say saturated fat is more toxic to your body than cholesterol.
Chilean Farmed Salmon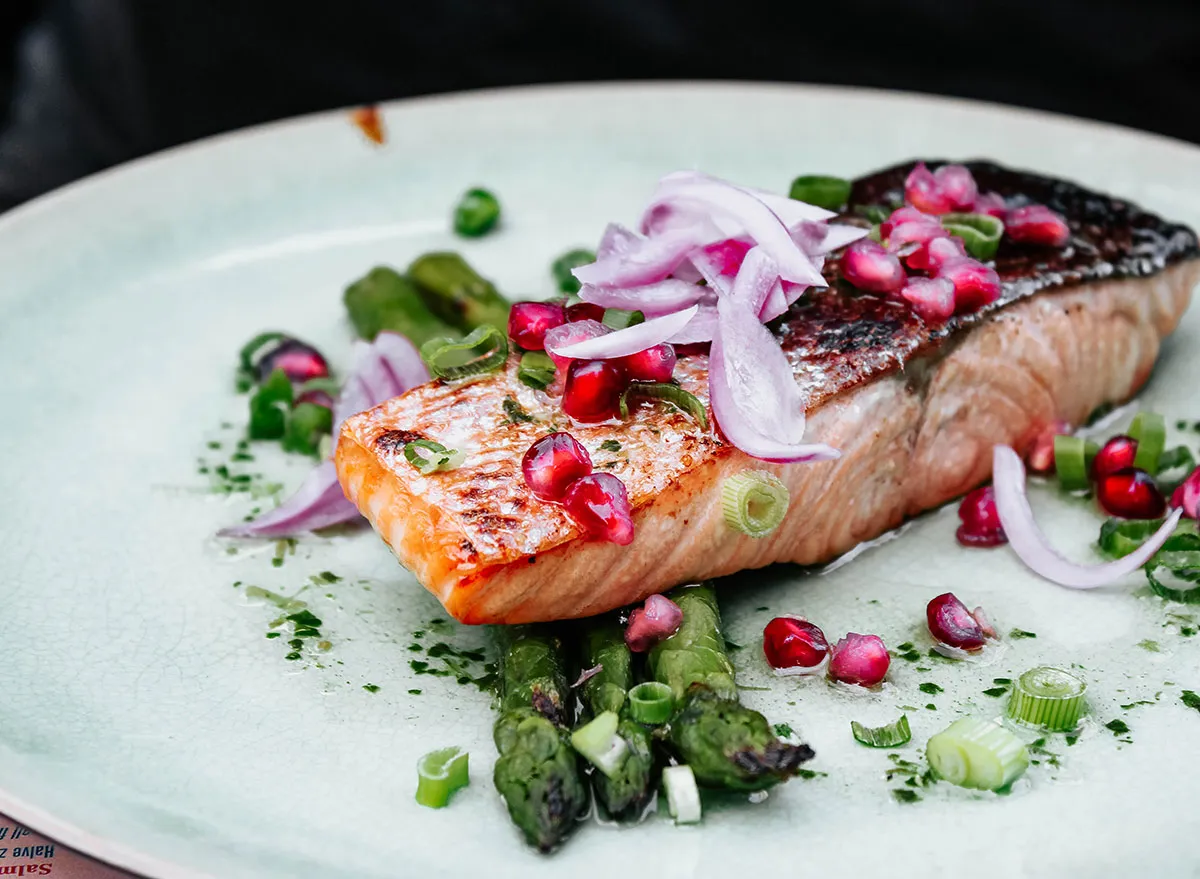 Another great way to get your protein is through fish, specifically Chilean farmed salmon. "People often shy away from fish because they are concerned about mercury and contaminants," Avena says, "but don't be scared off." She specifies that Chilean farmed salmon is a great way to make sure that you are getting omega-3 fatty acids, which are important for brain health. Also, it contains Vitamins B and D, which are important for our immune and nervous systems. We've made salmon simple—and versatile—in these 21+ Best Healthy Salmon Recipes for Weight Loss.
Eggs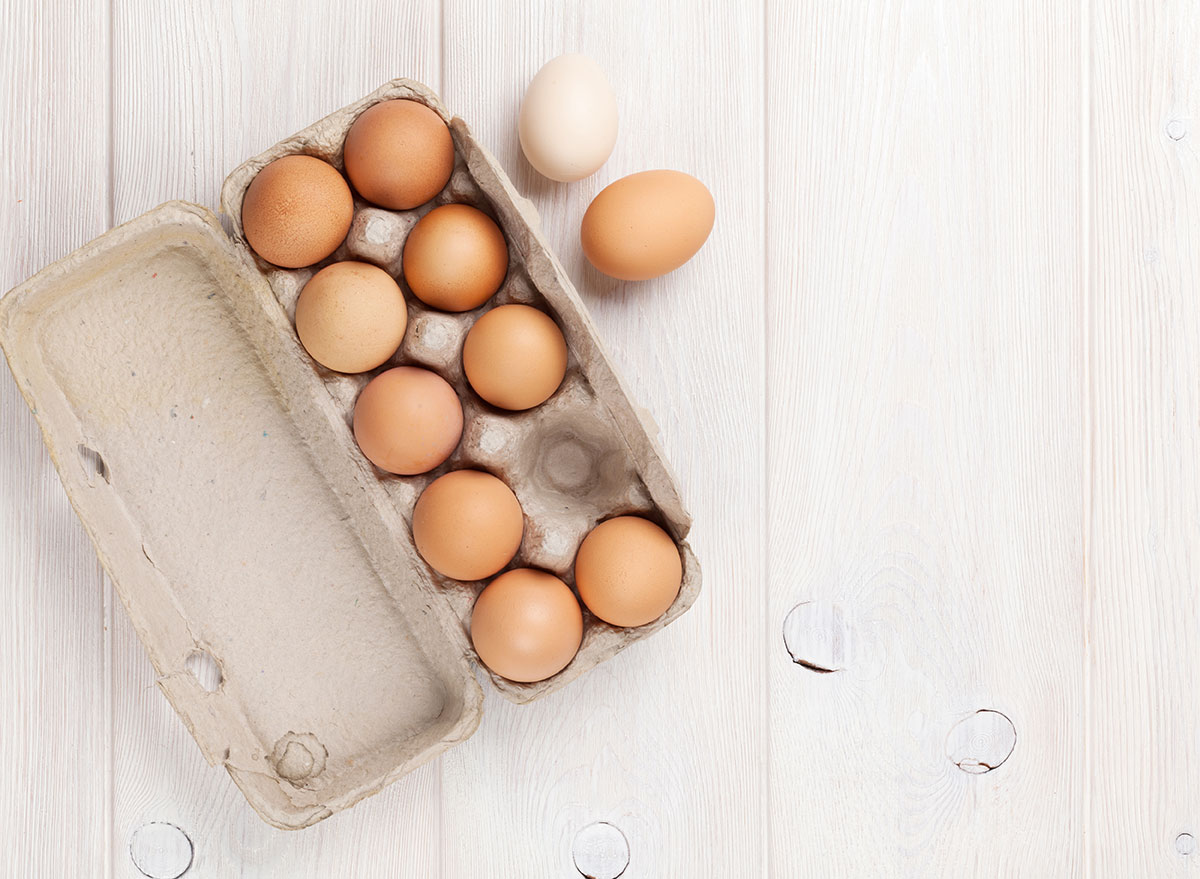 Definitely a grocery item that you should always have stocked in your kitchen, eggs are probably one of the easiest ways to up your protein intake. Whether you like scrambled eggs, a frittata loaded with vegetables, or a breakfast burrito, there's bound to be the perfect egg recipe to start your day (or to work in anytime, for that matter).
Not only are eggs a great source of protein, they also provide you with lutein. "Lutein is similar to Vitamin A (found in carrots), and egg yolks are one of the best sources," says Graham. It's the lutein that helps to keep your eyes healthy.
Legumes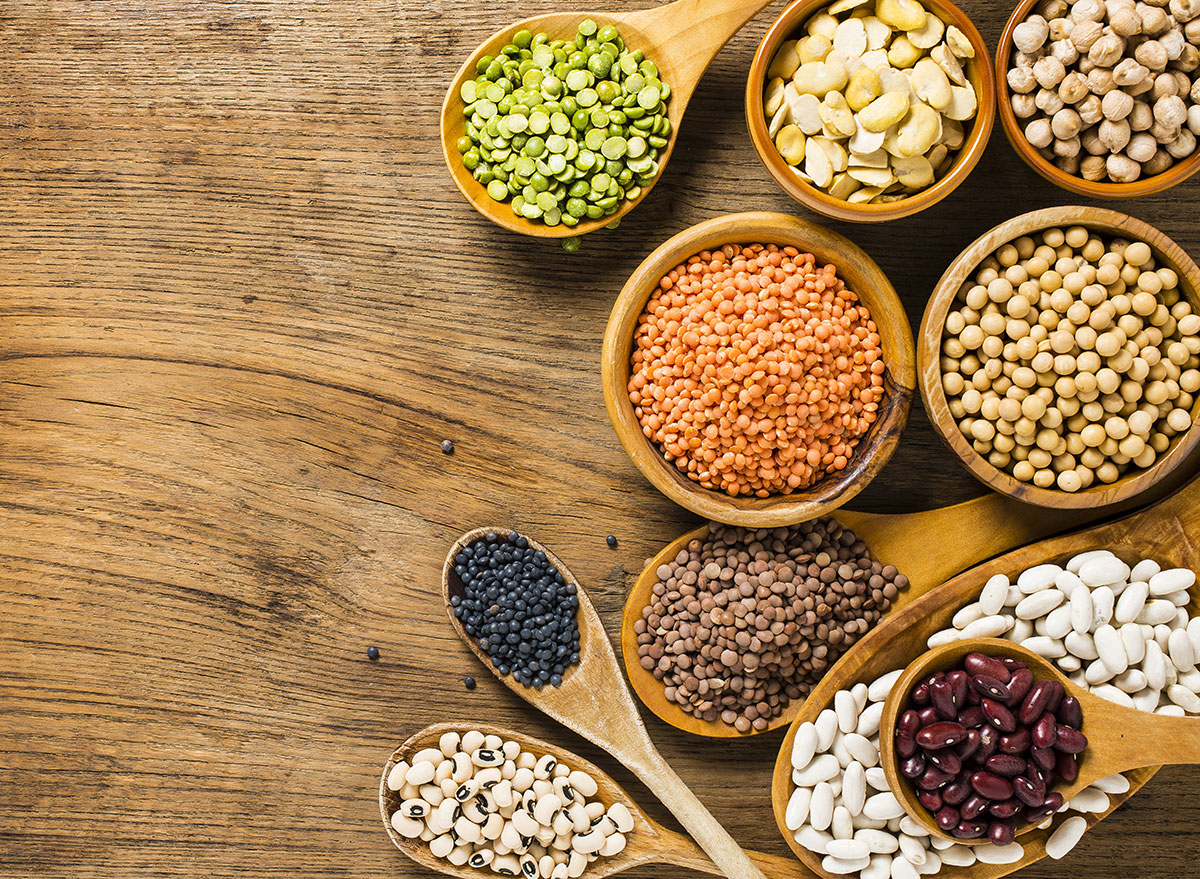 Canned veggies might seem tricky. While some are packed with sodium and can be unhealthy, others can be full of nutrients and the perfect pantry go-to for a simple meal. Canned beans, lentils, and chickpeas, in particular, can add so much to your diet, Graham says: "[These legumes] are a rich source of vegetable protein and they also have lots of fiber."
For a summer-friendly way to get more legumes, try making this black-eyed pea and corn salsa.
Potatoes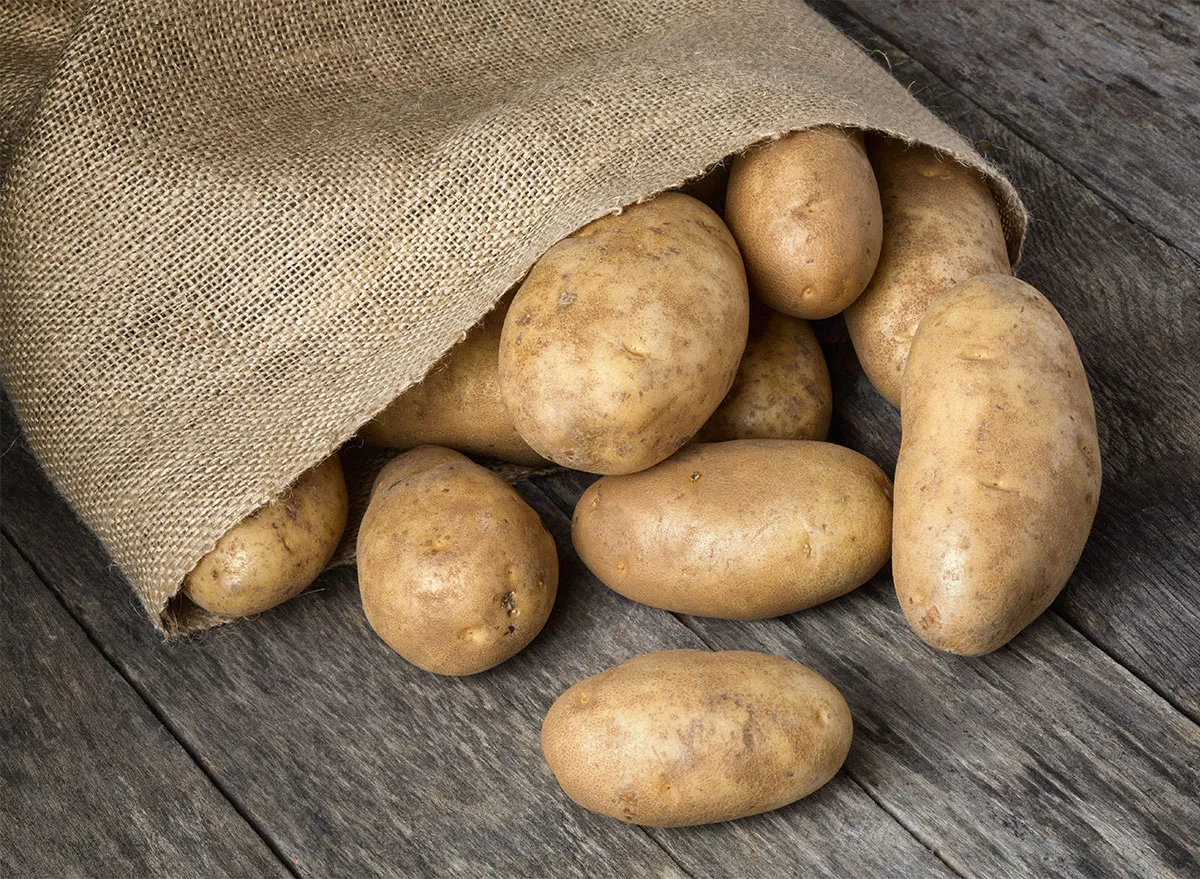 For better or for worse, even the fast-food giants know that nothing triggers excitement quite like a potato side. We have some healthier and creative ways to use potatoes, which according to Graham, are a great source of Vitamin C, potassium, and fiber. They're also the perfect complement to so many dinnertime classics, especially those chicken or salmon dishes that work so nicely on the summer grill. (Also do not miss 17 Delicious Grilling Recipes That Aren't Burgers—yes, we're talking about grilled sweet potato fries!)
Healthy Snacks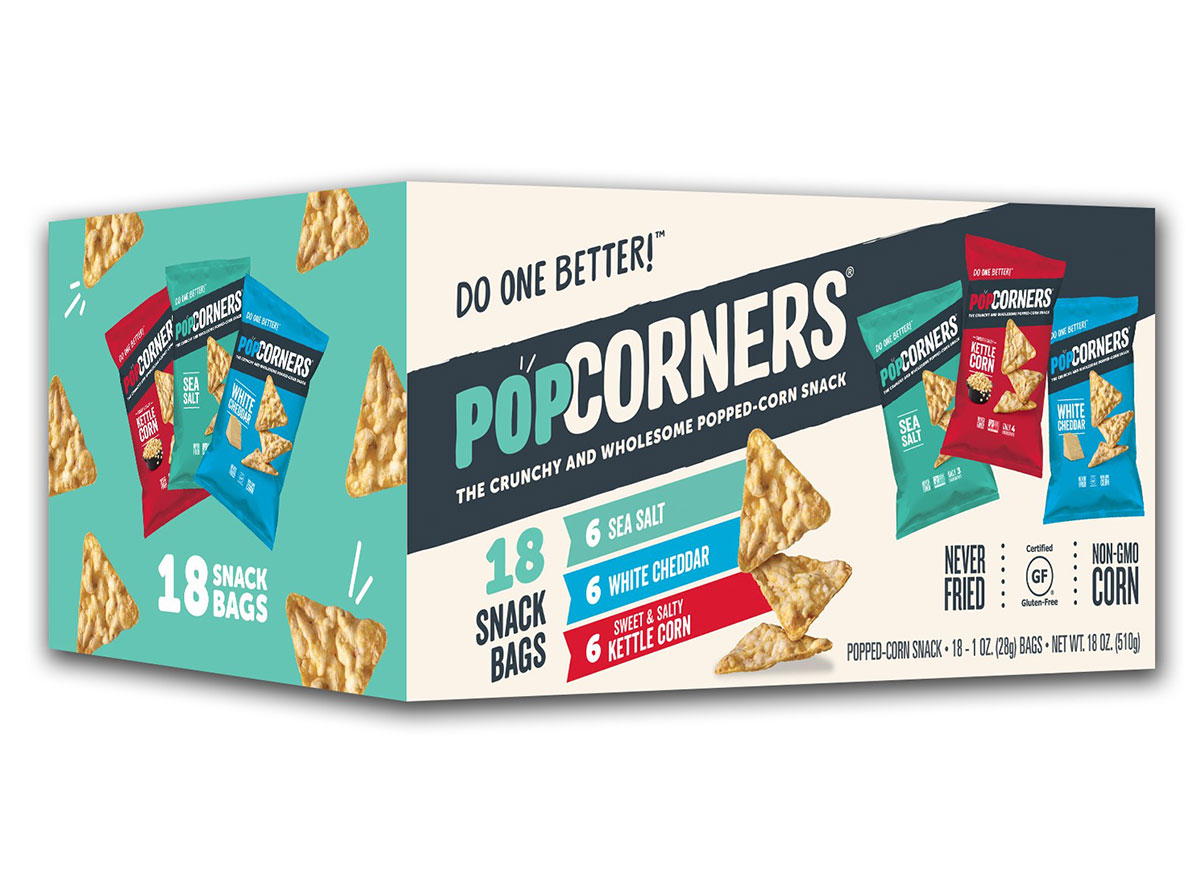 Just because we're making a healthy grocery list here doesn't mean we have to steer clear of the snack aisle. "I advise that people grab a bag of healthy snacks when they are grocery shopping, so you have options when you get a craving for chips," says Avena. You read that right—there are lots of healthy snack options that you can go for instead of that bag of chips. Avena advises, "PopCorners are a great choice for healthy snacking because they are air-popped popcorn in the shape of a chip made with simple ingredients and never fried." This means you don't have to feel guilty snacking on a few of these throughout the day to hold you over between meals.
Protein Powder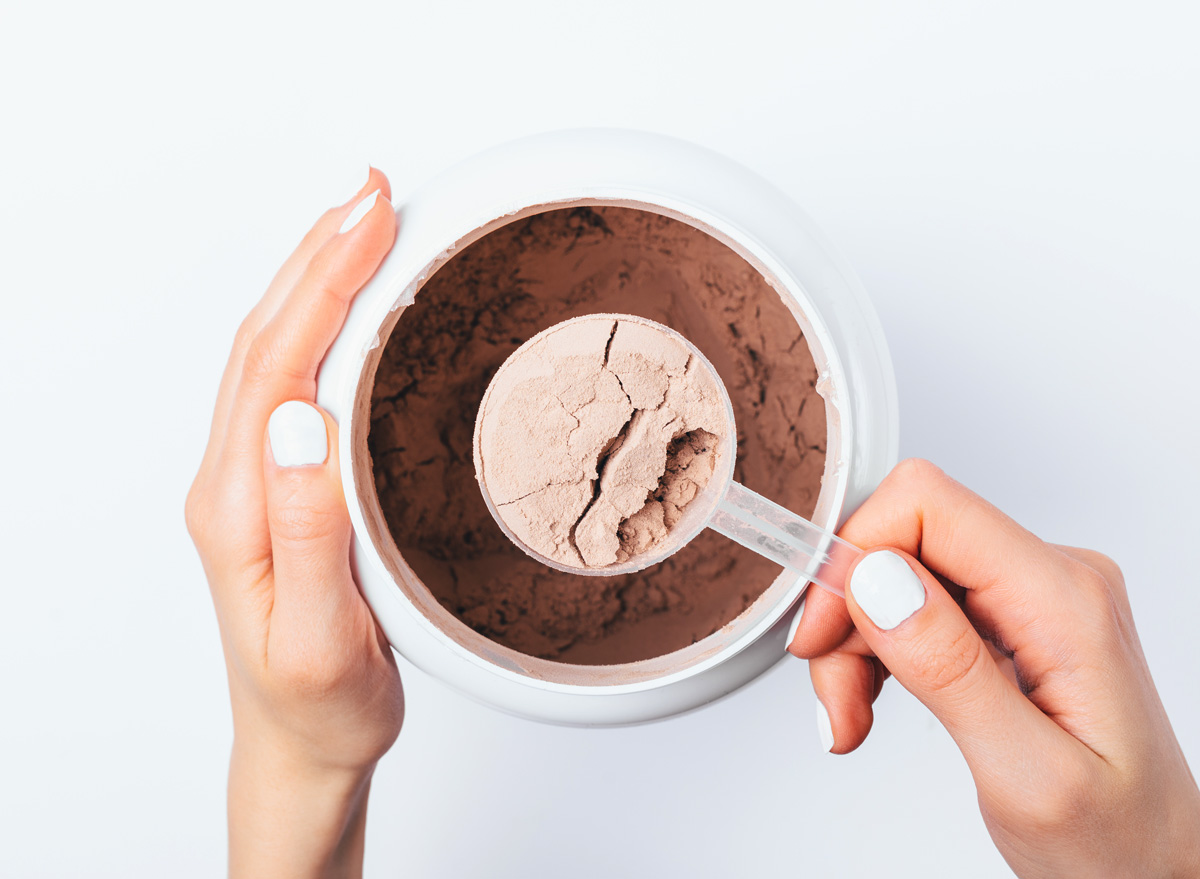 There are many people who don't get enough protein in their diets, so a great way to supplement your protein intake through your diet is with protein powder. According to Avena, a lack of protein in your diet can lead to a weakened immune system and muscle loss, so it's über-important to stay after your protein consumption. (Also check out how much protein you need to lose weight, or to build muscle.)6254a4d1642c605c54bf1cab17d50f1e
Not sure where to get enough? Avena recommends Orgain Organic Protein and Superfoods. "It's packed with 21 grams of protein, plus super nutrition from 50 organic superfoods that includes organic greens, berries, ancient grains and sprouts in every serving." Talk about a one-stop shop for loads of nutrition needs! "It's also certified USDA organic and made without any of the major allergens and has no added sugar," Avena says. A truly quality protein powder is an easy add to your morning smoothie for an extra protein boost to get your day started.
California Raisins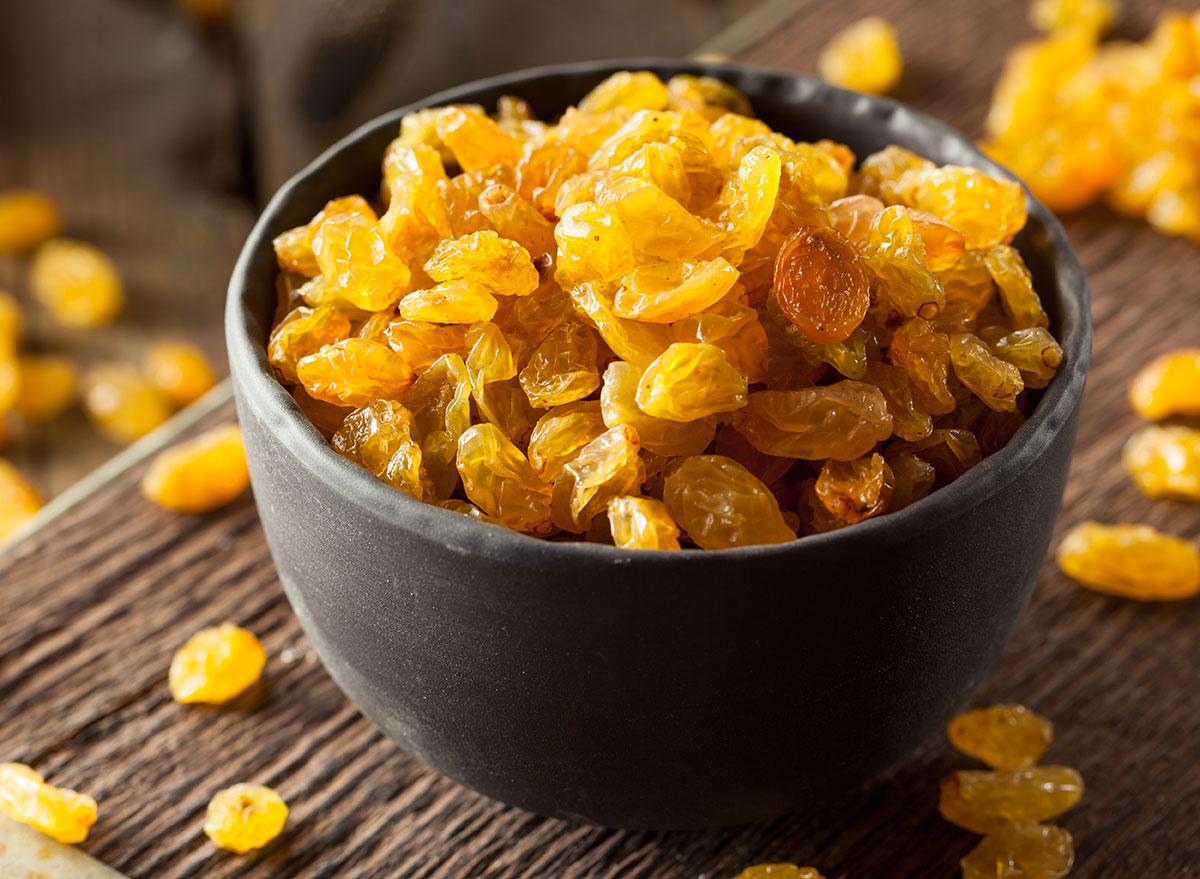 There's no question that raisins are an underrated grocery item that make the perfect snack, salad topper, or a nutritious addition to lots of recipes. "They are full of essential nutrients with seven percent [daily value] of fiber and six percent [daily value] of potassium," says Avena. Plus, raisins are 100% natural—which means no added sugars or juices. Avena says all you need is one-quarter cup of raisins to get one fruit serving, so they're the perfect easy snack to have on hand.
Freeze-Dried Fruit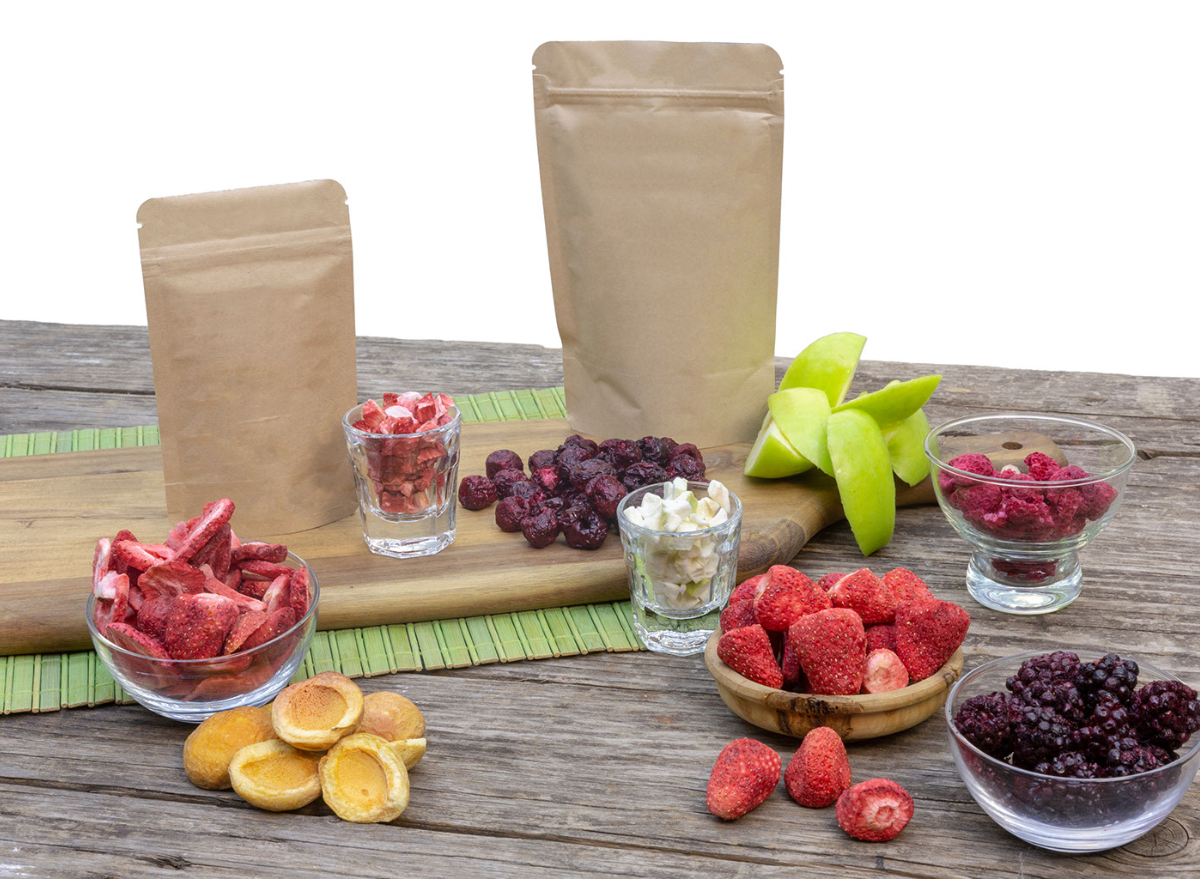 We're staying on the healthy snack train with freeze-dried fruit. Similar to the California Raisins, Crispy Green fruit snacks are a great option when you don't have fresh fruit on hand. "They have no added sugar and are 100% freeze-dried fruit," according to Avena, which is exactly what we want to hear. This is an easy snack to add to a kiddo's school or camp lunch, keep in the car for a busy day on-the-go, or to add to an evening cheese board both for great color and a nice, tart counter-balance to creamy cheese.
Variety of Cheese
Oh, and speaking cheese, we can't forget our calcium. It's crucial to maintaining bone and tooth strength (or building it, when you're young). Cheese is a great source of calcium, and with so many types there are endless possibilities to go for. Graham recommends going for a fermented cheese like Gouda, cheddar or Swiss because they're a great source of probiotic bacteria as well. (How 'bout that!) If you're not sure if your favorite cheese is a healthy choice, check out 20 Best and Worst Cheeses in America, and Avena's own homemade recipe for healthy macaroni & cheese.
Mixed Nuts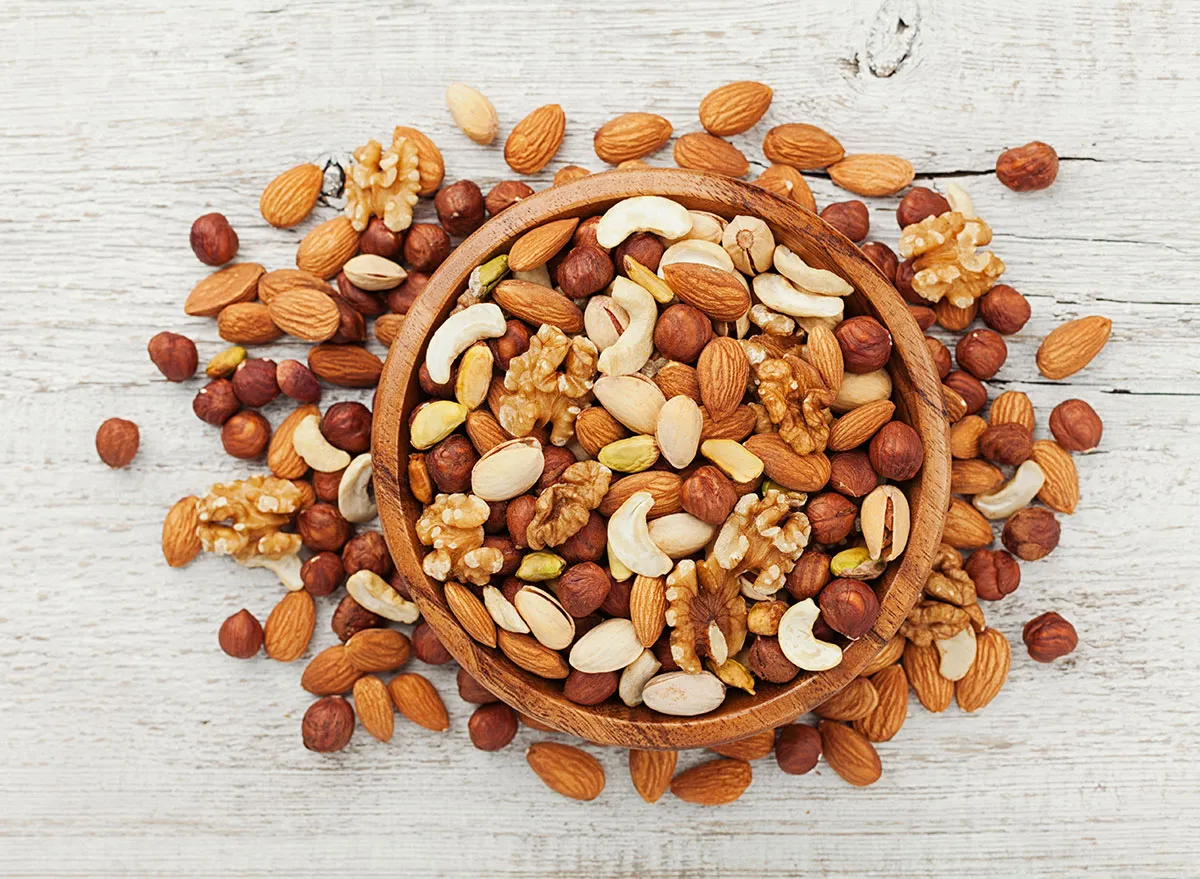 To go right along with the cheese and dried fruits, put those mixed nuts in your grocery cart. Avena points out that it's important to keep nut portions relatively small because these treats can be dense in calories. However, she adds, "Nuts are a vegetable protein that are rich in magnesium and zinc." Between the cheese, raisins and mixed nuts, we see an epic charcuterie board in your future. Read up on the nut that's great for diabetics, while almonds have one major effect on metabolism you probably weren't aware of.
You're set for the week! Sign up for the Eat This, Not That! newsletter for the grocery + nutrition news you need. Also check out:
Rachel Linder
Rachel is an Associate Editor responsible for compiling the daily Eat This, Not That! newsletter, making TikTok and YouTube videos for the brand, writing articles for the site, creating original graphics and providing direct assistance to the editors when needed.
Read more about Rachel