Every Single Olympic Athlete Swears By This One Healthy Food
This fruit is many Olympians' top choice.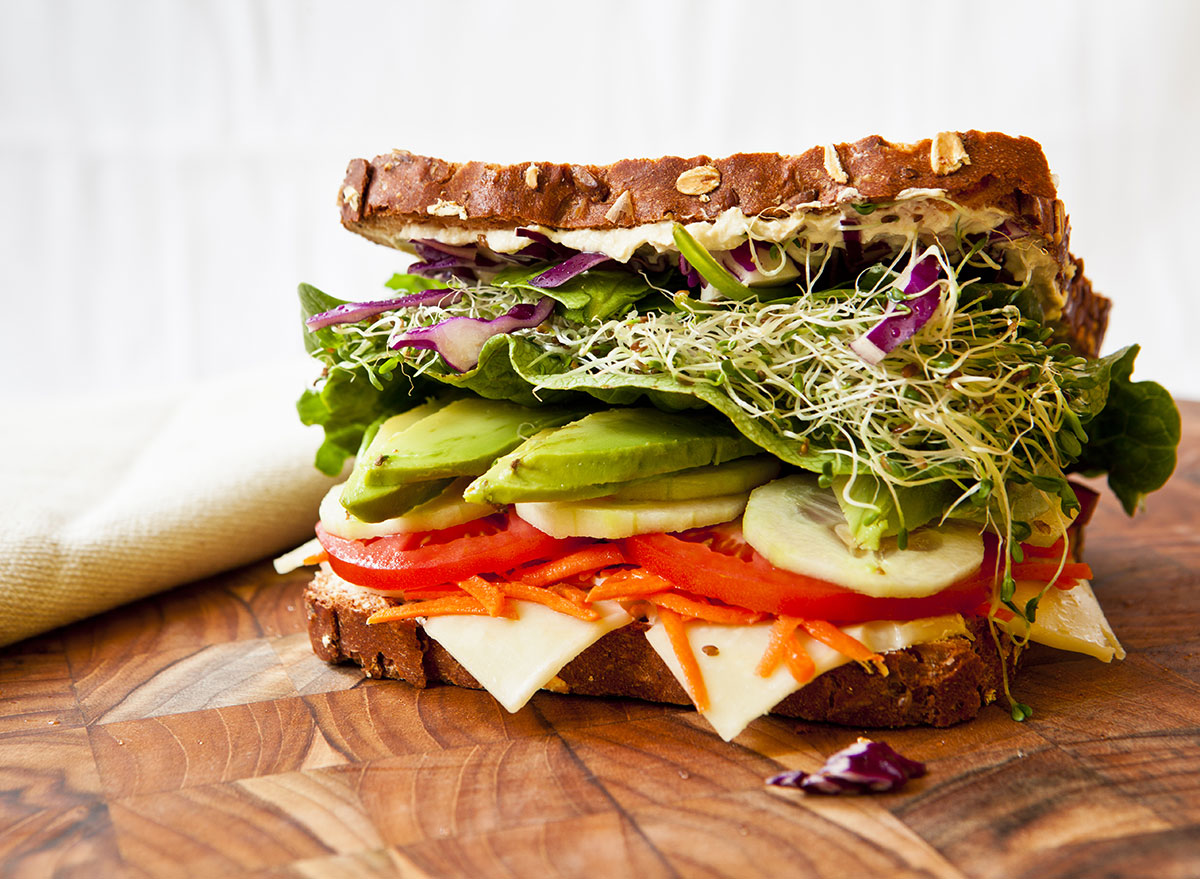 While there are many healthy foods an Olympic athlete incorporates into their diet while training to keep both their mind sharp and body in tip-top shape, there is one food that stands out among several athletes. It's the ever-trendy, light yet satiating, vitamin-packed fruit: the avocado.
Avocados are packed with monounsaturated fats that are key for repairing muscles, as well as electrolytes such as potassium and magnesium that can help activate the muscles and prevent them from cramping. The fruit also packs fiber and protein, both of which allow active individuals to stay full throughout the duration of their workout.
Not only should athletes pregame with potassium- and magnesium-rich foods before their workout, but it's also important they replenish with them post-workout, as well.
"Your body uses potassium for proper kidney and heart function, muscle contraction, and nerve transmission and it's very important to replenish potassium after working out since we lose electrolytes in sweat," says Lauren Harris-Pincus, MS, RDN, and author of "The Protein-Packed Breakfast Club."
The prebiotic fiber in avocados also plays a role in gut health which, aside from keeping you regular, can also help to support your immune system. Plus, "the heart-healthy monounsaturated fat in avocados can also act as an immune system nutrient booster by helping increase the absorption of fat-soluble vitamins A, D, and E," Harris-Pincus adds.
Here are a few Olympians who swear by avocado as well as a few suggestions on how to incorporate the fruit into meals throughout the week.
Naomi Osaka eats avocado toast with smoked salmon.
For breakfast, tennis player Naomi Osaka eats avocado on rye toast with smoked salmon and a smoothie packed with kale, spinach, and kiwi, according to PureWow. By adding smoked salmon, there's a bit of extra sodium—which is good to consume following a workout to replenish the sodium lost through sweat—as well as protein and healthy fats for muscle repair.
Brooke Raboutou likes avocado toast with egg.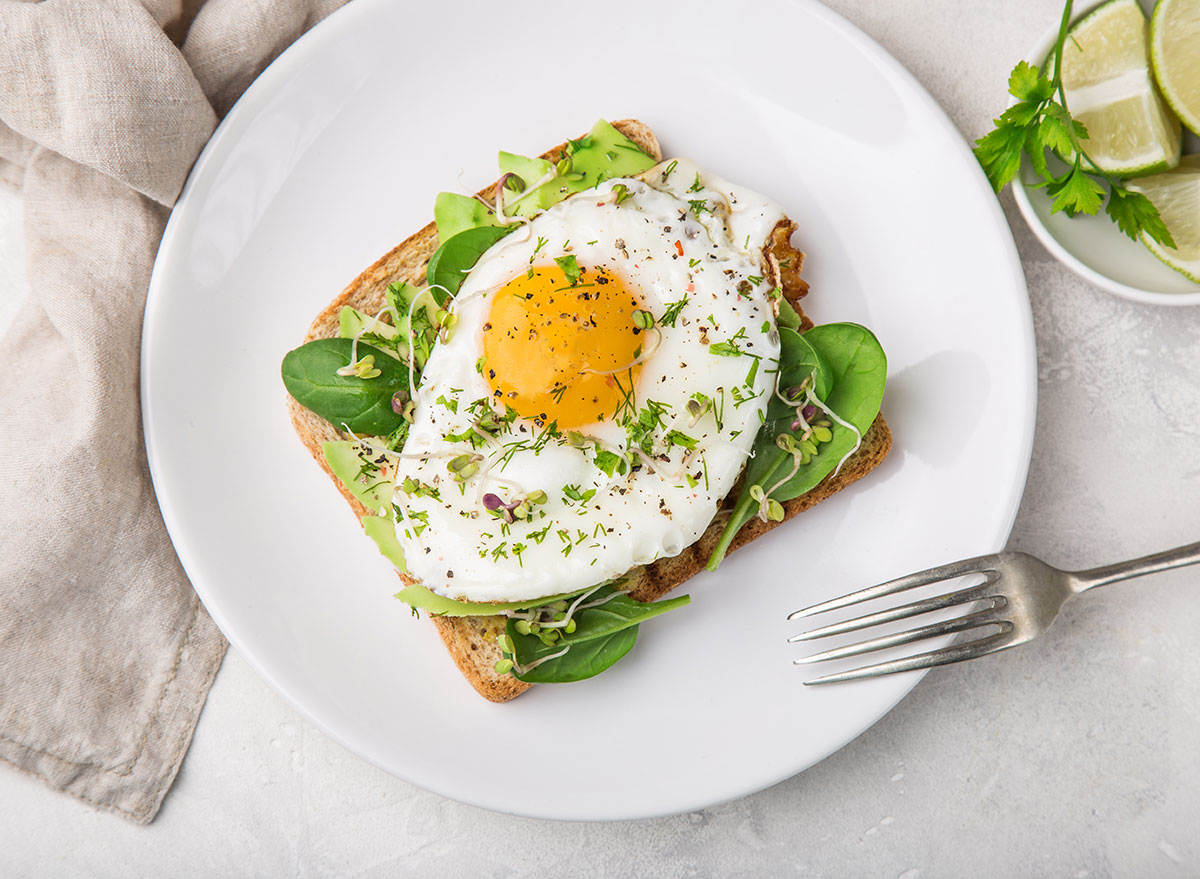 Team USA climber Brooke Raboutou told US Magazine that she usually starts her day with avocado toast with an egg. Alternatively, she eats almond butter toast with a banana.
Kaleo Maclay pairs avo toast with oatmeal or yogurt.
Paralympian volleyball player Kaleo Maclay enjoys eating avocado toast, oatmeal, and yogurt for breakfast, as explained over an interview with US Magazine.
Tip: when choosing yogurt, opt for a plain or unsweetened option of either Greek or Skyr yogurt. Both of these styles of yogurt offer gut-healthy probiotics as well as a sufficient amount of protein.
Katie Ledecky adds avocado to chicken and pasta salads.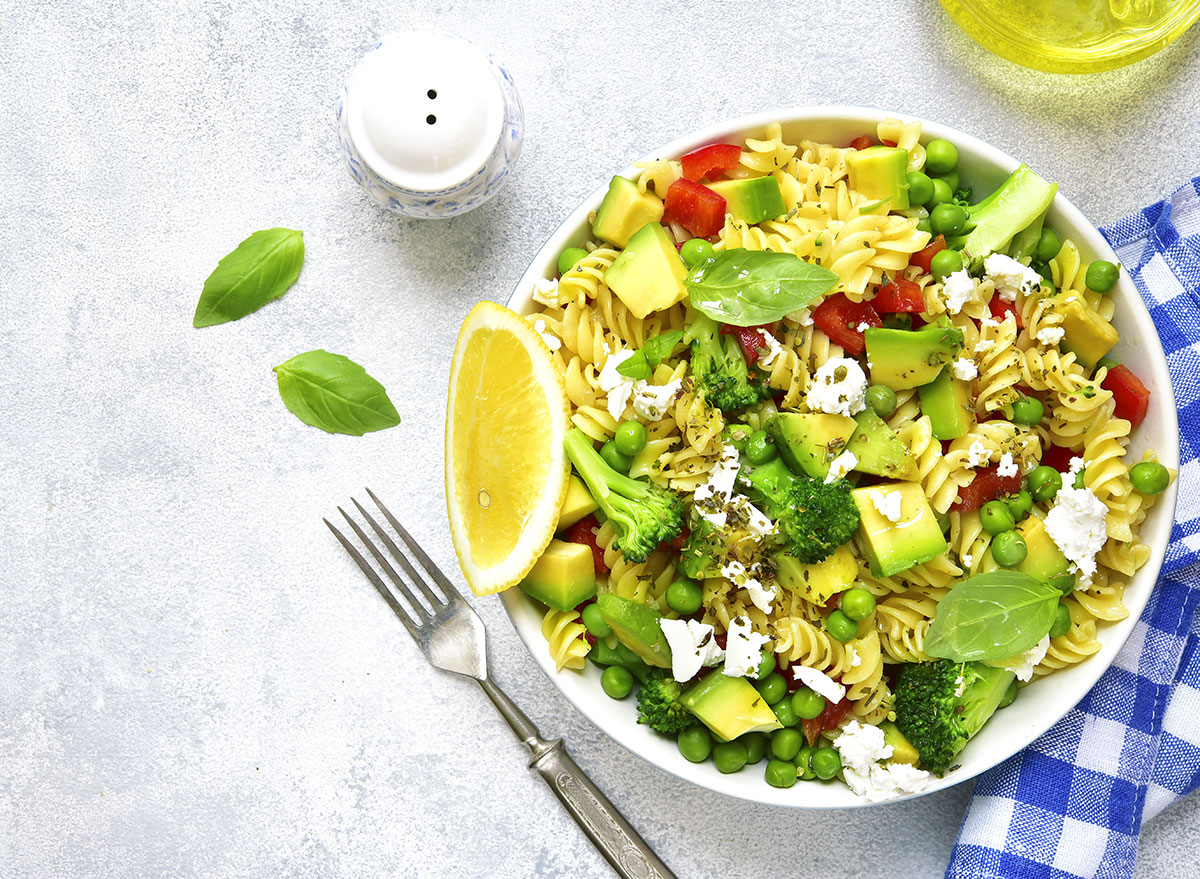 After swimmer Katie Ledecky gets done with dryland training (think lifting weights and core), she goes for a Caesar salad with a double serving of chicken and an avocado, as reported by Spoon University.
Maggie Steffens loves avo toast with eggs and sprouts.
The U.S. water polo team member loves avocado toast made with multigrain bread, half an avocado, a handful of sprouts, two to three slices of tomato, and one to two fried or hard-boiled eggs drizzled with olive oil, as explained in an interview with ESPN.6254a4d1642c605c54bf1cab17d50f1e
"This breakfast is high in healthy fats and is guaranteed to keep this athlete fueled for her practice," says Ilyse Schapiro MS, RD, CDN.
Allyson Felix eats avocado on her "go-to" sandwich.
Olympic track and field gold medalist Allyson Felix says her lunch may include "roasted turkey and avocado on multigrain bread, topped with lemon juice and red pepper flakes," based on a 2016 interview with People magazine.
Mia Manganello also loves avocado toast with an egg on top.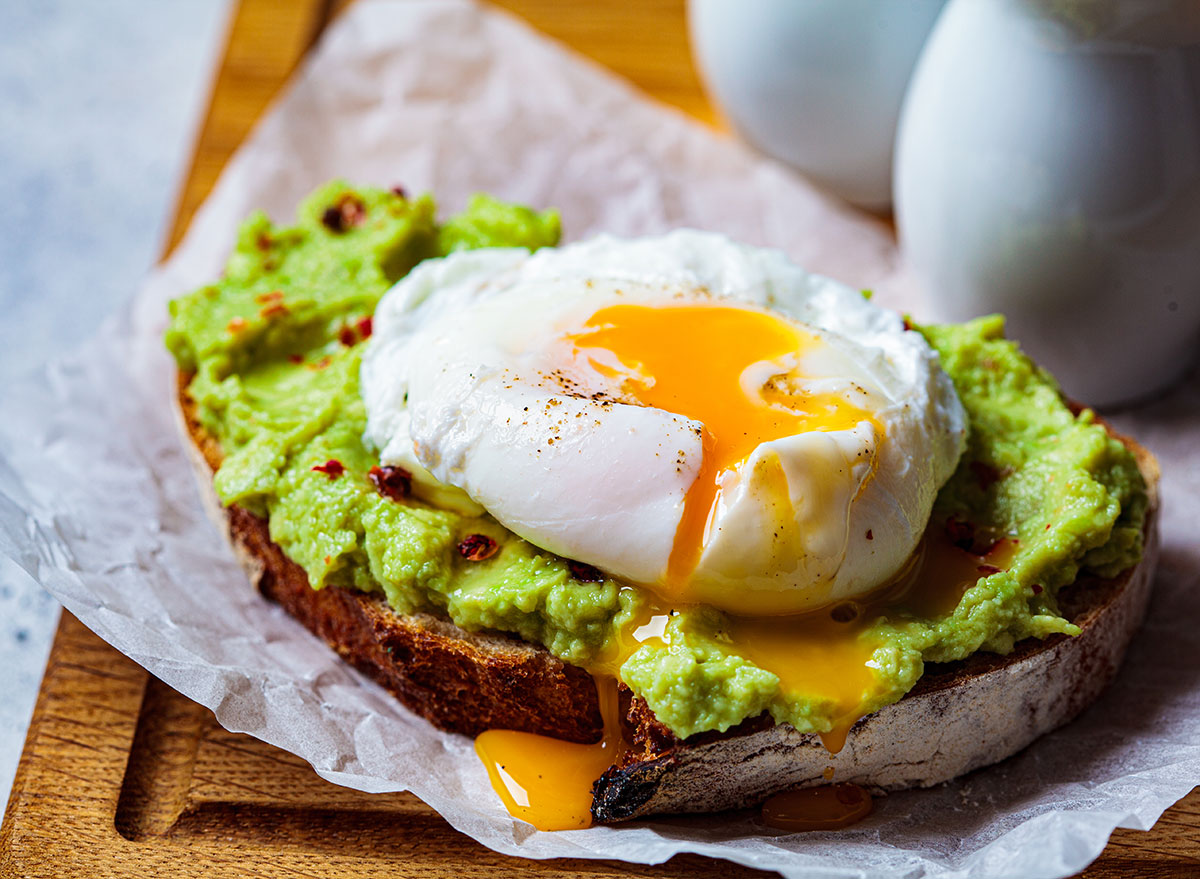 After practice, the speedskater tells Delish that she likes to keep it simple by eating avocado toast with an egg.
"I recommend that my clients have a slice of Dave's Killer Bread with avocado and eggs, topped with everything but the bagel seasoning from Trader Joe's or some red pepper flakes for added flavor," says Schapiro.
Jessie Diggins has a salad with an open-faced turkey and avo sandwich.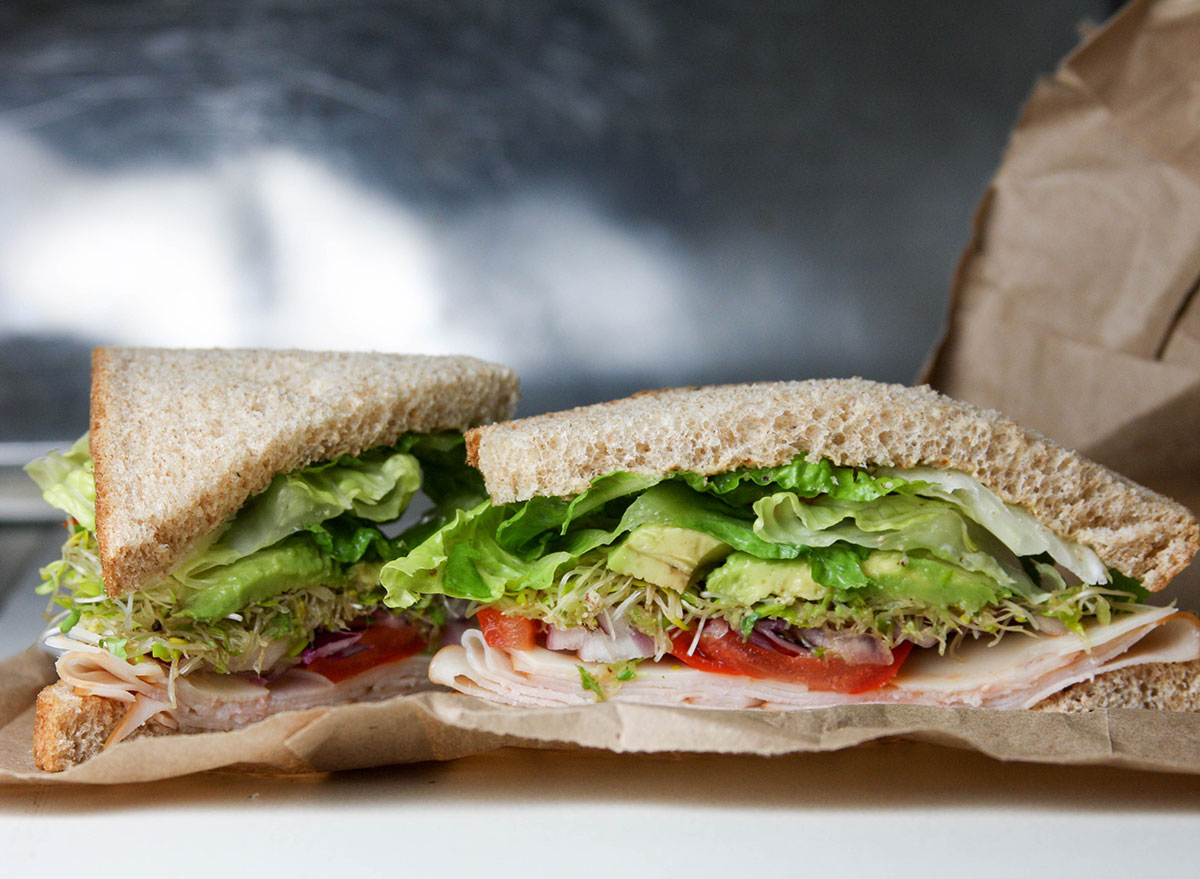 According to Cosmopolitan, the cross country skier will have a salad made with spinach, carrot, and cucumbers with brown rice sprinkled in it. She pairs it with toast that has avocado, turkey, and cheese on it.
Chris Mazder has an egg sandwich with avocado.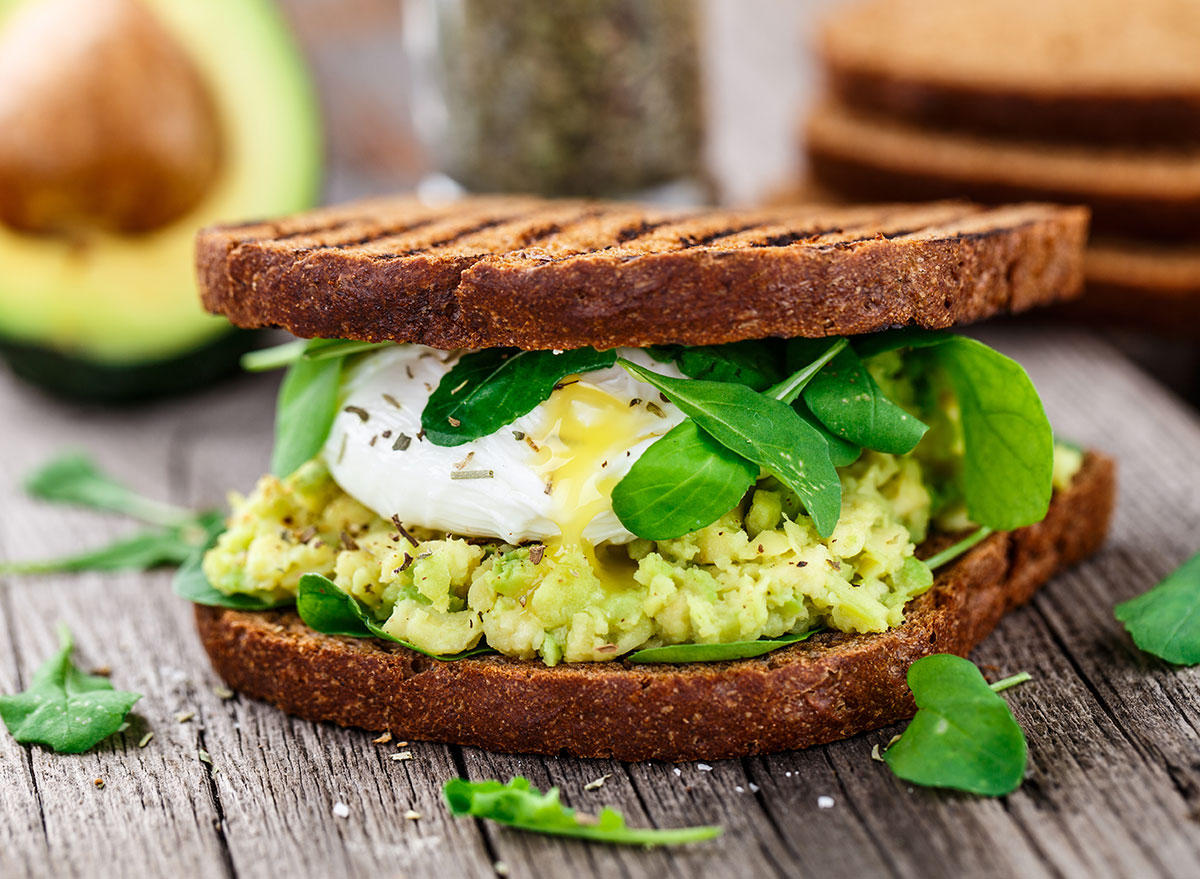 According to Delish, the Olympic luge competitor incorporates an egg sandwich with avocado into his breakfast, along with a bowl of plain yogurt with honey, chia seeds, and hemp seeds. And if you want to recreate this meal on your own…
"I recommend adding two slices of Ezekiel bread or a whole-grain English muffin with eggs and low-fat turkey bacon for a delicious and easy breakfast," says Schapiro.
Don't miss One Major Side Effect of Eating Yogurt, Says Dietitian.
Lindsay Vonn eats a light dinner with chicken and avocado salad.
According to Women's Health, the Olympic skier enjoys a chicken salad with avocado or a zucchini-based pasta with bolognese sauce.
"Chicken salad with avocado is a lighter meal but it's packed with protein and healthy fats, so it is a great meal to refuel your body after a day of training," says Schapiro.
For more, don't miss Rachel Bilson's Exact Breakfast, Lunch, and Dinner Plan to Stay Fit.
Isadora Baum
Isadora Baum is a freelance writer, certified health coach, and author of 5-Minute Energy.
Read more about Isadora