The #1 Worst Nathan's Hot Dog to Eat
If Nathan's 4th of July hot dog eating contest gives you a craving, this is the one dog to dodge!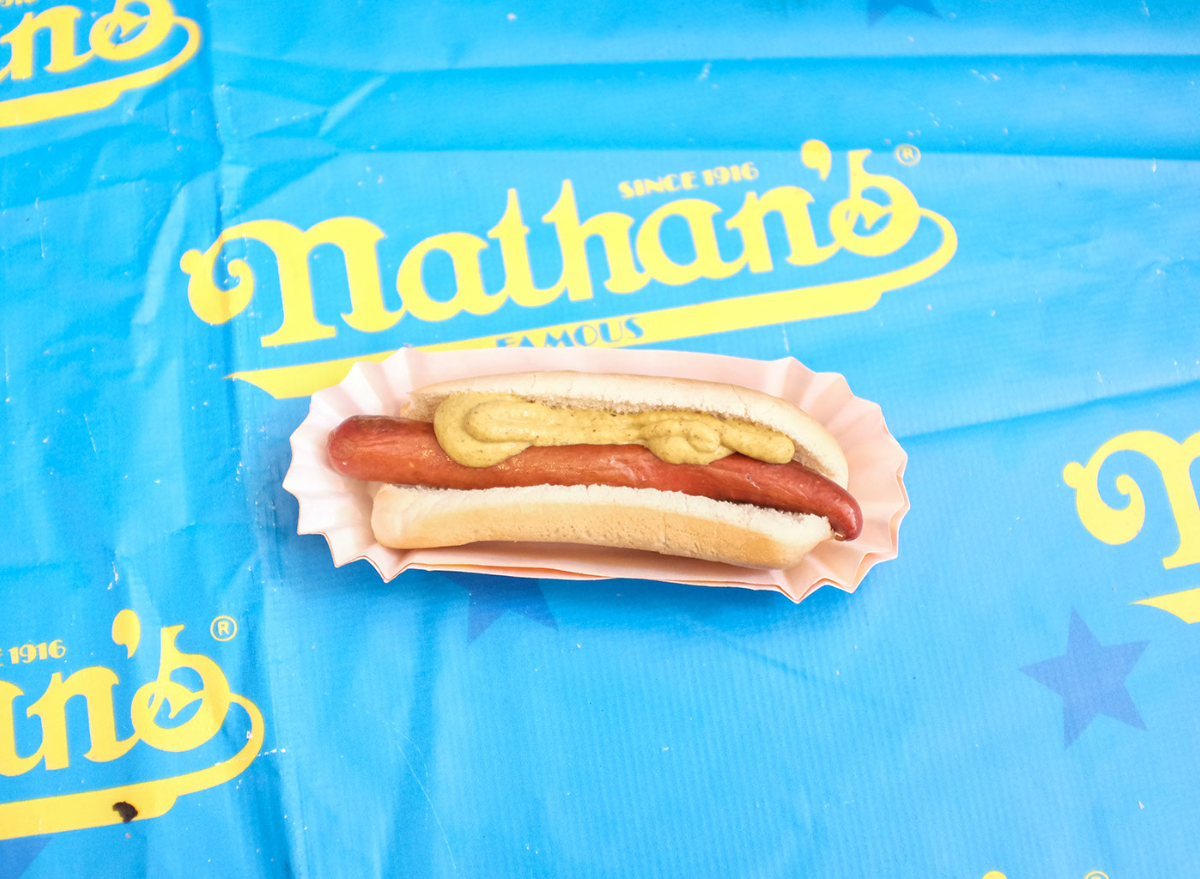 If you're like a lot of hot dog lovers, you might feel there's just nothing like Nathan's. The only problem with a good hot dog is that it might leave you wanting more. Be careful: With Nathan's Famous Fourth of July Hot Dog Eating Contest set to air this Sunday, we took a look at Nathan's nutrition facts to figure out just how much is too much Nathan's. We discovered one particular Nathan's item that's a no-no if you're hoping to set off fireworks by being fit this summer. (Pow!)
Read to discover the #1 worst Nathan's hot dog (it might surprise you!) and don't miss The Best & Worst Barbecue Sauces on Store Shelves, According to RDs.
Let's start with a basic Nathan's dog.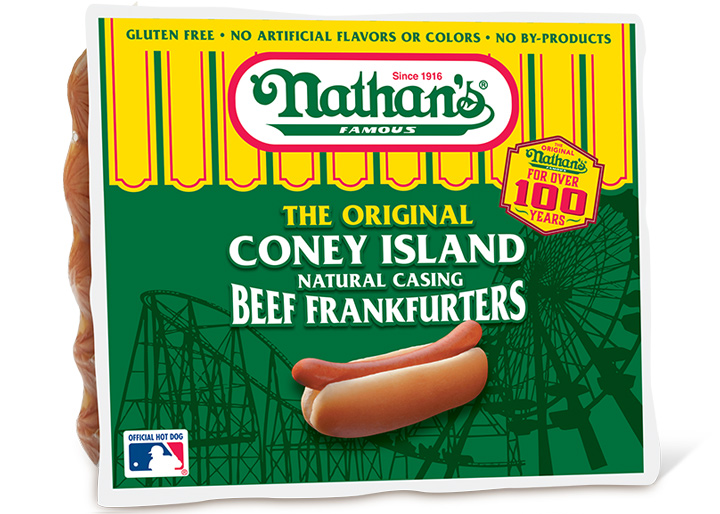 PER SERVING
: One frank: 140 calories, 13 g fat (5 g saturated fat), 480 mg sodium, 1 g carbs (0 g fiber, 0 g sugar), 5 g protein
For starters, this is important to keep in mind: A bare, bunless Nathan's Famous hot dog is made of beef and loaded with 140 calories and 13 grams of fat, plus the other nutrition details above. Delicious? Yes, for many hot dog lovers… but go for a double dog, and you might be pushing half your fat content for the day (as the Cleveland Clinic advises most adults on a 2,000 calorie diet should consume between 44 and 77 grams of fat each day). Be aware that Nathan's, like many hot dogs, contain saturated fat—which some medical professionals say is more toxic than cholesterol.
One more rule of thumb at Nathan's restaurants is that, contrary to what you might think, a "skinless" hot dog actually has about 70 more calories and five more grams of fat than hot dogs listed to have "natural casing."
Our first guess for the worst Nathan's hot dog was wrong.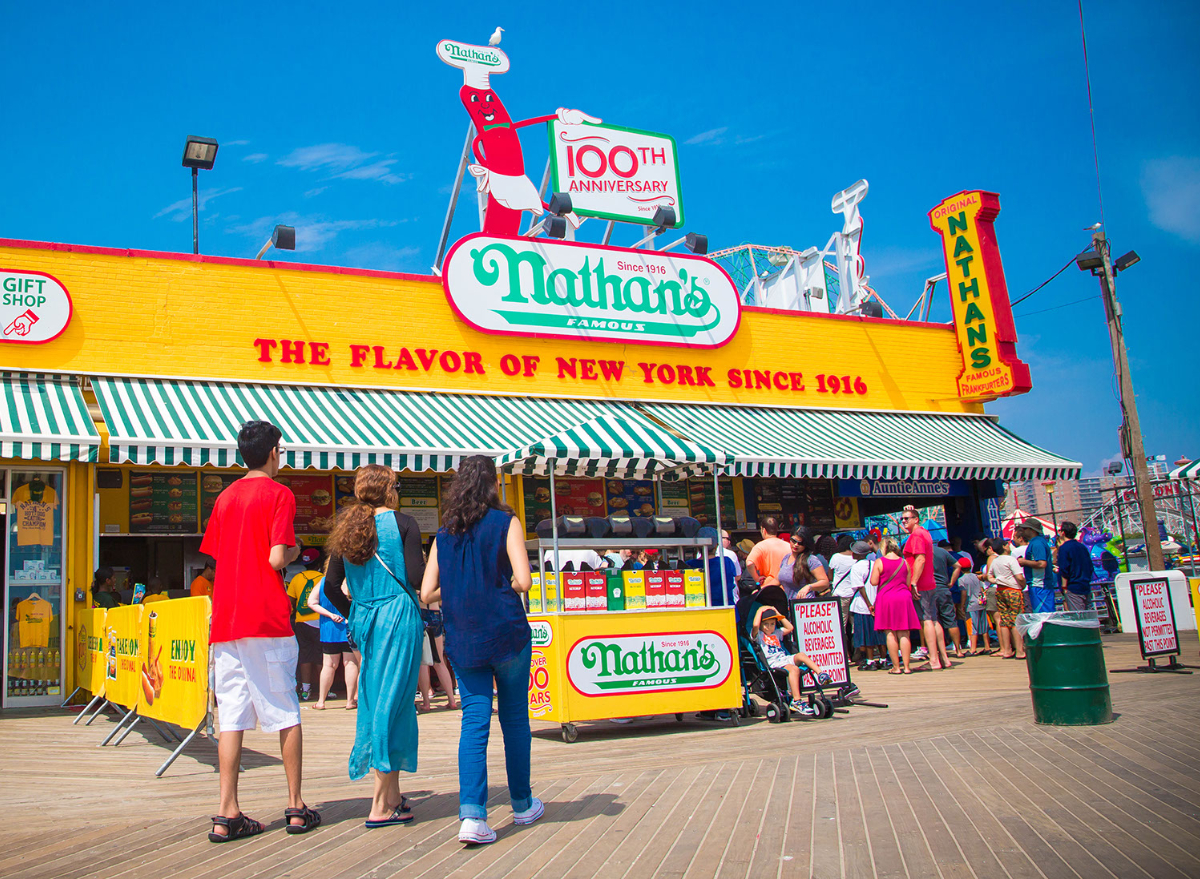 By the way the name sounded in terms of fat, sodium, and calories, we were guessing the worst Nathan's hot dog would have been the Bacon Cheese Dog. Turns out, we were wrong. The Skinless Bacon Cheese Dog packs 520 calories, 33 grams of fat, 12 grams of saturated fat, and 1,840 milligrams of sodium. That's pretty hefty, along with the skinless Tex Mex dog's 770 calories and 50 grams of fat… but these still aren't the worst.6254a4d1642c605c54bf1cab17d50f1e
The #1 worst Nathan's Famous hot dog is…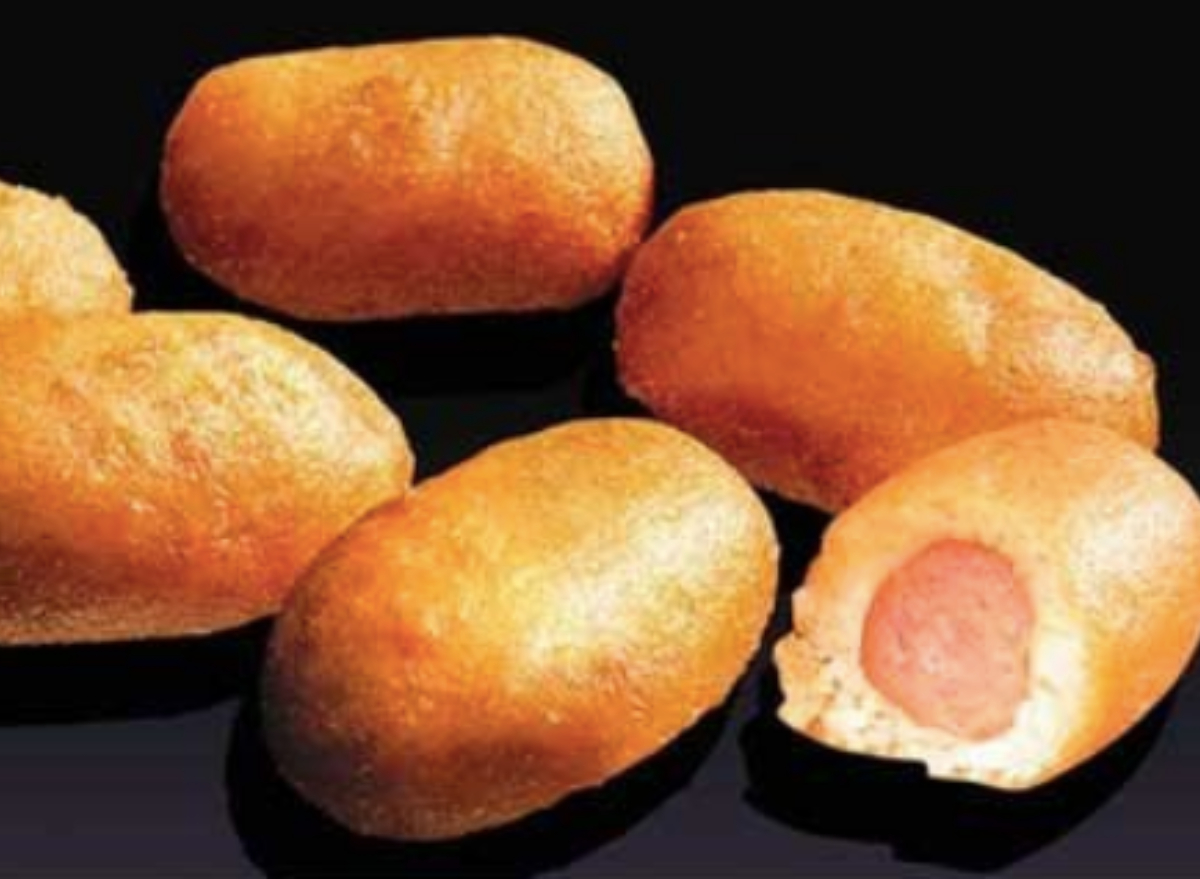 PER SERVING
: 15 pieces: 870 calories, 66 g fat (14 g saturated fat), 1,000 mg sodium, 50 g carbs (0 g fiber, 0 g sugar), 12 g protein
The #1 worst Nathan's Famous hot dog is technically not a hot dog: It's the Nathan's Famous Hot Dog Nuggets. Covered in cornbread batter, these mini-corndogs are available both in Nathan's Famous restaurant locations and grocery stores. Nathan's nutrition info suggests that a 15-piece order of the Nathan's Famous Hot Dog Nuggets weighs in at 870 calories, 66 grams of fat (14 grams saturated fat), 1,000 milligrams of sodium and 50 grams carbohydrates. Definitely not a light treat… fortunately, they come in nine-piece and six-piece sizes, which peel off 350 and 500 calories, respectively.
Not all Nathan's nutrition is old-school.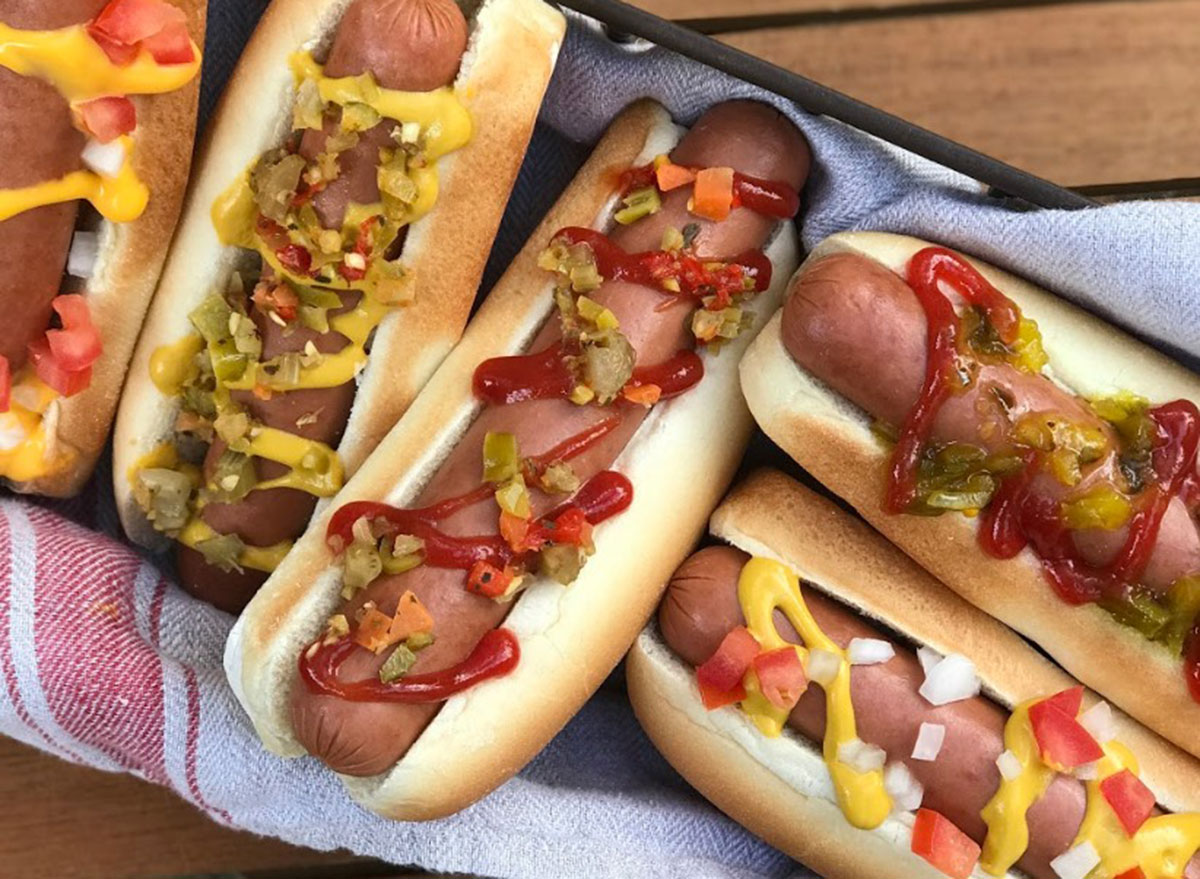 Nathan's history suggests the hot dog eating contest originated in 1916 (the same year the brand was founded) when four immigrants organized their own hot dog eating contest at Nathan's original Coney Island location to determine who was the most patriotic.
More than a century later when many Americans are focused on healthy eating, it's great that the franks franchise recently introduced a vegan Nathan's hot dog. Dialing back on meat has quite a few worthwhile benefits—read One Surprising Health Effect of Not Eating Meat, New Study Says.
Cheer on healthy eating all year long.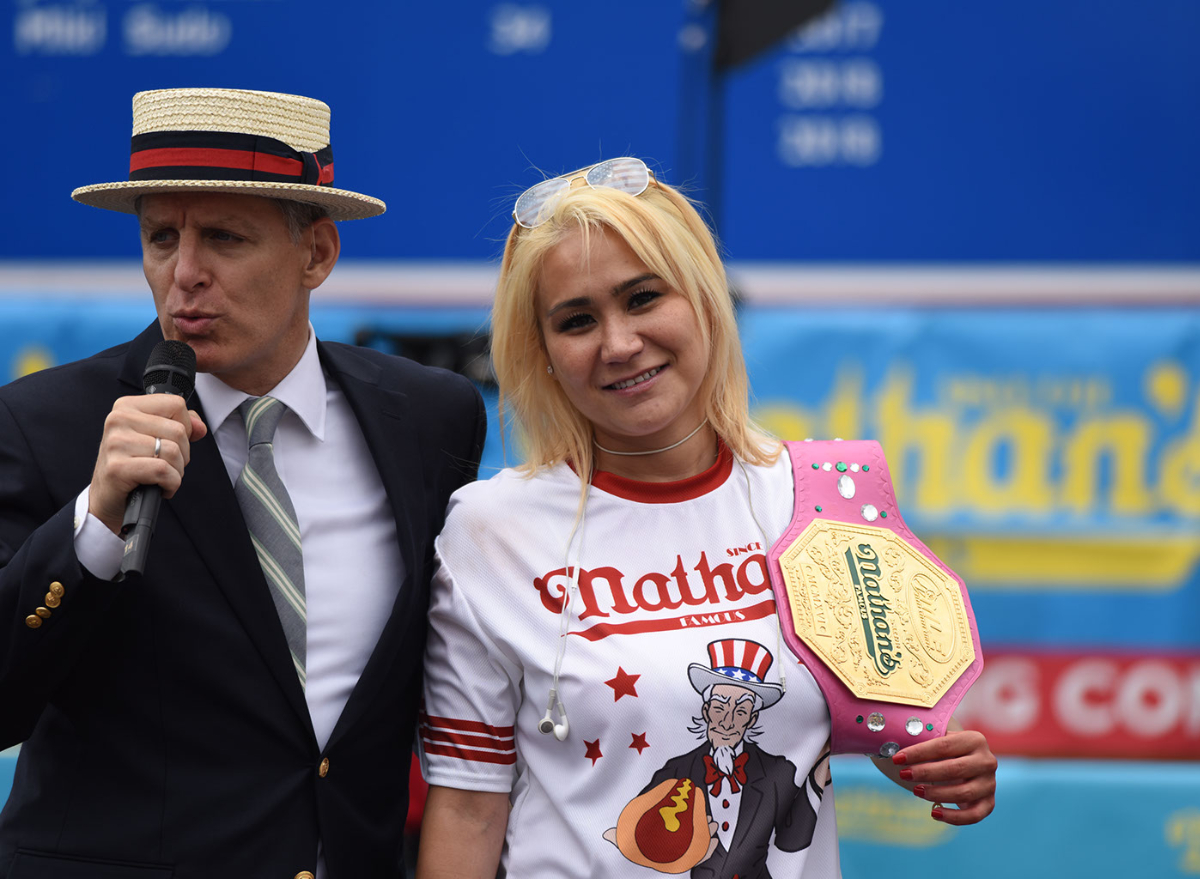 Downing those dogs is all in a day's work for the pros, but probably not something you should try at your own 4th of July picnic (or, pretty much ever). Stay up on health and nutrition news that matters to you by subscribing to the Eat This, Not That! newsletter.
If part of your July 4th tradition is gathering around the TV to cheer on the likes of Joey Chestnut and Miki Sudo, the Nathan's Famous Fourth of July International Hot Dog Eating Contest is scheduled to air live Sunday on ESPN, with pre-show festivities beginning at 11:15 AM. The women's competition begins at 11:45, and the men's competition will start at 12:30 PM.
For more food news on your 4th of July faves, keep reading:
The Most Popular Beer Trends Right Now, Say Experts
Krissy Gasbarre
Krissy is a senior news editor at Eat This, Not That!, managing morning and weekend news related to nutrition, wellness, restaurants and groceries (with a focus on beverages), and more.
Read more about Krissy