One Major Effect of Eating Papaya, Says Dietitian
It's more than just a refreshing snack.
Did you know different parts of your body are constantly in communication with one another to protect you as a whole? For example, when you have an injury or illness, your body communicates by sending healing cells to the injury. This is known as acute inflammation.
However, acute inflammation can be tricky when it turns into something called chronic inflammation, which is when your body thinks it's injured so it keeps sending these cells. In turn, this creates a consistent inflammatory response in the body that can, unfortunately, lead to many types of health complications if it's not dealt with.
Thankfully, making changes to your diet can be one way to lower this inflammation. And interestingly enough, some fruits like papaya come with certain anti-inflammatory nutrients.
"Loaded with nutrients and antioxidants like carotenoids, papaya may help your body fight chronic inflammation," says Amy Goodson, MS, RD, CSSD, LD, author of The Sports Nutrition Playbook, and a member of our medical expert board. Here are the ways papaya can help reduce inflammation in the body, and for more healthy eating tips, check out How to Lower Inflammation Right Now.
The benefits of papaya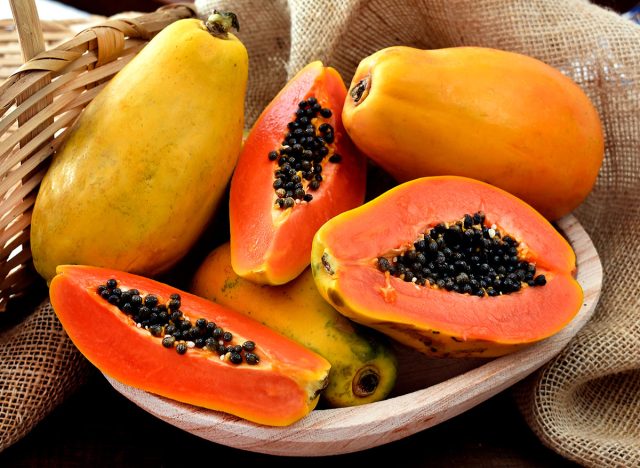 One of the ways papaya can help your body fight inflammation is through the antioxidants it contains.
"Antioxidants help buffer free radicals (aka the bad guys) that cause damage to cells in the body, which can contribute to oxidative stress, which ultimately can lead to disease," says Goodson. "Research suggests the more antioxidant-rich veggies and fruit you eat, like papaya, the more you are likely to help your body fight off inflammation, disease, and illness."
One specific anti-inflammatory nutrient that papaya contains is choline. Choline has many health benefits and is often supplemented to help improve liver health, brain health, and overall cognitive function. One recent study from the journal Brain Research shows that choline can lower inflammation in the body.
Along with choline, papaya also contains beta-carotene and lycopene. B-carotene and lycopene are called carotenoids, which are pigments found in foods like papaya, carrots, and tomatoes and are known to have anti-inflammatory effects.
Interestingly enough, one study published in the British Journal of Nutrition found that the bioavailability of beta carotene and lycopene is stronger in papaya than it is in other sources like tomatoes and carrots.6254a4d1642c605c54bf1cab17d50f1e
What this means for you
As you can see, papaya clearly has many nutrients and antioxidants that make it more than just a delicious snack. If you're looking for a naturally sweet food to incorporate into your diet, this one is a great choice.
While eating nutrient-dense foods like this is important in lowering inflammation, it's important to remember that reducing chronic inflammation requires a process, not just a certain food item.
There are many factors that contribute to inflammation, such as alcohol consumption, processed foods, illness, lack of exercise, and more, so talking with a doctor or dietitian about a lifestyle plan can help you feel prepared in managing it.