Here's One Full Week of Easy Meals You Can Make at Home
You'll only have to shop for ingredients once and cook twice with this convenient meal plan.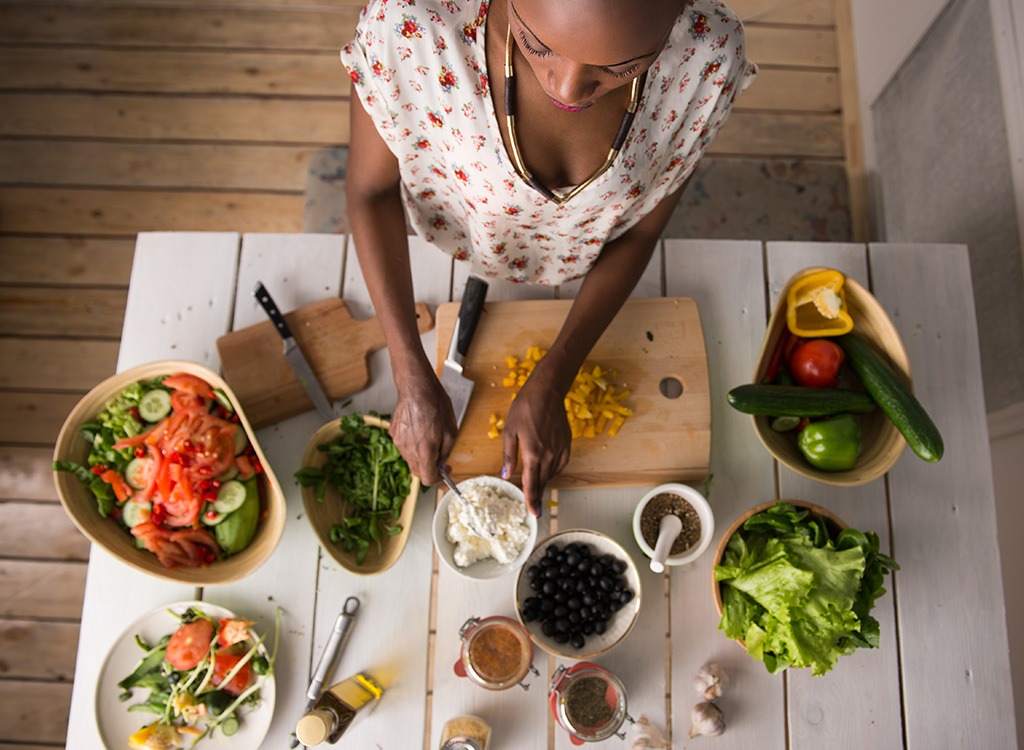 The COVID-19 pandemic is becoming more real in the U.S., which means it's imperative that people start taking self-quarantine seriously. During this time, you'll need to get creative with at-home meals.
To make things easier for you, here's a week's worth of meals you can prep that only require two instances of actual cooking (one on day one, and the second on day four).
Given that you may have minimal access to a grocery store, we suggest checking your pantry and fridge first before buying all of the below ingredients. Once you're all set with those, you can make breakfasts, lunches, and dinners for an entire week.
Here's the menu:
Meal Plan Days 1-3
You'll need:
3 avocados
bag of frozen raspberries
bag of frozen blueberries
carton of cashew milk (or any other milk alternative)
small bag of chia seeds
salt and pepper
12 oz cooked chicken
2 bags of arugula
dried cranberries
goat cheese (or feta cheese)
walnuts
honey mustard vinaigrette
garlic clove
12 asparagus spears
2 portobello mushroom caps
1 red bell pepper
olive oil
olive oil mayonnaise
balsamic vinegar
pack of whole wheat tortillas
Breakfast: Berry Smoothie
What's needed: avocado, frozen fruit, cashew milk (or other milk alternative), chia seeds, salt, ice
This smoothie is a great way to start your day, and you won't have to worry about foods perishing as quickly—seeing as the bulk of this healthy smoothie recipe consists of frozen fruit. It's also likely that you already have a salt shaker lying around as well as a bag of chia seeds. Who said quarantine meals couldn't be refreshing and nutrient-dense?
Get our recipe for The Ultimate Paleo Avocado-Berry Smoothie.
Lunch: Grilled Chicken and Avocado Salad
What's needed: chicken, arugula, dried cranberries, avocado, crumbled goat cheese, walnuts, honey mustard vinaigrette
Since you'll be staying inside and not commuting, you probably won't be moving around as much. It's important that you remain conscious of how many calories you're putting in versus how much you're expending to avoid weight gain. A healthy, satiating salad makes for a perfect midday quarantine meal. The protein from the chicken and the healthy fats from the avocado and the vinaigrette will help you stay full.
Get our recipe for Grilled Chicken and Avocado Salad. 
Dinner: Grilled Vegetable Wraps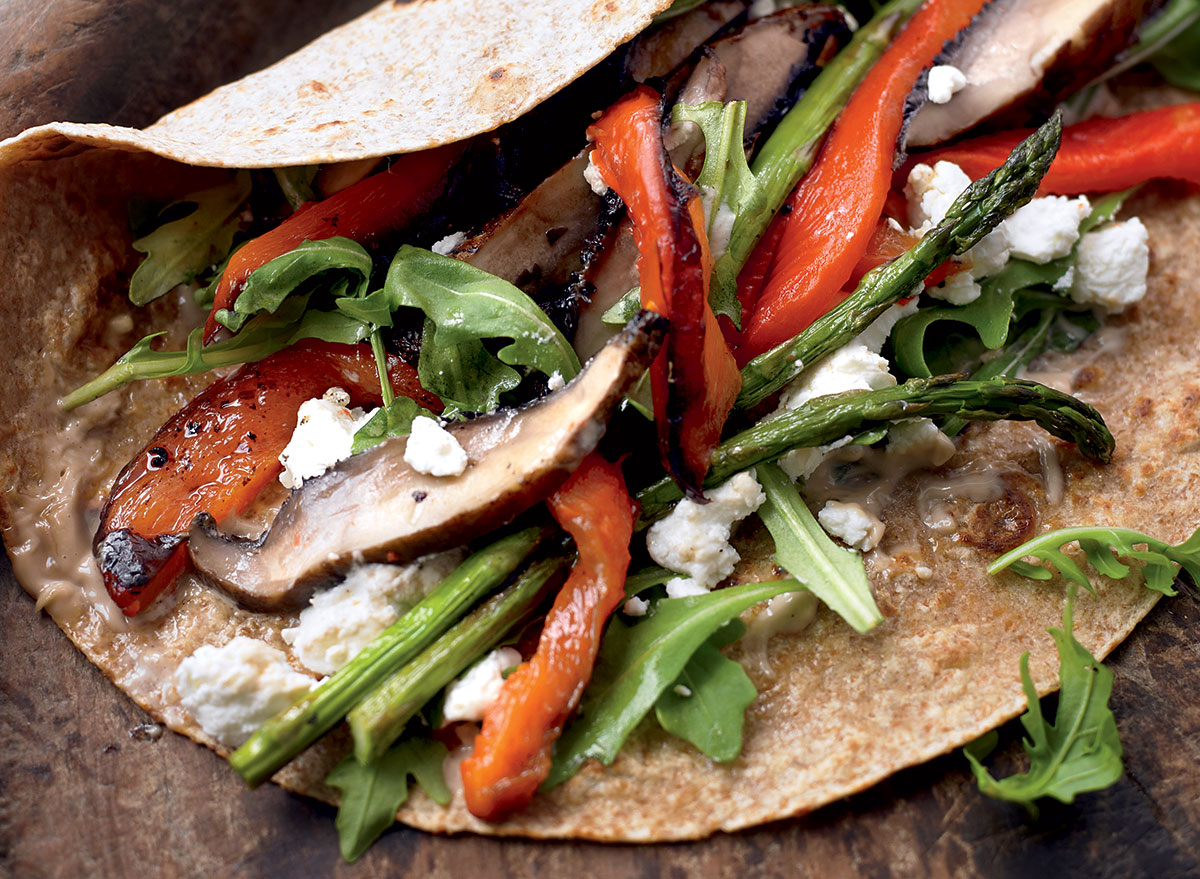 What's needed: asparagus, portobello mushroom caps, red bell pepper, olive oil mayonnaise, balsamic vinegar, garlic clove, whole wheat tortillas, arugula, goat cheese (or feta cheese)6254a4d1642c605c54bf1cab17d50f1e
Since you already had meat for lunch, consider opting for something that's filled with nutritious veggies. You'll still fill full with the cheese and the balsamic, olive oil mayonnaise. This is a delicious, light dinner that will keep you energized without feeling overstuffed. Also, note that this recipe will make four servings, so one another night this week, feel free to treat yourself to another serving.
Get our recipe for Grilled Vegetable Wrap With Balsamic Mayo.
Meal Plan Days 4-7
You'll need:
red-skinned potatoes
shallot
eggs
shredded smoked Gouda cheese
2 percent milk
ham
frozen chopped broccoli
baguette
garlic clove
heirloom tomatoes
fresh mozzarella
basil leaves
2 pounds of chicken legs or thighs
4 cups of broccoli florets
2 sweet potatoes
BBQ sauce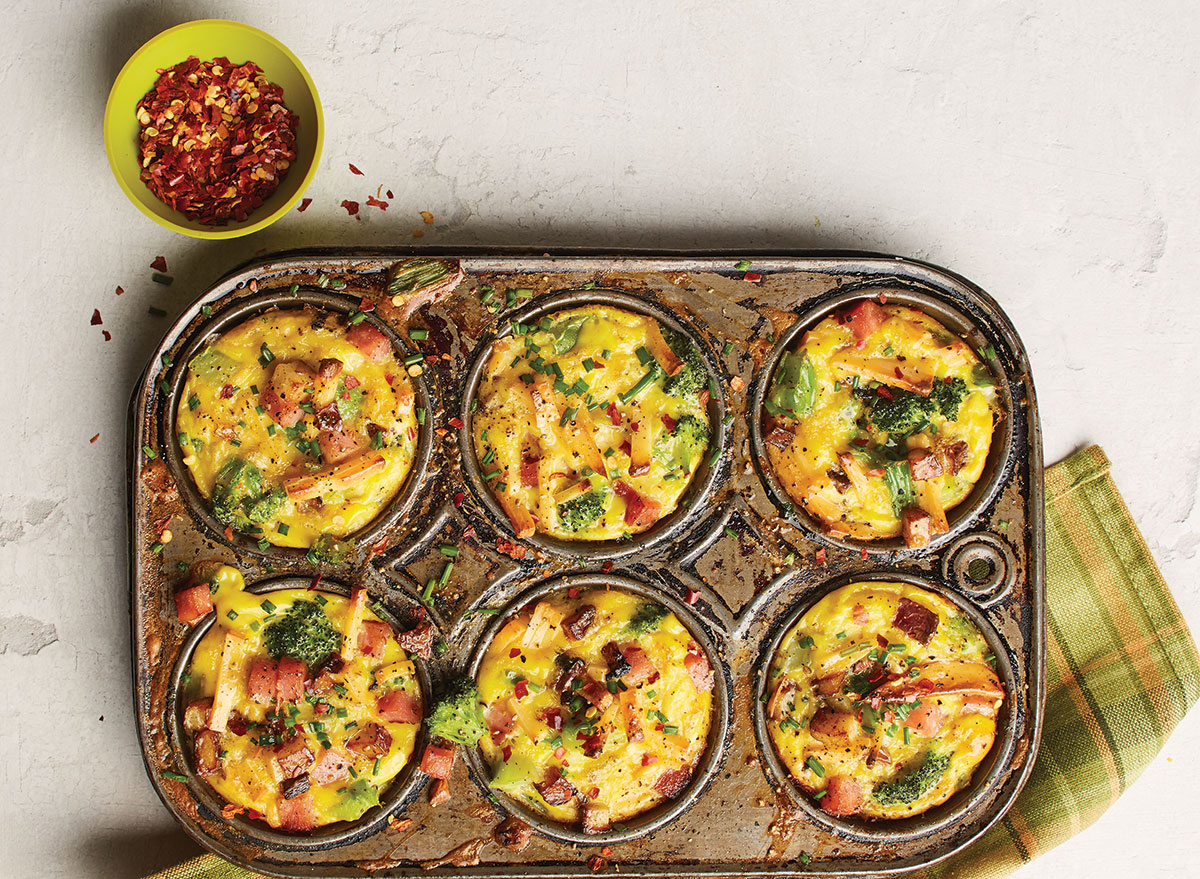 What's needed: red-skinned potatoes, shallot, eggs, gouda cheese, 2 percent milk, iced ham, frozen chopped broccoli
Instead of making muffins, which are loaded in carbs and sugar, fill those muffin tins with the ingredients to make mini quiches. This recipe will make six cups, so you can enjoy one a day over the next four days, or have one as a snack. This savory breakfast idea will surely keep you full and satisfied until lunch.
Get our recipe for Healthy Muffin-Tin Quiches With Smoked Gouda and Ham.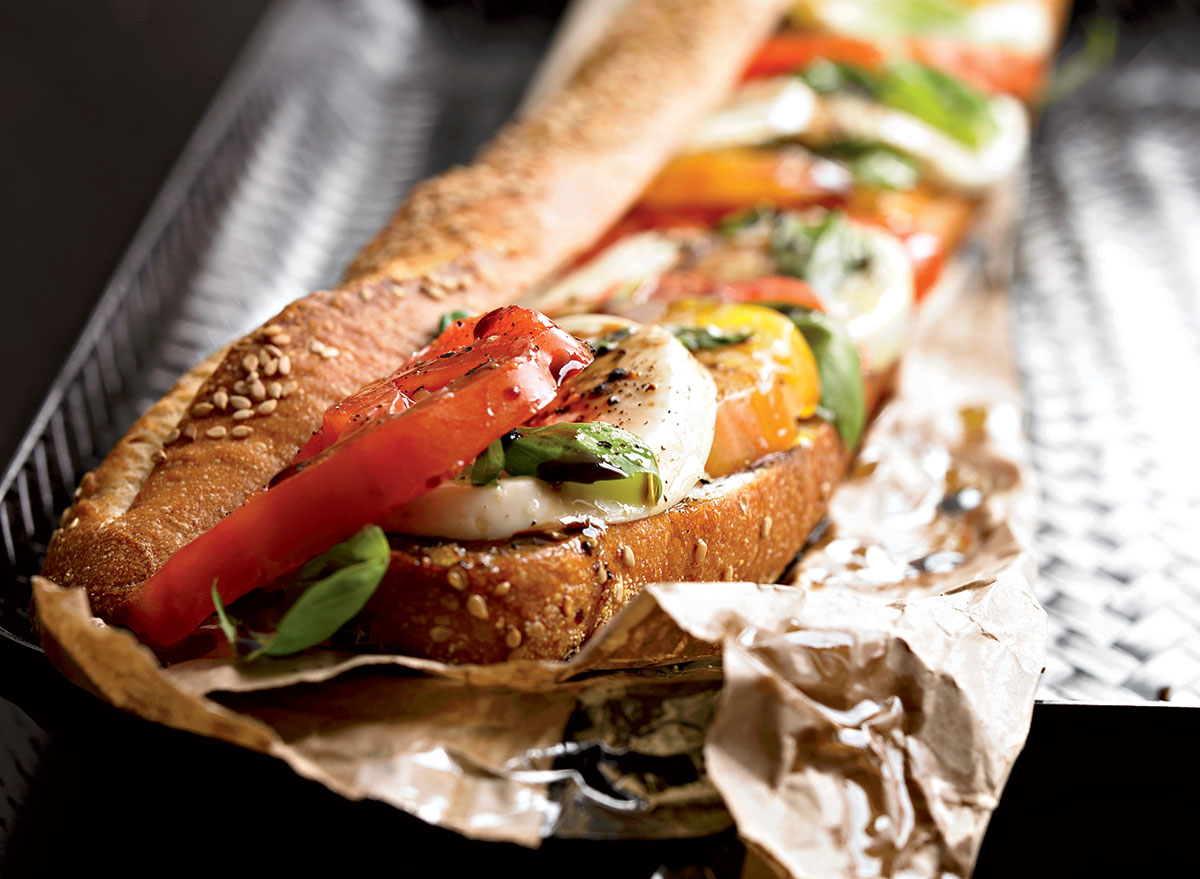 What's needed: baguette, garlic clove, heirloom tomatoes, mozzarella, basil leaves, balsamic vinegar
Imagine having a portion-controlled, toasted Caprese sandwich four days in a row. What better way to stay warm than toasting some fluffy bread under the broiler and layering slices of fresh heirloom tomato and mozzarella on top? Also, you'll already have olive oil, salt, black pepper, and balsamic vinegar from your first batch of recipes. Enjoy this light, yet filling sandwich that will no doubt spruce up your quarantine meals.
Get our recipe for Caprese Sandwich.
Dinner: BBQ Chicken with Veggies
What's needed: chicken legs or thighs, broccoli florets, sweet potato, BBQ sauce, olive oil
Make great use of your remaining ingredients with a sheet pan dinner. You can cook your whole meal on the same pan, and it only requires five ingredients! It's simple to prepare and make—start to finish.
Get our recipe for 5-Ingredient BBQ Chicken Sheet Pan Dinner.
Cheyenne Buckingham
Cheyenne Buckingham is the news editor of
Read more
More content from
Recipes