Eat These Popular Costco Foods for a Flat Belly, Say Dietitians
Feeling a little bloated lately? These foods can help!
We get it—sometimes, you just feel a little bloated. Whether it be from consuming inflammatory foods or having issues with your gut health, having a bloated belly can feel massively uncomfortable. That's why having a few foods to help decrease the belly bloat and give you a flat belly is important to have on hand. Especially if some of those foods can be found at one of your favorite retailers—Costco!
We spoke with a few registered dietitians in order to determine which Costco foods to buy. Whether you need to decrease belly bloat or simply keep that belly fat, here's what they recommend buying, and for even more Costco shopping tips, be sure to check out our list of the Costco Foods You Should Always Avoid, According to Nutritionists.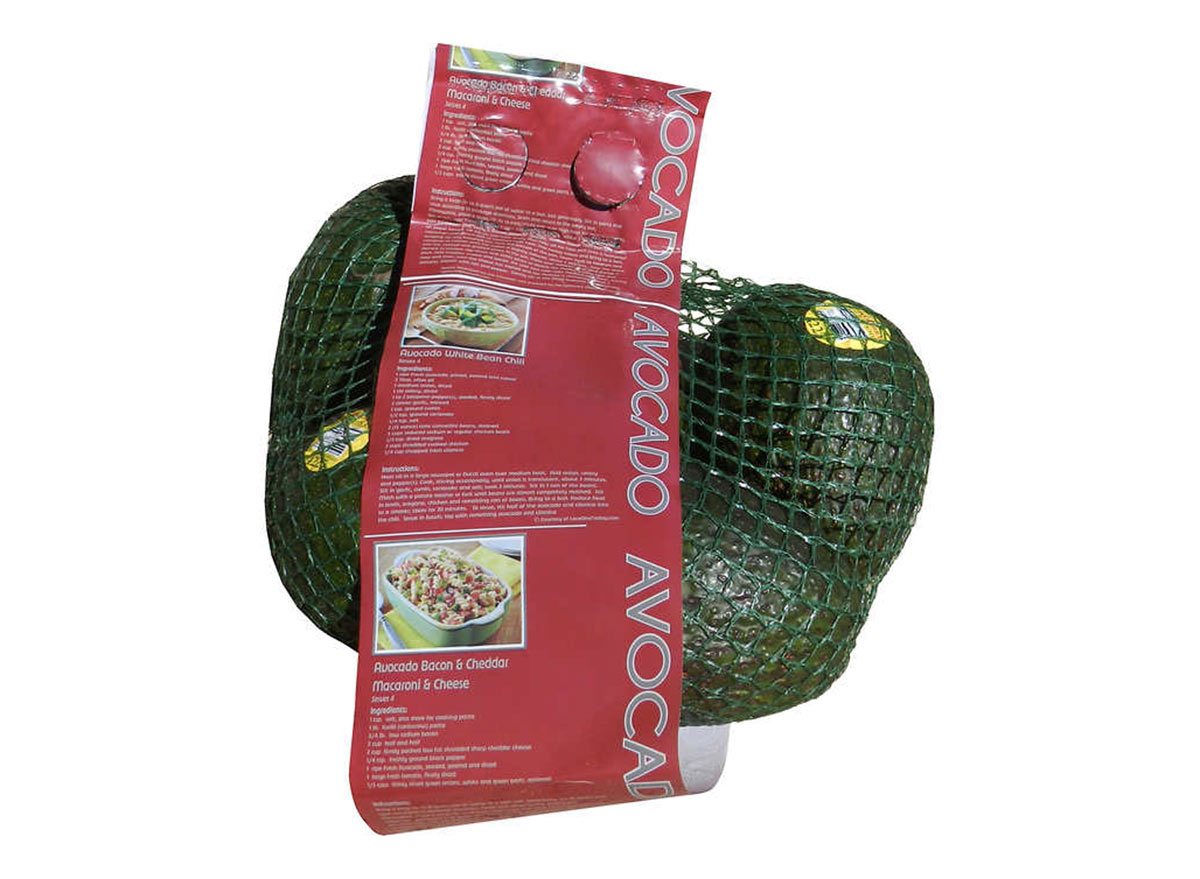 "You can find bags filled with multiple avocados at Costco," says Mackenzie Burgess, RDN, registered dietitian nutritionist and recipe developer at Cheerful Choices. "One medium avocado packs in about 760 grams of potassium which provides over 20% of our recommended daily intake. Consuming potassium-rich foods is important because potassium helps regulate our fluid balance, and can help decrease water retention. If you end up with extra avocados on their last leg, try mashing and adding to healthier truffles."
Here are 8 Avocado Health Benefits That Prove It's a Perfect Weight Loss Food.
"When it comes to the meat section, many products are filled with excess sodium or unfamiliar food additives that can lead to unwanted bloating," says Burgess. "Instead, one of my favorite finds at Costco are Teton Waters Ranch Polish Sausages. These sausages have real ingredients you can pronounce and contain less sodium and saturated fats than most options. Try pairing with roasted sweet potatoes or zucchini noodles for a satisfying dinner."
Bob's Red Mill Oatmeal Cups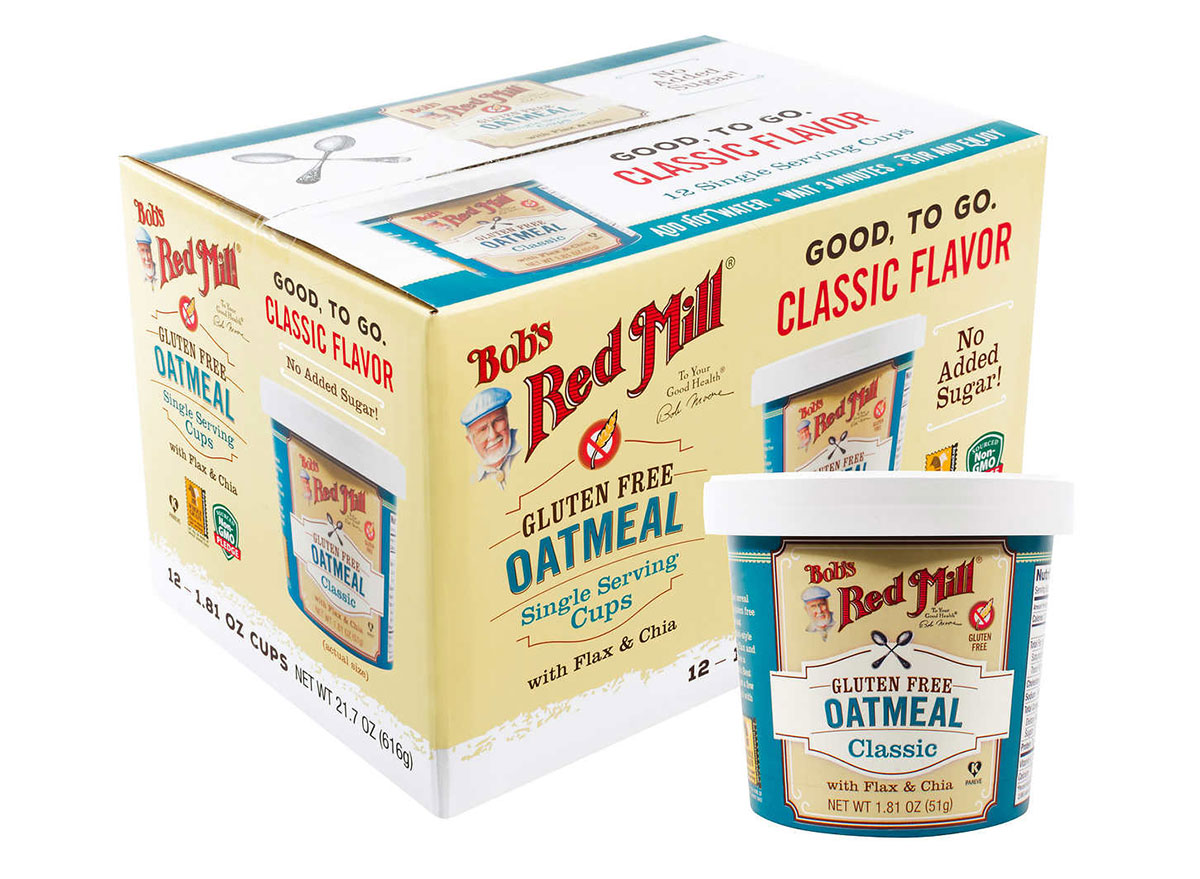 "Take the fuss out of making your own oatmeal and opt for these single serving oatmeal cups that are ready to go," says Burgess. "I love grabbing Bob's Red Mill oatmeal cups because they are filled with clean ingredients and pack in 7 grams of dietary fiber per oatmeal cup. This fiber keeps our digestive system moving and may help reduce belly bloat."
Along with these oatmeal cups, here are The Best Oatmeals You'll Find at Costco.
Amy's Organic Lentil Soup, Low Sodium, 8-Pack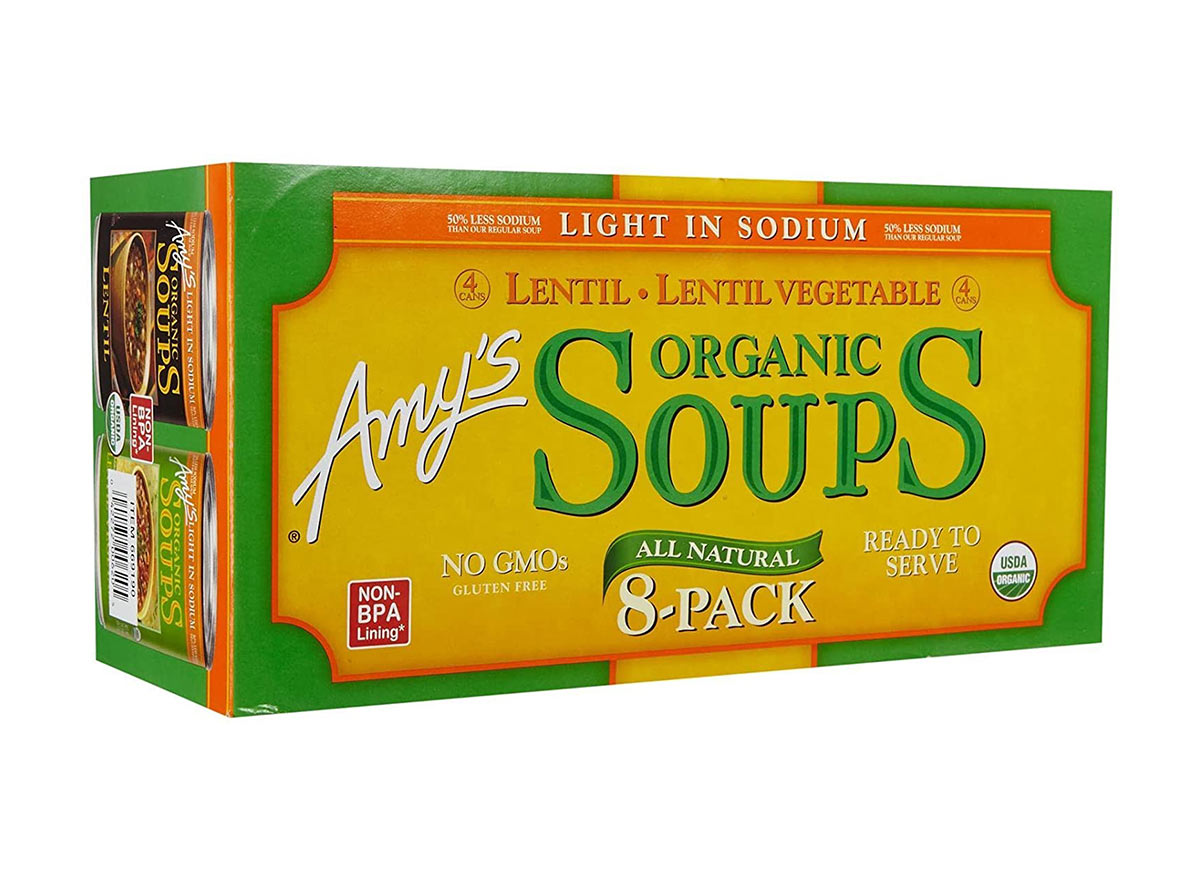 "It comes with four plain and four cans with veggies added,""says Lisa Young, PhD, RDN is the author of Finally Full, Finally Slim, and adjunct professor of nutrition at NYU. "It is a good source of fiber and protein, great for reducing belly fat. It makes a great snack or a quickie lunch."
Costco's Mini Guacamole, 100 Calorie Packs
6254a4d1642c605c54bf1cab17d50f1e
"These come in the perfect portion so you don't overdo this yummy healthy spread," says Young. "Guacamole is rich in monounsaturated heart-healthy fat which may help to reduce belly bloat."
Or use your bag of avocados and make this Easy Guacamole Recipe yourself!
Kirkland Signature Snacking Nuts
"To help reduce bloating, make sure you consume plenty of fiber along with lots of water," says Amy Goodson, MS, RD, CSSD, LD, author of The Sports Nutrition Playbook. "Fiber helps push 'stuff' through your system and can help you from feeling bloated. Snack time can be a great place to get more fiber in your day and Kirkland Signature Snacking Nuts are the perfect option. Individually packaged, you can throw these bags of nuts in your desk, purse, or computer bag and have a pop of fiber any time of day to help keep 'stuff' moving through your gastrointestinal tract!
Here are 5 Major Side Effects Of Not Getting Enough Fiber, Says Science.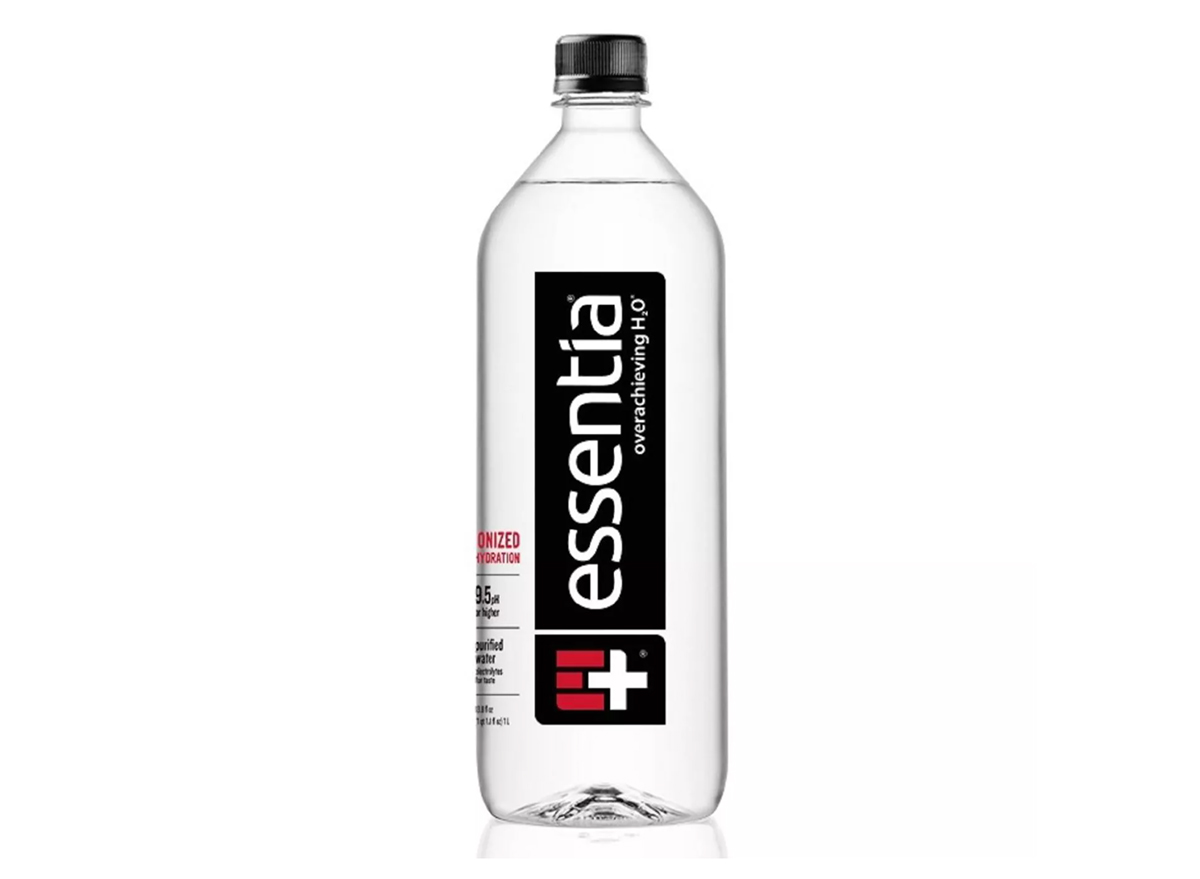 "Water has a positive effect on metabolism, satiety, and overall hydration, which can support weight loss," says Jessica Bippen, RD for Essentia Water. "Water may help fill you up—as thirst can often be confused with hunger—especially if you drink it before eating a meal. (A small study of 15 young, healthy participants that was published in October 2018 in Clinical Nutrition Research). I feel hydrated, energized, and mentally sharp. Plus, it's the purest tasting water so it makes staying hydrated enjoyable."
Did you know drinking water is a better cleanse for your body than juice? Here's The One Detox Myth You Need To Stop Believing, Says Dietitian.
Get even more healthy eating tips straight to your inbox by signing up for our newsletter! After, read these next: