Popular Walmart Foods That Help You Lose Weight, Say Dietitians
Stock up on these foods on your next Walmart run for easy, healthy meals!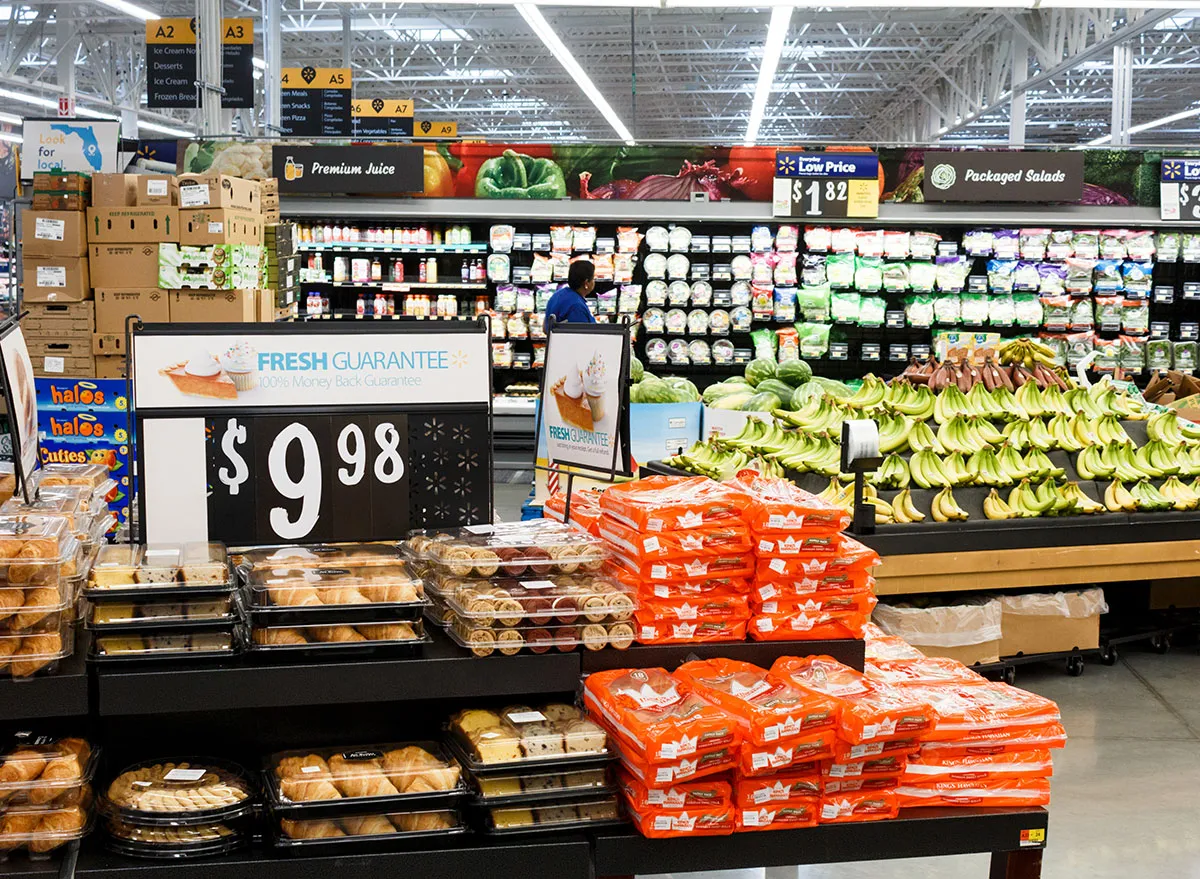 If you've been sleeping on Walmart's grocery section, it's time to wake up. While Walmart is a popular retailer for all kinds of products—like sporting equipment, clothes, entertainment centers, and even home decor—it is also well known for having an extensive grocery section. Walmart's Supercenter contains all of the grocery products you could possibly need—including a few popular Walmart foods that can help you lose weight!
If you find yourself perusing Walmart's grocery aisles with no idea what healthy foods to buy, never fear—dietitians are here! We spoke with a few registered dietitians to determine some of the best popular Walmart foods you can buy that will not only help you lose weight, but will also keep your body feeling healthy and happy throughout the week.
Here are the popular Walmart foods dietitians recommend, and if you're looking for even more healthy grocery shopping tips, be sure to check out our list of the 6 Best Groceries To Buy At Walmart Right Now.
Crazy Richard's Peanut Butter
"If you're looking for simple swaps to save on calories, consider switching your regular peanut butter to powdered form," says Mackenzie Burgess, RDN, registered dietitian nutritionist and recipe developer at Cheerful Choices. "I recommend trying out Crazy Richard's Peanut Powder because it contains all the satisfying protein (6 grams per serving) while slashing the calories and fat. I also love how their products contain just one ingredient–peanuts! If you find yourself still craving regular peanut butter, that's fine too. Just be sure to keep the serving size to around 2 tablespoons since it's a calorie-dense food."
Here are 14 Best Ways to Save Money at Walmart.
Cali'flour Foods Pizza Crusts
"Cauliflower is the latest trending food for a reason. It's low in calories while being high in important nutrients like vitamin C, folate, and calcium," says Burgess. "These Cali'flour Foods Pizza Crusts are the perfect find for someone looking to sneak more veggies into mealtime. These crusts are made from real ingredients you can pronounce–mozzarella, egg whites, cauliflower, and spices. Plus, they're packed with protein and fiber to help you feel fuller longer."
Snyder's of Hanover 100 Calorie Variety Pack
6254a4d1642c605c54bf1cab17d50f1e
"While pretzels aren't the perfect weight-loss-friendly food, allowing yourself a 100 calorie pack when you have a craving can actually be a good thing," says Lisa Young, PhD, RDN is the author of Finally Full, Finally Slim, and adjunct professor of nutrition at NYU. "Entirely depriving yourself can backfire and these small tasty 100-calorie packs are perfect for portion control while allowing you to enjoy a treat."
Quaker Rice Cakes – Chocolate or Lightly Salted
"These [rice cakes] are a weight-friendly food," says Young. "They are low in calories and the lightly salted taste great with hummus or avocado spread. The chocolate flavor tastes great with a teaspoon of peanut butter. This combo can tide you over if you are hungry and need a snack."
Great Value Quick Cook Steel Cut Oats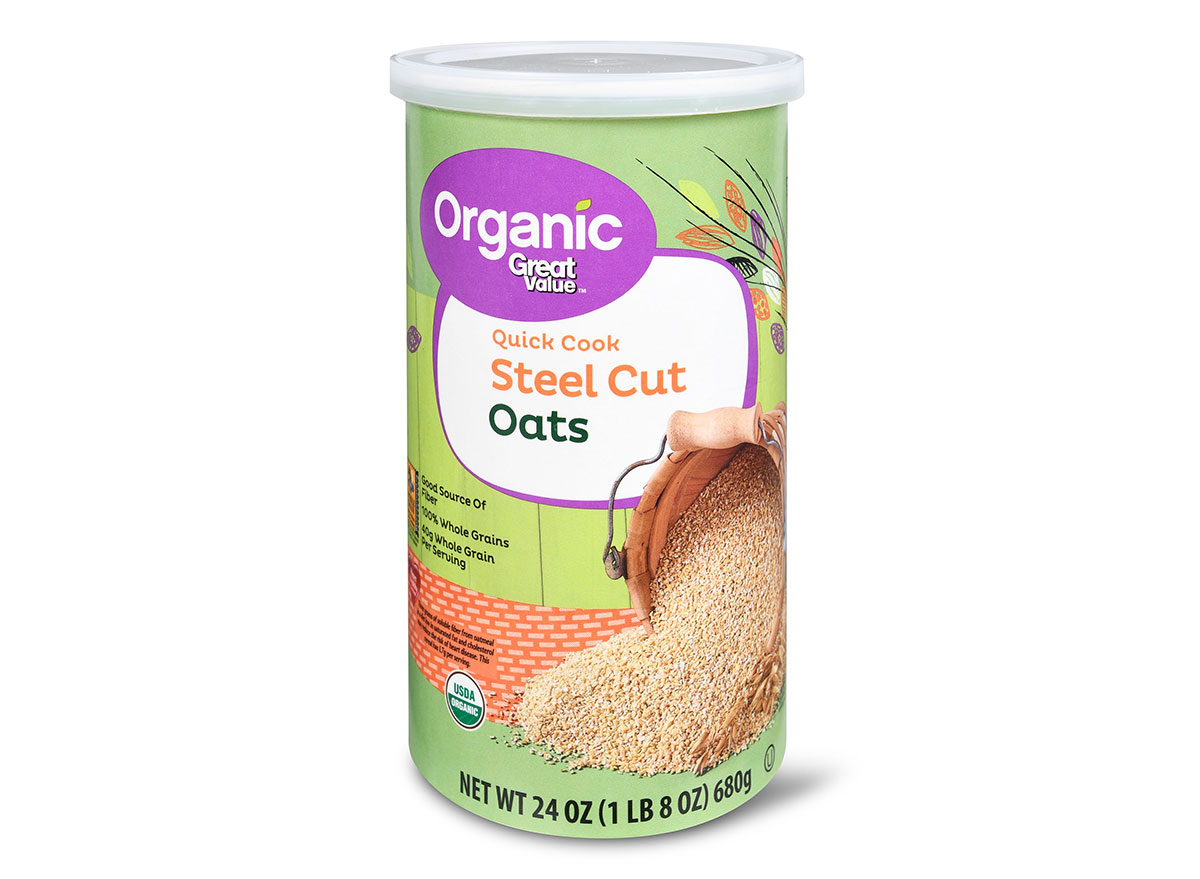 I am a registered dietitian that's all about fiber because it helps you get full faster and keeps you full longer after meals, which ultimately can help with managing hunger cues and weight loss," says Amy Goodson, MS, RD, CSSD, LD, author of The Sports Nutrition Playbook. "Walmart offers Great Value Quick Cook Steel Cut Oats! Not only do you get the nutty flavor of the steel cut oats, but this is a great way to amp up the fiber in your morning! Fiber plays a role in gut health and heart health, so definitely a must for helping you lose weight."
Here's why fiber is considered the The #1 Thing To Eat Every Day To Lose Weight For Good.
Great Value Peanut Butter Dark Chocolate Protein Granola Bars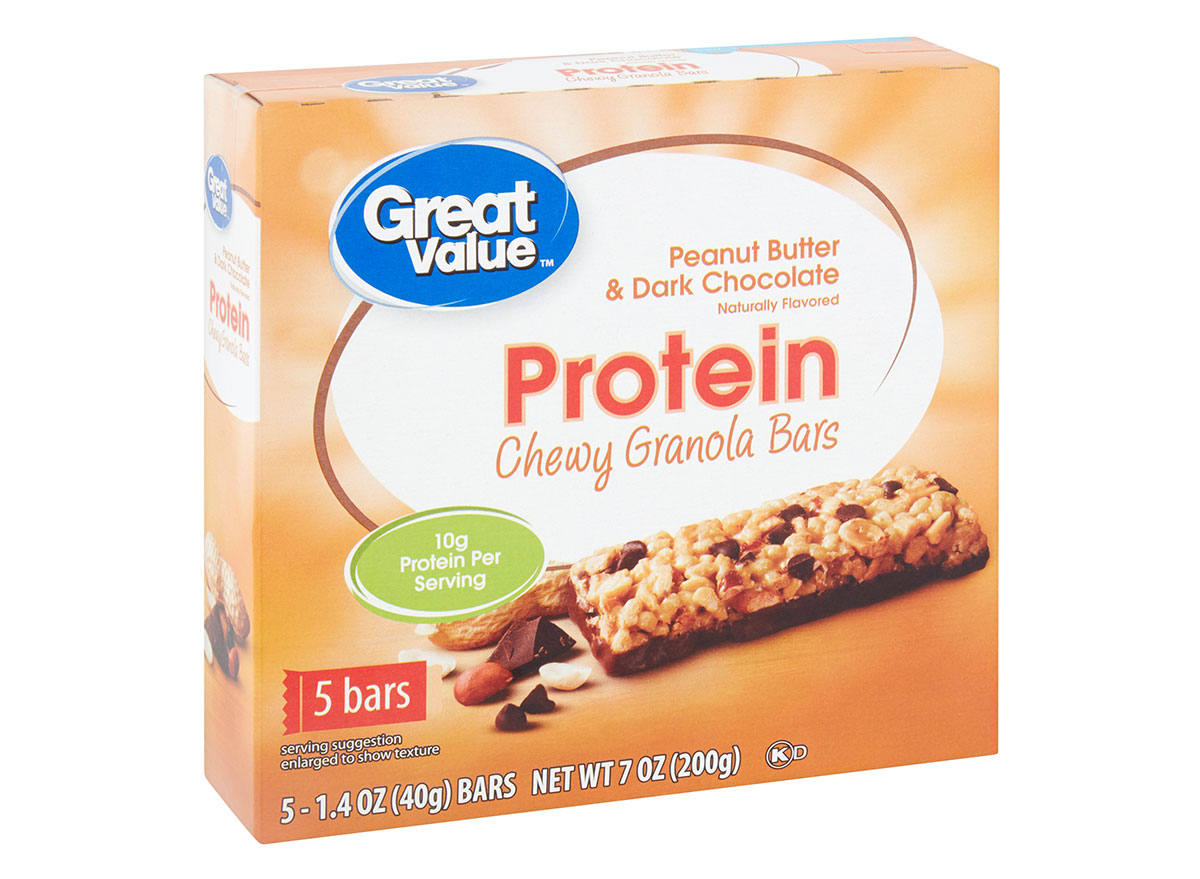 "One of the keys to weight loss is not letting yourself get too hungry! That means nutrient-rich snacks are essential," says Goodson. "Walmart offers Great Value Peanut Butter Dark Chocolate Protein Granola Bars—with 10 grams of protein each, this is the perfect snack to stash in your desk or throw in your purse for a day out. Protein helps you get full faster and stay full longer, which can help you not get as hungry at the next meal."
Yasso Frozen Greek Yogurt, Fudge Brownie Bars, 4 Count
Looking for a sweet treat? These Yasso Greek Yogurt Fudge Bars will satisfy your sweet tooth while not overdoing it on the calories!
"There are many Yasso flavors like chocolate chip cookie dough, sea salt caramel, or plain fudge. But the taste of fudge brownie is on top," says Shannon Henry, RD with EZCare Clinic. "With 100 calories a bar, with five grams of protein, you can't beat this as a snack."
Cool Whip Lite Whipped Topping, 8 oz Tub
"Fruits and vegetables are your healthiest food option," says Henry. "Not everyone likes a large bowl of fruit. If you need extra sugar without adding added sugar to your fruit, you can choose the Lite Cool Whip. The cool whip is actually healthy, and it contains only 20 calories per serving, has 50% less fat than other whipped topping, and you can add it to your diet while reducing weight."
"With 9 to 10 grams of protein and zero grams of sugar per stick, Chomps make for a great high protein snack that is great for on-the-go or work from home," says Maggie Michalczyk, RDN from Once Upon a Pumpkin. "Choosing high protein snacks with no added sugar like these is important when trying to lose weight because they will help keep you fuller for longer and hopefully prevent mindless munching that can add up to a lot of extra calories consumed. Chomps are also paleo, Whole30 approved, keto certified, and free from all 9 major allergens."
You may also like these 35 Best Store-Bought High-Protein Snacks.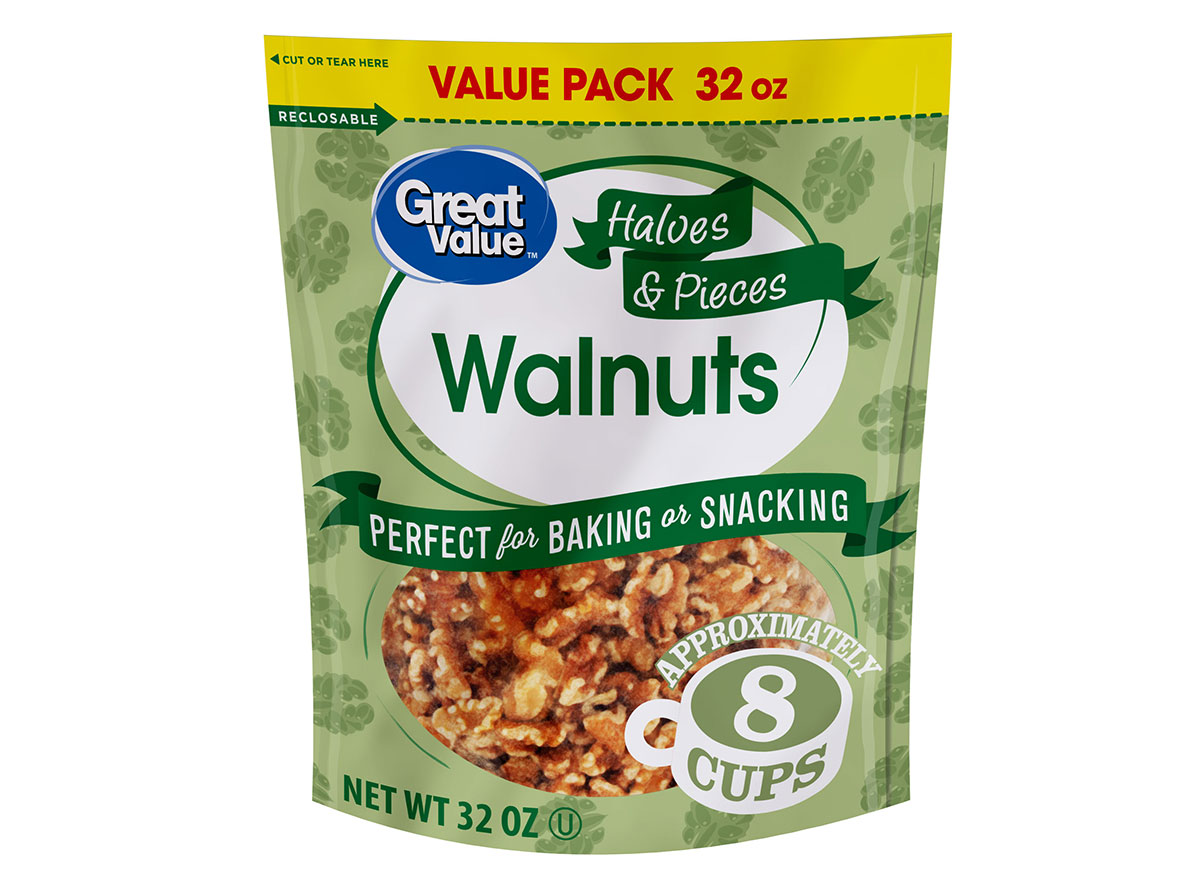 "A handful of walnuts is a simple snack that can keep you full and satisfied thanks to a combination of key nutrients including plant-based protein, fiber, and good fats including polyunsaturated fats like omega-3," says Michalczyk. "Walnuts offer nutrients that help you feel full and satisfied, which can play a role in how much you eat and promote weight management. Toss them on to a salad, in a smoothie, or in a homemade trail mix."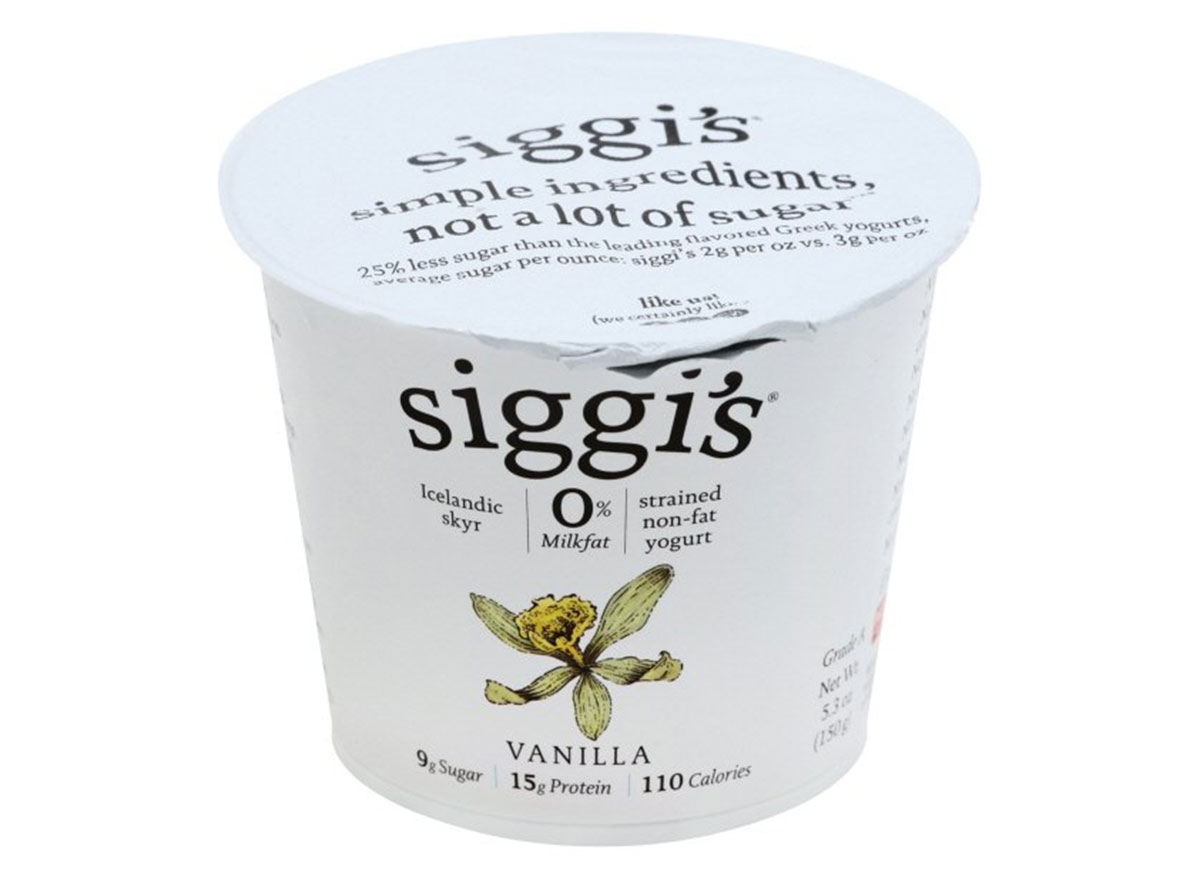 "Siggi's is a great low sugar, high protein yogurt option," says Michalczyk. "Many yogurt options in the dairy aisle can contain as much sugar as dessert, which is why it's important to read the label. Choosing a higher protein option like Siggi's can help you stay fuller for longer, which can be helpful when it comes to losing weight. I recommend adding some fruit on top and a drizzle of honey."
Get even more healthy tips straight to your inbox by signing up for our newsletter! After, read these next: