7 Best Snacks to Buy at Sam's Club Right Now
From sweet to salty, the warehouse has something for every kind of snacker—but most of these won't last long!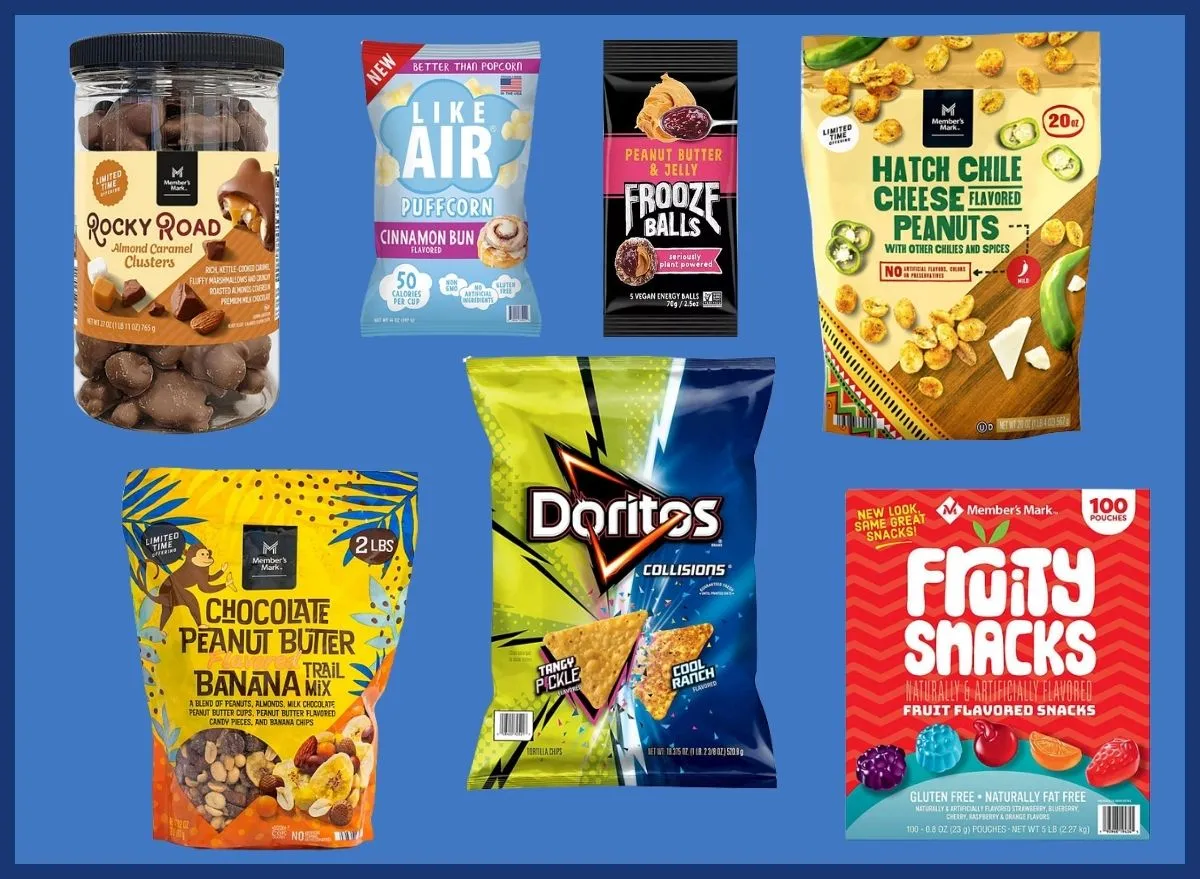 The product recommendations in this post are recommendations by the writer and/or expert(s) interviewed and do not contain affiliate links. Meaning: If you use these links to buy something, we will not earn a commission.
Summer activities can be thirsty work—but also hungry work. Nothing pairs better with a dip in the pool than a side of chips and dip. Munching on some fruit or veggies on the beach is a must. And a long evening walk wouldn't be complete without an ice cream cone to top it off.
You have plenty of options when it comes to where to buy these must-have summer snacks. But one of the best places to go to stock up on all your sweet and salty munchies is a wholesale store like Sam's Club. The larger, bulk purchases at the warehouse mean fewer trips to the grocery and more fun and the sun. Not to mention, Sam's Club currently has a wide assortment of brand-new and beloved classic snacks on its shelves.
Check out which picks Sam's Club members are stocking up on right now. But beware, some will only be available for a limited time–so remember to swing by the club sooner rather than later!
Doritos Collisions
If your family can never decide on just one flavor of chips, then you're in luck. Sam's Club is now carrying Doritos' latest crunchy creation, which combines two tastes of timeless Cool Ranch with Tangy Pickle within one shareable bag.
The marriage of these two flavors is fittingly bold, but according to Sam's Club foodies, it's a match made in heaven. Erika, who runs the Instagram account @samsclubfoodreview, posted that the pickle-flavored triangles "hit the mark perfectly in terms of flavor." She goes on to add that, "then, the Cool Ranch chips come in, adding another layer of flavor that surprisingly complements the subtle dill pickle taste."
Grab a 1-pound bag for $4.48 at the warehouse to fuel your next summer adventure.
Fruity Snacks
Fruit snacks are one thing you can always count on to appeal to kids and adults alike. And with no fat, dairy, or gluten, these from Member's Mark are a solid choice.
These Fruity Snacks come in packs of 100–yes, that's right, 100–in juicy strawberry, blueberry, cherry, raspberry, and orange flavors. Erika from @samsclubfoodreview rates the gummy bites a flawless 10 out of 10, noting that "the texture of these gummies is just right—neither too firm nor too chewy. They'll undoubtedly have you reaching for more than just one bag."
Others were in agreement in terms of the texture, saying the fruit snacks don't get stuck to your teeth like other brands. Plus, the price is right at $9.98 per 100-count box, or just $0.10 per pouch!
Chocolate Peanut Butter Banana Trail Mix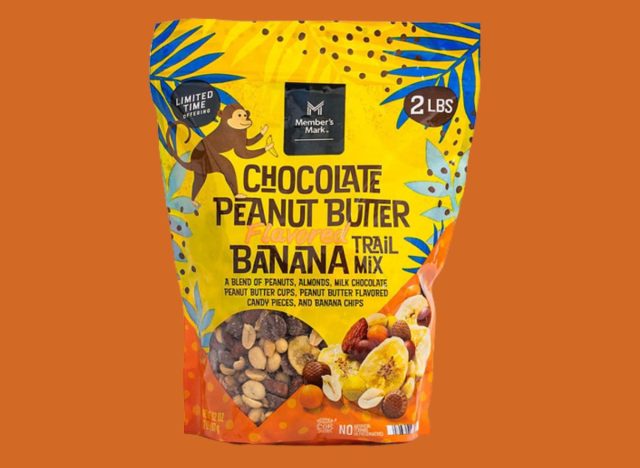 The perfect companion for your summer hikes awaits. On Instagram, fans are calling the Chocolate Peanut Butter Banana Trail Mix by Member's Mark (Sam's Club's store brand) "delicious," "very yummy," and the "best mix ever!"
Another member commented on an @samsclubmembers post about the product saying, "It's soooo good! Ours accidentally melted in the car and it was even better"—sounds like the perfect happy accident!
This co-mingling of peanuts, almonds, peanut butter cups, peanut butter candy pieces, and banana chips can be found in 2-pound bags for $9.98 at Sam's Club for a limited time.
Frooze Balls
The name of this new Sam's Club snack alone has us intrigued. But what has most people talking about Frooze Balls is the fact that the poppable treats are made from plant-based protein and are packed with all-natural, recognizable ingredients. Not to mention they are also preservative-free, non-GMO, vegan, gluten-free, dairy-free, and contain no added sugars.
The bite-sized orbs come in packs with two different dual flavors. One is a nostalgic peanut butter and jelly fusion; the other mixes caramel chocolate and peanut butter. And reviews say that both options are as filling as they are tasty.
Healthy snackers can find boxes containing six pouches—with five energy balls each—at Sam's Club warehouses priced at $9.98 a pop.
Like Air Cinnamon Bun Puffcorn
Nothing beats the smell of fresh cinnamon rolls wafting through the kitchen in the morning. Except maybe this puffcorn, which you can eat all day long since it contains only 50 calories per cup. The cinnamon bun flavor is one of the newest for the Like Air puffcorn brand, and it's already popping off with Sam's Club members.
Reviews reveal that it's dangerously addictive and that each kernel practically melts in your mouth. On the product page, one customer adds, "​​Cinnamon bun puffs, so soft, fluffy, yummy, and I want more, now! Sam's Club – PLEASE RESTOCK QUICKLY!"
Find the 14-ounce bags priced at $5.98 at Sam's Club for just a limited time—unless persistent members get their way and it sticks around for longer.
Hatch Chile Cheese Flavored Peanuts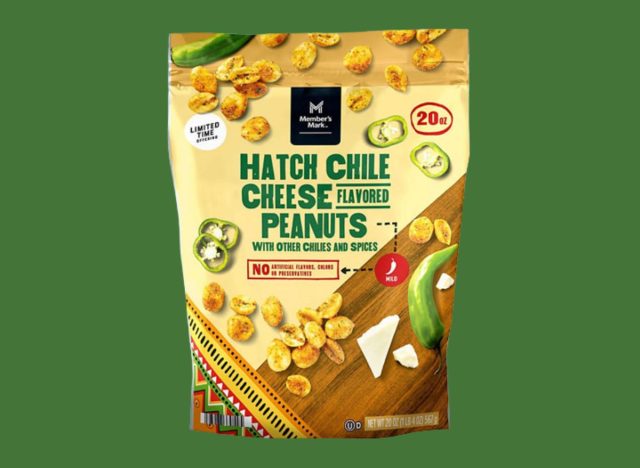 Hatch Chile is the tangy flavor of the season at Sam's Club. The taste can be found across the store on corn puffs, in hummus dip, as a standalone seasoning, and on these crave-able spicy peanuts.6254a4d1642c605c54bf1cab17d50f1e
Instagrammer @samsclubsimplesavings spotted the 20-ounce bag of nuts for just $5.98 at a local warehouse and members in the comments were dying to get their hands on them. In reviews of the product on the Sam's Club website, one customer said the new peanuts were "worth their weight in gold." Another commented, "These are really good. I killed a bag of these in a couple of days. Great flavor, plenty of seasoning. I didn't find them spicy, but others might. Ordering another bag now!"
Yet another win for the store's in-house label Member's Mark.
Rocky Road Almond Caramel Clusters
For all our sweet-tooth snackers, you're not going to want to miss out on these Rocky Road Clusters filled with kettle-cooked caramel, roasted almonds, and fluffy marshmallows. But be quick about it, as they'll only be around for a limited time.
On the Sam's Club website, the chocolatey goodness has received 4.6 out of 5 stars. One review reads, "Don't care for marshmallows but I must say these chocolates are very tasty. Plenty of almonds, soft caramel, and one-to-three marshmallows per treat. These are a wonderful indulgence. Would recommend these to anyone who likes the turtle clusters."
You'll want to keep them all to yourself, but they do come in a shareable-sized container filled to the brim with about 40 clusters each.