6 Low-Quality Sam's Club Items You Should Never Buy, Say Customers
Not every product is a winner at the Walmart-owned warehouse club.
The product recommendations in this post are recommendations by the writer and/or expert(s) interviewed and do not contain affiliate links. Meaning: If you use these links to buy something, we will not earn a commission.
There are plenty of reasons to get your groceries in bulk at Sam's Club. Even with competition as fierce as the beloved Costco, the Walmart-owned warehouse club has its fair share of unique draws, including discounted membership fees, a wider selection of digital deals, and exclusive food court choices, that make it the first choice for many shoppers across the country.
However, not everything that Sam's Club carries is worth buying. Every store has its misses from time to time, and it's hard to know where they are when you're browsing the aisles. Luckily, the warehouse's members have taken the liberty of finding the duds and leaving comments on the online product listing, so future customers can steer clear.
If you're temped to try any of these six items, you should know upfront—the reviews are in, and they're usually not good.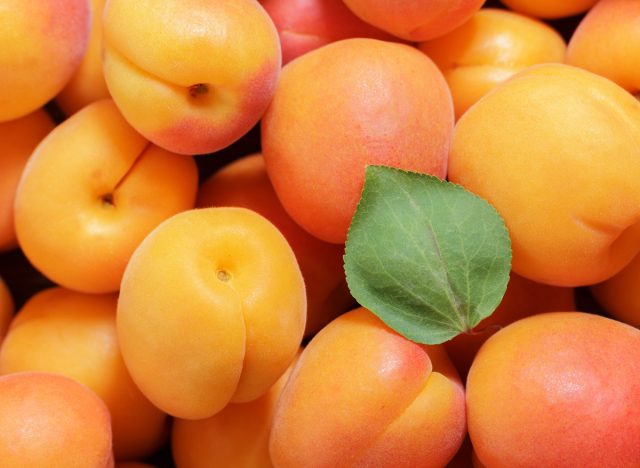 Summer might be the perfect time to pick up this juicy stone fruit, but if you're craving apricots during off-season, try a different produce store. Sam's Club apricots have the unfortunate reputation of being too sour, bland, or mushy. Customer reviews say the fruits go bad immediately after purchase.
"I purchased these to make jam. I was so excited to find them. Usually, Sam's Club produce is fresh and beautiful but these began growing mold within 24 hours so I hurriedly began prepping them to make my jam," wrote one reviewer. "Brown inside despite throwing out the moldy apricots before cutting and [pitting] them. I'd get my money back if I could." If you're still dead set on finding them in the produce aisle at Sam's Club, make sure to examine it for flaws—and keep the company's return policy in mind, just in case.
Taylor Farms Everything Avocado Bowl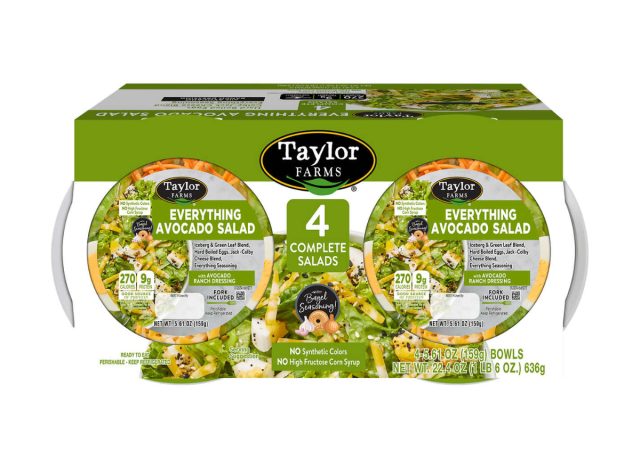 Despite its name, the salad has everything but avocado, which confuses many customers. "This has no avocado in it. It has avocado dressing," wrote one reviewer. "This is a poor excuse for a salad and I keep getting rotten ones." Other complaints include expired, watery eggs, soggy, slimy lettuce, and an overall bland and off-tasting mix of ingredients.
A pre-packaged salad can be great to keep on hand for a convenient yet healthy midday meal—bonus if it has protein—but don't bother bringing this one for lunch, since it's likely to end up in the trash.
Calle Sabor Seasoned Diced Pork for Al Pastor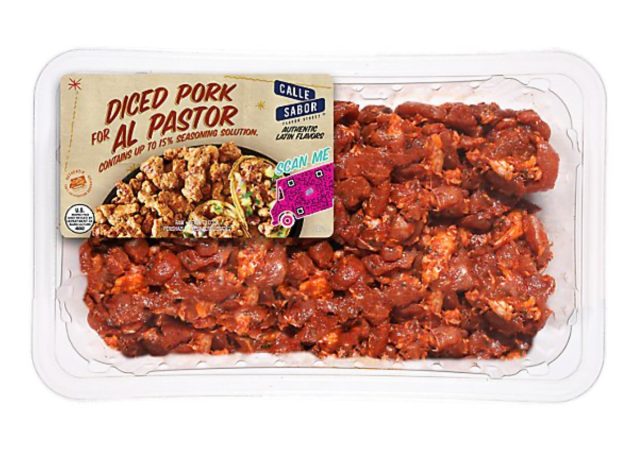 You might be tempted to pick up this seasoned, ready-to-cook pork for an easy taco night at home, but beware—this is not the al pastor you are looking for.
While the brand's name translates to "flavor street," about half the reviews on the website tell a different story. People noted that the diced meat seemed to be overly salty scraps of rough gristle and chewy fat. The most incriminating sign is that a few commenters' pooches wouldn't venture a bite. "Very odd taste almost like it went bad even though we cooked the day we bought it," wrote one reviewer. "Got very nauseous [and] after one bite our dogs refused to eat it."
The other half of the ratings do enjoy this Mexican-inspired filling, but it's clear that the item is very hit-or-miss.
Perdue Harvestland Organic Chicken Breast Strips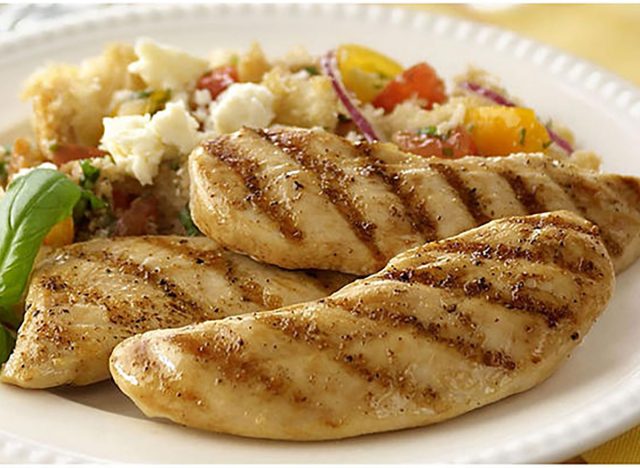 Customers have been underwhelmed with Perdue's Chicken Breast Strips, noting the product doesn't quite live up to its name. Because of the small bits of chicken inside, one shopper described them instead as "chicken dots."
The reviewer wrote, "The quality of the pieces are good, however I bought the package labeled 'Chicken Strips' and about 65% of the chicken pieces were less than 1.5 inches long and appear to be merely discarded chicken pieces. These chicken dots take an inordinate amount of time to bread and are a waste of my time…I'd have expected better from both Perdue and Sam's."
Not all the meat at Sam's Club is so unfortunate. One suggestion: Skip the strips and check out the affordable, high-quality beef cuts instead.
Farm Rich Battered Mushrooms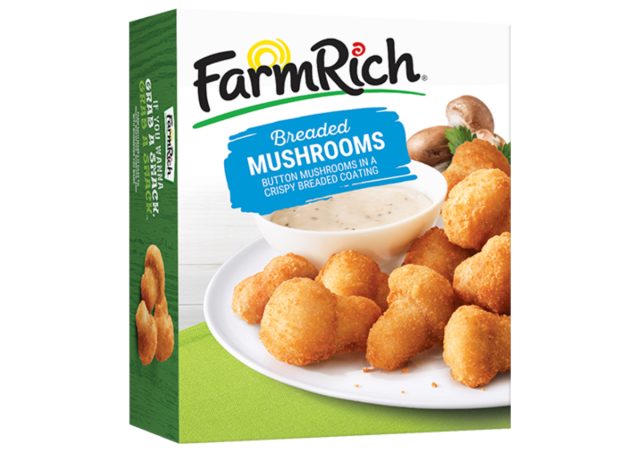 It's hard to find something that isn't delicious when fried, but this vegetarian appetizer is certainly in the running. Even the accompanying cayenne ranch sauce can't save these two pounds of soggy mushrooms, according to shoppers.6254a4d1642c605c54bf1cab17d50f1e
"It's a pass. Air fried, baked and deep fried… All thumbs down. I wanted to like this especially for how much I paid to try. It's just squishy and never crispy. Flavor was a lil lacking too," wrote one customer.
A few reviewers said they enjoyed them after deep frying—to get that classic batter-y crunch when you bite into one—but you may think adding that much oil and fat defeats the purpose of snacking on mushrooms in the first place.
Snickers Iced Coffee Latte by Victor Allen's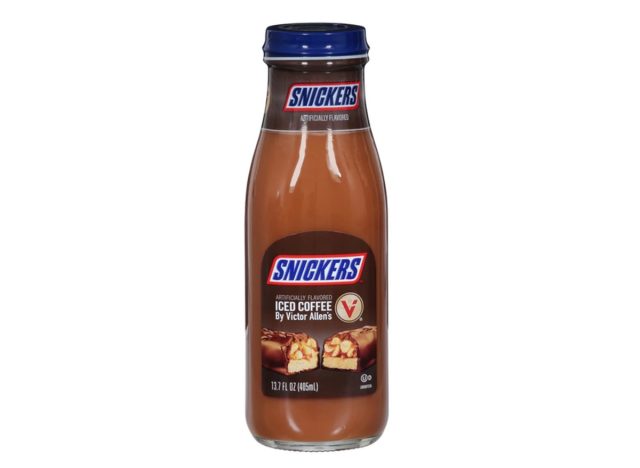 If you like caramel, roasted peanuts, and chocolate with your coffee, you might be intrigued by this flavor crossover in a Victor Allen's can. Because it's Sam's Club, you have to buy it in a 12-pack, and that might not be in your best interest.
While there are definitely fans of this sugary, caffeine-filled concoction, there are also a lot of eager hopefuls who found themselves disappointed by the reality of the Snickers-latte mashup. Instagram reviewer @samsclubfoodreviews notes in a post that this product is a controversial one, giving it a 6.5 out of 10 rating because it didn't have the "creamy texture" and "coffee 'pick me up'" they were expecting from a latte.
Reviewers on the website agree that there's something off about this bold drink, saying it tastes artificial, metallic, and unpleasant. "As a huge coffee person myself I can honestly say this is so nasty. Completely synthetic taste and just fake tasting. It tastes like you put a piece of metal into some coffee," wrote one reviewer. "If you are a true coffee person that is into good coffee this is not for you."
Sarah Wong
Sarah studied at Northwestern University, where she received a bachelor's degree in computer science and experimented with mixing tech and journalism.
Read more about Sarah